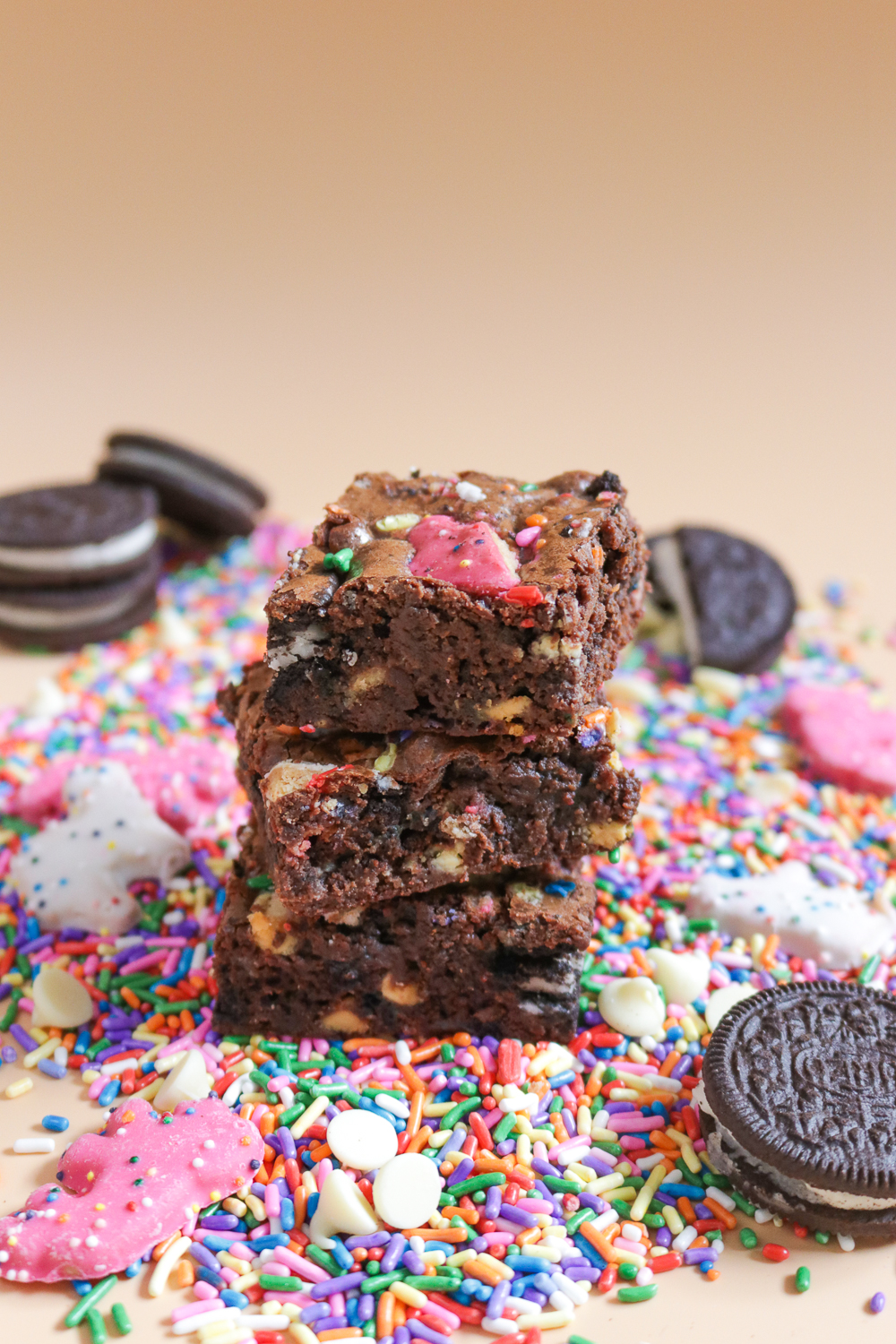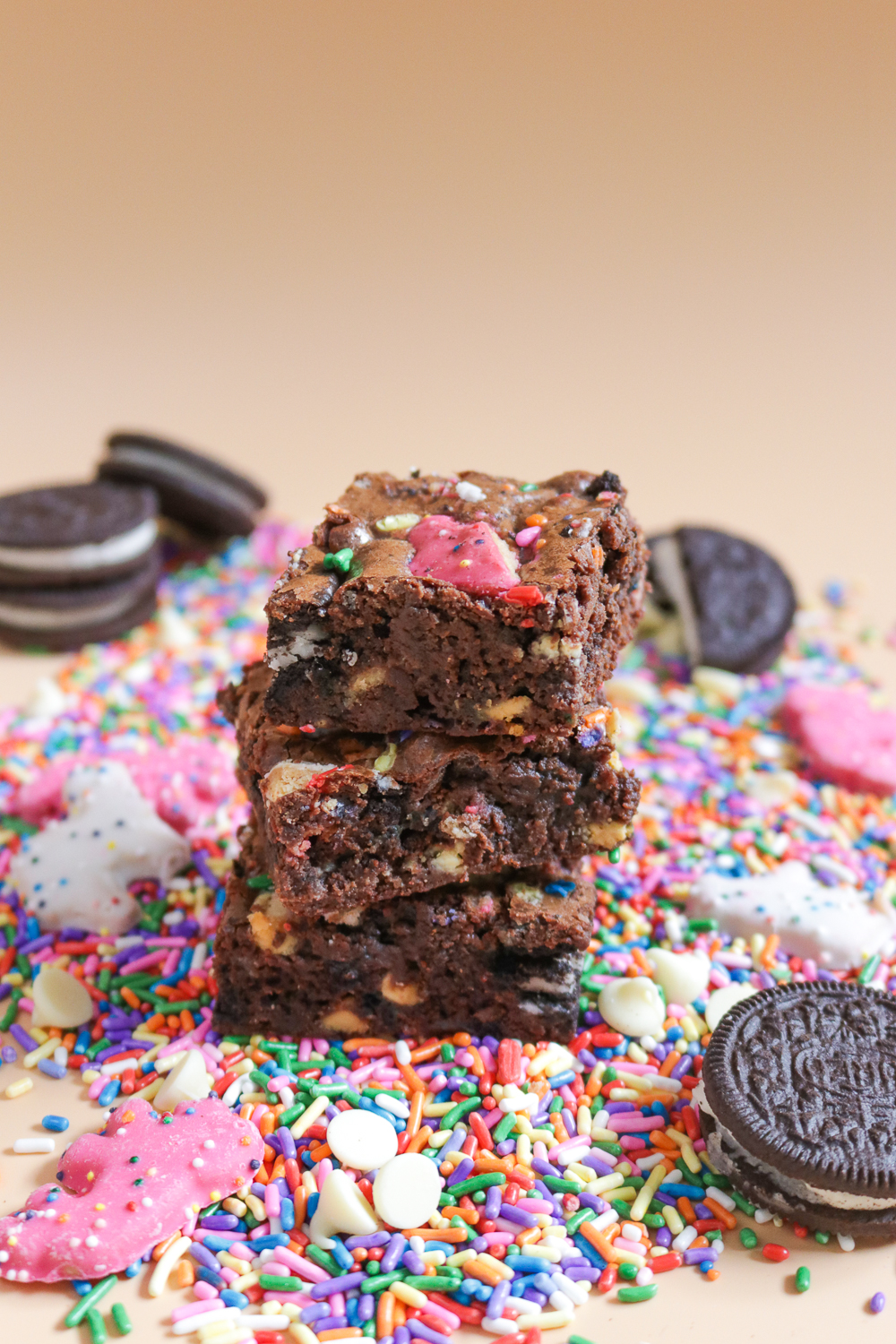 Serious question time…Do you prefer the corner, side or middle pieces of brownies?
If you answered anything other than middle piece, you are clearly wrong. ?
Brownies are the best way to get my chocolate fix, and this time, I wanted to share a totally over-the-top brownie recipe, so I call these fudgy, delicious things kitchen sink brownies. Get it? They have everything but the kitchen sink in them! Really, they have so much good stuff in them that you will probably get a sugar high from one bite.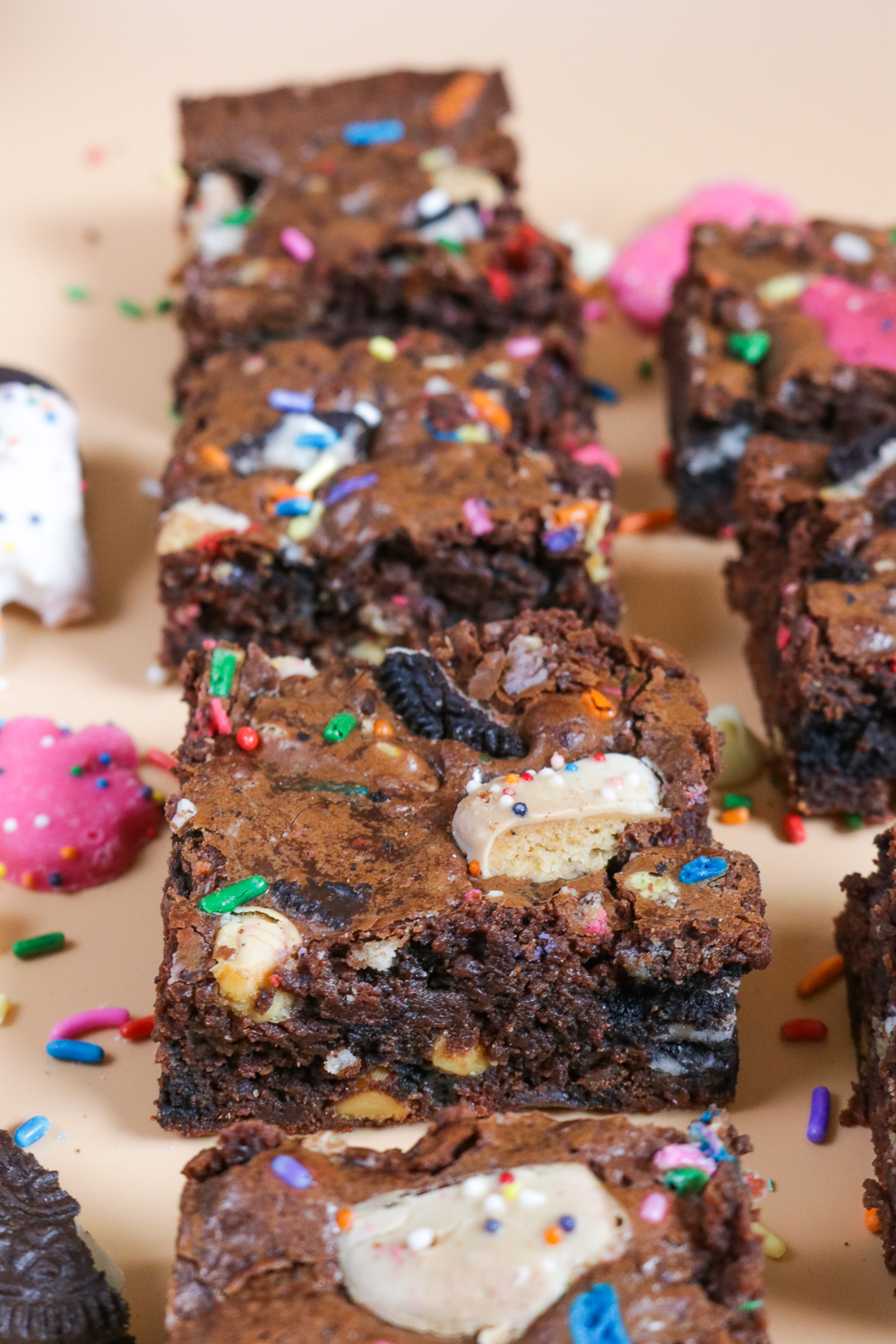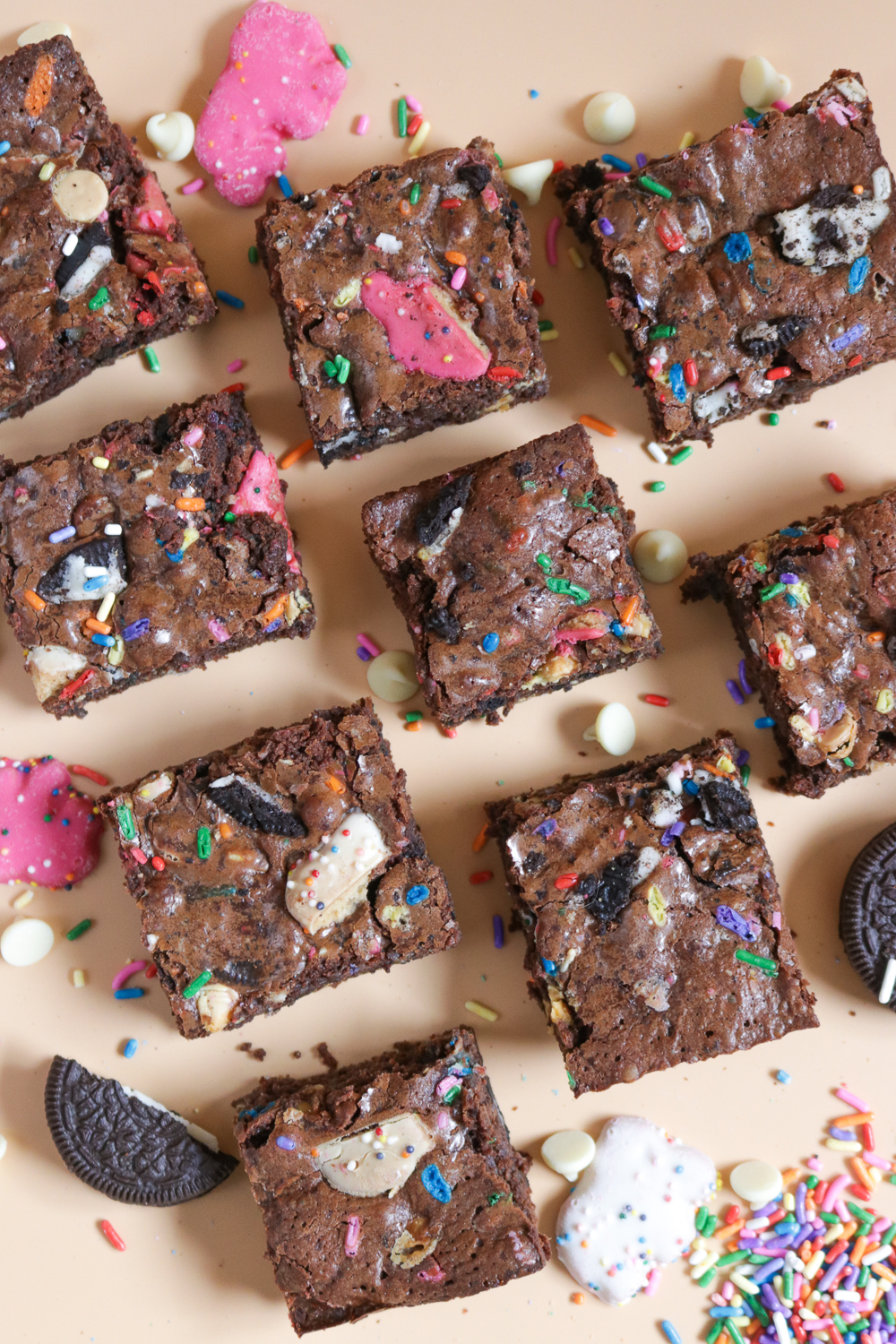 Here are a few of the treats included in these crazy kitchen sink brownies: Oreos, Circus Animal Cookies, white chocolate chips, dark chocolate chips and rainbow sprinkles.
You can certainly customize this with whatever crazy add-ins you want, like pretzels, toffee, candy bars, etc. but keep in mind there are only so many ingredients you can add and still have the brownies bake. I chose my favorite add-ins, keeping with a cookie theme, but a "kitchen sink" brownie gets it's name simply because it has lots of stuff packed into it. Whatever you add, it will surely still be delicious!
Scroll down for the full recipe card! ??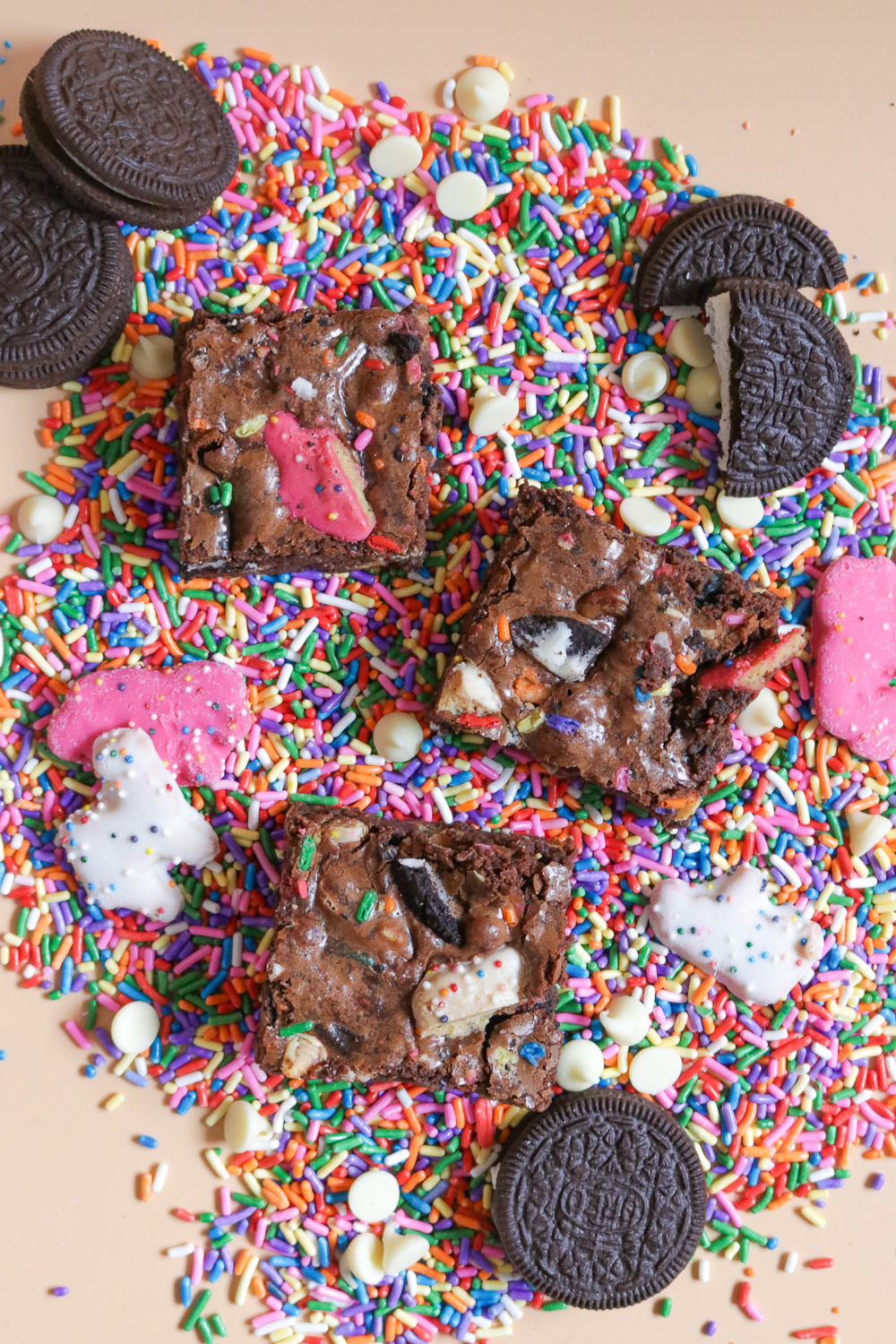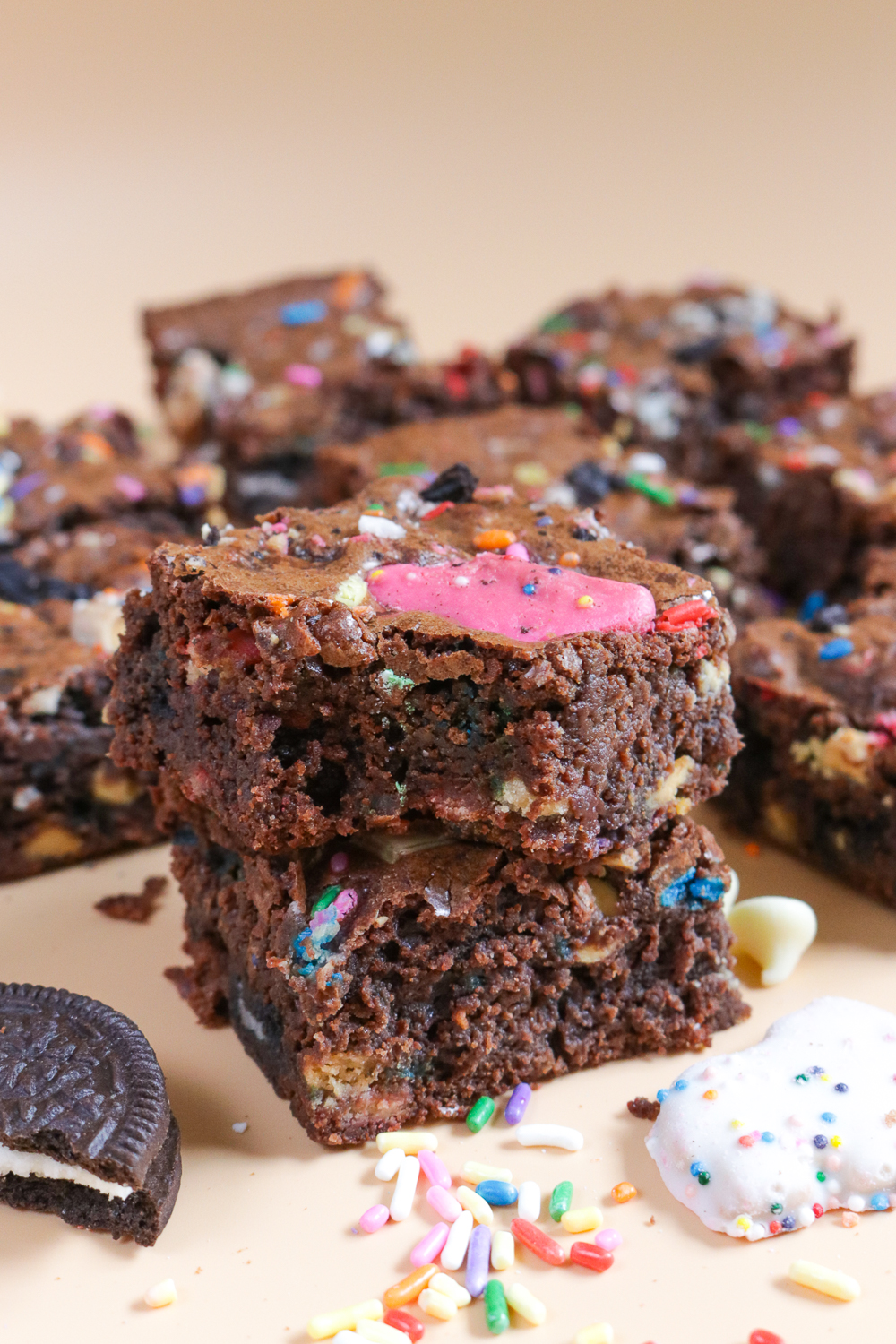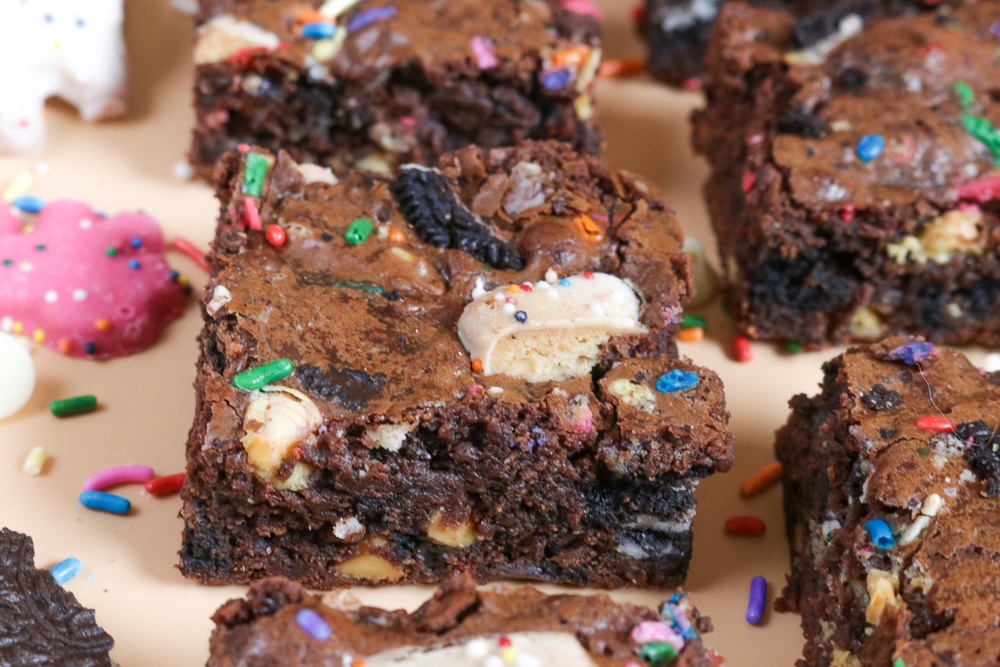 This is my favorite brownie recipe because it bakes easily and stays extremely fudgy and moist, just as I think a brownie should be. The key to making a great batch of brownies is all about the mixing – do not overmix the batter. Handmix the flour into the batter and stop mixing when a small amount of white is still showing before adding in extras like cookies and chocolate chips. It's also good to have a balance of add-in types because they will bake differently. For example, cookies and pretzels stay hard where as chocolate chips and sprinkles melt into the batter, so you probably don't to add only crunchy ingredients or you may have an overly crunchy brownie.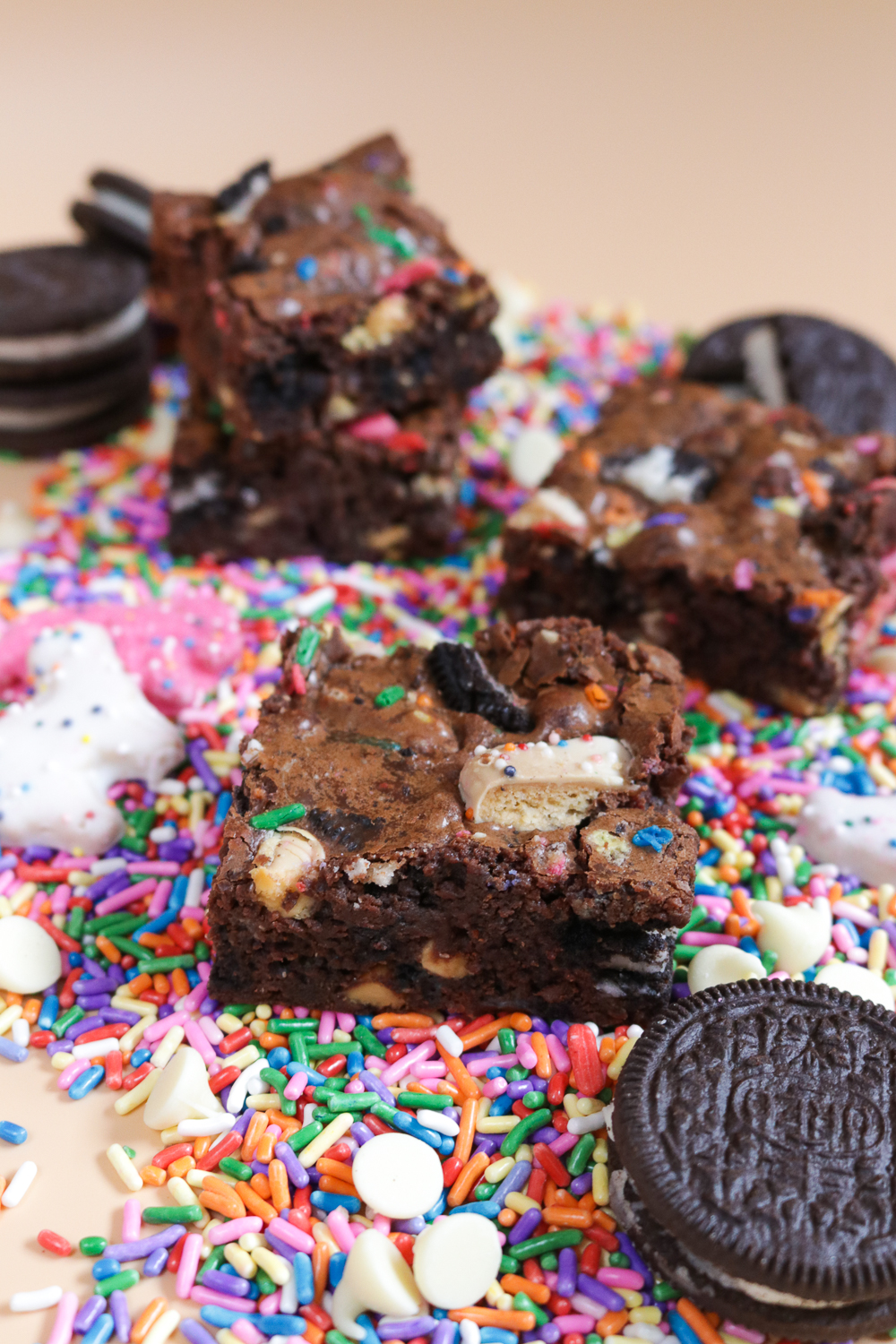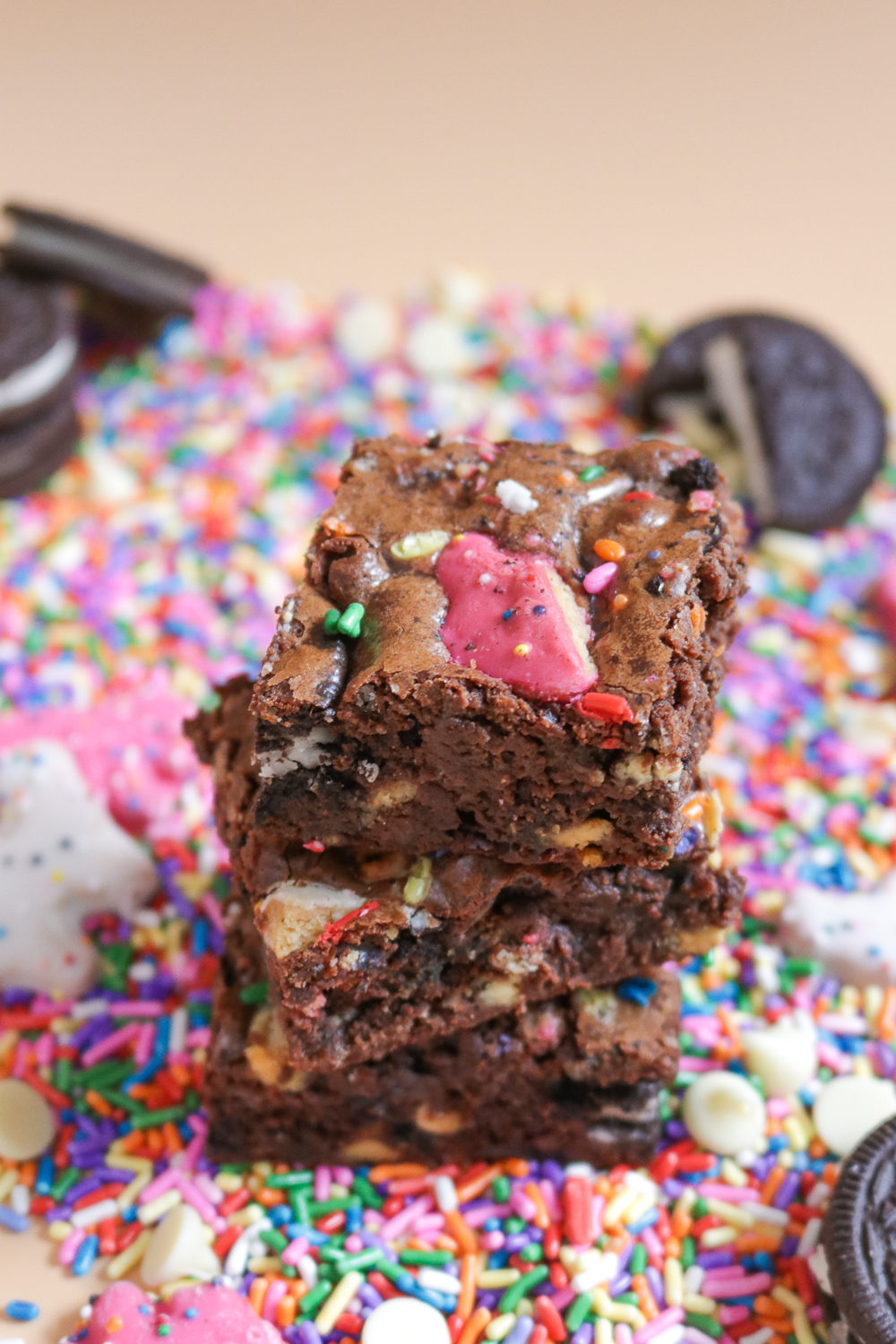 Want to take it to the next level? Ha, of course! (Not that these even need it)
Add frosting to cooled brownies, drizzle with caramel or top with a scoop of ice cream.
Trust me, all you need is one brownie, but you will LOVE it! It's basically all of the things you love smashed together in chocolate. Happy baking!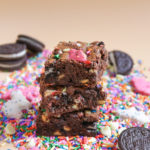 Kitchen Sink Brownies
2017-02-14 13:06:19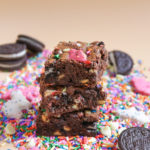 A rich, loaded brownie recipe with "everything but the kitchen sink"
Ingredients
1/2 cup unsalted butter, melted
3/4 cup semi-sweet chocolate chips
1/2 cup granulated sugar
1/2 brown sugar
3 eggs
1 tsp vanilla
1/2 tsp salt
3 tbs unsweetened cocoa powder
1/2 cup flour
1/2 cup white chocolate chips
1/4 rainbow sprinkles
1/2 cup Circus Animal Cookies, crushed
1/2 cup Oreo Cookies, crushed
Instructions
Preheat the oven to 350 degrees. Line a 9×9 inch baking pan with parchment paper and lightly grease with cooking spray
Combine the flour, sifted cocoa and salt in a small bowl and set aside
In a saucepan on the pan, melt the butter on low heat, stirring with a whisk
When it's almost completely melted, stir in the 3/4 cup of semi-sweet chocolate chips until completely melted and pour into a mixing bowl to cool for 5-10 minutes
Once the chocolate mixture has cooled, beat in the sugars, followed by each egg and the vanilla, mixing well in between each addition
Use a spoon or spatula to fold in the dry ingredients until some white is still showing. Do not overmix
Mix in about 3/4 of the desired cookies, chocolate chips, sprinkles, etc. by hand
Move the batter to the prepared pan and sprinkle the top with remaining ingredients, pressing onto the top lightly
Bake on for 30-35 minutes. Remove when an inserted toothpick in the middle comes out almost clean with crumbs but no batter
Let cool completely before cutting into squares
Club Crafted https://www.clubcrafted.com/