/
DIY Rolling Kitchen Island or Bar (IKEA Hack!)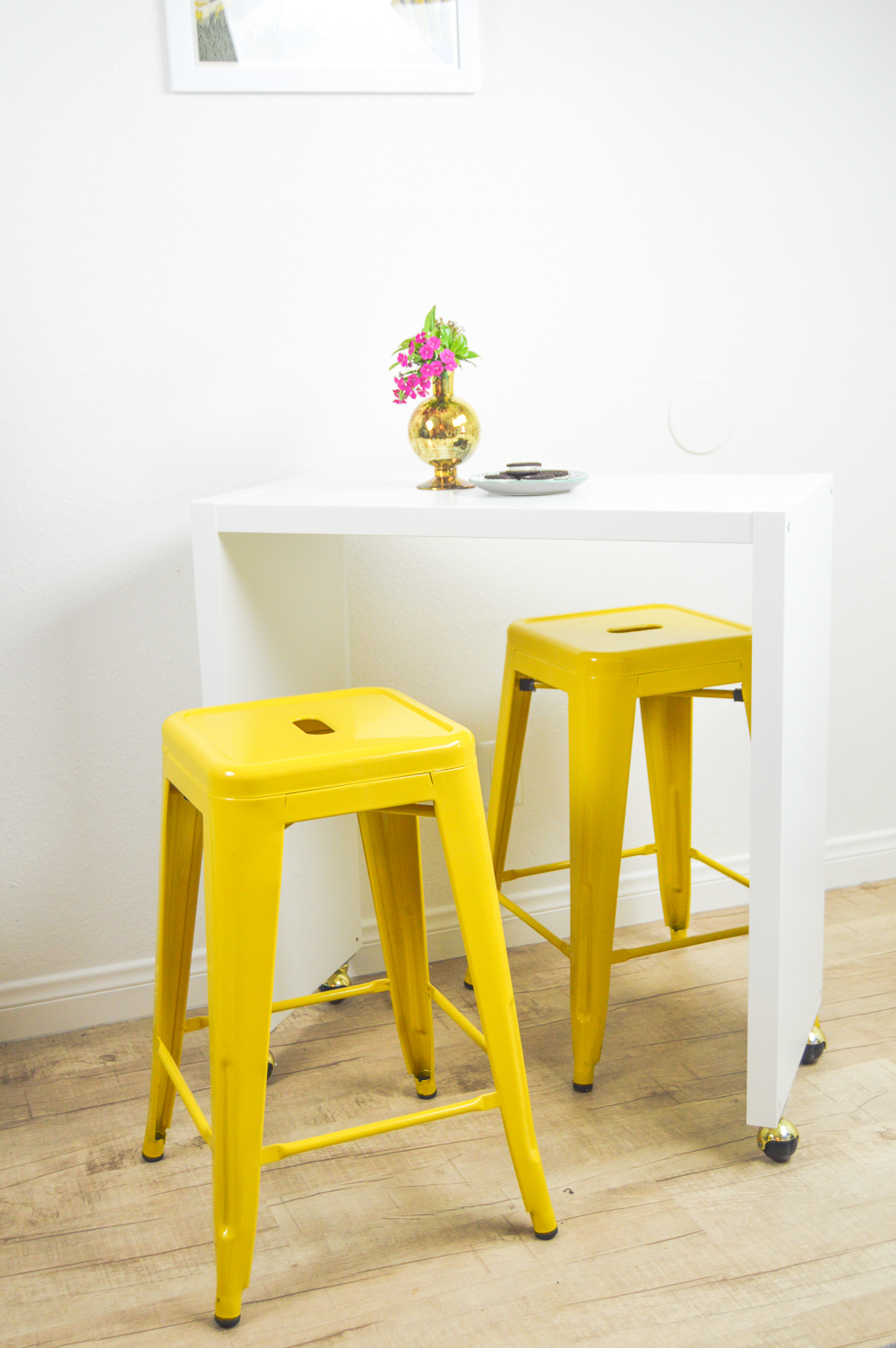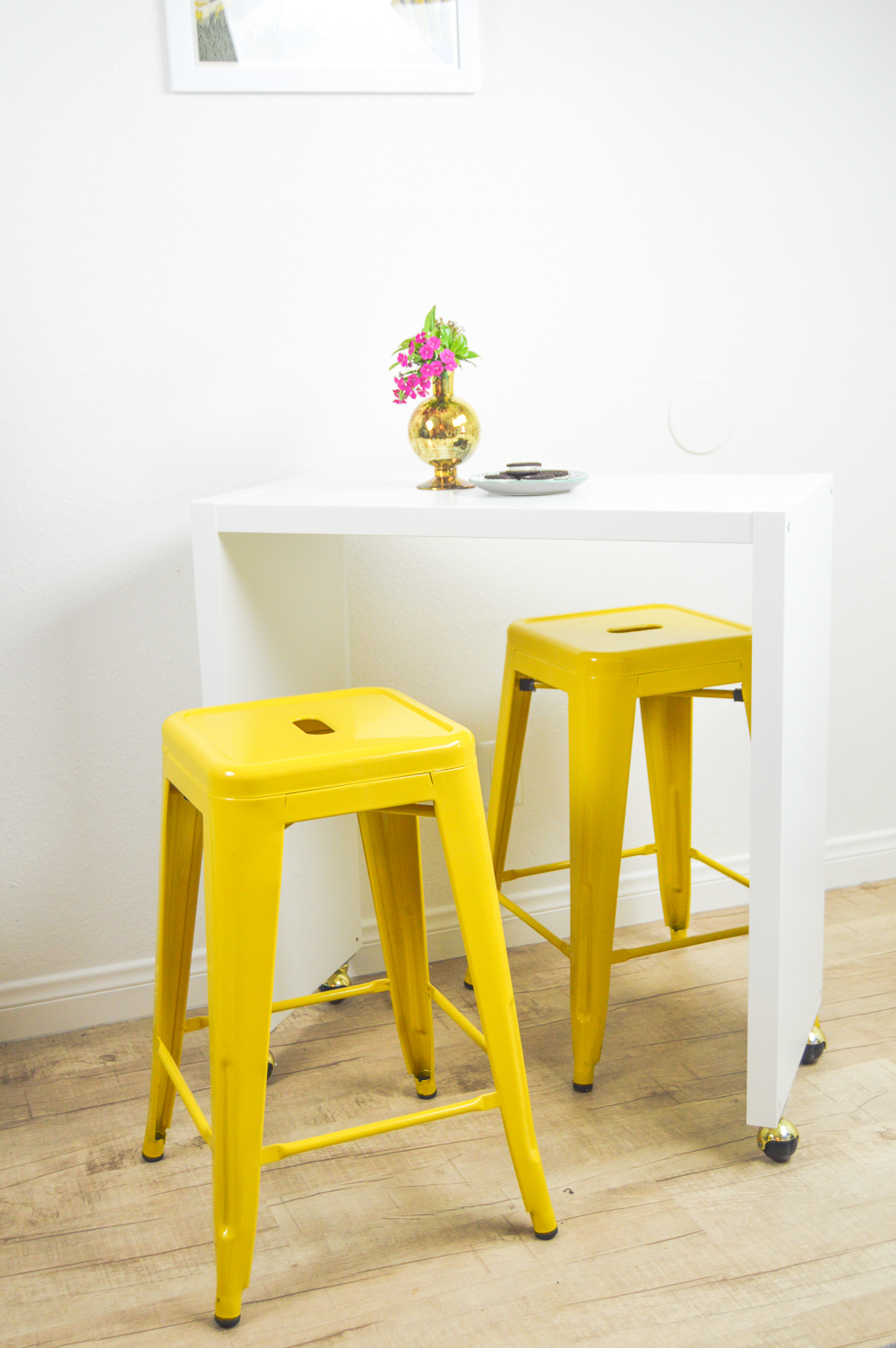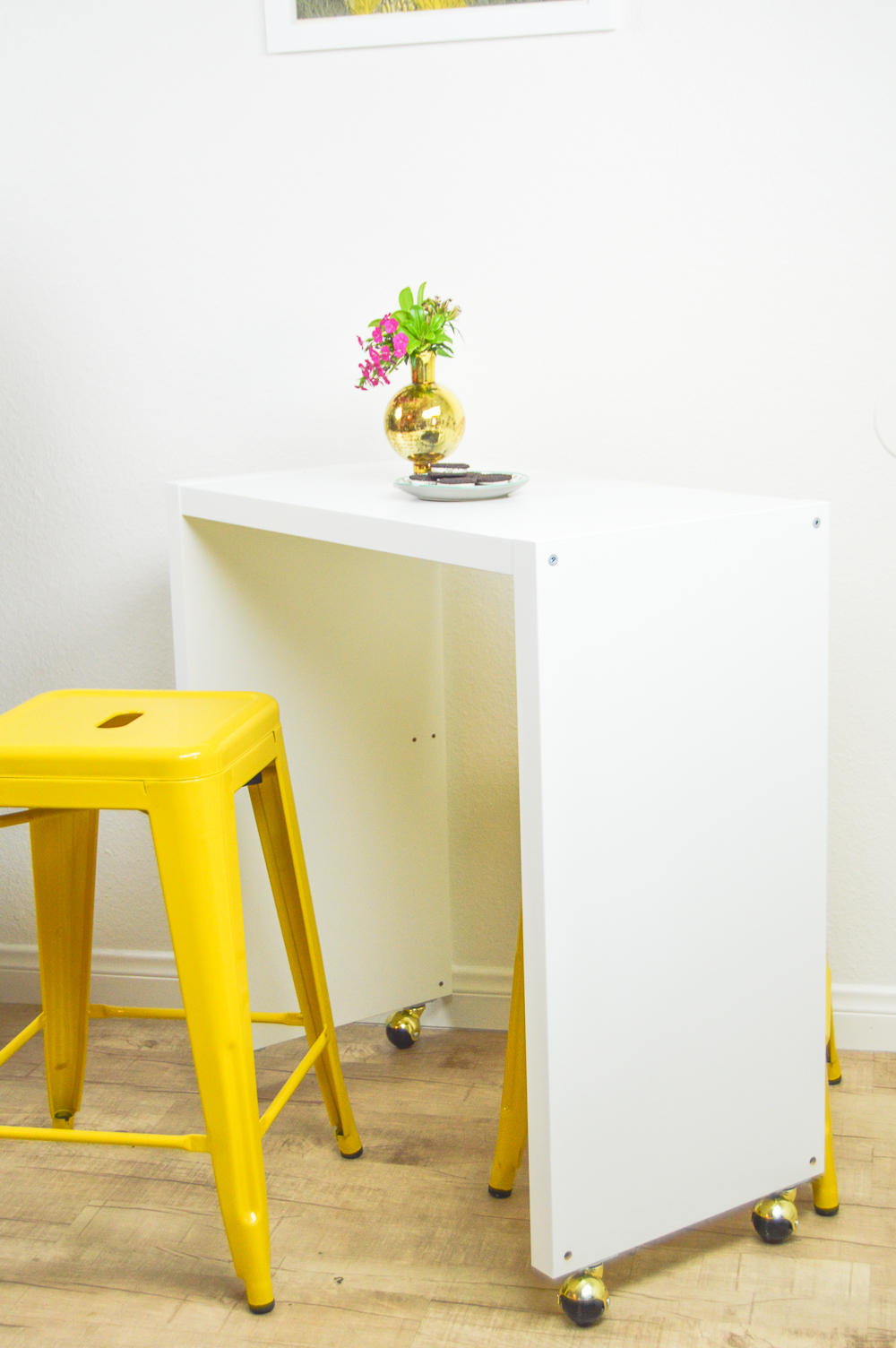 The sad fact of life is that little me can't afford a big apartment in the OC…but our tiny hobbit hole has come to feel like home these last six months! It's crazy to think we've lived in this apartment for so long already, but when we moved we gave up a lot of living space, plus an extra bedroom and bathroom. That left us with only one option – sacrifice our "dining room" area for office space. I put dining room in quotes because, honestly, it's not much space to begin with. We've made do, but for the last few months we've either been eating in rolling chairs at our desks, standing at the countertop or sitting on the couch. In an attempt to create a multifunctional eating space that would utilize the yellow barstools we already had, I decided to make a rolling kitchen island or bar that we could use to eat at and as extra counter space in the kitchen when needed (which is always). I put it on casters so that I can easily roll it around wherever I need it, so it serves as a great multifunctional piece that slides over the barstools next to our counter when not in use.
This super simple simple IKEA hack DIY rolling kitchen island became my mission to make space where there wasn't any, and I'm so happy to say it worked! I expect to use this little piece for everything now. When I bake, I use it to roll my laptop around the kitchen with me so it doesn't end up coated in flour and then I move it out so that we can eat our dinner on it. When not in use, it rolls perfectly over the top of my barstools and blends in with our white kitchen cabinets.
IKEA, thank you for existing so that I can afford to live in Orange County!
I simply added pretty gold casters to an existing IKEA storage unit and removed the middle storage cubbies so it appears to be just a tabletop. The height ended up being perfect for us, and if you want to step it up a notch, you can paint the unit whatever you want or choose a color that blends in with your kitchen cabinets.
Supplies:
How to:
Assemble the top and sides of the IKEA unit according to its included instructions – I recommend the slightly thinner piece as the top and the thicker pieces as the sides
Flip the entire piece over and place on the ground, preferably on top of a rug or sheet (it will get messy from drilling). On the bottom of each side, use a ruler or measuring tape to measure approximately 1-2 inches from each edge. Place your casters there for reference and use a pencil to outline the location of the screws
Once you're satisfied with the placement of the casters, use your drill to drill holes where each screw will do and screw each caster in place, ensuring they are tight
If desired (I recommend it), add supports on the underside of the tabletop by measuring the middle along each side. Outline the location of the screws, drill and secure the supports in place
Once you've tightened all of the screws, carefully flip the unit over onto the casters and roll it to your desired location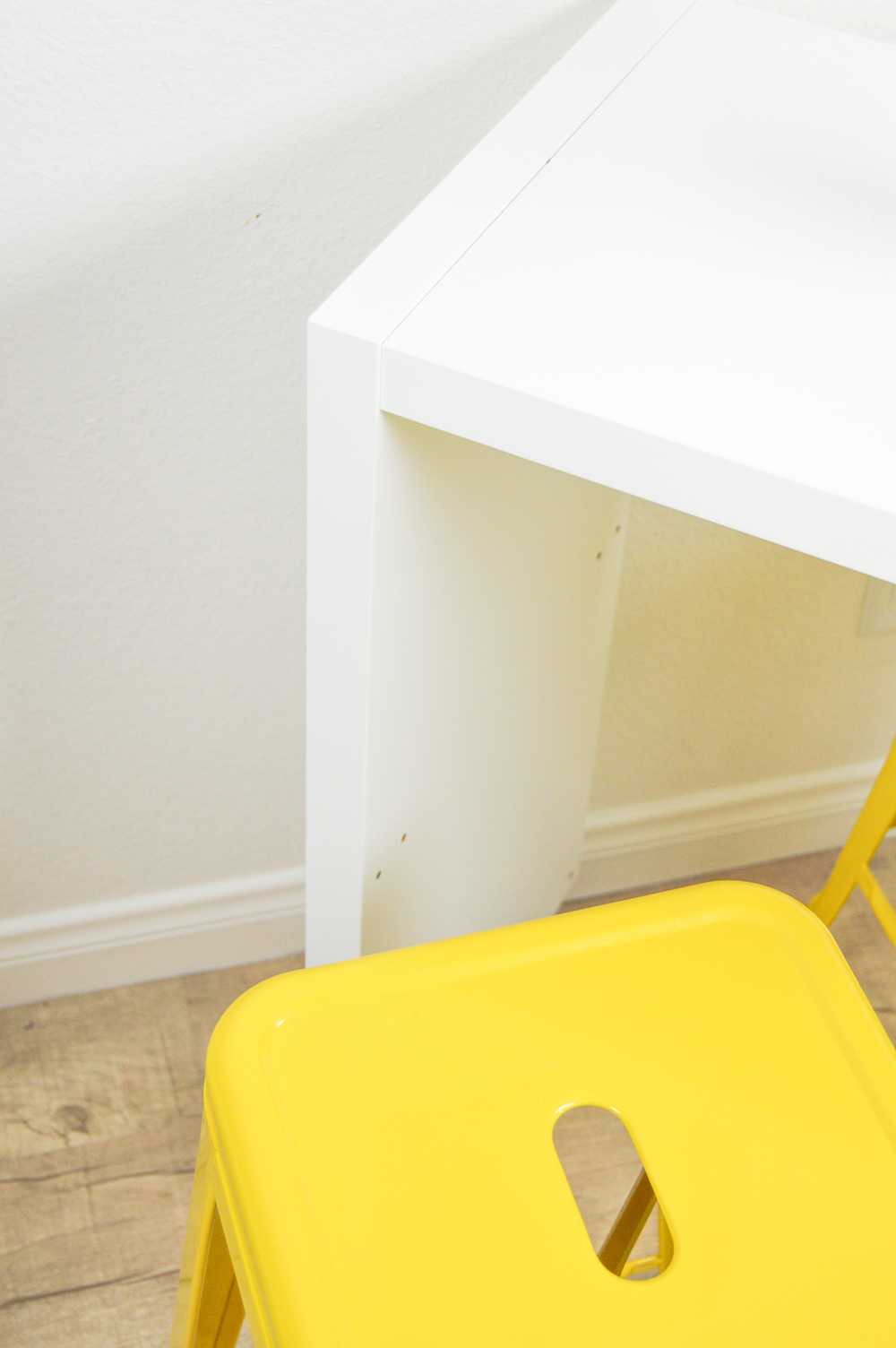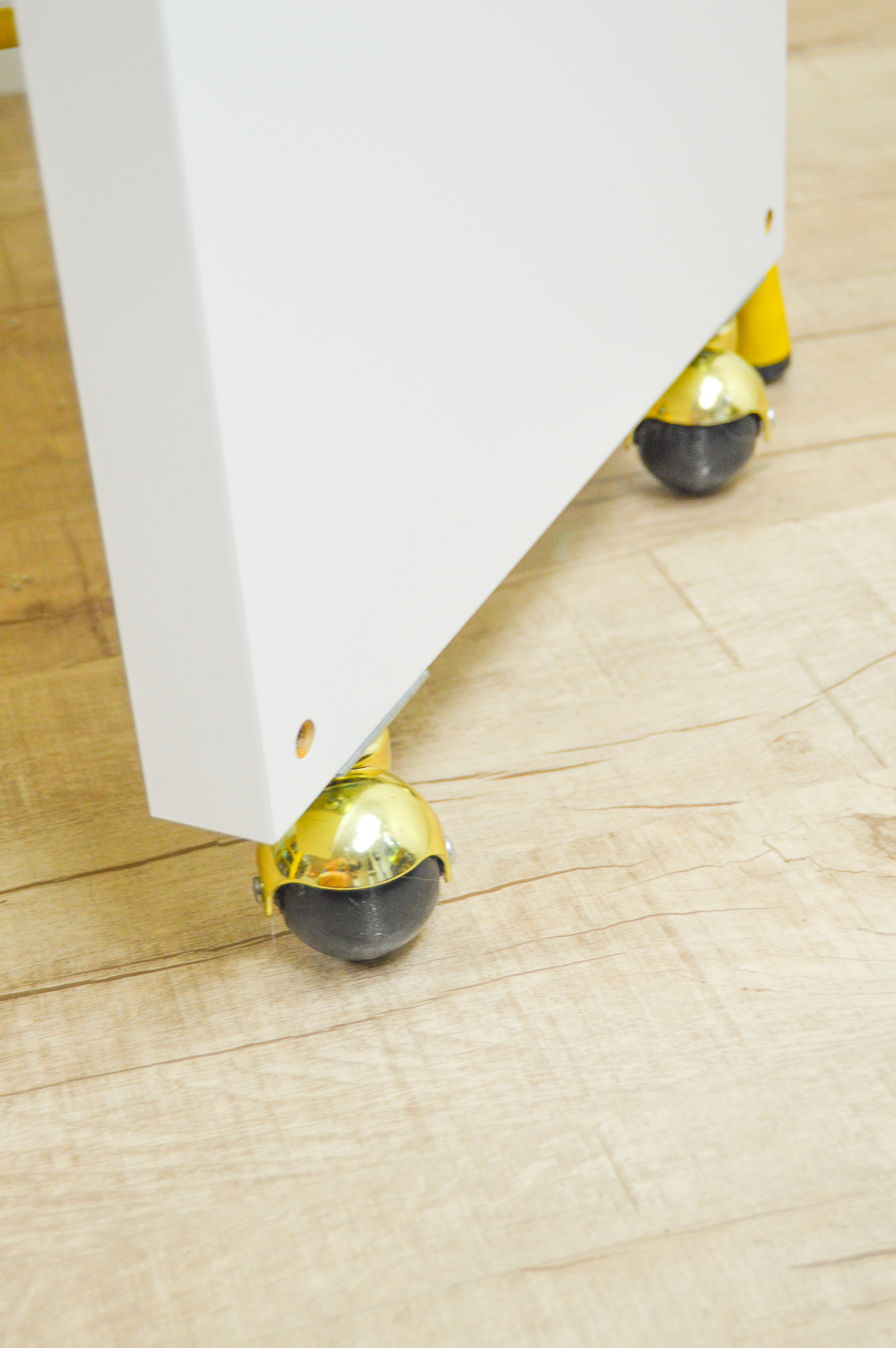 I can't even tell you how thankful I was to see this unit come together! We really needed a slightly more formal place to eat, and I needed to make the most of the space we have in our tiny hobbit hole apartment. Small spaces can be tough (especially when you have as much stuff as I do), but this IKEA hack can be SO helpful and serve as a multipurpose piece of furniture that you can make very inexpensively.
Happy crafting! Let me know if you try it!
*This post may contain affiliate links