/
Emoji Ghost Cake with Halloween Candy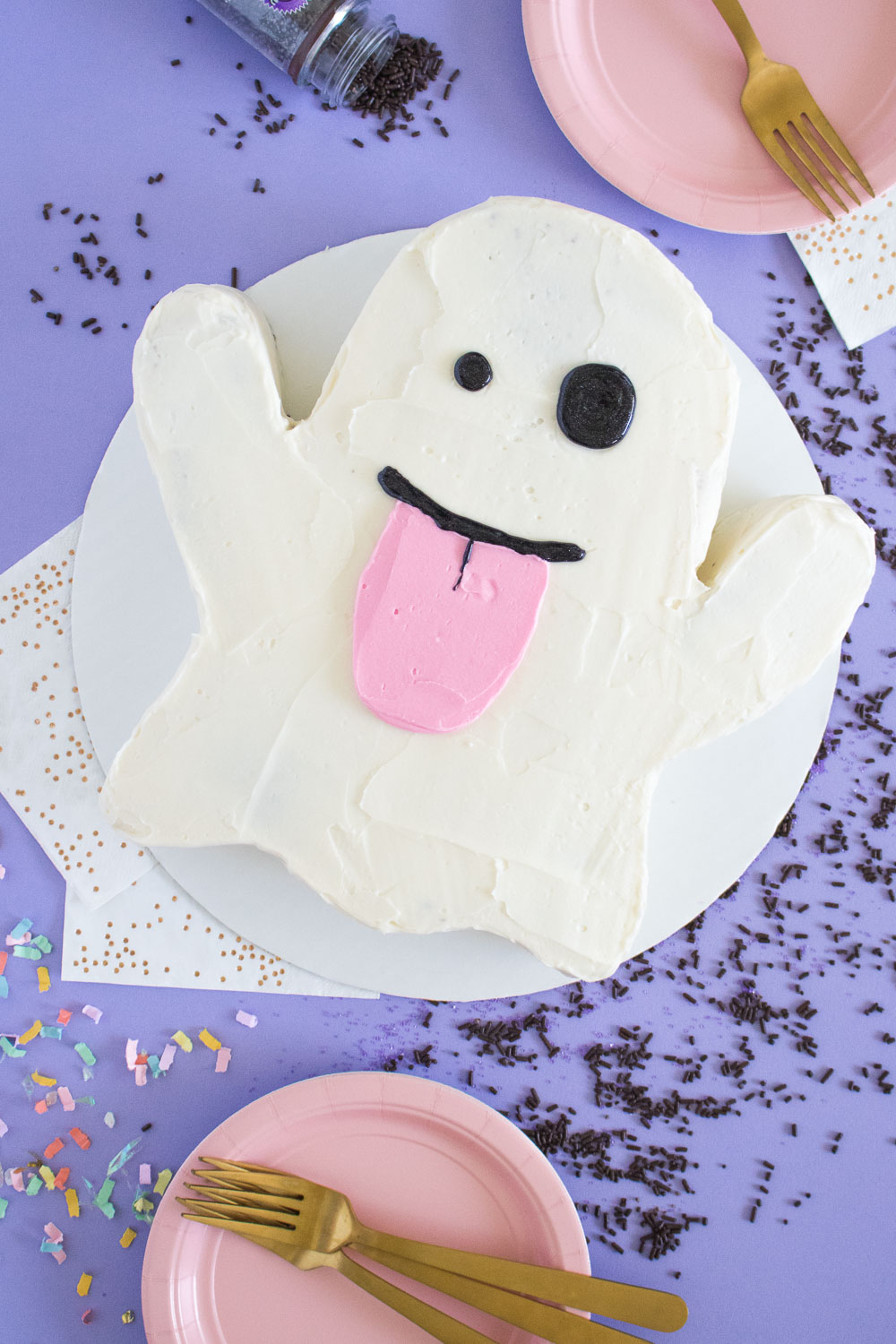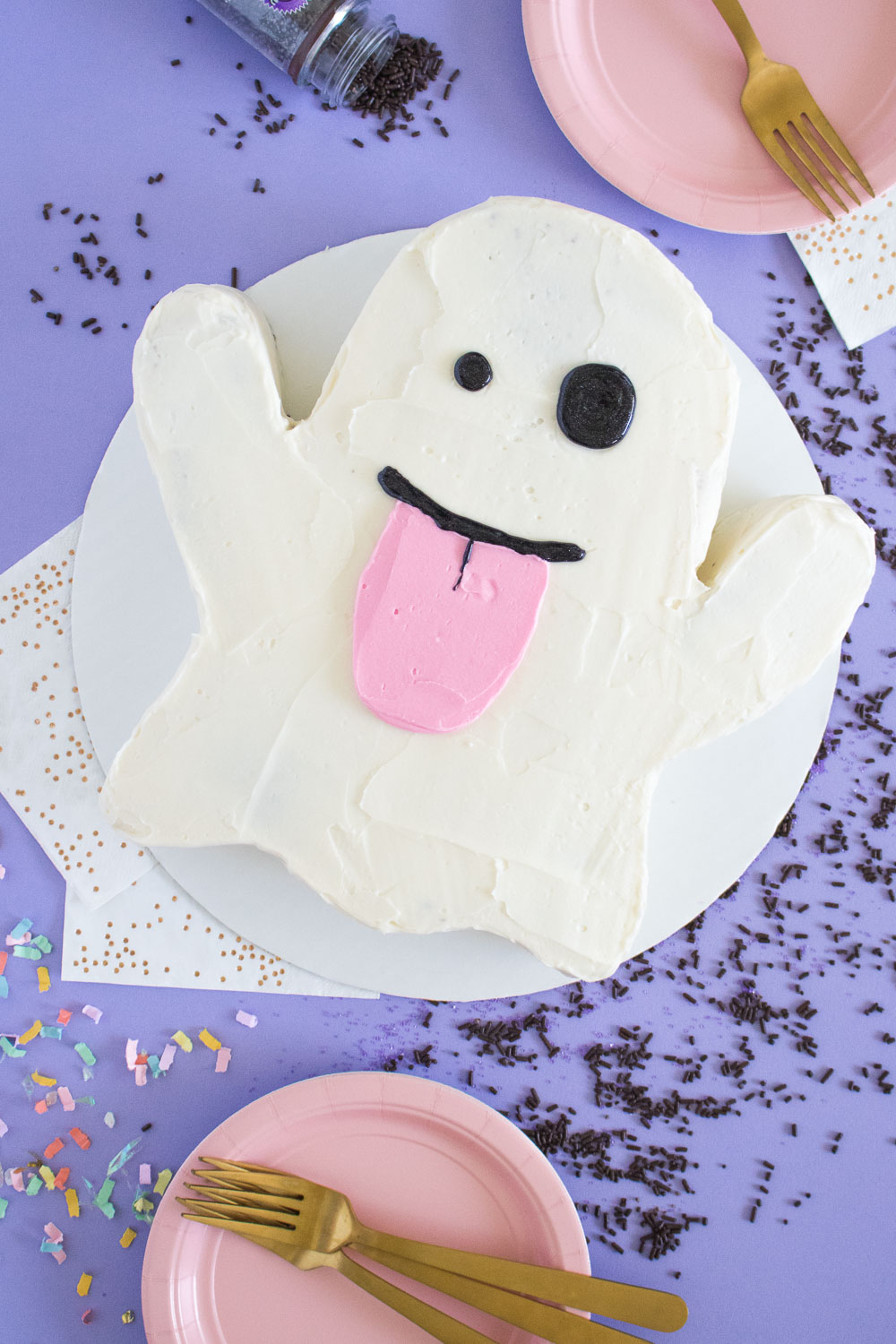 Wondering what to do with the mound of Halloween candy in your cupboard because you went overboard at Target? Yup, I've been there! To use up some extra candy and make a fun Halloween-themed cake, I made you guys an emoji ghost cake to make your holiday parties that much more fun! The cake is filled and frosted with delicious vanilla buttercream, but inside there's an extra surprise…chopped Halloween candy. Every bite is filled with chocolate cake, vanilla frosting and chunks of chocolate candy, so I'd say this is a win in my book.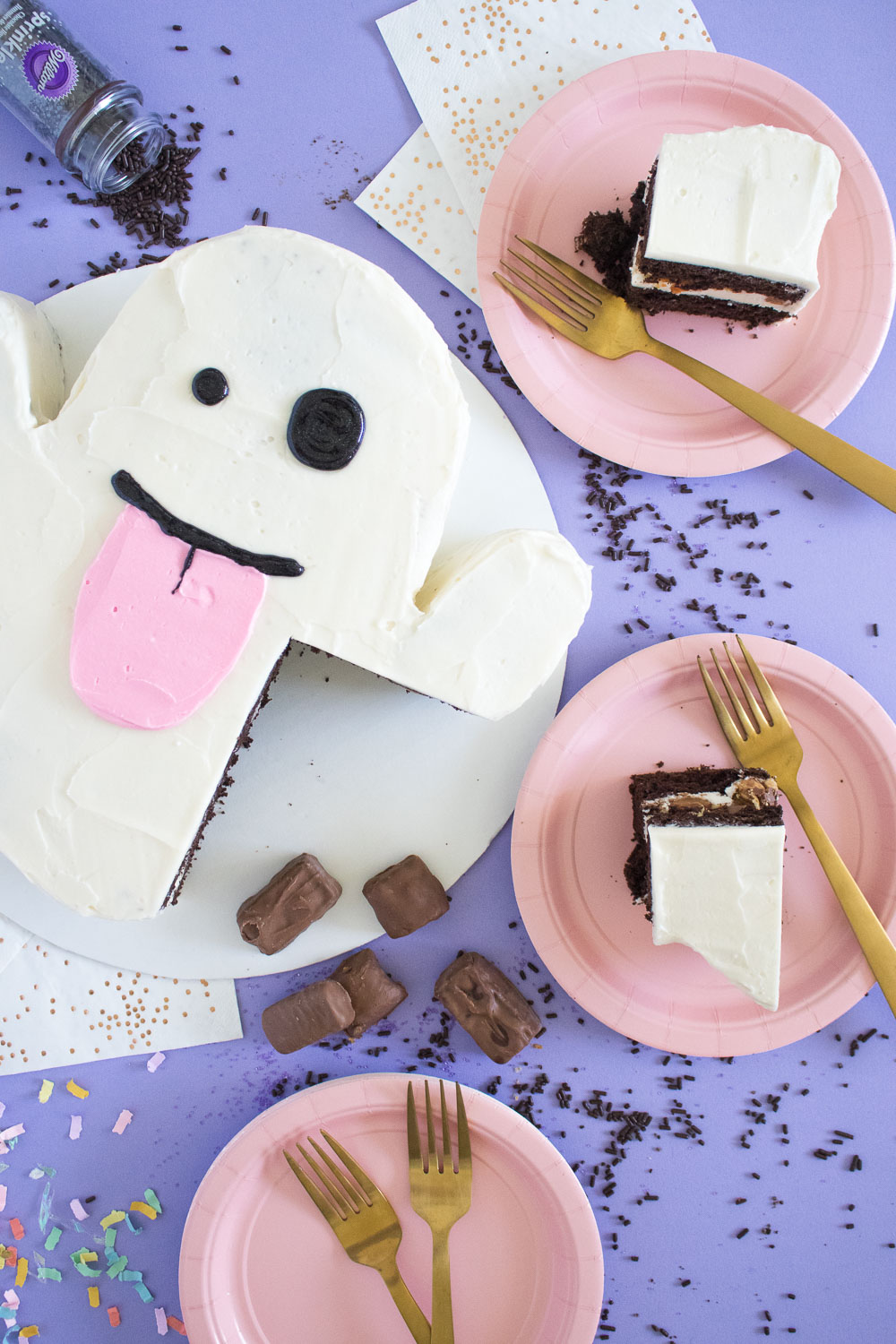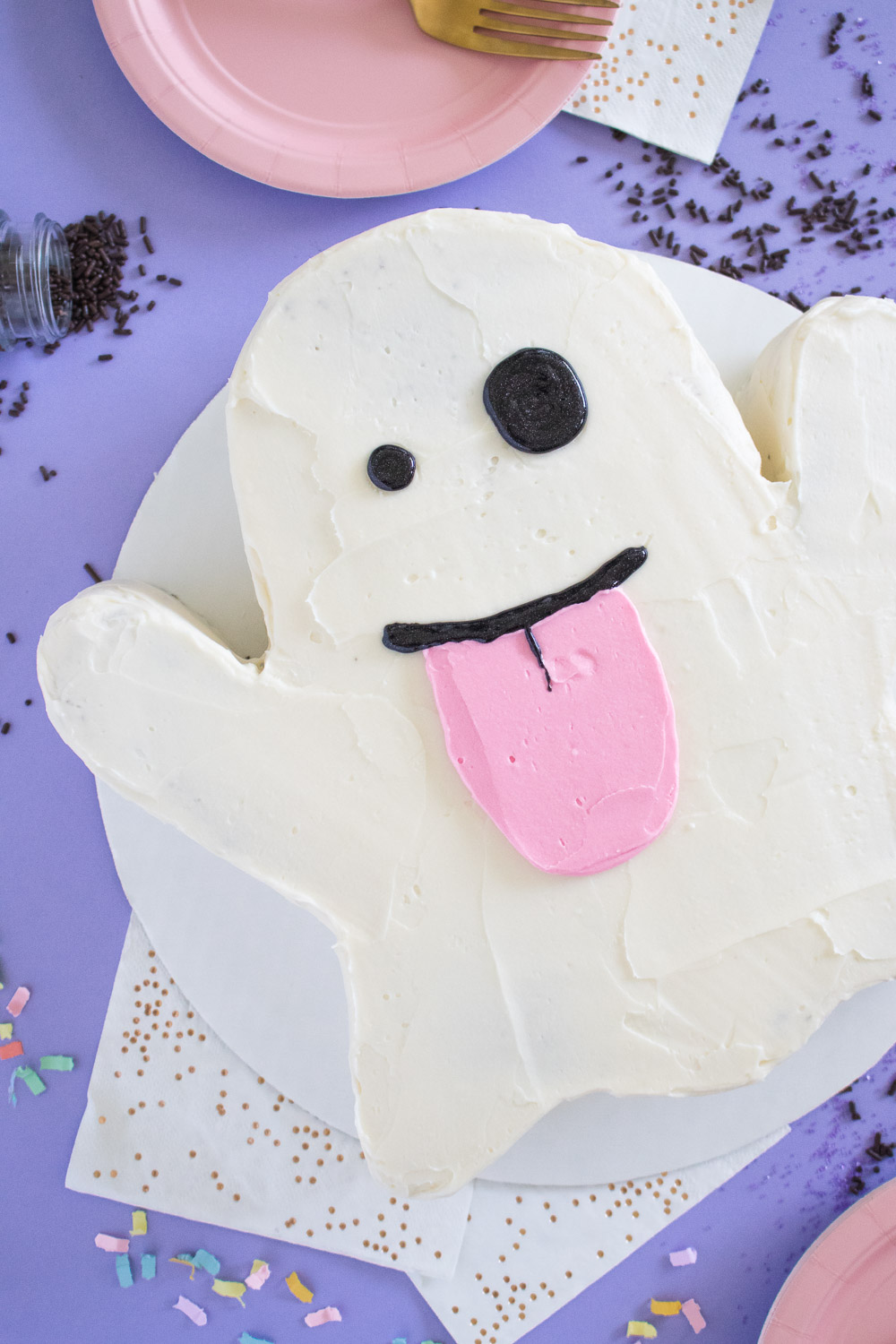 I had a lot of fun making this cake, so I think you will too! My best tip for you is to go slow and use a template to cut the ghost shape. I made a denser cake so that it would be easier to cut. Boxed cake mix (while amazing) is softer and may tear more easily.
Scroll down for the full recipe card and instructions! ??
Cakes like this are perfect because they're flat on top, so even though they might seem complicated to beginner bakers, they're actually easier than you'd think because the top is smooth. The hardest for me was icing in between the body and arms. When I cut it, the Halloween candy practically came falling out like a pinata, which is the fun aspect I was going for with this goofy Halloween-themed cake. Plus, perhaps the best thing about this cake is that it only requires one large pan to bake, which means less dishes too.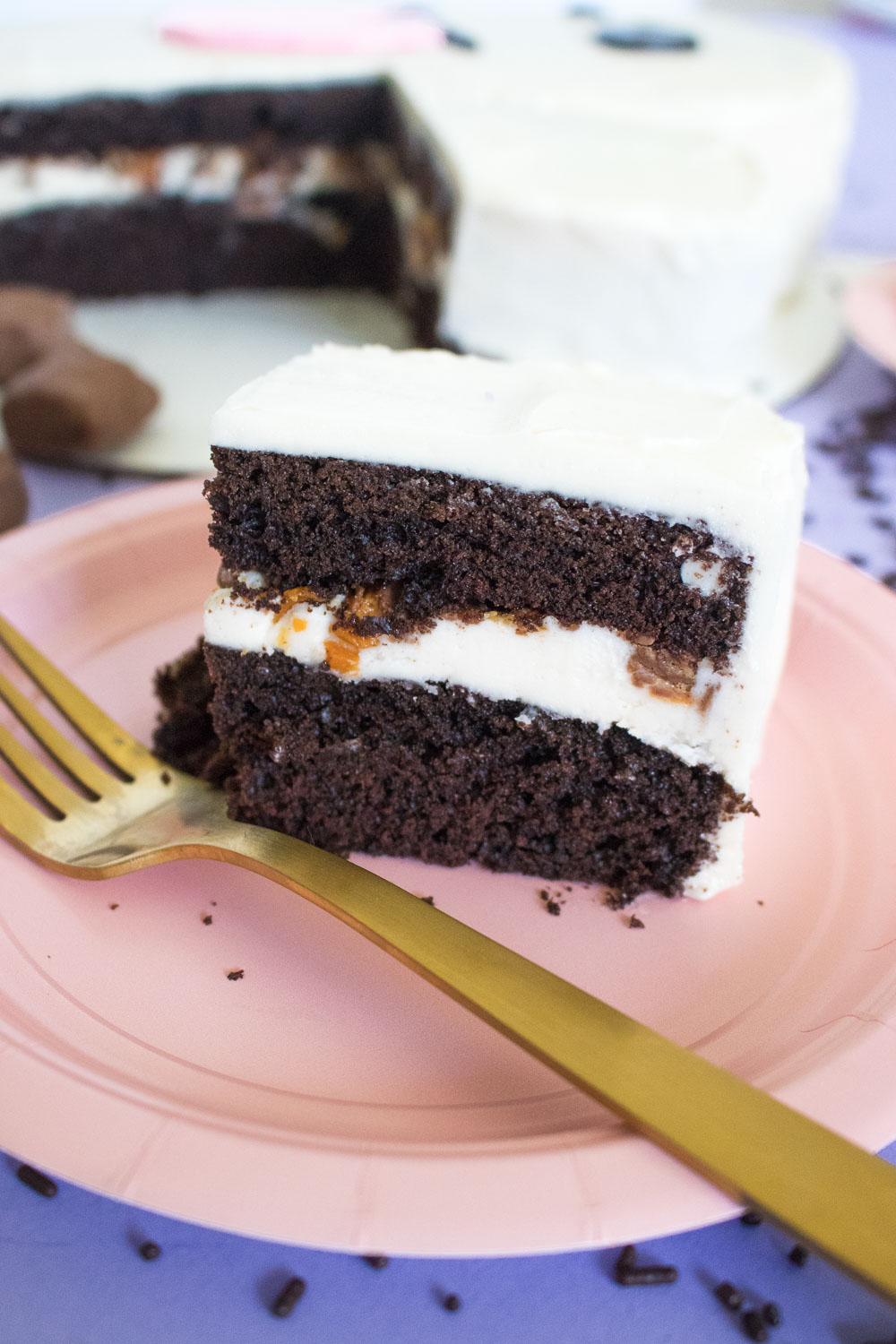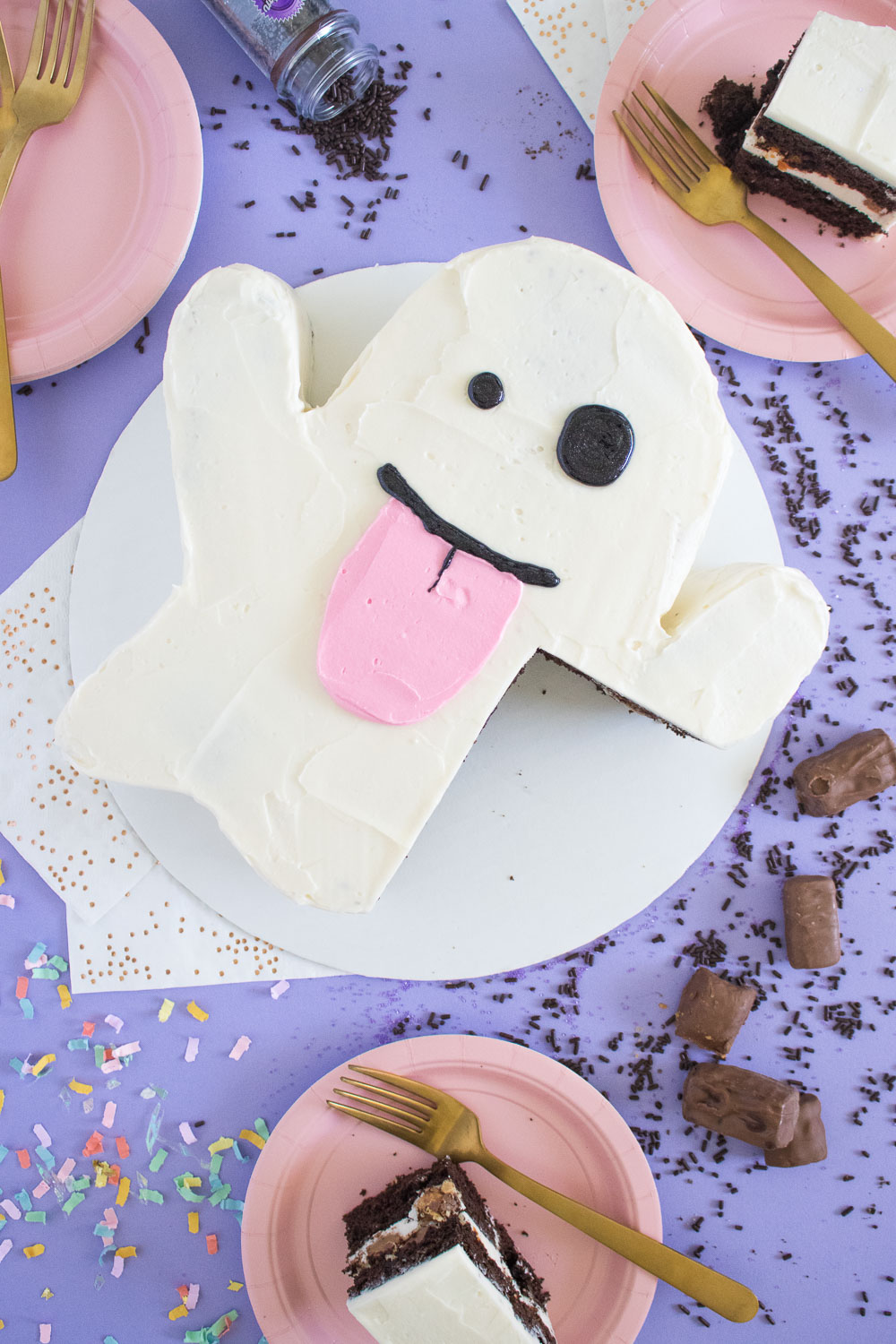 Since I'm not into "scary" things for Halloween, this was right up my alley. He looks like he's taunting you to cut into him, doesn't he?
This will be perfect for a Halloween party, and it serves many! Now, I have to get rid of the rest of the candy in my cupboard…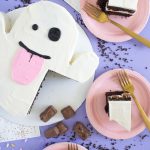 Chocolate Emoji Ghost Cake with Halloween Candy
2017-10-13 10:13:38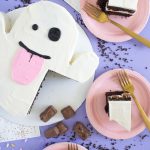 This rich chocolate emoji ghost cake is filled with vanilla frosting and chopped Halloween candy
For the chocolate cake
3 cups all-purpose flour
2 cups granulated sugar
1 cup natural unsweetened cocoa powder
2 tsp baking powder
1 tsp baking soda
1 tsp salt
1 cup hot water
1/4 cup butter, melted and cooled
1 cup vegetable oil
3 eggs
1 1/2 tsp vanilla extract
For the vanilla frosting and decorations
2 1/2 cups butter, room temperature
5 cups powdered sugar
1 tbsp pure vanilla extract
Chocolate Halloween candy, chopped
Pink gel food coloring
Black piping icing
For the chocolate cake
Preheat the oven to 350 degrees F and spray a 9 x 13 inch baking pan with cooking spray. Line with parchment if desired and spray again to coat. Set aside
In the bowl of your mixer, whisk together the flour, sugar, cocoa powder, baking powder, baking soda and salt
In a separate bowl or large measuring cup, whisk together the melted butter, vegetable oil, eggs and vanilla extract until smooth
Add about half of the hot water to the dry ingredients and mix on low until barely wet. Mix in the remaining water as it mixes
Slowly add the remaining wet ingredients and mix for an additional minute, scraping the bowl as needed, until the batter is smooth
Pour the thick batter into the prepared pan and bake for about 30-35 minutes until an inserted toothpick comes out with only crumbs. Allow to cool for 15 minutes or more before removing from the pan
For the vanilla frosting
Beat the softened butter with a paddle attachment for about 2 minutes until smooth and fluffy
Mix in the powdered sugar in batches, scraping the bowl occasionally, until completely combined
Mix in vanilla extract
Move about 1/2 cup of frosting to a separate bowl and dye pink. Set aside
To assemble and decorate
On a standard piece of printer paper, sketch the body of the ghost or print out an extra large emoji ghost and cut it out
Cut the cooled chocolate cake into two even layers. Place the cut out on top of the cake and carefully trace with a knife, then cut with a serrated knife to create a basic shape of the ghost (I cut the arms of the ghost separately from the body and attached with icing)
Place the first layer on a 10-inch cake board and layer the cake with vanilla frosting and chopped candy. Place the second layer on top so that the cake is flat
Apply a crumb layer all over the cake and move to the fridge for 30 minutes
Finish the cake with a thick layer of vanilla frosting and smooth the sides and top, move to the fridge for 30 minutes
To decorate the face, move the pink icing to a pastry bag with a small round piping tip and pipe a large tongue in the middle of the body. Smooth lightly with a clean spatula
Use the black piping icing to draw in the mouth over the tongue and draw two different sized eyes
Refrigerate until 15 minutes before serving for best results
Club Crafted https://www.clubcrafted.com/