/
DIY Rocket Pop Tote Bag for 4th of July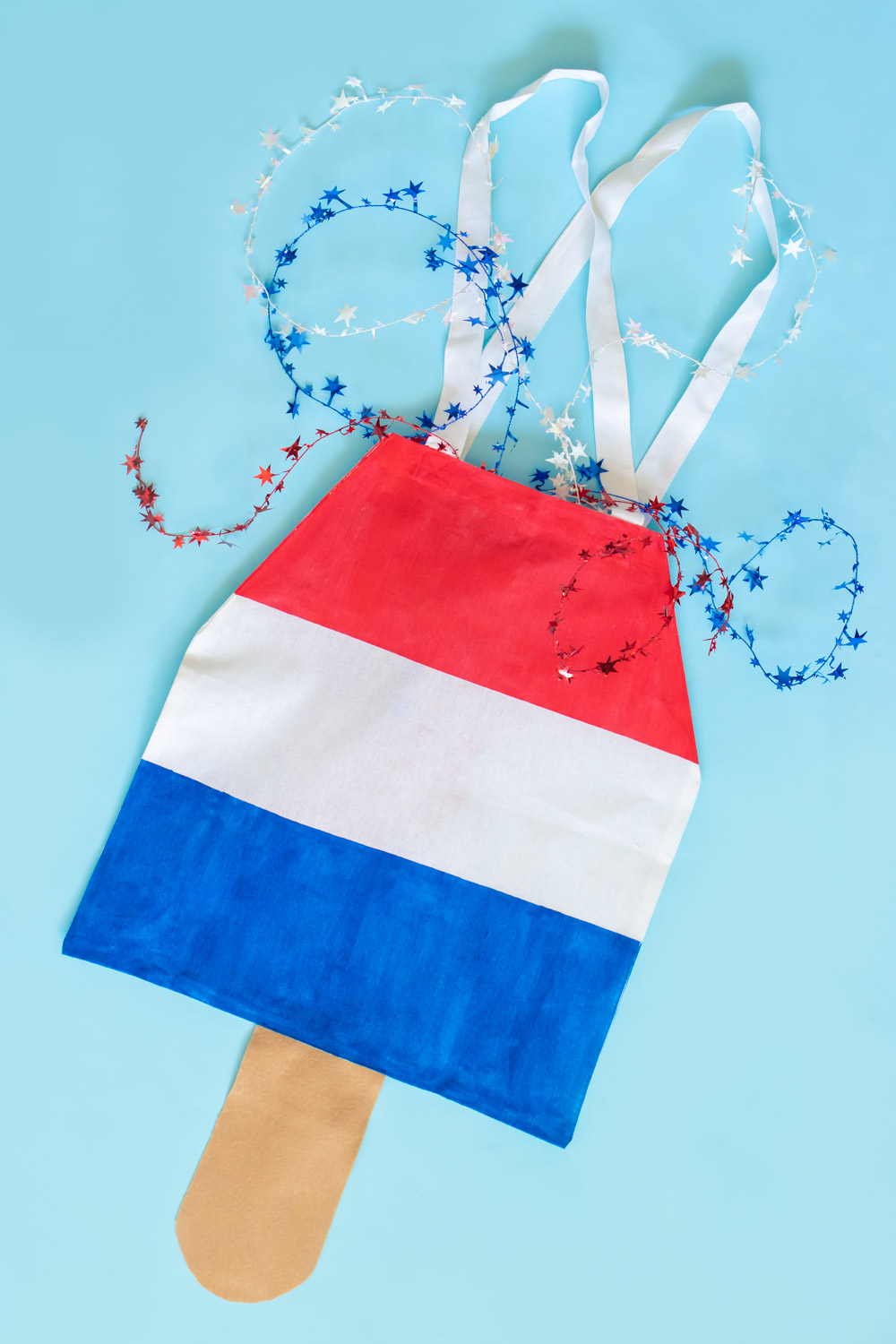 I say it every year – 4th of July is one of my favorite holidays! This year, things are obviously really different. I'm sad we won't be able to enjoy the company of our friends and watch fireworks, but it's the price we have to pay for safety. Regardless, I couldn't let the day go by without sharing a quick DIY with you all! This DIY rocket pop tote bag is a simple 4th of July craft that turns a traditional tote bag into a popsicle shape. Of course, it's inspired by red, white and blue Firecracker Popsicles or Bomb Pops! It's a very simple 4th of July tote bag but I definitely think it makes a fun statement. Things may be strange this year, but I do hope we all can enjoy the holiday!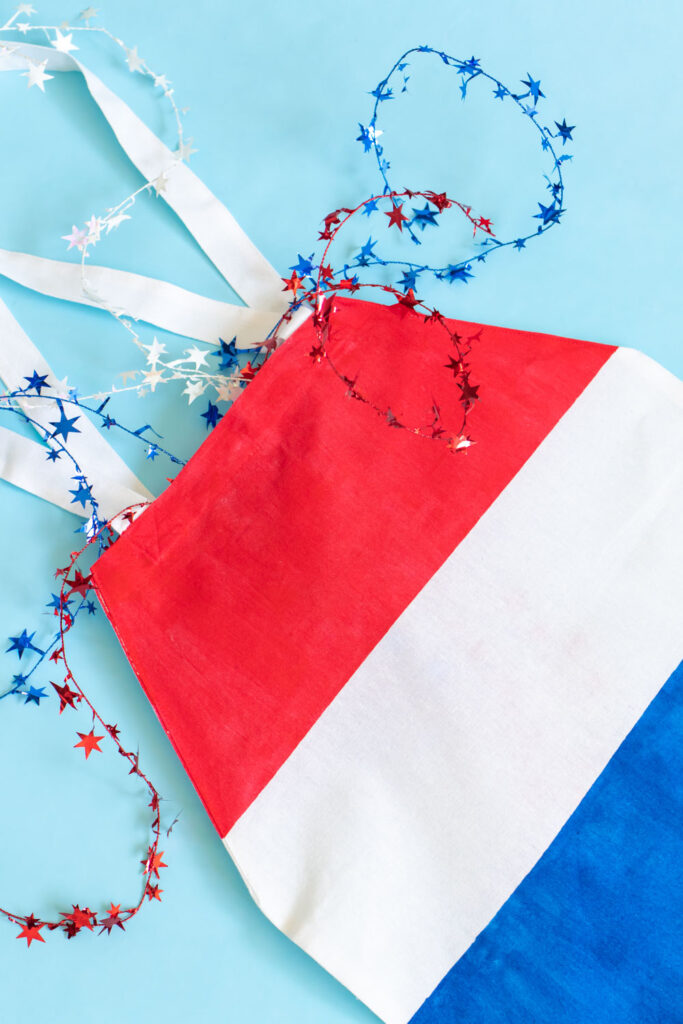 As you can see in this closeup, I sewed the bag to give it this unique popsicle shape. I don't think I could really call this a rocket pop tote bag without this unique shape. It's why it looks like a popsicle! To make it easier for anyone to recreate, I have a quick tutorial for how to make this 4th of July tote with or without sewing. Either way, you'll make a cute tote you can carry around this summer!
The defining piece of this tote bag that make it look like a popsicle is, of course, the stick! I debated adding it because it seems awkward, but the stick is what makes it truly look like a popsicle tote bag.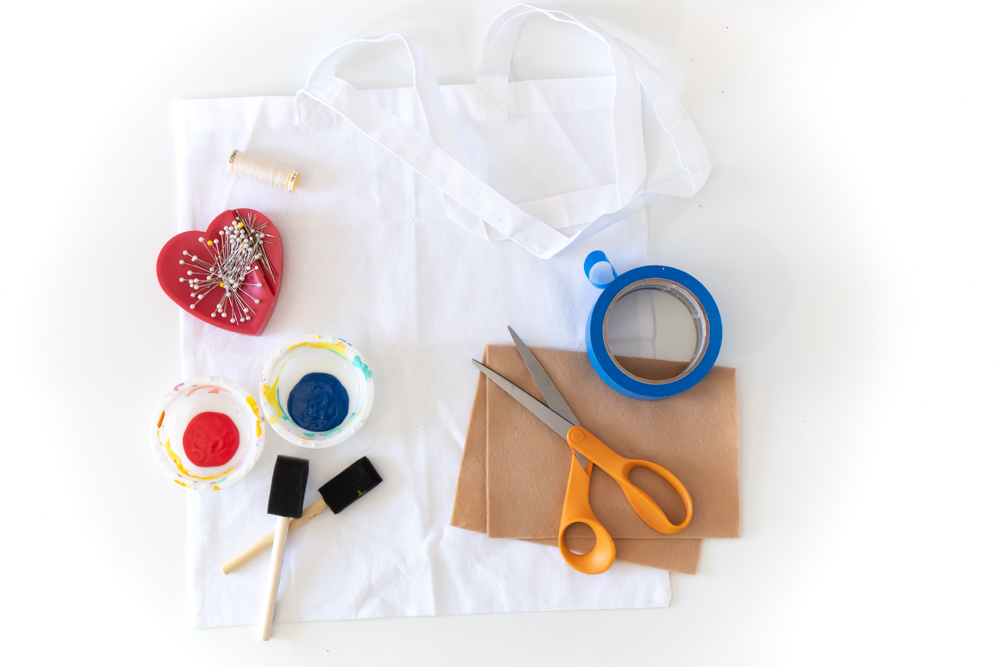 Supplies:
White tote bag
Painters tape
Red fabric paint
Blue fabric paint
Sponge brushes
Tan felt
Scissors
Pins and thread OR fabric glue
Cardboard
How to Create the Shape of a Popsicle Tote Bag
You can do this with or without sewing! Below is the tutorial for making a no-sew tote bag versus sewing it. To make the tote bag look more like a rocket popsicle, you'll want to change the shape by bringing in the fabric at the top of the bag.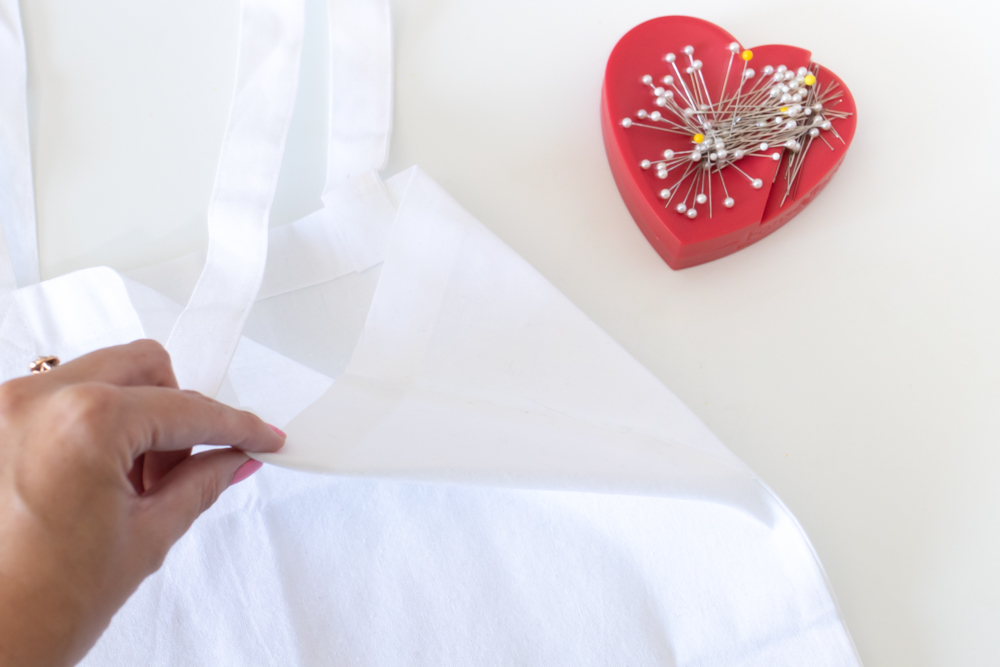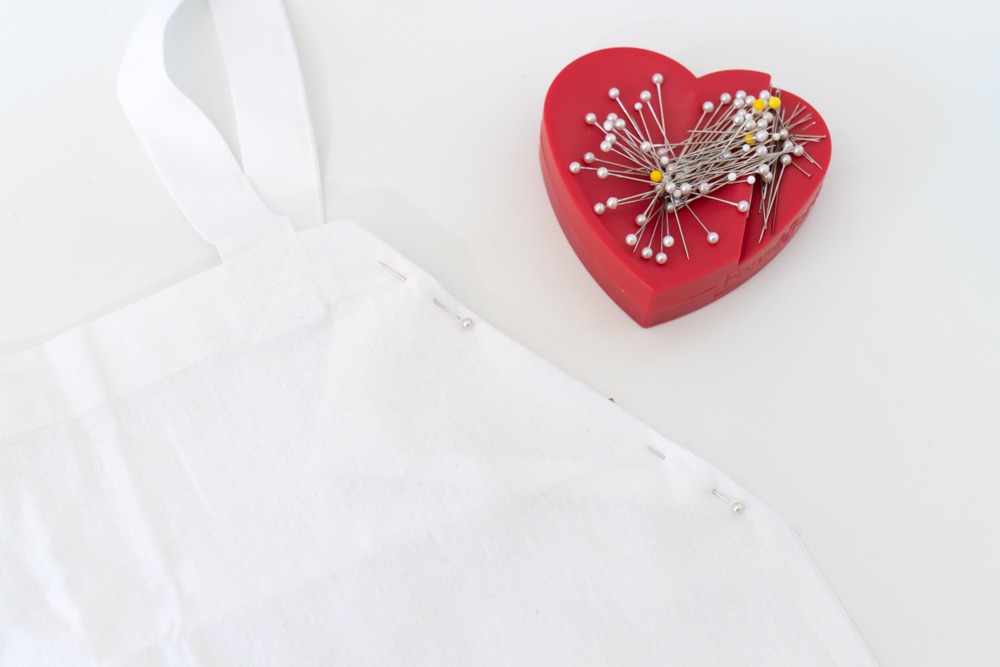 Step 1: At the top of the bag, fold in each side to make it angle toward the straps. This creates a tapered look. Pin in place and repeat on each side.
Step 2: Sew along this edge if using a sewing technique. If not sewing, apply fabric glue between the fabric to adhere the seam.
Step 3: Cut a strip of tan felt about 7 x 4 inches. Cut a curve on one end to look like a popsicle stick.
Step 4: Sew or glue it to the bottom-middle of the tote bag. Now that bag should have the general shape of a rocket pop tote!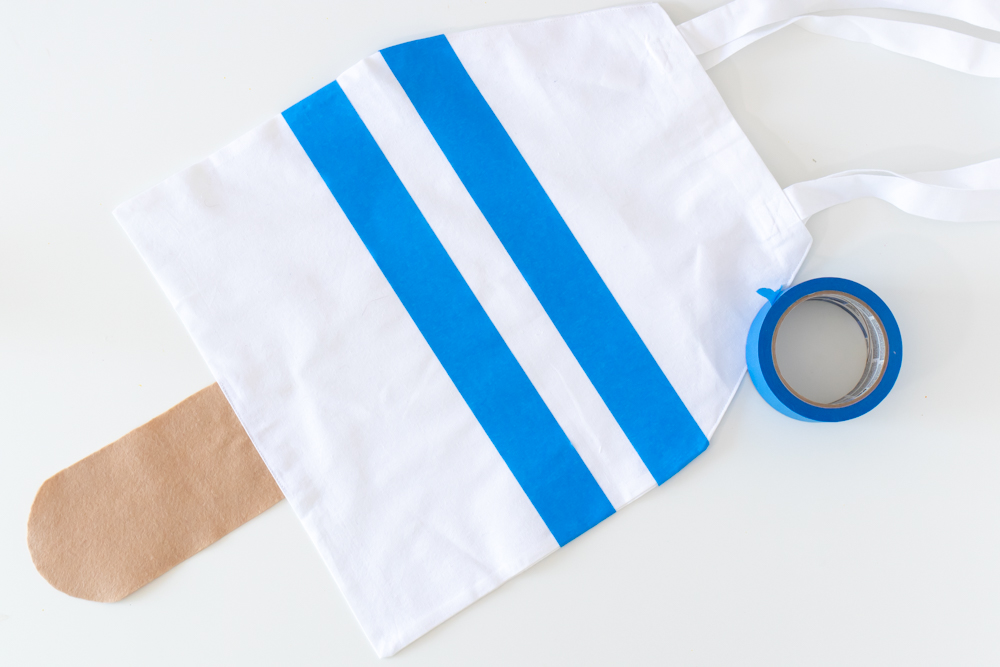 Step 5: Block off the bottom and top with straight lines of tape. All three sections should be approximately the same size. Because the middle will be unpainted, make sure to apply the tape to that side for creating the lines.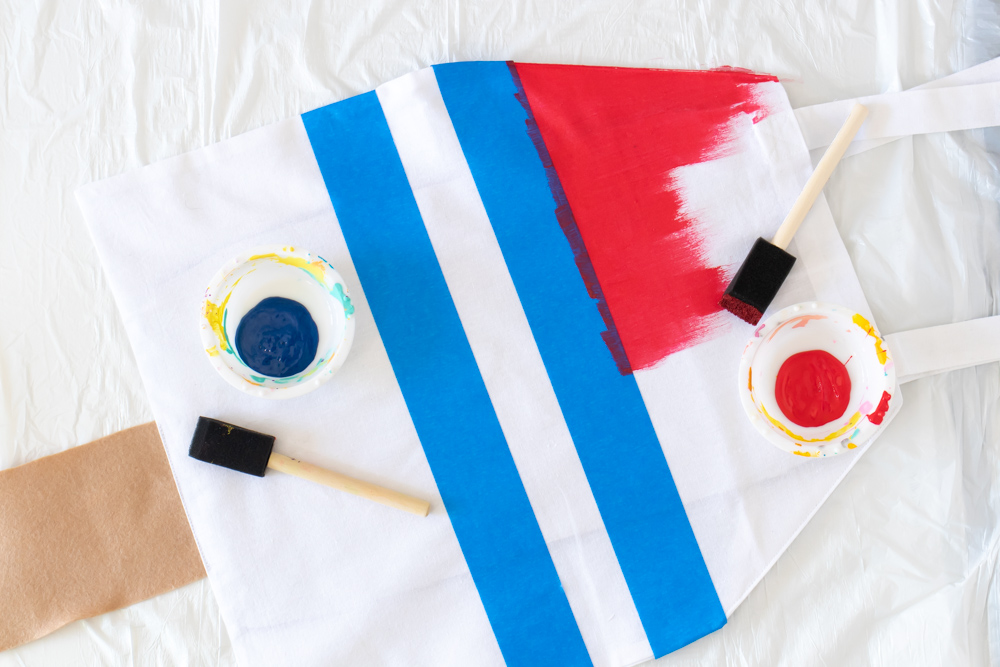 Step 6: Place a piece of cardboard inside so that the paint does not bleed through. Paint the top section red and the bottom section blue. If needed, add tape around the straps to keep them clean.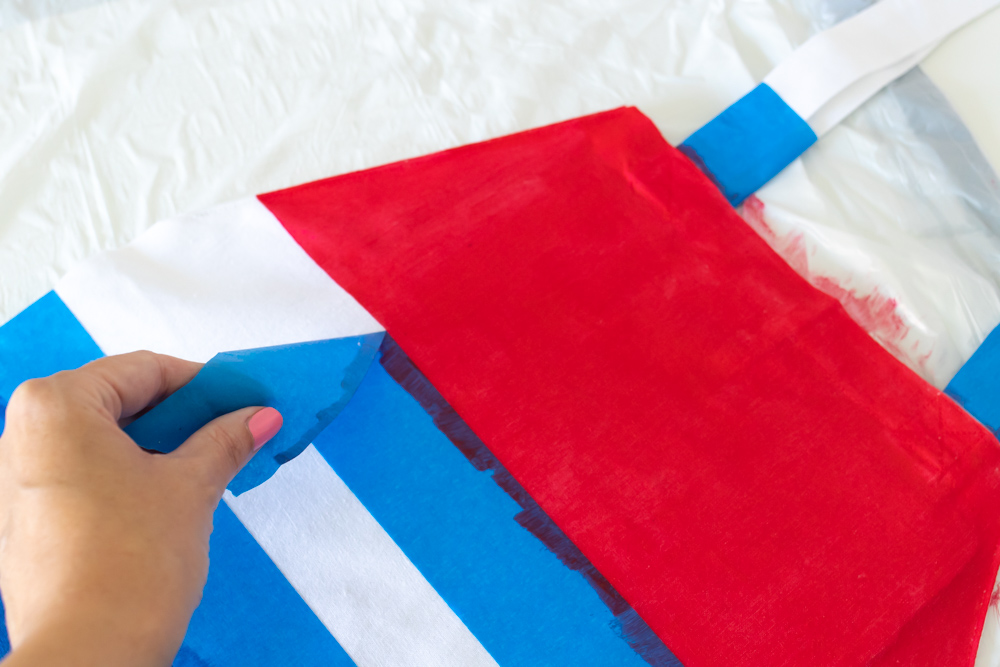 Step 7: Once painted, remove the tape and let dry completely. Then remove the cardboard from inside.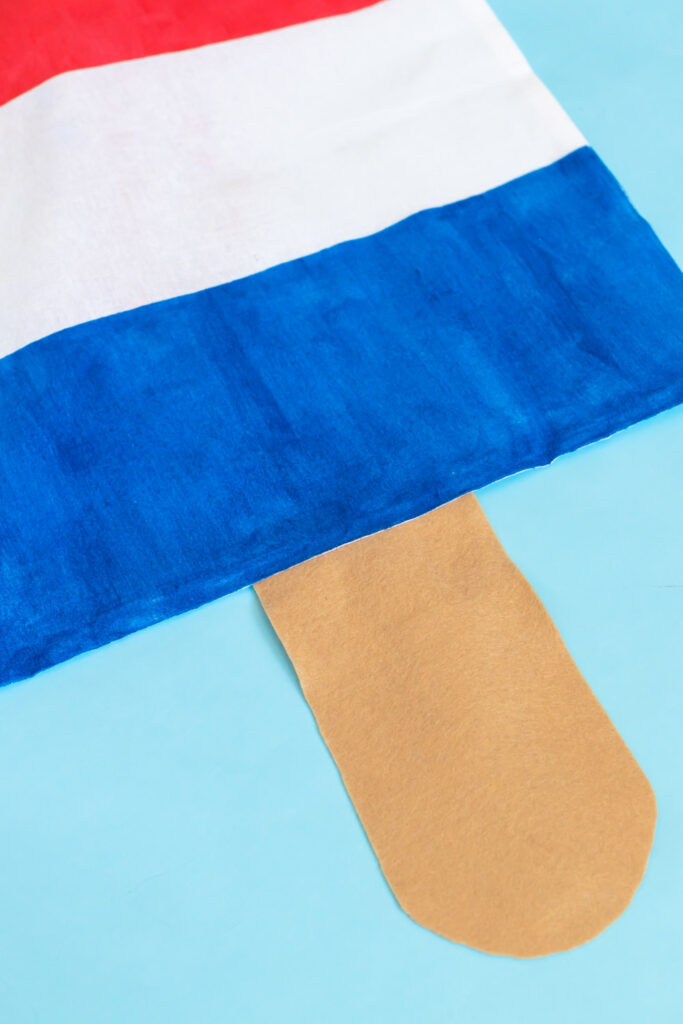 Now you can fill up your rocket pop tote bag with all of your 4th of July supplies!