/
DIY Felt Conversation Heart Banner for Valentine's Day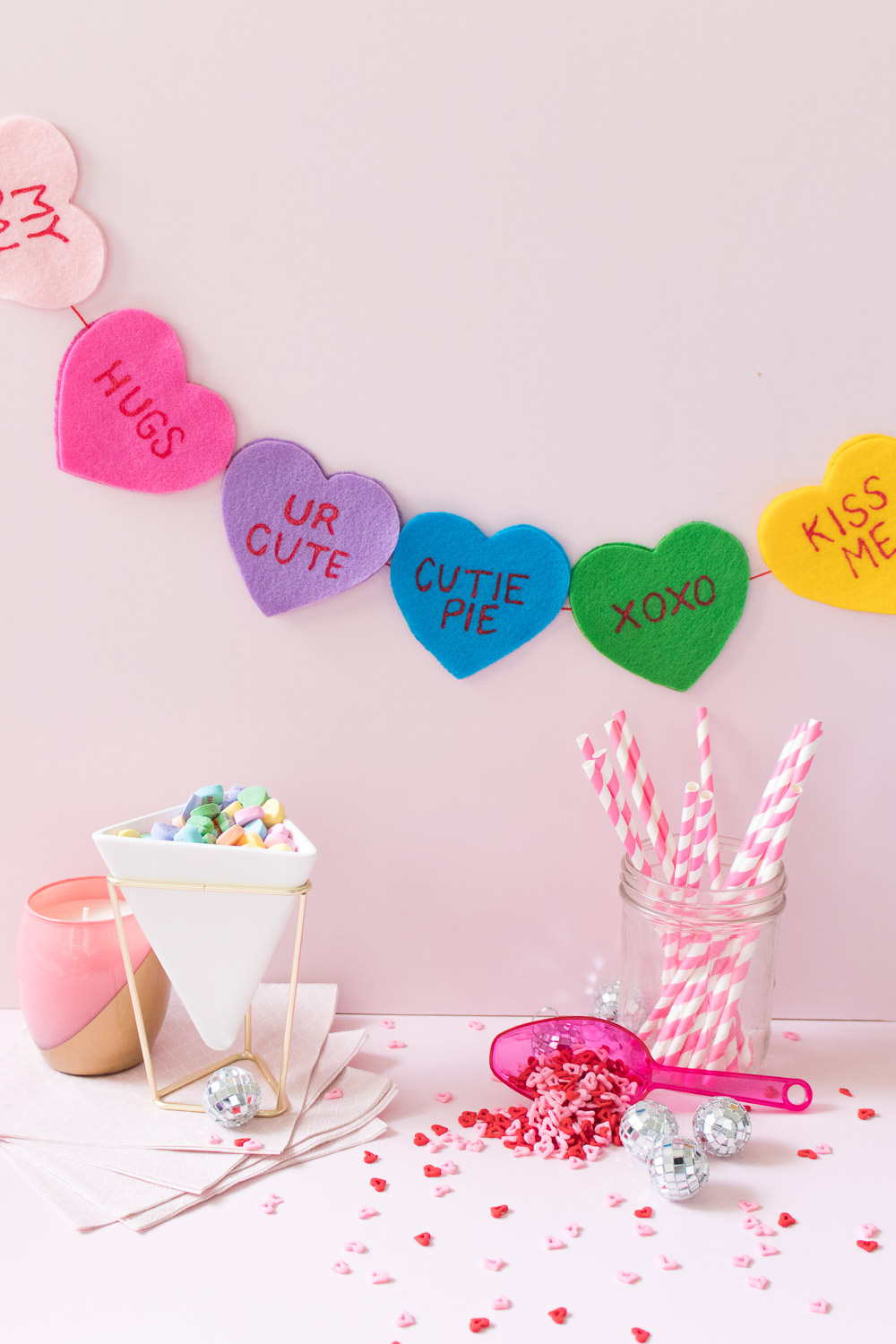 The following post is sponsored by Aleene's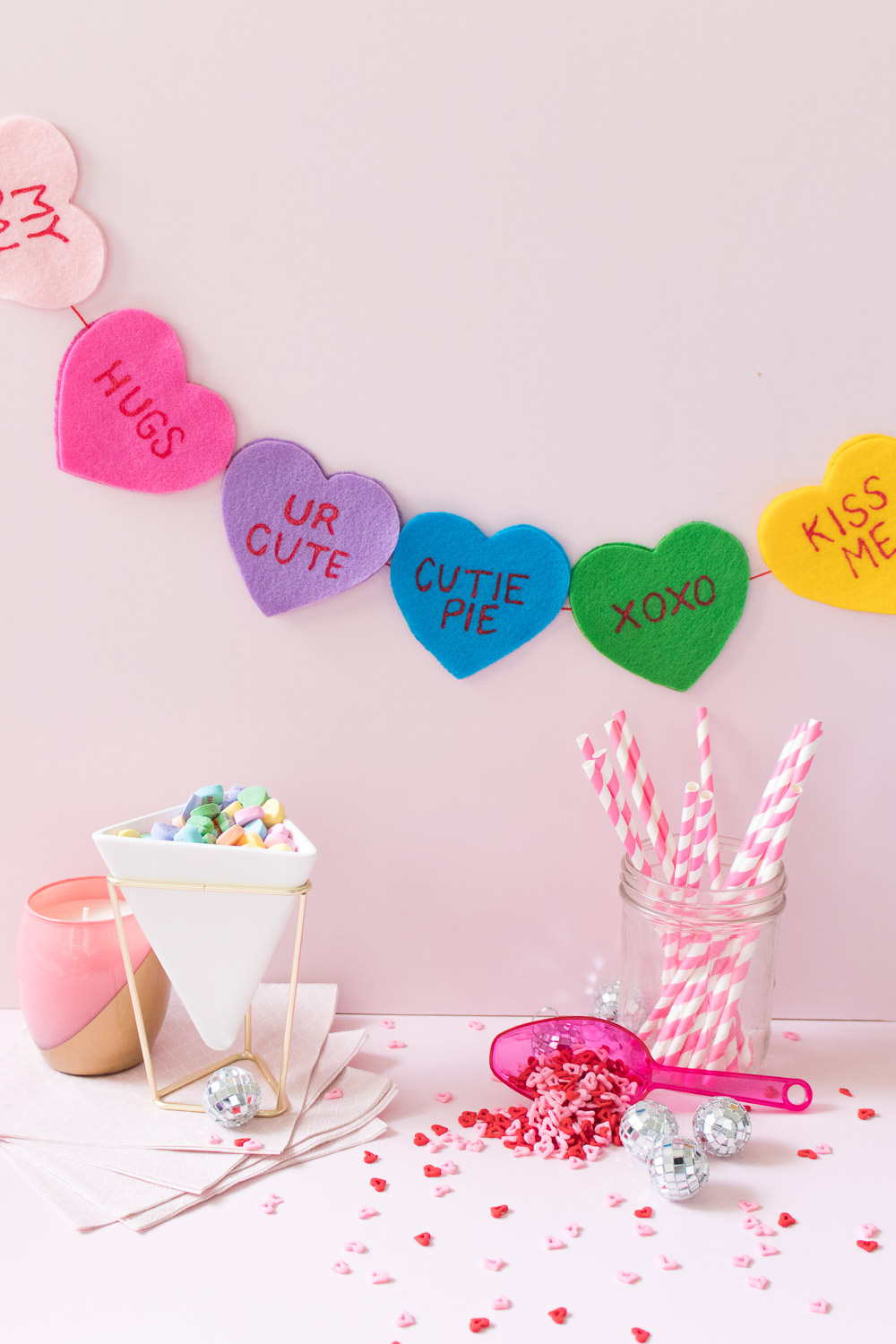 Can you believe how quickly January went by?! It's hard to believe I'm already preparing for Valentine's Day, which for me also means preparing to celebrate an anniversary. Since Andrew and I met the day after Valentine's Day, we celebrate our anniversary and Valentine's Day as one…and this will be FIVE years. I'm still not sure how we're celebrating (I legitimately want to go mini golfing), but I do know that I want to do some decorating! This simple DIY conversation heart banner is the perfect way to decorate a variety of areas of your home, and you can customize each heart with your favorite saying inspired by everyone's favorite heart candies!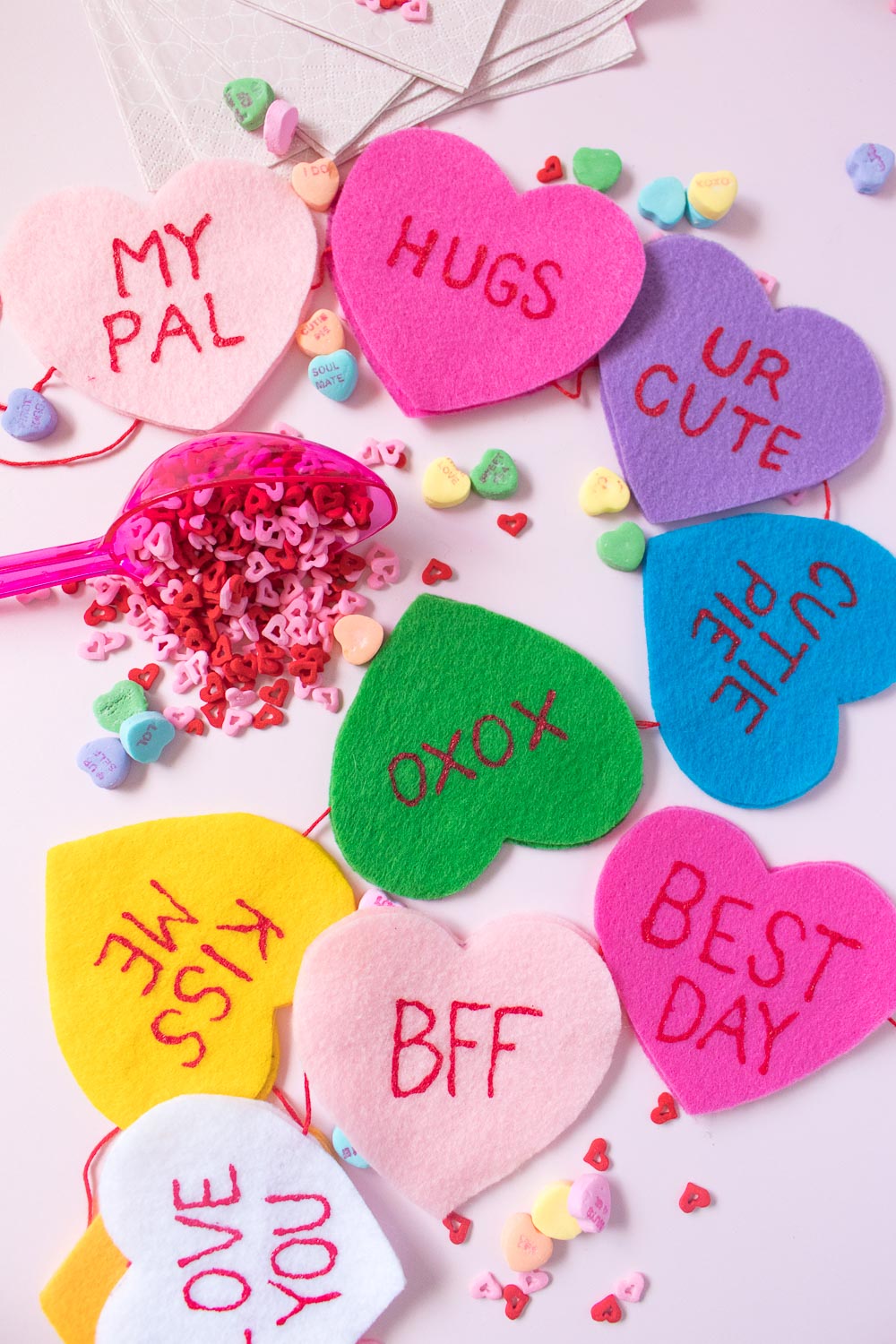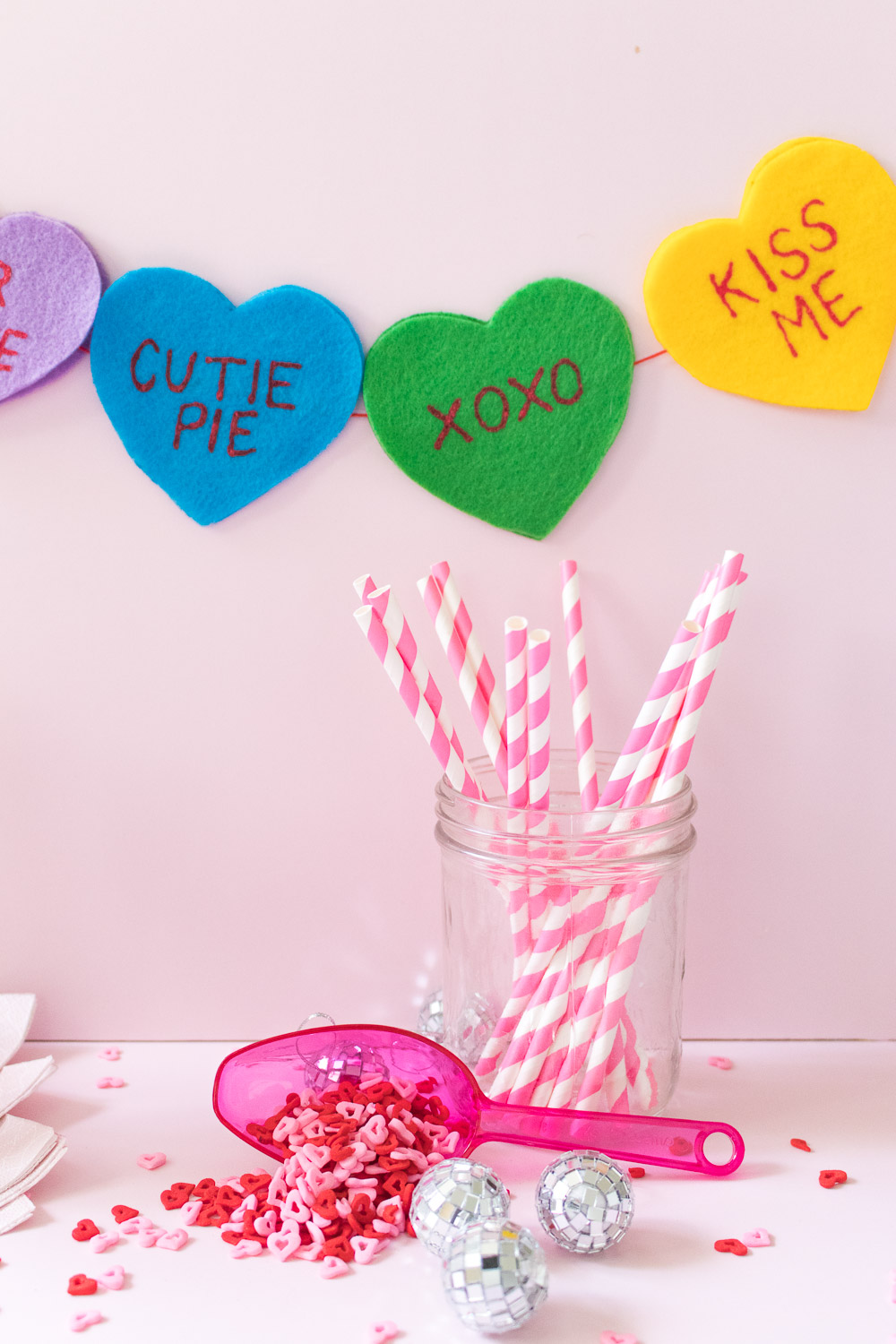 I used a variety of felt to create this rainbow-like pattern with the hearts, using Aleene's Fabric Glue to sandwich the felt together and create a durable banner. Each saying is unique and painted with Tulip Dimensional Fabric Paint, which has a tip that's perfect for writing. Favorite Valentine's Day decoration: check!
Time: 30 minutes
Supplies:
Step 1: Fold a piece of felt in half.
Step 2: Use a template or free-hand drawing a heart about 4 inches wide and cut it out so that you have two identical pieces.
Step 3: Repeat with all desired colors, using the same template for all.
Step 4: Lay out the hearts in the desired color pattern and separate the tops/bottoms.
Step 5: Draw a line of glue through the middle of the row and press the string on top of it.
Step 6: Add additional glue around the edges of the heart and sandwich the other piece on top.
Step 7: Use the paint to write unique conversation heart sayings on each heart and set aside to dry overnight.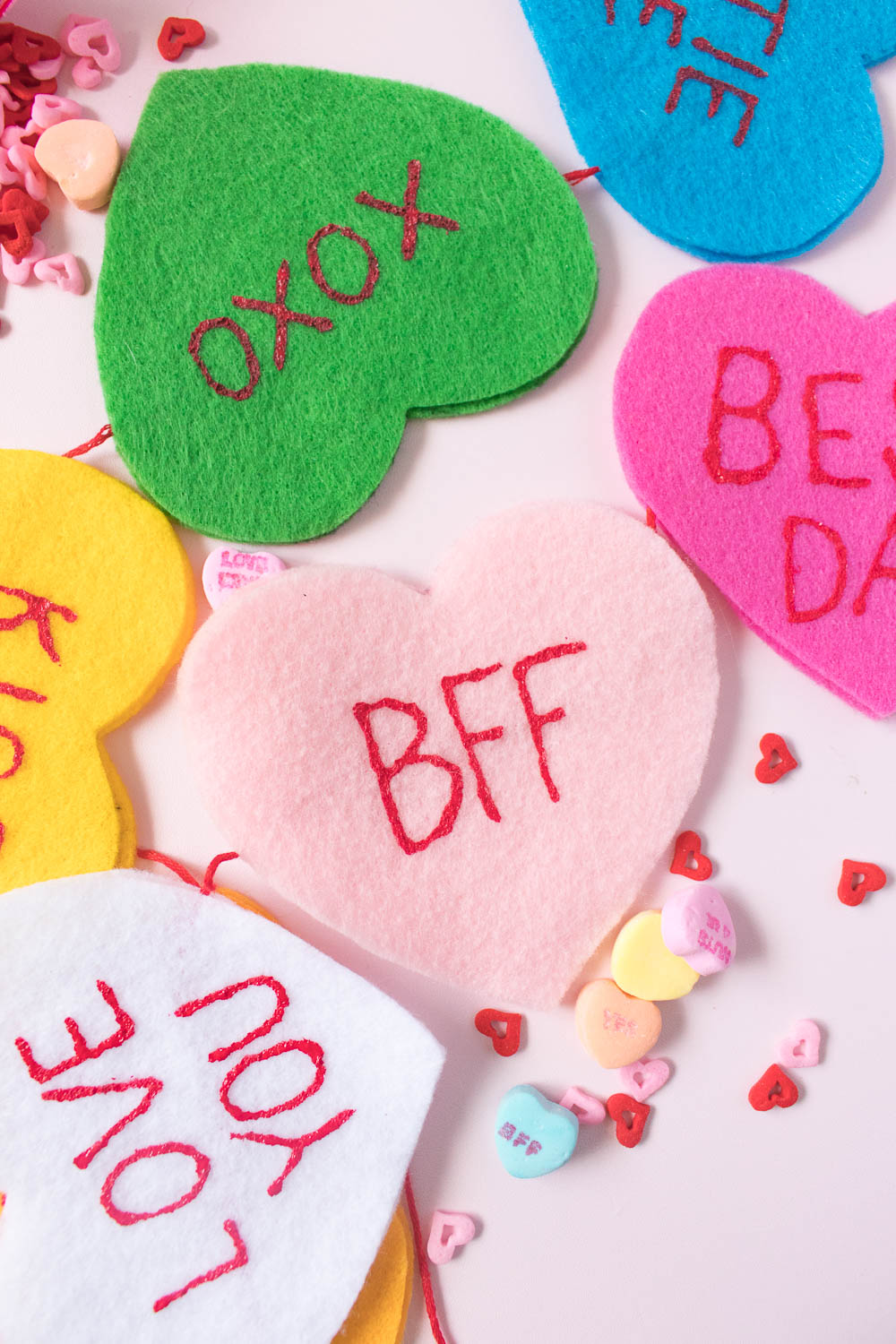 Tip: In order to ensure somewhat even lettering, try to draw the middle letters first. This ensures the middle of the words will line up with the middle of the hearts.
Hang it up for a party or just because! Valentine's Day may be a greeting card holiday, bit it's still fun to celebrate with the people you love!
Thank you to Aleene's for generously sponsoring this post. All opinions are my own. Thanks for supporting the brands that keep Club Crafted sharing! Please note that this post may contain affiliate links from which I may collect a small profit should you choose to make a purchase. I only link to products I personally use and/or recommend.