/
Boho Bedroom Decor Idea // DIY Vinyl Boho Candleholders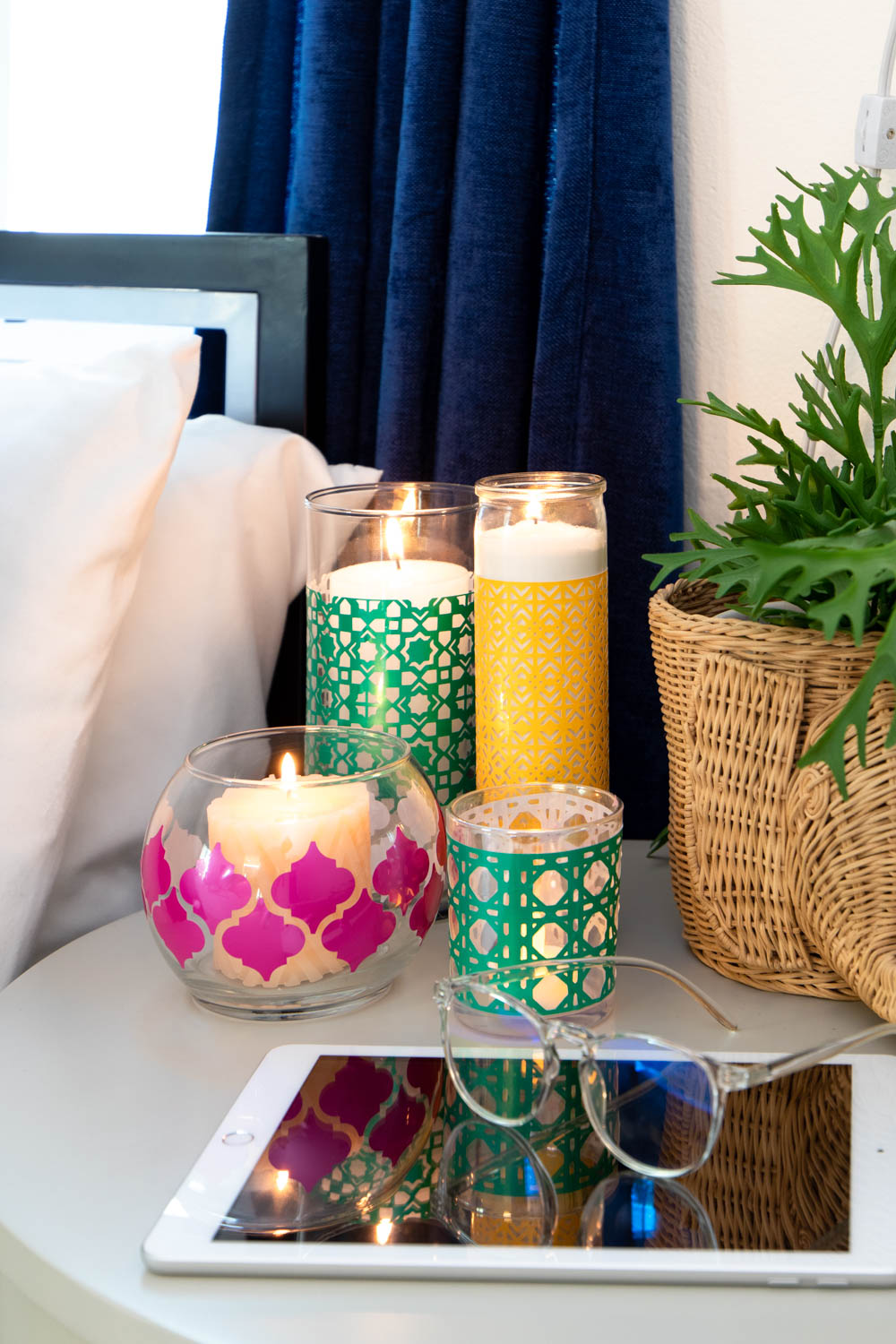 The following post is sponsored by Cricut
Let's talk about boho bedroom decor today! In the process of planning decor ideas for our home, I couldn't really pinpoint my exact decor style. As much as I love true midcentury design, I discovered I was often attracted to eclectic and bohemian decor styles too! Now I'm learning to infuse midcentury, boho and eclectic vintage decor into my home to make it really feel like ME (Oh, and a little industrial-meets-midcentury for Andrew). To bring a little boho into the bedroom, I made this set of DIY boho candleholders with Cricut vinyl! My Cricut Explore Air 2 cut out all the tiny details of my boho-inspired patterns, and all I did was stick it together. These easy DIY boho candles are also CHEAP to make! Keep reading for the full tutorial and a quick video.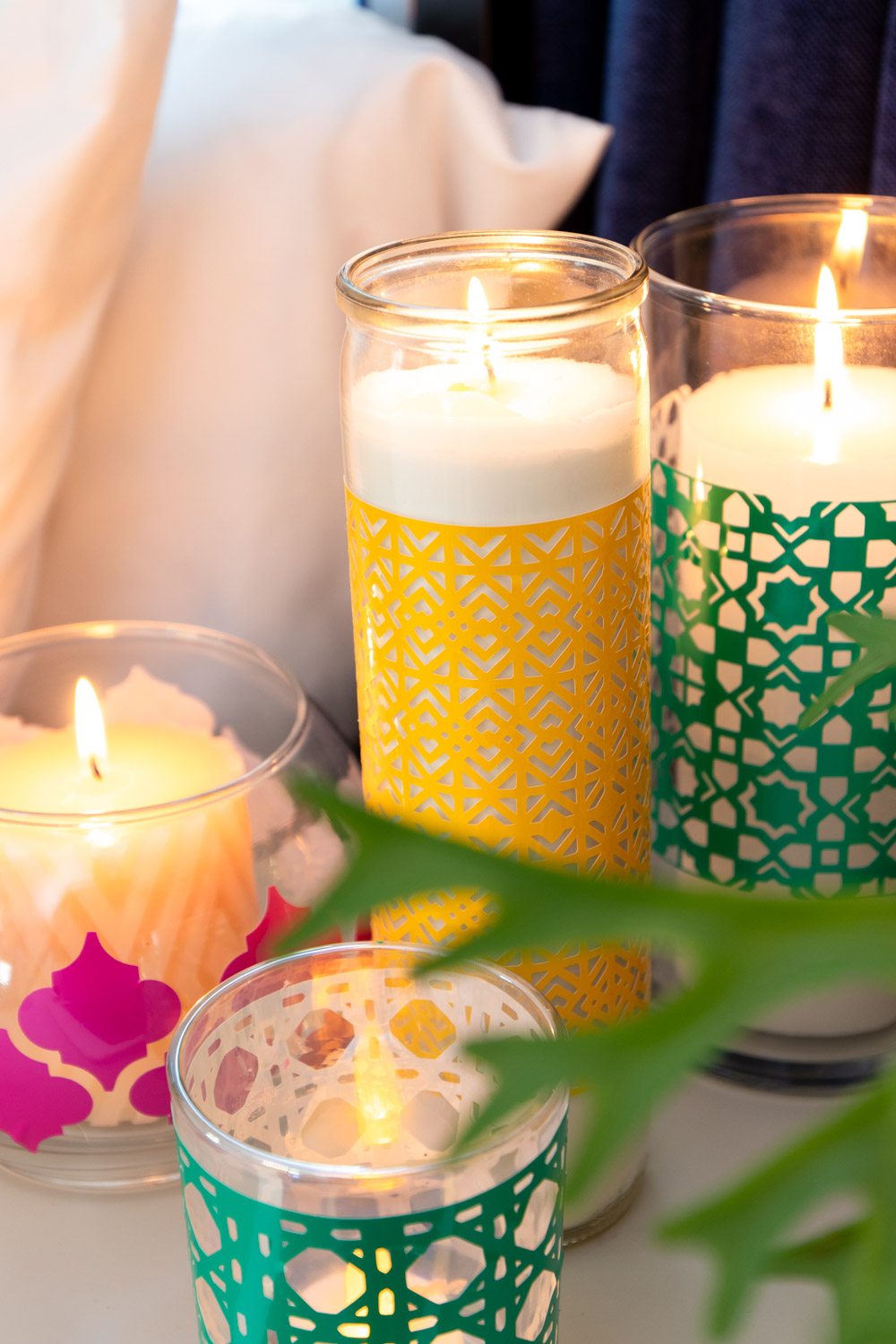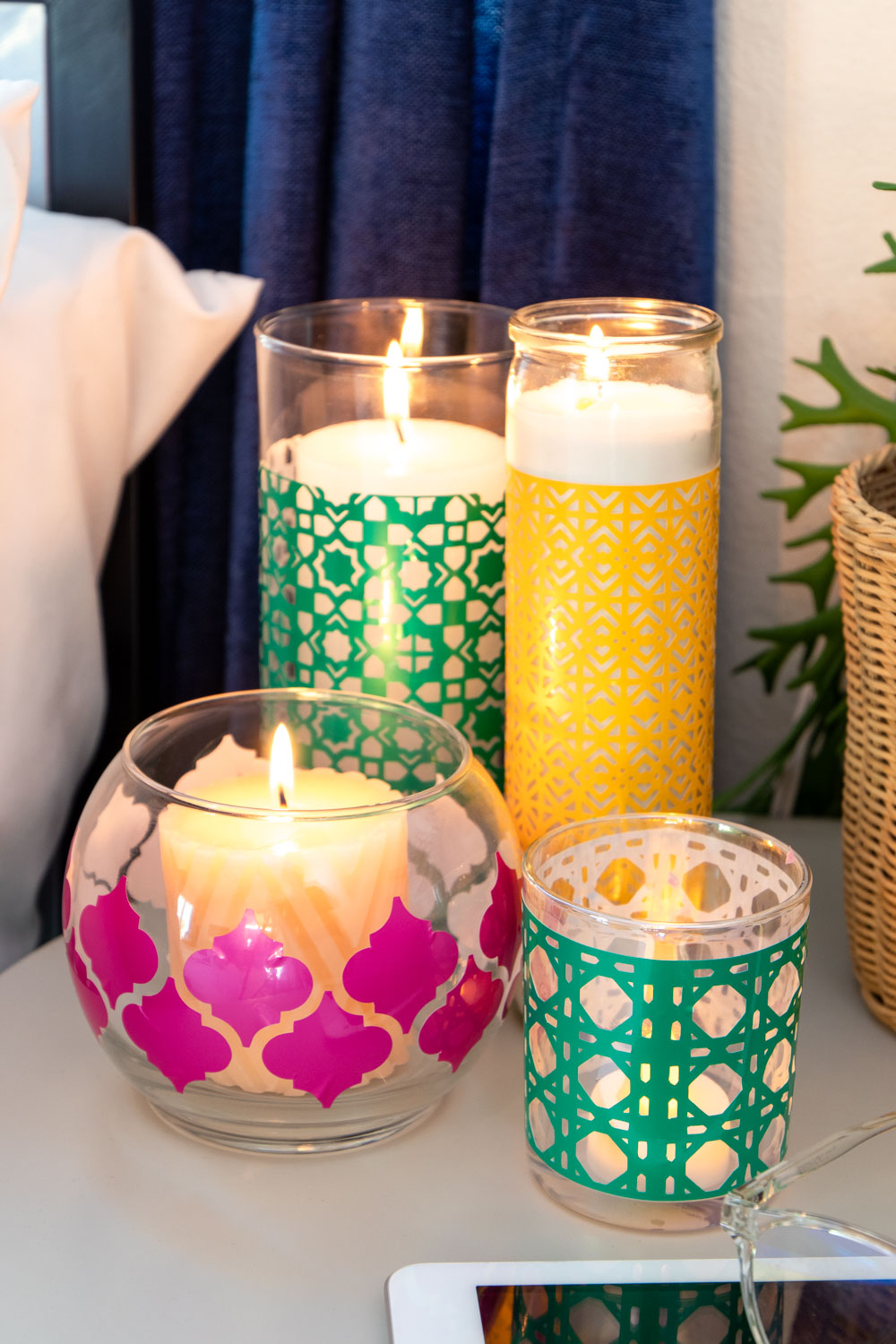 My take on this boho bedroom decor idea is heavily inspired by Moroccan designs with the use of jewel toned Cricut Vinyl. For even more boho candleholder designs, I recommend searching "patterns" in Cricut Design Space. There's so many to choose from! While I chose very intricate designs, there are some (like the pink design) that are simpler. Keep in mind these designs take a long time to cut! The very intricate design of the yellow candleholder took about an hour. Luckily you can find other things to keep you busy while the Cricut works!
These vinyl boho candleholders found a home on my bedside table. There's something about candles that is so relaxing! I just want to cuddle under the covers with a good book…minus the cuddle part because it's 100 degrees here.
How to make boho-inspired candleholders
Here's how to make your own boho candleholders with ANY color or type of Cricut vinyl! Please keep in mind these are intricate designs, so they must be cut with a machine. However, you can use any Cricut machine, such as the Cricut Maker or Cricut Joy, to cut your designs.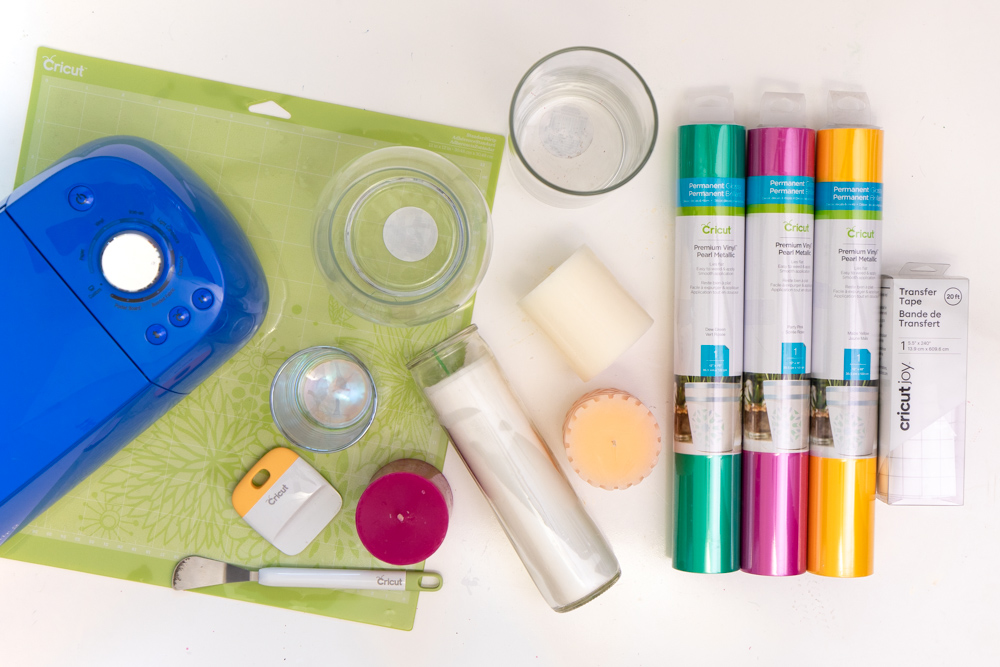 Supplies:
Step 1: Visit Cricut Design Space and choose the template above or create your own. Try searching "patterns" to choose your favorites! Resize according to each candleholder.
Note, I used a measuring tape to wrap around each glass jar to determine the length of my design.
Step. 2: Then click "Make It" when you're ready to cut. Apply the first color of vinyl to a Standard Grip Mat with the white side of the vinyl DOWN.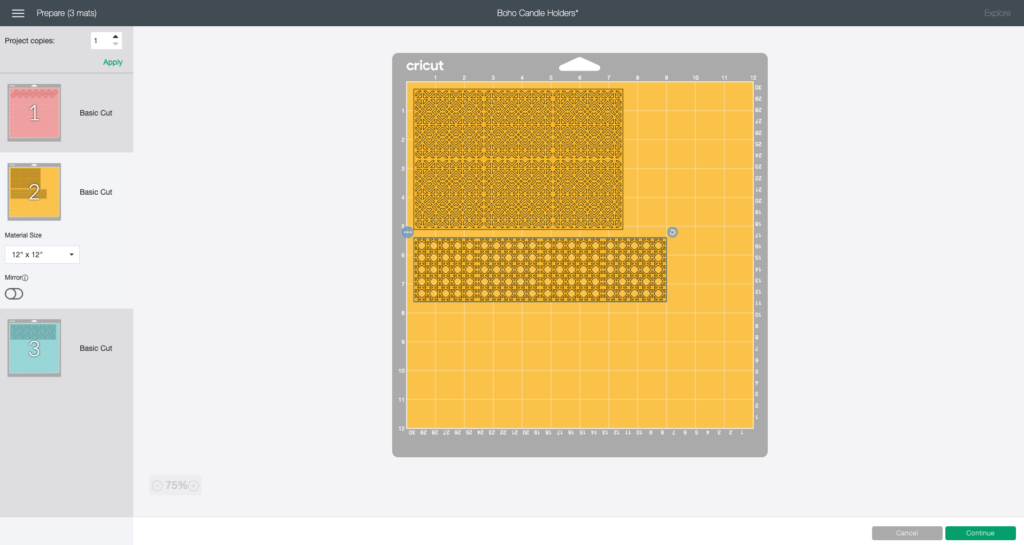 HOW TO CUT INTRICATE PATTERNS WITH CRICUT
Step 3: Then check that you are set to "Vinyl" or "Vinyl+." Because the designs are so intricate, I recommend "Vinyl+." I also like to use a Deep Cut Blade for this purpose, but it isn't necessary.
Step 4: Load your mat into the machine. Then click the flashing start button. Watch it go! Like I said, it might take a while for intricate Cricut designs.
Step 5: Once done, unload the mat. Then cut out the cut section from the rest of your material. Carefully peel away the border and discard.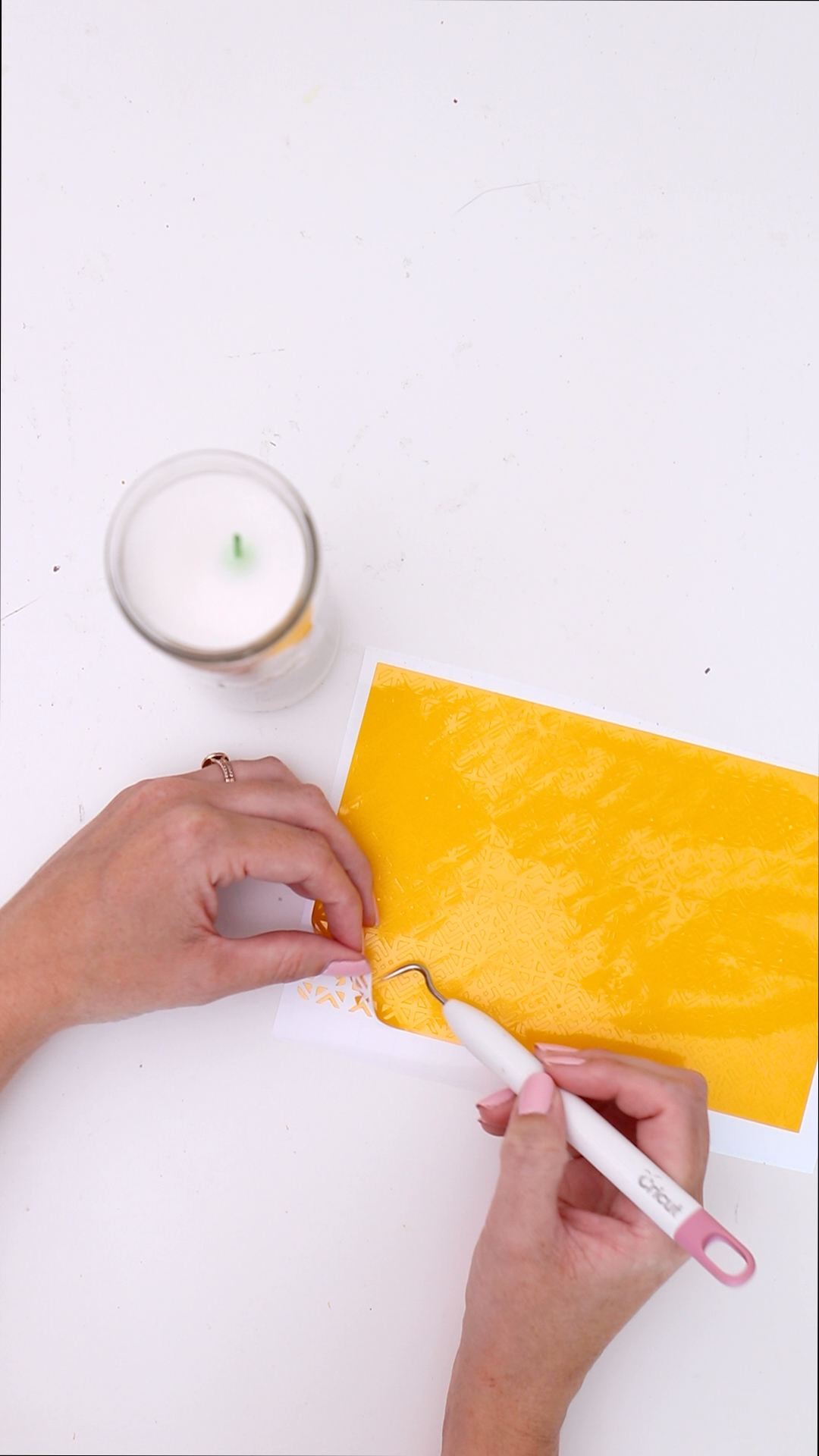 Step 6: Then gently peel back the design outline. You may need to use the weeding tool to remove tiny pieces that get caught in the design for your boho candleholders. Just take your time here.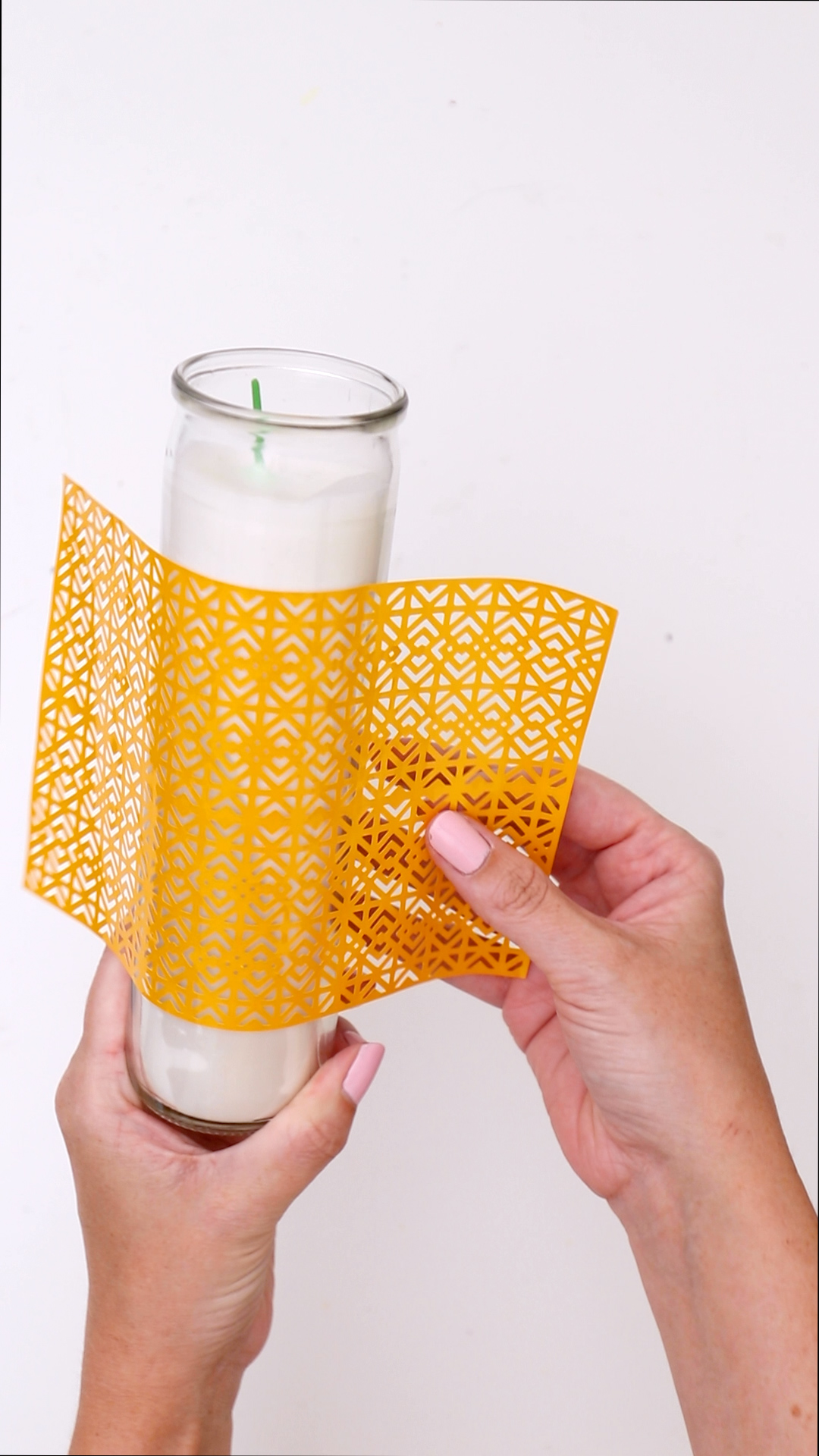 Step 7: Finally, carefully transfer the design to wrap around your glass jar candleholder. Smooth with your hands or a smoothing tool.
Note, for designs that don't have a border (like the pink one), apply transfer tape over the weeded design. Then peel it away in one go and smooth onto your candleholder.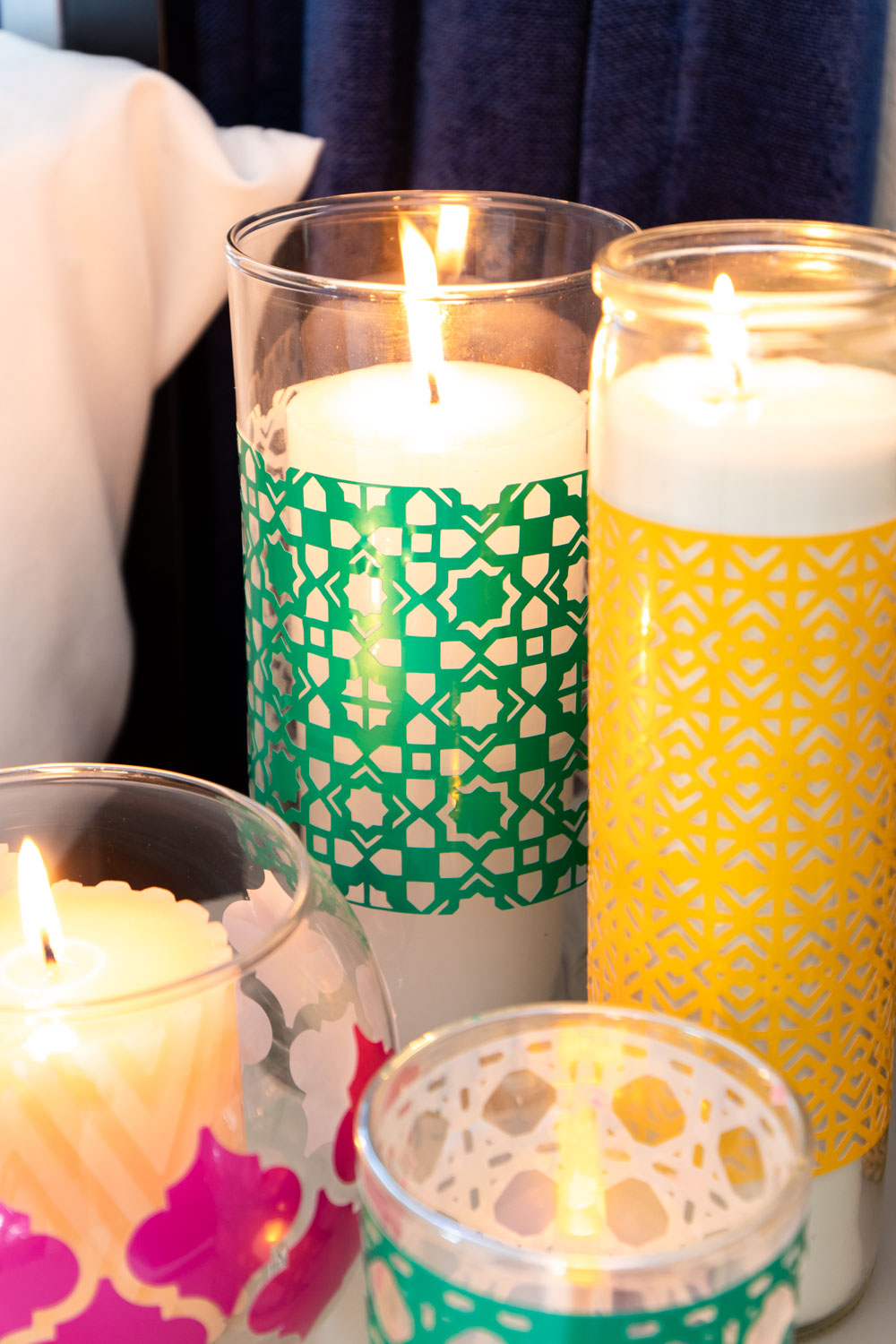 Add in your favorite faux or real candles to enjoy! I love how they look when they're all grouped together. This is one of those projects that makes me SO impressed with what my Cricut can do. Be sure to check out the archives for even more ways to craft with Cricut!