/
Color Blocked Cookies for Easter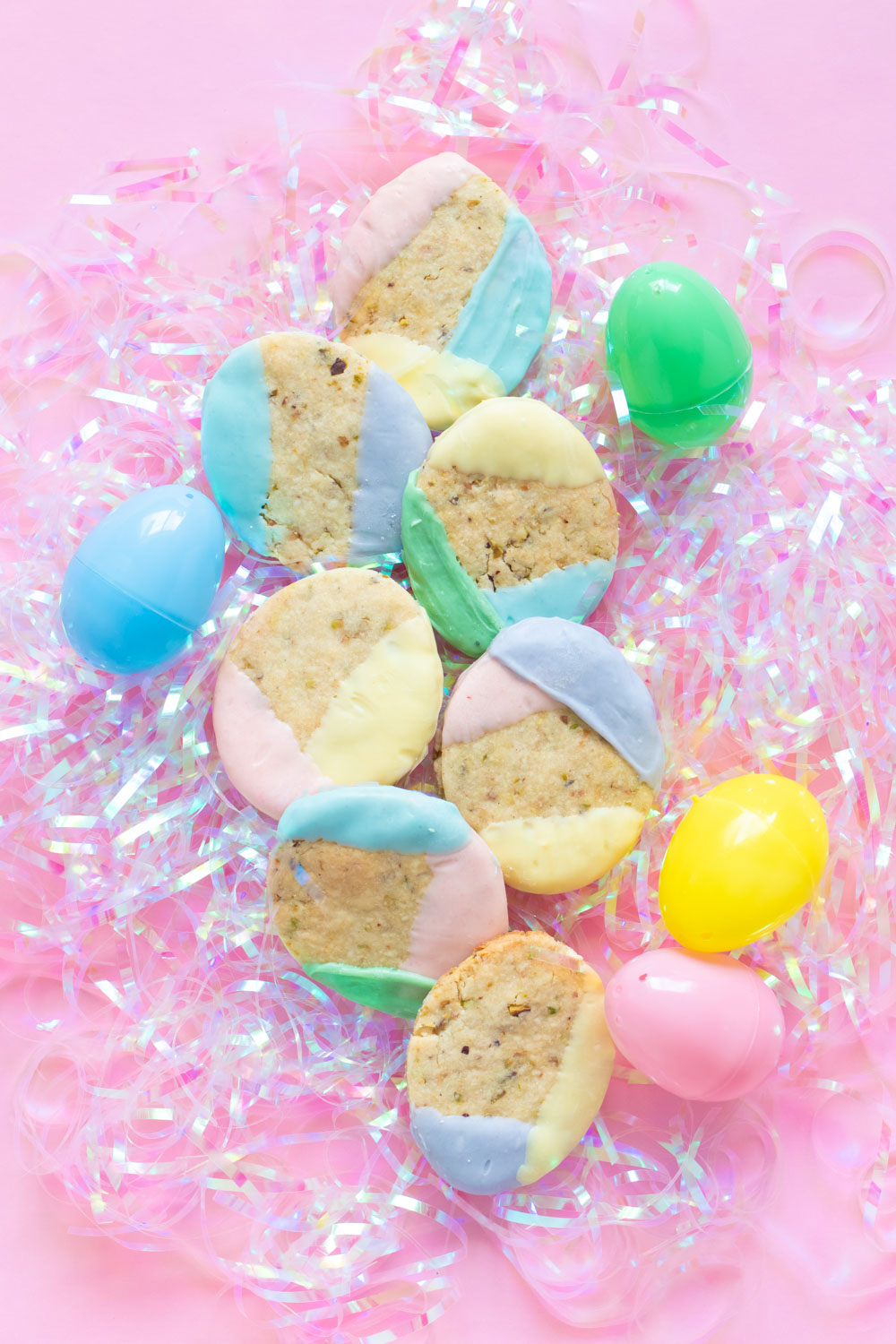 Easter is coming up fast! I know this year will probably feel very different for most us since we are supposed to avoid any gatherings…but I do find that baking makes me feel better! If you're in the baking mood too, I suggest these pastel color blocked cookies. Made with a simple pistachio shortbread recipe and dipped in white chocolate, they're honestly delicious. Use an oval egg-shaped cutter to make them for Easter! Not only is the recipe incredibly easy but so is the tutorial for color blocking the cookies. Enjoy them all for yourself, or give them out to friends and family for Easter (safety first, obviously).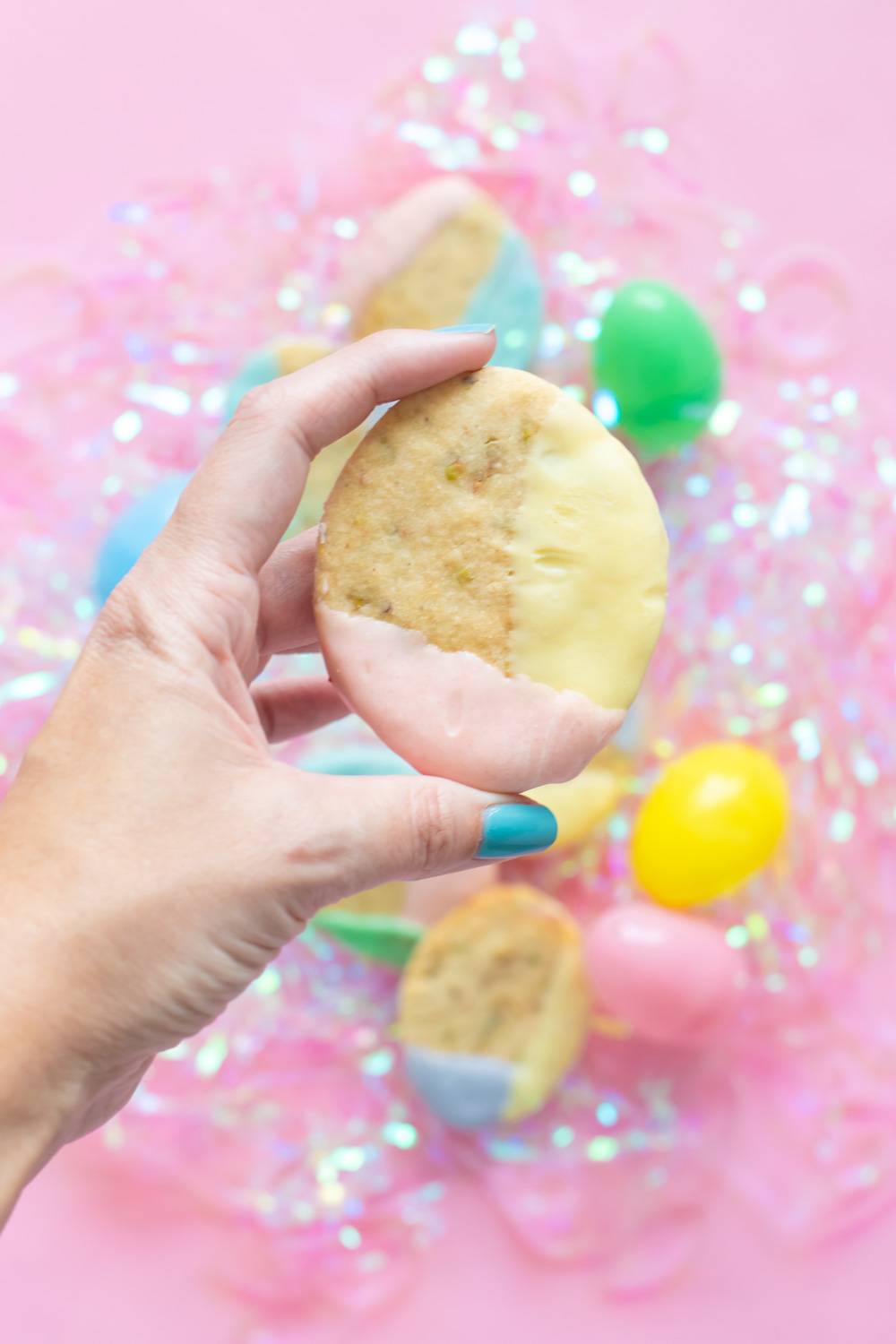 I do really love celebrating Easter with my family! We always have a big brunch and an Easter egg hunt for the kids. I'm sorry for those who can't celebrate the way they want this year due to the pandemic. All I can say is I hope that a colorful cookie brightens your day.
This pistachio shortbread is a perfect sweet and salty recipe! Once baked, I made color blocked cookies by dyeing several batches of melted white chocolate with food coloring. One by one, dip different sections in the colored chocolate. As one section dries,
Keep scrolling for the full pistachio shortbread recipe for making your color blocked cookies this Easter! 👇🏼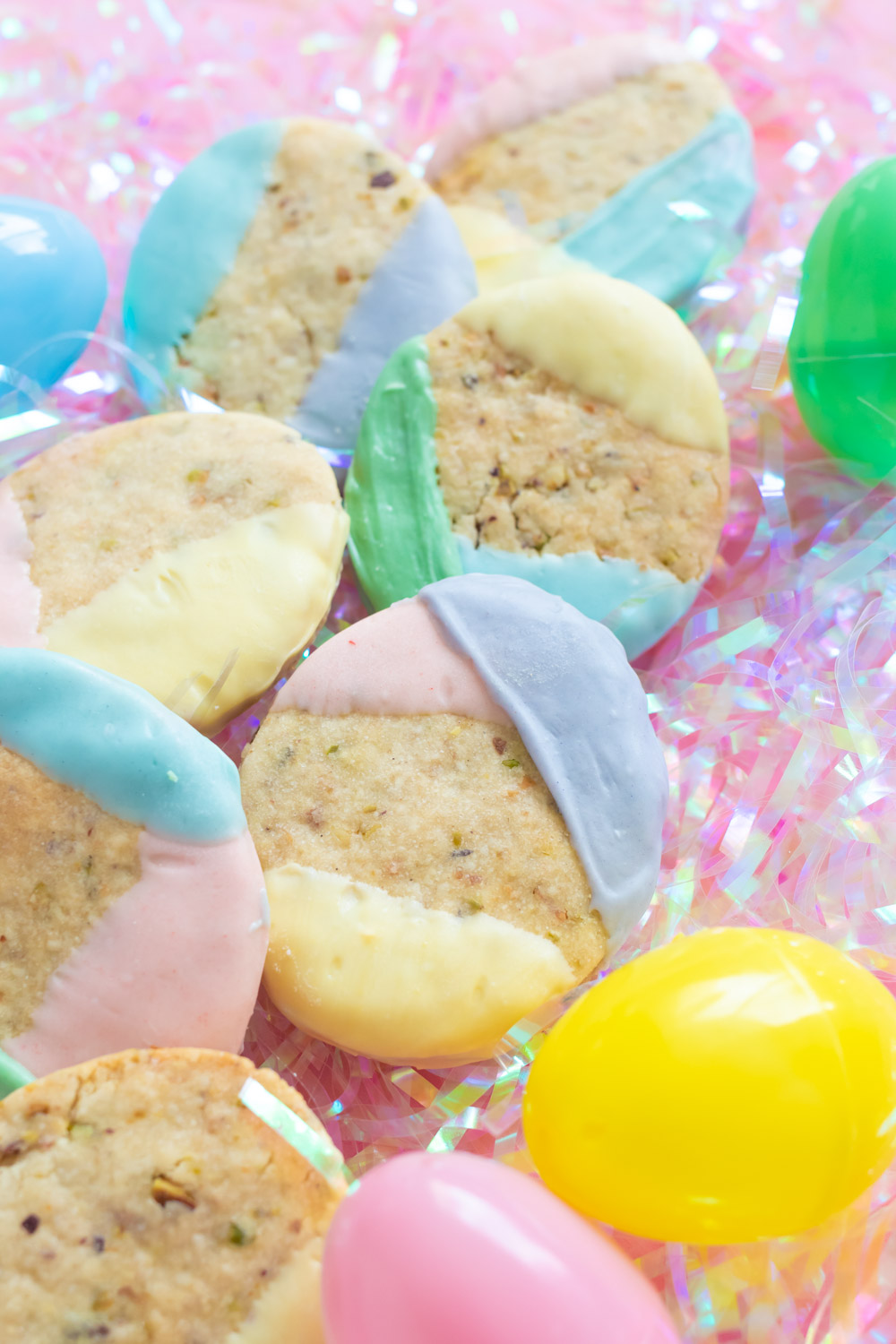 I like the idea of pairing these color blocked cookies with the literal carrot cake I made last year. Seriously, I still have dreams about how good that carrot cake was…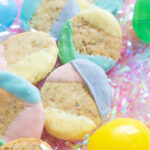 Pistachio Shortbread (Color Blocked Cookies)
2020-04-01 15:58:46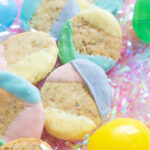 A simple shortbread recipe with salty pistachios, decorated to look like color blocked Easter eggs with white chocolate
Ingredients
1/2 cup butter, room temperature
1/2 cup granulated sugar
1 tsp vanilla
2 tbsp milk
2 cups all-purpose flour
1/2 tsp salt
1/4 tsp ground cardamom
1/2 cup pistachios, shelled and finely chopped
White chocolate, optional for topping
To Make the Shortbread
Beat the butter and sugar for about 2 minutes until light and fluffy
Add the milk and vanilla, mix well and scrape down the bowl
Stir in the dry ingredients and mix until just combined
Then mix in the chopped pistachios by hand. If the dough becomes too thick to stir, knead lightly with your hands until combined
Form into a ball, wrap in plastic and refrigerate one hour
Preheat the oven to 350 degrees
Tear a large sheet of parchment or lay out a silicone mat. Roll the chilled dough on the sheet until about 1/2 inch thick. Then move to a baking sheet
Cut out Easter egg shapes with a cookie cutter but do not remove excess dough. Bake 18-20 minutes until the edges of the dough is lightly brown
Remove and use cookie cutter on shapes again. As the dough cools, remove the excess edges
To Make Color Blocked Cookies
If desired, melt about 10 oz. white chocolate until smooth
Split into multiple bowls and add food coloring until you reach your desired colors
Gently dip sections of cooled cookies into the white chocolate, then set on parchment to set
Once a section is set, re-dip in other colors to create a color block look
Let chocolate set and enjoy. Store leftovers in an airtight container within one week.
Club Crafted https://www.clubcrafted.com/