/
Syrup + Pancake Whoopie Pies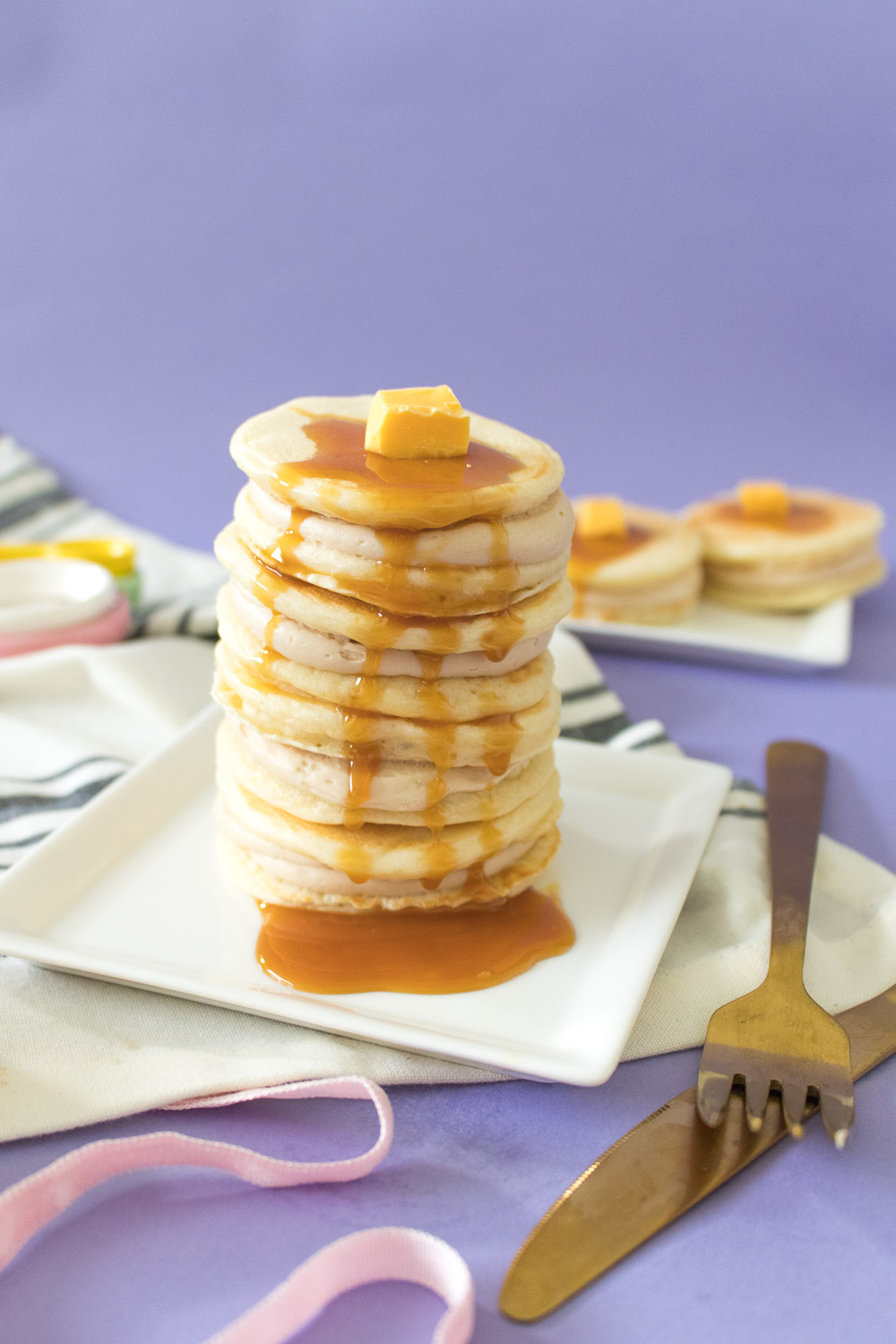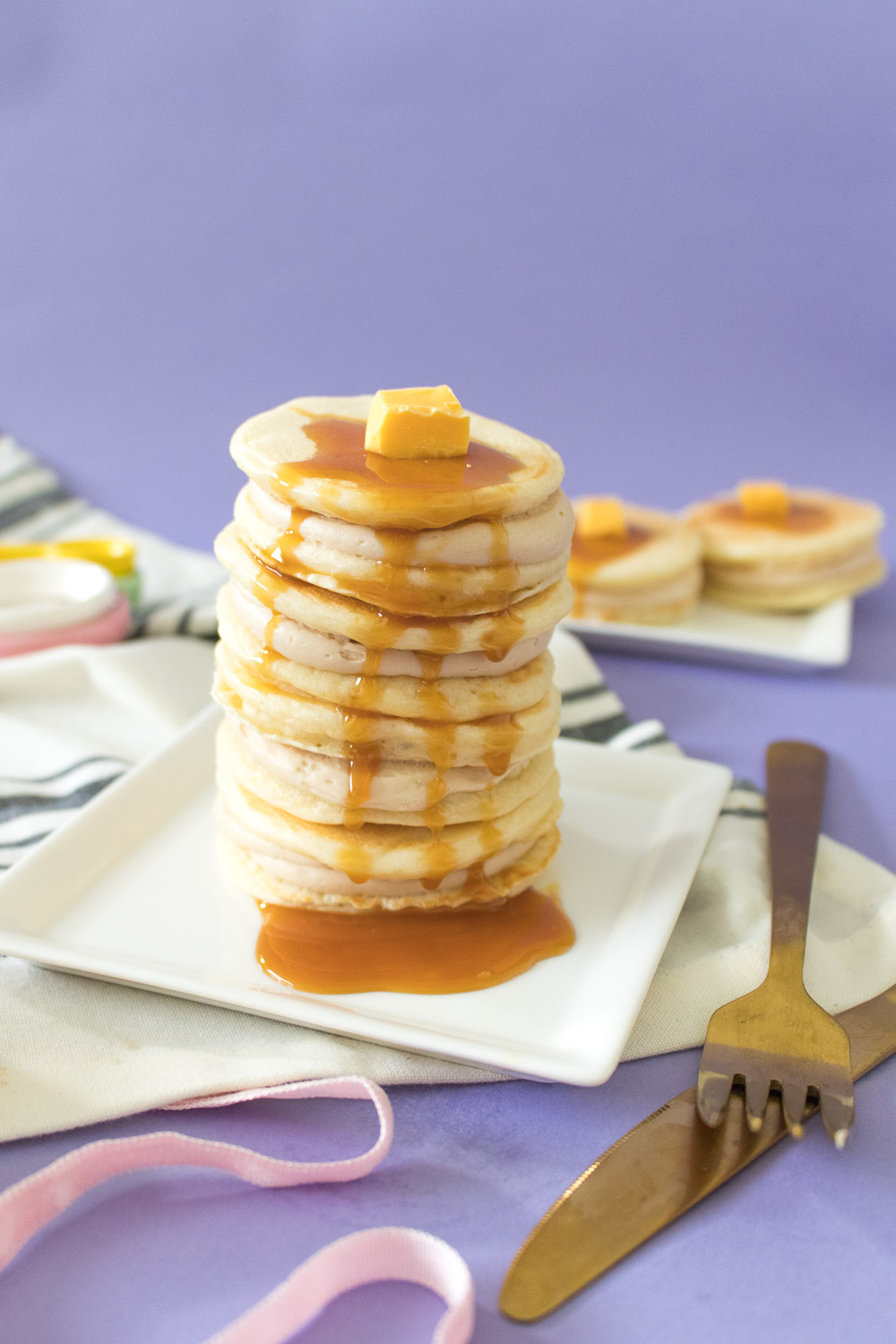 Some things just go together like pancakes and syrup. In this case, those things are literally pancakes and syrup…but with a little twist. Pack those classic, delicious breakfast flavors into syrup and pancake whoopie pies! These mini homemade pancakes are sandwiched with fluffy maple buttercream and topped with a little caramel syrup and a cube of chocolate "butter" to look like a stack of good 'ol fashioned pancakes but taste like mini cakes. Now you can take your breakfast or brunch up a few notches with a sweet breakfast treat that could be delicious ALL DAY!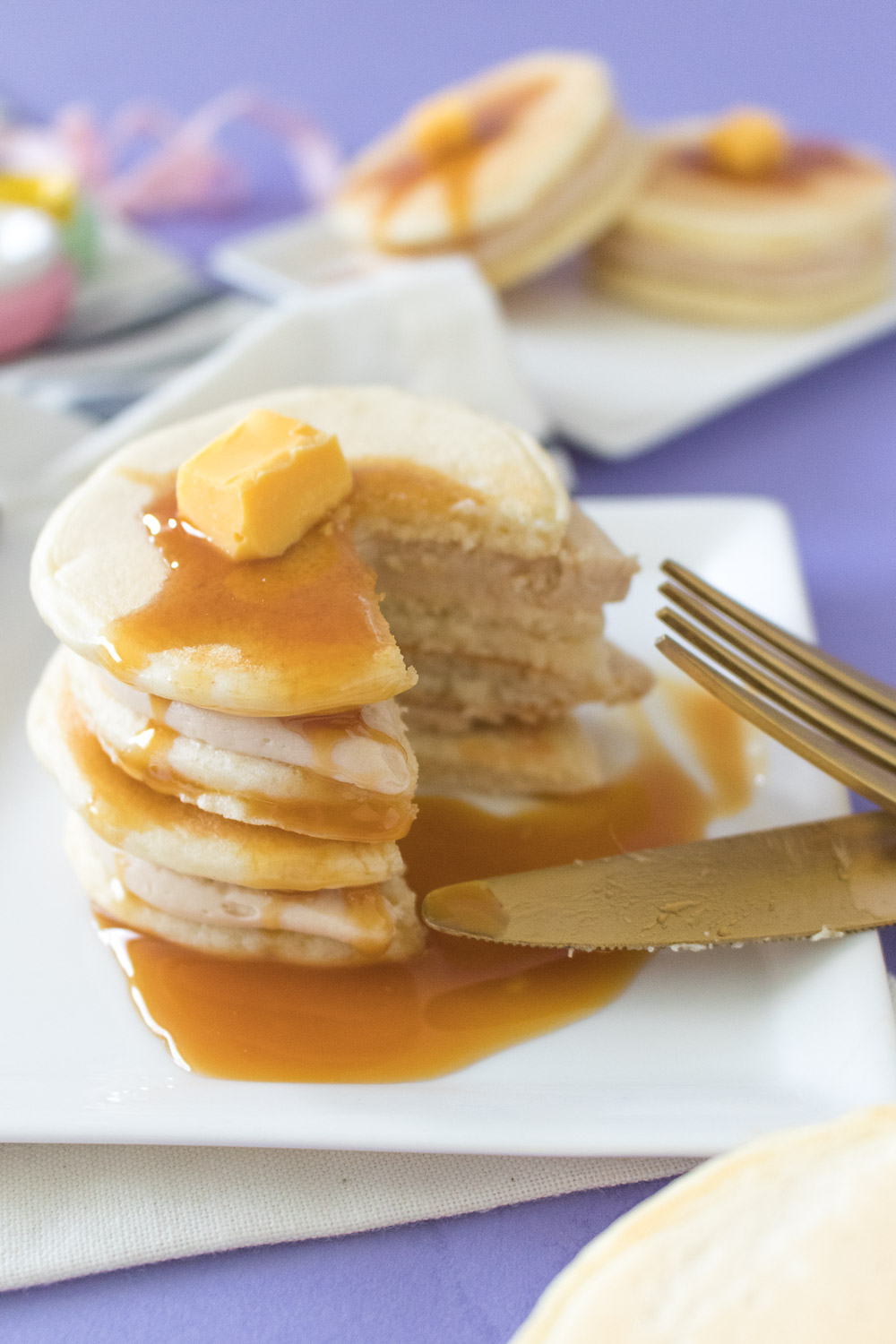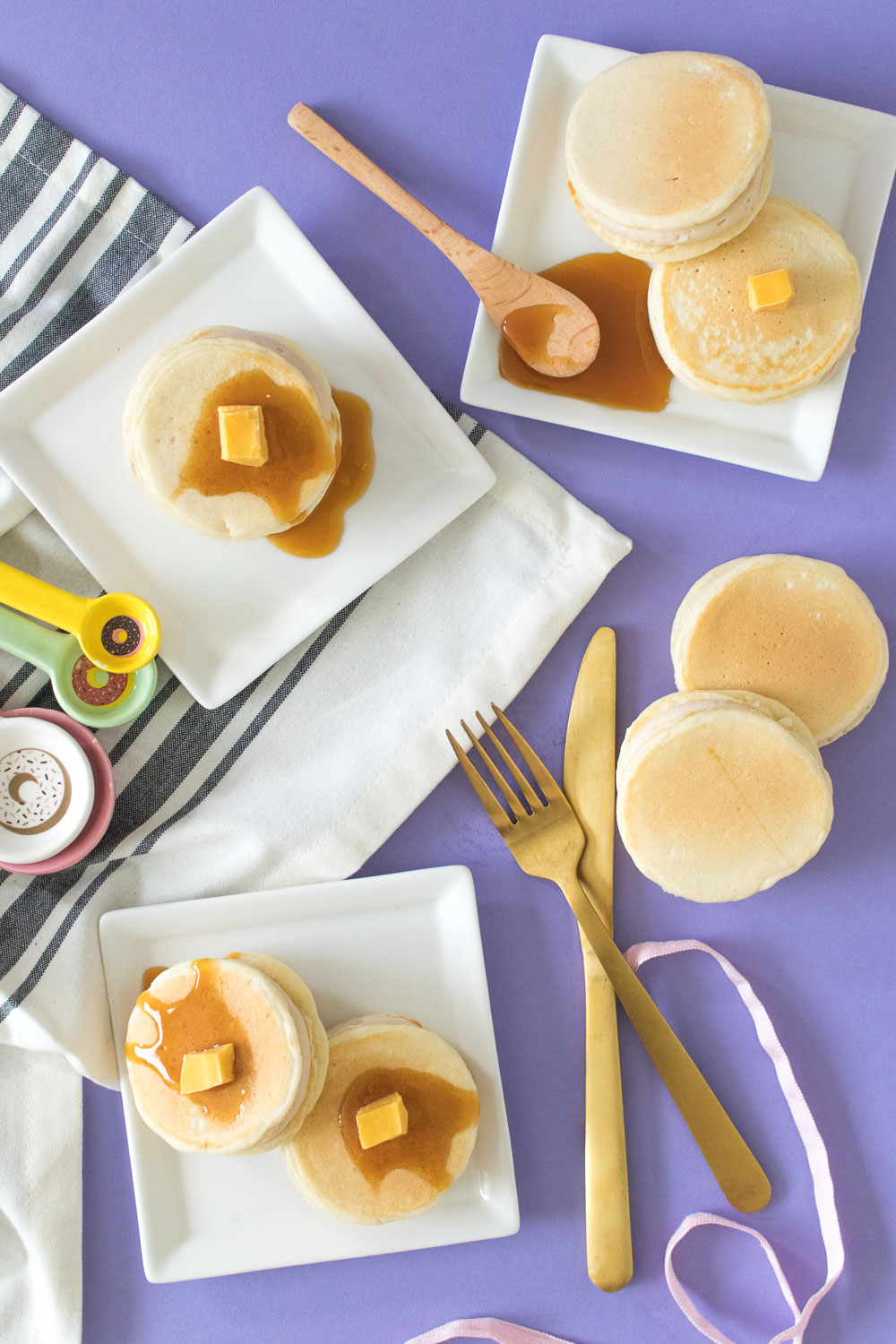 I'm pretty sure these sweet pancake whoopie pies kick my morning cereal's butt! The wonderful thing about traditional whoopie pies is they pack all of the flavors of cake or cupcakes in easy-to-hold sandwiches, which makes them great for parties. I guess that begs the question "why is it called a whoopie PIE?" Think on that for a second.
Scroll down for the full recipe card and how-to! ??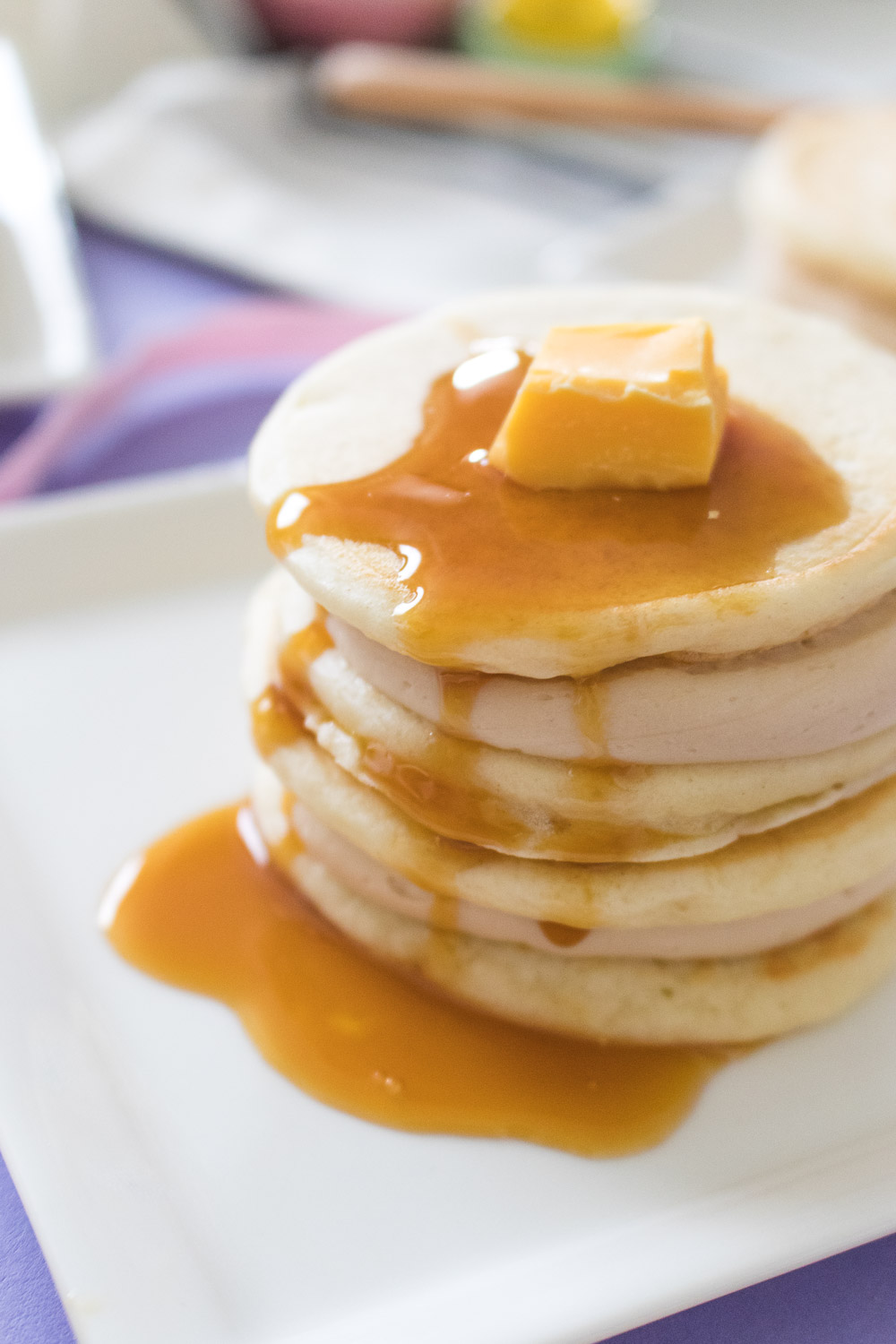 To make these whoopie pies not only taste like a stack of pancakes but look like one too, I allowed a little caramel syrup to drip over the sides like maple syrup and topped it with a mini cube of yellow chocolate. The caramel sauce perfectly compliments and pancakes and maple frosting without overpowering it or causing the pancakes to become soggy. I didn't want to use regular maple syrup because I didn't want the maple flavor to be overwhelming or risk making soggy pancakes. No one wants that!
Whether you stack 'em or drip 'em or whatever, these little handheld pancake whoopie pies are delicious for all sorts of occasions!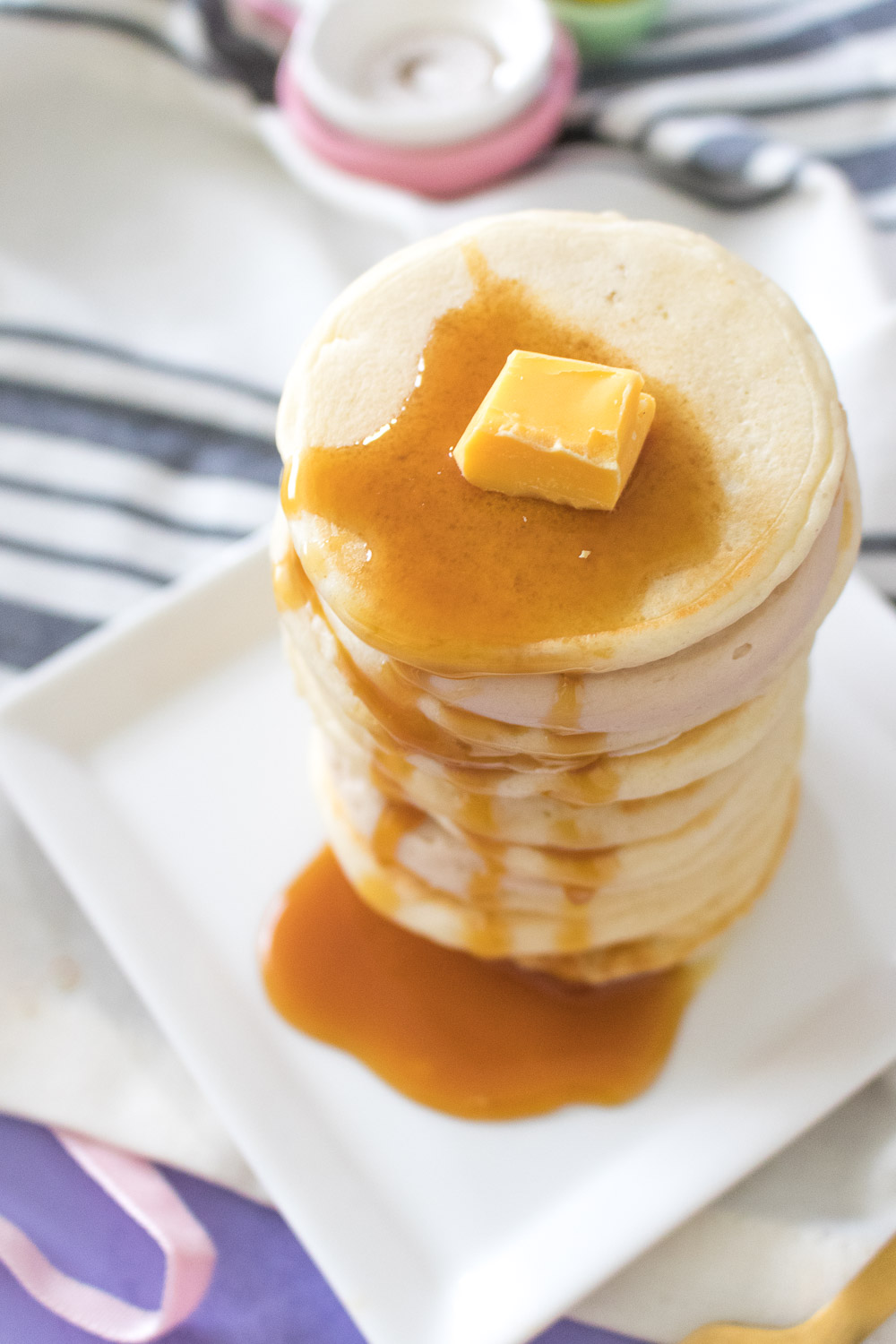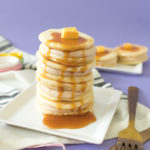 Syrup + Pancake Whoopie Pies
2017-11-28 16:20:25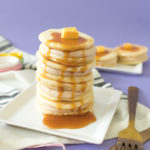 Make whoopie pies that make all the flavor of pancakes into small desserts with a maple syrup filling!
For the pancakes
2 cups all-purpose flour
1/4 tsp salt
1 tbsp + 1 tsp granulated sugar
1 tbsp baking powder
1 tsp vanilla extract
Splash of lemon juice
1 1/4 cups buttermilk
2 eggs
2 tbsp vegetable oil
For the syrup filling
1 cup butter, room temperature
1 cup powdered sugar
1/2 tsp maple extract
Pinch of salt
Yellow candy melts, for garnish
Caramel sauce, for garnish
For the pancakes
In a large mixing bowl, whisk together the flour, salt and baking powder.
In a separate bowl or large measuring glass, whisk together the eggs, buttermilk, vanilla, lemon juice and vegetable oil until smooth
Slowly whisk the wet ingredients into the dry, mixing until the batter is smooth
Heat up a griddle on medium heat (about 300 F) and spray with a butter cooking spray
Use a tablespoon to scoop 1 tbsp of batter onto the pre-heated griddle and cook for several minutes on each side until golden and cooked all the way through. Set aside to cool.
For the syrup filling
Beat the butter for about one minute until light and fluffy
Add the powdered sugar in batches, scraping the bowl as needed
Mix in the maple flavoring and a pinch of salt and beat for an additional minute until fluffy
To assemble the whoopie pies
Melt yellow candy melts in a small bowl and create a square lipped dish with aluminum foil
Pour the candy melts into the foil dish, smooth and top and set aside to harden completely
Move the syrup frosting to a pastry bag fitted with a piping tip
Pipe a dollop of frosting onto one cooled pancake and top with another of equal size, pressing together lightly
Drip a little caramel sauce on the assembled whoopie pies if desired
Once the yellow candy melts have hardened, peel away the foil and cut into small square with a sharp knife. Use a small amount of frosting to attach the yellow "butter" squares to the top of each whoopie pie or simply place on top of the caramel sauce to stick
Club Crafted https://www.clubcrafted.com/