/
Literal Carrot Cake for Easter Brunch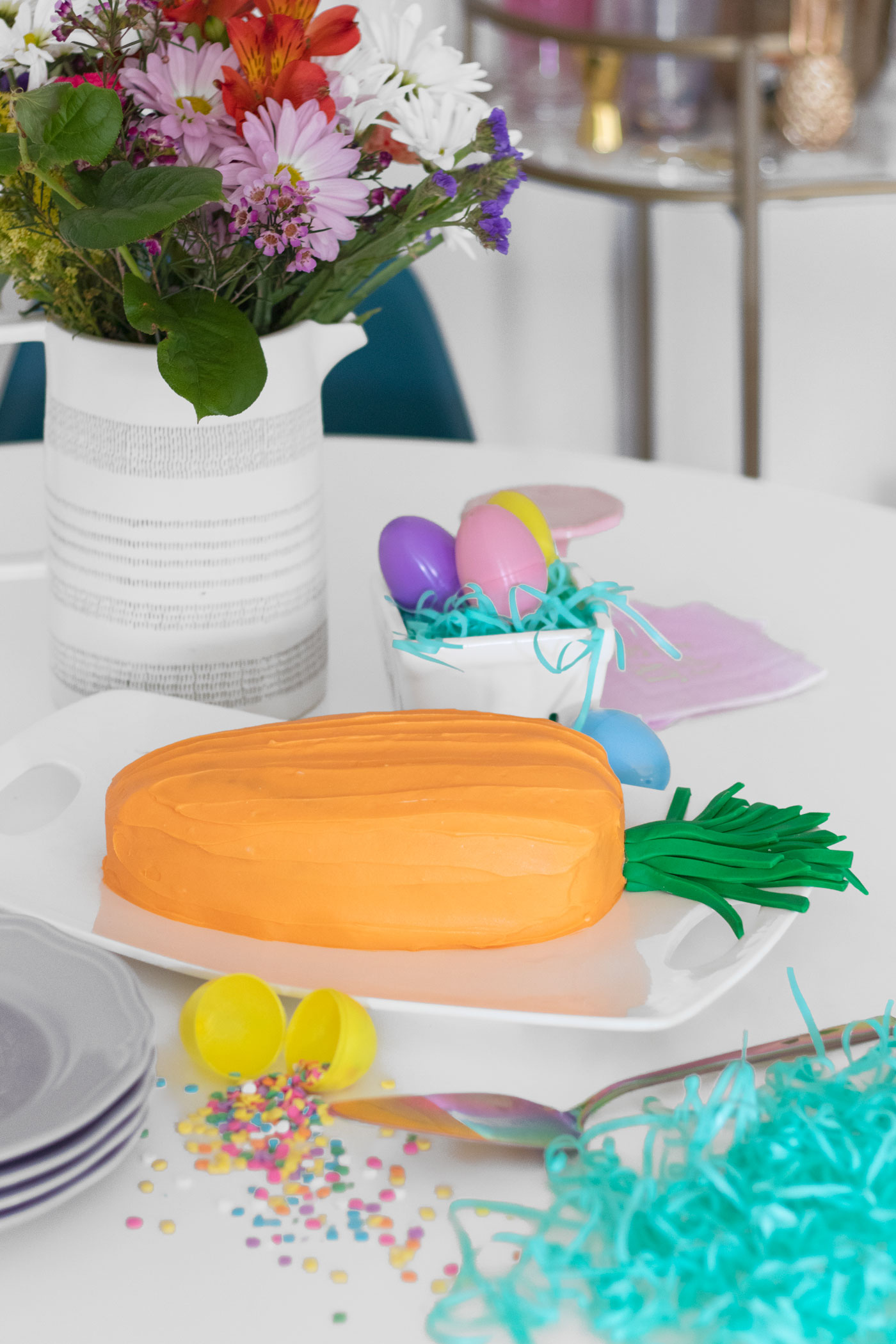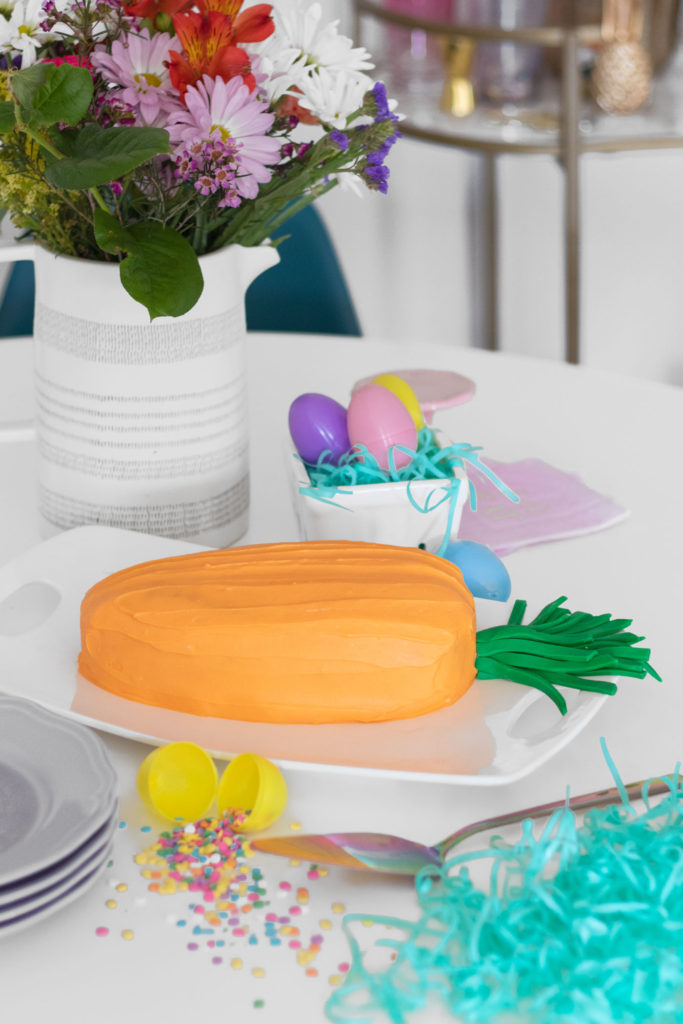 What's better than carrot cake for Easter? Well, LITERAL carrot cake 😜 Normally, I love to make cakes that look like other things…well, this time I made a cake that looks like exactly what is. Thus, we have a homemade carrot cake that actually LOOKS like a carrot! No cake layers, no special tools, nada. This is the perfect Easter cake for your brunch table, and all you'll need is a loaf pan and a knife.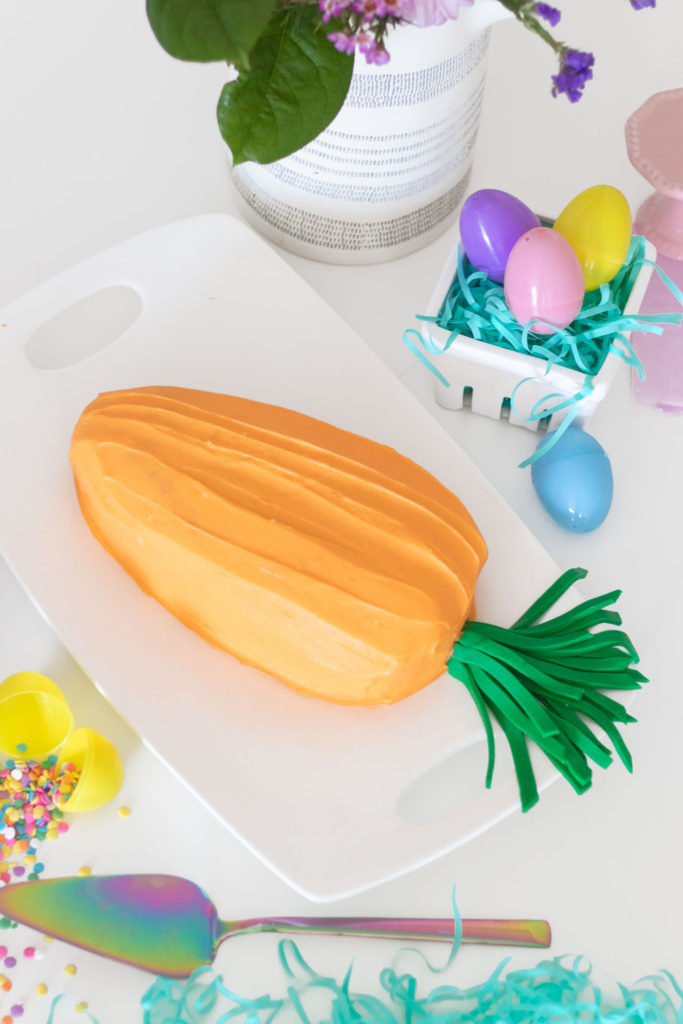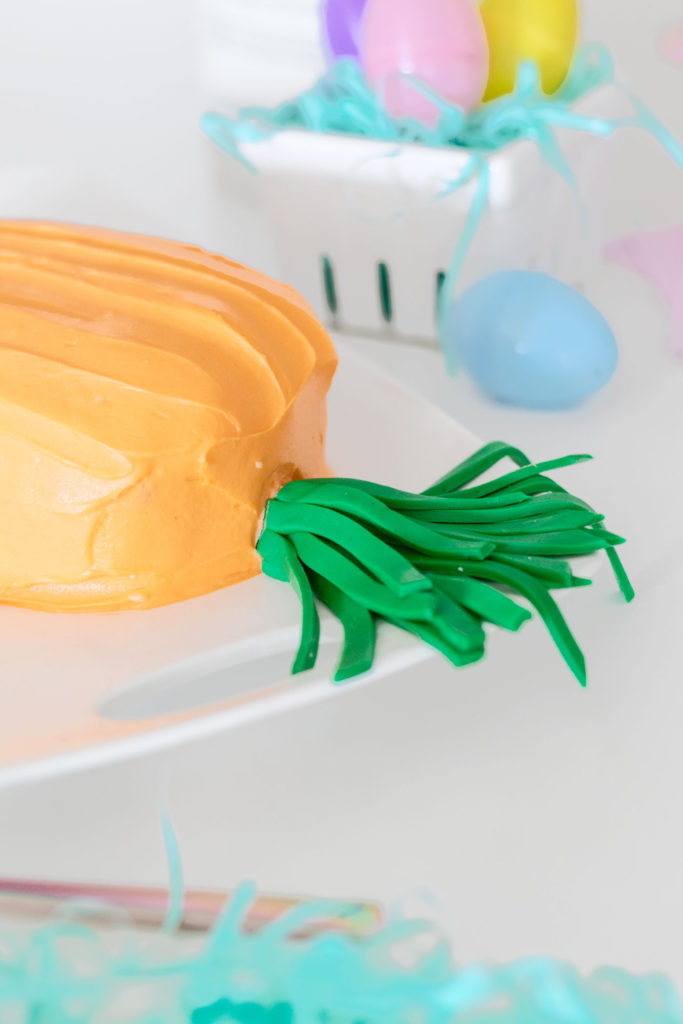 Scroll down for the full recipe card for this literal carrot cake! 👇🏼
Let's just say this is my second favorite type of carrots. Or, should I say carats? Get it?? OK, I'm out of carrot jokes already.
I make some damn good carrot cake, you guys. Then you pair it with a simple cream cheese frosting and it's absolutely delightful. I'm pretty sure I ate half of the cake all by myself! This literal carrot cake is easy to make with a loaf pan and a serrated knife. Then I used strips of green fondant (no special tools needed – just a rolling pin and a knife) to create the stem of the carrot cake. Seriously, this is the easiest Easter cake ever! Make one for your brunch to feed a table of 8-10.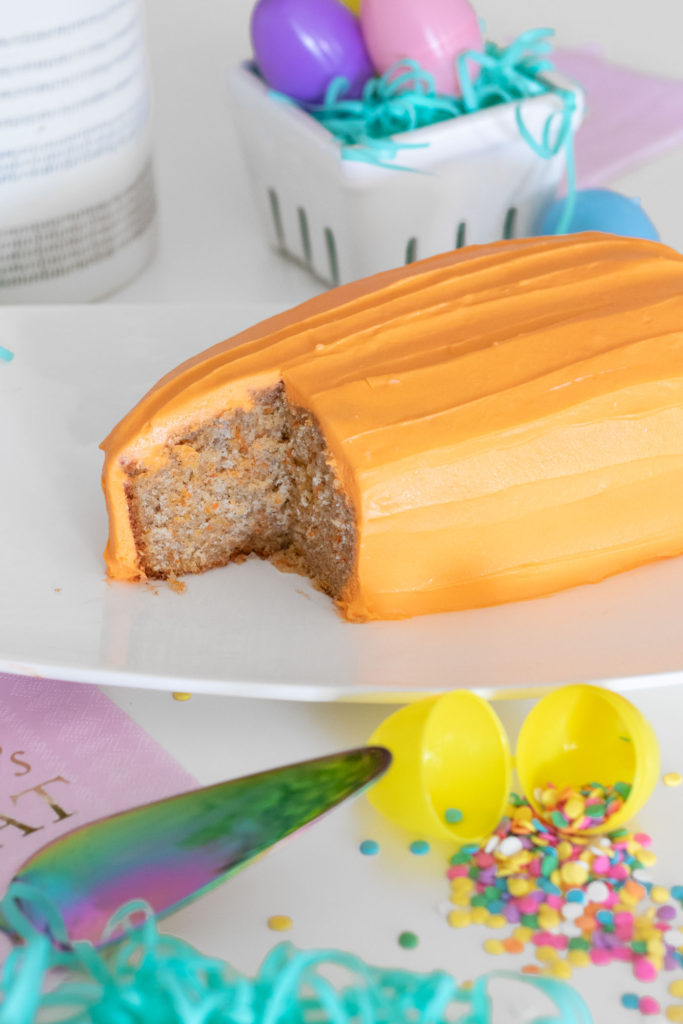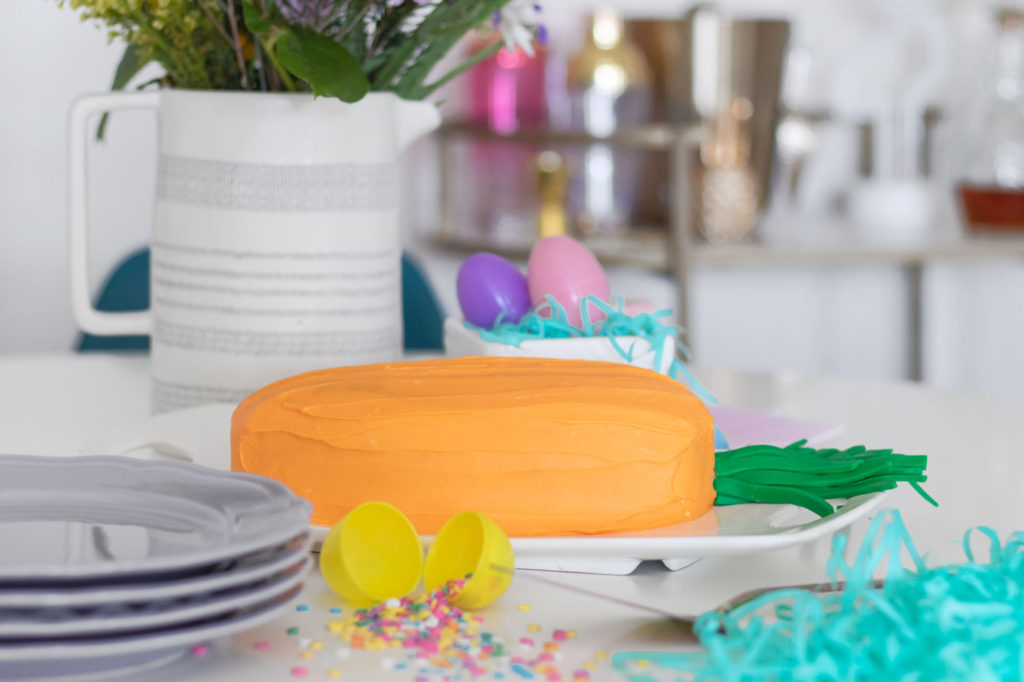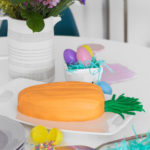 Literal Carrot Cake
2019-04-02 10:16:18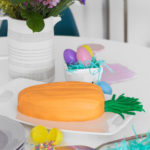 A delicious, moist carrot cake that actually looks like a carrot, so it's perfect as the centerpiece of your Easter brunch
For the Carrot Cake
2 cups all-purpose flour
1 cup granulated sugar
1 tbsp baking powder
1/2 tsp salt
1 1/2 tsp cinnamon
2/3 cup milk
2/3 cup vegetable oil
1 egg
2 tsp vanilla extract
1 cup grated carrots, packed (about 2 large carrots)
For the Cream Cheese Frosting
8 oz cream cheese, room temperature
1/2 cup butter, room temperature
2 cups powdered sugar
1 tsp vanilla
Orange food coloring
For the Carrot Cake
Preheat the oven to 350 degrees F. Lightly spray a loaf pan with cooking spray, line with parchment and spray again
In a large bowl, whisk together the flour, sugar, baking powder, salt and cinnamon
In the bowl of your mixer fitted with a whisk attachment, mix the milk, vegetable oil, egg and vanilla until just smooth
Add the dry ingredients to the wet in batches until moist
Fold in carrots with a spatula until just incorporated. Do not overmix
Pour the batter into the prepared loaf pan and bake 45-50 minutes until a skewer inserted into the middle of the cake comes out free of liquid batter
Allow the cake to cool for about 10 minutes before removing from the pan to cool completely
For the Cream Cheese Frosting
In the bowl of your mixer fitted with a paddle attachment, beat the cream cheese and butter until smooth and fluffy
Add the powdered sugar in batches until it reaches desired sweetness
Mix in vanilla and orange food coloring until color is vibrant
To Decorate the Carrot Cake
Use a serrated knife to thin out one end of the loaf cake. At the opposite end, make minimal cuts to round out the cake, giving it a carrot shape
Frost the entire loaf with a crumb coat and refrigerate for 30 minutes
Add a thicker layer of cream cheese frosting to the cake and use an angled spatula to create a pattern along the long side of the carrot cake
Roll out the green fondant until thin. Use a knife to cut 1/4-inch strips at slightly varying lengths
Gather the strips together until thick and stick to thick end of the carrot
Refrigerate until ready to serve. For best results, thaw 30 minutes before cutting and serving
Club Crafted https://www.clubcrafted.com/