/
Red, White + Blue Marbled Sugar Cookies for 4th of July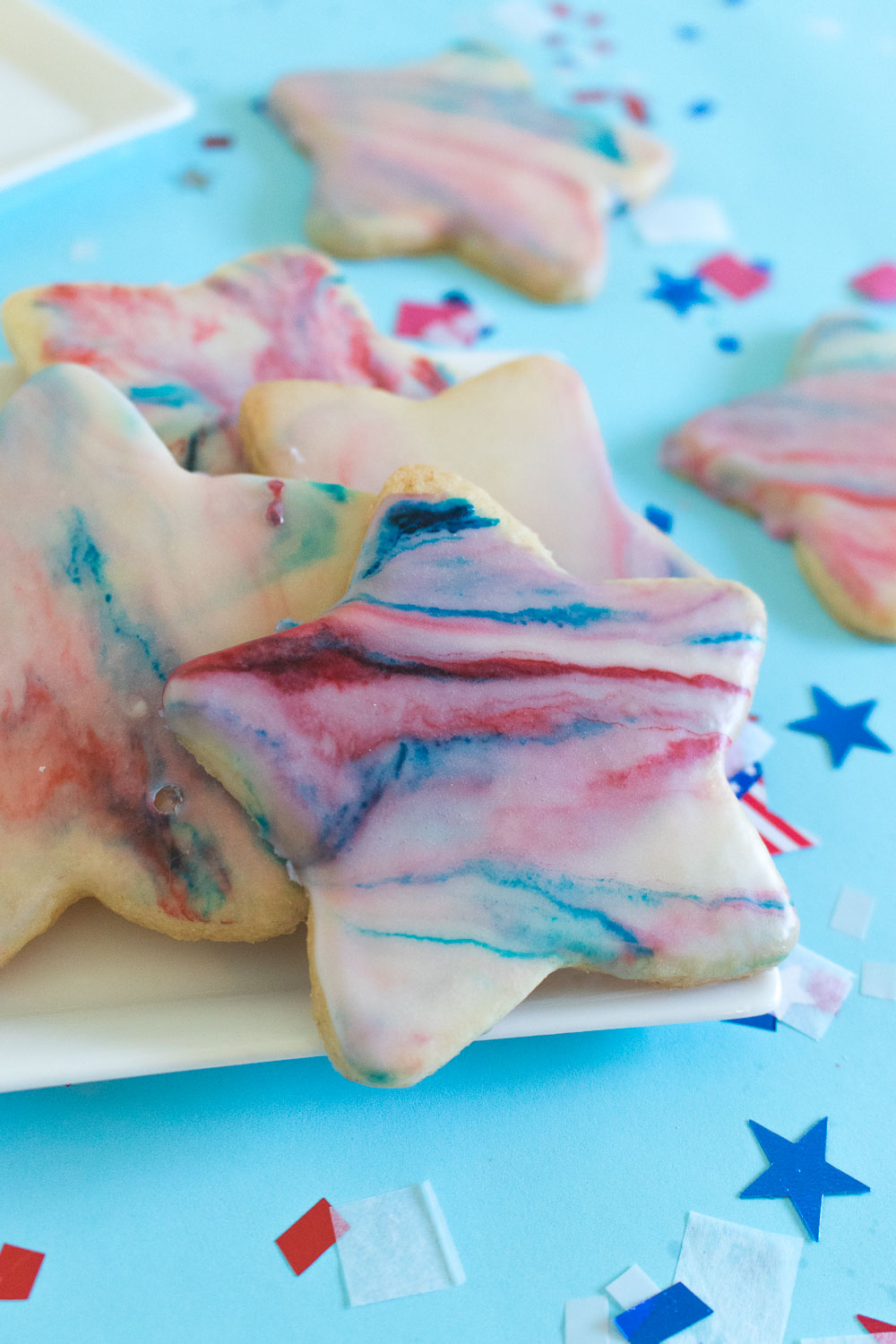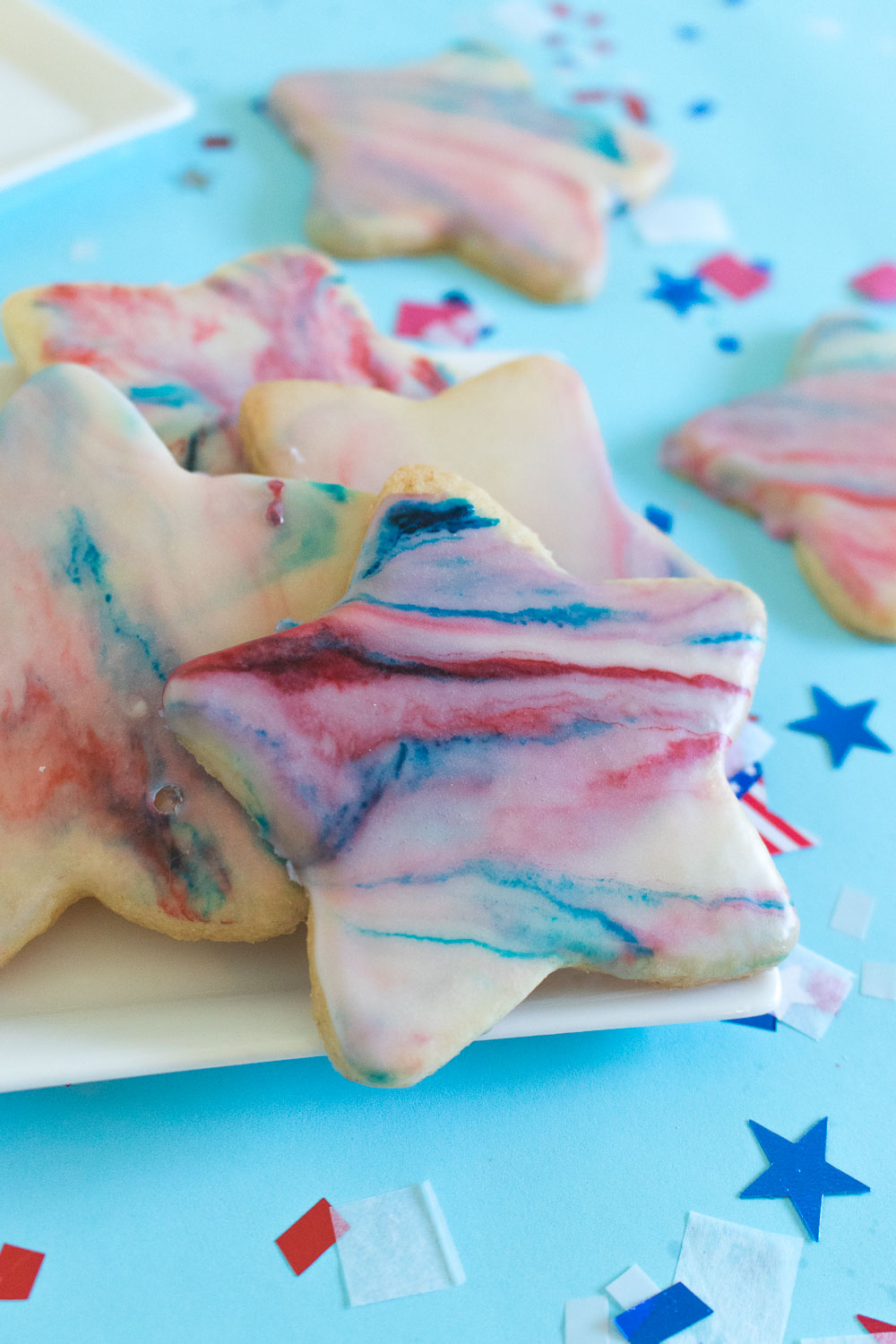 We're coming up on one of my absolute favorite holidays – 4th of July! I don't know how we'll be celebrating this year, but whatever it is, I'm excited (as long as I get to see fireworks). To celebrate this year, I made a batch of these red, white and blue marbled sugar cookies in the shape of stars!
This is my absolute favorite sugar cookie recipe because it never, ever fails me. I've used this recipe for many different things the past few years, and paired with a super simple icing or glaze, it's a perfect match. The vanilla glaze is another one you should hold onto because it's perfect for literally anything – use it for cookies, donuts, cakes, you name it.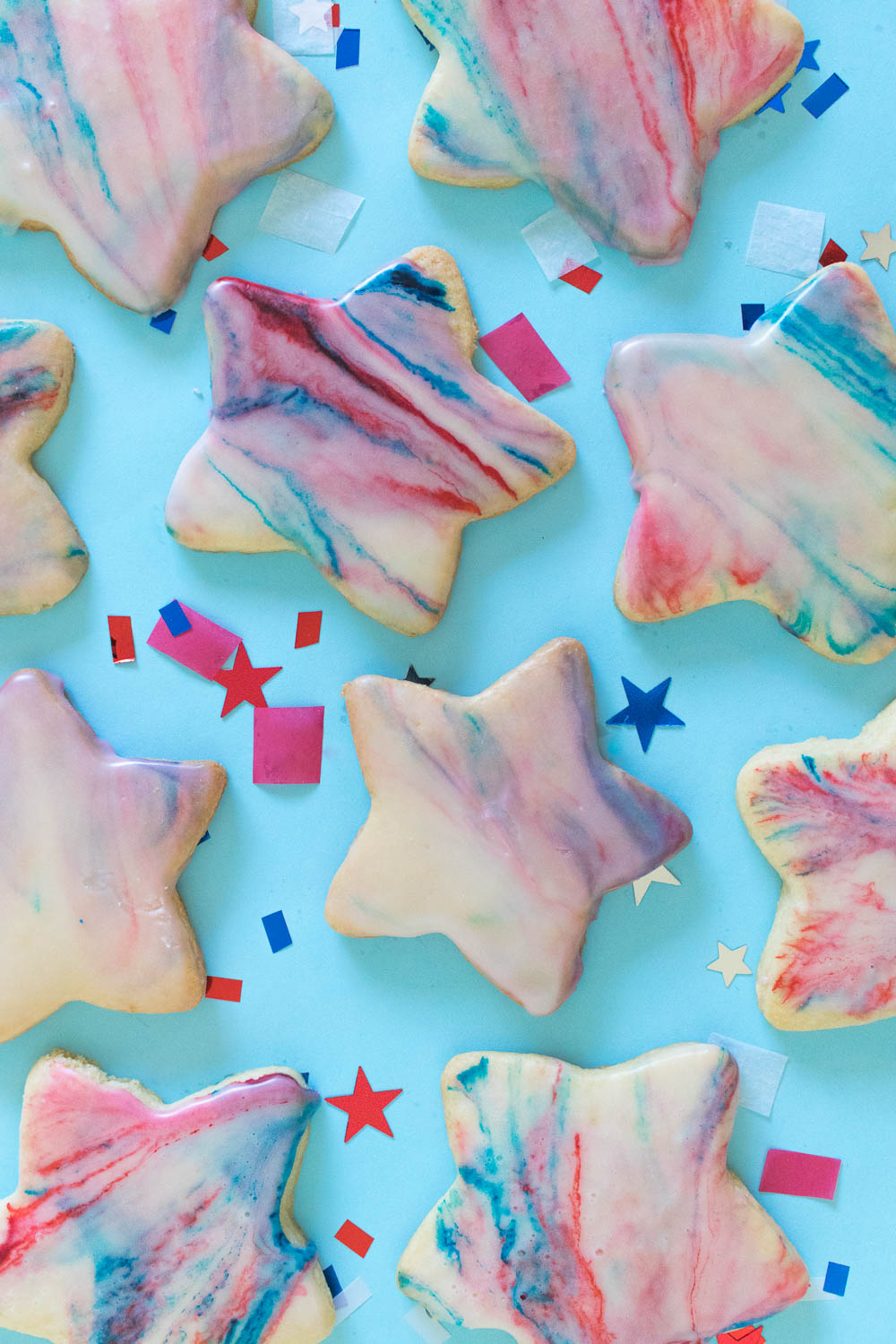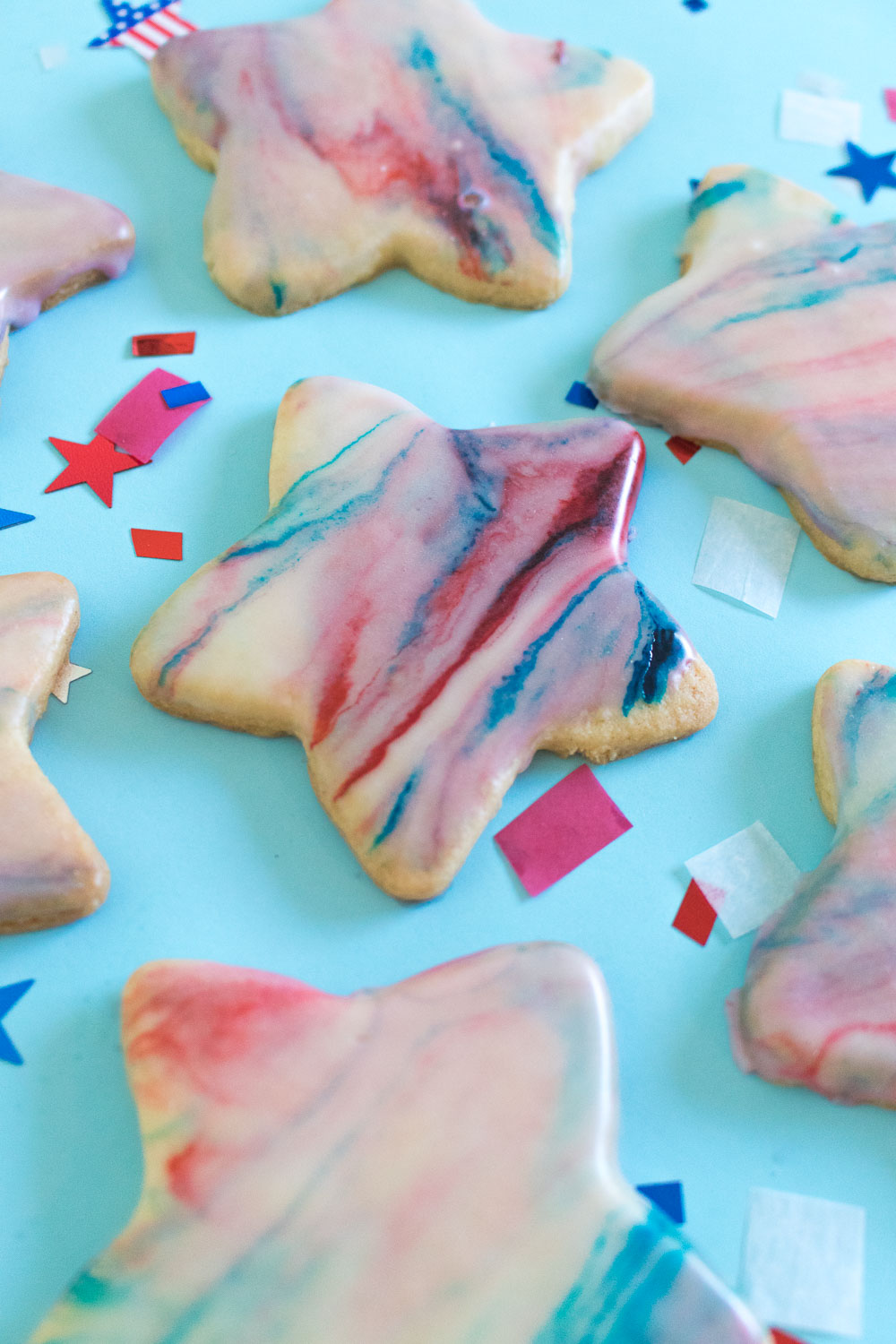 After trying some variations of these recipes over the years, these are tried and true. To mix it up though, I decided to marble the icing with red and blue icing to give the cut-out cookie stars some American pride. 'Merica!
Scroll down for the full recipe card! ?? Trust me, you'll want to bookmark/Pin this one.
My only regret is that I didn't have sprinkles…next time, I'm adding some red, white and blue star sprinkles while the icing dries.
Anyway, you might look at sugar cookies like these and think, "Holly, this isn't the kind of icing you put on sugar cookies, weirdo." You'd be right, but there's a method to the madness. The thing about icing sugar cookies with royal icing is I completely suck at it. I have tried many times and was always left with shaky, awkward designs, so instead, I used this glazing method today because it's perfect for marbling. While I have seen ways to marble with piped and flooded royal icing, this way is 10x easier (in my opinion) and gives it a better marbling. In fact, I used the same method on my marbled donuts and they're my most popular post to date!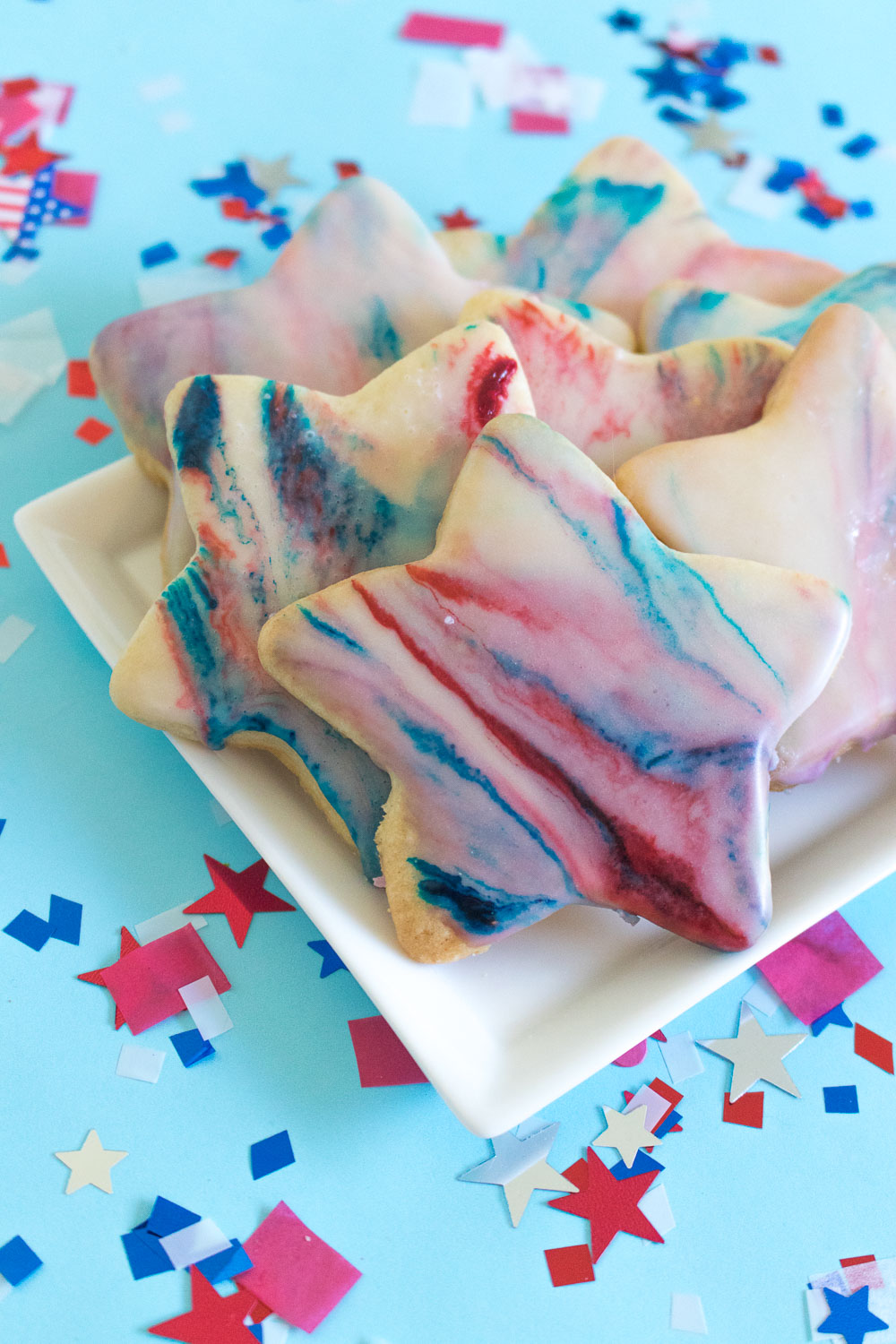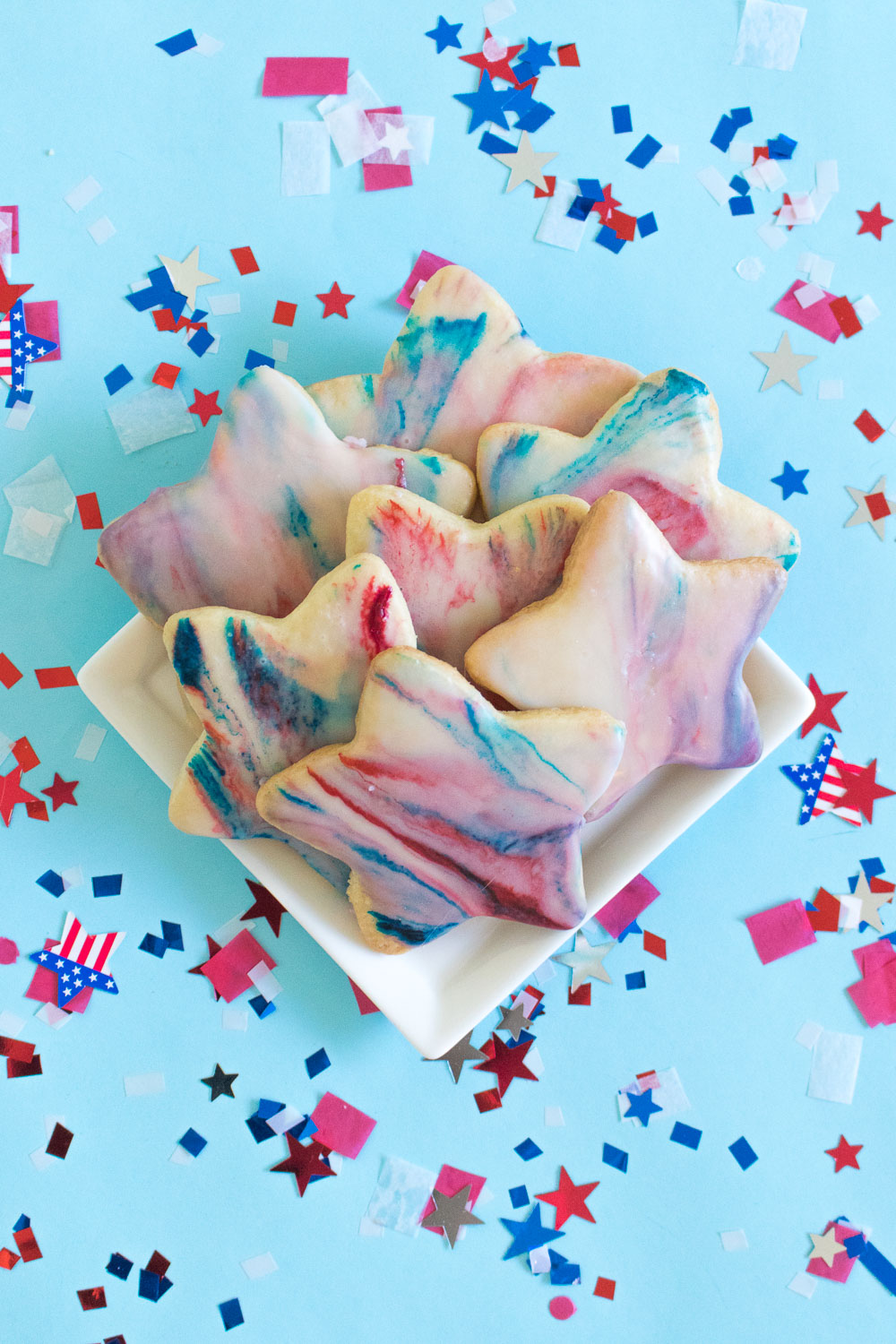 By swirling the colors in a large bowl of the glaze, I simply dip the tops of the cookies and then tilt for the icing to drip off slightly. The only downside to this method: dripping. Cookies won't look perfect due to the fact that it is more of a glaze and therefore will drip down the sides of the cookies, but I personally thought they still looked pretty.
If you're having any kind of 4th of July get-together this year, these red, white and blue marbled sugar cookies are the perfect sweet to bring with you. Everyone loves cookies, guys.
Enjoy!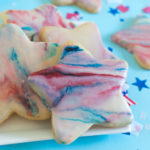 Marbled Sugar Cookies
2017-06-13 14:06:42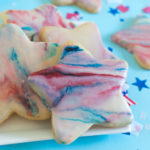 A classic cut-out sugar cookie recipe with a sugary icing or glaze perfect for marbling
For the cookies
1 cup butter, room temperature
1 cup granulated sugar
1 tsp pure vanilla extract
1 egg
2 tsp baking powder
3 cups of flour
1/2 tsp salt
For the icing
1 1/2 cup powdered sugar, sifted
1-2 tbsp milk
1/2 tsp vanilla extract
For marbling
Red food coloring
Blue food coloring
For the cookies
Beat together the softened butter and sugar until creamy
Add in the vanilla and egg and beat until just combined
Slowly add the flour, baking soda and salt to the wet mixture
It may become thick and difficult to mix. If that happens, pull the dough onto a piece of parchment paper and continue to massage with your hands until the flour is completely mixed
Roll out the dough flat on a lightly floured surface until it is about 1/4 inch thick (thicker is better for these)
Use cookie cutters (stars in this case) to cut shapes out of the dough and move to a lined baking sheet. Continue until all of the dough is cut and chill in the fridge for about 30 minutes*
Bake on 350 degrees for 8-10 minutes, checking them often so they don't overcook. Remove when they begin the brown very lightly on the edges and cool completely before icing
For the icing
Sift the powdered sugar into a bowl
Whisk in the vanilla extract and 1 tbsp milk, adding more as needed until the mixture is thin enough to dip (it should drip off the whisk but not be liquid)
For marbling
Add about 4 drops of food coloring randomly over the icing in a bowl large enough to drip the cookies
Use a popsicle stick or toothpick to swirl the icing together
Hold the cookies around the edges and carefully dip just the very tops into the marbled icing, then tilt to let excess drip off (I recommend doing this over a separate bowl so that it does not ruin coloring)
Set the cookies on a cooling rack placed on top of parchment paper to catch excess icing and let dry for about 10 minutes
Store cookies in an airtight container for up to 4 days
Notes
Refrigerating the cut dough is very important to reduce spreading and ensure soft cookies
Club Crafted https://www.clubcrafted.com/