/
Cake Fries + Frosting Dipping Sauce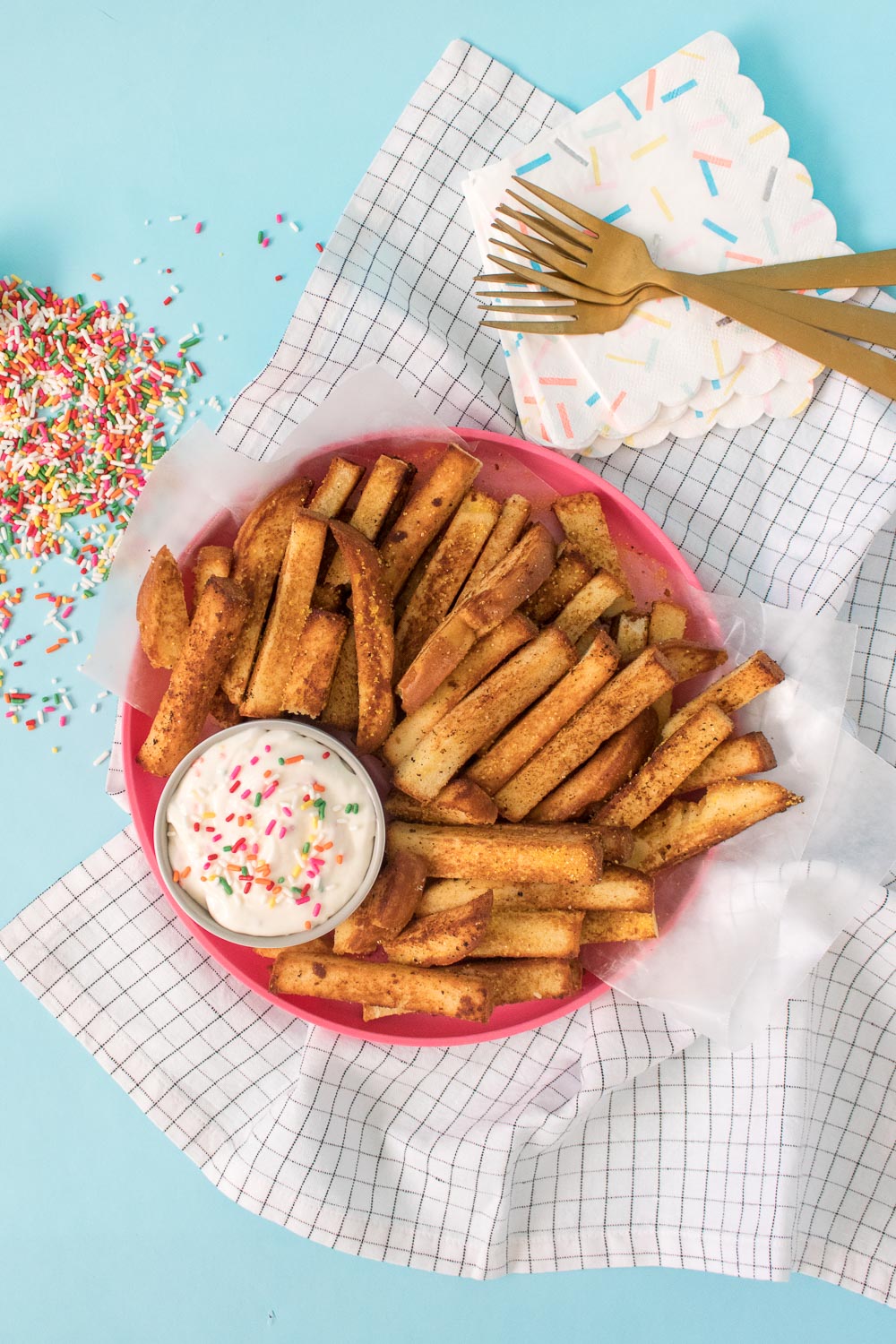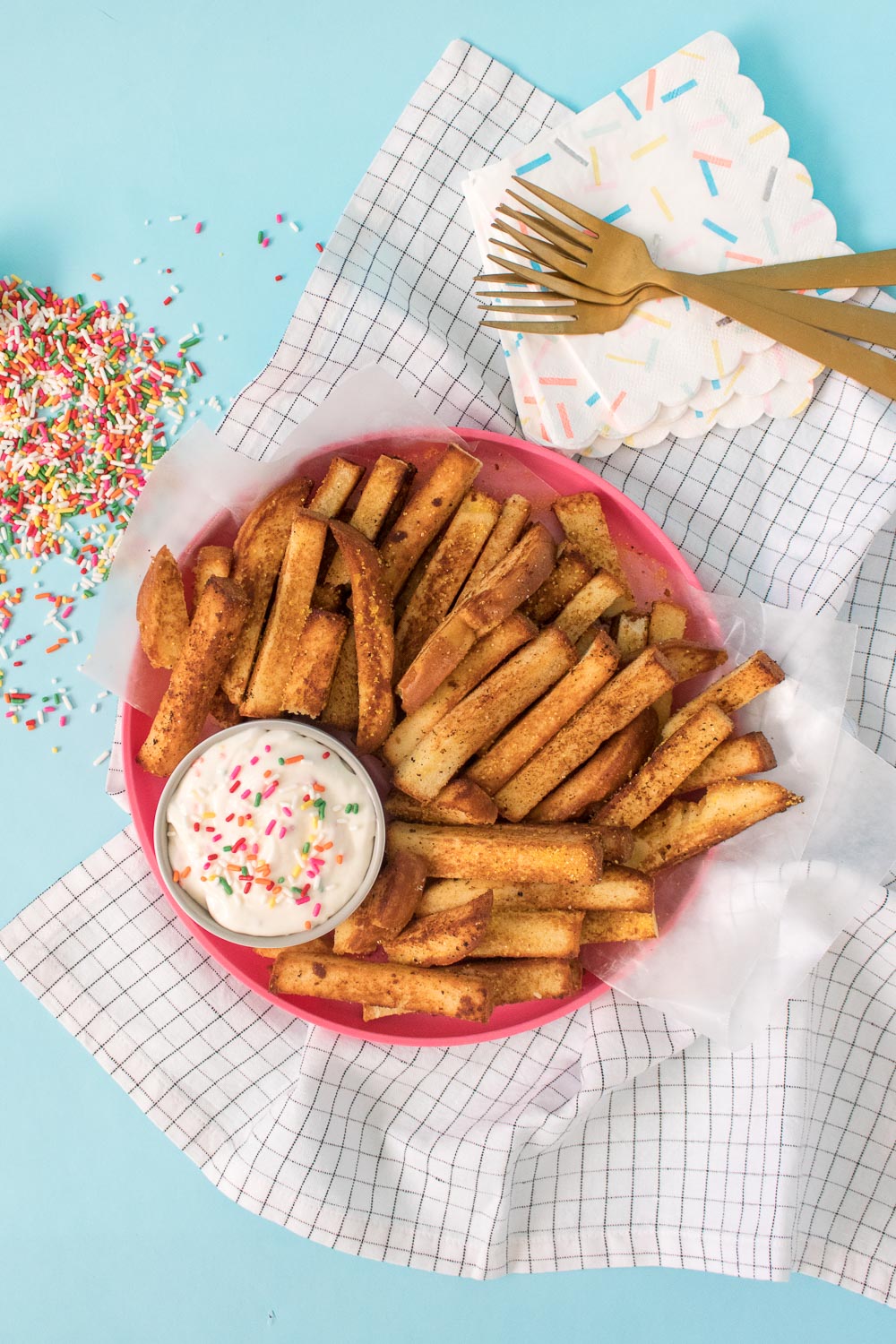 French fries are a gift to humanity, and I feel pretty much the same way about cake. As someone with a documented love affair with both foods, I thought it would be fun to combine them into one amazing recipe. Thus, CAKE FRIES were born! These delicious pound cake fries with frosting dipping sauce are a unique treat you won't be able to get enough of. Trust me, I ate way too many of them myself. With a light crunchy exterior and fluffy pound cake inside, these cake fries are truly the cake version of a classic French fry. Paired with a smooth, thinned out funfetti frosting, it's the best of both worlds and makes a perfect dessert appetizer for a party!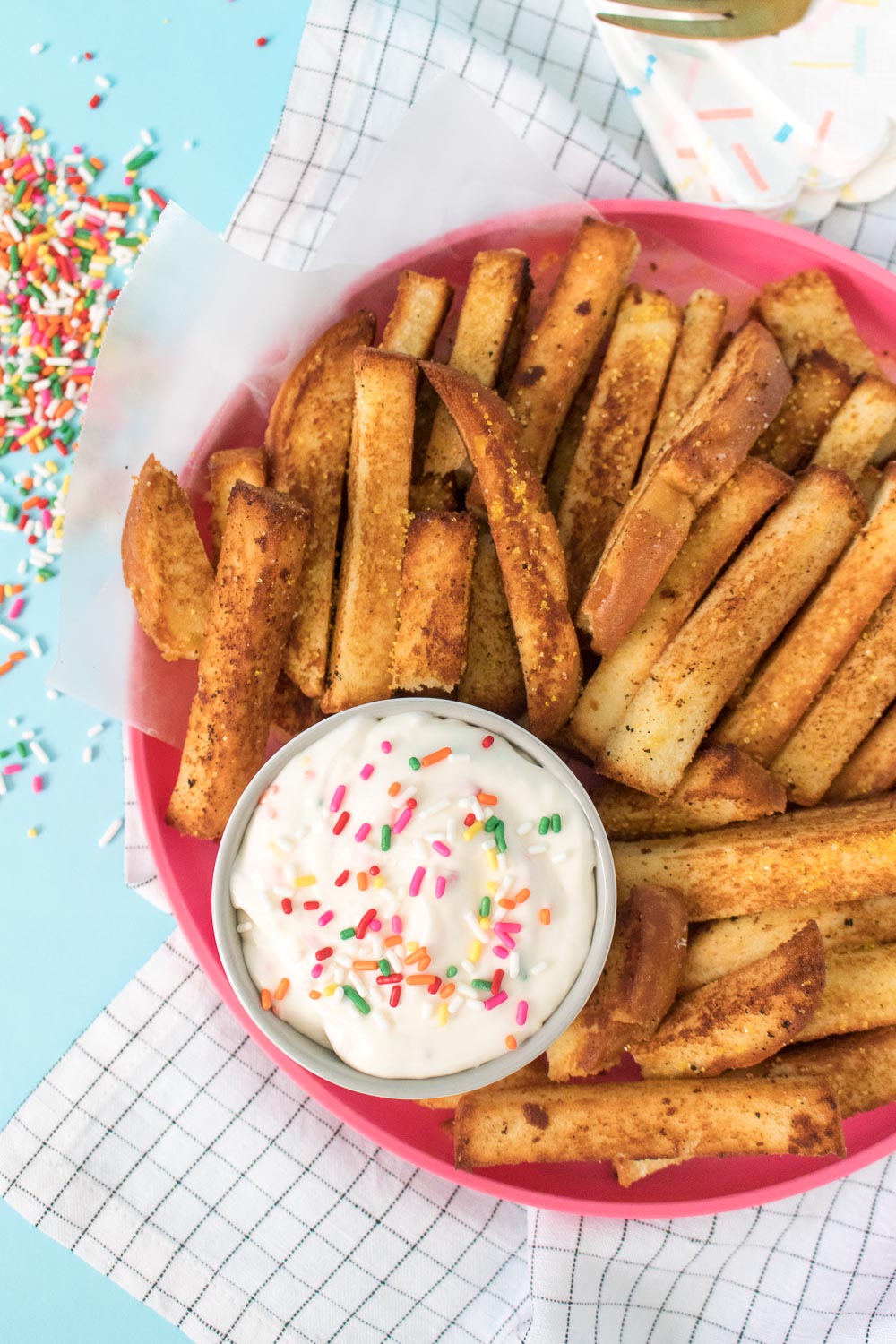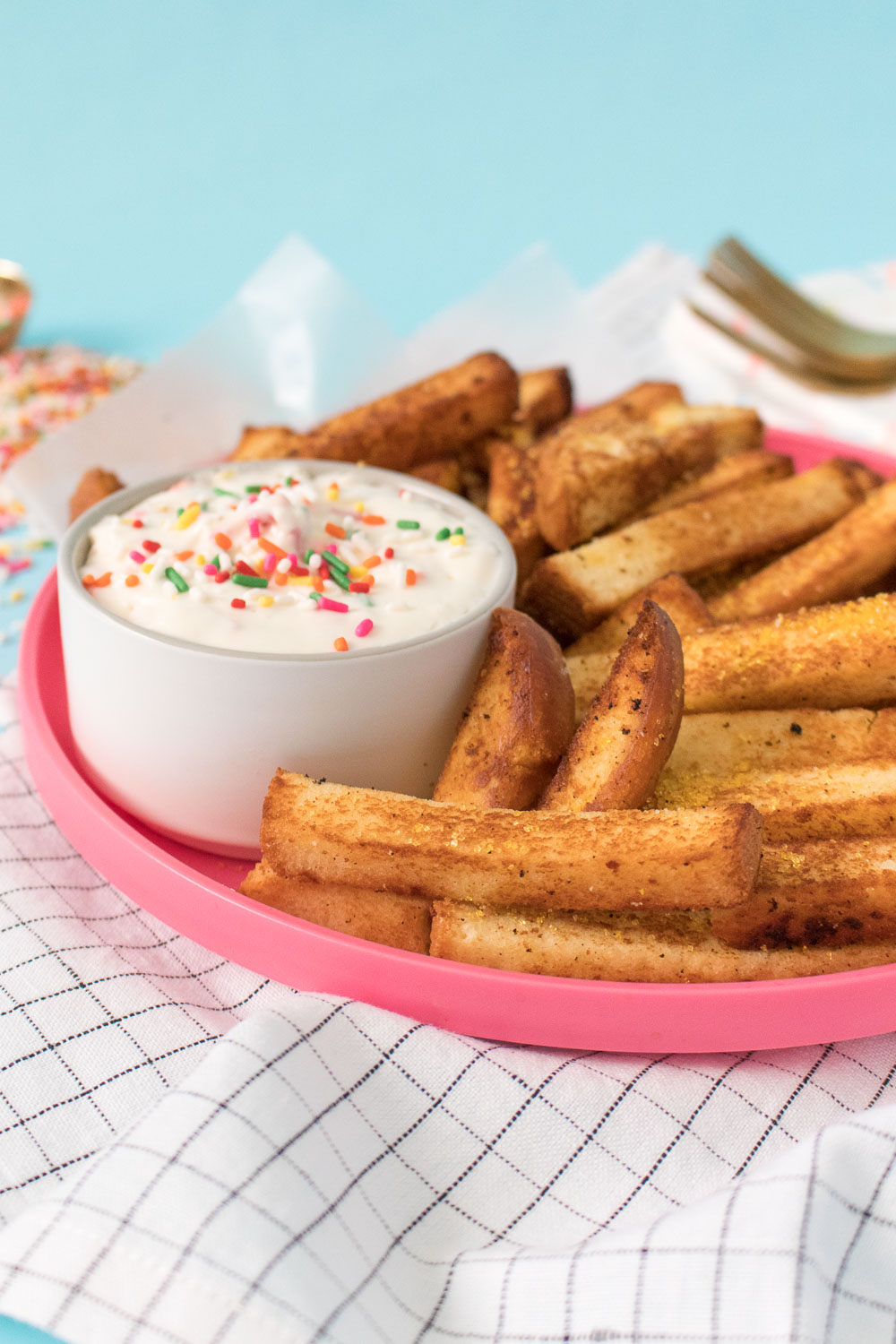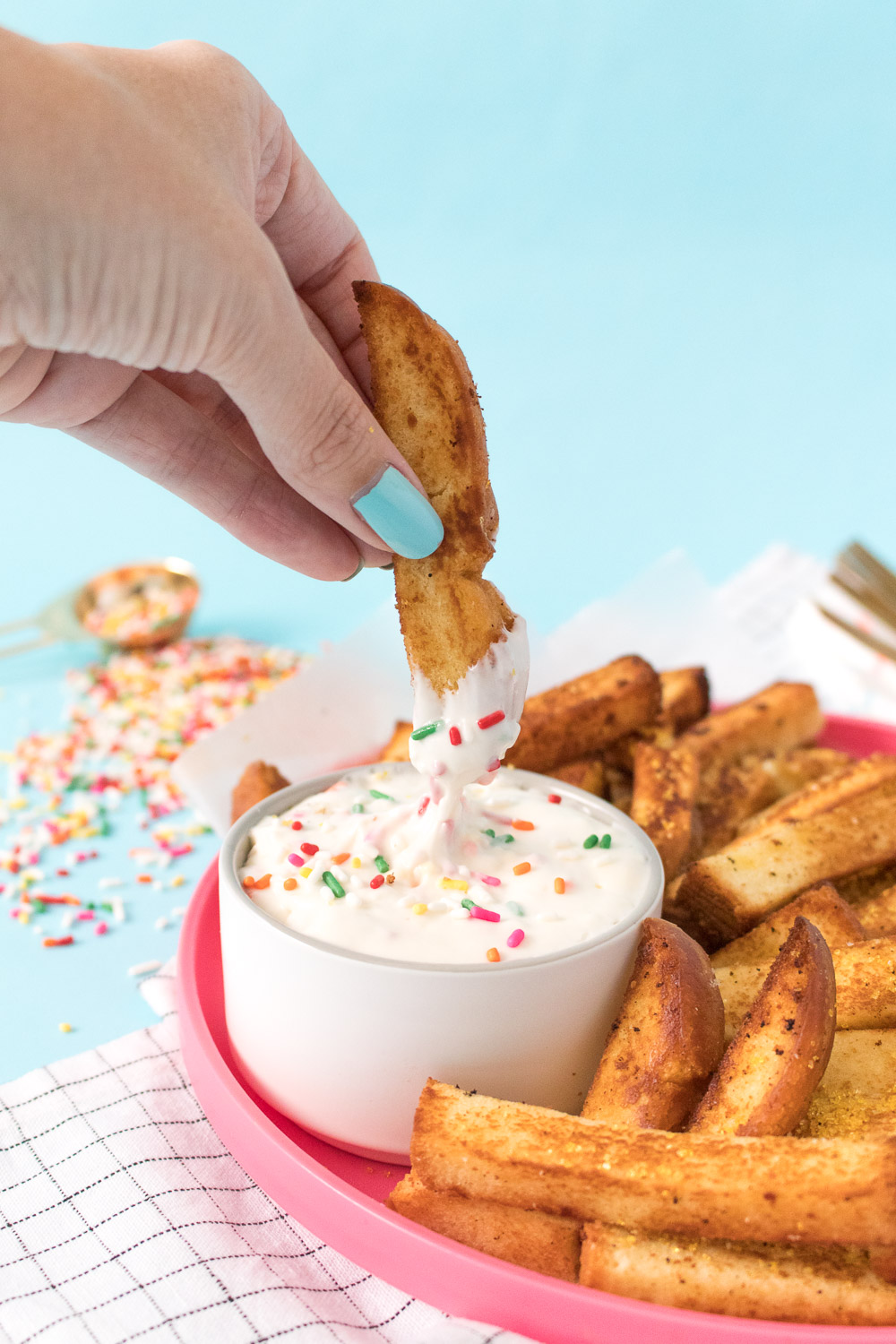 Scroll down for the full recipe card! ??
I was so excited to try making these, and it took me a few tries to get them just right. There's not much to it! I simply cut a loaf of pound cake into thin fry shapes and fried them in a small amount of oil in a skillet just like regular potato fries. Once browned on all sides, I removed them and sprinkled them with a little sanding sugar to appear like salt.
The frosting sauce is actually a combination of buttercream frosting and whipped cream. It has all of the flavor of frosting but a thinner, smoother consistency like that of a dipping sauce. Plus, the whipped cream tones down the sweetness and gives it that perfectly smooth texture. Of course, it HAD to have sprinkles mixed in!
Now I feel like I need to have a party for the sole purpose of sharing these with everyone…can I just have a dessert party please?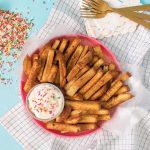 Cake Fries + Frosting Dipping Sauce
2018-02-09 11:39:58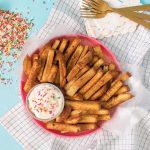 Crispy fried pound cake strips paired with a light and dippable frosting with sprinkles
For the Cake Fries
1 loaf of pound cake
Vegetable oil
Colored sanding sugar (optional topping)
For the Frosting Dipping Sauce
1/2 cup vanilla frosting (store-bought or homemade)
1/2 cup whipped cream or Cool Whip
Sprinkles
For the Cake Fries
Cut the ends of the pound cake and discard
Cut the pound cake into slices about 3/4-inch thick. Cut away the bottom, then cut into equal-sized strips along the wider side of the slices
In a skillet, heat about a tablespoon of oil over medium heat
Use tongs to add several cake strips to the pan. Do not dredge in oil or they will become soggy
Fry briefly on all sides until golden and remove to a paper towel lined plate. Immediately sprinkle with sanding sugar if desired
Repeat with all strips, adding more oil as needed. Serve fresh for best results
For the Frosting Dipping Sauce
Mix together equal parts frosting (room temperature) and whipped cream, followed by the frosting
Move to a small dipping bowl and store in the fridge until ready to serve
Club Crafted https://www.clubcrafted.com/