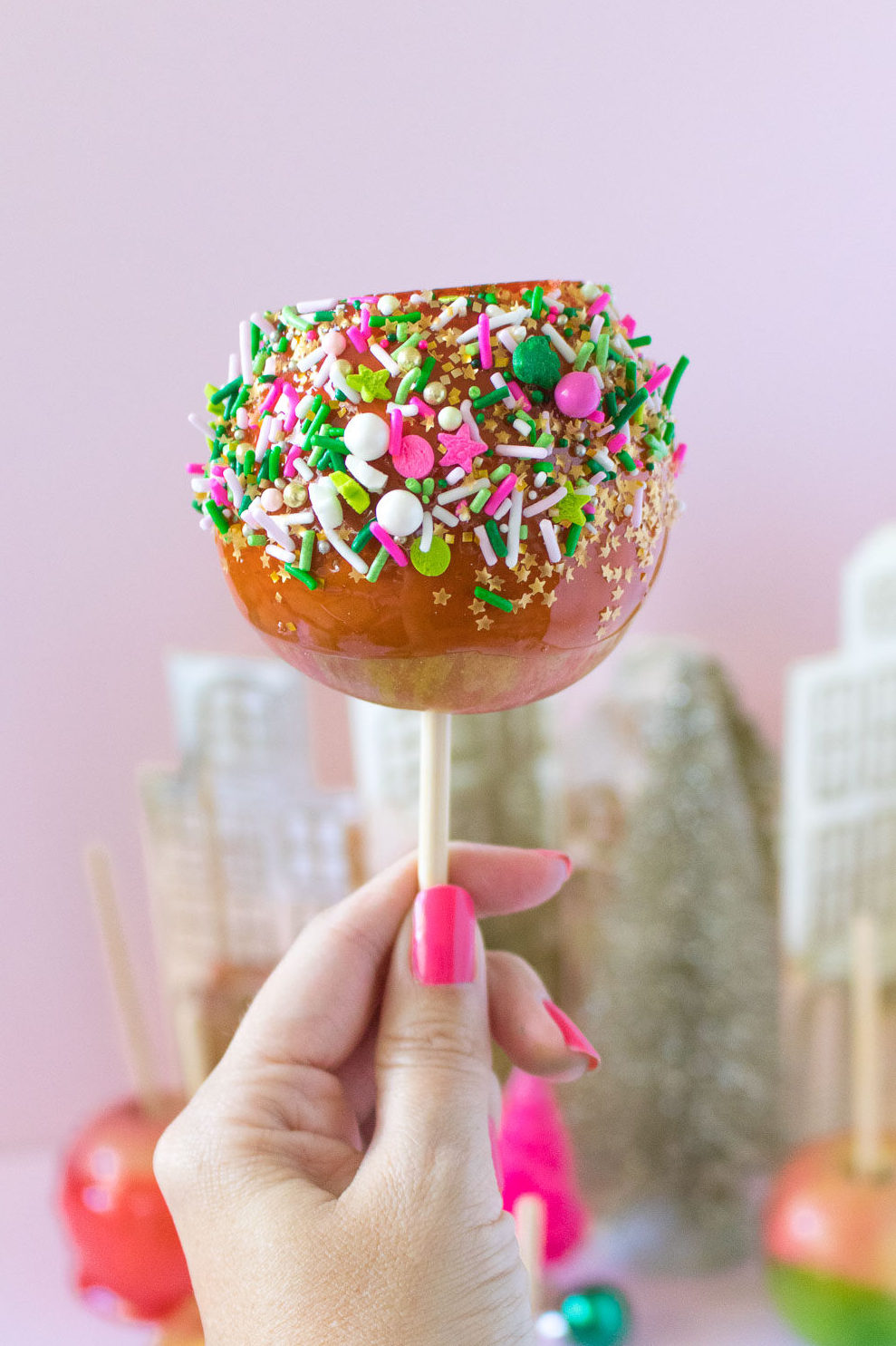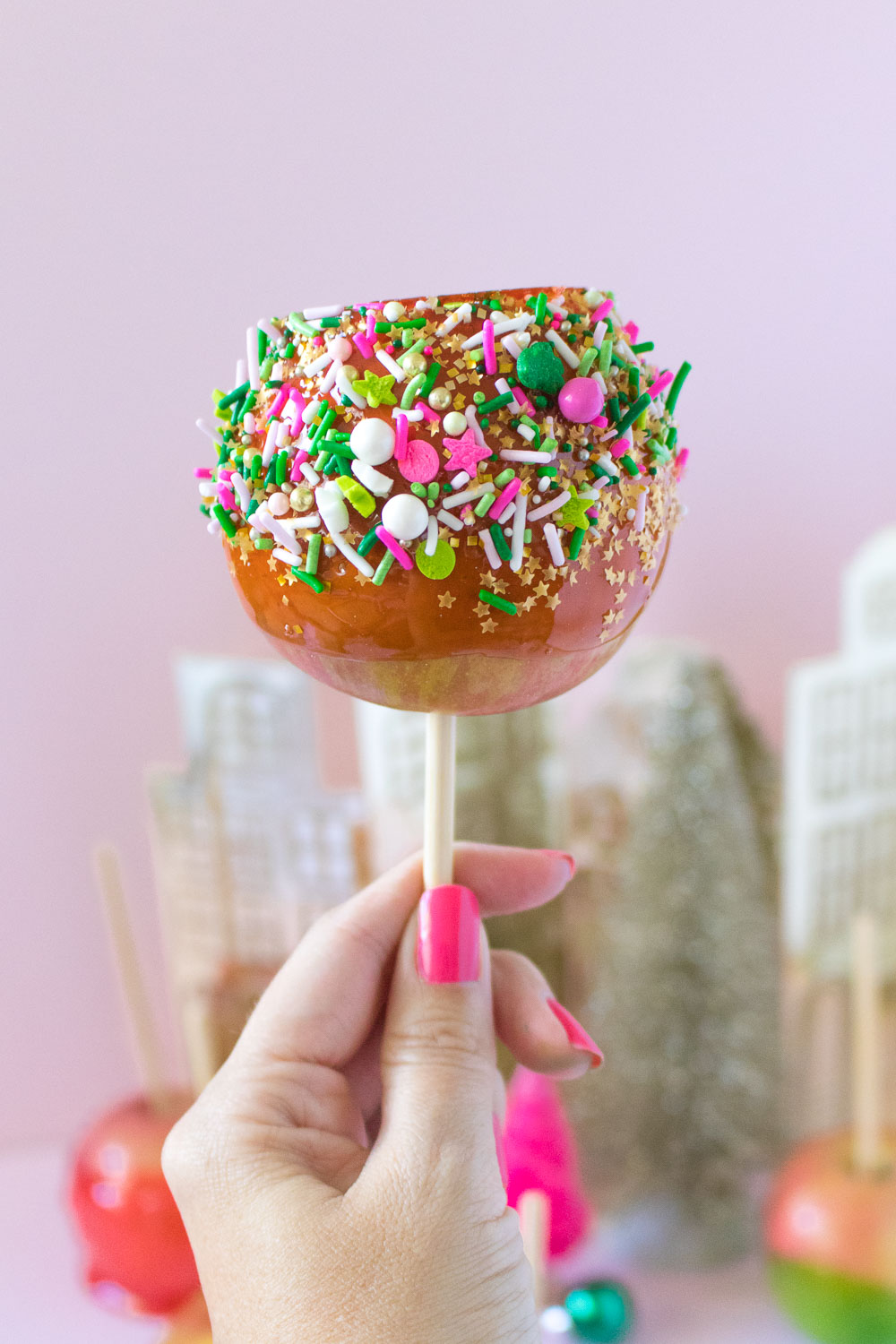 Sprinkles are bae. In my world, adding sprinkles to any 'ol treat makes them instantly prettier and more fun. It also makes them instantly festive! Since candy apples are considered a holiday treat, I decided to get festive and make Christmas candy apples with my favorite holiday sprinkles. After all, I'm not about that traditional red and green combo. This pink, green and gold sprinkle combo is my personal favorite, and you can combine sprinkles with colored candy coating like green and pink.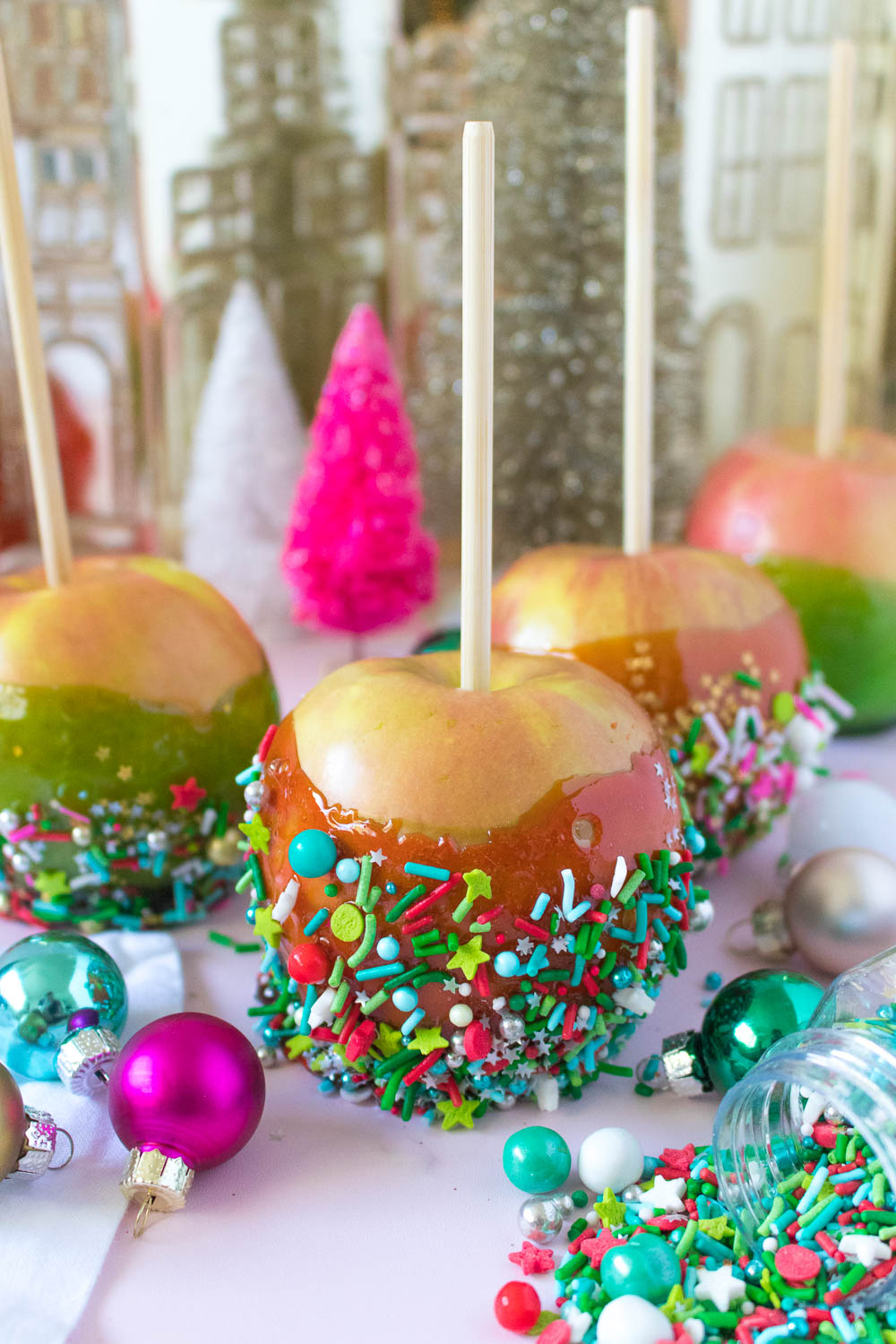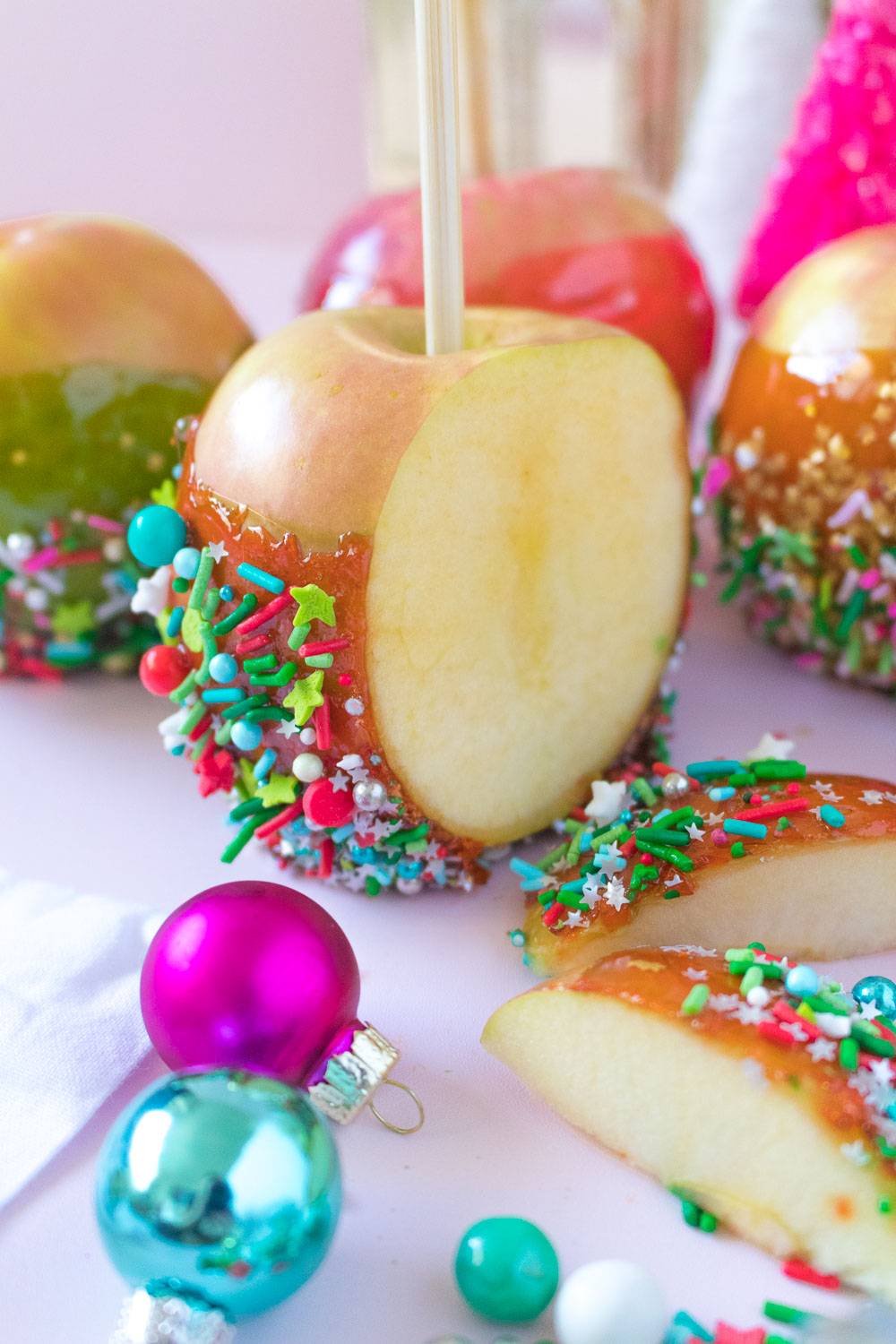 My favorite sprinkle shop is Sweetapolita, and I highly recommend them because they're unlike the sprinkles you'll find in your average grocery or craft store. Candy apples are not difficult to make at all! I actually find that the hardest part is sticking the sprinkles to the apples before the coating begins to dry.
Scroll down for the full recipe card and tutorial! ??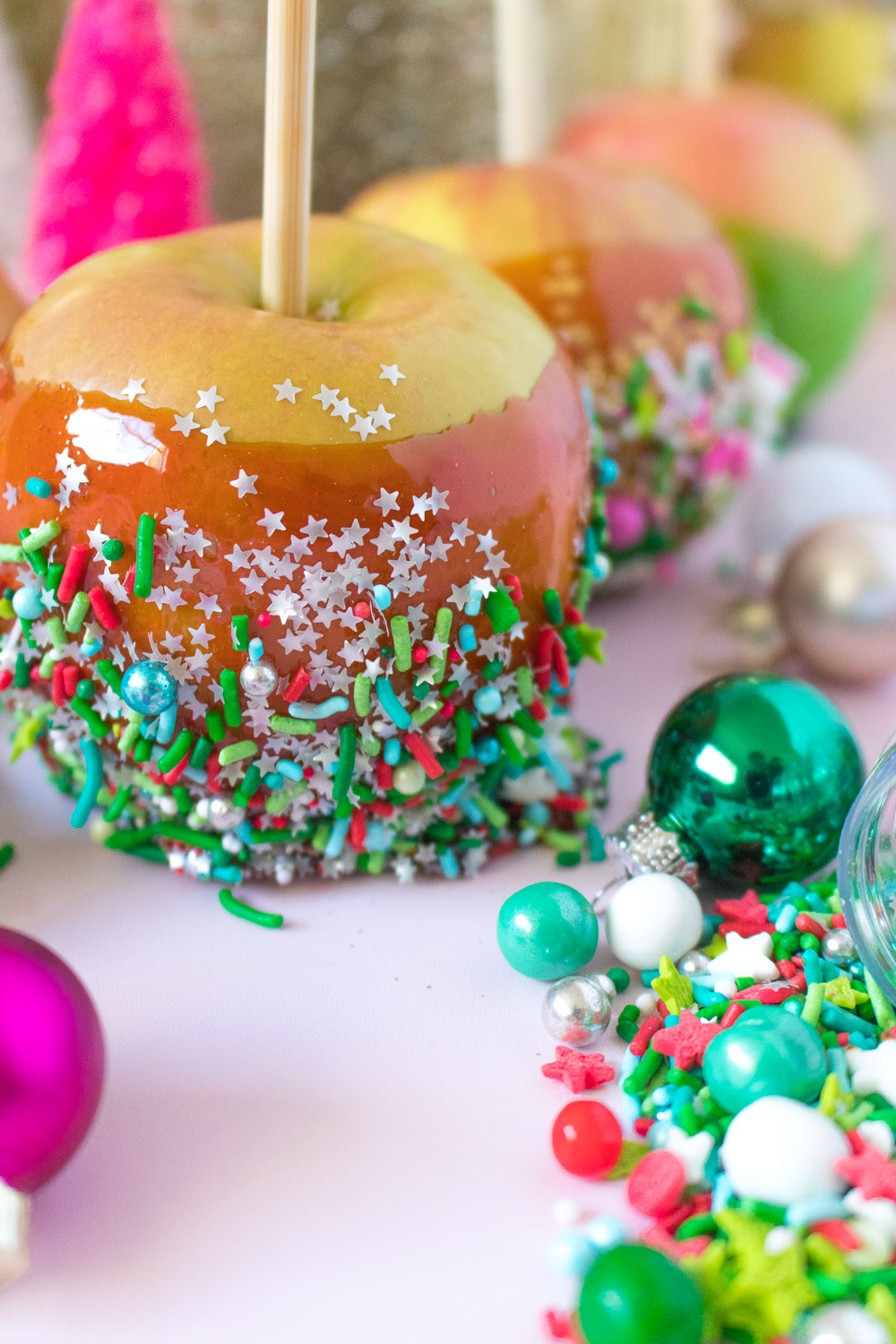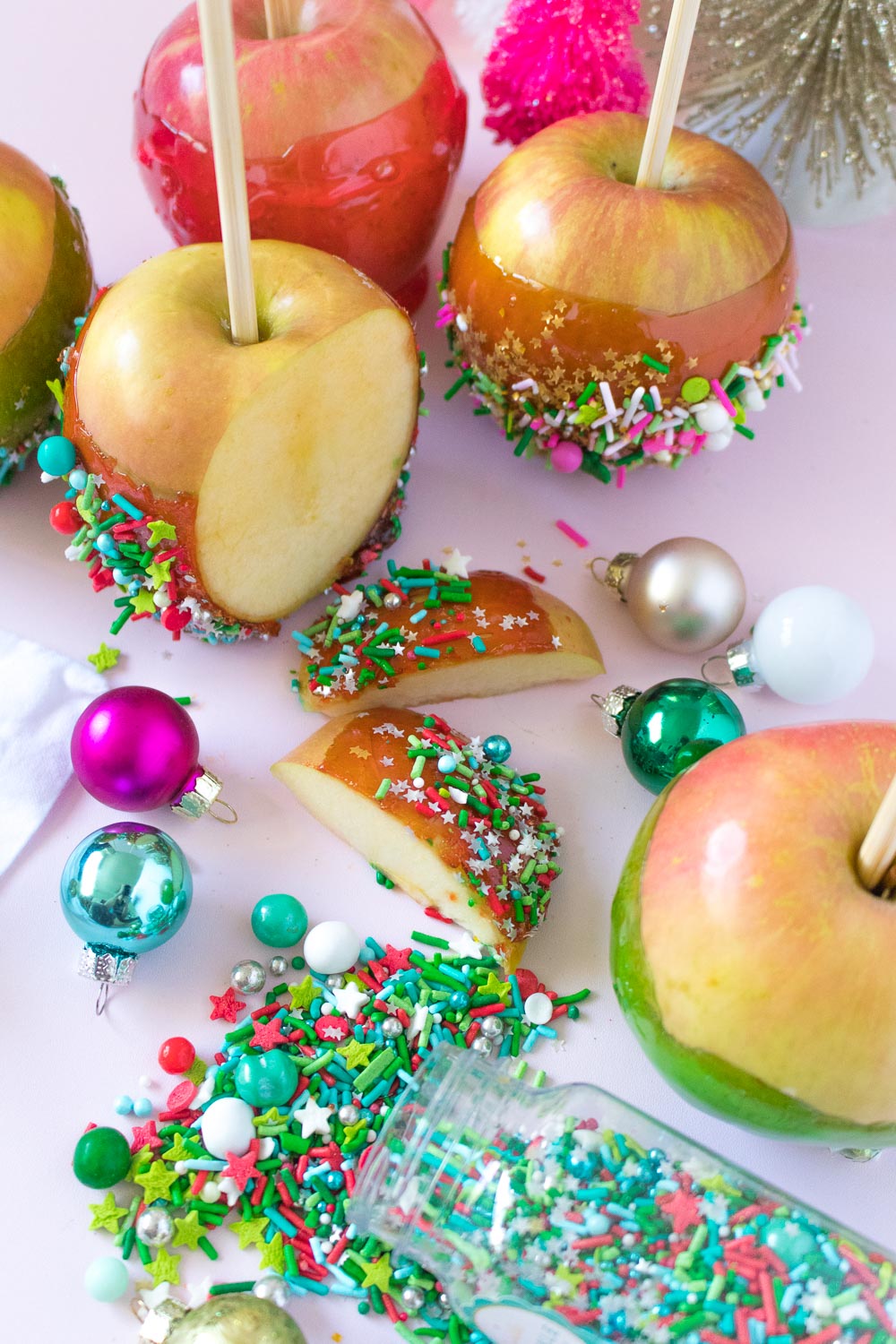 I feel like candy apples are often associated with Halloween, but they just scream Christmas to me too, especially when they're decorated like this. I mean, how pretty are those metallic stars?! Candy apples make *sweet* gifts, and they're great for party treats too. Just slice them up and enjoy!
Use your favorite apples to customize the flavors and colors. This time, I used Fiji apples, but a classic Granny Smith apple also pairs well with a simple candy coating. Of course, you can also decorate apples with more than just sprinkles! Chop up any fun Christmas candy to stick to the outside, like candy canes or gumdrops.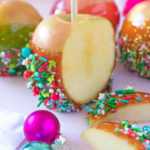 Christmas Candy Apples
2017-12-09 18:05:51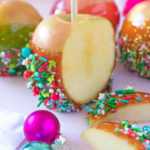 Serves 6
Simple, colorful candy apples coated with a variety of Christmas-themed sprinkles
For the candy coating
6 apples, desired type
1/4 cup corn syrup
1/2 cup water
1 1/2 cups granulated sugar
Pink or red food coloring
Green food coloring
Christmas-themed sprinkles
Other supplies
Thick wooden skewers
Candy
Instructions
Wash and dry the apples. Tap sticks into the tops of the apples until secure. Line a baking sheet with a silicone mat or parchment light sprayed with cooking spray and set aside
Combine corn syrup, water and sugar in a heavy-bottom saucepan over medium heat. Watch carefully as the mixture comes to a boil
Cook on medium heat until it reaches 300 degrees F (hard crack stage) on a candy thermometer
If using more than one color, pour about half of the candy mixture into a separate pan and bring to the proper temperature. Stir in food colorings
Carefully dip the apples and use a spoon to apply candy to the upper sides if needed**
Once coated, immediately move the apple over the covered sheet and sprinkle heavily with sprinkles to coat. Set down to cool completely for about 5 minutes.
Notes
**As you go, if the mixture hardens too much to dip the apples, reheat until candy is melted. Avoid keeping the heat on while dipping as it can easily overcook.
Club Crafted https://www.clubcrafted.com/