/
Simple Layered Dip Cups for Holiday Entertaining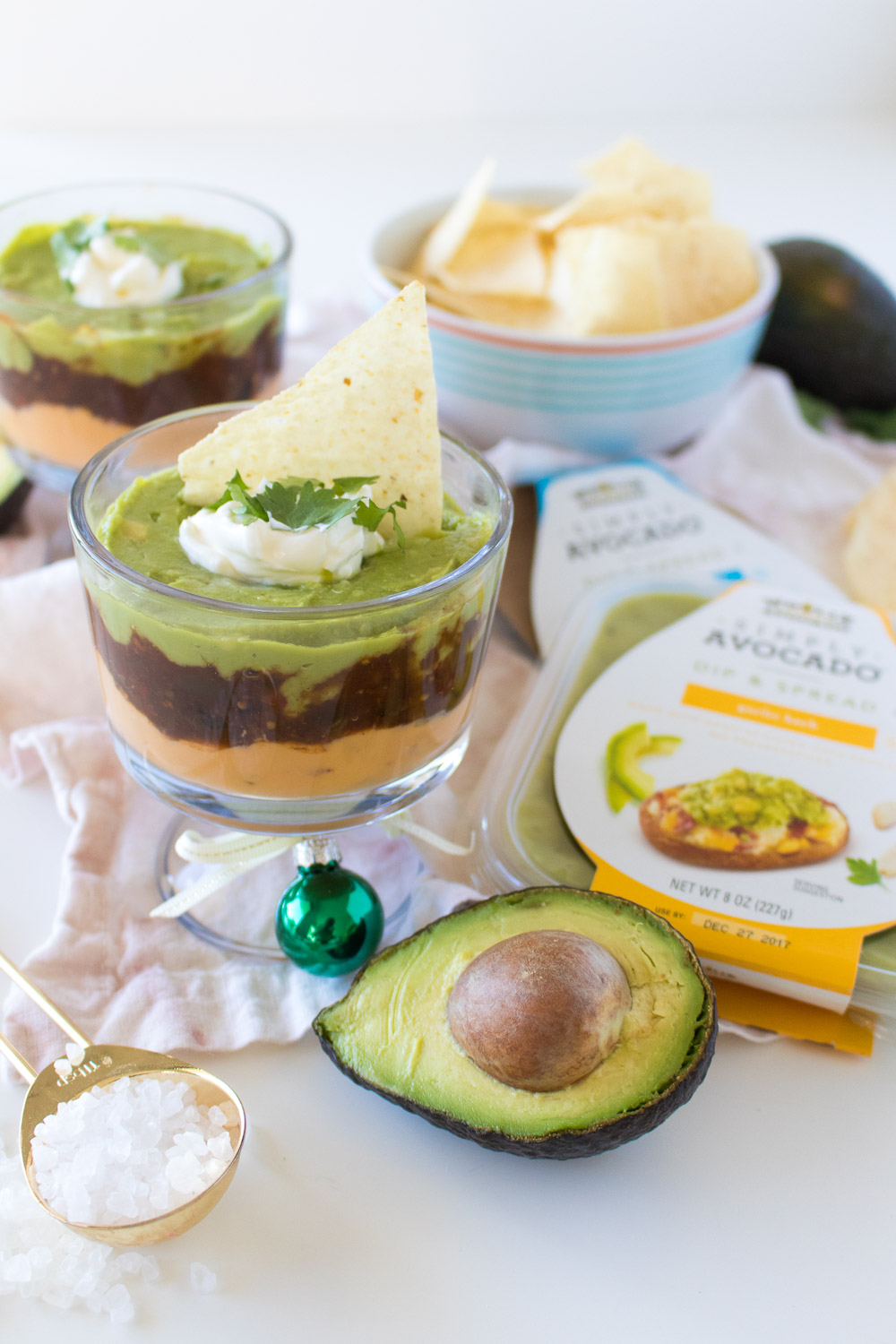 This shop has been compensated by Collective Bias, Inc. and its advertiser. All opinions are mine alone.
#SimplyAvocado #CollectiveBias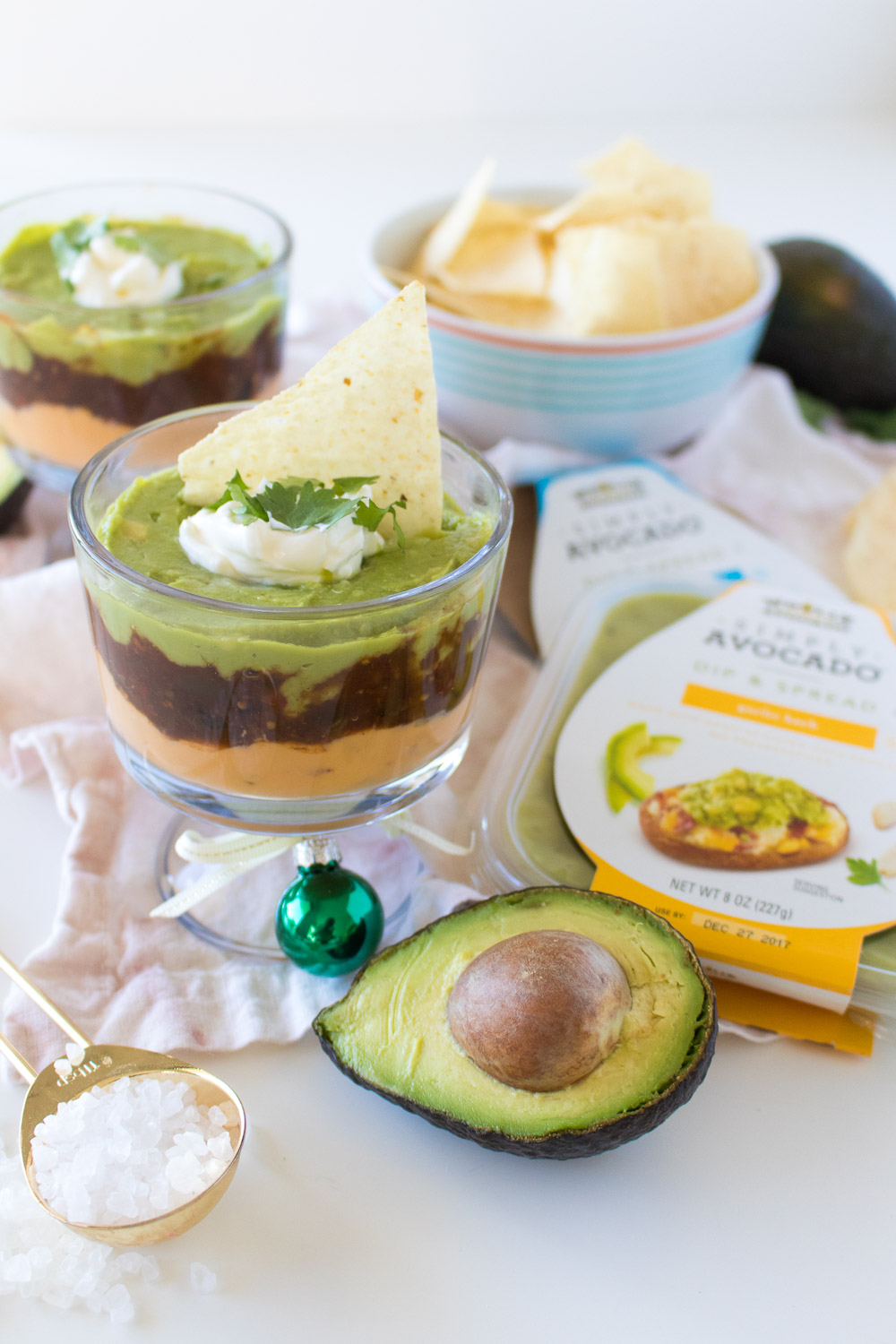 It's crazy how quickly schedules fill up this season! I've been asking Andrew when we'd have time host some kind of holiday get-together, and it seems like all of our weekends filled up so quickly this month. If you're planning for holiday entertaining but want to avoid the fuss of preparation (yes please!), I've got just the trick for you. These simple layered dip cups made with WHOLLY® SIMPLY AVOCADO™ pack all of the flavor your guests will love into easy-to-carry, single-serve cups for dipping chips, veggies and just about anything else. I mean, everything goes with avocado, right?!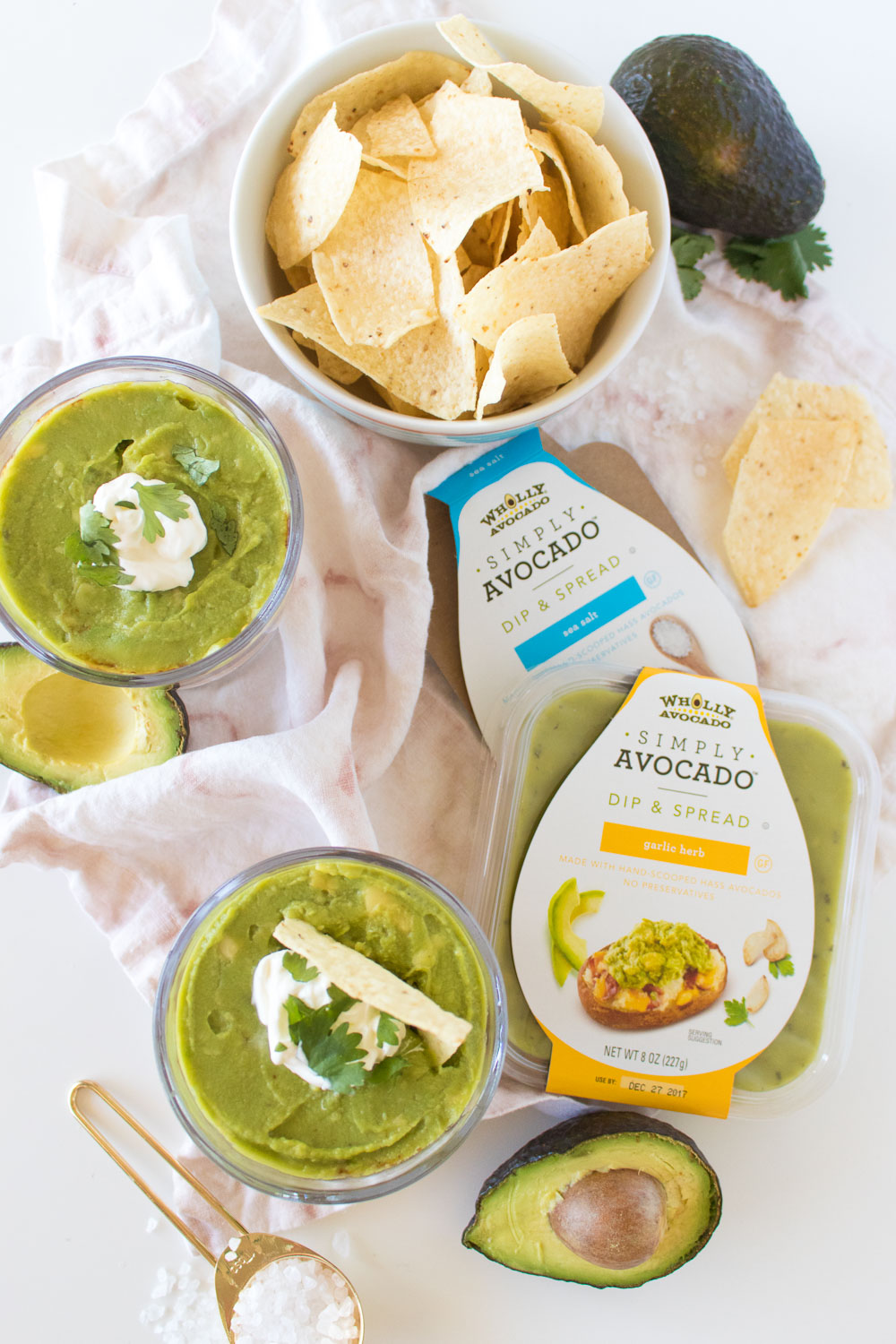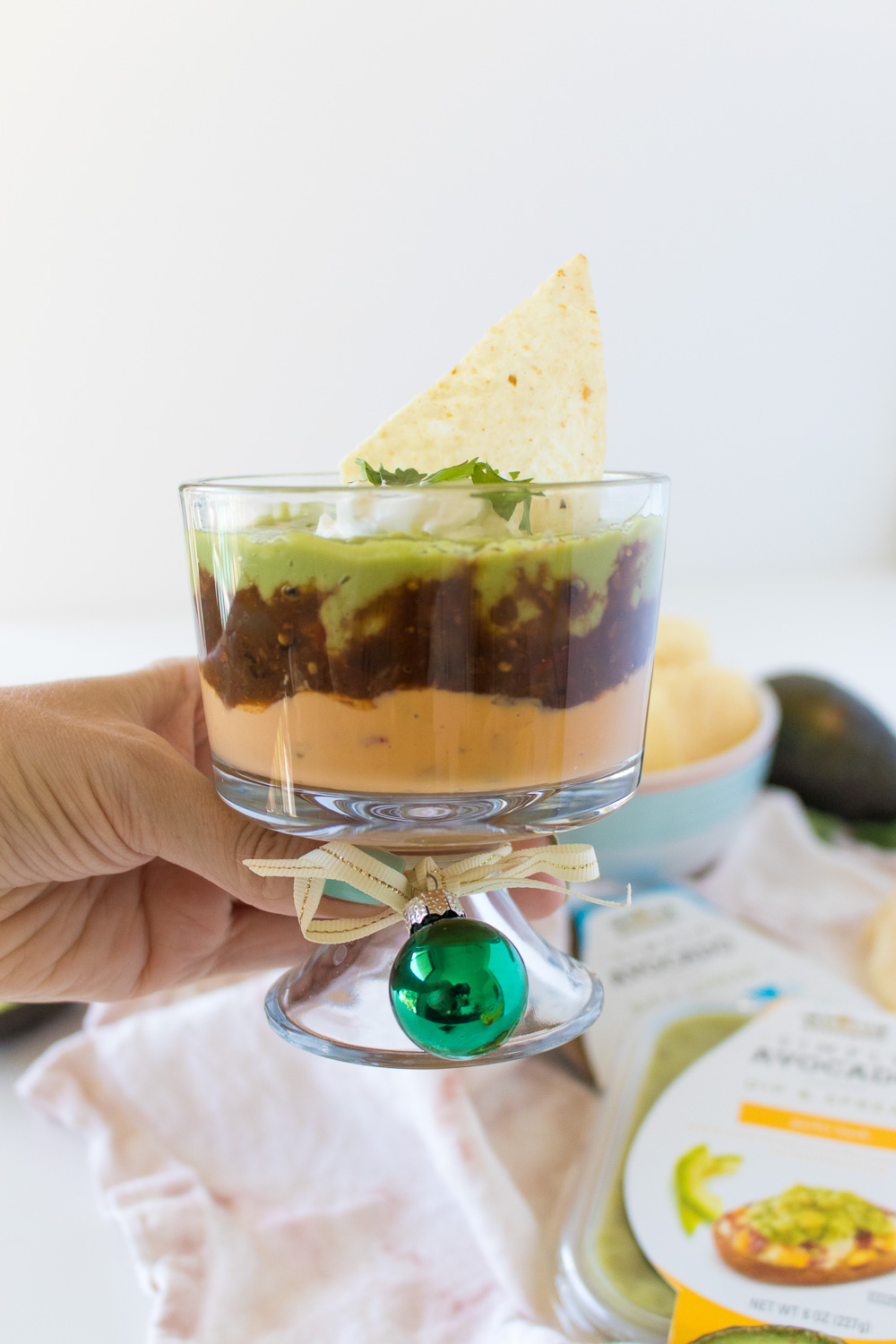 Not only do I love the look of these adorable glass parfait cups but I've found them useful for so many different types of recipes. An added bonus is that guests don't have to share. Sharing is great and all, but I'd rather have a large cup of dip with my name on it that is ALL MINE. I even wrapped the bottoms of the parfait glasses with ribbon and mini ornaments to give them a festive look!
Whether you want to eat these cups layer by layer or try to get a little of each in one bite, these are a no-brainer. Personally, I prefer to scrape all of the avocado off the top first and then worry about the layer beneath. I love using SIMPLY AVOCADO™ spreads and dips for these cups because they have the flavor of a fresh avocado without any of the fuss, and the minimal ingredients added only enhance the flavor of the avocado, whether it's the Sea Salt or Garlic Herb flavor. No matter what you lay out for guests to dip, they're sure to love carrying around these layered dip cups for easy mingling.
I don't know about you, but I never like standing and trying to juggle food on a plate at the same time. I'm way too clumsy for it! That's what made these individual parfaits so appealing for me.
Step 1: Scoop one layer of cheese sauce into the bottom of the cups.
Step 2: Top with a layer of your favorite salsa. Don't put salsa on the bottom or it will be smushed!
Step 3: Smooth the top with a thick layer of SIMPLY AVOCADO™ Sea Salt or Garlic Herb.
Step 4: Finish with a small dollop of sour cream and chopped cilantro.
Guests can grab chips and veggies and start dipping and double dipping in their individual layered cups! Isn't it nice not having to share?
I picked up both the Sea Salt and Garlic Herb flavors of SIMPLY AVOCADO™ at my local Walmart to use in the cups and keep in the house for other recipes. Needless to say though, they didn't make it through a full day in my house without being devoured, so I'll be back ASAP to buy more.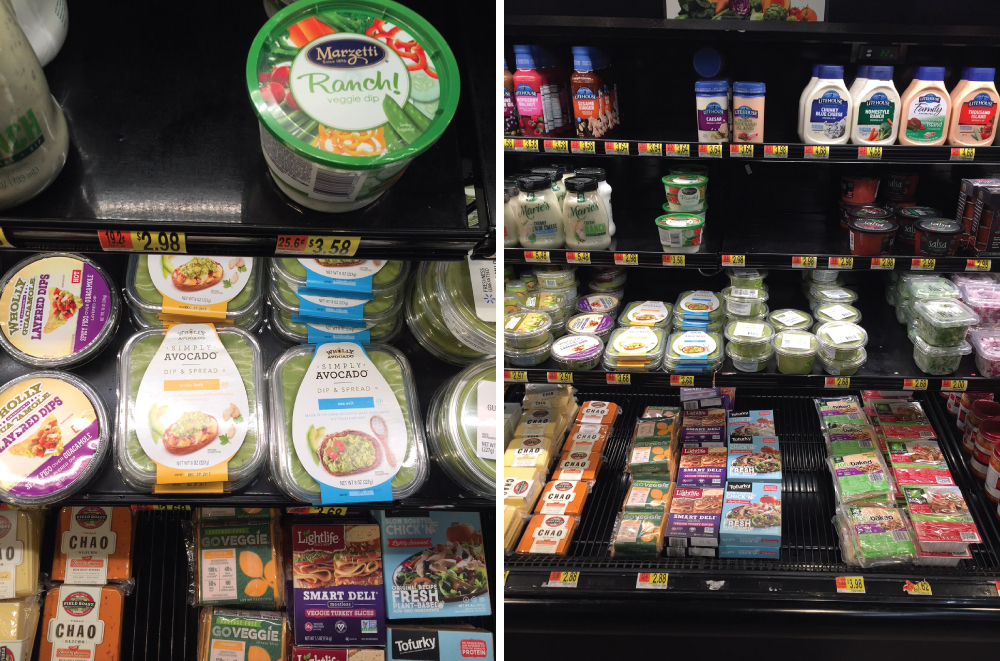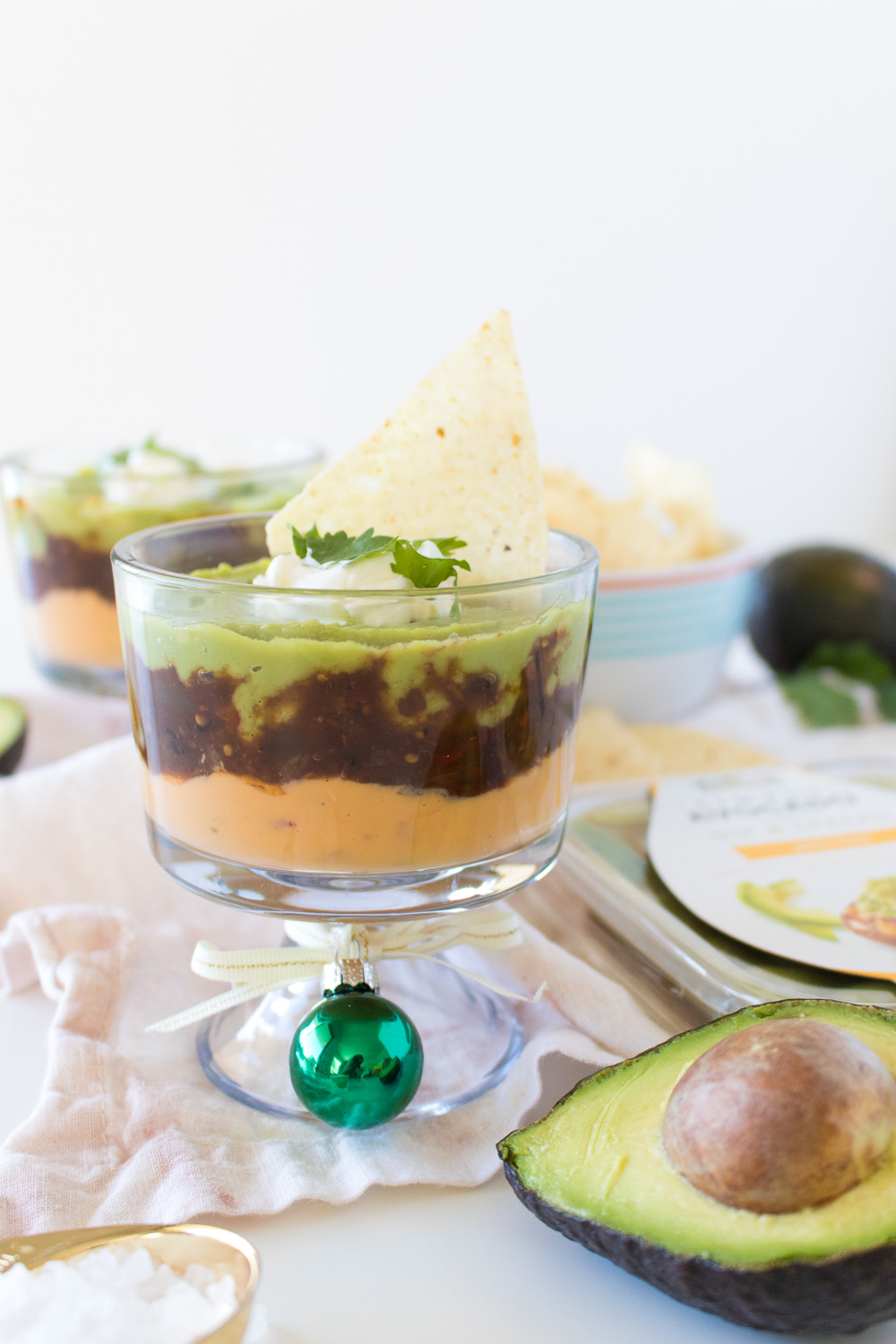 Now do you feel ready to entertain a room full of people this season? Or maybe you just want to make layered cups for yourself to enjoy on a Friday night in? Yeah, me too.
PS, check out Wholly Guacamole on Pinterest for more recipe inspiration to help you through the holidays.
This shop has been compensated by Collective Bias, Inc. and its advertiser. All opinions are mine alone. Thanks for supporting the brands that keep Club Crafted sharing!