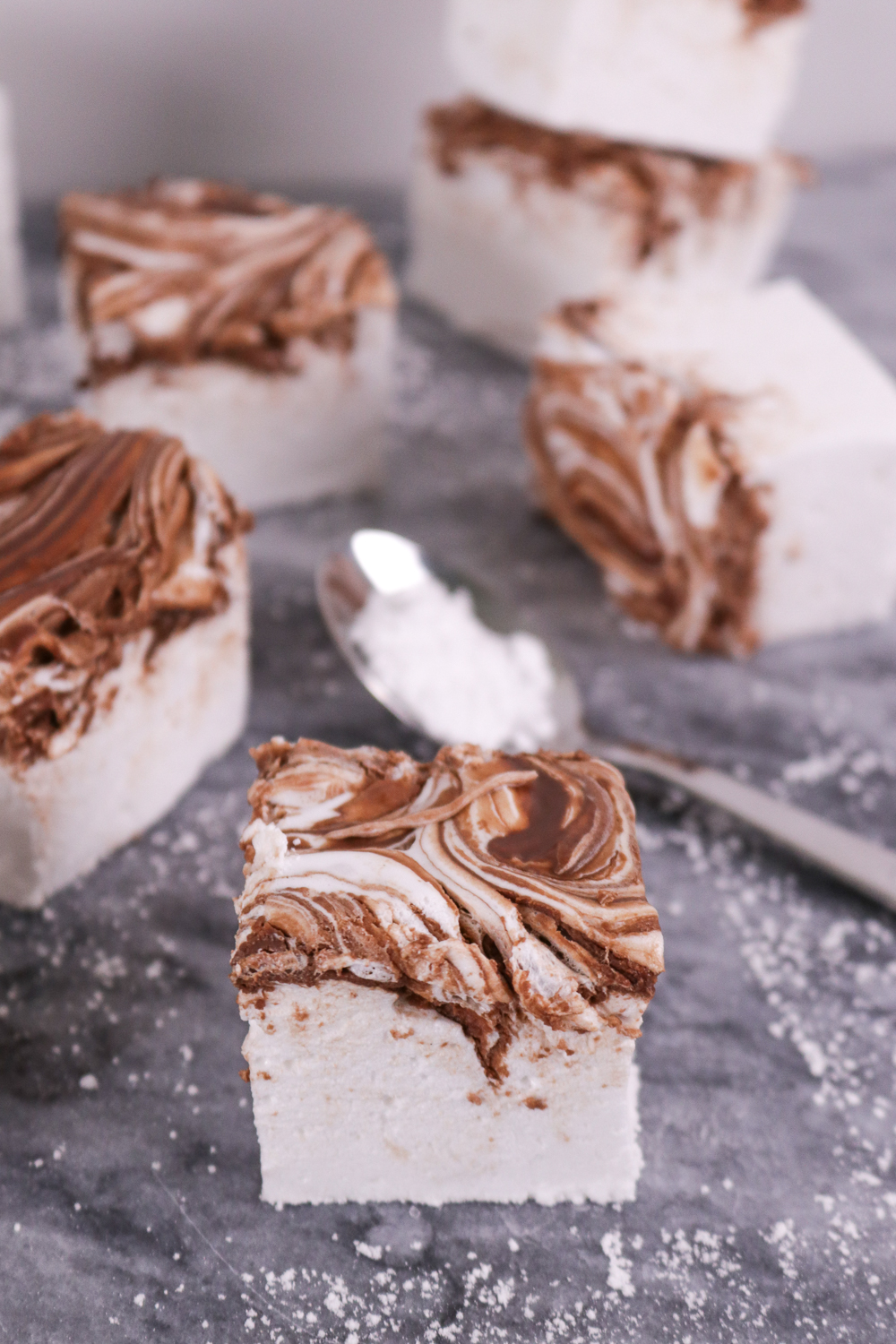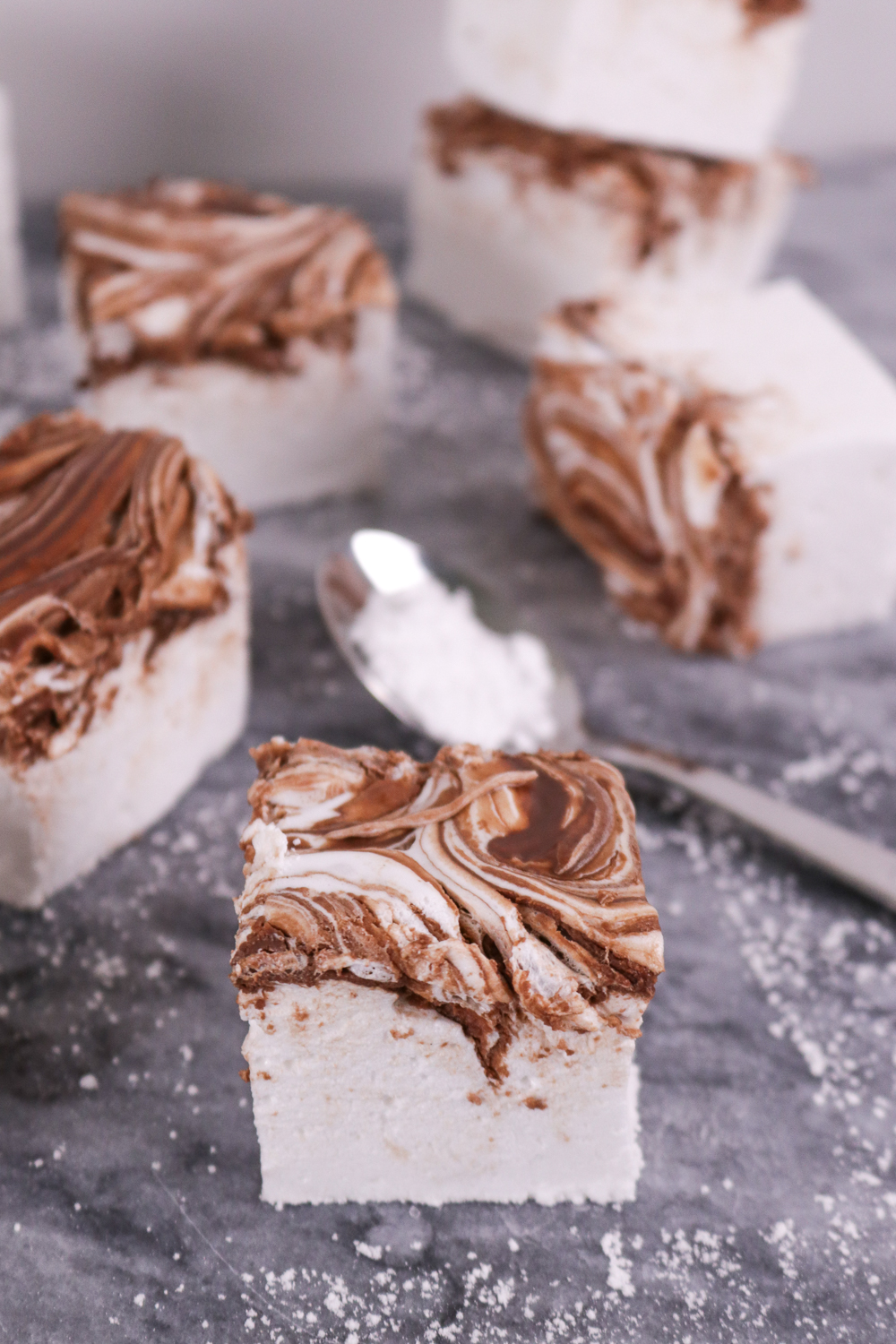 OK, I jumped on the Nutella train years ago, but then I made a recipe that will have me forever hooked on it…Nutella marshmallows. I'm sorry in advance for the sugar cravings this will give you, but whether or not you like Nutella, you're going to want to eat a whole batch of these babies. As someone who really only enjoys marshmallows in a s'more or on top of my hot chocolate, I was surprised how much I enjoyed these Nutella marshmallows, and I'll probably never make plain ones again.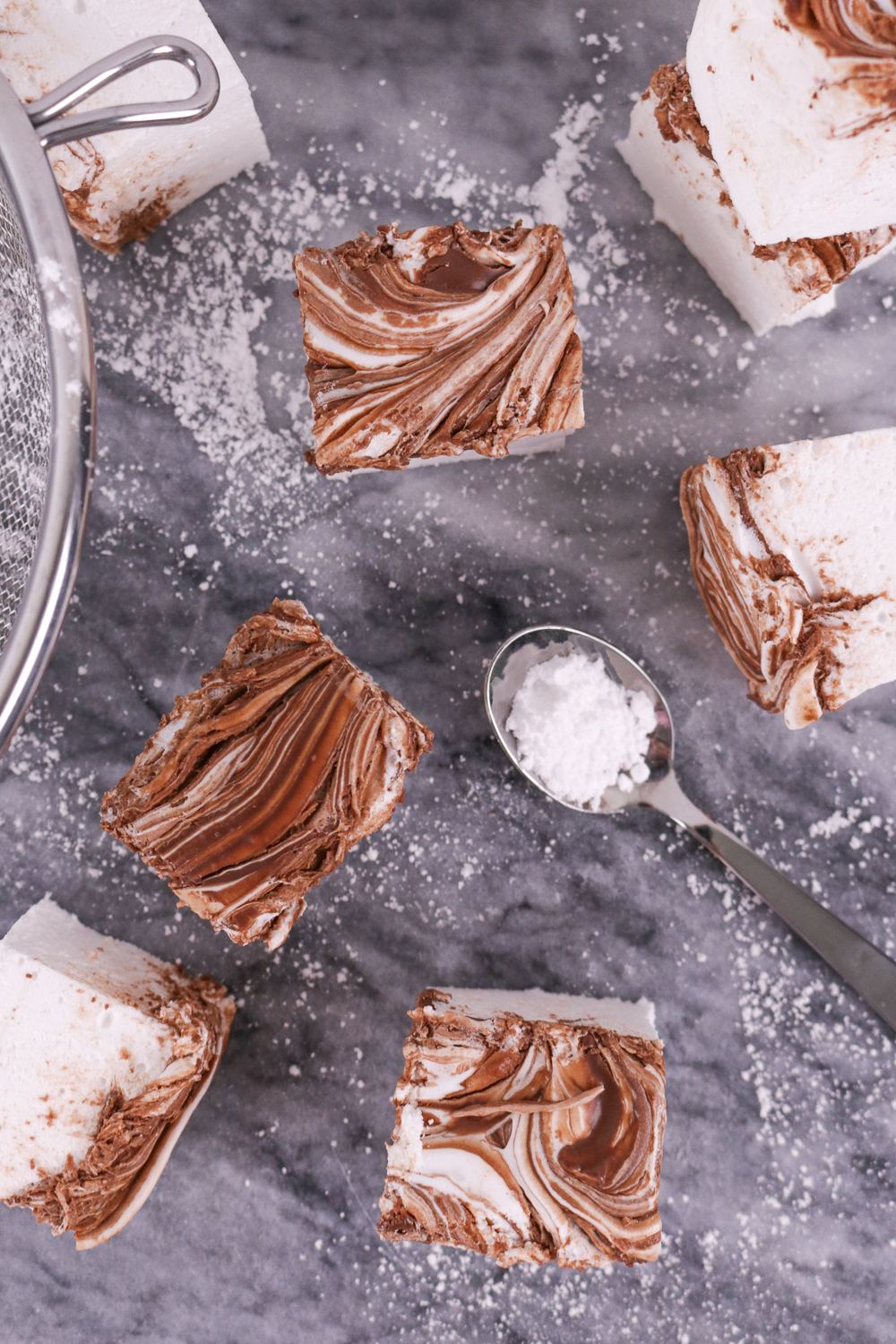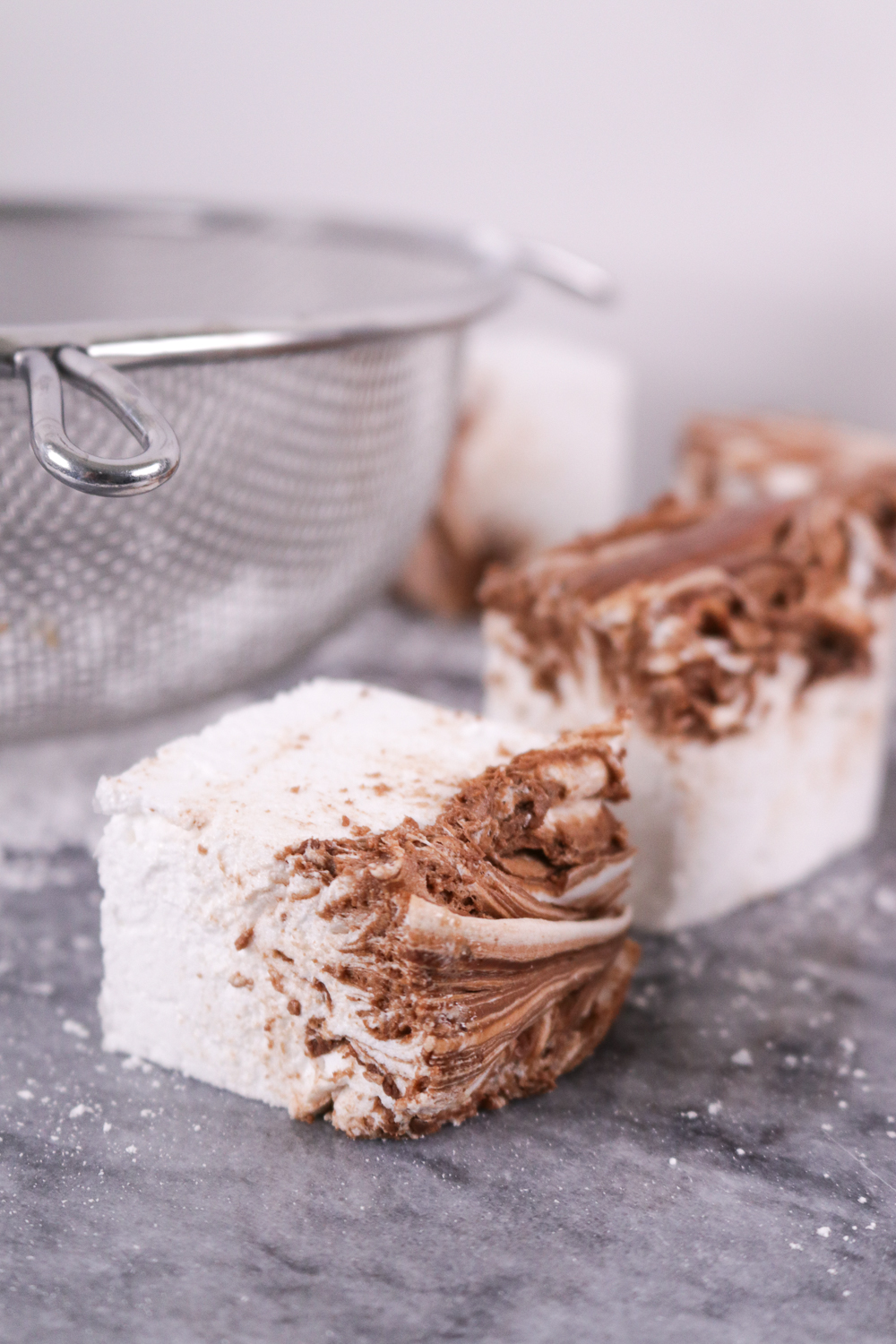 Marshmallows are interesting to make…the mixture ends up resembling meringue, but this particular recipe is a combination of gelatin and sugar syrup. Last month, I shared a recipe for eggnog marshmallows on Love Vividly, and that one included an egg white addition, so it was a little more complicated. Luckily, this one is very easy to make despite how intimidating it may sound.
Scroll down for the full recipe card! ??
You simply heat the syrup until it reaches the correct temperature and whip it into the gelatin for about 15 minutes before adding flavors. I can honestly tell you I prefer homemade marshmallows over store-bought – but isn't that the case with most homemade things? Homemade is just better, and marshmallows are a great example of that. I've made marshmallows quite a few different times now with different techniques and I'd say this is both the easiest and the best recipe I've used. It yielded perfectly soft, spongy marshmallows that weren't overly sticky.
Sometimes it takes a couple tries to get used to making something new, but if you follow my directions, I hope that you can whip up a great batch on the first try! If you prefer plain marshmallows, you can also forgo adding the Nutella and simply sprinkle the top with powdered sugar. I think my next marshmallow recipe will be something fruity…what do you guys think?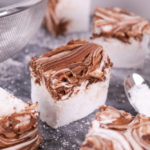 Nutella Marshmallows
2017-01-06 16:30:18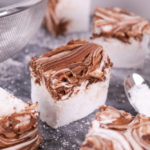 Light and fluffy homemade marshmallows swirled with Nutella chocolate hazelnut spread
Ingredients
3 packages unflavored gelatin (approx. 3 tablespoons)
1 cup water, divided
1 1/2 cups granulated sugar
1 cup light corn syrup
1 tsp vanilla extract
1 cup Nutella
Powdered sugar (for coating)
Instructions
Cover a 9 x 9 inch pan (or similar) in foil or parchment and lightly spray with cooking spray. Use a sifter or sieve to sprinkle powdered sugar over the entire pan and set aside.
In the stand of your electric mixer fitted with a whisk attachment, pour 1/2 cup cold water and evenly sprinkle the gelatin over the water (sprinkle evenly to avoid clumping). Set aside.
In a small saucepan on the stove fitted with a candy thermometer, bring the granulated sugar, corn syrup and remaining 1/2 cup water to a boil over medium/high heat and simmer until the temperature reaches about 230 degrees (softball stage) on the candy thermometer.
Remove from heat and slowly stream the sugar mixture into the gelatin mixture, mixing on low speed. Increase the speed to high and whip for about 15 minutes until the mixture becomes very thick, white and sticky. Mix in the vanilla or other desired flavor.
Pour the marshmallow mixture into the sugar coated pan and smooth the top.
In a small bowl, melt the Nutella in the microwave. Drizzle over the top of the marshmallow mixture and swirl with a butter knife.
Cover with foil and set aside to settle overnight.
Once the marshmallows have set, pull it out of the pan by the parchment and cut into squares. Coat sides in powdered sugar if sticky
Notes
For easy cutting, lightly coat a knife in cooking spray
Club Crafted https://www.clubcrafted.com/