/
DIY Birthday Cake Gift Box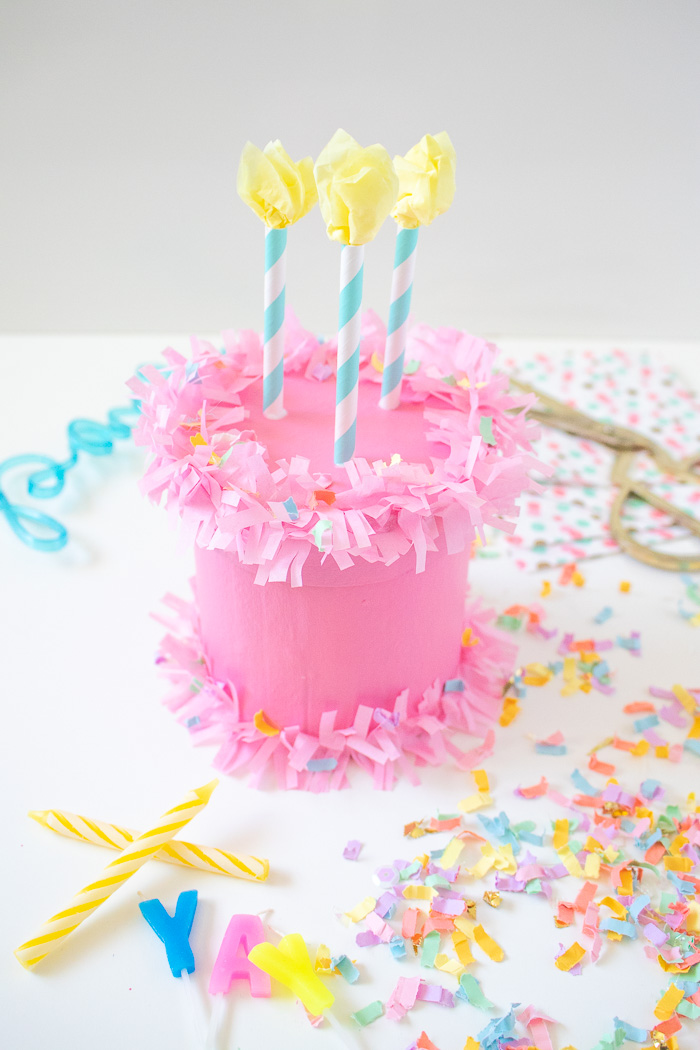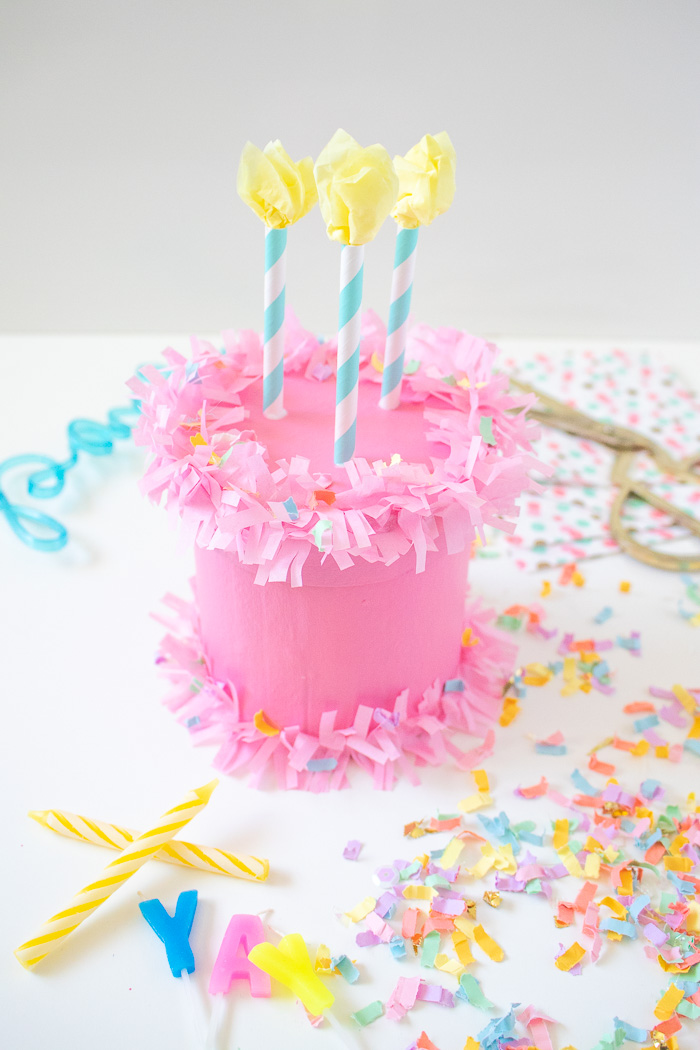 Since tomorrow is my birthday, I wanted to share a birthday themed project with you guys today! A couple years ago, I wrapped Andrew's birthday gift inside of a cake gift box. It was cute, but it was a last-minute choice so I just worked with what I had in the house, and the box was square. Looking back on it, it feels like a million years ago! This time, I wanted to remake my birthday cake gift box with a little extra pizazz, and I love this version 10x more than the first. That tissue paper gives the round mache box the appearance of piped frosting, and I used straws on top to make candles! Plus, it has confetti sprinkles!
It seems like EVERYONE has a birthday this time of year. At my parents last weekend, we had a joint birthday party because FIVE of us had birthdays within the past 30 days. So if you know someone with a September birthday, this cake box gift idea is perfect for you! Use any color for your cake, and feel free to mix and match the cake base and "frosting" colors, just like you would on a regular cake.
You can try this with any sized round box, but I love the look of this mini 4-inch box. It's the perfect size for small gifts like earrings or even a scarf might fit inside. Since I'm the type of person who appreciates the wrapping as much as the gift itself, I can't wait to gift this little birthday cake box to someone!
Time: 15 minutes
Supplies:
Small round mache box
Paint
Paint brush
Tissue paper, yellow and "frosting" color
Scissors
Glue
Straw
Confetti (optional)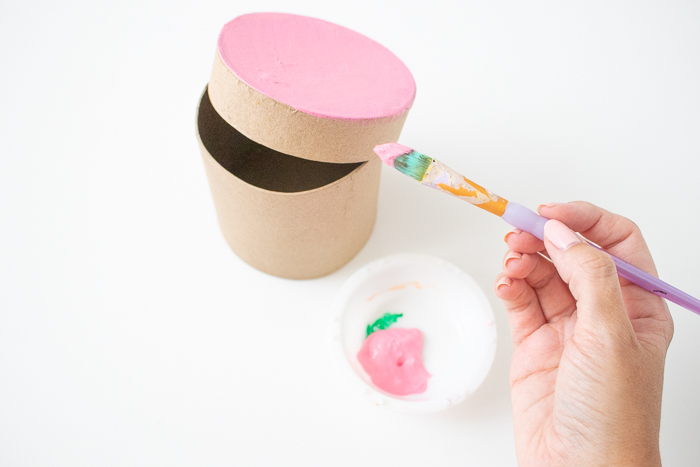 Step 1: Paint the body and top of the box your desired paint color. The frosting and cake base can be different colors, but I wanted mine to match.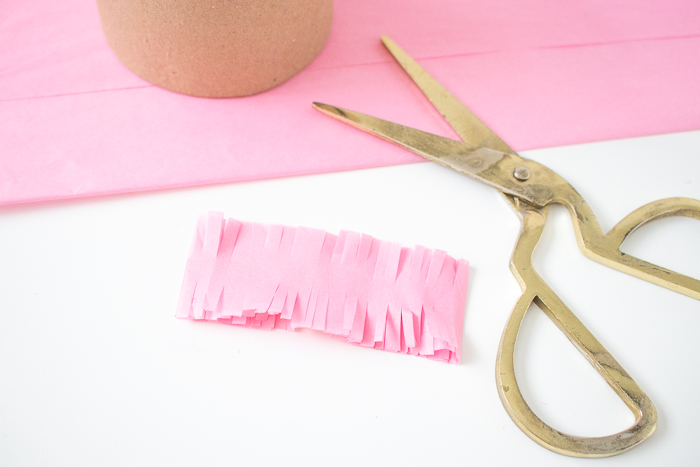 Step 2: Fold the "frosting" tissue paper and cut several 1-2 inch pieces. Fringe both sides like you would for a piñata.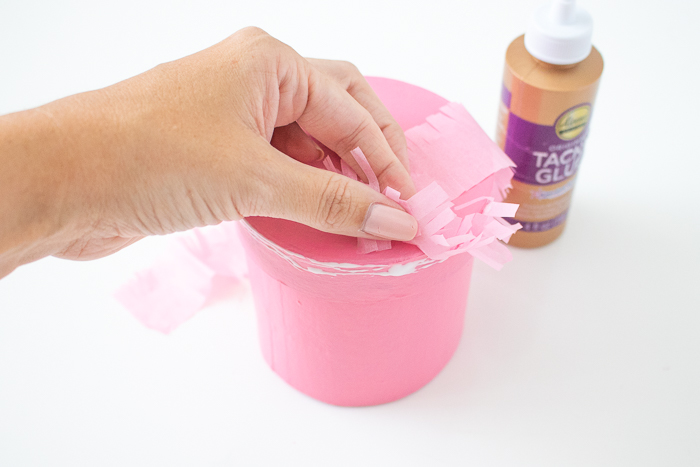 Step 3: Apply a small amount of glue around the top of the box and lightly scrunch the fringed tissue, sticking in place around the top like piped frosting. Repeat along the bottom of the box. For a fuller look, double up the tissue.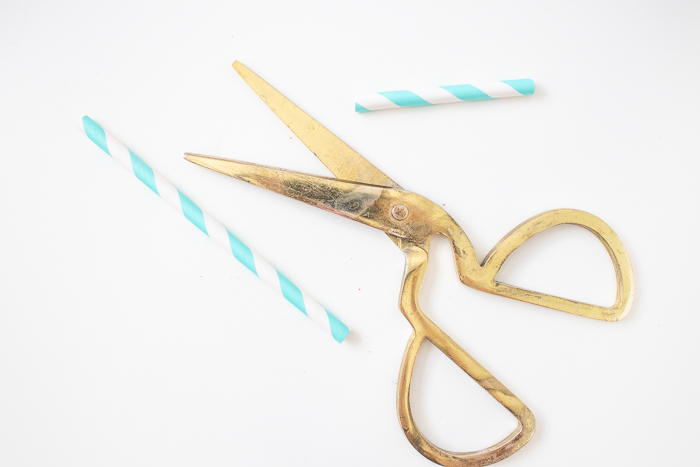 Step 4: Cut a paper straw into three equal sized pieces. Glue the bottoms of the straws to the top of the box.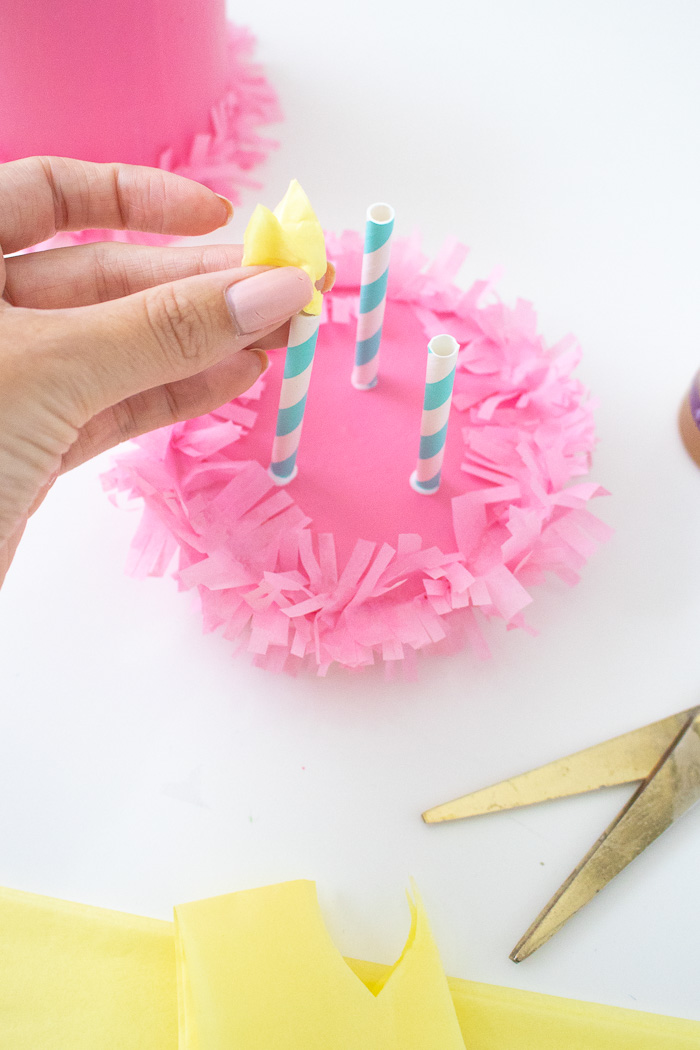 Step 5: Fold up a piece of yellow tissue so that it's thick. Cut a flame shape, crumble it a little and pinch the bottom so that it fits inside the opening of the straw.
Step 6: Lastly, sprinkle confetti over the tissue paper so that it gets caught in the fringe.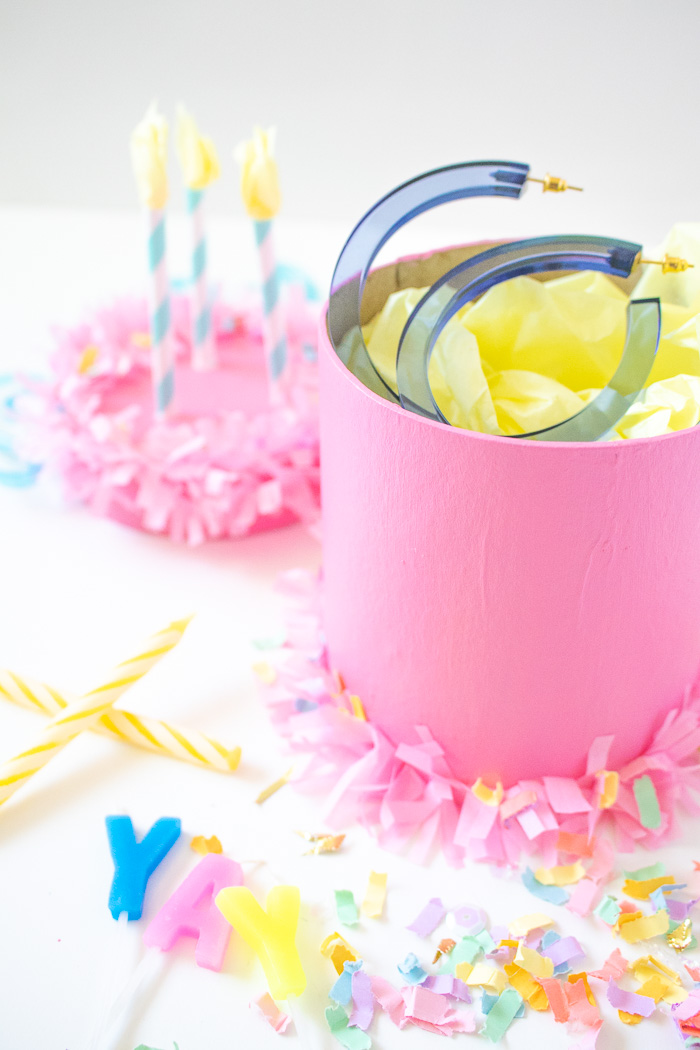 Scrunch up some tissue and add a small gift (and maybe a little more confetti) to the inside of the box! Surely the birthday cake gift box will be as much of a gift as what's inside!
PS, the earrings are from ban.do!