/
A Latte's BFF: Colorful Coffee Cake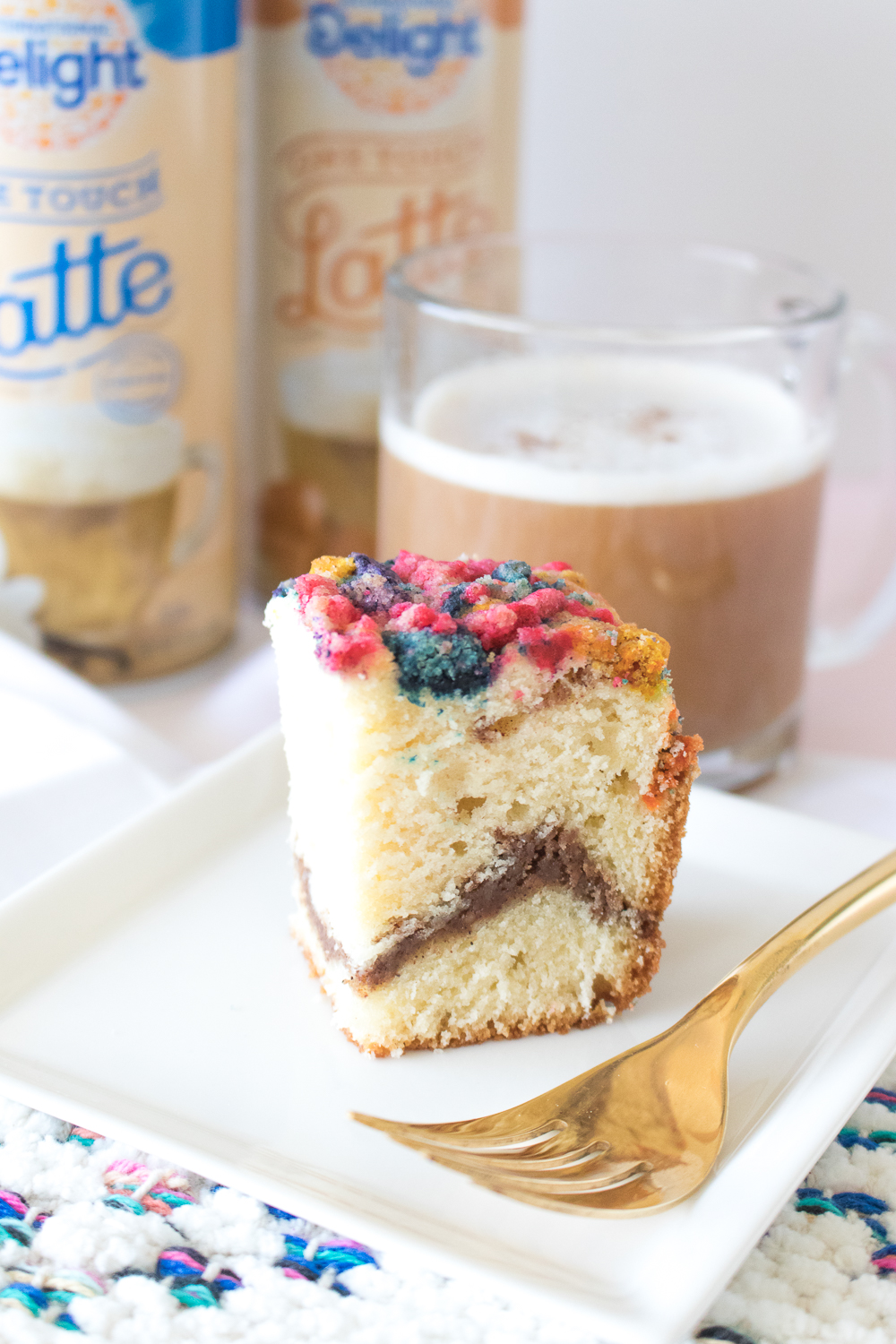 This shop has been compensated by Collective Bias, Inc. and its advertiser.
All opinions are mine alone. #LatteMadeEasy #CollectiveBias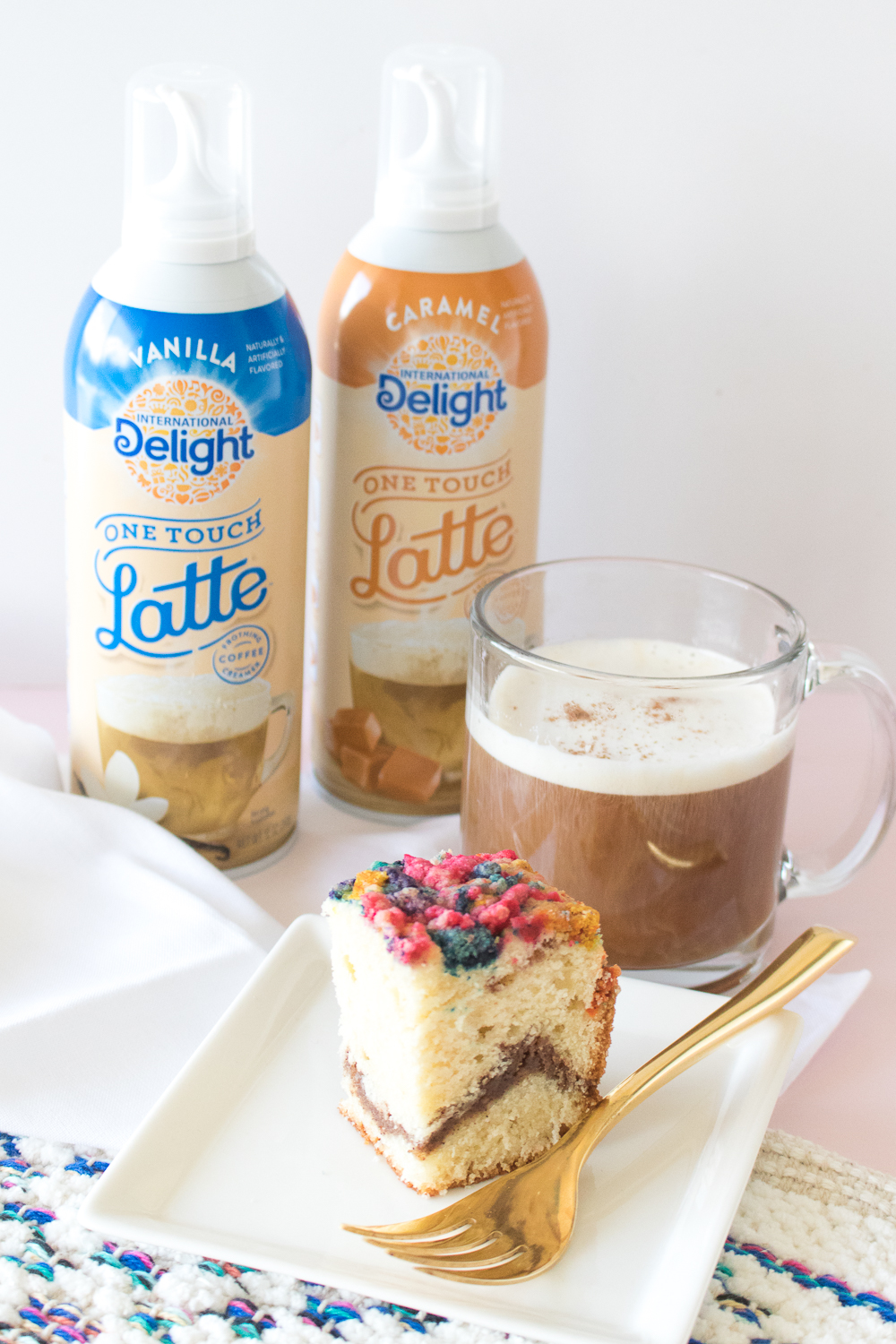 If you told me three years ago that coffee would end up becoming such an integral part of my morning routine, I would not have believed you. Despite not liking coffee for so long, beginning to work full time and becoming busier and busier has made me slightly dependent…oops! Now, I have at least one cup of coffee every morning, and when I was asked to try International Delight® One Touch Latte™, I gave it a try and HOLY MOLY I might not even need to buy a latte ever again.
Today, I'm going to share my experience making and tasting One Touch Latte™ as well as share a super fun and colorful coffee cake recipe! After all, coffee cake is a latte's best friend, in my opinion.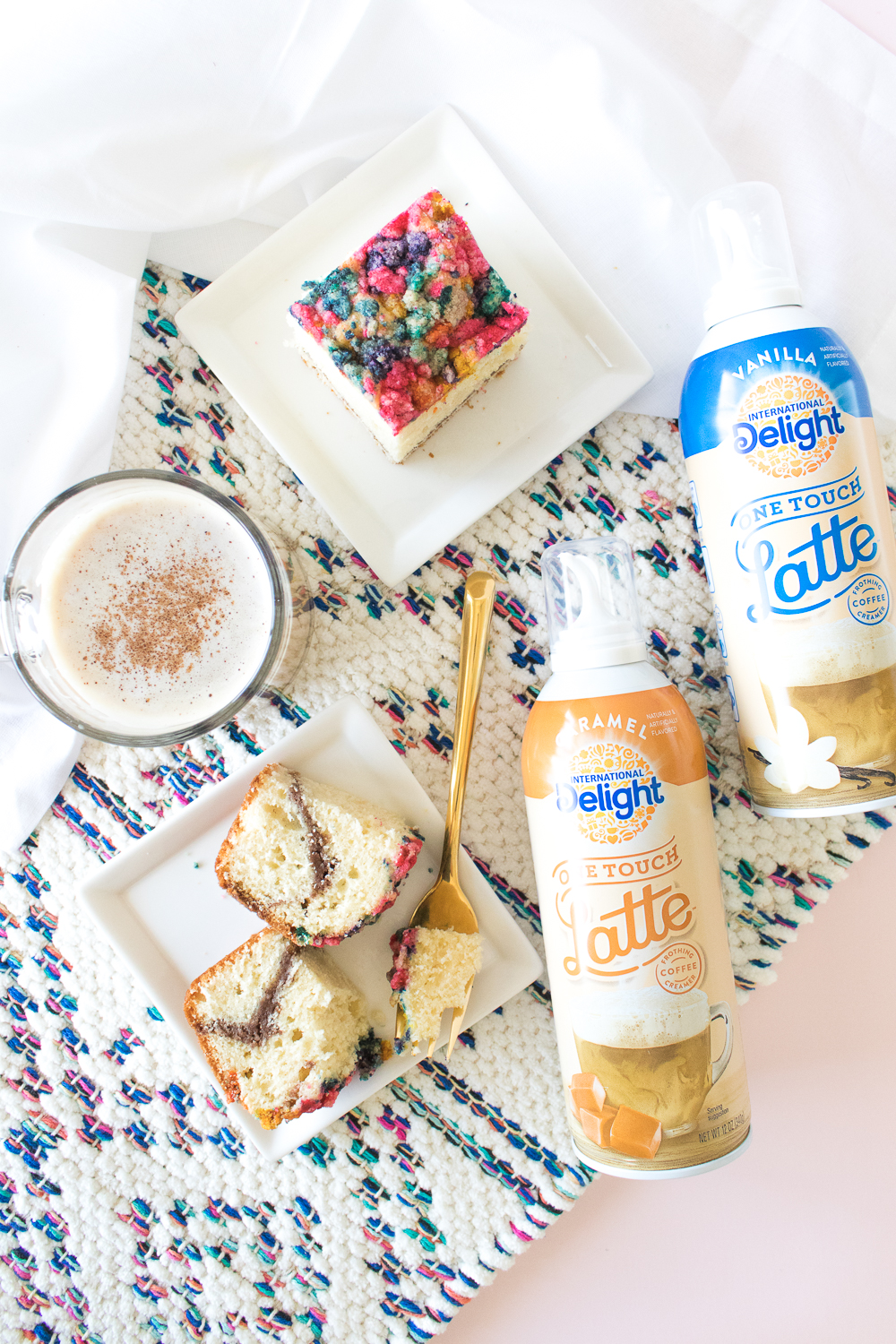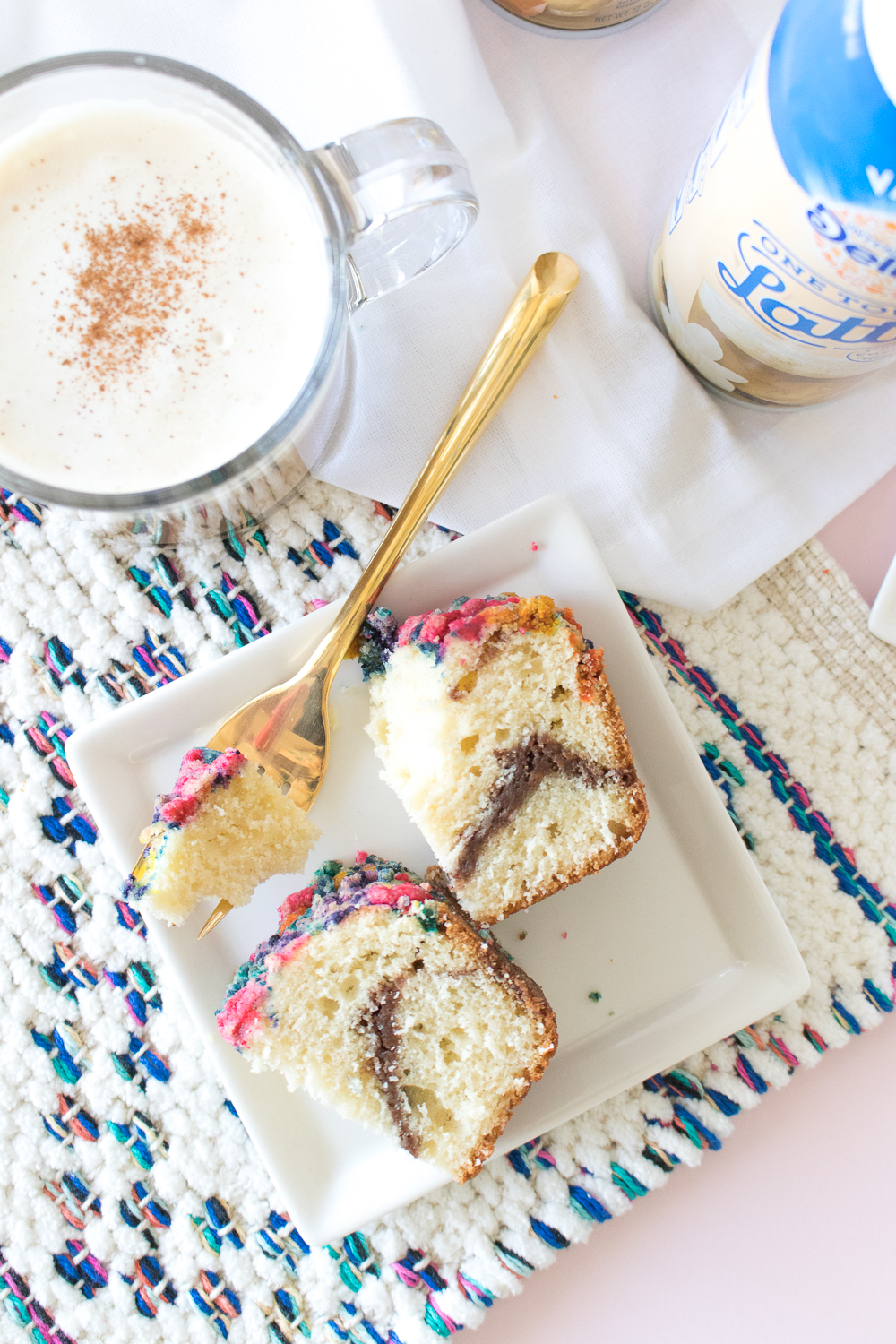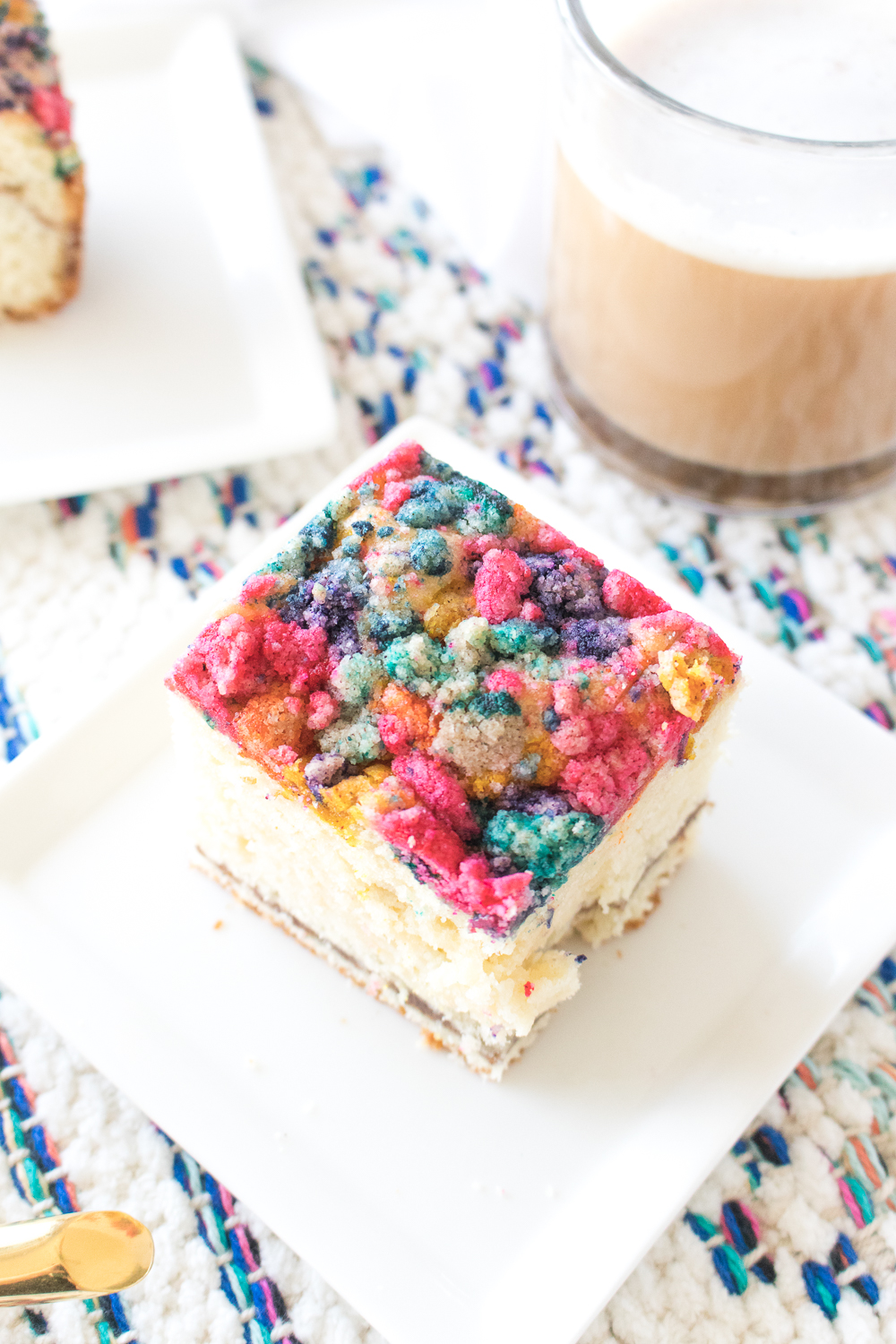 I always need cream and sugar in my coffee, but I found that the One Touch Latte™ sweetens, creams, flavors AND froths. I've got the whole package here.
It's really easy to add to any ol' cup of coffee using the steps I've outlined below. Pair it with this colorful coffee cake that has a traditional cinnamon swirled flavor but is topped with a rainbow of streusel topping! I've been eating a piece every day this week for breakfast, so I guess the whole "healthy eating" thing went out the window. Again…oops.
Scroll down for the full colorful coffee cake recipe card! ??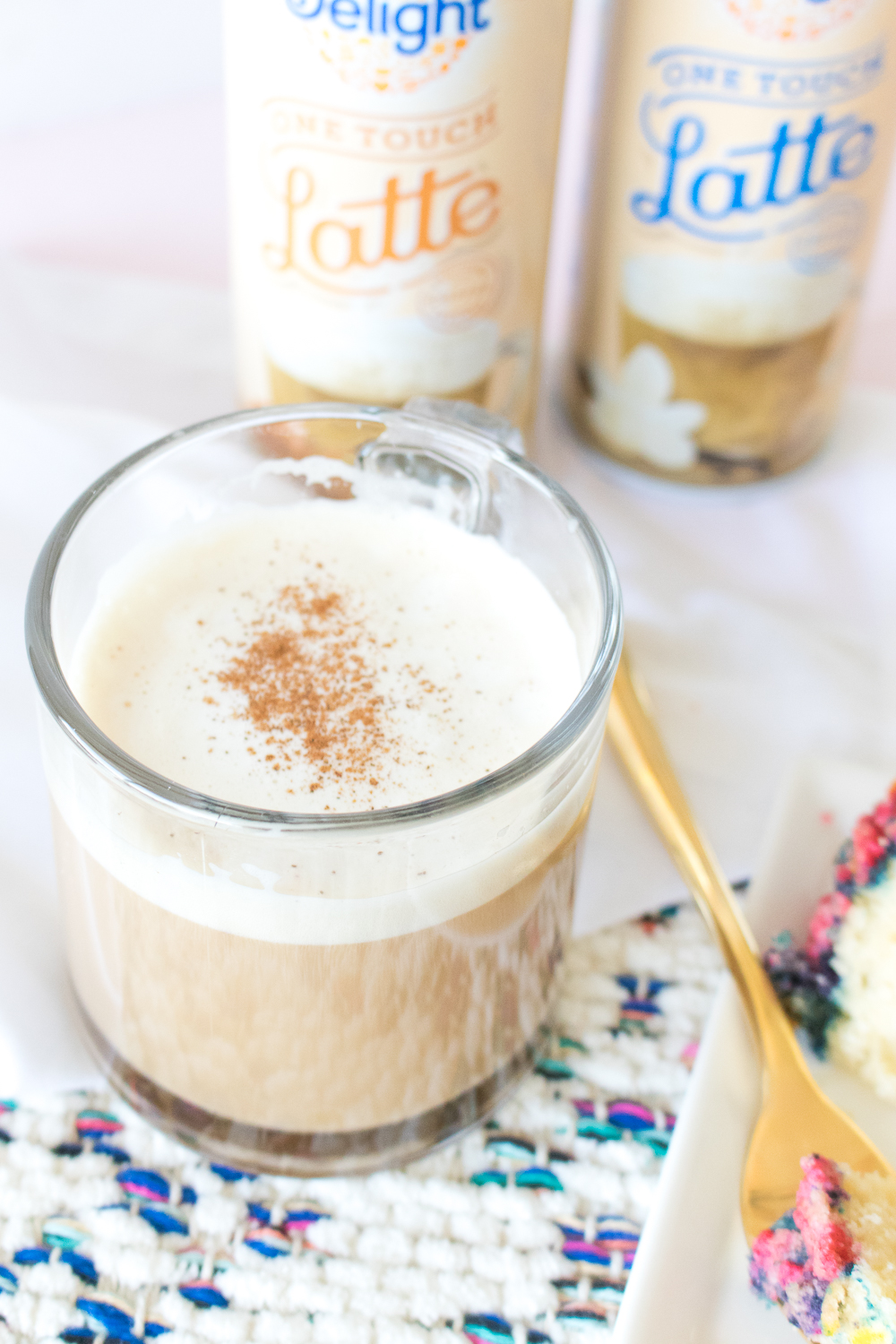 How to Make a One Touch Latte™ in 3 Steps:
Fill cup 2/3 with coffee to leave room for froth
Shake the One Touch Latte™ can
Press and hold the can above coffee for 5-7 seconds and ta-da!
Check out this video to see how to make a latte!

After using the One Touch Latte™ vanilla and caramel flavors (caramel is Andrew's favorite and the vanilla is mine) for about a week, we're pretty hooked. We picked up the cans of One Touch Latte™ from our local Walmart in the refrigerated dairy section, and they also sell mocha flavor, which I'm looking forward to trying next time.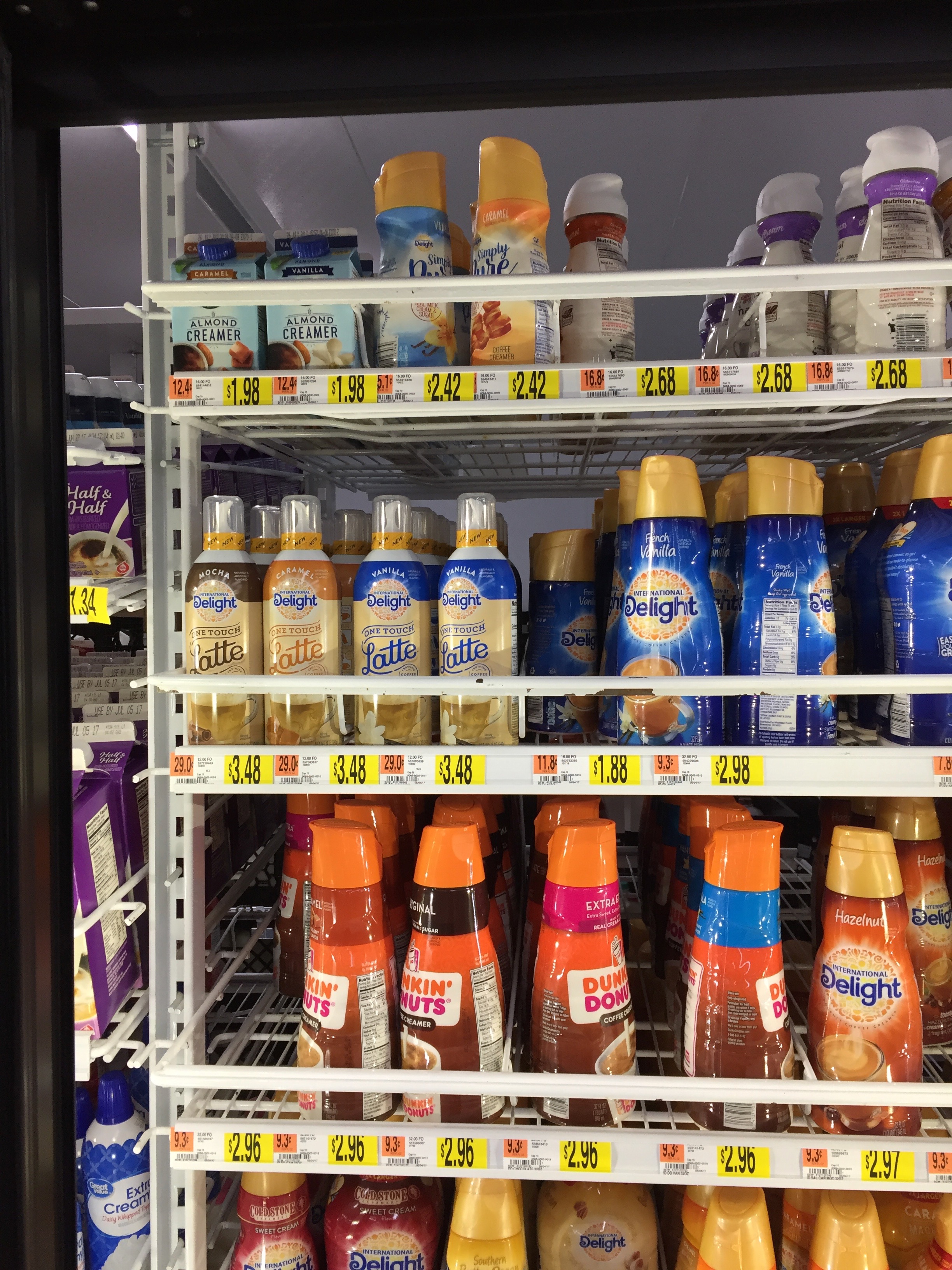 Am I the only one that gets out of bed in the morning easier in the spring and summer? I guess it's because the weather is warmer and it's brighter outside. Lately, I've found myself enjoying my mornings more and drinking a full cup of coffee with a real breakfast instead of hitting the snooze button one-too-many times. Sometimes I enjoy it a bit too much and end up running really late, but it's definitely more enjoyable!
A little sprinkle of cinnamon on top of my homemade vanilla latte with a side of my colorful coffee cake and I am in HEAVEN.
Cheers to summer!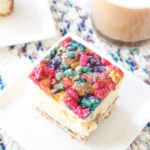 Colorful Coffee Cake
2017-05-05 12:37:33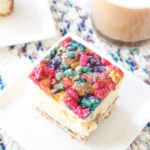 Serves 10
A delicious rainbow coffee cake baked with cinnamon and streusel topping for pairing with your morning coffee!
For the cake
1/2 cup butter, room temperature
3/4 cup granulated sugar
1 egg
1 tsp vanilla extract
2 cups all-purpose flour
2 tsp baking powder
1/4 tsp salt
3/4 cup milk
For the cinnamon filling
4 tbsp butter, room temperature
1 tbsp ground cinnamon
1/2 cup flour
1/2 cup brown sugar
For the rainbow streusel topping
4 tbsp butter, room temperature
1/2 cup flour
1/4 cup granulated sugar
1/4 cup brown sugar
1 tsp cinnamon
Food coloring
Multiple small bowls
For the cake
Preheat the oven to 350 degrees and spray a nonstick pan, either an 8x8 inch pan or loaf pan, with cooking spray and set aside
In one bowl, whisk together the flour, baking powder and salt and set aside
In your mixing bowl fitted with a paddle attachment, cream together the butter and sugar until fluffy
Mix in the egg and vanilla
Add about half of the dry ingredients, followed by about half of the milk, mix and repeat until all of the ingredients are incorporated
For the filling
In a separate bowl, use a fork or pastry cutter to mash the softened butter, flour, sugar and cinnamon together until it forms crumbs. Set aside
For the topping
Combine the butter, flour, sugars and cinnamon in a food processor and pulse until coarse lumps form (if you do not have a food processor, you can use a fork or pastry cutter)
Separate the topping into multiple small bowls, add about 2 drops of food coloring in each and incorporate with a fork
To bake
Pour about half of the cake batter in the prepared pan, followed by the filling, sprinkled all the way across the batter
Top with remaining batter, smooth the top with a spatula and sprinkle with the colorful crumbs
Bake for about 45 minutes until an inserted toothpick comes out clean. Allow to cool at room temperature before removing from the pan and serving
Notes
If baking in an 8x8 inch square pan, coffee cake will be thinner; loaf pan will bake thicker cake
Club Crafted https://www.clubcrafted.com/
This shop has been compensated by Collective Bias, Inc. and its advertiser. All opinions are mine alone. Thank you for supporting the brands that keep Club Crafted sharing!