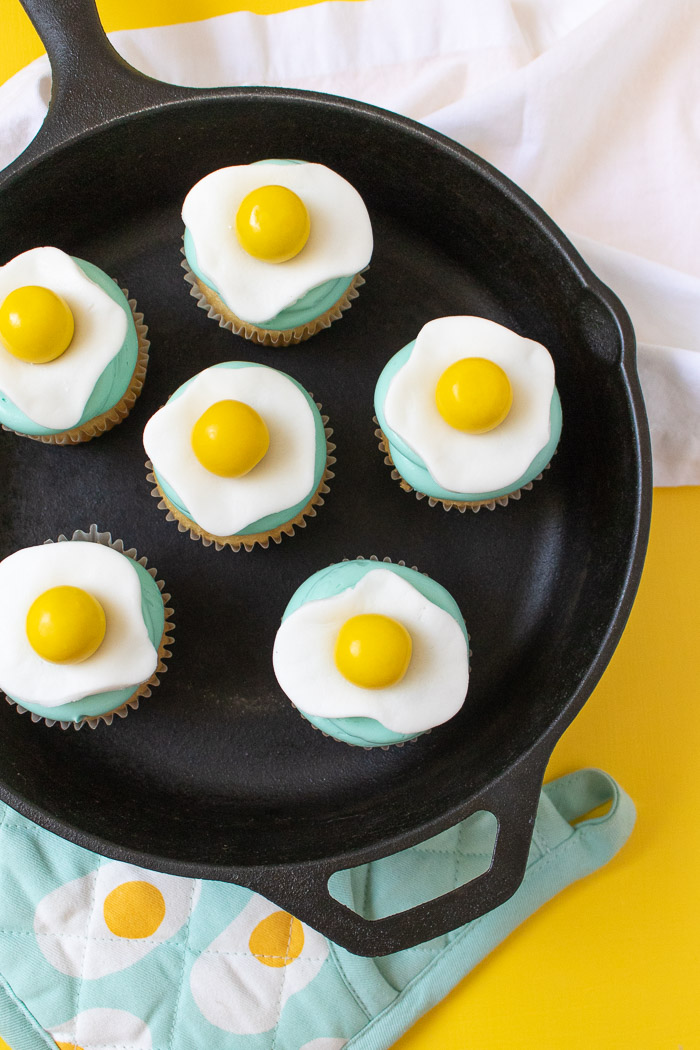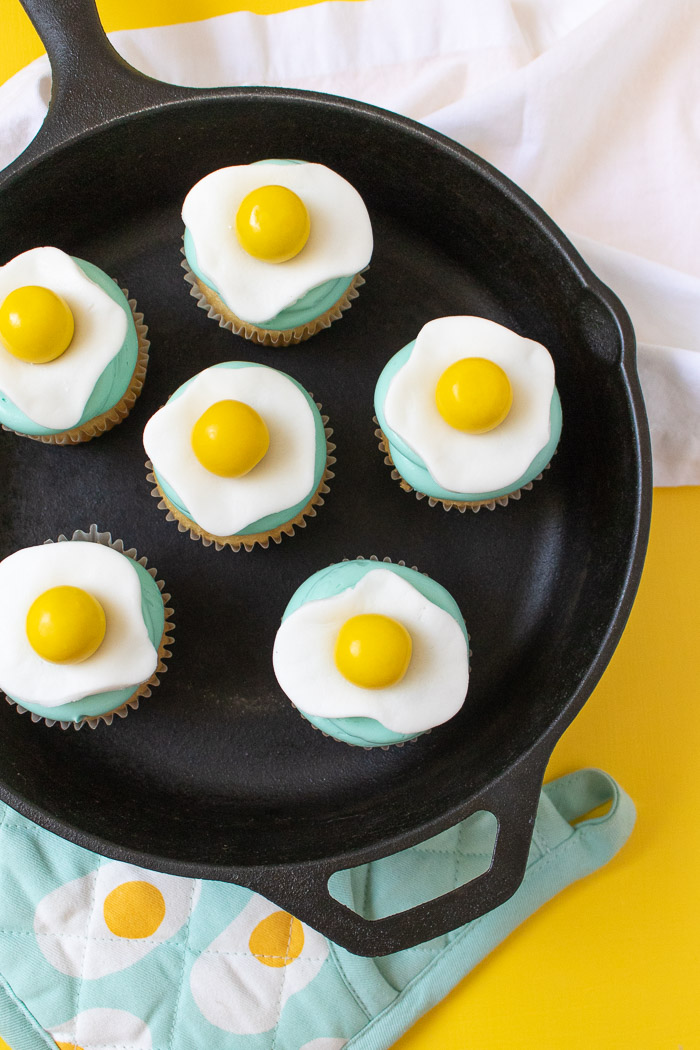 I've noticed that with just about anything you order at a restaurant these days, you have the option to add a fried egg on top…like on pizza, burgers, salads, etc. Not to knock eggs (I mean, yay protein!) but I did want to poke a little bit of fun at this trend by adding fried eggs on top of my cupcakes 😜 These goofy fried egg cupcakes are easy to make with your favorite cupcake recipe! Might I recommend my classic vanilla cake recipe? Using fondant and gumballs, you can make fried egg cupcake toppers in minutes to add some decoration to any cake recipe. This means I can eat the cupcakes for breakfast, right?!
Normally, I don't work with fondant because it's not exactly tasty. In this case, it's purely for decoration, but you can certainly enjoy the gumball on top.
Since fried eggs have somehow become a trend, it's a fun but goofy way to personalize something. These cupcakes are not the first fried egg project I've made. Did you see my fried egg oven mitts last year, or my fried egg donuts before that?
Whatever the occasion, I'm sure everyone will be surprised by these fried egg cupcakes! Just tell them it's for an extra dose of protein, ha! These are probably the easiest cupcake decorations you'll see for a while, and at least they are entirely edible. For good measure, you can even serve them in a skillet rather than on a cake stand or regular plate. Might as well go all out with the theme, right??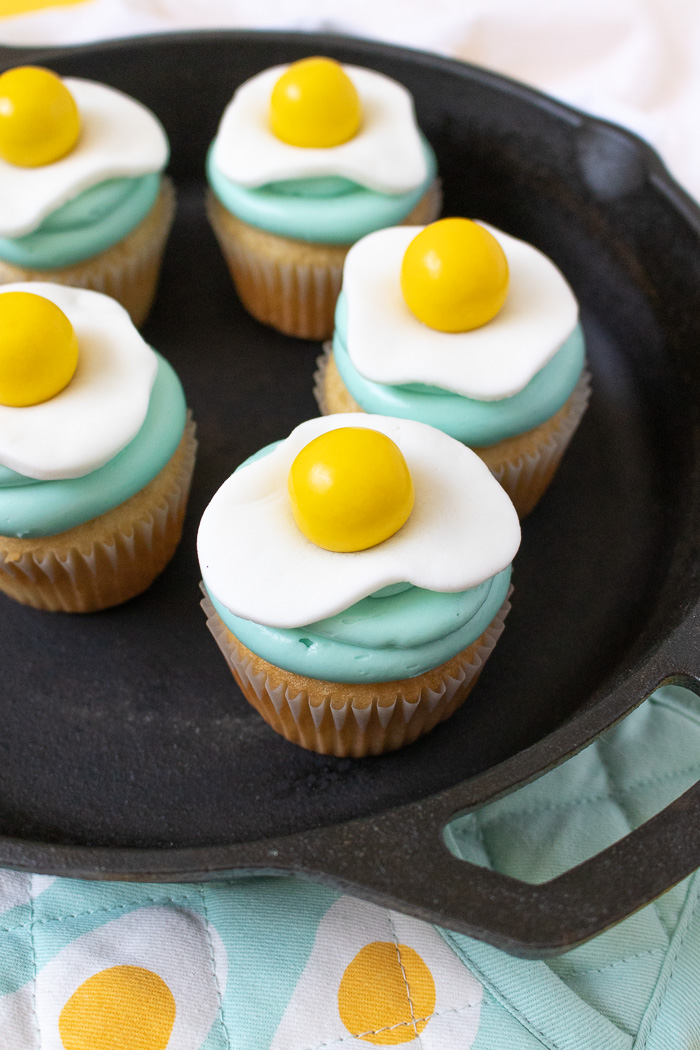 Ingredients:
White fondant
Yellow gumballs
Rolling pin
Round cookie cutter, 2 inches
Iced cupcakes
Step 1: On a surface sprinkled lightly with powdered sugar, roll out the fondant until about 1/4-in thin (if not a bit thicker).
Step 2: Cut circles out of the fondant. With your hands, gently pull the edges of the circle outward in different directions to create unique shapes that would resemble the egg whites of a fried egg.
Step 3: Place the white fondant on top of iced cupcakes (room temperature icing is best) and press a gumball into the middle of the fondant. Let some edges go over the sides of the icing slightly.
Once satisfied, refrigerate until ready to serve.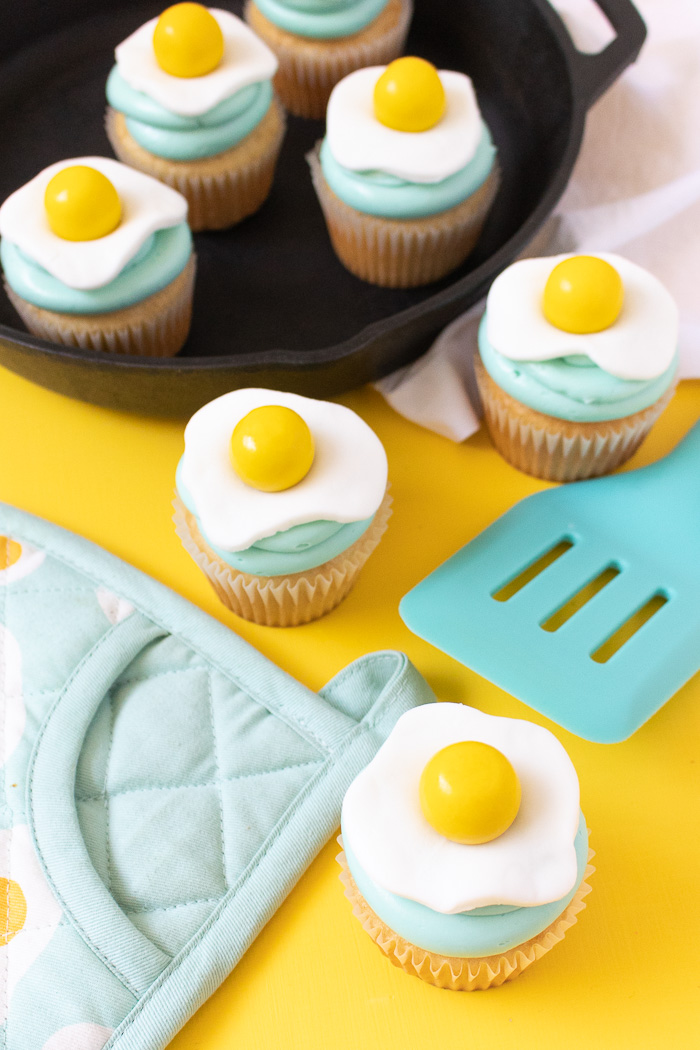 Easy as eggs, right? Sometimes the easiest projects or recipes can be the most fun, and baking should be fun!
Want another cupcake recipe? Try my simple coconut cupcakes.