/
How to Visit Palm Springs on a Budget: A Palm Springs Travel Guide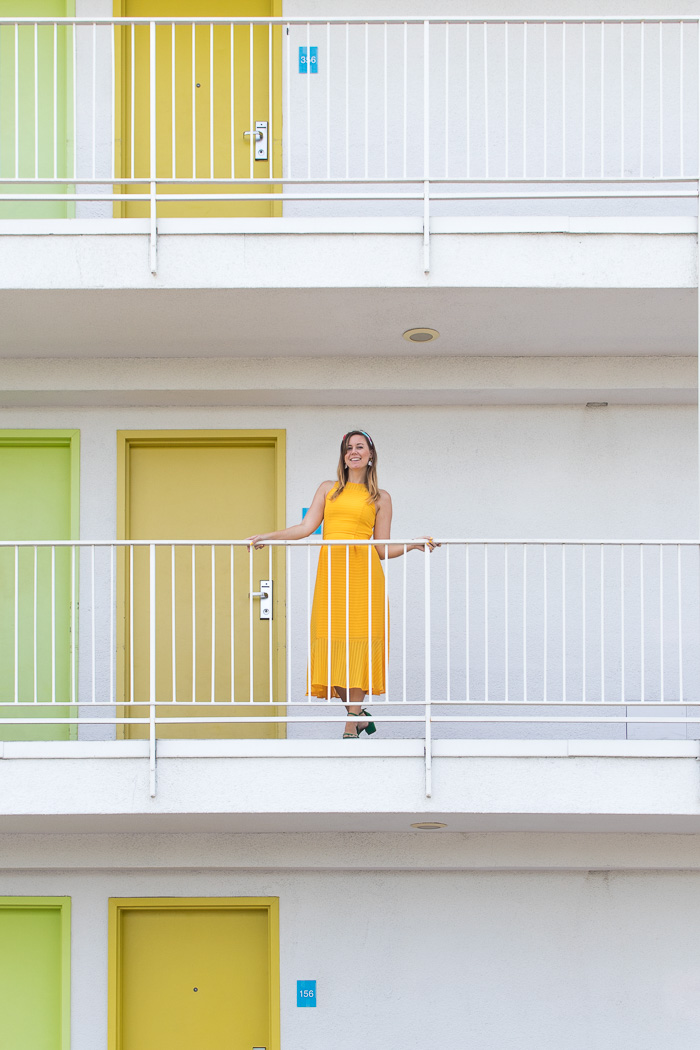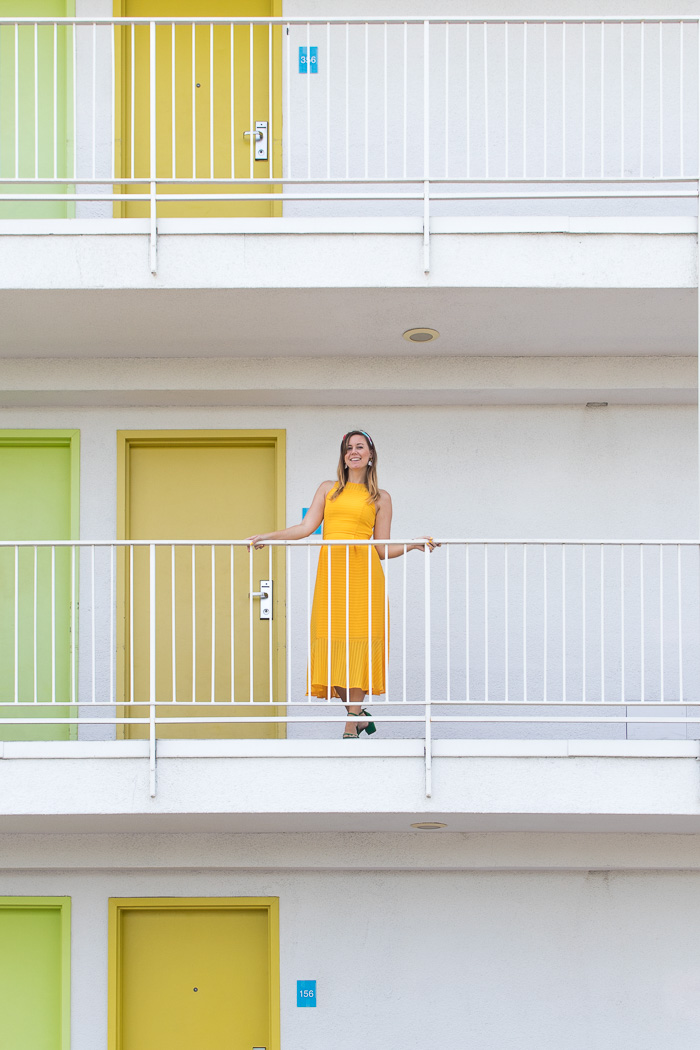 Living less than two hours from Palm Desert makes quick weekend trips to Palm Springs the perfect escape! The only downside…the price. On our most recent Palm Springs trip, we knew we had to be cautious about money because we have to play it safe this summer until Andrew begins his full-time job as a lawyer (YAY!), so we started thinking about the best ways to visit Palm Springs on a budget and thought it would be a great opportunity to share a simple Palm Springs travel guide with you all that (hopefully) will help you enjoy a nice vacation without the extra money. Unfortunately, Palm Springs is just not a cheap place. The food can be really great, but it doesn't come cheap, and as with any vacation, enjoying a drink by the pool comes with a hefty price tag. I hope my tips will help make a difference for you though!
How to Save Money on Palm Springs Hotels
Let's start with hotels. I've only stayed at two hotels in Palm Springs, including the ultra-colorful Saguaro, which is where we stayed most recently (thanks to a voucher I received). Staying at the most popular Palm Springs hotels like The Saguaro, The Ace, The Parker, etc. may be expensive BUT it could be your one splurge if that's what you'd prefer. I'm more of a "blow my money on food" kind of girl…
To find the best deals on hotels, plan your trips as far in advance as possible and avoid peak times like fall or holidays. Visiting Palm Springs during the hot, hot summers may be tough, but the prices do drop because hotels have a harder time filling the space.If you really want to visit Palm Springs on a budget, also be sure to check websites like Groupon or Living Social for deals on great hotels (The Saguaro and The Parker are often listed). Because many hotels in the area have strong themes, you pay for the novelty of the hotel, so staying in a more traditional style location can help you save a few dollars.
The Saguaro – I consider The Saguaro a splurge only because the prices differ significantly during peak visiting times, but it's not bad for the price and it's definitely beautiful. I've stayed there at least three times now. The Saguaro definitely appeals to a younger crowd, and I've found that it turns into a party hotel some weekends, which isn't really my style. I do love the pool area, the hammocks and the outdoor games more than anything.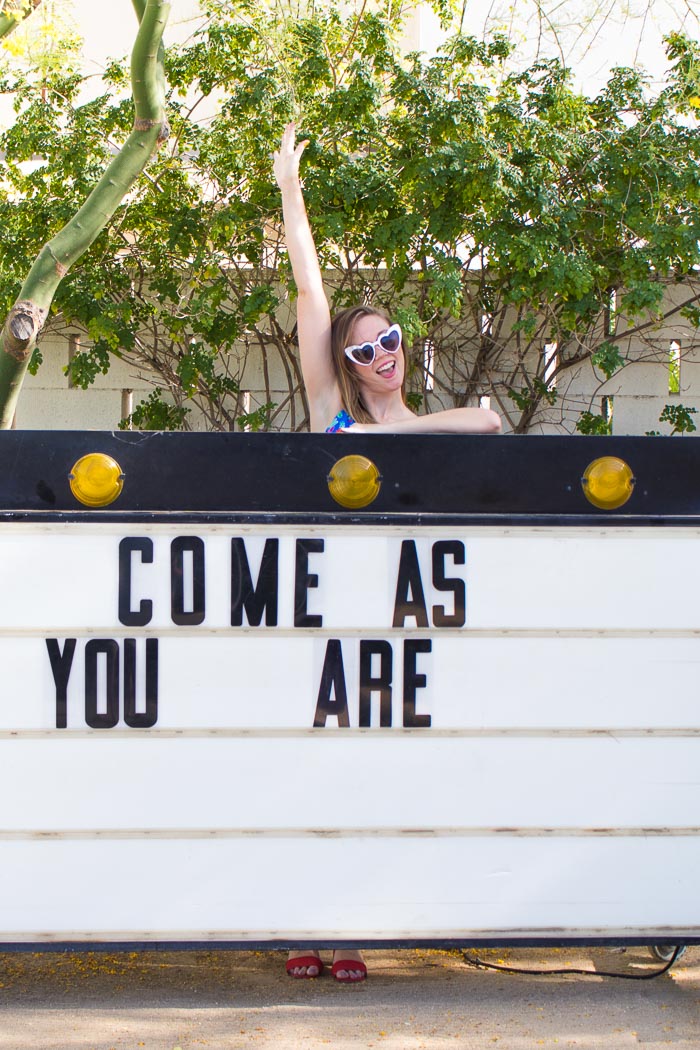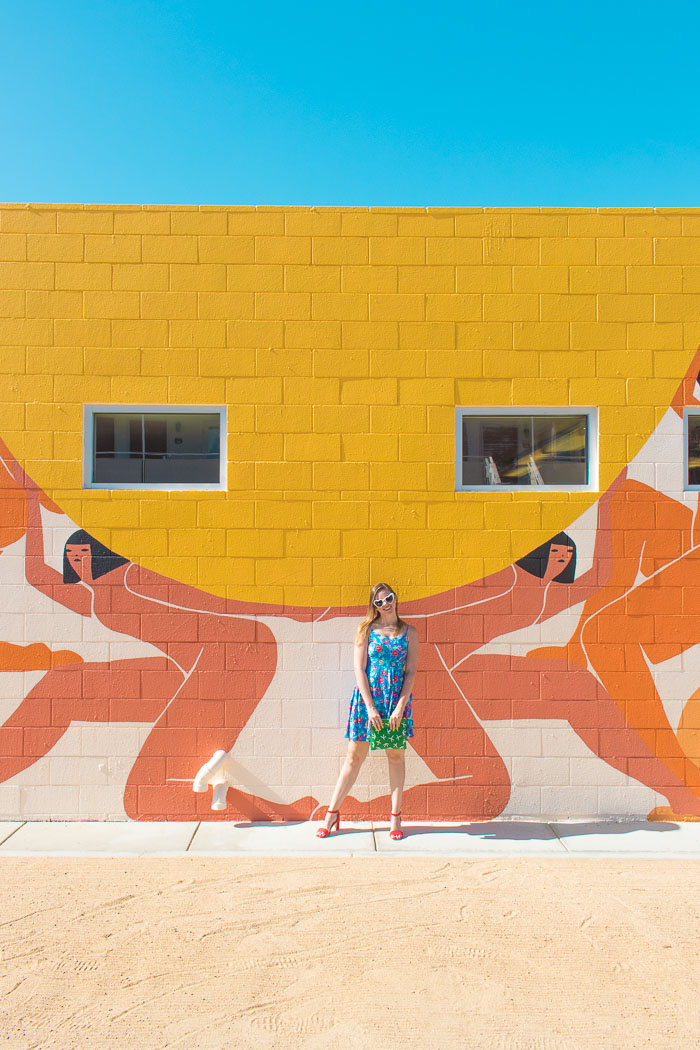 The Ace – I love the relaxed boho vibes at The Ace, and the food at King's Highway is pretty good. The pool seems like it can still get a little rowdy, but I prefer the atmosphere here. They also have a large wall with a new mural that makes for a great photo opp (they repaint a new one every year).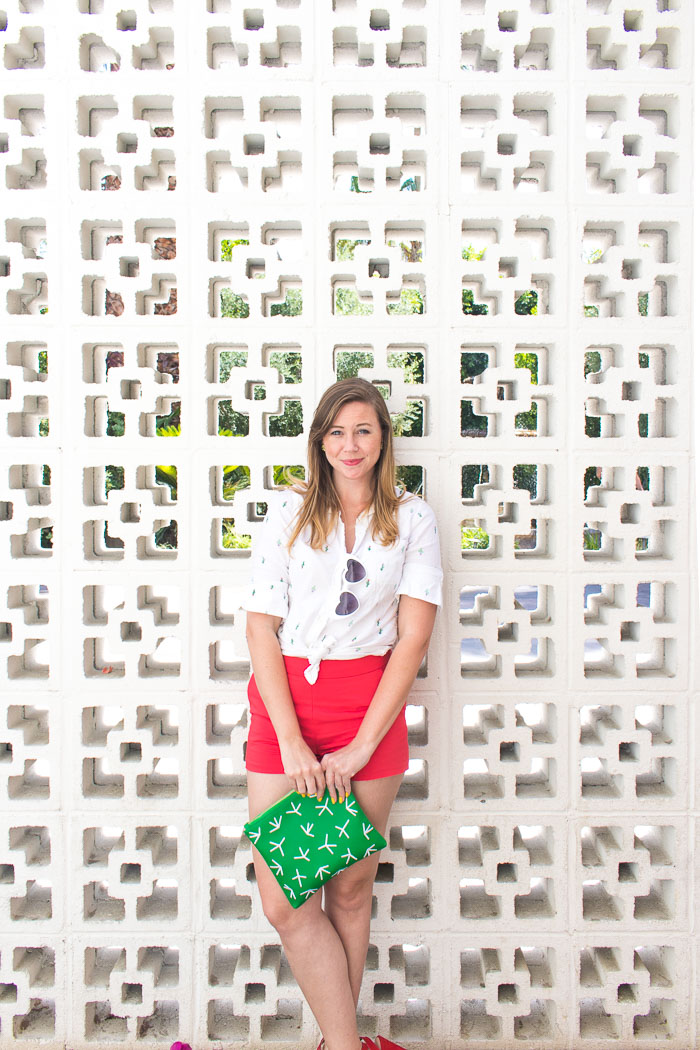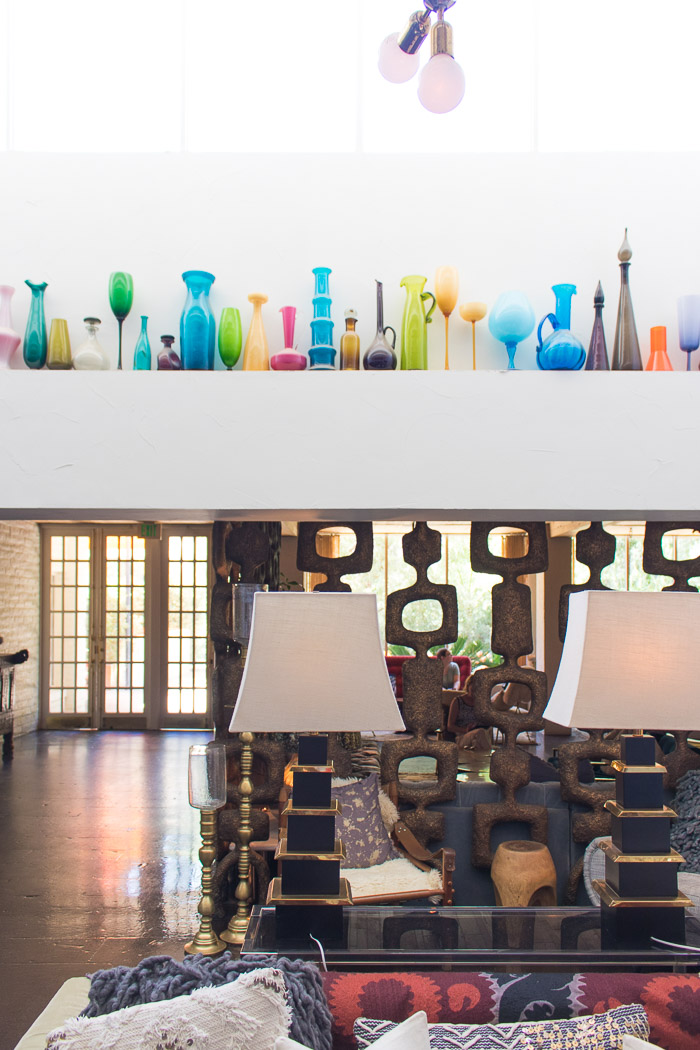 The Parker – The Parker is absolutely gorgeous and definitely out of your price range if your goal is a "budget-friendly vacation." Nonetheless, if you go here for drinks or lunch, it's a great excuse to check the place out because it's very unique and iconic. They're very strict about checking guest IDs, but if you're not a guest, you can still see some areas.
Infusion Beach Club (The Monroe) – Located on the opposite side of the city from the other hotels I've mentioned, Infusion is a nice, small hotel that recently got a big makeover. I stayed there last year when it was still The Monroe and enjoyed my stay, but they've since completed a lot of renovations.
Caliente Tropics – Although I've never personally stayed here, the hotel looks very nice for the price and has a large pool area.
Food + Drink in Palm Springs
First of all, here are a few of my favorite spots in Palm Springs. I tend to mix cheaper and more expensive options throughout my trip.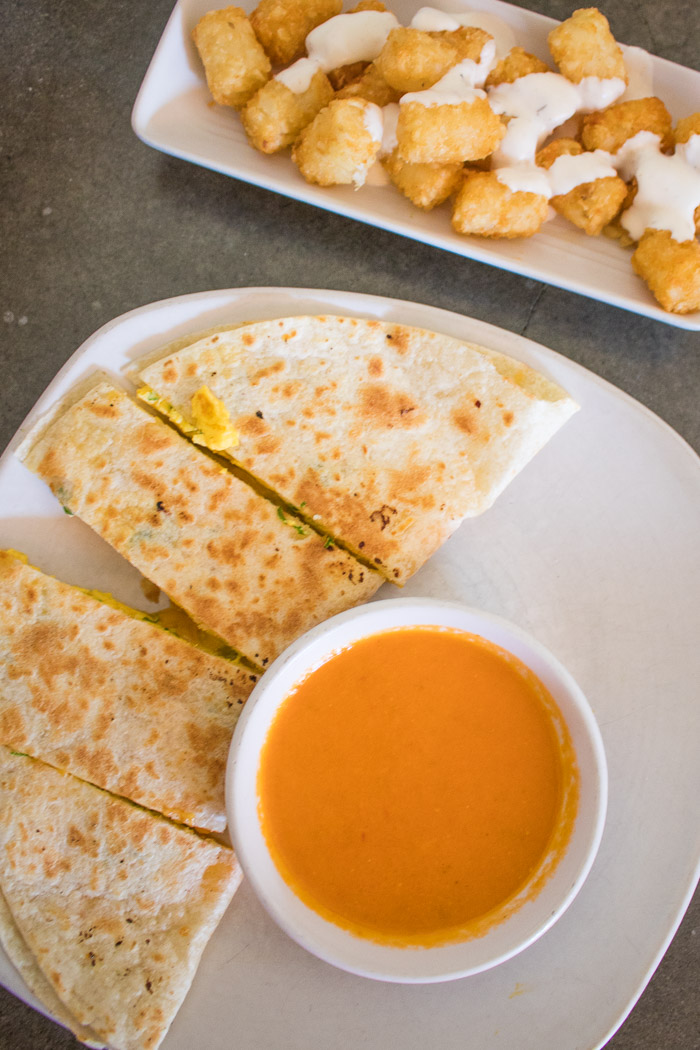 Cheeky's – I've gone here for brunch twice now and love the food – the breakfast quesadilla is my fav. They're known for their bacon flights, but the wait on the weekends gets insane, so you have to be very patient. It's more of a "splurge" brunch but not as bad as many other places in the area.
The Draughtsman – This is actually one of my favorite spots. I like trying new beers, and The Draughtsman has a lot of options on tap with tasty food that is probably pricier than what you'd normally spend BUT seems more impressive than many other overpriced restaurants (just my opinion). This is definitely my recommendation if you enjoy beer!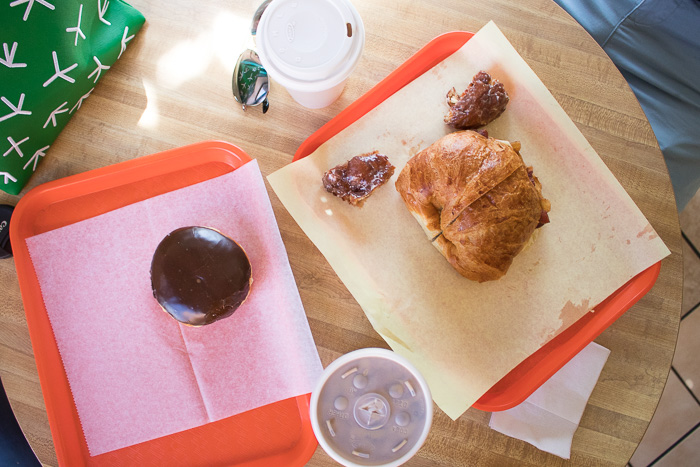 Swiss Donut – This simple, classic donut shop has everything you could possibly need. The donuts, coffee and breakfast sandwiches are all delicious and, not to mention, very inexpensive!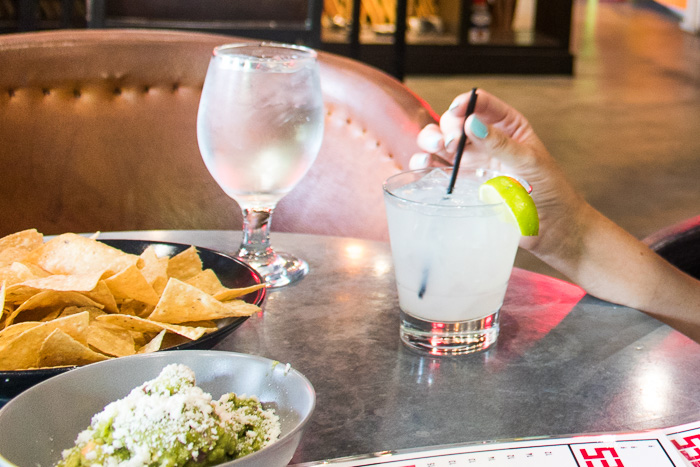 El Jefe – El Jefe is located at The Saguaro and I LOVE the chips and guac. Whenever I visit, I usually grab a beer and an appetizer as a full meal, but the rest of the food is good too. I find the full menu a little expensive, but they do offer a happy hour and Taco Tuesday and Taco Thursday, so that can help save money.
Marisol's – Although I've heard mixed reviews from others, I loved the Mexican food at Marisol's. There are actually two locations in Palm Springs.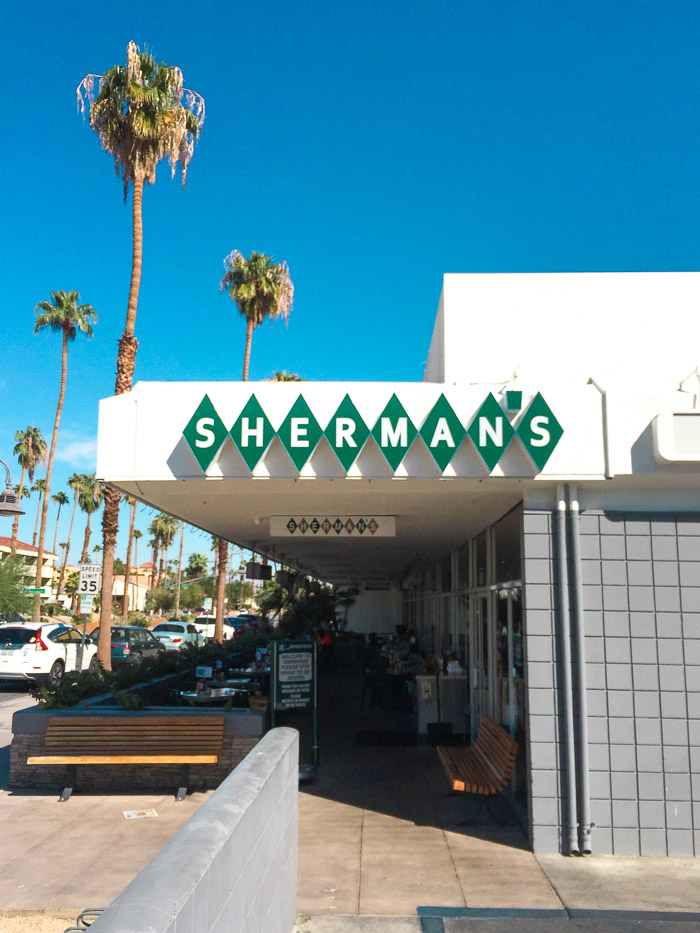 Sherman's – This New York-style deli seems to be pretty famous in the area. Even though it gets very busy, they have a huge selection of tasty sandwiches and the cost actually seems reasonable.
Koffi – The frapuccino-like blended drinks at Koffi are definitely worth the trip, in my opinion! They tasted kind of like drinking a milkshake, so I considered it a dessert. There are several in the area.
Other places worth a look are Birba, Kreem and King's Highway.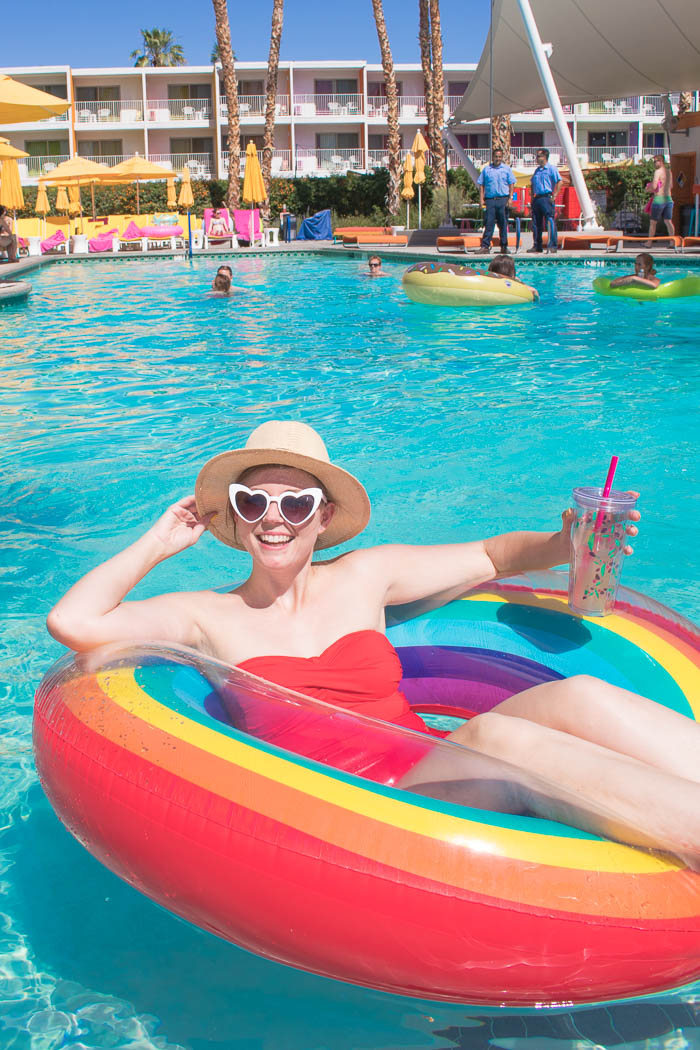 The Keys to Saving Money on Food + Drinks
BYOM…Bring your own Margaritas – I hope this doesn't come off trashy, but honestly, bring your own drinks to the pool if you can. On our last trip, we brought our reusable tumblers and margaritas to sip by the pool and in our room because we just couldn't enjoy a drink that cost $8. Instead, save your money for drinks when you go out.
Combine Meals – Because eating and drinking will quickly suck up your money in Palm Springs, I'd recommend splurging on only one meal and keeping it simple with the others. We splurged on Norma's so that we had an excuse to check out The Parker, but then we played it safe with chips and guac for dinner. My best tip for you in Palm Springs is to have a big brunch as a reason to combine two meals and save money. This way, you get to fully enjoy the food and specialty locations but have one less meal to purchase that day.
Skip the Alcohol – I know you're on vacation, but if you're serious about saving money, don't even bother looking at the drink menu.
Visit the Grocery Store – Things like coffee add up really fast on vacation, and unless you're buying something fancy, it's probably not worth it. Stop by the grocery store instead and pick up a couple iced coffees to store in your hotel room.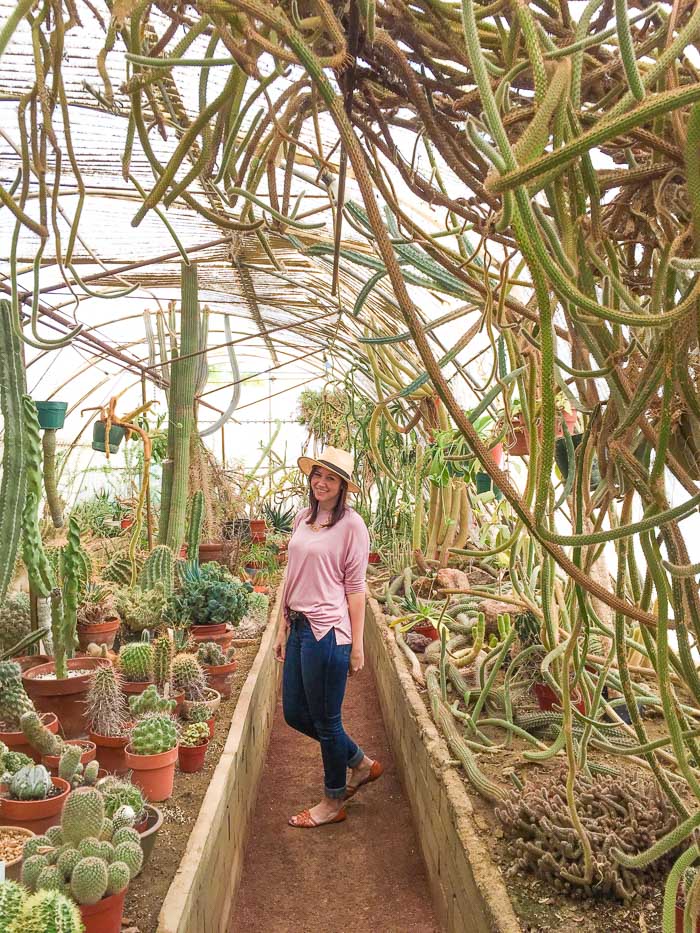 Low-Cost Adventures in Palm Springs
I'm not a "sit by the pool all day" kind of vacationer because I get bored sitting still for that long, especially when it's just the two of us all day. I like to get out and DO things, which, as you can imagine, cost money…
Moorten Botanical Garden – If you love cacti as much as I do, this cute desert garden is for you. For just a $5 entrance fee, you can see so many gorgeous types of desert plants and take fun photos around the property.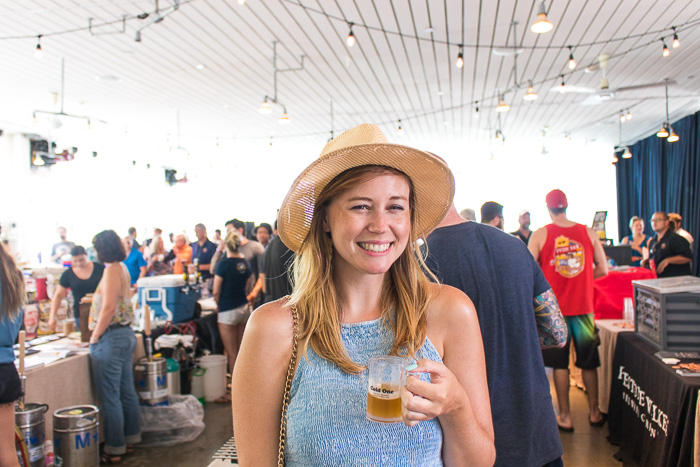 Hotel Events – During one visit last year, Andrew and I went to a beer-tasting event at The Ace that I really loved. For a reasonable entrance fee, you could sample as many beers as you wanted from a huge selection of vendors. Be sure to look for events like these (as well as vintage festivals, musical events, etc.) at the hotels and even ask around once you arrive. There's always something to do, and sometimes you just need to ask a local for their tips!
Bike or Scooter Rental – If you can brave the weather, try renting bikes at The Saguaro or scooters at The Ace to see Palm Springs from a new perspective.
Aerial Tramway – For $26 per person, you can ride the aerial tram all the way up the mountain for extraordinary views of the desert. Andrew had the chance to ride it earlier this year and the photos he sent me made me SO jealous (because I love heights and great views). There's a very expensive restaurant at the top of the mountain, but you can hike and enjoy the views for free! Plus, there's snow in the wintertime.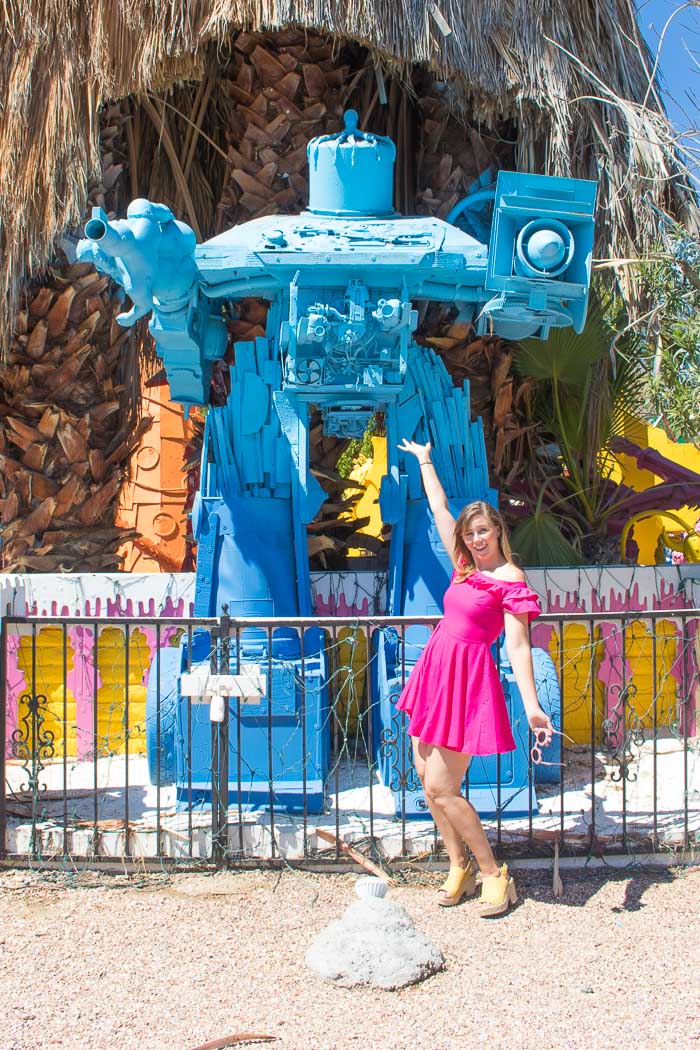 Robolights – This epic Christmas lights display is completely worth the $5 entry fee if you visit Palm Springs around Christmastime. The owner/artist has been opening his home to share his eccentric art for over 20 years, and although I haven't been able to visit during the holidays, my friends say it's amazing. Outside of the traditional holiday period, you have to make an appointment to view the art within the gates. So far I've only checked out from the street.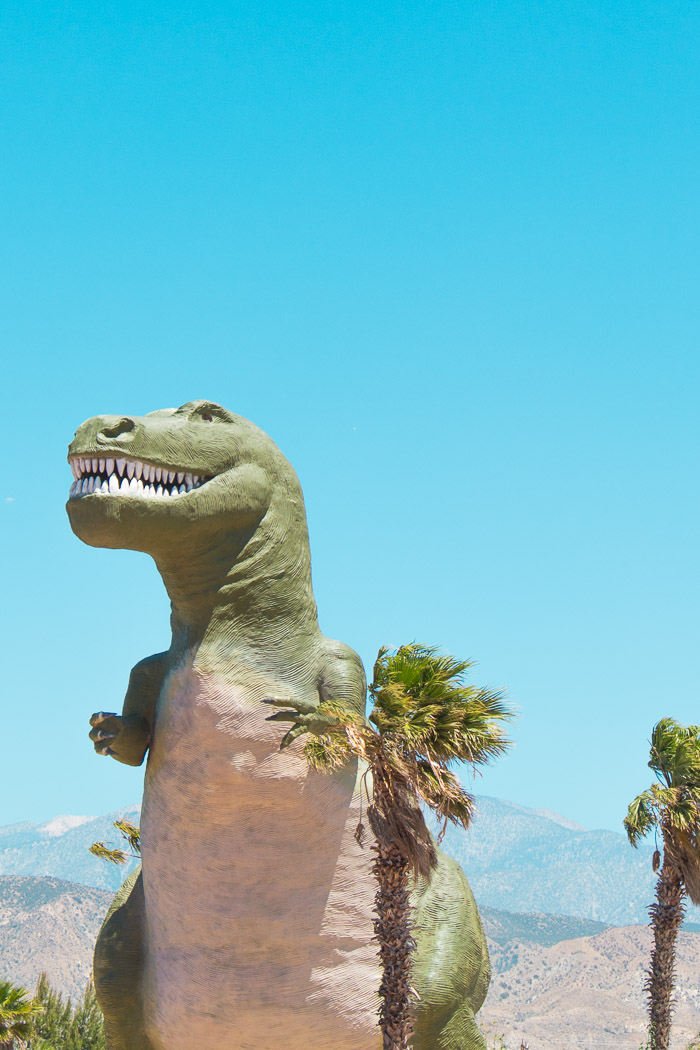 Photo Opps You Can't Miss
Cabazon Dinosaurs – Located about 30 minutes from Palm Springs, these dinos are fun little adventure. Once you've been there, you probably won't need to go a second time, but it's a free photo opp and a random tourist trap that's fun to check out.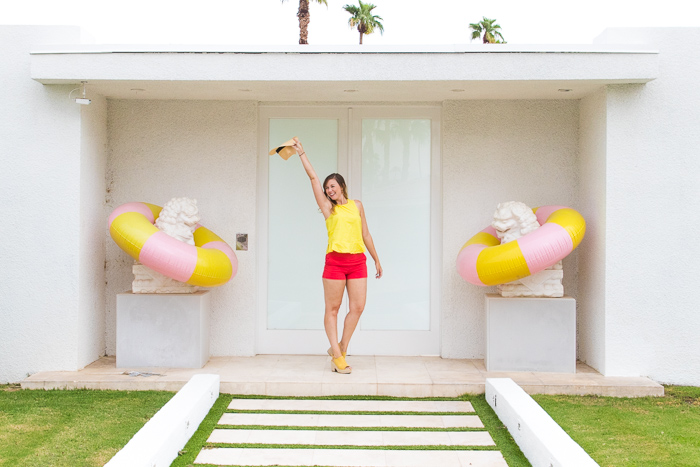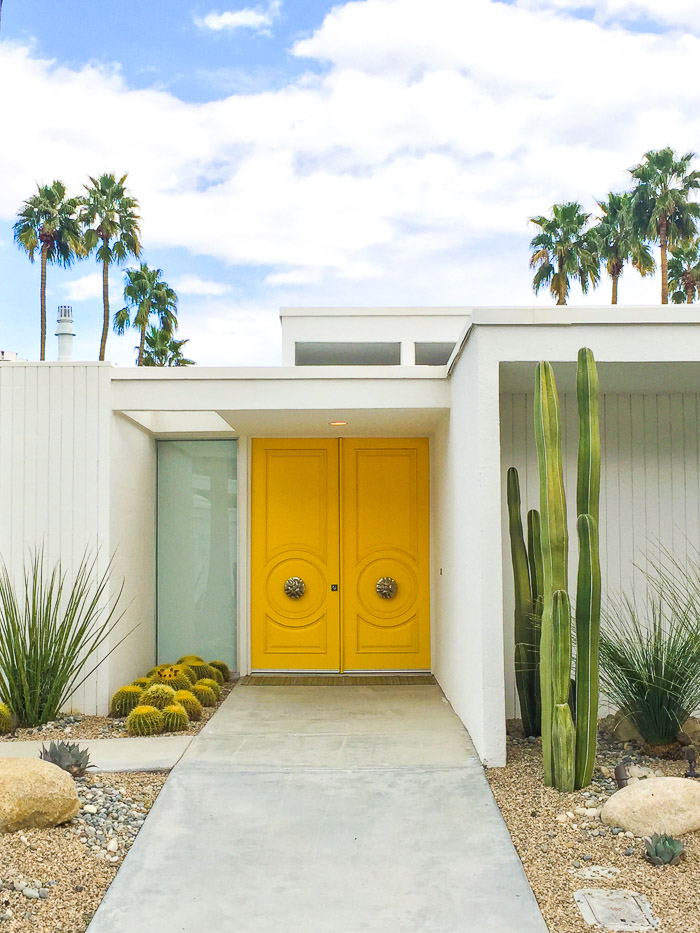 Door Tour – I like to drive through the Palm Spring neighborhoods to gawk at the architecture and photograph the beautiful doors. You can check out this Door Tour Guide from The Salty Canary for some specifics, but I recommend the Kings Point neighborhood and the Party Lions. Unfortunately, #thatpinkdoor is no longer allowing visitors on the property but you can drive by it if you still want to take a peek. When visiting these neighborhoods, always be respectful of the owners' property and privacy!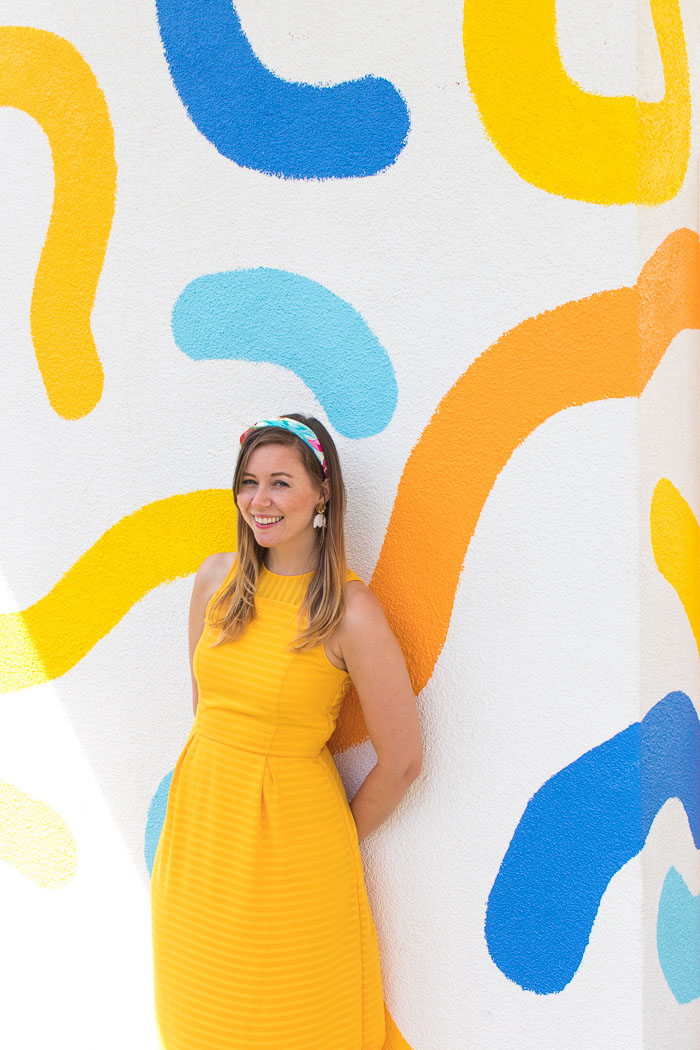 The Saguaro – Regardless of whether or not you're staying here, you can still pop by The Saguaro for fun colorful photos outdoors. There's a wall in every color just begging to be photographed!
I know vacations are expensive, but hopefully these simple tips on how to visit Palm Springs on a budget can help you enjoy your stay without draining your bank account. Choose times to splurge and times to save, and always consider what's most important to you when planning a vacation. Is it food? The hotel? Excursions? Make a plan and always remember to ask the locals what they recommend, and you may find fun low-cost things to do while you're there!