/
Brown Butter Pumpkin Cookies + Brown Butter Glaze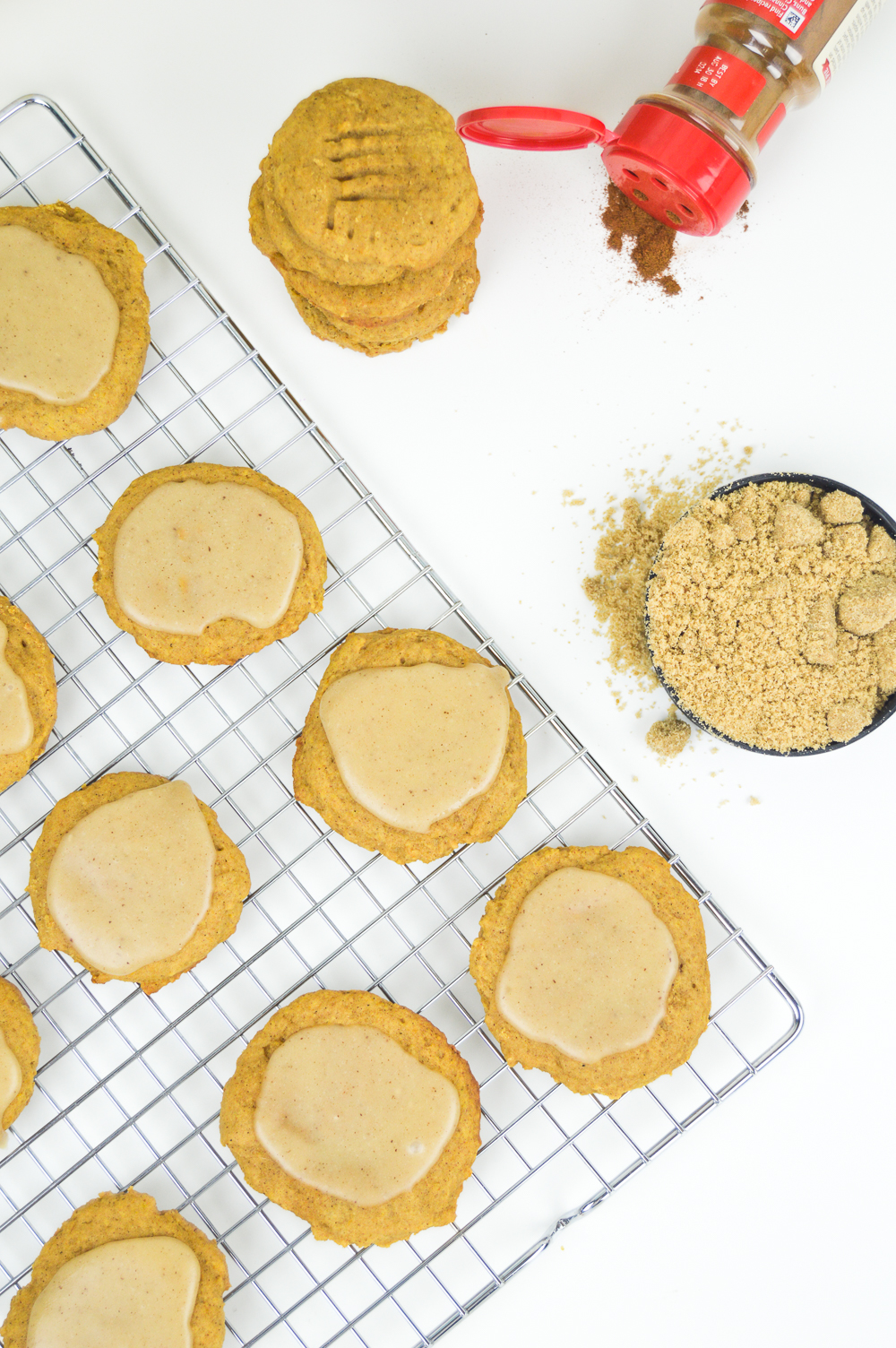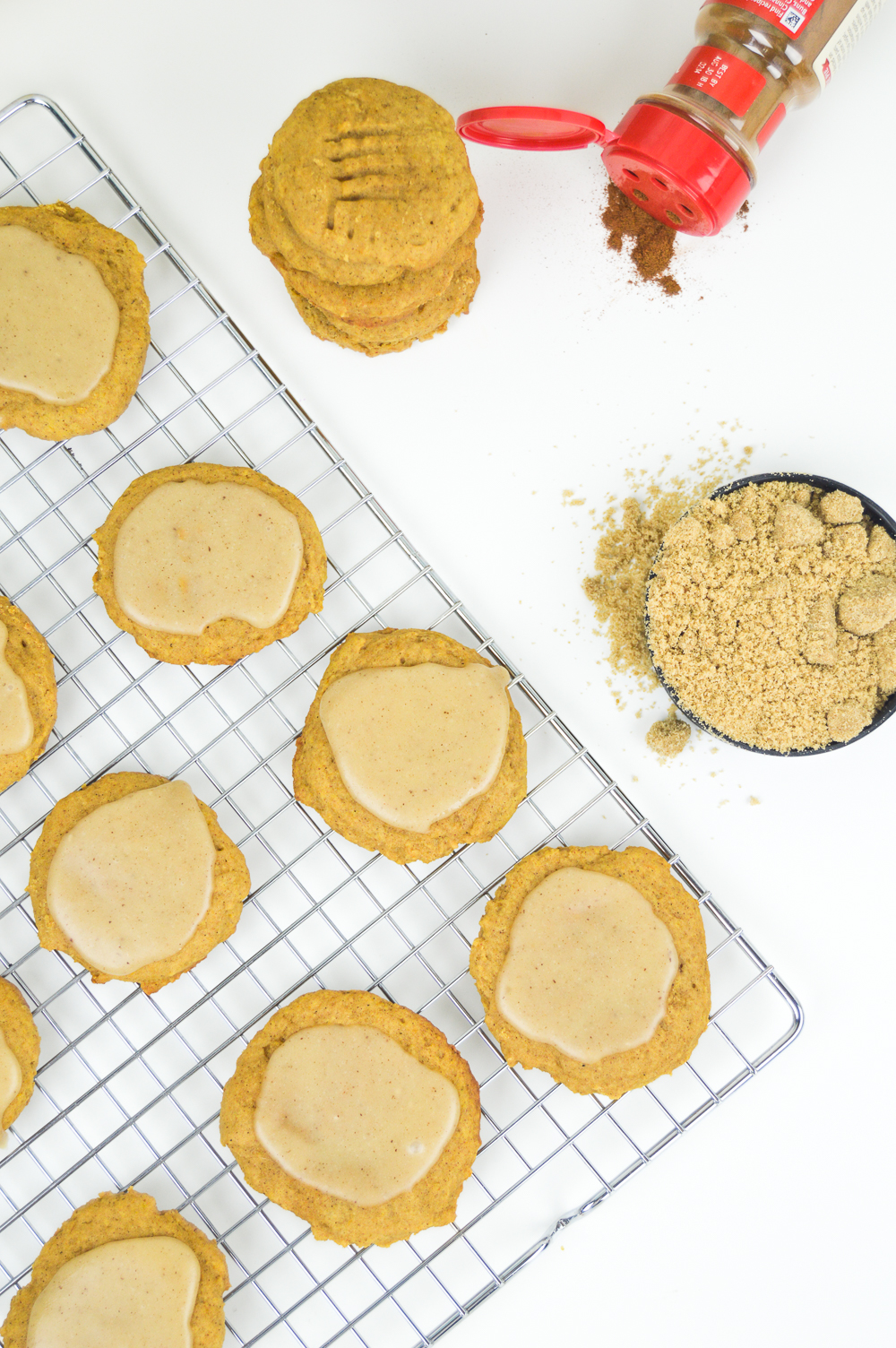 I'm officially giving in to fall! It's hard, but I'm ready for cooler weather, sweaters, baked goods and the holidays. Even though it's nearly impossible to choose a favorite season, I really love fall because in California the beginning of fall is basically still summer. It's just as hot and I can lay on the beach and pretend its summer, but by the end of October I'm in full autumn, carrying around a hot latte in my knit scarf. It's the best of both worlds!
To kick off my fall inspired posts, I wanted to start with something that pretty much defines it – pumpkin cookies! More specifically, these are brown butter pumpkin cookies because, truly, brown butter makes everything SO much better. If you've never tried it before, I highly recommend making this your first attempt! It's easy to make brown butter and it adds so much delicious flavor to baked goods. To really take these over the top, I also added a brown butter glaze that's good enough to eat with a spoon (but you probably shouldn't do that…) and it's just as easy to make. The cookies end up sweet, soft, chewy and moist. They are the embodiment of fall in a cookie!
Scroll to the bottom for the recipe card!
3/4 cup unsalted butter, melted and browned
½ cup granulated sugar
1 cup light brown sugar
1 egg
1 tsp vanilla extract
1 cup pumpkin puree, water removed
2 1/2 cups all-purpose flour
2 tsp cornstarch
1/2 tsp baking powder
1/2 tsp baking soda
1/2 tsp salt
2 1/2 tsp cinnamon
1/2 tsp nutmeg
1/4 tsp ginger
First, brown the butter by melting it in a small saucepan on medium heat and stir occasionally until it begins to brown. Brown bit will appear at the bottom of the pan and it will give off a nutty aroma. Transfer to a separate bowl to cool for 5-10 minutes.
In another bowl, toss together the flour, baking soda, baking powder, cornstarch, salt and spices. Set aside.
Line a separate small bowl with a paper towel and pour in the pumpkin puree. Cover with a second paper towel and press out as much moisture as possible. Set aside.
In the bowl of your mixer, beat together the cooled butter and sugars with a paddle attachment until thick. Add the egg and vanilla followed by the pumpkin puree. Mix in the dry ingredients a little at a time, scraping the bowl in between until completely mixed.
Move the bowl to the fridge for at least one hour. Then, preheat the oven to 350 degrees, line a baking sheet with parchment paper or a silicone mat and place 1-inch rolled balls of dough several inches apart on the baking sheet. Press down on each with an open palm and, if desired, press with a fork to create a crosshatch pattern on top (the cookies do not spread). Bake for about 12 minutes until the middles appear firm and remove to cool for 5 minutes before moving to a cooling rack to cool completely.
For the brown butter glaze:
2 tbsp butter, melted and browned
3/4 cup powdered sugar
1 tbsp milk
1/4 tsp vanilla
Brown the butter using the instructions above (you can make all of it together if you'd like and then separate the butter). Whisk in the powdered sugar until it thickens, and slowly add the milk and vanilla until it softens and forms a glaze. Continue whisking until the powdered sugar has dissolved completely. Use a spoon to drizzle brown butter glaze over the top of the cookies.
Prepare to take a bit of fall! Share or save them all for yourself and enjoy!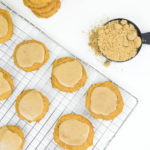 Brown Butter Pumpkin Cookies
2016-09-20 12:55:43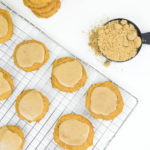 Soft and chewy brown butter pumpkin cookies with nutty and cinnamon flavors for fall
For the cookies
3/4 cup unsalted butter, melted and browned
1/2 cup granulated sugar
1 cup light brown sugar
1 egg
1 tsp vanilla extract
1 cup pumpkin puree, water removed
2 1/2 cups all-purpose flour
2 tsp cornstarch
1/2 tsp baking powder
1/2 tsp baking soda
1/2 tsp salt
2 1/2 tsp cinnamon
1/2 tsp nutmeg
1/4 tsp ginger
For the glaze
2 tbsp butter, melted and browned
3/4 cup powdered sugar
1 tbsp milk
1/4 tsp vanilla
For the cookies
Brown the butter by melting it in a small saucepan on medium heat and stir occasionally until it begins to brown. Brown bits will appear at the bottom of the pan and it will give off a nutty aroma. Transfer to a separate bowl to cool for 5-10 minutes
In another bowl, toss together the flour, baking soda, baking powder, cornstarch, salt and spices. Set aside
Line a separate small bowl with a paper towel and pour in the pumpkin puree. Cover with a second paper towel and press out as much moisture as possible, using more paper towels as needed. Set aside
In the bowl of your mixer, beat together the cooled butter and sugars with a paddle attachment until thick
Add the egg and vanilla followed by the pumpkin puree
Mix in the dry ingredients a little at a time, scraping the bowl in between until completely mixed
Move the bowl to the fridge for at least one hour
Preheat the oven to 350 degrees, line a baking sheet with parchment paper or a silicone mat and place 1-inch rolled balls of dough several inches apart on the baking sheet. Press down on each with an open palm and use a fork to press a crosshatch pattern if desired
Bake for about 12 minutes until the middles appear firm and remove to cool for 5 minutes before moving to a cooling rack to cool completely
For the glaze
Brown the butter using the same instructions (you can make all of it together if you'd like and then separate the butter)
Whisk in the powdered sugar until it thickens, and slowly add the milk and vanilla until it softens and forms a glaze
Continue whisking until the powdered sugar has dissolved completely
Use a spoon to drizzle brown butter glaze over the top of the cookies
Notes
Squeezing out excess water from the pumpkin puree gives the cookies are less cakey texture
These cookies do not spread, so pressing them flat is recommended
If using the glaze, browning all of the butter together can reduce steps
Club Crafted https://www.clubcrafted.com/