/
Colorful Funfetti Shortbread Cookies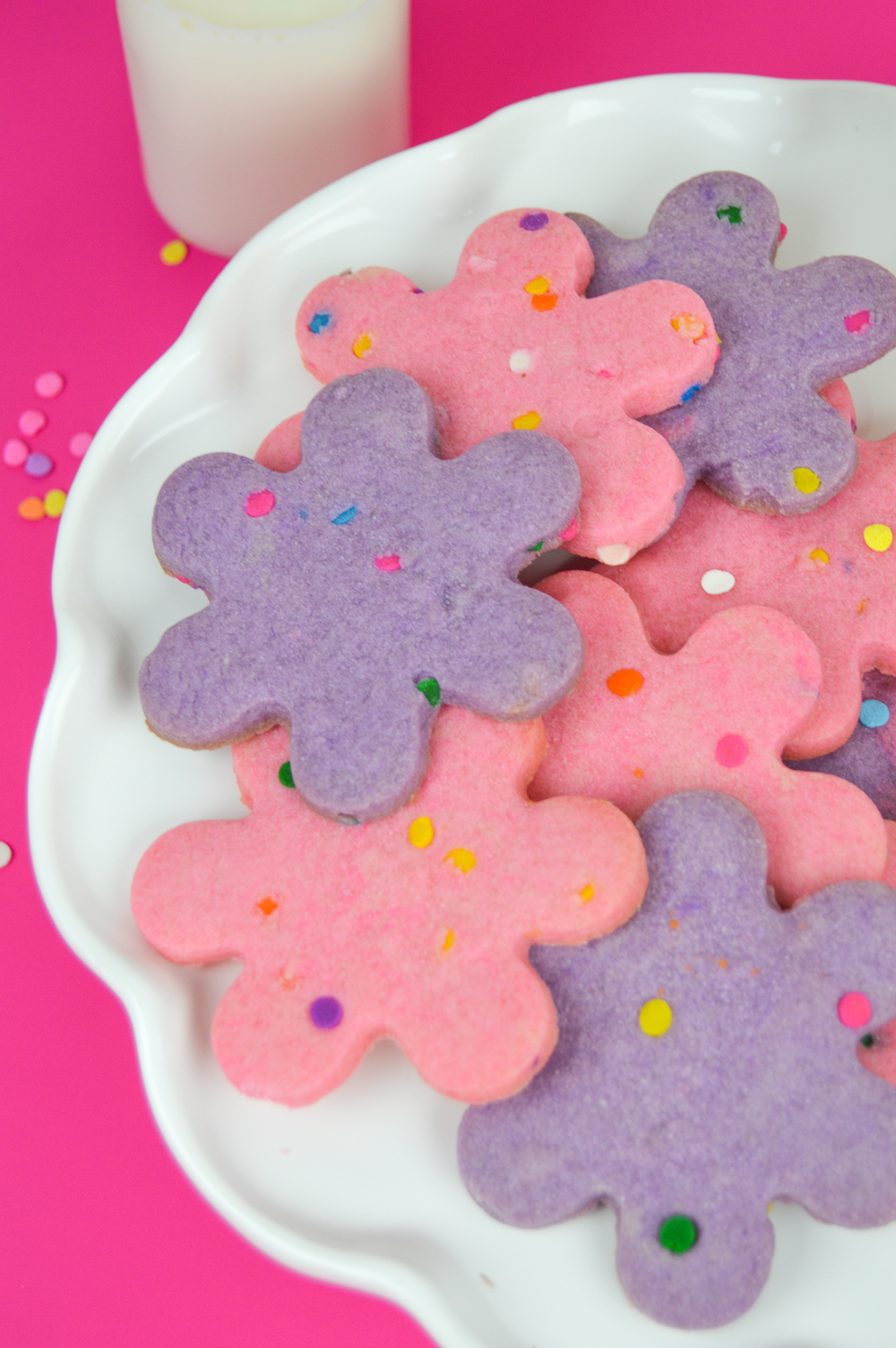 When in doubt, add sprinkles.
Should I make that the new name of my blog? I actually kind of like it…anyway, today's recipe involves playing with sprinkles! I was bored last weekend and decided to spice up some plain 'ol shortbread because I absolutely LOVE shortbread. It's simple, it's buttery, it's perfect. Thus, I came up with these colorful funfetti shortbread cookies using pink and purple food coloring and a bunch of sprinkles, and they came out wonderfully!
Somehow things are just more fun to make when they're colorful, which I don't always come across in baking. The best part is that these are so easy to make and shortbread is basically foolproof, so no matter how bad you think you are at baking you can probably whip up some deliciously soft and butter shortbread. Use any combination of colors, sprinkles and cookie cutters to make really fun cookies with this recipe. I decided this flower cookie cutter paired really well with the light colors and it made for nice big cookies.
Scroll down for the recipe card!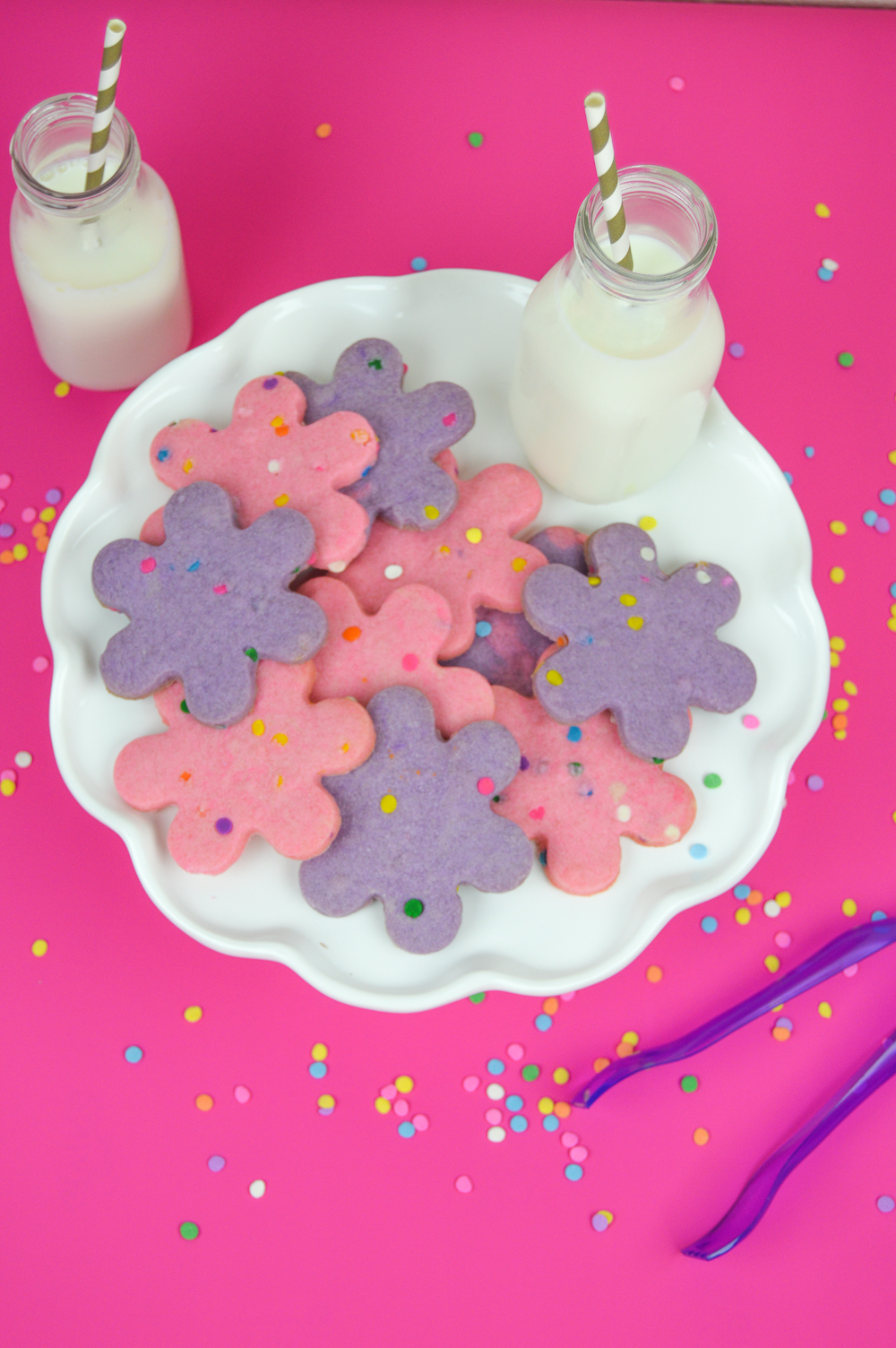 Ingredients:
7 tbsp butter, softened
6 tbsp powdered sugar
1 teaspoon pure vanilla
1 1/4 cup all-purpose flour
1/2 cup sprinkles
Food coloring, optional
Preheat the oven to 350 degrees and line a baking sheet with parchment.
In your stand mixer fitted with a paddle attachment, beat the butter until smooth. Mix in the powdered sugar and vanilla, scraping the bowl as you go. Add the flour and mix on low speed until fully combined. Divide the dough into as many colored as you want to create and place on a floured surface.
Add 1-2 drops of food coloring and massage with your hands until the color is distributed (it's best to do this with gloves on to prevent staining on your hands). Then massage in the sprinkles the same way.
Roll out the dough until it is about 1/4 inch thick and cut with cookie cutters. Place on the lined baking sheet about 1 inch apart. Bake for 10-12 minutes until barely golden around the edges (you don't want them to brown). Move to a wire rack to cool completely. The recipe makes about 10 cookies depending on the size of your cookie cutters – mine are quite large.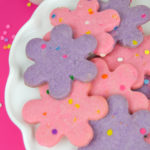 Colorful Funfetti Shortbread Cookies
2016-09-11 14:34:13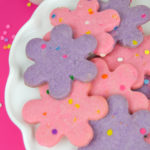 Serves 10
Incredibly soft and buttery colorful funfetti shortbread cookies filled with fun sprinkles
Ingredients
7 tbsp butter, softened
6 tbsp powdered sugar
1 teaspoon pure vanilla
1 1/4 cup all-purpose flour
1/2 cup sprinkles
Food coloring, optional
Instructions
Preheat the oven to 350 degrees and line a baking sheet with parchment
In your stand mixer fitted with a paddle attachment, beat the butter until smooth, about 2 minutes. Mix in the powdered sugar and vanilla, scraping the bowl as you go
Add the flour and mix on low speed until fully combined. Add the food colored and sprinkles and mix until barely combined (divide the dough first if using multiple colors)
Roll out the dough until it is about 1/4 inch thick and cut with cookie cutters. Place on the lined baking sheet about 1 inch apart
Bake for 12-15 minutes until barely golden around the edges (you don't want them to brown). Move to a wire rack to cool completely
Club Crafted https://www.clubcrafted.com/