/
Festive Wreath Bundt Cake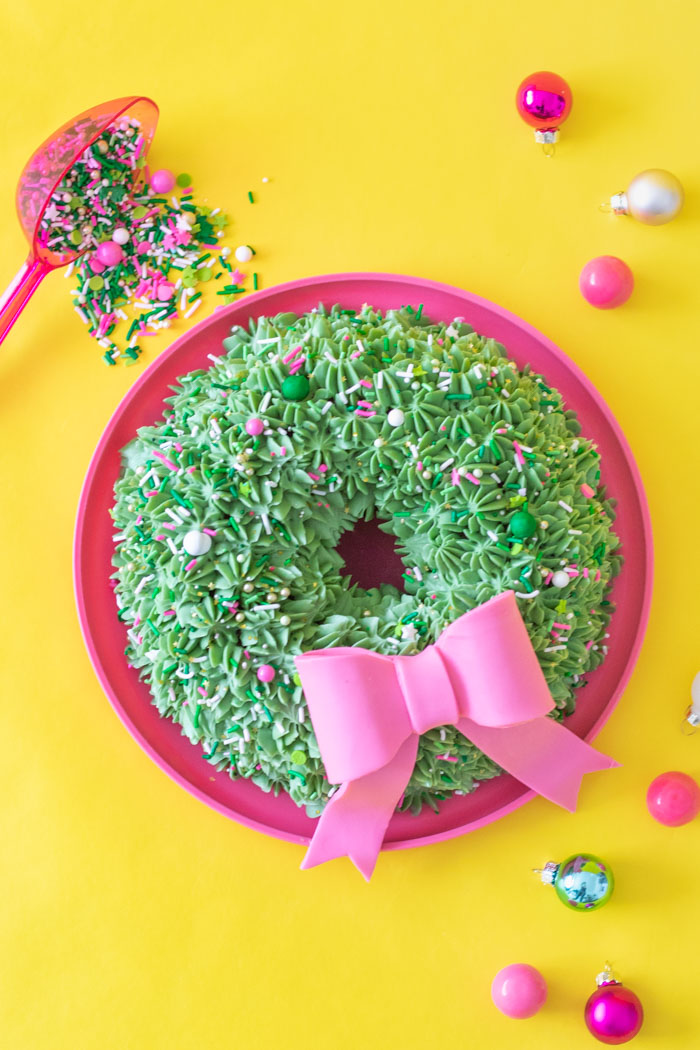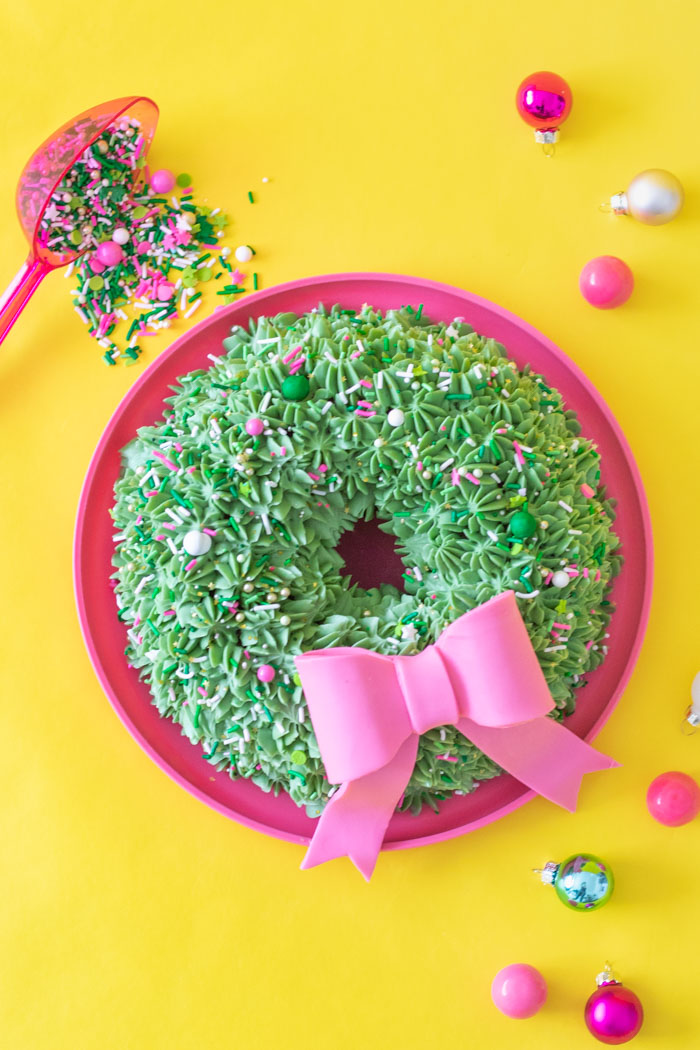 Hey friends, it's good to be back to posting this week! If you follow me on Instagram, you know life has been a little crazy, so my Christmas content plans had to take a back seat for a week. BUT I'm back with a beginner-friendly cake decorating idea that's perfect for your holiday parties this season! A simple wreath bundt cake complete with a colorful fondant bow just like the one featured on my last colorful Christmas gift box cake is a wonderful addition to a dessert table and travels well for all your holiday parties. All you need is the right piping tip and a bundt pan to make a wreath bundt decorated with colorful Christmas sprinkles to add a little cheer! Since the bundt pan is the perfect shape for making a wreath cake, there's no stacking, layering or extra work needed! Just pipe some frosting, top with sprinkles and garnish with a big fondant bow, and you'll think twice about cutting into your beautiful cake.
Scroll through for the full instructions!
How to Frost a Wreath Bundt Cake
Ingredients + Supplies:
Favorite cake recipe (I'd recommend my classic chocolate cake!)
Bundt pan
Buttercream frosting
Green food coloring
Closed star piping tip
Pastry bag
Colorful Christmas sprinkles
Colored fondant
Rolling pin
Pairing knife
Step 1: Prepare your favorite cake recipe and bake in a greased bundt pan until an inserted toothpick comes out clean. Allow to cool and remove from the tin.
Step 2: Prepare your buttercream frosting and dye a medium shade of green. Move to a pastry bag (or large ziplock bag) fitted with a closed star piping tip.
Step 3: Once the cake is completely cool, place it on a cake board or serving platter. Pipe small dollops of green buttercream all over the cake, leaving the open middle uncovered to maintain the wreath shape.
Step 4: Generously add sprinkles all over the cake and refrigerate while you make the bow.
Step 5: Roll out the colored fondant until about 1/8-inch thick. Use a pairing knife to cut two strips about 1 inch wide. Trim the ends to make the ribbon ties. Cut another 1/2-inch strip and set aside.
Step 6: Cut another strip with indents in the middle and outside ends. Carefully fold the edges into the middle and press into the fondant. Wrap the 1/2-inch piece around the middle to cover where the ends meet.
Step 7: Place the ribbon ends on the edge of the wreath bundt cake and let them hang over the side. Place the bow on top. For best results, leave rolled up paper towel in between the bow loops until the fondant has hardened.
Bring this beauty to your next holiday event and get ready for a treat! I used my favorite chocolate cake recipe and quickly dove into the cake immediately after photos were finished. Let's be honest though – sprinkles make the cake special. I used sprinkles from Sweetapolita because they're my absolute favorite! I have a ton of Christmas sprinkles in my cabinet that I can't wait to use this season. Don't forget to try adding a little edible glitter or luster dust for a really shiny finish!
Psst, if you love sprinkle-fied treats, you'll love these Christmas candy apples!