/
How to Tie Dye with Fabric Paint [+ a Video]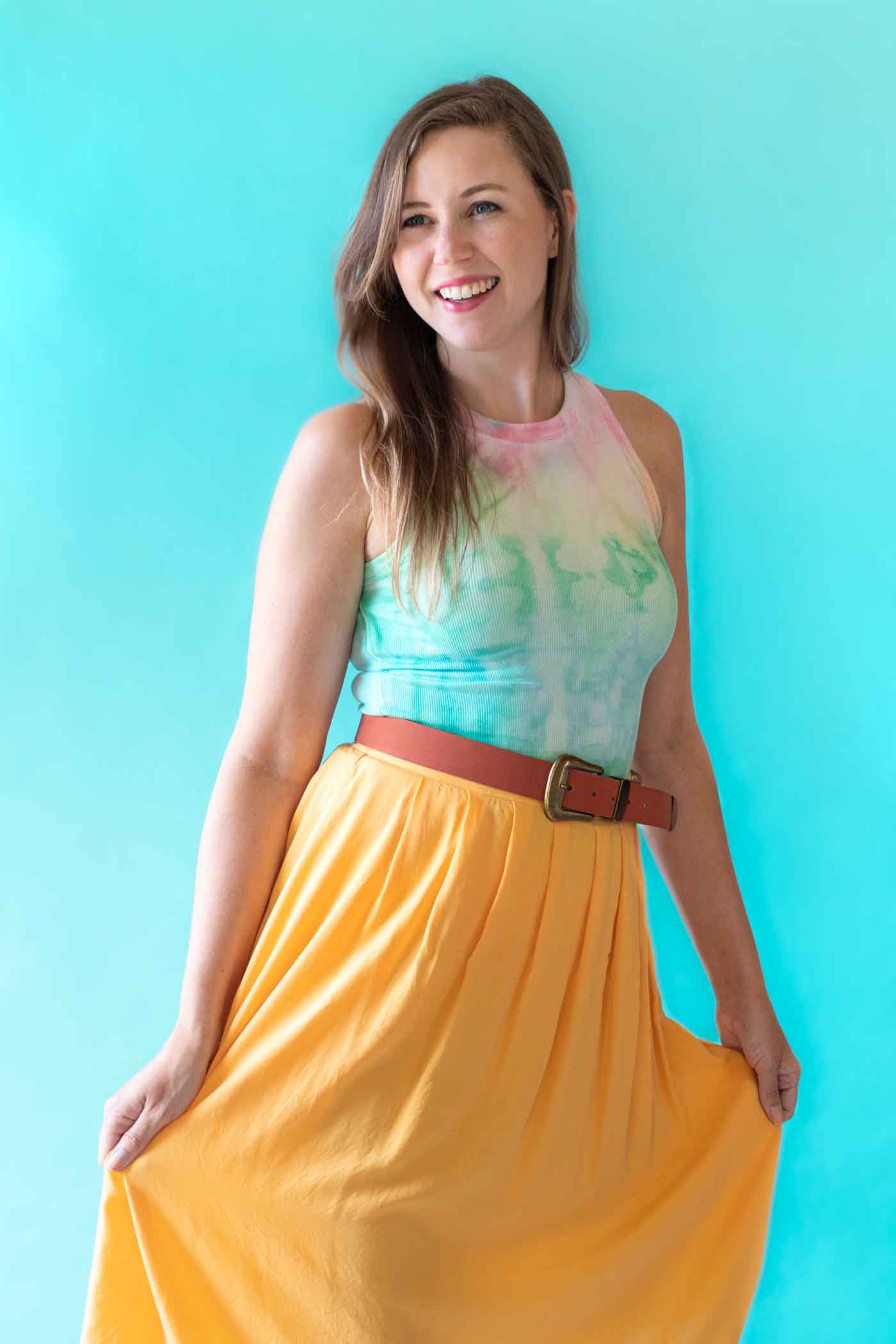 The following post is sponsored by Tulip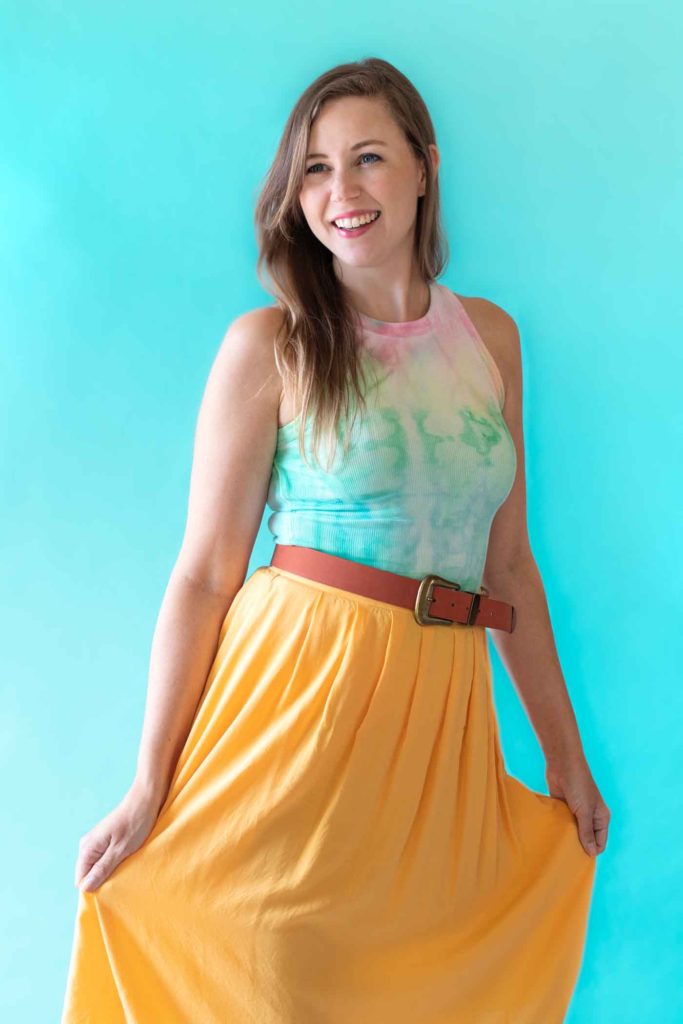 Do I need to tell you how much I love tie dye?! After all these years, the love for tie dye hasn't faded, and now I can share how to tie dye with fabric paint! Yes, you don't need liquid dye to create beautiful tie dye patterns on fabric. All you need is Tulip Soft Fabric Paint to create the same tie dye patterns on any fabric, and now I can wear this tie dye tank top with practically everything I own! Keep reading for the full DIY tie dye tutorial with fabric paint AND a quick video: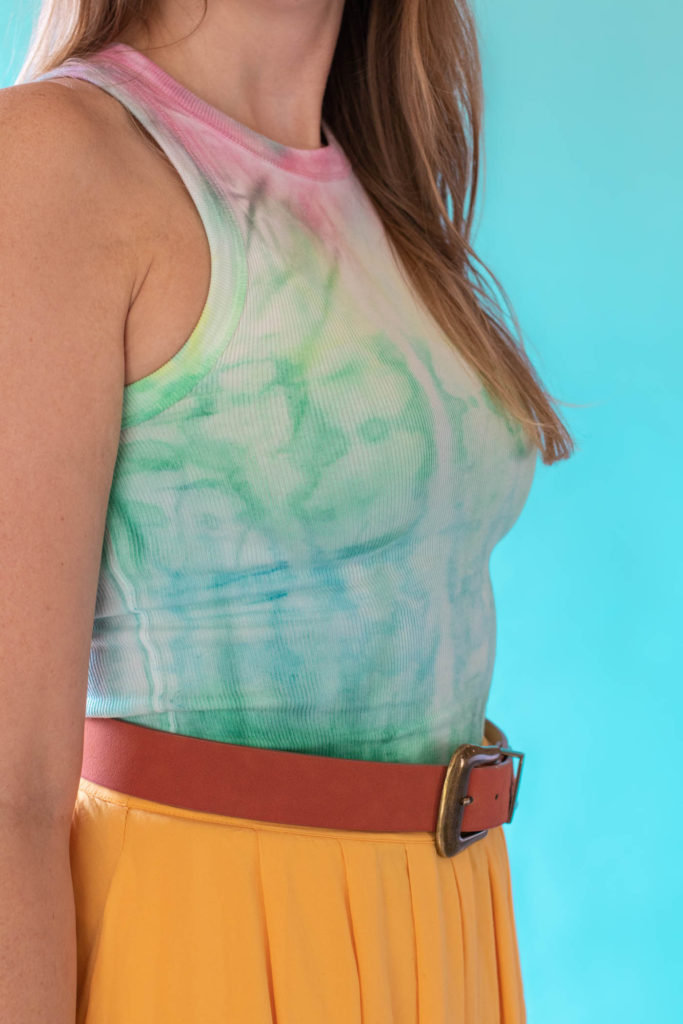 Personally, I love the watercolor tie dye appearance of the tank top. However, if you want to create a bolder tie dye pattern with more white spaces, you will simply skip rinsing the paint from the shirt. This step is optional and allows the colors to both lighten and run together like watercolor. The great feature of Tulip paints is they don't require heat setting, so once the paint is dry, you're good to go. How would you style this tie dye tank top?!
Check out the video to see how to tie dye with fabric paint and decorate a tank top in minutes! 👇🏼
Tie Dye Tank Top Tutorial
Supplies:
Step 1: Mix the tie dye with fabric paint. Squeeze approx. 1-2 tablespoons of Tulip Soft Fabric Paint into a squeeze bottle.
Step 2: Fill the rest of the bottle with water. Cover tightly and shake until the dye is well-mixed.
Step 3: Lay out your white shirt and fold in your desired tie dye technique. See the above video for the simple accordion fold.
Step 4: Wrap rubber bands tightly around the folded shirt. These will dictate where the shirt will stay dye-free.
Step 5: Once rubber bands are secure, wet the fabric and remove excess water so that it is damp. Put on the gloves before dyeing the fabric, and cover your surface with plastic to protect it from paint.
Step 6: Tip over the tie dye bottle and apply the dye to your desired areas of the fabric until well-saturated.
Step 7: Once completely colored, remove the rubber bands. For the above watercolor look, rinse lightly (colors will run) and allow to dry completely. For more white sections and brighter colors, allow to dry completely and DO NOT rinse.
Step 8: Once dry, the color has set. Wash and dry as usual before wearing.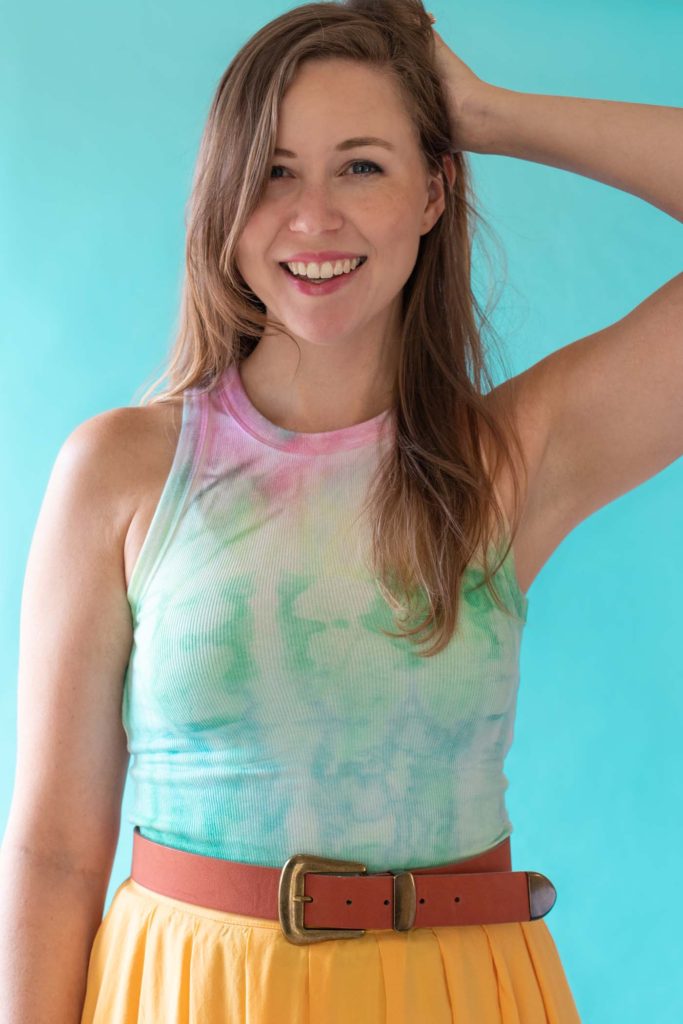 You just tie dyed with fabric paint! You can find me wearing this tie dye tank top all summer long, especially with a brightly colored skirt.
Thank you to Tulip for generously sponsoring the post. All opinions are my own. Please note this post may contain affiliate links from which I may collect a small profit should you choose to make a purchase. I only link to products I personally use or recommend. Thanks for supporting the brands that keep Club Crafted sharing!