/
Printable Cake Toppers for Birthdays + SVG Templates!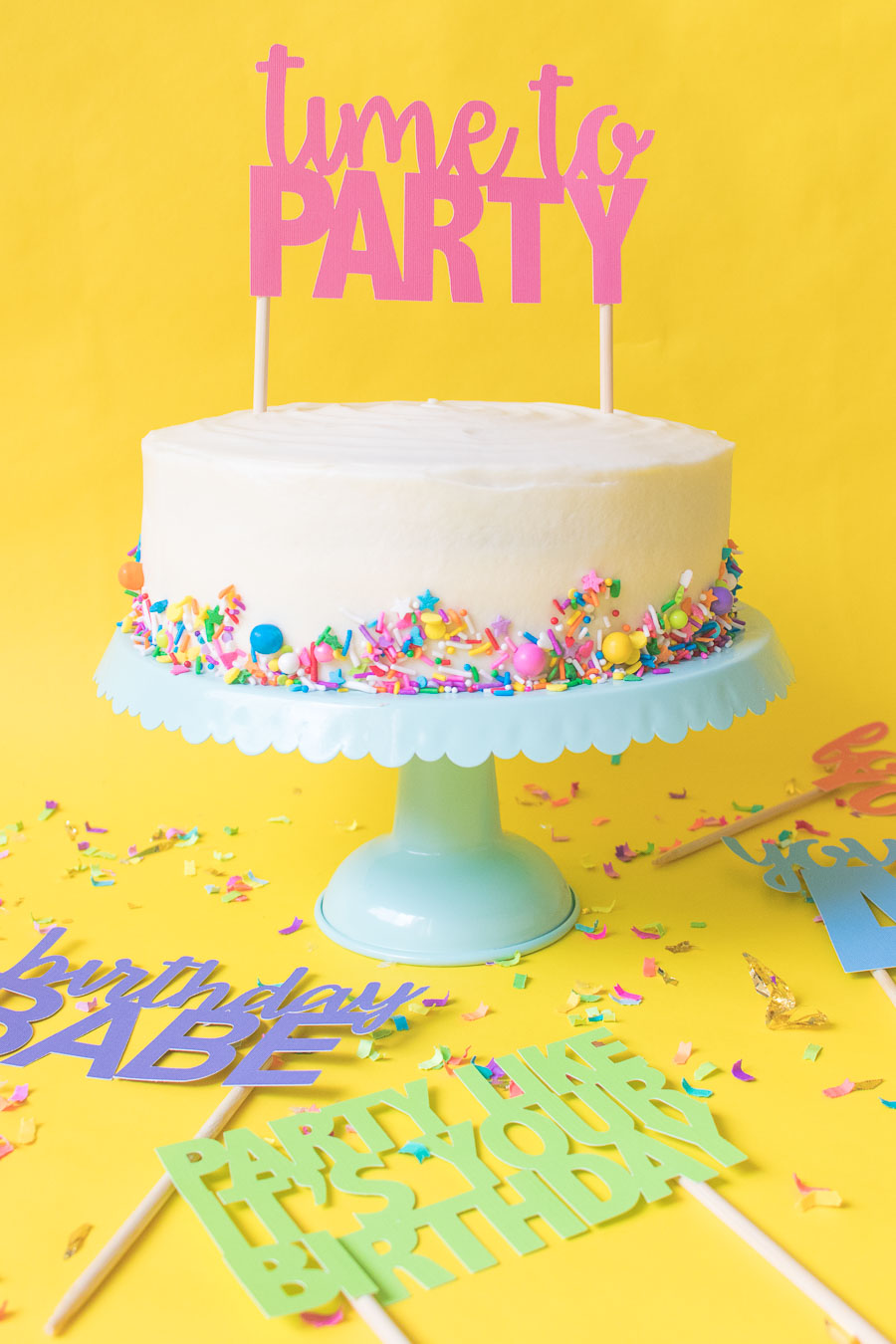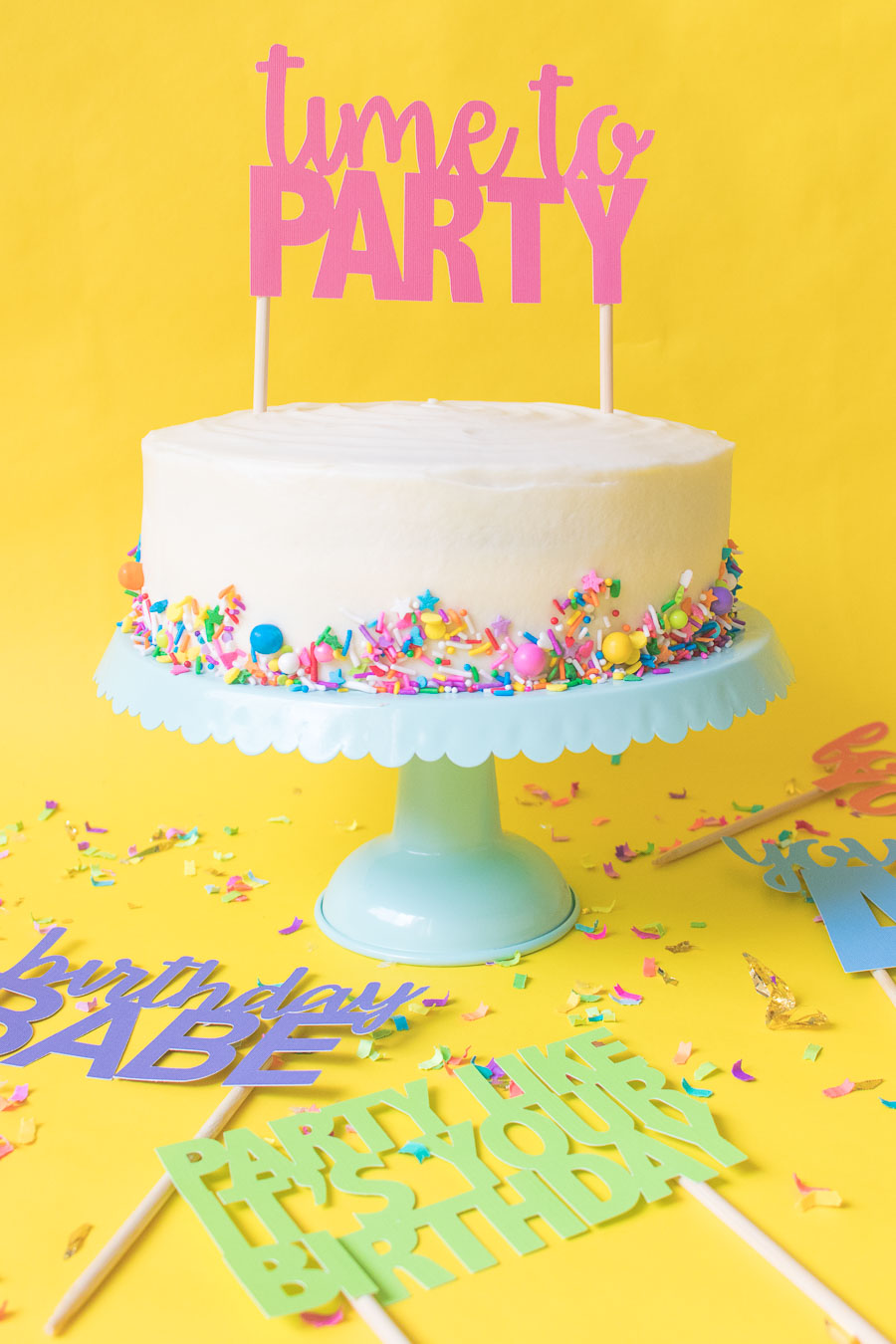 I'm in a very celebratory mood with Andrew's graduation coming up next week, so when I made the cake topper for his graduation cake, I decided to make a few more to share with all of you! These simple printable cake toppers are perfect for birthdays or other types of celebrations, and you can cut them out with a cutting machine like a Cricut (using the free SVG templates!) or use a craft knife to cut them yourself out of cardstock. Then you can simply attach sticks to them for simple but completely unique cake toppers that will add some pizazz to any cake! I have FIVE printable cake toppers for you to try this time.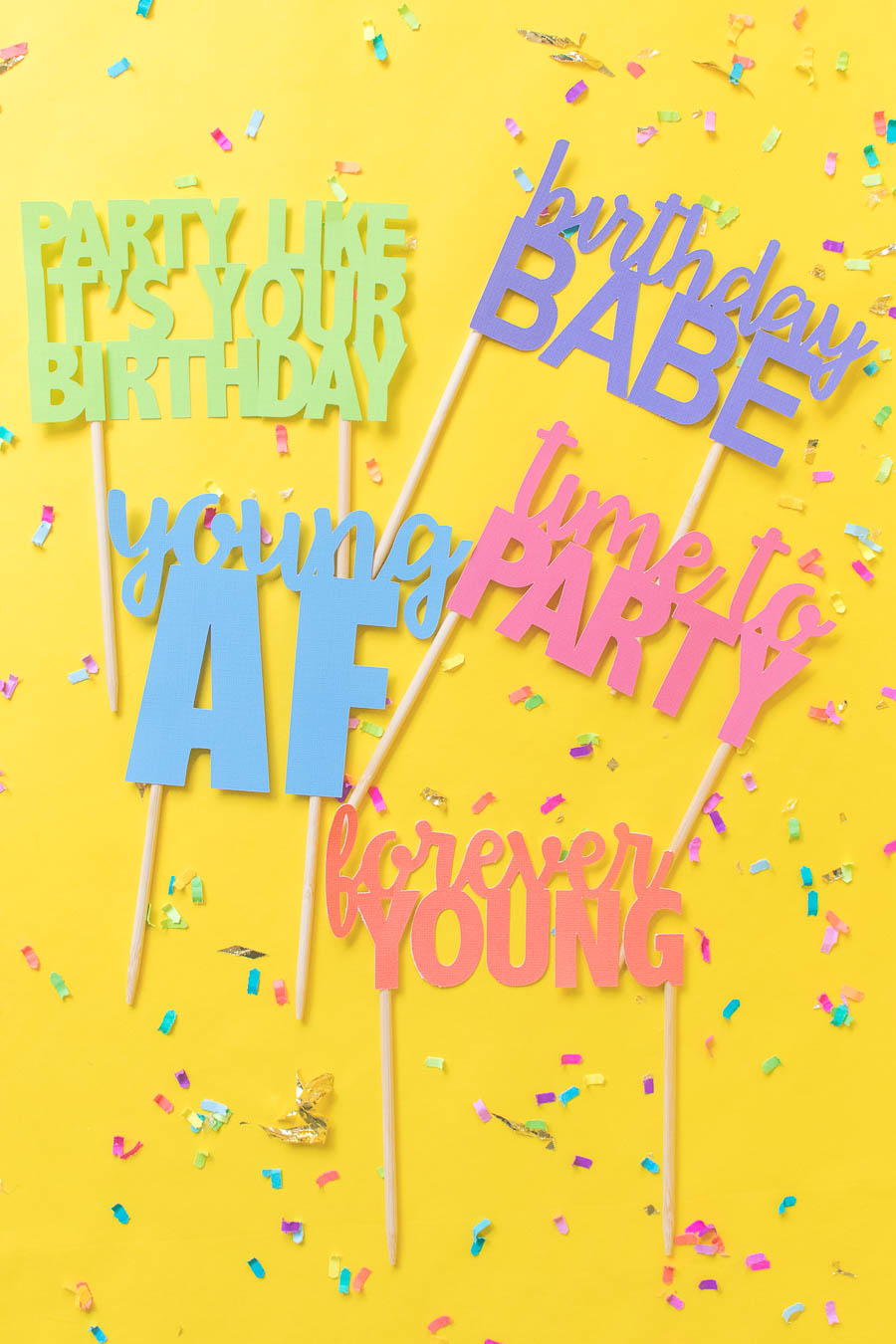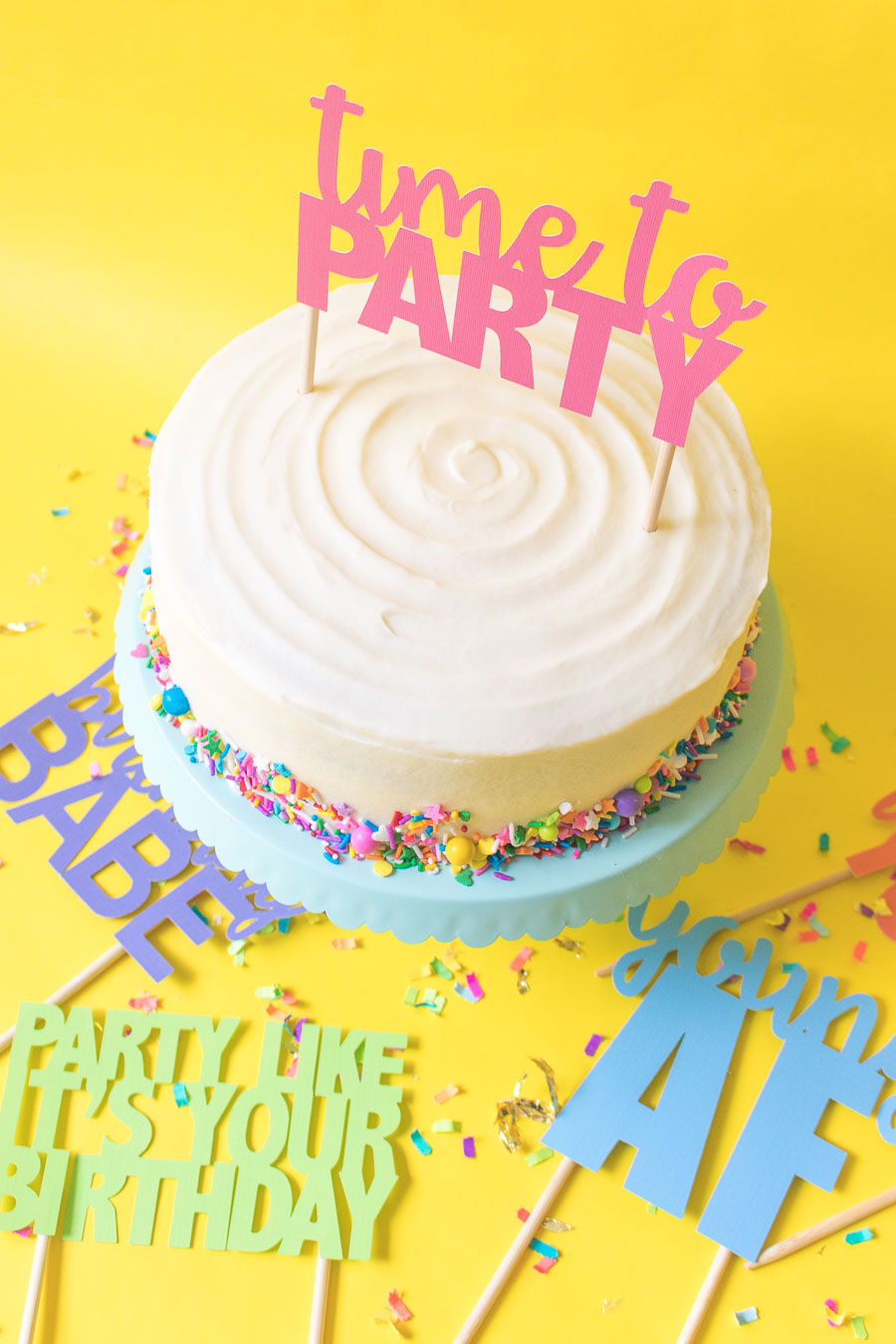 I think my favorite would have to be the "Time to Party" cake topper simply because it's perfect for so many occasions! Otherwise, the "Young AF" topper is my favorite for a birthday party. I'll definitely be using that for Andrew's birthday this summer!
All of these cake toppers come apart in ONE piece so that you can attach them to wooden dowels and they'll stand upright. Although they may be a little fragile, they hold up very well with a heavy cardstock. I'd highly recommend these SVG templates for use with a cutting machine (I'm obsessed with my Cricut!) but you can also print out the PDFs below and use them as templates to cut out. NOTE: When using the SVG templates, you must right click on the design and select "Weld" in order for it to create one large connected cake topper.
Free Downloadable Printable Cake Toppers
Time to Party Cake Topper (SVG) / Time to Party Cake Topper (PDF)
Party like it's your Birthday Cake Topper (SVG) / Party like it's your Birthday Cake Topper (PDF)
Birthday Babe Cake Topper (SVG) / Birthday Babe Cake Topper (PDF)
Young AF Cake Topper (SVG) / Young AF Cake Topper (PDF)
Forever Young Cake Topper (SVG) / Forever Young Cake Topper (PDF)
How to Make a Cake Topper
Supplies:
Cardstock
Wooden dowels (or cake pop sticks)
Glue gun
Step 1: Cut the cake topper out of a heavy cardstock using the templates linked above.
Step 2: Turn over so the words are backwards. Glue the wooden dowels to the bottom letters on each side of the phrase. You want it to be somewhat even.
Once the glue is dry, remove any glue strings and the cake topper is ready to use! Stick the dowels into the top of the cake and it should stay up on its own as long as you've used cardstock.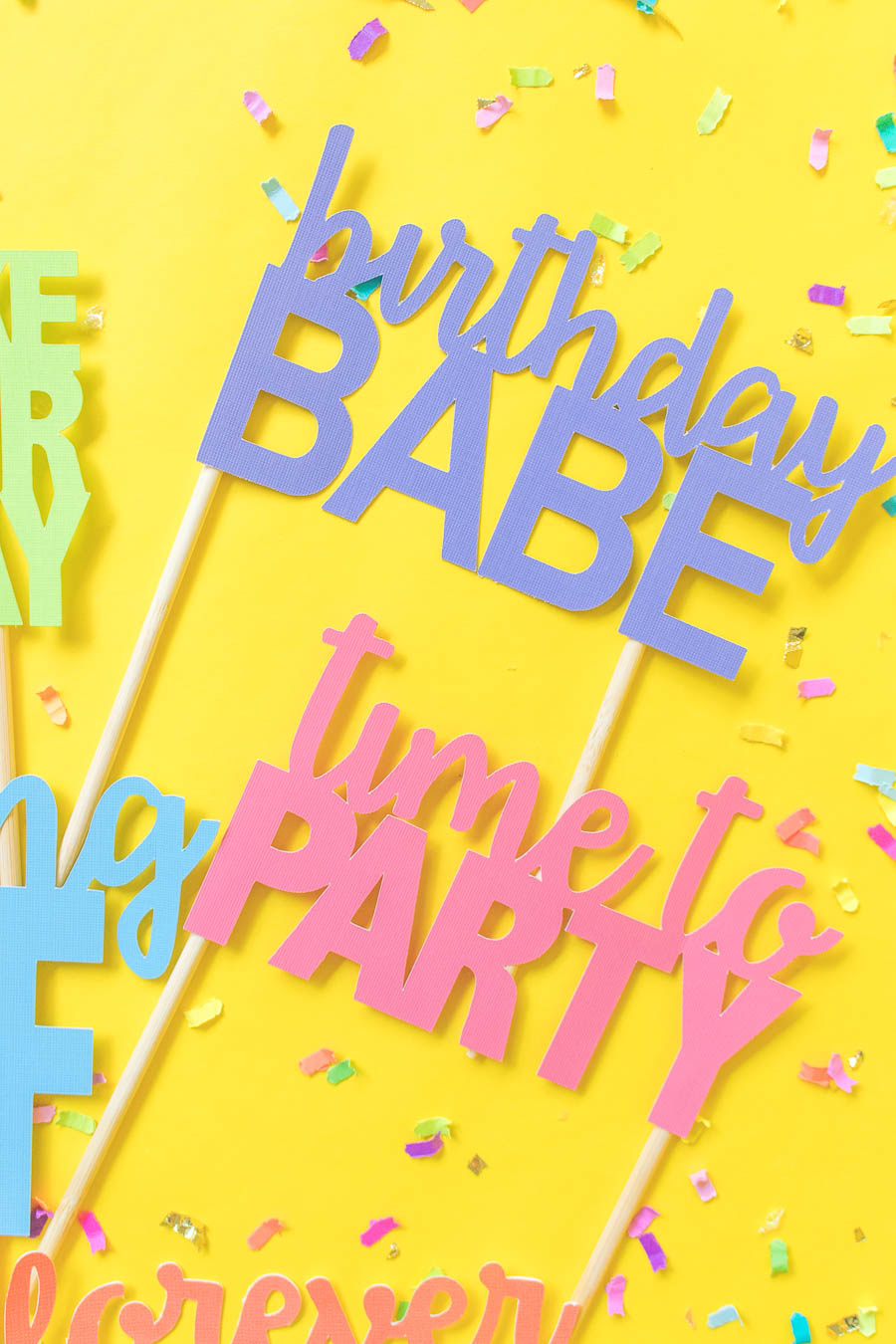 After the party is over, you can simple wipe down the dowels and store the cake topper for use another time! Now it's time to get the party started!