/
Throwback! Tie Dye 90s-Inspired Cake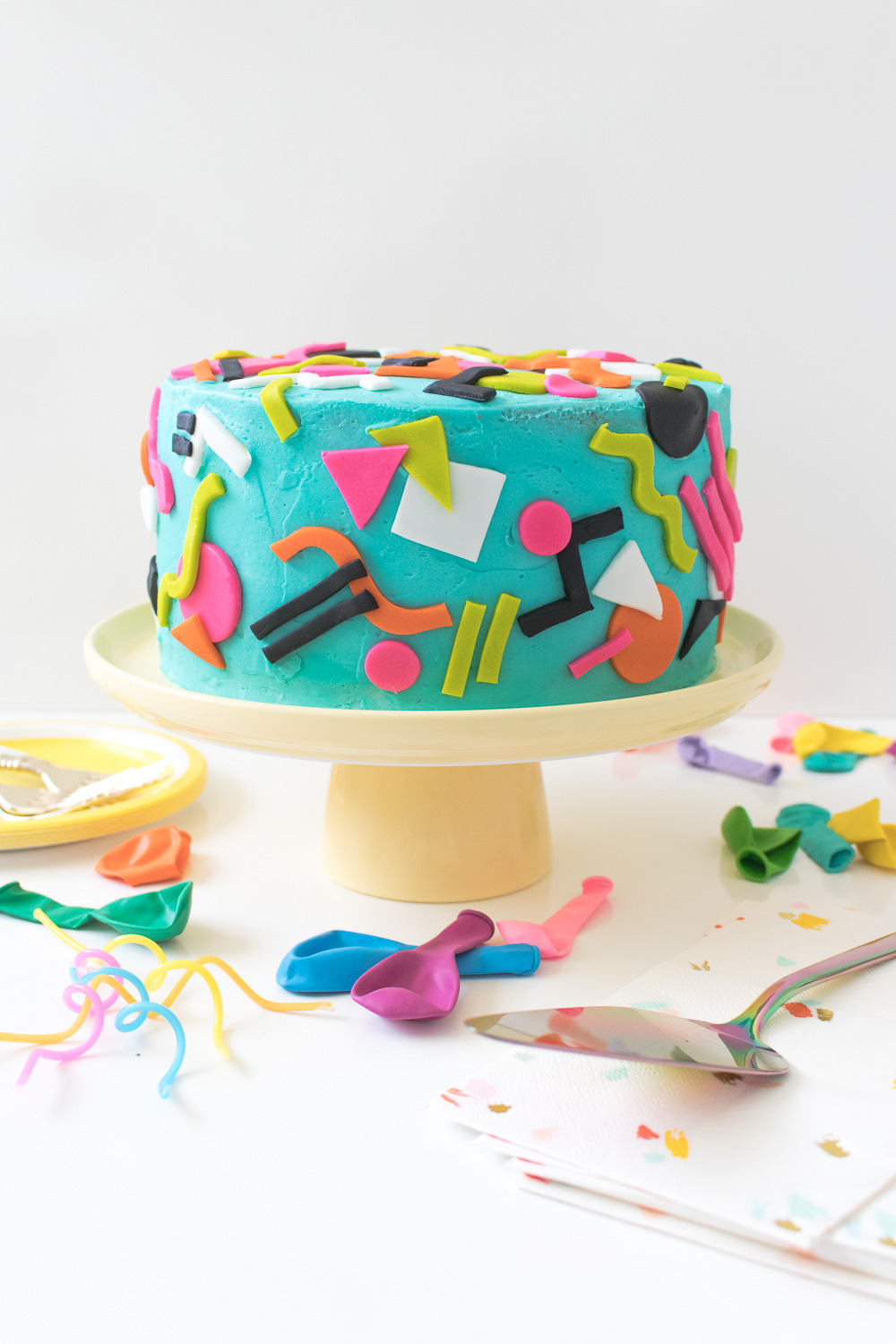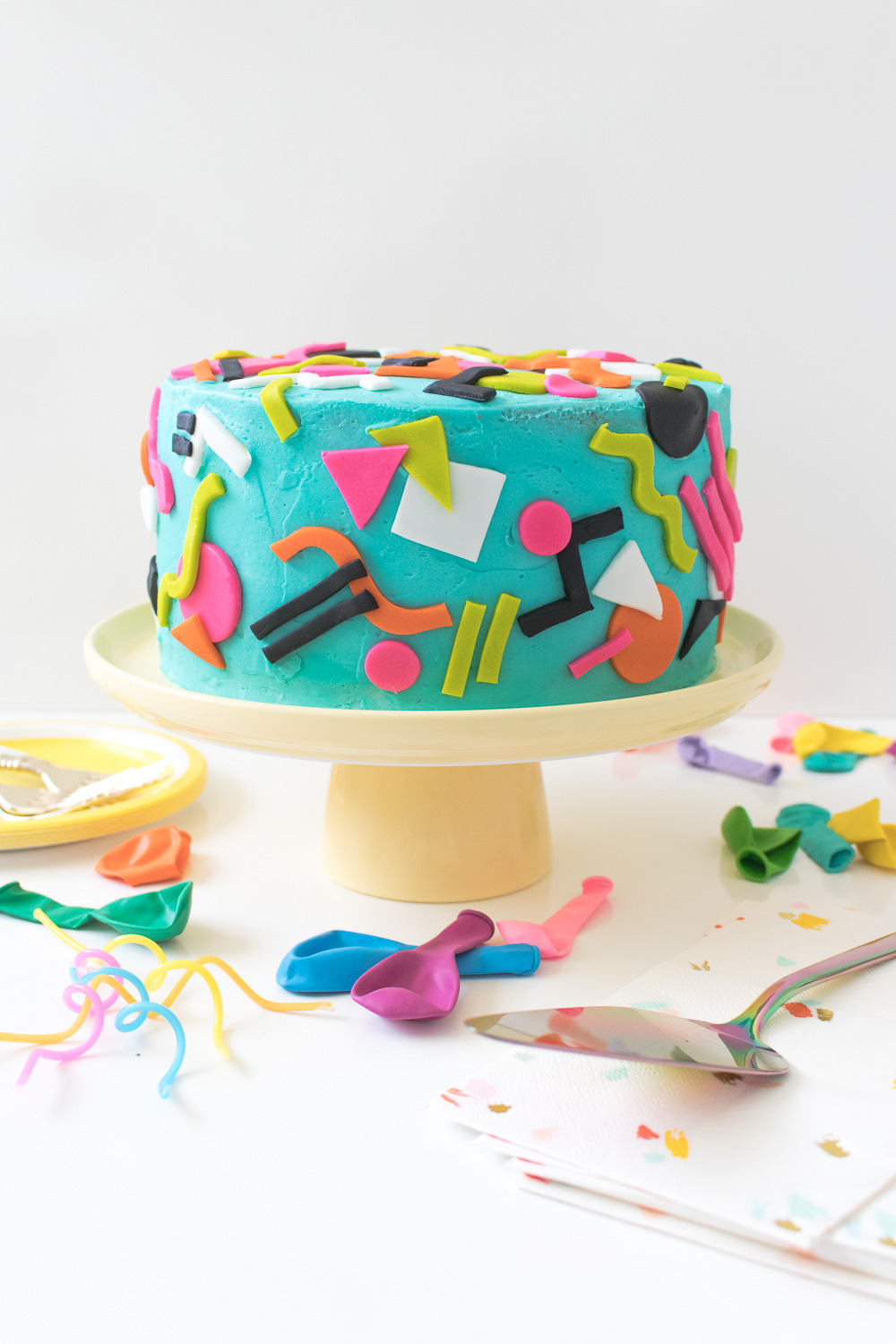 If you grew up in the 90s like I did, or if you simply lived through them, I'm pretty sure you'll identify with today's project! This 90s-inspired cake is a throwback to the abstract, colorful patterns of the 1980s and 1990s, and it immediately makes me think of shows like Saved by the Bell and Fresh Prince of Bel-Air. With lots of bright colors and funky tie dye layers, this cake takes me right back to childhood. I've noticed these crazy abstract patterns are coming back, and let me just say, I'M LOVING IT. It's kind of cool to see things from my childhood come back in style…or maybe that just makes me old.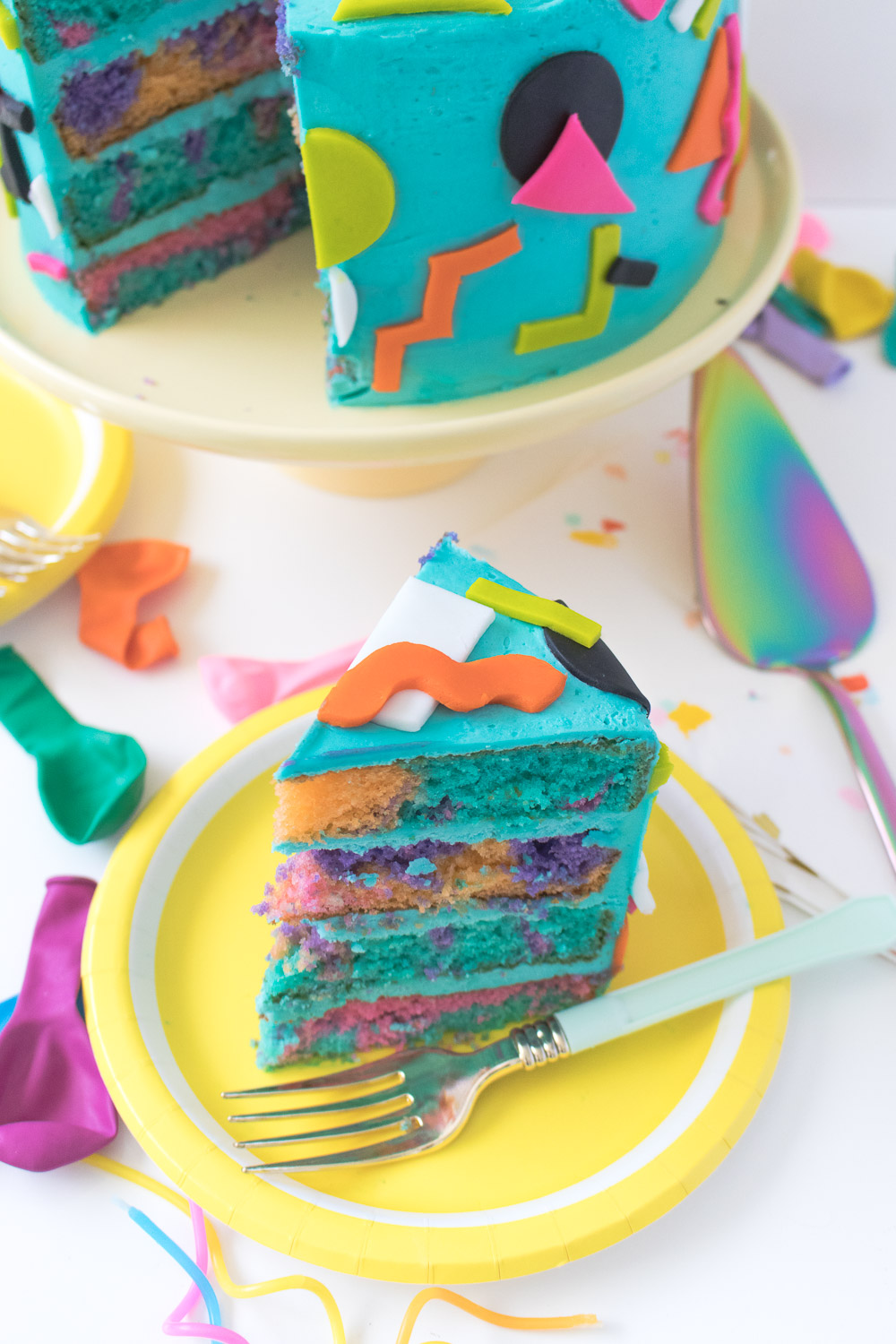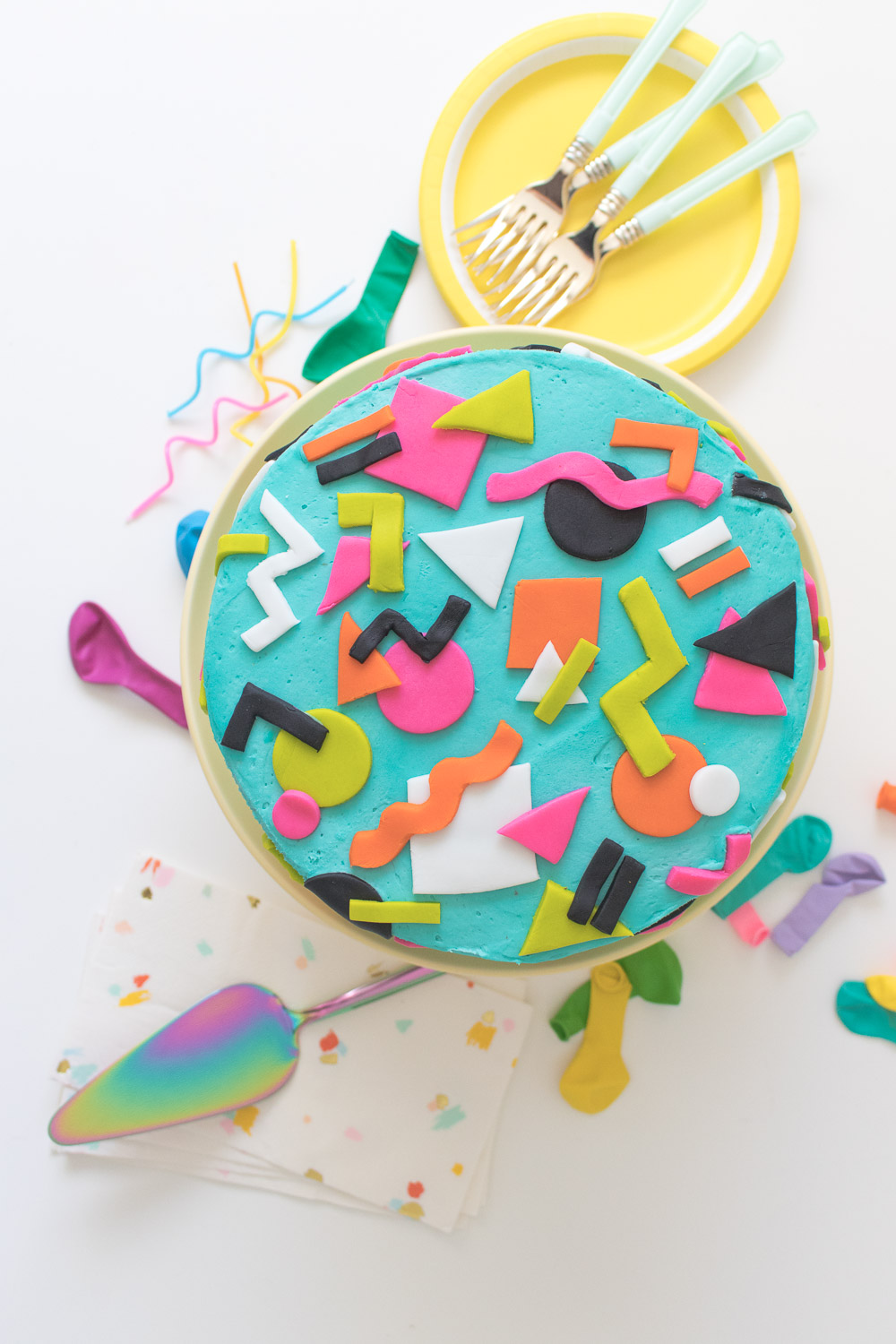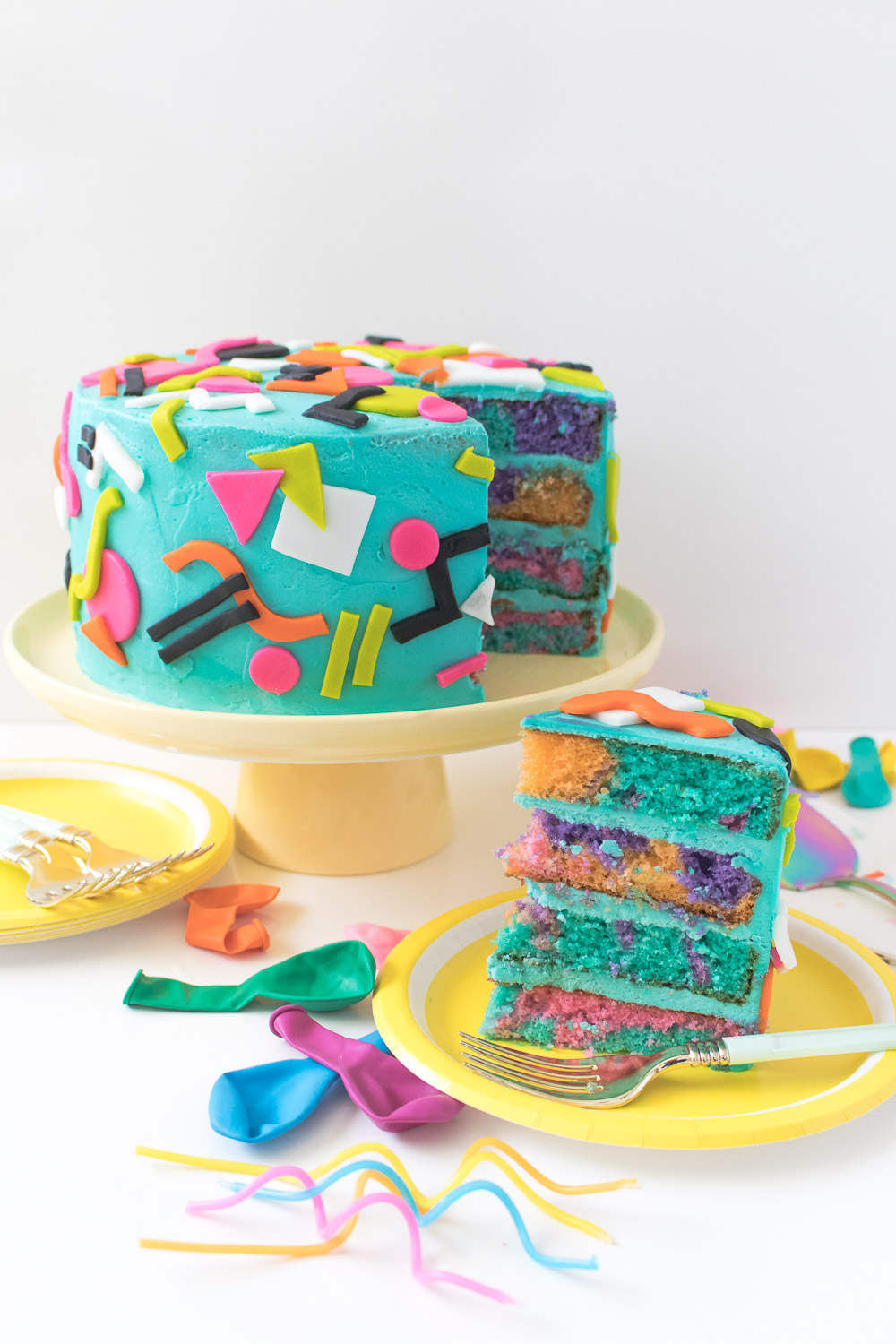 This was one of the more fun cakes I've worked on. Others tend to stress me out if they're complicated or have a lot of pieces, but this one was just fun. It really felt like art!
Scroll down for the full recipe and how-to! ??
First, let's talk about the outside of the cake because that's my favorite part. I coated it with classic vanilla buttercream dyed a bright teal color. On top of that, you'll see all of those fun abstract patterns, which are made out of fondant. Like most people, I don't like the taste of fondant, which is why I choose to avoid covering my cakes in it, but it's ideal for these types of decorations. I simply rolled out several colors on a pastry board and used a pairing knife to cut out a variety of shapes, like zig zags, squiggly lines, circles, triangles, squares, etc. Once I got to layer all of those colorful shapes on top of each other, it began to feel like a cake worthy of the 90s.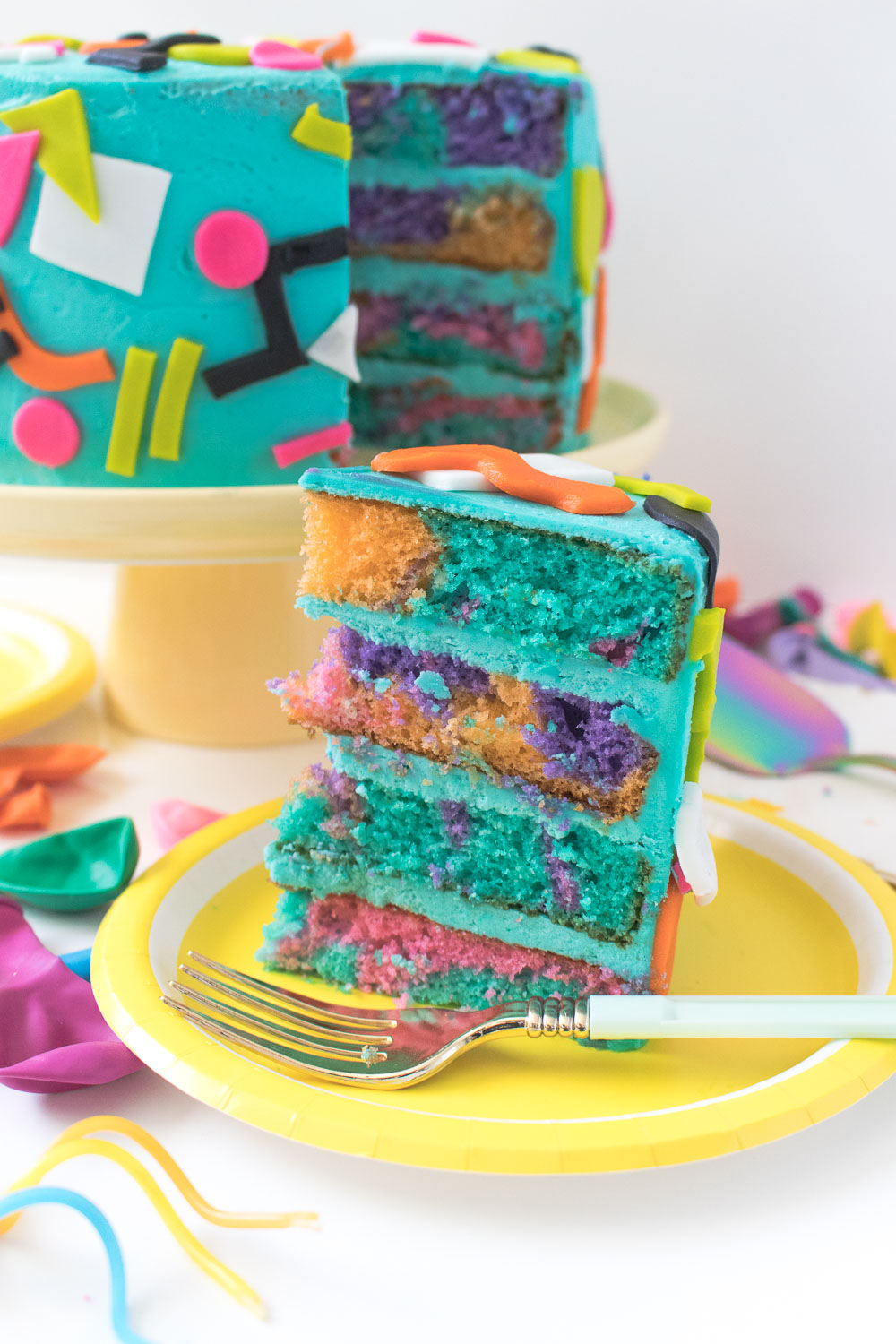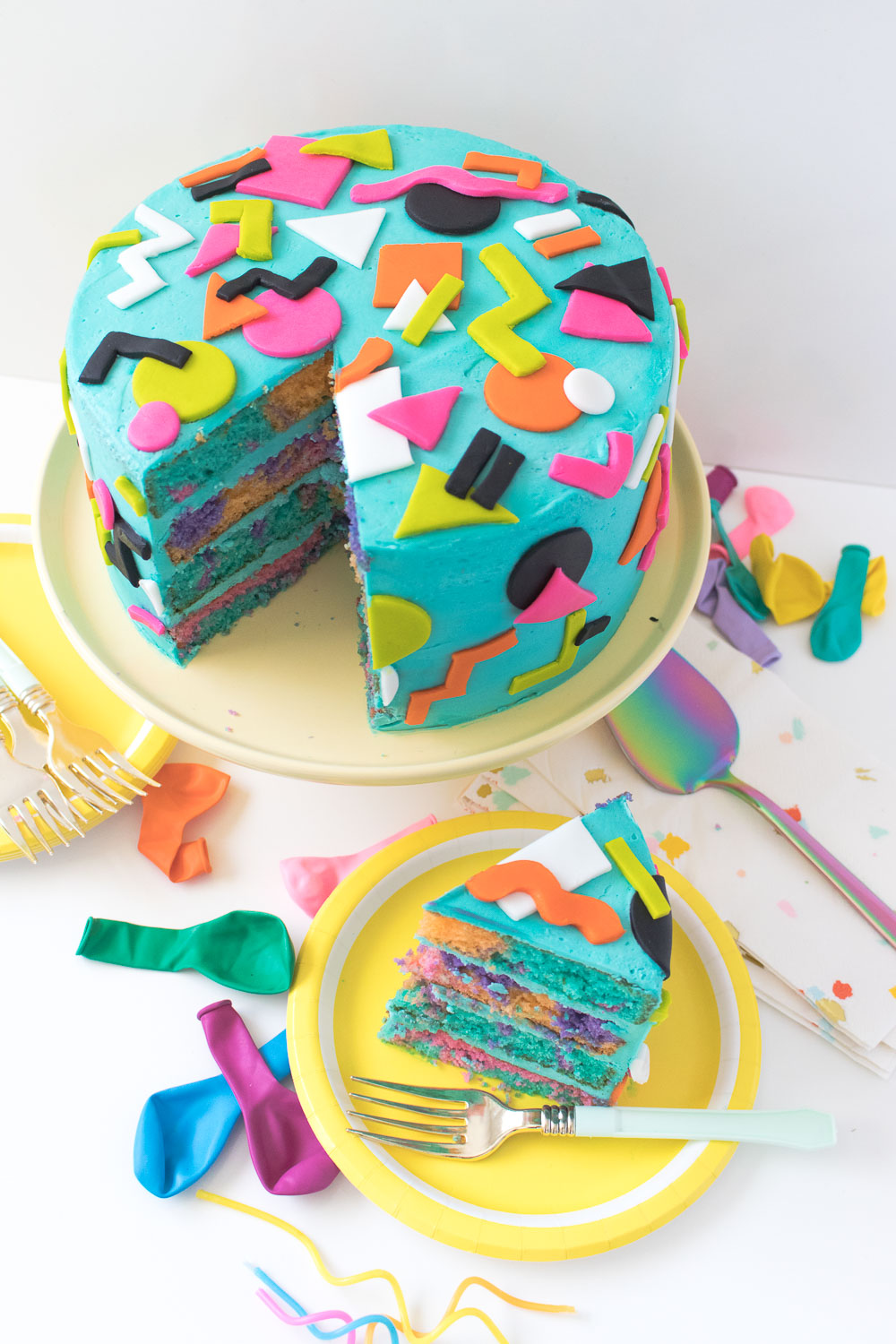 For the inside, I used my favorite vanilla cake recipe, which came out light and fluffy. I gave it a fun tie dye look with four different colors. After all, it seemed like a shame to have a crazy outside and a boring inside! Some of the colors coordinated with those on the outside, so it seemed to all fit together.
I think this cake just reaffirmed how much I want to have a 90s themed party…let's make it happen!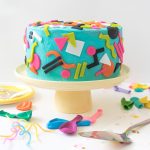 Tie Dye 90s-Inspired Cake
2018-02-13 14:21:31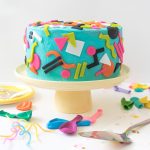 A fluffy vanilla cake with tie dye layers and a colorful, abstract pattern inspired by the 1980s and 1990s
For the Cake
3 cups all-purpose flour
5 tsp baking powder
2 cup granulated sugar
1 teaspoon salt
1 1/3 cup milk, room temperature
8 egg whites, at room temperature
4 tsp vanilla extract
1 cup butter, room temperature
Food coloring, 4-5 colors
For the Frosting + Decor
3 cups butter, room temperature
4-5 cups powdered sugar
2 tsp pure vanilla extract
Food coloring, optional
Fondant, 5-6 colors
Rolling pin
Pairing knife
For the Cake
Preheat the oven to 350 degrees and spray two 9-inch round cake pans with cooking spray and set aside
In the bowl of your mixer fitted with a paddle attachment, beat the butter until smooth and fluffy, about one minute
Add the sugar, flour, baking powder and salt and mix on low until it forms a crumbly mixture
In another bowl or a measuring cup, whisk together the milk, vanilla and egg whites until fully combined
Slowly add the wet mixture to the dry ingredients, mixing on low speed. Scrape the bowl and continue to mixing for about 30 seconds until batter is smooth
Distribute the batter into 4-5 separate bowls. Stir food coloring into each until you reach desired color.
Add large dollops of batter like spots in each prepared pan. Once each pan is filled, swirl the colors together with a knife.
Bake for about 30-35 minutes until an inserted toothpick comes out clean. Let cool completely in the pans.
For the Frosting
In your mixing bowl fitted with a paddle attachment, beat the butter until smooth and fluffy (about 3 minutes)
Add powdered sugar one cup at a time and scrape the bowl as you go
Mix in the vanilla and continue beating for another minute until the frosting is smooth and fluffy
If desired, add food coloring until bright color is reached
To Assemble
Level each cake layer and assemble with layers of buttercream
Apply a crumb coat and chill the cake. Remove and apply another layer, smoothing as much as possible
Roll out the colored fondant on a pastry board or protected surface until about 1/8 inch thick. Use a knife, cookie cutters or household objects to cut out abstract shapes like triangles, zig zags, lines, circles, etc.
Use a pastry brush or your fingers to apply a small amount of leftover frosting to the back of the fondant pieces and place on the cake. Overlap shapes as desired to fill the entire cake with patterns
Chill until about 30 minutes before serving
Notes
I used multiple packets of pre-made 4 oz. fondant
Club Crafted https://www.clubcrafted.com/