/
Valentine's Day Pick-Up Line Cookies (Fortune Cookies)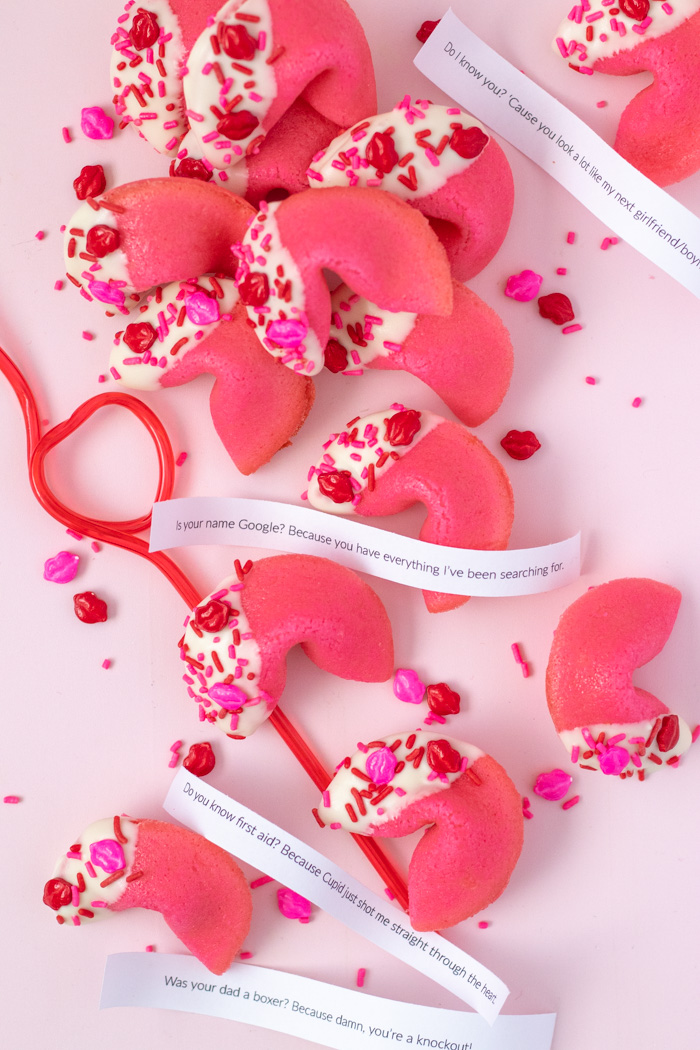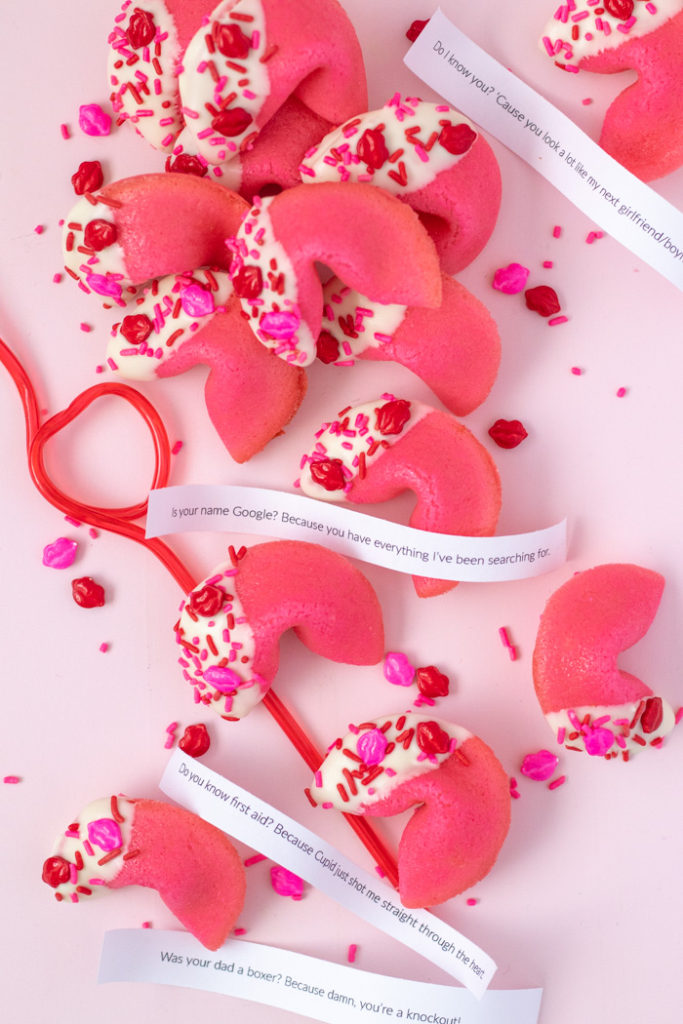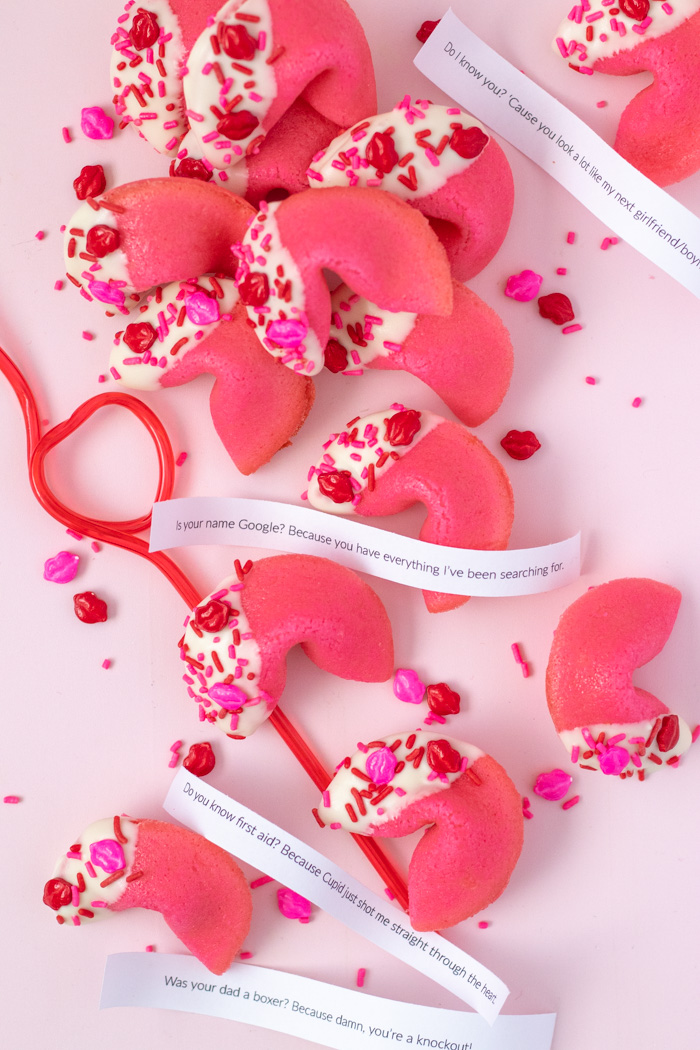 I suddenly looked at the calendar and realized Valentine's Day is THIS WEEK! How does the time fly by so quickly? I wanted to fit in at least one more Valentine's Day-related project this week, and after seeing how popular my compliment cookies were last year, I used them as inspiration for these cheesy pick-up line cookies that will be perfect for your valentines! I actually love pick-up lines. The cheesier, the better! I used my favorites in these fortune cookie-style crispy cookies dyed pink and dipped in chocolate with sprinkles. You know, in case you really need to get the whole Valentine's Day thing across, ha!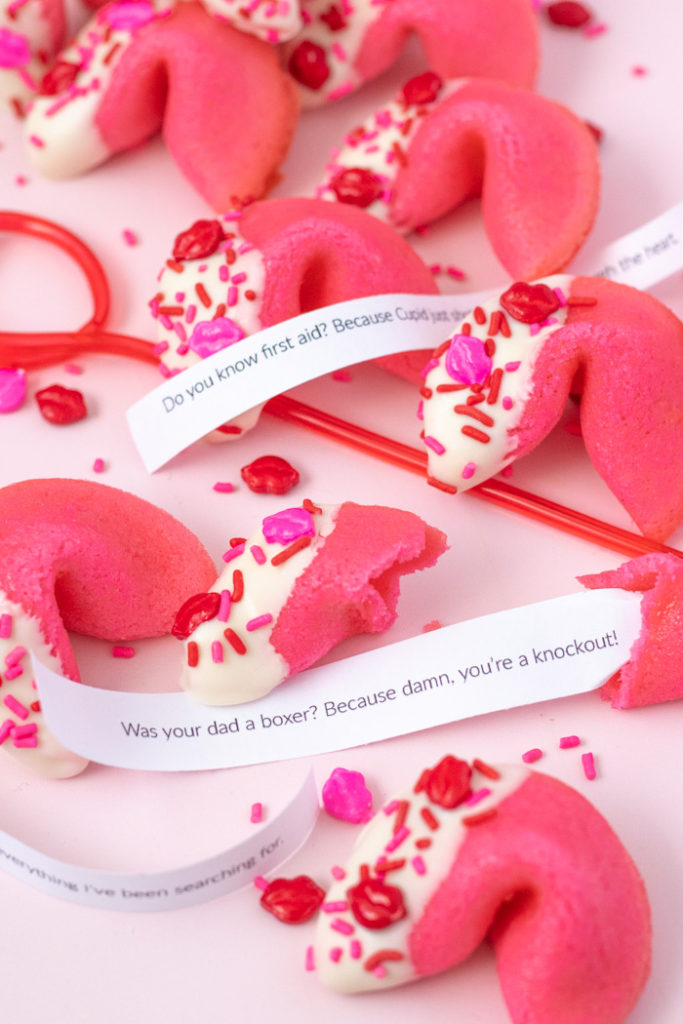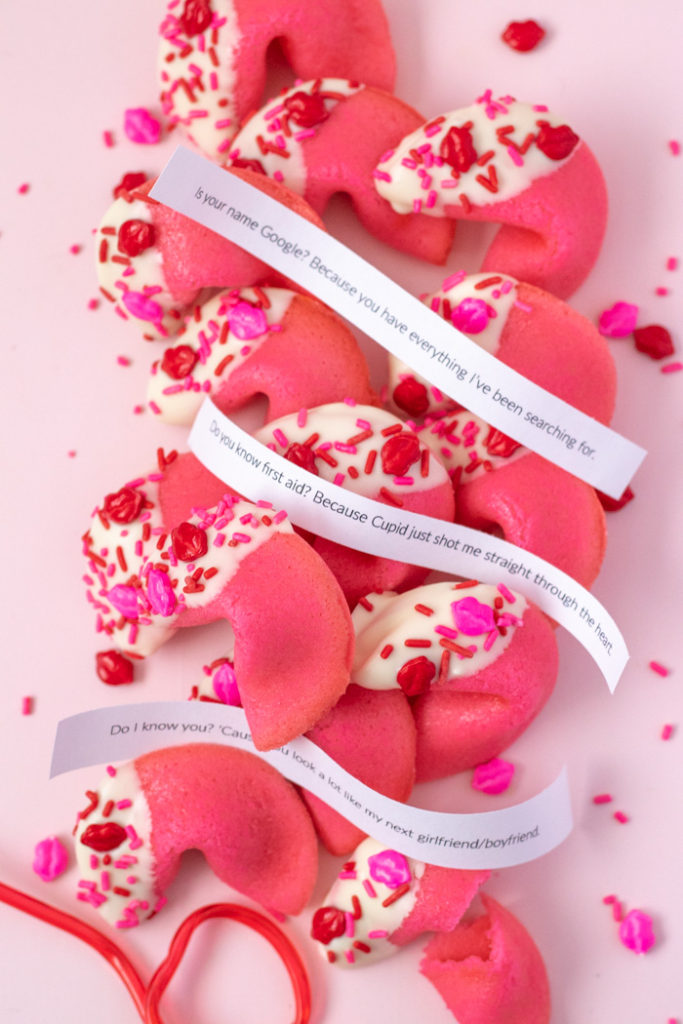 Scroll down for the full recipe card! 👇🏼
First, let's talk pick-up lines. Just embrace the cheesiness. It's honestly what makes them so fun! Here are a few of my favorites to use in your pick-up line cookies for Valentine's Day:
Do I know you? 'Case you look a lot like my next girlfriend.
Is your name Google? Because you have everything I've been searching for.
Do you know first aid? Because Cupid just shot be straight through the heart.
Was your dad a boxer? Because, damn you're a knockout!
I was wondering if you had an extra heart. Mine was just stolen.
You must be a broom 'cause you just swept me off my feet
Hey, you're pretty and I'm cute. Together we'd be Pretty Cute.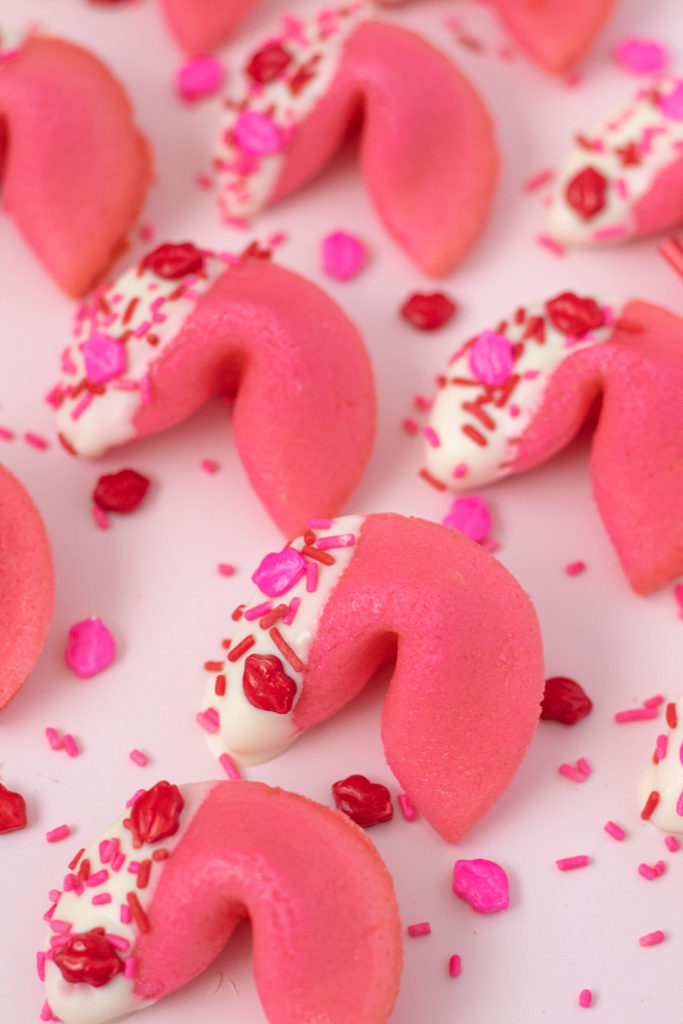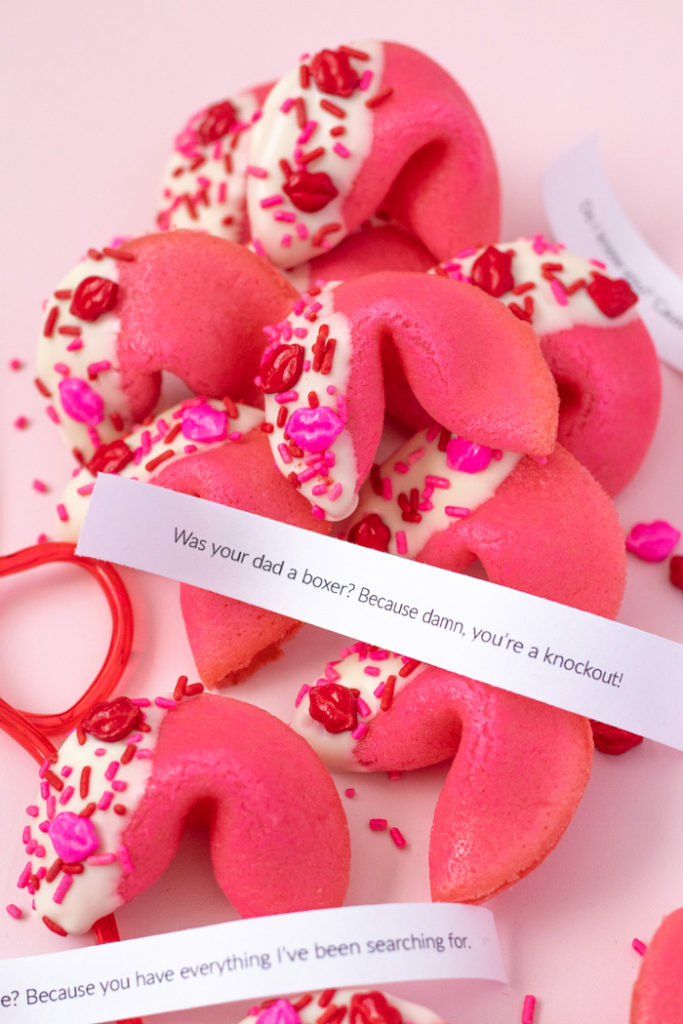 The key to making fortune cookies is being quick. Also, numb fingers help. As soon as they're cooked through, you have to work quickly to shape them while hot, or you'll risk the pancake-looking cookies hardening too quickly. Yes, it may hurt your fingers working with such hot cookies, but you'll only work on about four at a time, so the process will give your hands a break in between batches.
Don't worry, these cute, goofy pick-up line cookies are worth it in the end! Dip them in any chocolate or colored candy melts and top with a variety of sprinkles for Valentine's Day or just because. No one said pick-up lines are ONLY for Valentine's Day, after all!
Keep scrolling to see how to make your own fortune cookies!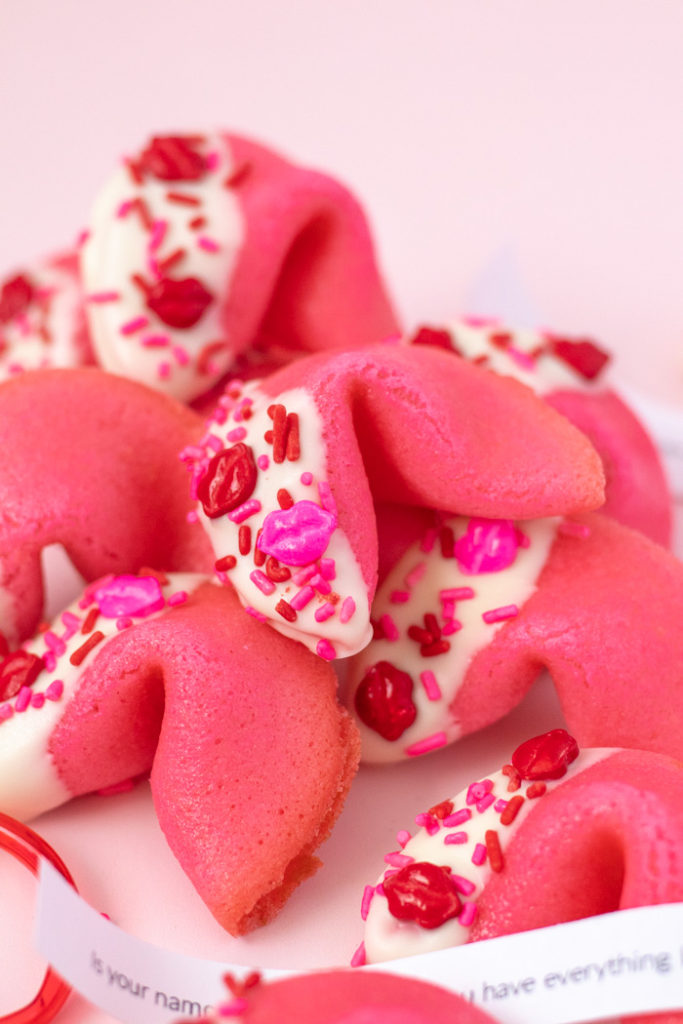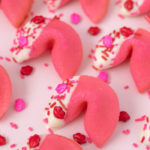 Pick-Up Line Cookies (Fortune Cookies)
2019-02-11 17:51:33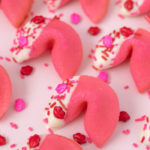 Easy fortune cookie-style cookies decorated for Valentine's Day and filled with cheesy pick-up lines
Ingredients
2 egg whites
1/2 tsp pure vanilla extract
3 tbsp vegetable oil
1/2 cup all-purpose flour
1/2 cup sugar
1 1/2 tsp cornstarch
1/4 tsp salt
3 tsp water
Paper strips of cheesy pick-up lines
Pink food coloring, optional
White chocolate/candy melts, optional
Valentine's Day sprinkles, optional
Instructions
Preheat the oven to 325 degrees F and line a baking sheet with a silicone mat or parchment paper
In one bowl, sift together the flour, sugar, cornstarch and salt and set aside
In another bowl, whisk the egg whites until just frothy, then mix in vanilla, oil and water
Add the egg white mixture to the flour mixture and whisk until smooth
If desired, mix in hot pink food coloring until bright
Use a tablespoon to scoop 4 separate spoonfuls of batter onto the prepared baking sheet, spacing them several inches apart
Use the back of a spoon to spread the batter into approx a 4-inch circle
Bake for about 9-10 minutes until the edges are golden brown
Immediately place a paper pick-up line strip in the middle and quickly use a spatula to fold the cookie in half, pick it up and bend it on the rim of a mug (seam facing outward). Then place it in a muffin tin cavity to hold its shape while it cools. They will be VERY hot so be careful!
Repeat with each cookie, baking in batches of 4 so that you continue working with fresh, hot cookies before they harden
Store in an airtight container at room temperature for up to one week
Notes
I find that I like the outside texture of the cookies more if I first flip the cooked cookies before folding them in half, but this is optional
Club Crafted https://www.clubcrafted.com/