/
Magical Funfetti Cloud Cupcakes (Surprise-Inside Cupcakes)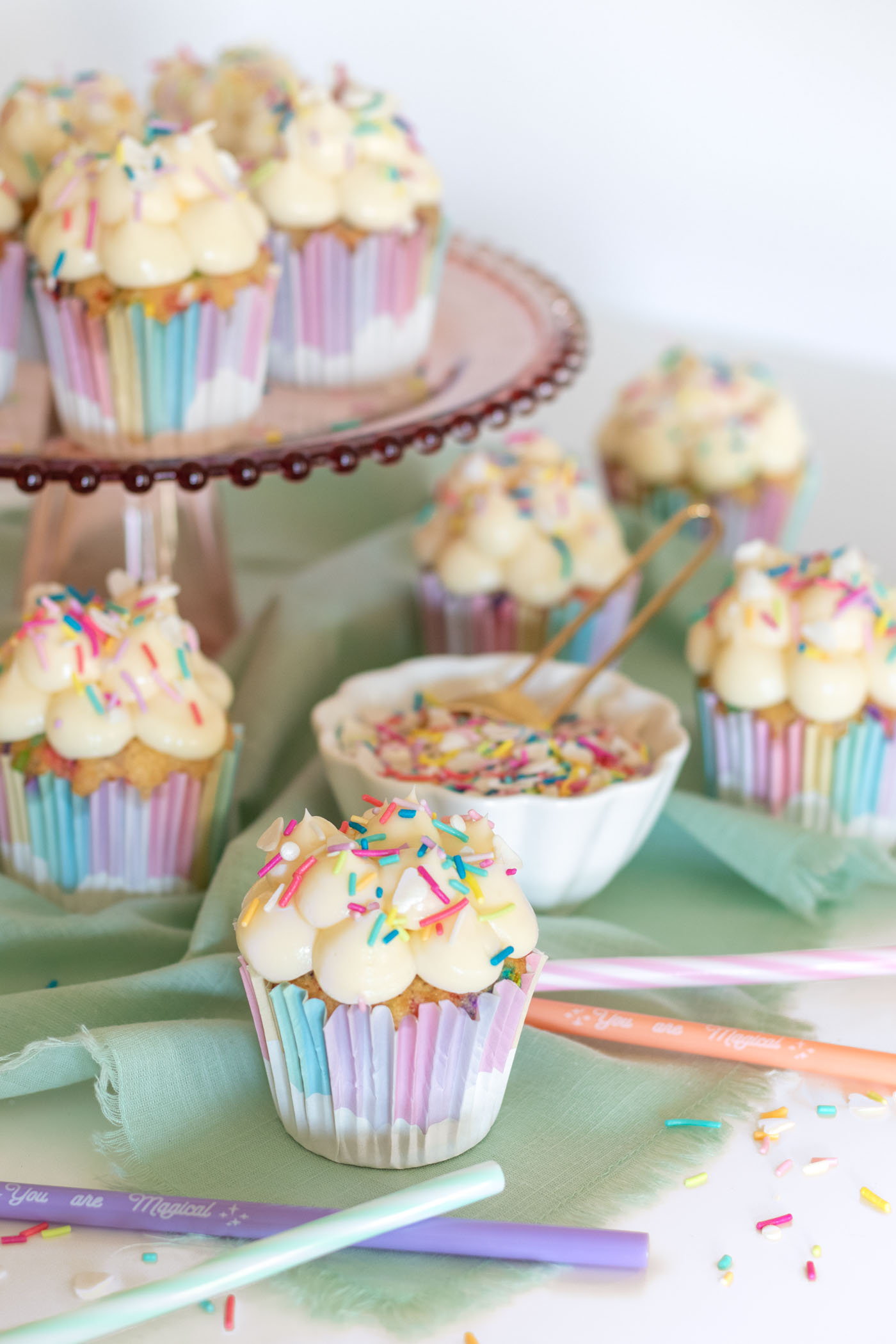 The following post is sponsored by JOANN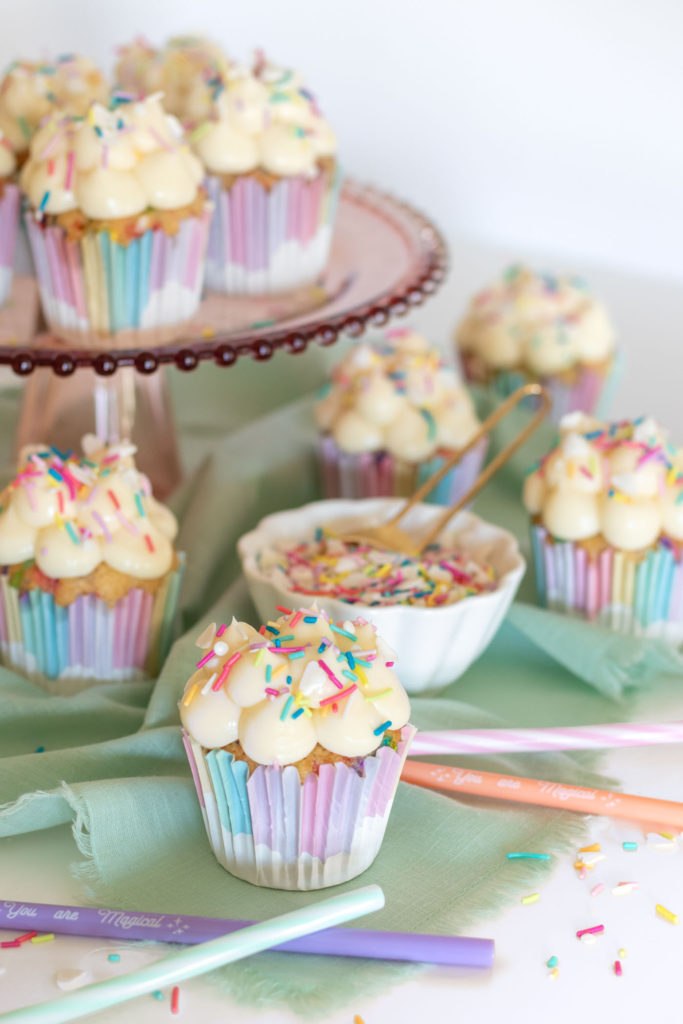 We all could use a little more *magic* in our lives, and these colorful, magical funfetti cloud cupcakes do just the trick! To make these funfetti cupcakes even MORE magical, each one is both topped and filled with my favorite Sweet Tooth Fairy rainbow sprinkles from JOANN, thus dubbing them surprise-inside cupcakes. What could be better than a sprinkle filling?! Paired with the cutest rainbow cloud cupcake liners and a cloud-like buttercream topping, these funfetti cloud cupcakes make me want to throw a party! No matter the occasion, these simple funfetti cupcakes are the perfect addition in order to add a little magic.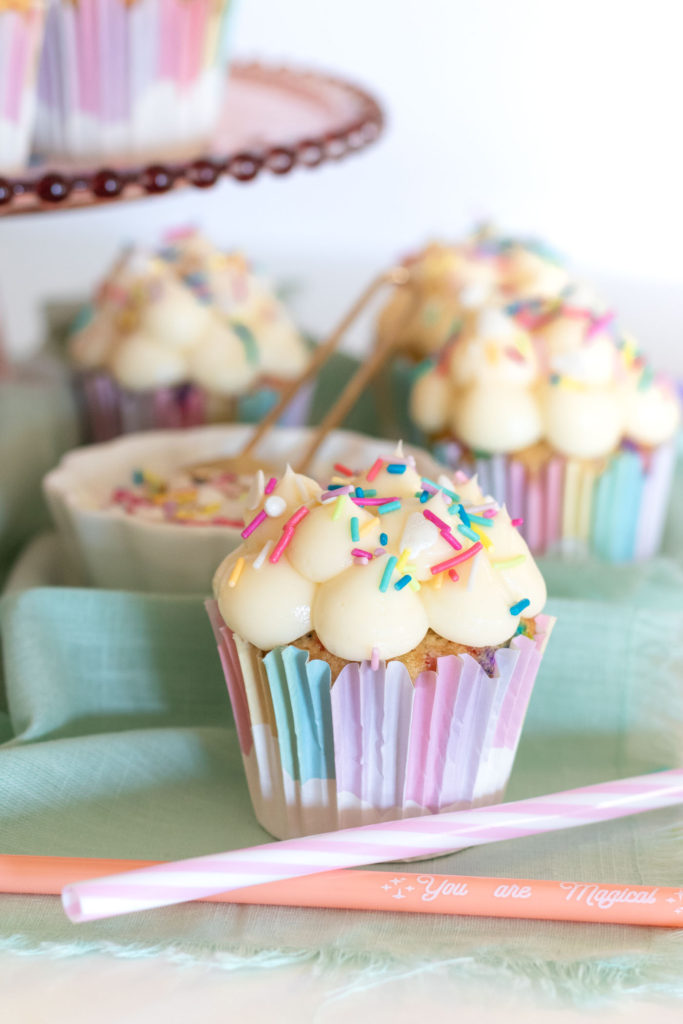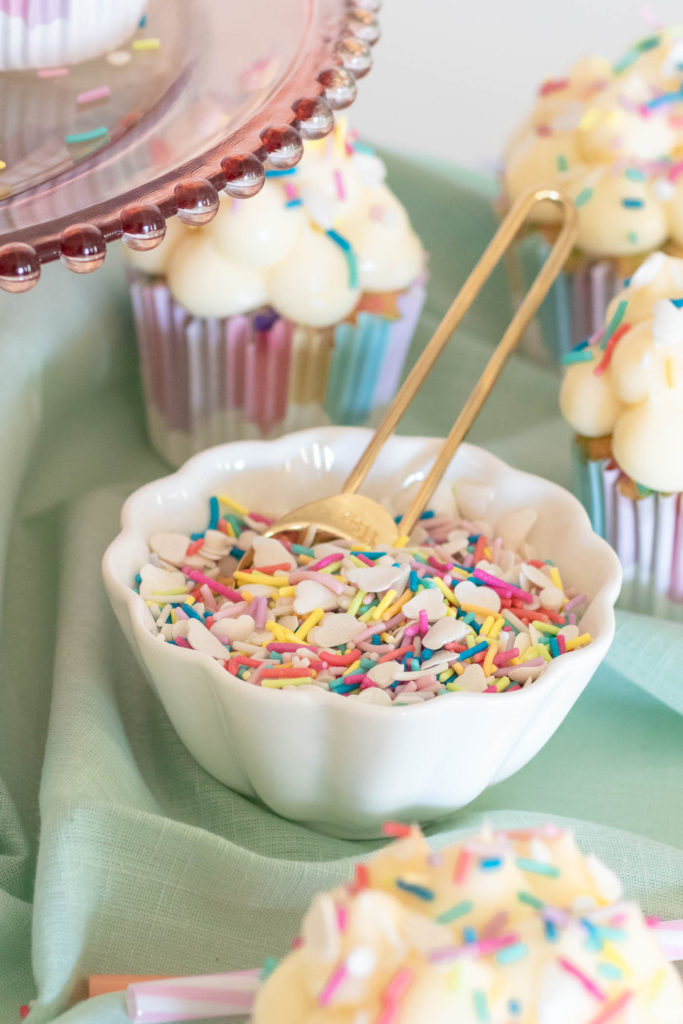 Scroll down for the full recipe card and cupcake decorating tutorial! 👇🏼
First, let me tell you about these adorable rainbow embellishments! Available at your local JOANN, Sweet Tooth Fairy has a great selection of sprinkles and dessert decorating embellishments, including these rainbow sprinkles (complete with little clouds), unicorn-themed cupcake liners and reusable magical straws. I have a lot of Sweet Tooth Fairy products, and I absolutely love everything I've tried!
Making "surprise-inside cupcakes" like these funfetti cloud cupcakes is actually very simple. Once cooled, I simply use a piping tip and a paring knife to remove some of the cake from the middle of the funfetti cupcakes, then I fill it with sprinkles. Once topped with buttercream to look like clouds, you'd never know there's a sprinkle surprise waiting inside each cupcake. That's the fun of it! I also use a very simple funfetti cupcake recipe that can be made ahead of time – it's one that can be prepared as a homemade cake mix.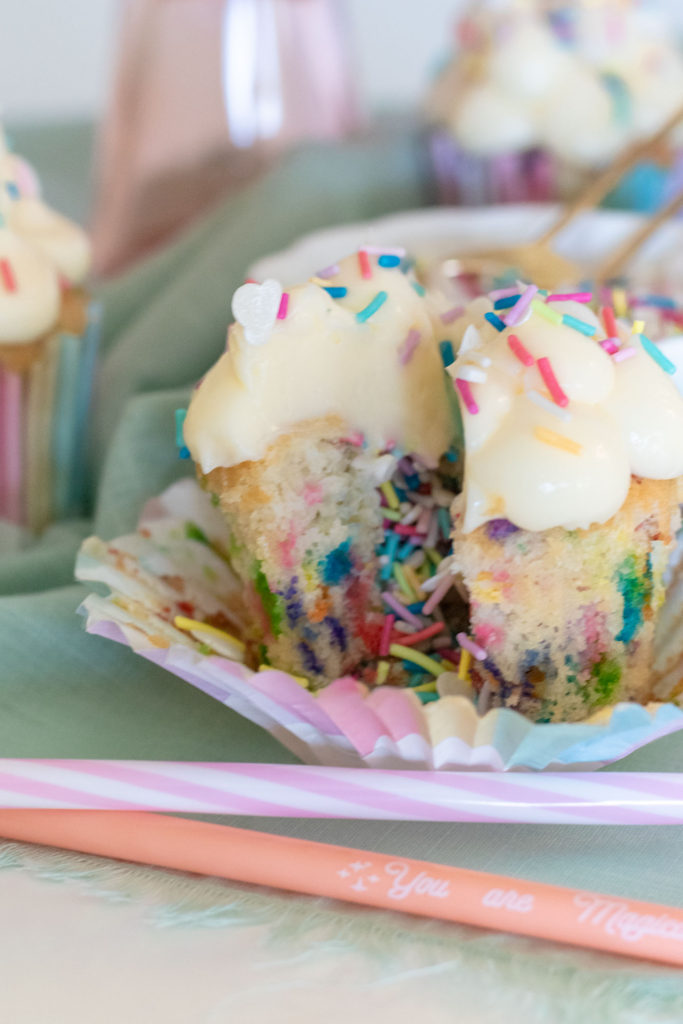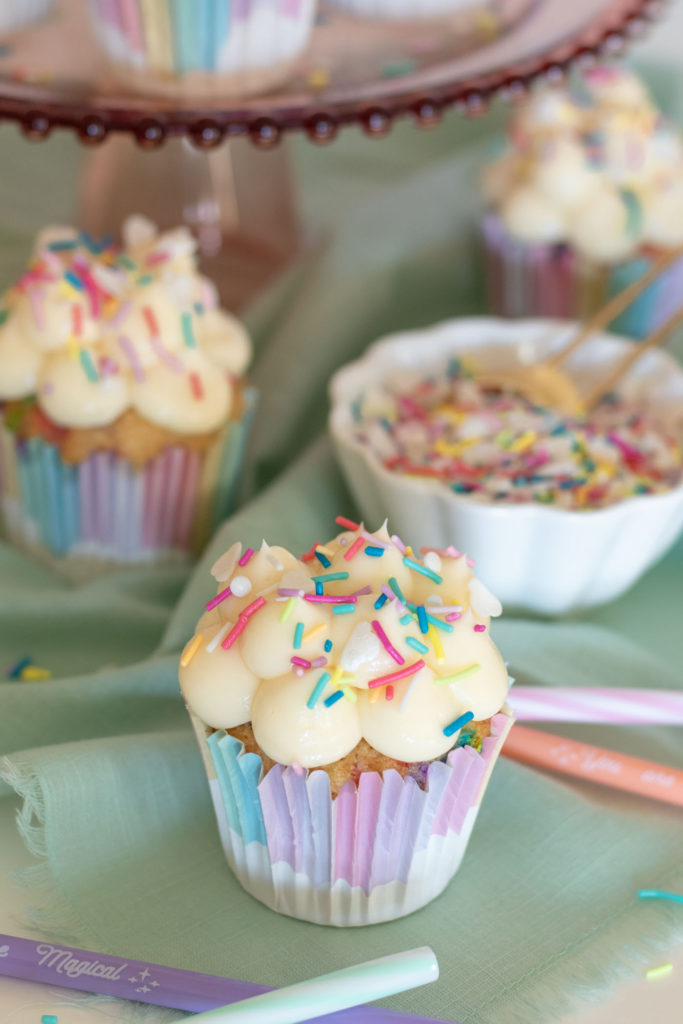 Psst, love rainbow treats? Check out my rainbow Lisa Frank-inspired cake roll!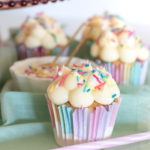 Magical Funfetti Cloud Cupcakes (Surprise-Inside Cupcakes)
2019-04-29 11:08:10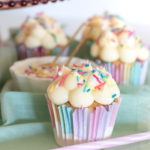 Magical funfetti cupcakes filled with rainbow sprinkles and topped with fluffy buttercream to look like clouds
For the Funfetti Cupcakes
2 1/4 cups all-purpose flour
1 1/2 cups granulated sugar
4 tsp baking powder
1/2 tsp salt
1/2 cup rainbow sprinkles
3/4 cup butter, room temperature
1/4 cup + 2 tsp milk
2 whole eggs + 4 egg whites
1 tbsp vanilla extract
For the Buttercream and Decorations
2 1/2 cups butter, room temperature
3-4 cups powdered sugar
2 tsp vanilla extract
Sweet Tooth Fairy rainbow sprinkles
For the Funfetti Cupcakes
Preheat oven to 350°F and grease prepare 24 cupcake liners (or two 8-inch round pans)
Whisk together dry ingredients in a large bowl and set aside
In a large mixing bowl, beat softened butter for 2 mins until light and fluffy
Mix in dry cake mix until crumbly
In a separate bowl, whisk together milk, eggs and vanilla
Slowly mix wet ingredients into the dry until just combined 18-20 until a toothpick inserted into the center comes out free of wet batter
Allow cupcakes to cool completely before coring and decorating
For the Buttercream
Beat the butter until light and fluffy, about 2 minutes
Add powdered sugar in batches until you reach desired sweetness, scraping the bowl often
Mix in the vanilla extract
To Make Surprise-Inside Cupcakes
Use a round pipping tip to press into the middle-top of cooled cupcakes, then use a knife to core out cake from the center (do not reach the bottom)
Use a small spoon to fill the center with rainbow sprinkles
Move the buttercream frosting to a pastry bag fitted with a large round piping tip. Pipe dollops of frosting layered on top of each other to create the appearance of clouds
Top with additional rainbow sprinkles
Notes
Store cupcakes in an airtight container in the refrigerator for up to 5 days, bring to room temperature before serving
Club Crafted https://www.clubcrafted.com/
Thank you to JOANN for generously sponsoring this post. All opinions are my own. Please note this post contains affiliate links from which I may collect a small profit should you choose to make a purchase. I only link to products I personally use or recommend. Thanks for supporting the brands that keep Club Crafted sharing!