/
Pumpkin Bread with Whipped Honey Butter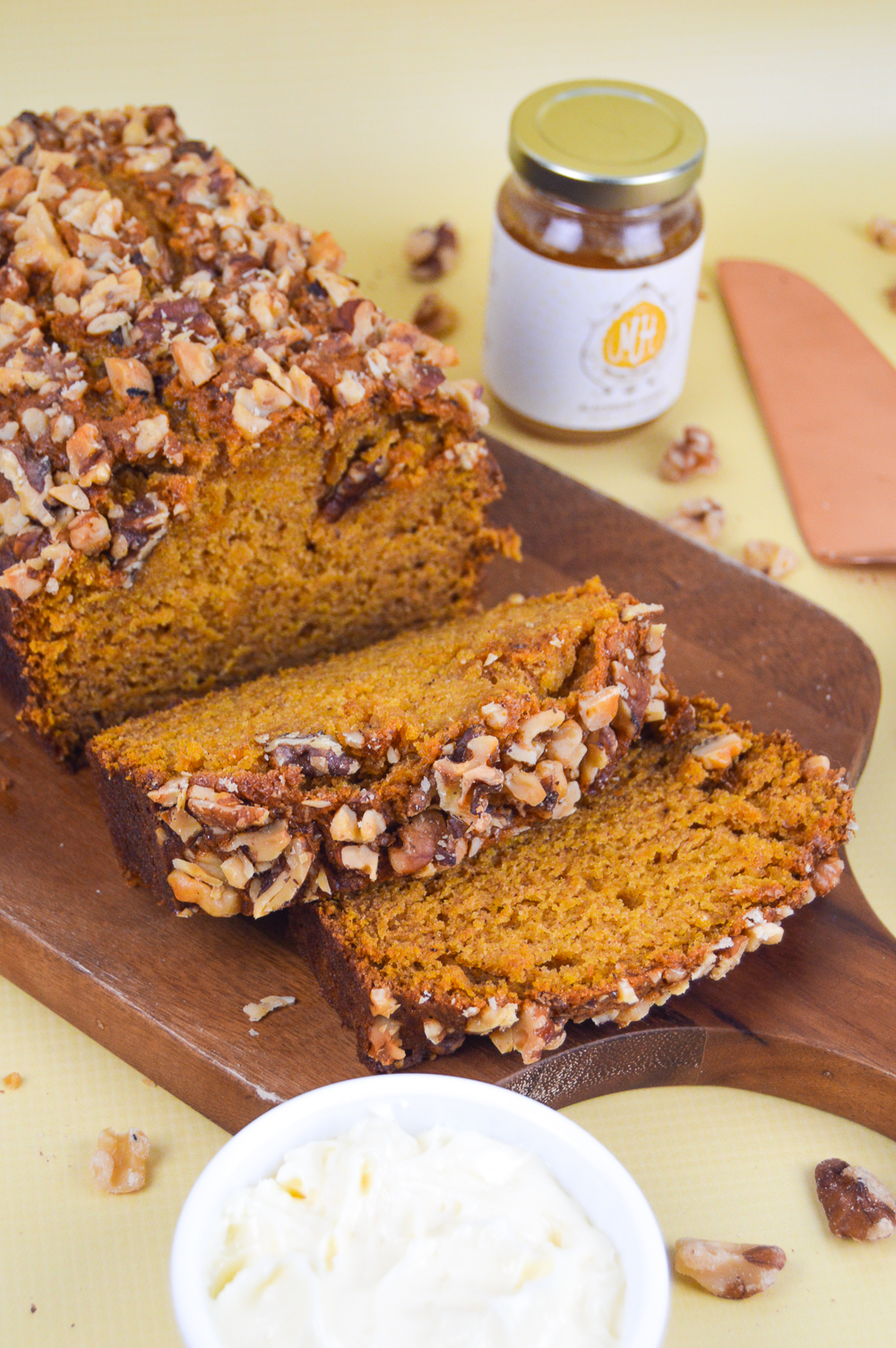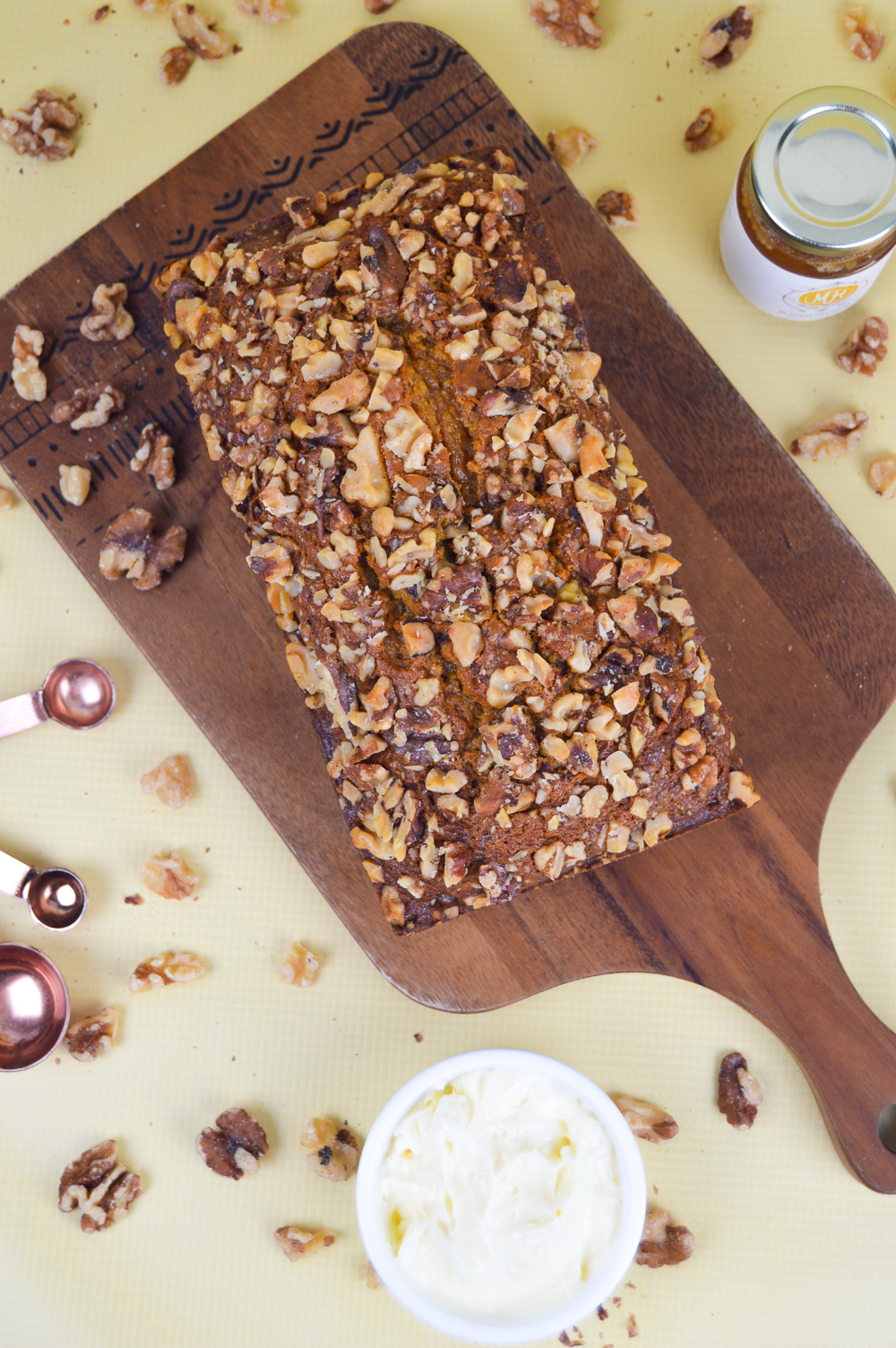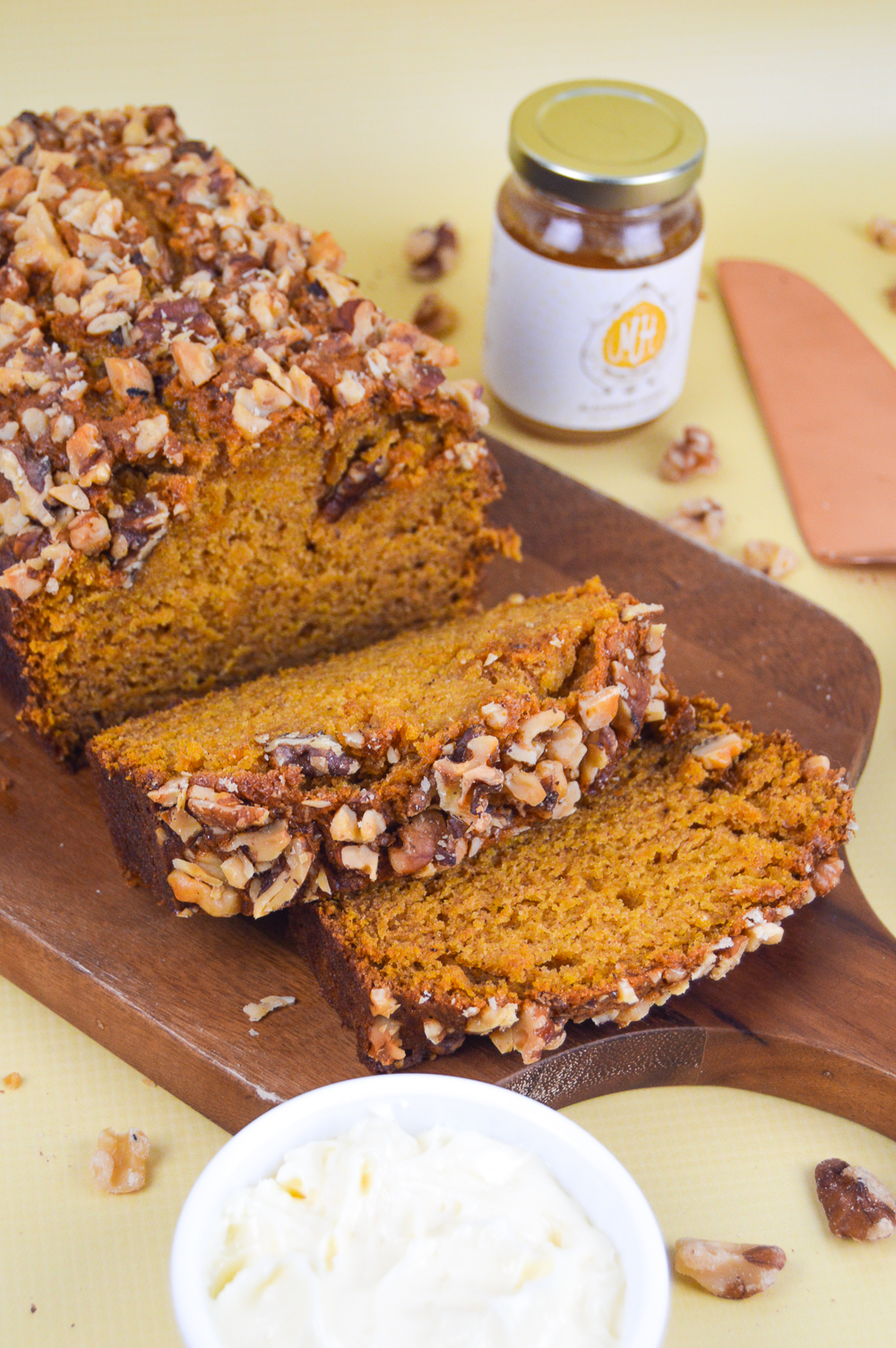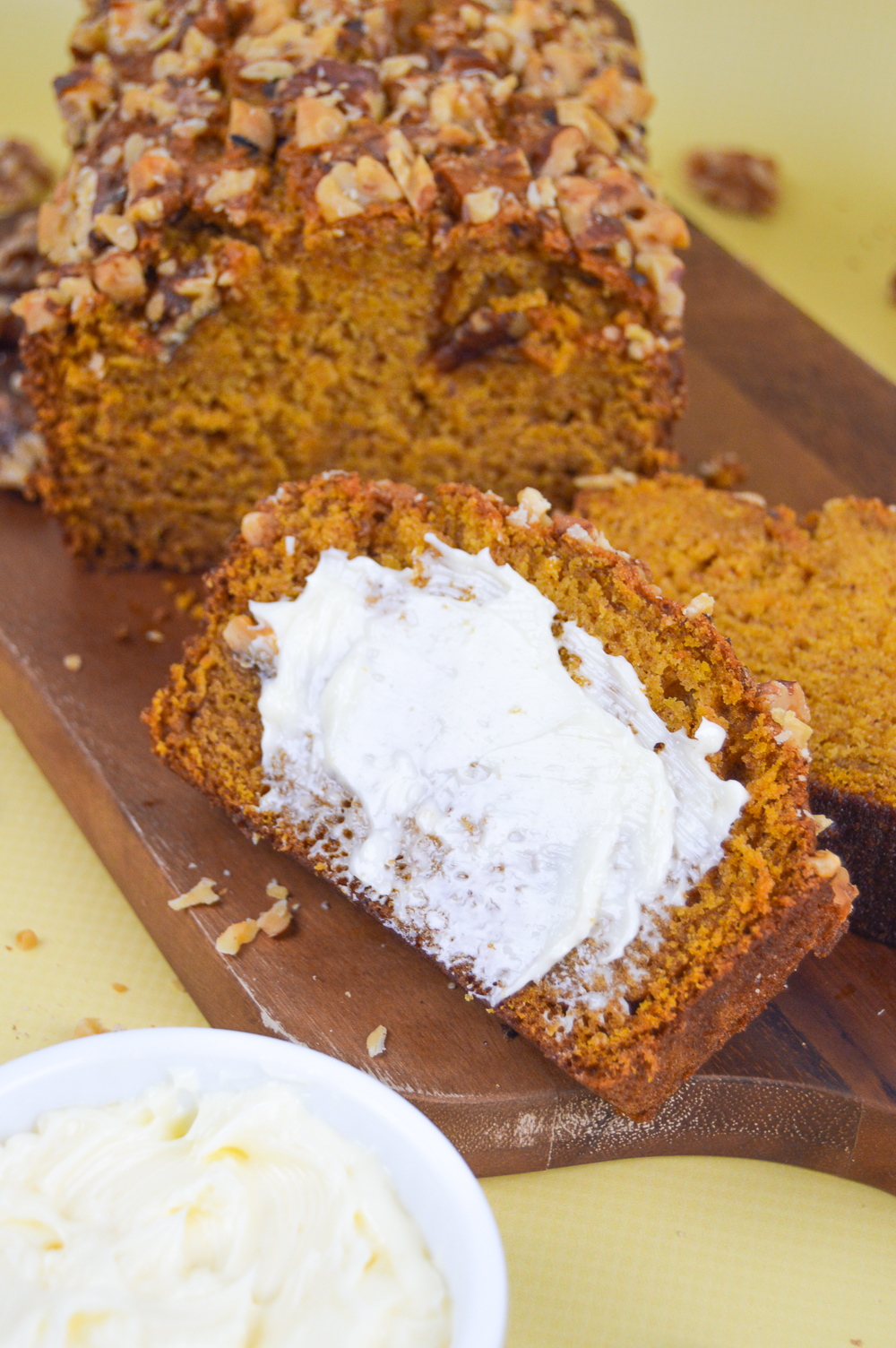 Back in July, Andrew and I decided to take a little vacation for ourselves (a rare occurrence), and we spent a long weekend in Cambria along the central coast of California. It's a beautiful little beach town that's quite the tourist destination. We stayed at an adorable little bed and breakfast called The J Patrick House that I absolutely recommend if you're considering making the trip. The owner was so lovely and made a delicious breakfast every morning. One morning, she served the most amazing pumpkin bread I have ever eaten with an apricot cream cheese spread and some other jams – I was floored. Seriously, I don't usually enjoy pumpkin very much but this bread was incredible.
I still dream about that pumpkin bread. Not even being dramatic, TBH.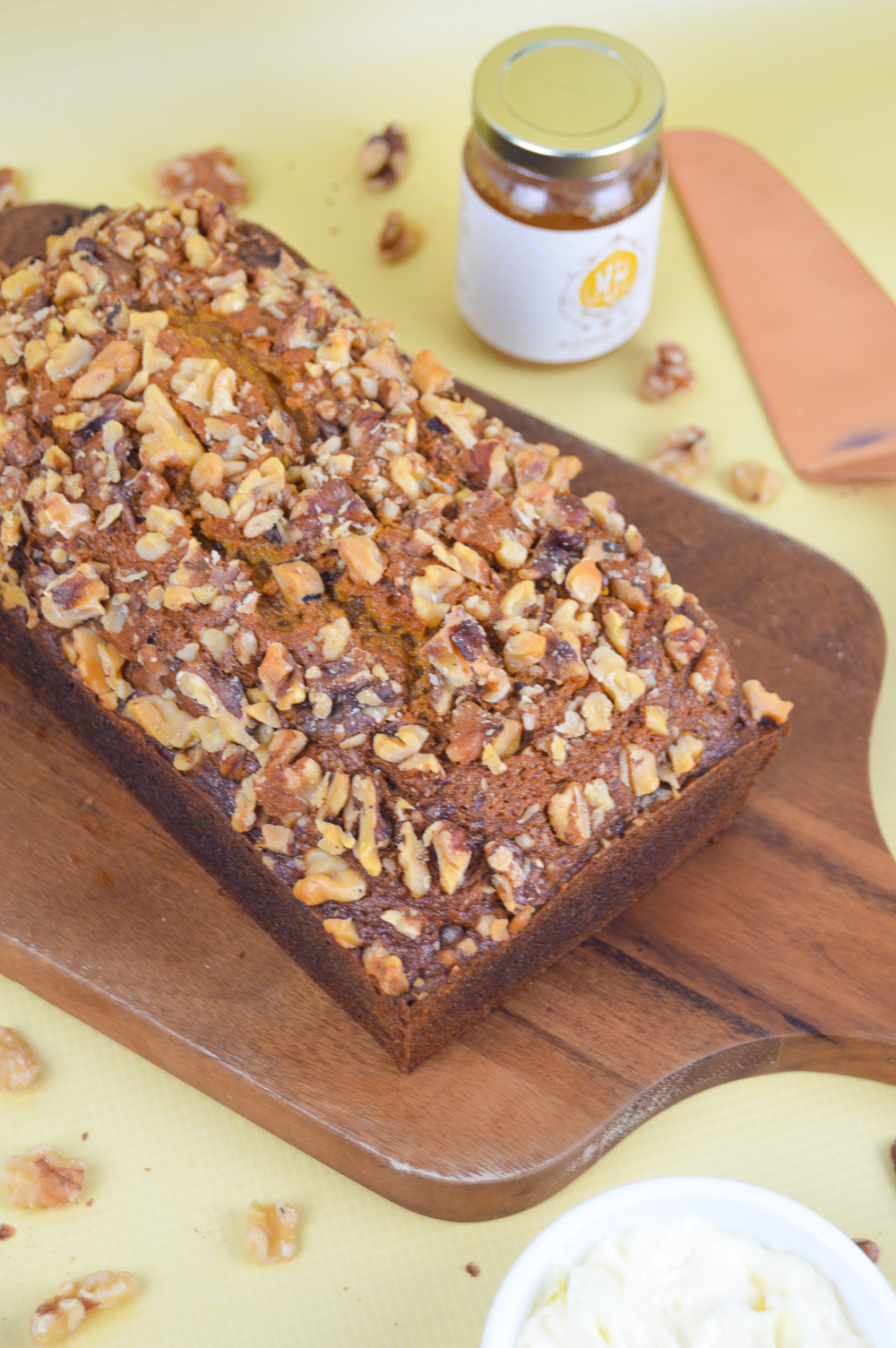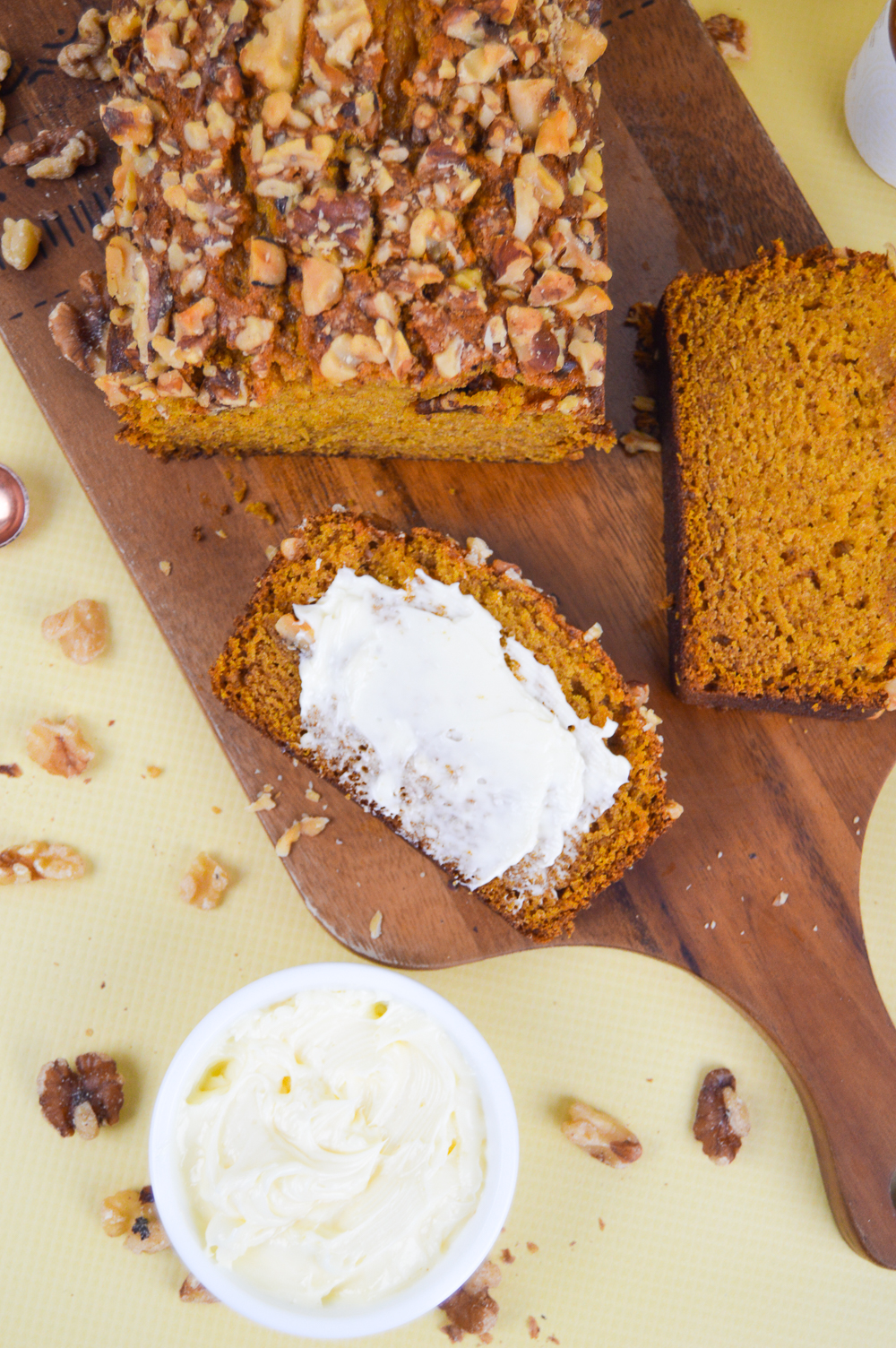 Now that it's fall I set out to attempt to make my own delicious pumpkin bread and struggled with creating a recipe that would live up to the one I ate in Cambria. After a couple only-OK batches, I made one that I absolutely LOVE, and although it doesn't have the same memory, it's almost as good as that first batch from Cambria. I also made some simple whipped honey butter to spread on top and quickly devoured the entire loaf before I had the chance to share with anyone.
#NOREGRETS
I'm excited to share this recipe with you guys, and I hope you enjoy it as much as I have!
Scroll down for the full recipe card. ??
1 3/4 cups all-purpose flour
1 tsp baking soda
½ tsp salt
½ tsp cinnamon
½ tsp nutmeg
¼ tsp ginger
Pinch ground cloves
2 eggs
1 ½ cups granulated sugar
1 cup pumpkin puree
½ cup vegetable oil
1/3 cup water
1/2 tsp vanilla
1/2 cup chopped walnuts (optional)
1/2 cup butter, room temperature
1 tbsp honey
Preheat the oven to 350 degrees and grease a loaf pan. Toss together the dry ingredients in one bowl and set aside.
In the bowl of your mixer, mix the pumpkin and sugar, followed by the eggs, vanilla, water and vegetable oil. Slowly add the dry ingredients until just combined. Pour the batter into the prepared pan and sprinkle the top with chopped walnuts if desired. Bake for 55-60 minutes until an inserted toothpick is mostly clean and no batter remains.
Let cool for about 15 minutes before removing from pan and cutting into slices.
To make the honey butter, whip the butter on high speed until smooth and fluffy. Add the honey and mix to combine. Spread the honey butter on slightly warm homemade pumpkin bread and prepare to be amazed!
Trust, me you won't want to share with anyone. Enjoy!
Pumpkin Bread with Whipped Honey Butter
2016-10-06 12:08:23
Serves 10
Soft, moist homemade pumpkin bread with nut topping, topped with sweet homemade whipped honey butter
For the pumpkin bread
1 3/4 cups all-purpose flour
1 tsp baking soda
½ tsp salt
½ tsp cinnamon
½ tsp nutmeg
¼ tsp ginger
Pinch ground cloves
2 eggs
1 ½ cups granulated sugar
1 cup pumpkin puree
½ cup vegetable oil
1/3 cup water
1/2 tsp vanilla
1 cup walnuts, chopped (optional)
For the honey butter
1/2 cup unsalted butter, room temperature
1 tbsp honey
For the pumpkin bread
Preheat the oven to 350 degrees
Spray a loaf pan with cooking spray and line with a piece of greased parchment (for easy removal)
In one bowl, whisk together the flour, baking soda, salt and spices
In the bowl of your mixer fitted with a paddle attachment, mix together the pumpkin and sugar
Add the eggs, vanilla, water and vegetable oil and mix until combined
Slowly add the dry ingredients in batches and mix until no white remains
Pour the batter into the prepared pan and sprinkle with chopped walnuts
Bake for 55-60 minutes until an inserted toothpick comes out with minimal crumbs and no batter
For the honey butter
Whip the butter on high speed until smooth and fluffy, about 2 minutes
Add honey and continue to whip until combined
Notes
Store in an airtight container for up to one week
Club Crafted https://www.clubcrafted.com/