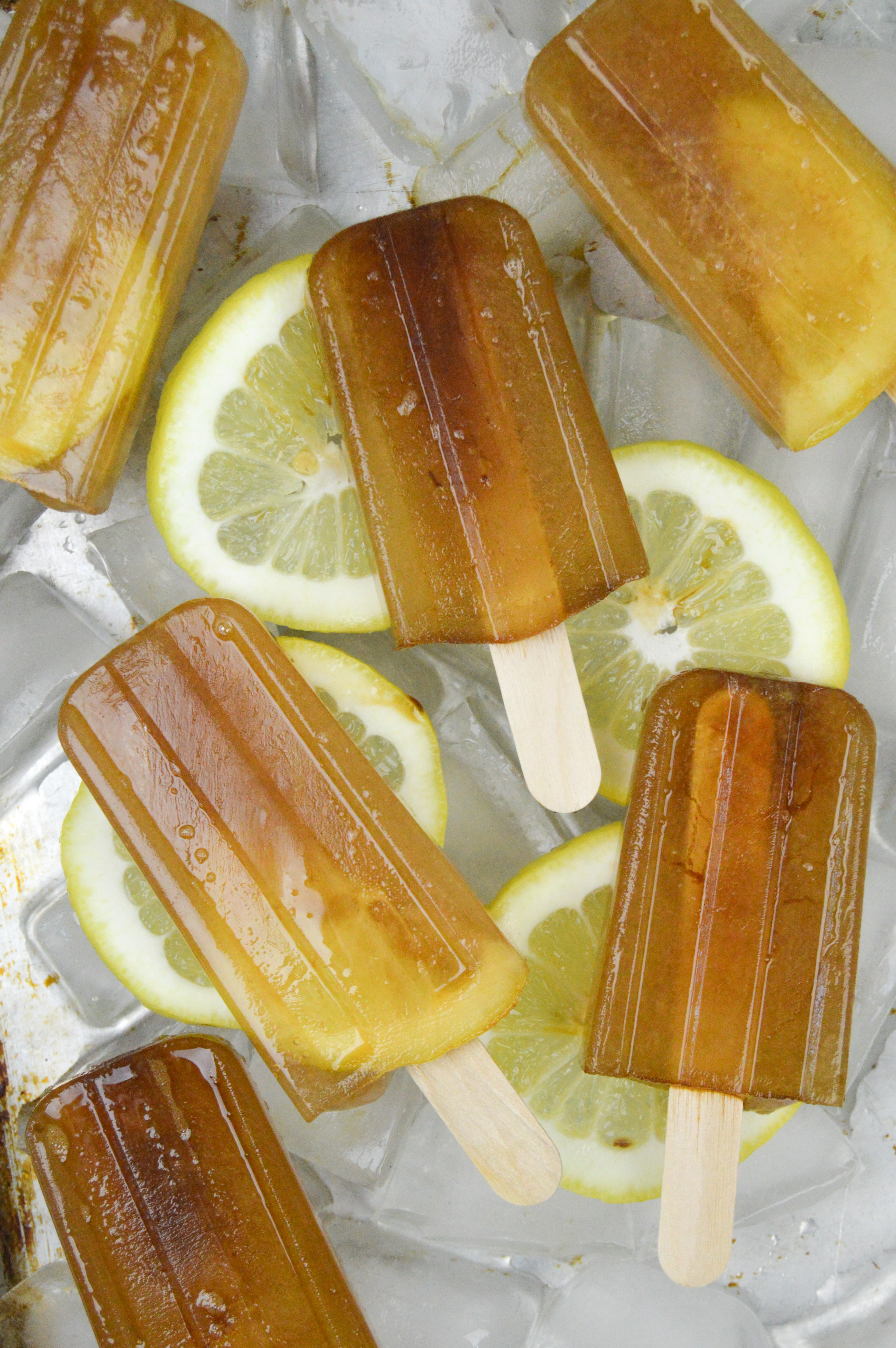 I'm in denial about this whole "summer is almost over" thing. It's not over. It can't be over. Summer needs to stay a little bit longer.
To keep pretending summer won't end, I've been whipping up frozen treat after frozen treat, resulting in my latest concoction – iced tea popsicles! Yup, they really are just like they sound, and they're delicious.
I've never actually been a big iced tea drinker because I mostly choose to drink water, but once I decided to make iced tea popsicles I wanted ALL the tea. I added slices of lemon to soak some flavor in, and made sure to brew strong, fairly sweet tea so the popsicles would have a strong flavor. My concern at first was that the tea would lose some flavor once frozen, so I'm thankful that I overcorrected with more sugar. The popsicles came out perfectly, and they're as easy as just making tea!
4 tea bags (I use Earl Grey)
1/2 cup granulated sugar
6-7 cups of boiling water
Lemon slices (optional)
Popsicle mold and sticks
In a large heat-safe pitcher, pour the sugar and secure the tea bags. I did this by tying the bags to the handle and they still reached long enough into the pitcher. Heat water in a kettle and pour into your pitcher. The amount of water you need is only approximate, so there's no need to measure. Fill the pitcher with water and let the tea steep, stirring with a long spoon so that sugar dissolves.
Move to the refrigerator to continue steeping and cool completely for several hours. You want the tea to be sweet and strong so that it holds its flavor once frozen.
If desired, cut the lemons into thin half slices and place them inside the popsicle molds. Carefully pour the cold tea over the popsicle molds and insert the popsicle sticks. Move to the freezer to solidify for several hours before removing from the mold.
These make me feel like summer isn't really over! Although they do have quite a bit of sugar, they are better for you than a standard popsicle and you can make them with any kind of tea and fruit to make wonderful flavor combinations. Next up, I can't want to make peach green tea popsicles! Sound good to anyone else?
Enjoy the summer while it lasts!
Iced Tea Popsicles
2016-08-22 11:23:31
Refreshing iced tea popsicles made with real iced tea and slices of lemon for a summer treat that's not overly sweet
Ingredients
4 tea bags (I use Earl Grey)
1 cup granulated sugar
Approximately 10 cups of boiling water
Lemon slices (optional)
Instructions
In a large heat-safe pitcher, pour the sugar and secure the tea bags
Heat water in a kettle and pour into the pitcher (amount of water needed is not exact)
Fill the pitcher with water and let the tea steep, stirring with a long spoon so that sugar dissolves
Move to the refrigerator to continue steeping and cool completely for several hours
If desired, cut the lemons into thin half slices and place them inside the popsicle molds. Carefully pour the cold tea over the molds and insert the popsicle sticks
Move to the freezer to solidify for several hours before removing from the mold
Notes
I recommend tying the tea bags to the pitcher handle to secure them
You can replace this with different types of tea and combinations of fruit
Club Crafted https://www.clubcrafted.com/