/
DIY Lollipop Cake Topper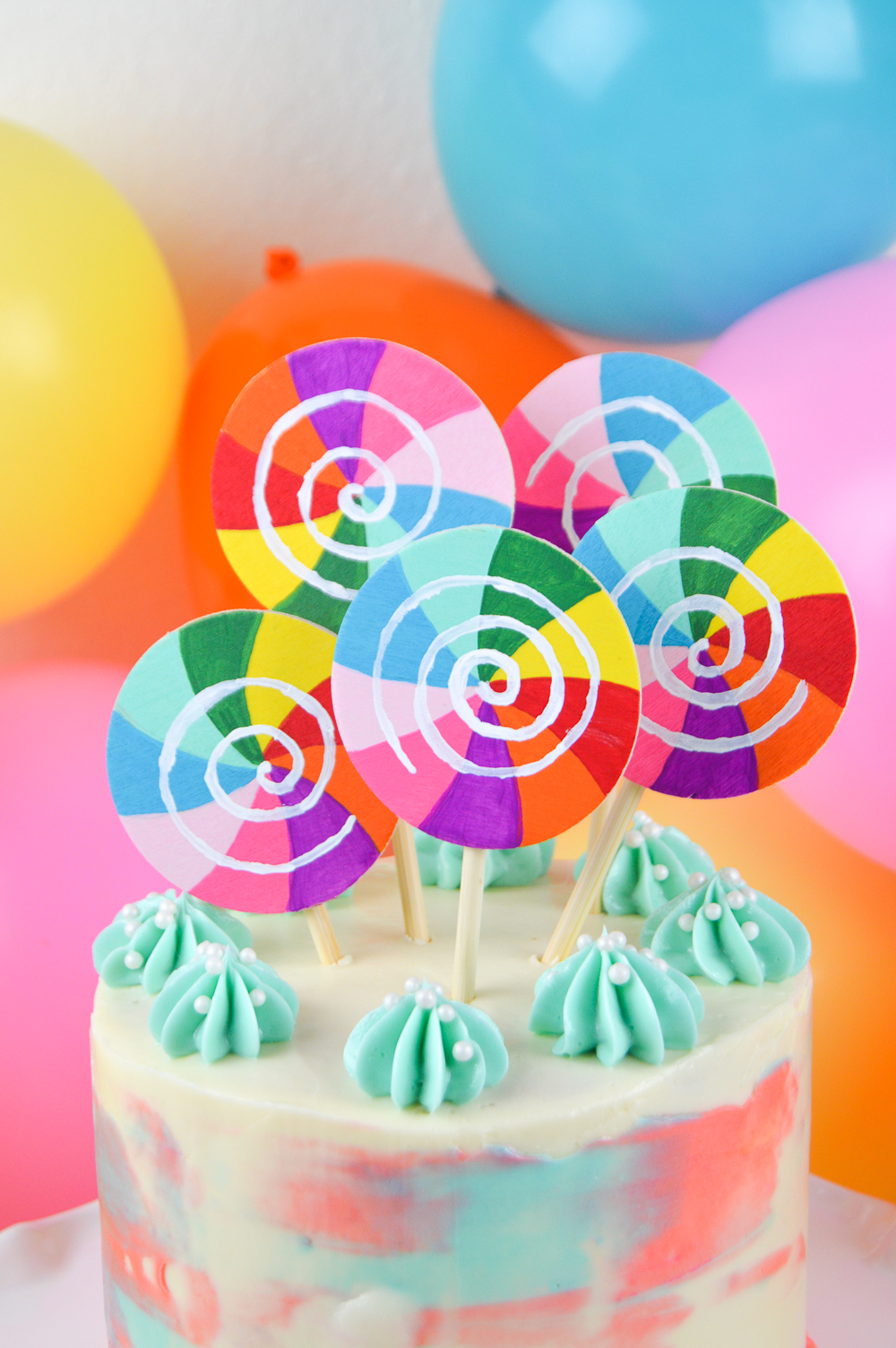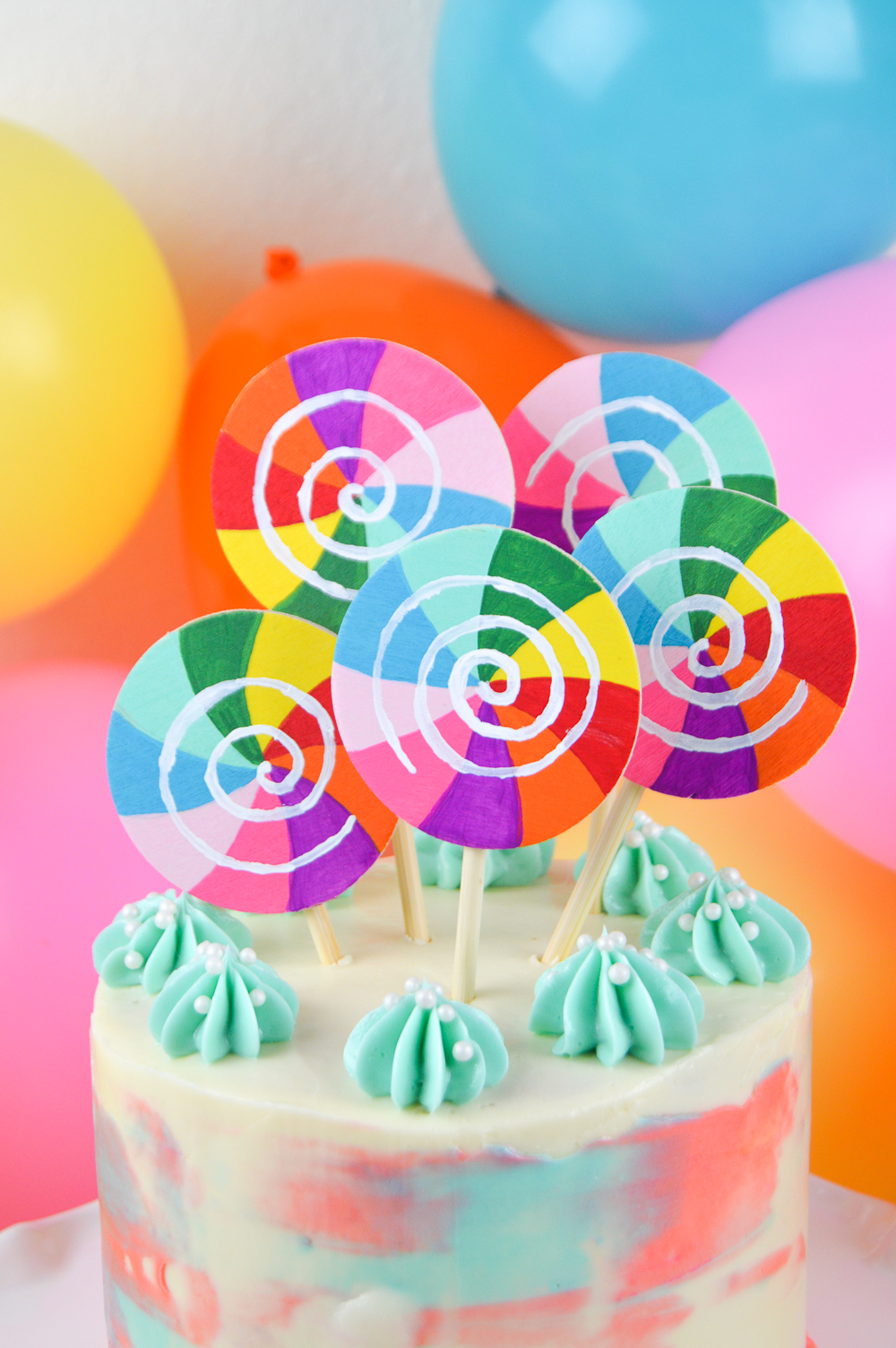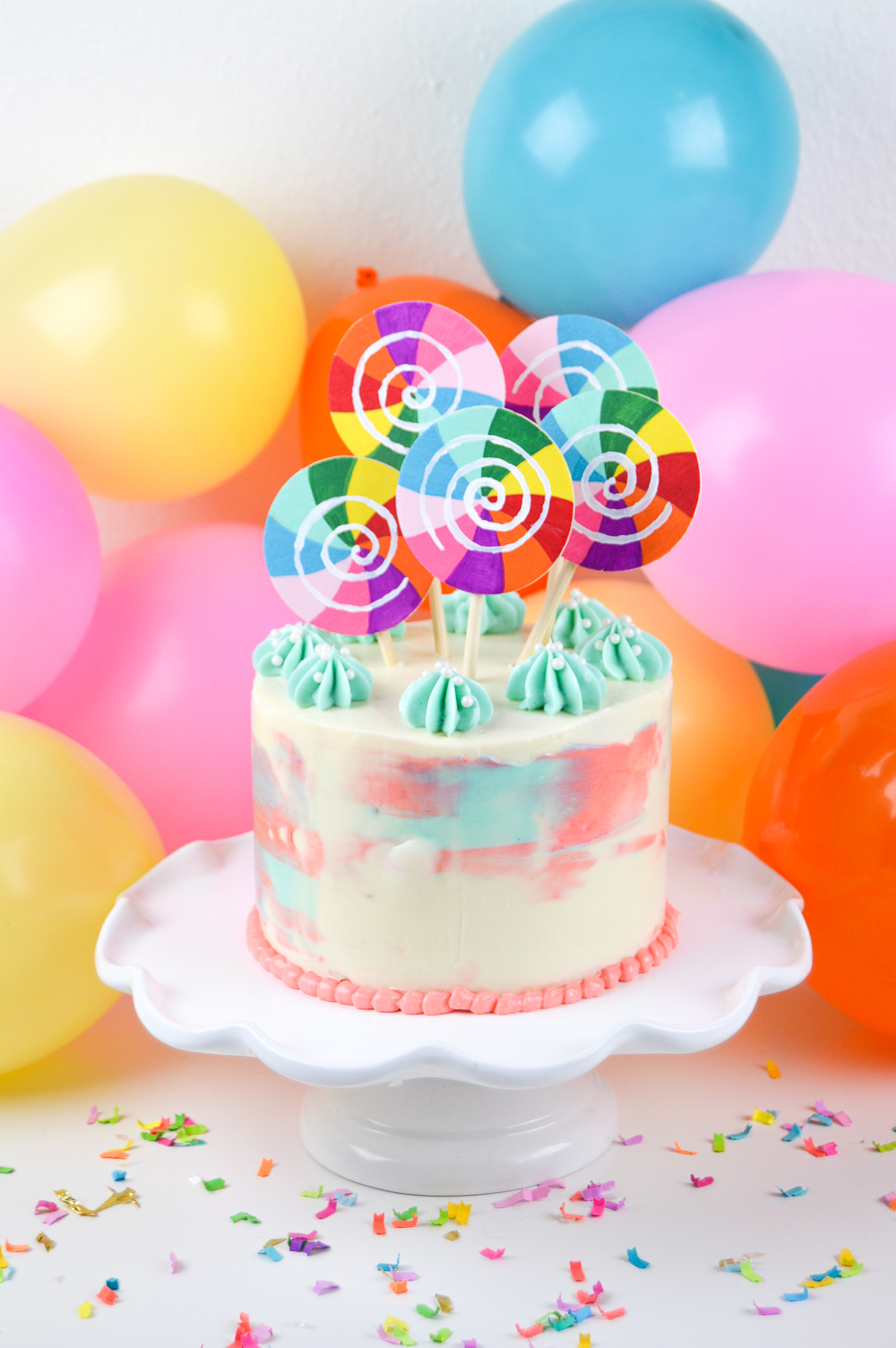 Now that the weather is cooler, my oven is on almost 24/7! I've been baking up a storm and taking time to practice making cake recipes from a few of my favorite books because I really want to get better at making layer cakes look presentable (and I've come a long way). It's a nice way to destress and be able to make something without feeling the pressure to make it for the blog and need it to come out perfectly. Practice makes perfect, you know?
I made a brown sugar cake from Tessa Huff's Layered Bakebook and it came out so perfectly! I paired it with a simple vanilla frosting and tried practicing the watercolor technique. When I was finished, I decided I wanted to make something fun and colorful for the top of the cake, which is how I decided to make a this colorful DIY lollipop cake topper with various sized wood lollipops!
This cake topper would be really fun for a birthday or other occasion and it adds a ton of color to even the plainest of cakes! I went with bright rainbow colors for these spiral lollipop toppers, but you can use any colors or patterns to give them a customized lollipop look. The classic rainbow spiral lollipop always reminds me of the giant ones I got at Disneyland when I was a kid. Here's how to make your own!
Supplies:
Round pieces of balsa wood (about 2 inches)
Wood dowels or sticks (cleaned)
Various bright colored paints
White paint
Thin paintbrushes
Glue gun and glue sticks
How to:
Remove stickers and use a pencil to outline a pinwheel design on each piece of balsa wood (I separated mine into 9 colors)
Use thin paintbrushes to fill in each section of the pinwheels and let it all dry, adding second coats as needed (this depends on your paint)
Once dry, use a thin brush and white paint a spiral in the middle of the circle and let dry
Heat up the glue gun and glue the wood dowels to the backside of each circle at different lengths – this helps you insert them into a cake at different heights
Once the glue is dry, remove any loose glue strings and and insert the dowels into the top of the cake at different heights and slight angles
Because it makes the cake taller, be aware that it may be more difficult to transport or store, and you might need to wait to insert the lollipop sticks until you're serving the cake.
Bring out the lollipop cake topper for a variety of occasions and simply remove the sticks and clean them to reuse for future cakes!