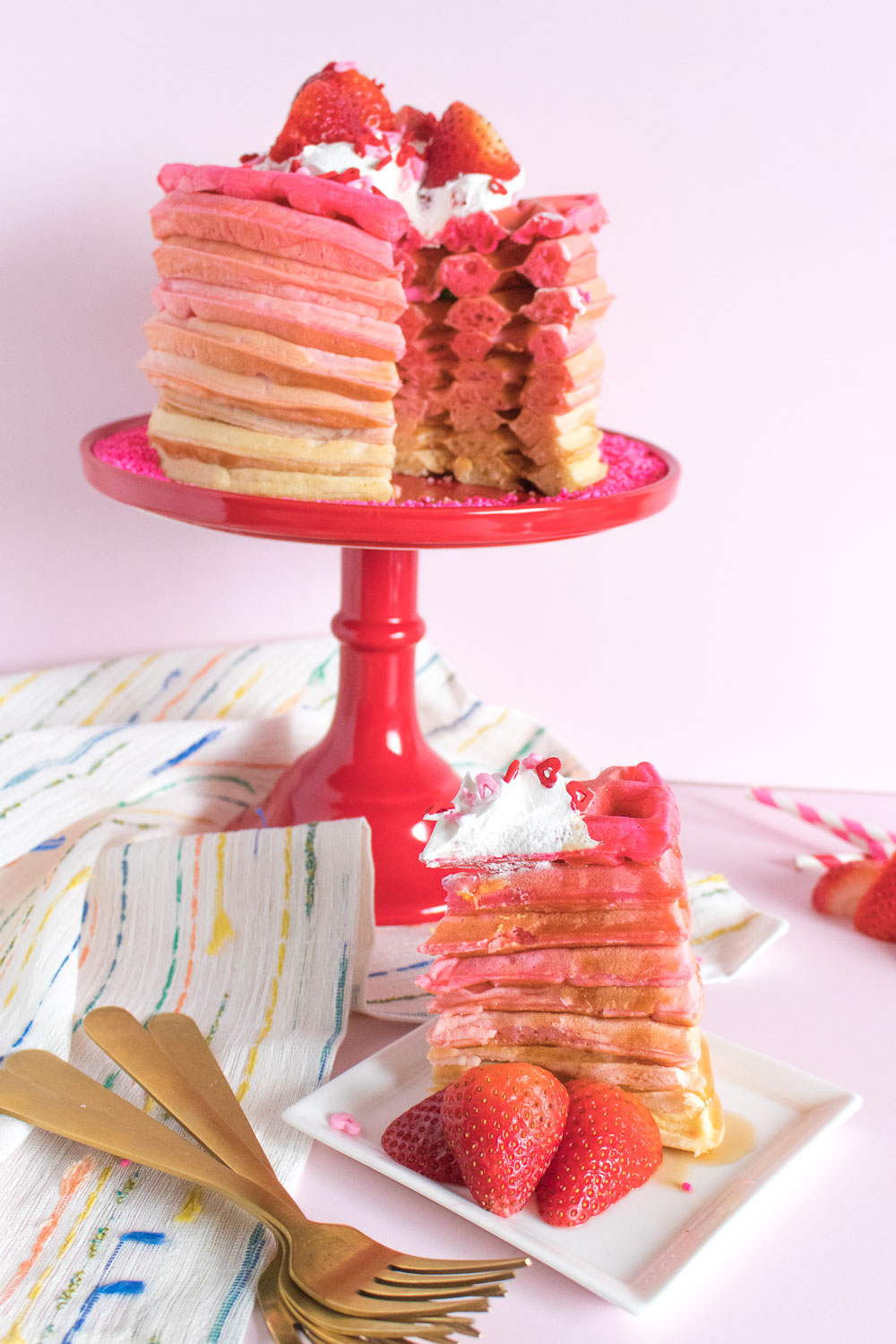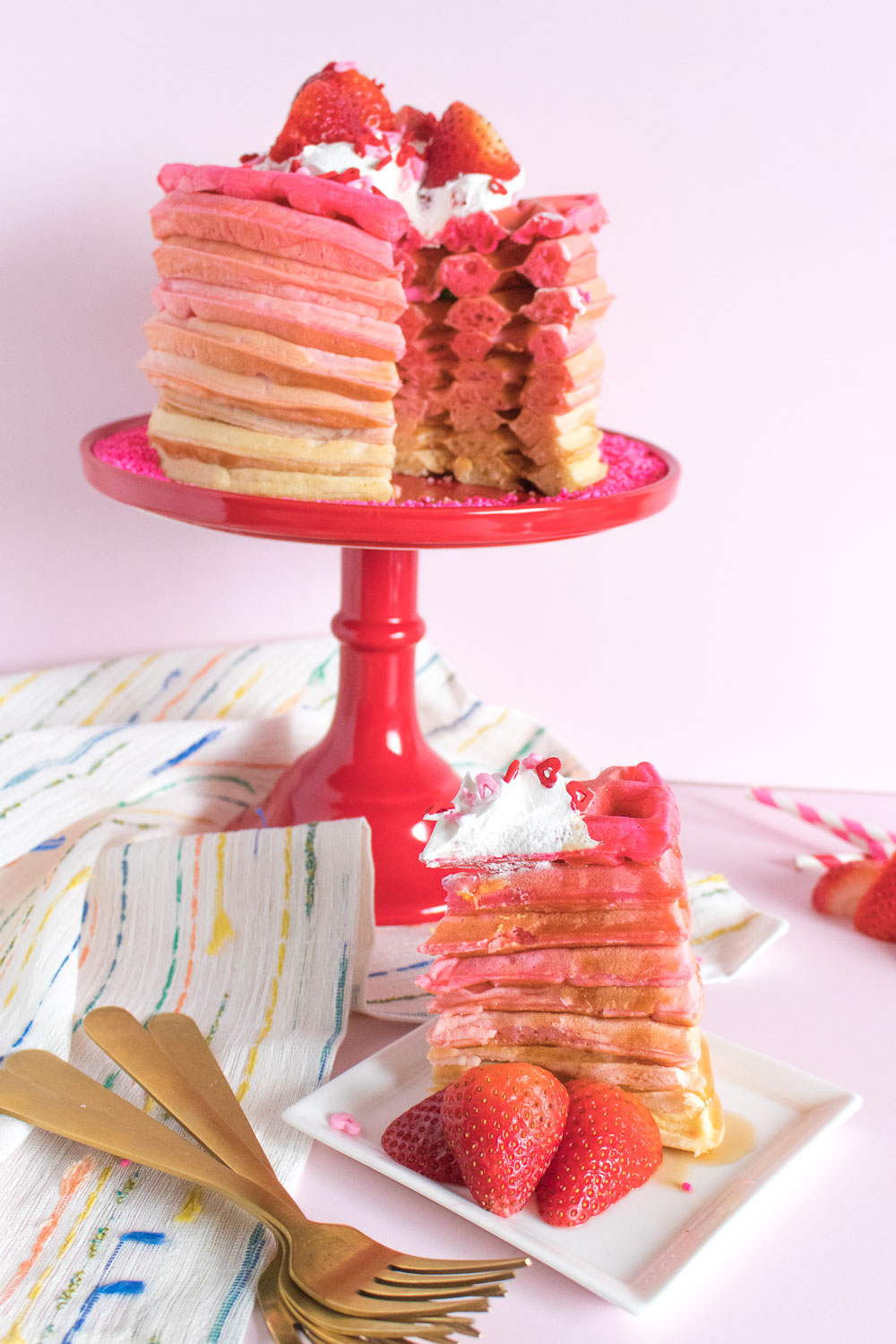 Without a doubt, breakfast is my favorite meal. I could eat breakfast food all day, and this pink ombre waffle cake is definitely at the top of the list for "things I'd like to eat every day." These simple, fluffy waffles are my go-to on weekend mornings, and I've made them so many times that I feel like I have the recipe down to a science. To take my classic waffles up a notch, I stacked the waffles in an ombre color pattern and topped them with a dollop of whipped cream, sliced strawberries and heart sprinkles. Valentine's Day is coming up, and this tower of pink waffles would be the perfect way to start the day!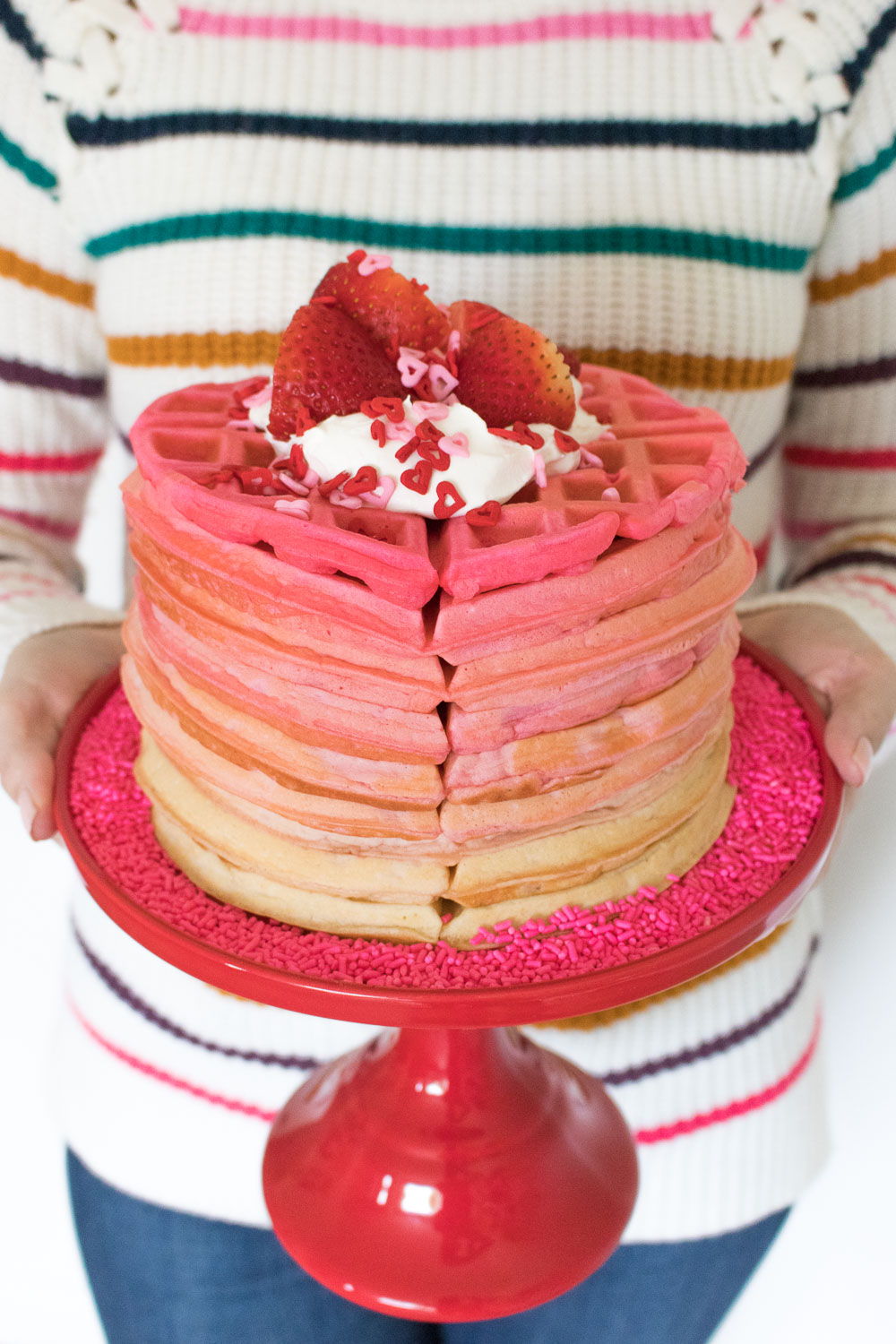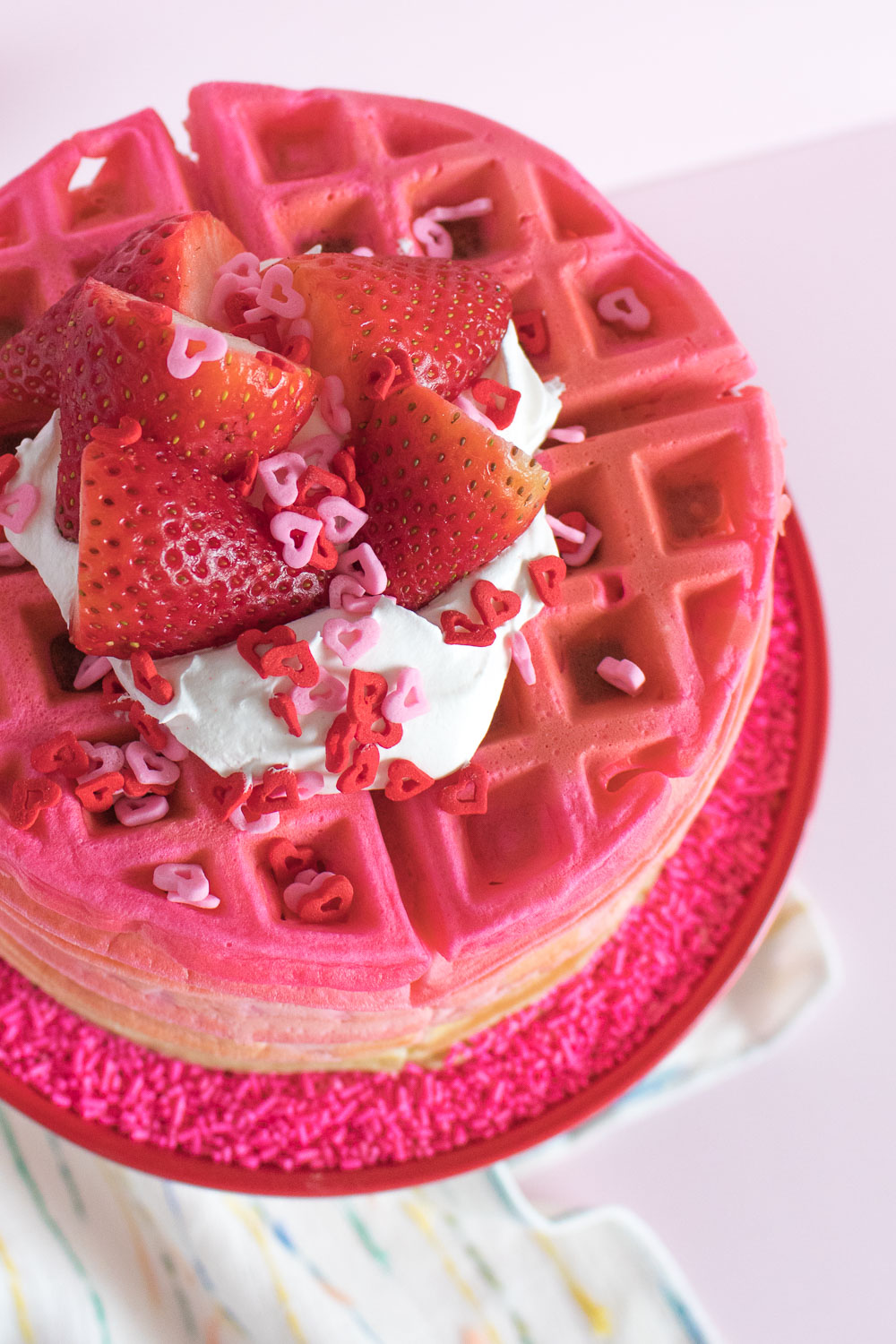 Like I said, this recipe is one of my favorites! Waffles and pancakes are my weekend treats to myself, so occasionally I make a batch of waffles for Andrew and I to split, and I'll switch up the recipe with different mix-ins, like chocolate chips, blueberries or strawberry chunks.
Scroll down for the full recipe card! ??
I call this a waffle cake, but I guess it's really just a stack of waffles. Because it's topped with whipped cream, berries and sprinkles, I think of it more as a CAKE but, you know, that naming is up to you. For an even sweeter, more cake-like appearance, you could also layer each waffle between layers of whipped cream. Mmm this would be delicious with chocolate syrup too!
No matter what toppings you use, these waffles are a slam dunk. Plain pink waffles with a little whipped cream, fruit and syrup is my ideal way to eat waffles for breakfast. Another bonus is that these waffles re-heat perfectly! I ate this stack the entire week by simply popping a waffle in the toaster oven every morning and wrapping up leftovers in foil. Healthy? Probably not. Worth it? Absolutely!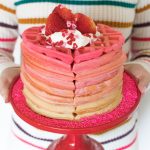 Pink Ombre Waffle Cake
2018-01-22 18:46:27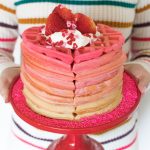 A stack of delicious, fluffy waffles dyed in an ombre pattern, topped with whipped cream and fruit
Ingredients
1 3/4 cup flour
4 tbsp corn starch
2 tbsp sugar
3 tsp baking powder
1/2 tsp salt
Pinch of nutmeg
Pinch of cinnamon
1 3/4 cup milk
1/2 cup vegetable or canola oil
2 eggs
2 tsp vanilla extract
Pink food coloring
Whipped cream, optional (topping)
Fruit, optional (topping)
Sprinkles, optional (topping)
Instructions
Preheat a waffle iron and lightly spray with a nonstick cooking spray
Whisk all dry ingredients together in a large bowl
In a separate bowl, whisk together the wet ingredients until smooth
Slowly pour the wet ingredients into the dry, whisking together until a thin batter forms
Add one very small drop of pink food coloring to the batter and mix to distribute
Use a ladle or a large spoon to pour batter into the waffle iron until just barely covering the iron and close until ready (although thin, this batter puffs up more than you think!)
Remove the first waffle to a plate. Add another small drop of food coloring to the batter and repeat, adding more dye to the batter for each waffle so that a clear ombre pattern forms in the stack
Stack all of the waffles in an ombre pattern and top with whipped cream, cut strawberries and sprinkles if desired. Serve with maple syrup.
Notes
I doubled the amount of this recipe for a larger stack of waffles. Amount may vary by waffle iron.
Wrap in foil and store leftovers in the fridge for up to 4 days. Reheat in a toaster/toaster oven.
Club Crafted https://www.clubcrafted.com/