/
Red, White + Blue Firework Cake for 4th of July!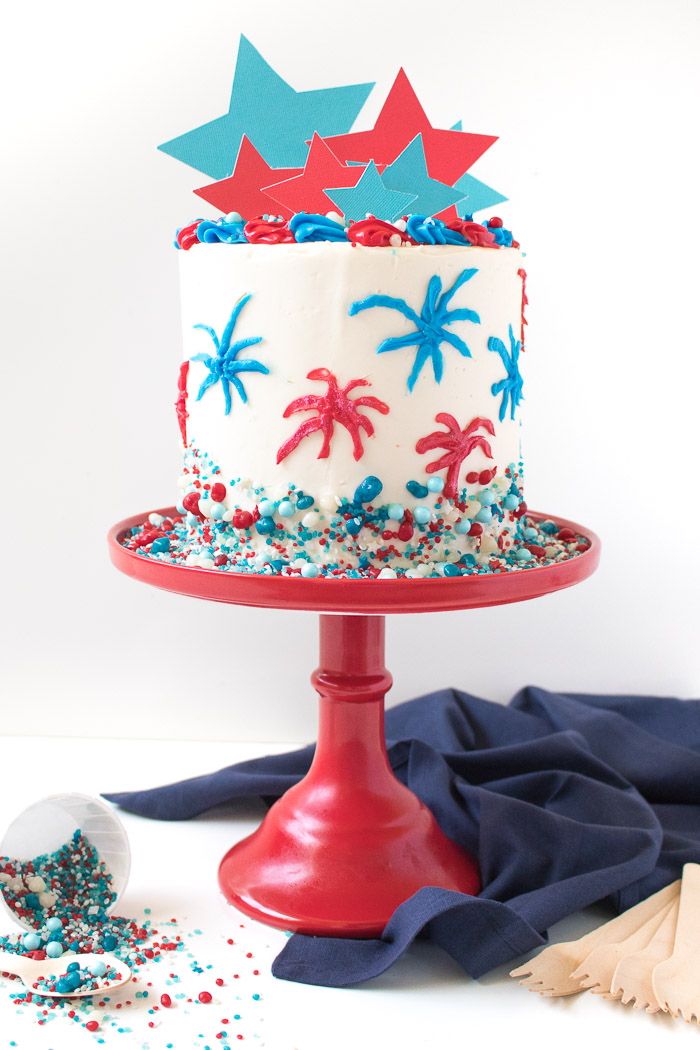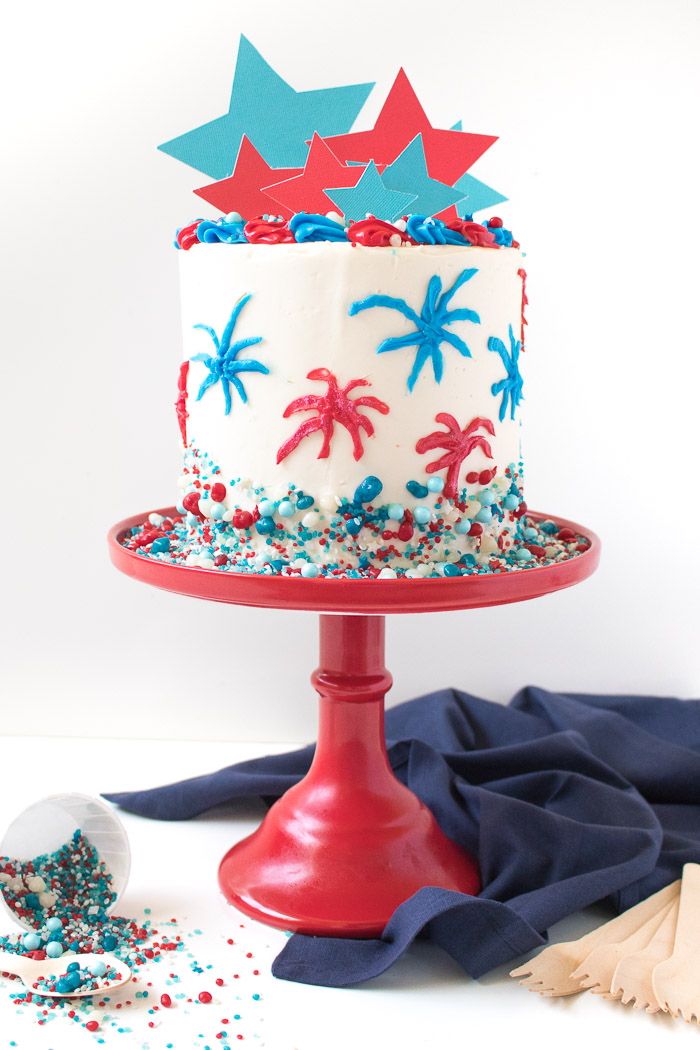 It's almost 4th of July! You know what that means? Fireworks!!
I'm sure I say it every year, but 4th of July is my favorite holiday besides Christmas. Fireworks are one of my favorite things ever, and I love summer barbecues, pool parties and all around good times that happen for the 4th. And since this is me we're talking about, what better way is there to celebrate than with a cake?! Better yet, it's a red, white and blue firework cake! I decided to go all out with buttercream fireworks, patriotic sprinkles, piping details and a paper star cake topper. We might as well go big to celebrate 'Merica!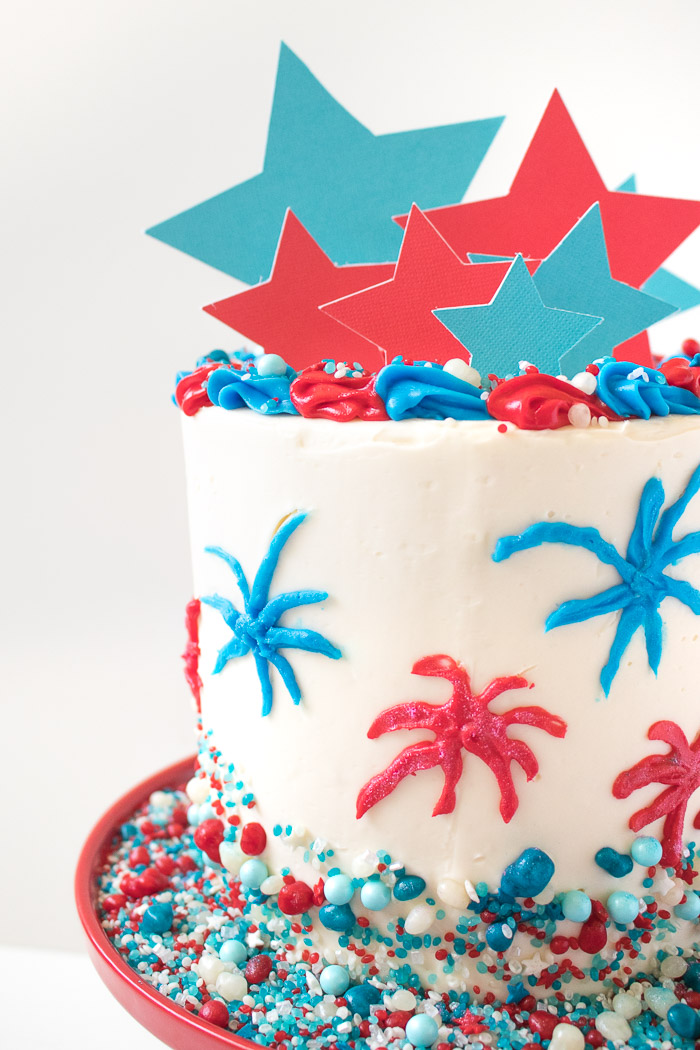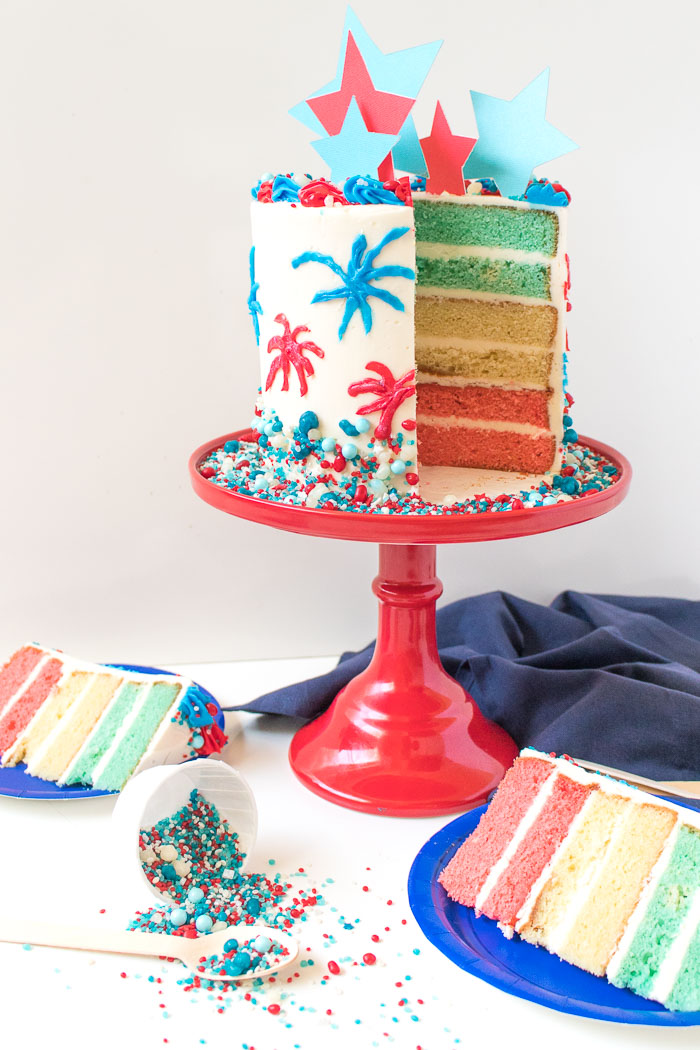 First, let me gush about how much I love this Candyfetti by Sweets Indeed! The company is local in LA and I swear Candyfetti even better than traditional sprinkles. The patriotic variety is just one of several of my favorite mixes. When I use sprinkles so much, it's nice to add variety sometimes!
I used the classic vanilla cake recipe I use for many of my cakes, like this 90s-inspired abstract print cake! It made three extra thick 6-inch layers for this cake. Dyeing each red, white or blue and baking, the cake allowed me to split all three layers in half, making six total. I LOVE extra tall cakes, so this was ideal for me. Plus, more layers means a better distribution of buttercream. It's all about proportions, people!
I'll admit I was ready to completely give up on those fireworks. Sometimes things don't go the way I plan…but I still thought the cake was worthy of showing you all. Shaky hands and piping are just not a good mix. I still think my fireworks look more like weird spiders.
How to Decorate a Firework Cake
Step 1: Separate vanilla cake batter into three separate bowls. Dye red and blue, and leave the other undyed vanilla.
Step 2: Move the prepared batter into three greased 6-inch cake pans. Bake according to cake recipe and remove when an inserted toothpick comes out clean.
Step 3: Let the cake layers cool. Level them and divide each layer in half, making six total.
Step 4: Layer the cakes in a red, white and blue pattern sandwiched with vanilla buttercream. Give the entire cake a crumb layer, chill, then frost and smooth out the icing.
Step 5: While frosting is room temperature, carefully press sprinkles around the bottom third of the cake. Refrigerate 30 minutes.
Step 6: Use pre-made red and blue icing packets fitted with a small round piping tip to pipe random firework patterns all over the sides of the cake in varying sizes. Switch to a star tip and pipe shells around the top crown of the cake. Finish with sprinkles.
Note, you can absolutely use homemade buttercream for these decorations, but I find that it's easier to use store-bought colored icing in this case because of the brightness of the red and blue, which is harder to achieve with food dyes at home.
Step 7 (optional): Use a food decorating brush to apply blue/red luster dust to the piped fireworks for extra flair.
Step 8: To make this simple star cake topper, cut varying sizes of stars out of red and blue cardstock. Stick the stars into the top of the cake with the smaller stars near the front.
This firework cake turned out to be a lot of fun, and I have to admit the stars on top of the cake are a favorite of mine. It's funny how the simplest parts can become your favorites, isn't it? How are you celebrating 4th of July?!
Maybe this firework cake will be the perfect dessert to celebrate with this year!