/
Paint the World Pink Party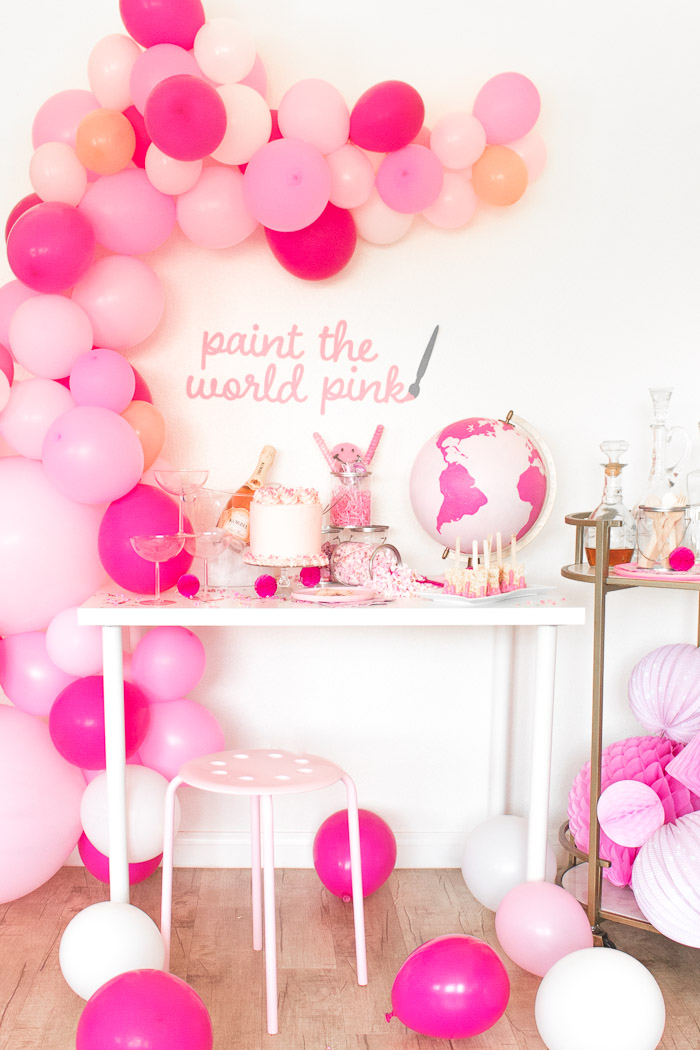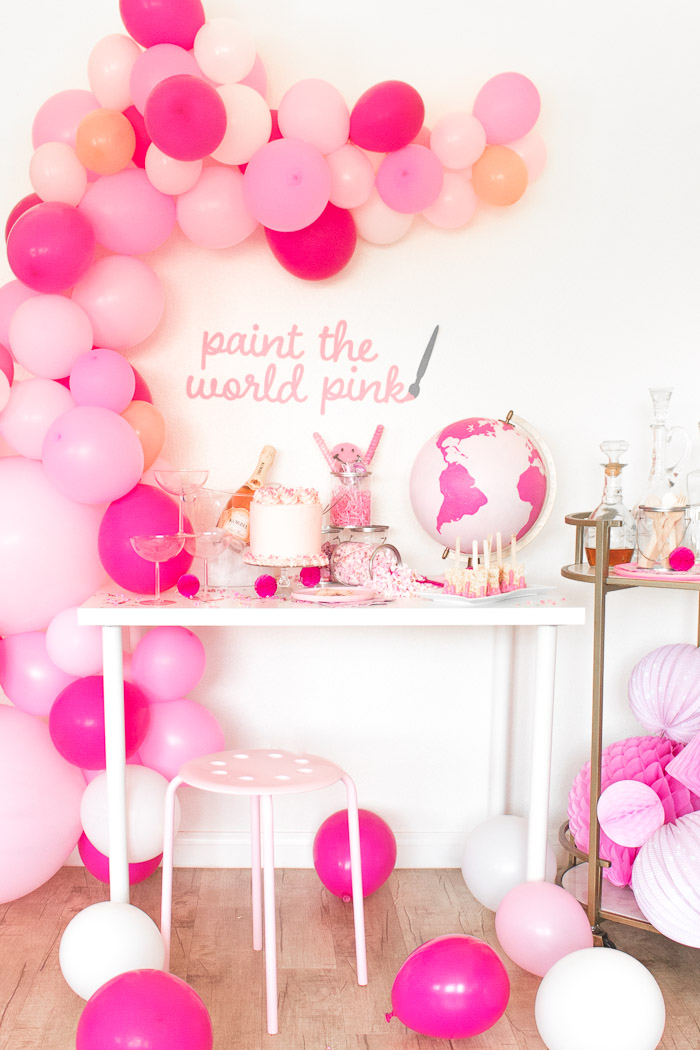 On Wednesdays, we wear pink.
And on Thursdays. And Fridays.
Basically, we wear pink everyday, but ESPECIALLY this weekend because Saturday is National Pink Day!!
To celebrate National Pink Day, I put together this Paint the World Pink party!! I've been dying to share more large-scale content with you guys, and this pink party was so much fun to put together. In fact, that balloon garland is still on my wall and I don't ever want it to come down. This paint themed party was filled with all things PINK, including an all-pink globe because we are "painting the world pink" after all. Keep reading for more shots and all the resources for putting together your own pink party!
If you're a longtime Club Crafted reader, it may surprise you to learn that I didn't always like the color pink. Several years ago, I probably wouldn't have had a single pink item of clothing in my closet, but now I'm the total opposite! I used to associate the color pink with being a "girly girl" and I felt that wasn't me, so I shunned the color altogether. Once I started blogging, I added it into my work more and more until I began to fully embrace it as the fun, bright color it is and ignored its traditionally "girly" reputation. So here I am celebrating the color pink instead!
There are a lot of quick how-tos for putting together this pink party, so start scrolling and be ready for lots of photos! Resources are at the bottom.
1. DIY Pink Balloon Garland
The main centerpiece of this pink party is, of course, the balloon garland! This all-pink balloon garland was a fun DIY I made using tips from Kara's post on A Beautiful Mess. Making a DIY balloon garland turned out to be much easier than I expected, and I used a variety of shades and sizes of pink balloons (as well as a few white) to create this whimsical garland to cascade up and over the table.
Since every party deserves champagne, I added a bottle of Korbel rosé champagne (c/o) to fit our pink theme! Paired with Sugar & Cloth pink coupe glasses, it was the perfect themed drink for our pink party.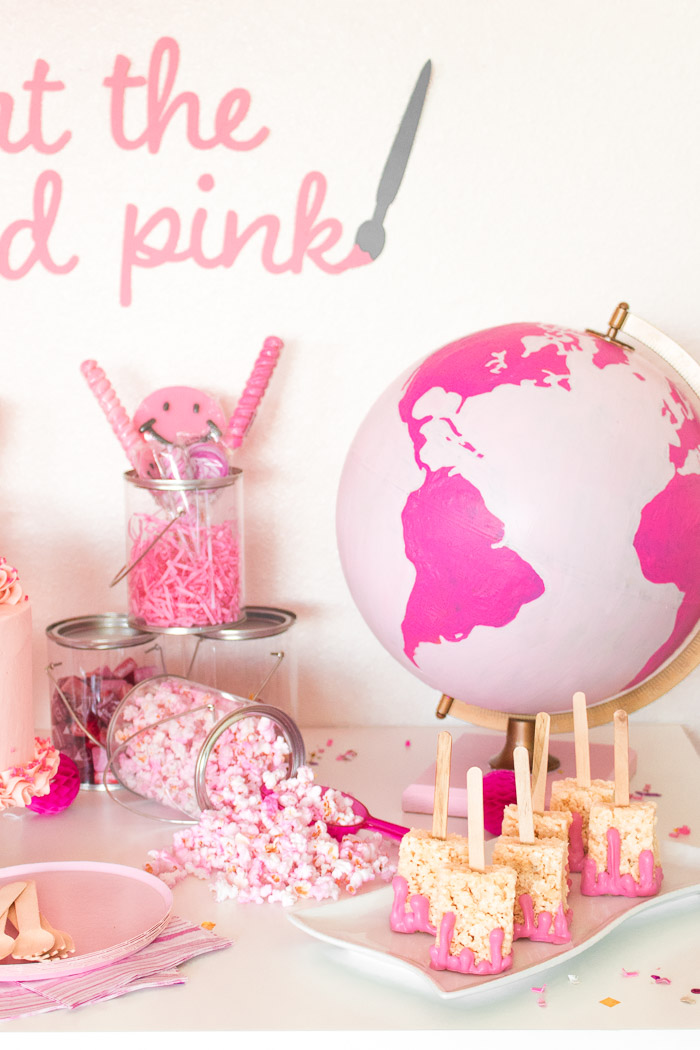 2. DIY Painted Globe
Now, I have to tell you how much I LOVED this pink globe. First of all, thank you to my intern Katherine for her excellent idea! When we decided to "paint the world pink," it only seemed to fitting to literally paint the world pink by making over a globe with light and dark pink paint. So I set out to find a globe (which is surprisingly difficult these days) and ended up picking one up through Craiglist and spent hours painting each continent bright pink. It was quite the overall, but I was really happy with what it added to this party setup.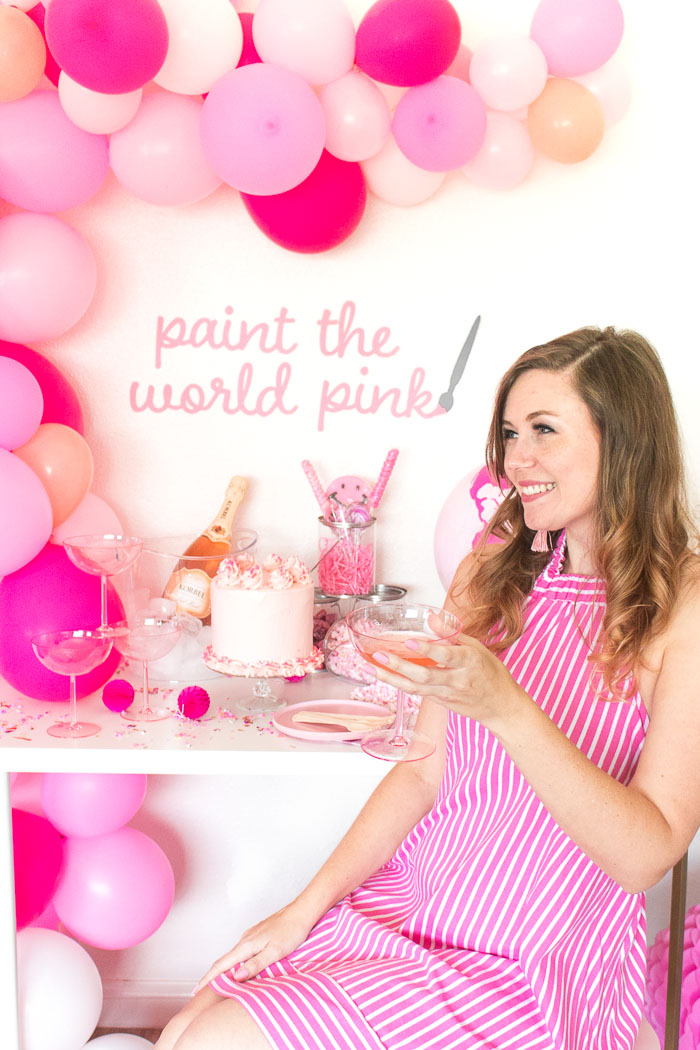 3. DIY Paper Wall Tagline
On the wall, you'll see I added the tagline of the theme, "paint the world pink." I made the design on my Cricut Explore Air and cut it out of pink cardstock, including a separate paint brush. Using double sided tape, I stuck all of the pieces to the wall above the table, positioning the brush so that it looks like it's painting the words.
4. Pink Ombre Cake, Paintbrush Rice Krispies Treats + Pink Popcorn
I couldn't possibly put together a party without cake! This simple pink ombre cake is easy to make with this set of five 6-inch cake pans. Decorated with pale pink icing and pink sprinkles, it blended in nicely. I use my simple vanilla cake with vanilla frosting. Did I mention cake and champagne is the best combo?!
Much like the rainbow popcorn I shared a while back, I gave homemade popcorn a makeover with pink edible food spray. Then I packaged it and lots of pink candies in clear plastic paint buckets to fit the theme. Side note: I learned that Starbursts sells packages of only the pink/red flavors and now this is all I'm ever going to buy.
Lastly, I made paintbrush rice krispies treats (the same recipe as my cake slice rice krispies treats) and cut them into rectangles. Then I inserted popsicle sticks into the top to get the shape of a paintbrush. I melted pink candy melts, moved them to a pastry bag with the tip cut off and piped this dripped look on the bottom of the rice krispies treats to make them look like used paintbrushes.
OK, are you still with me? It was a fun day, guys.
I really poured some love and time into this one, but that balloon garland is the piece I'm most proud of. Now I'm off to eat alllllll the leftovers, ha! Have a happy National Pink Day this weekend!
Sources: pink halter dress / red shoes / pink plastic coupe cups / pink balloons / clear ice bucket / stool / light pink plates / bright pink plates / wood cutlery / confetti / clear plastic paint buckets / mini honeycombs / diamond honeycomb / bar cart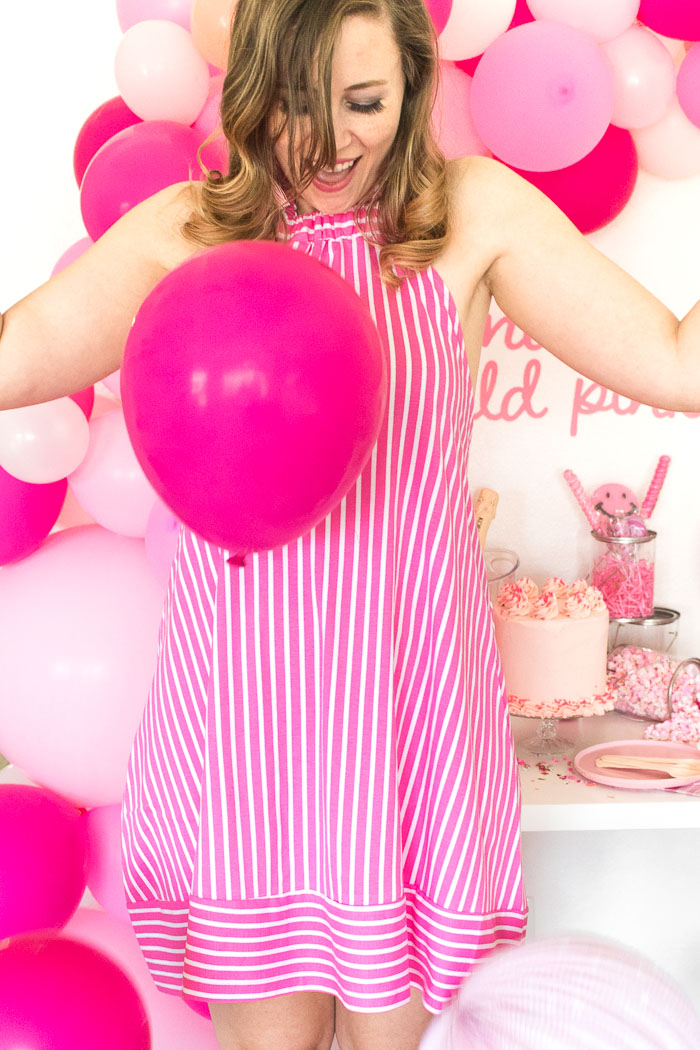 Photography, styling and DIYs by Holly Wade / Assisted by Katherine Shinno
Please note this post may contain some affiliate links from which I may collect a small profit should you choose to make a purchase. I only link to products I personally use or recommend.