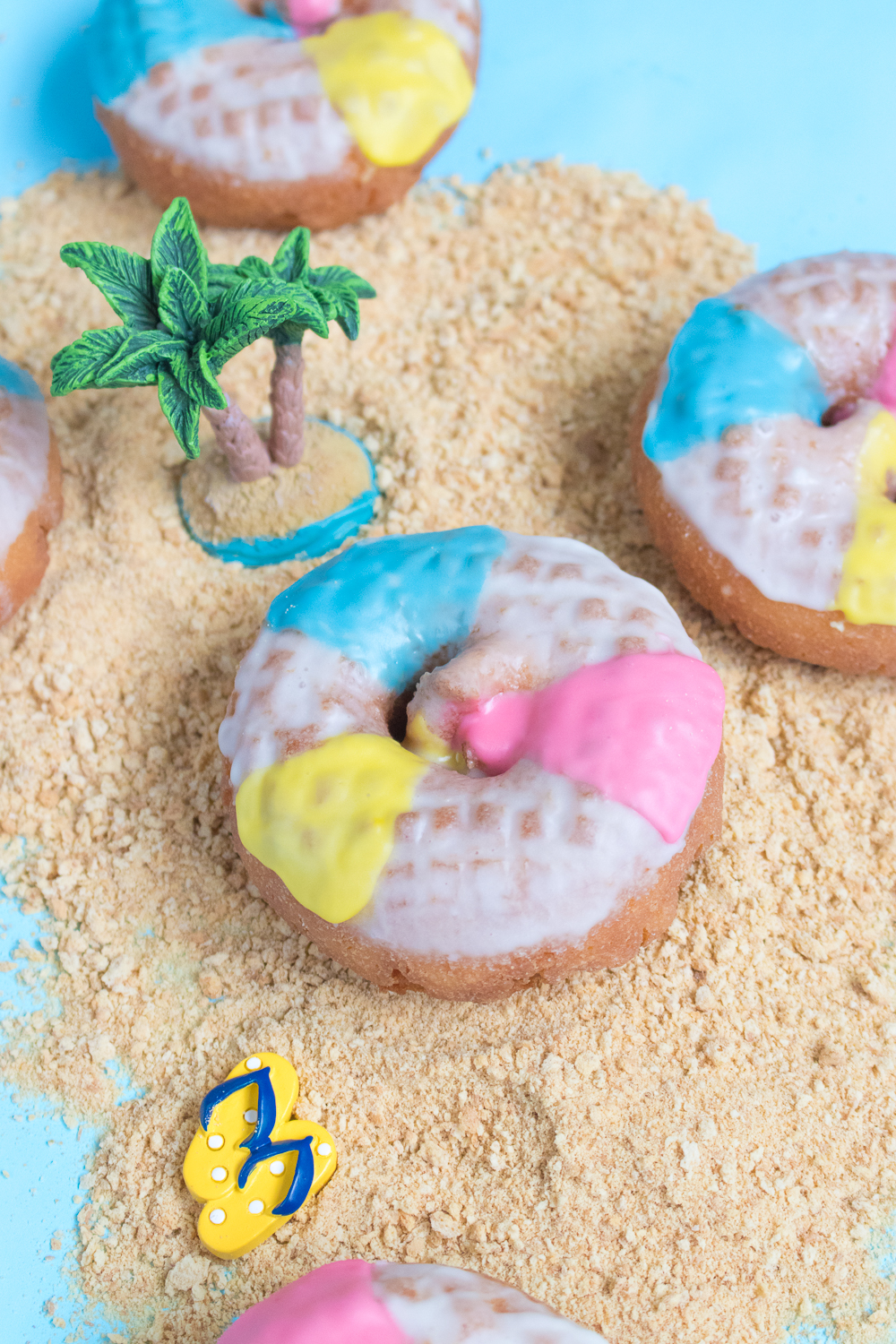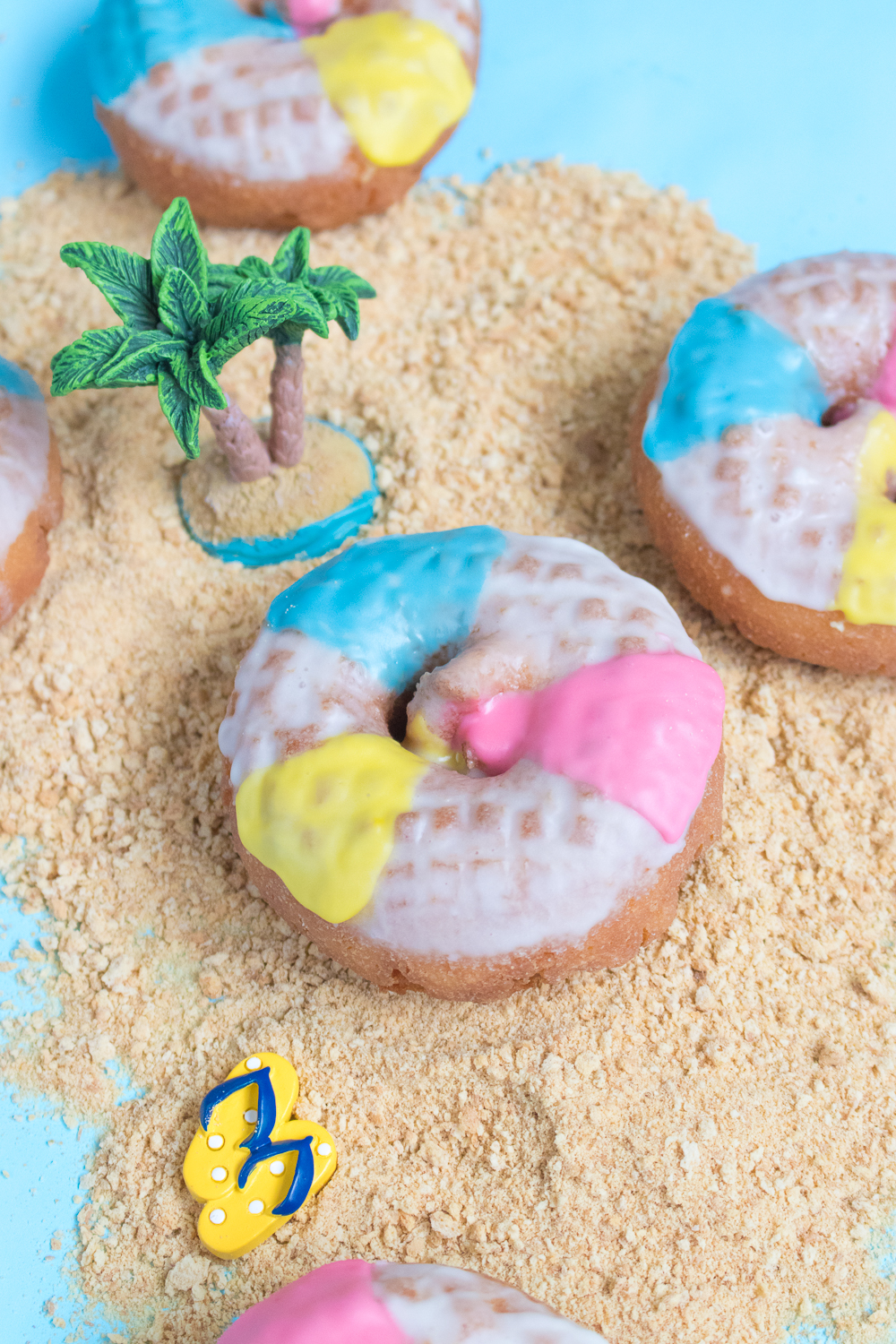 It's really starting to feel like summer around here, which I LOVE, but it means I will soon be turning off my oven for the season. Having a side hustle that depends on me being able to whip up fun treats means I have to get extra creative when the weather gets too hot for my oven, otherwise you'll just see lots of ice cream and popsicles all summer-long. Instead, how about if we decorate delicious donut shop donuts? Semi-homemade is the new homemade, right?! These beach ball donuts are fun to make for summer, and if you'd rather make them from scratch, simply check out my classic baked buttermilk donut recipe here.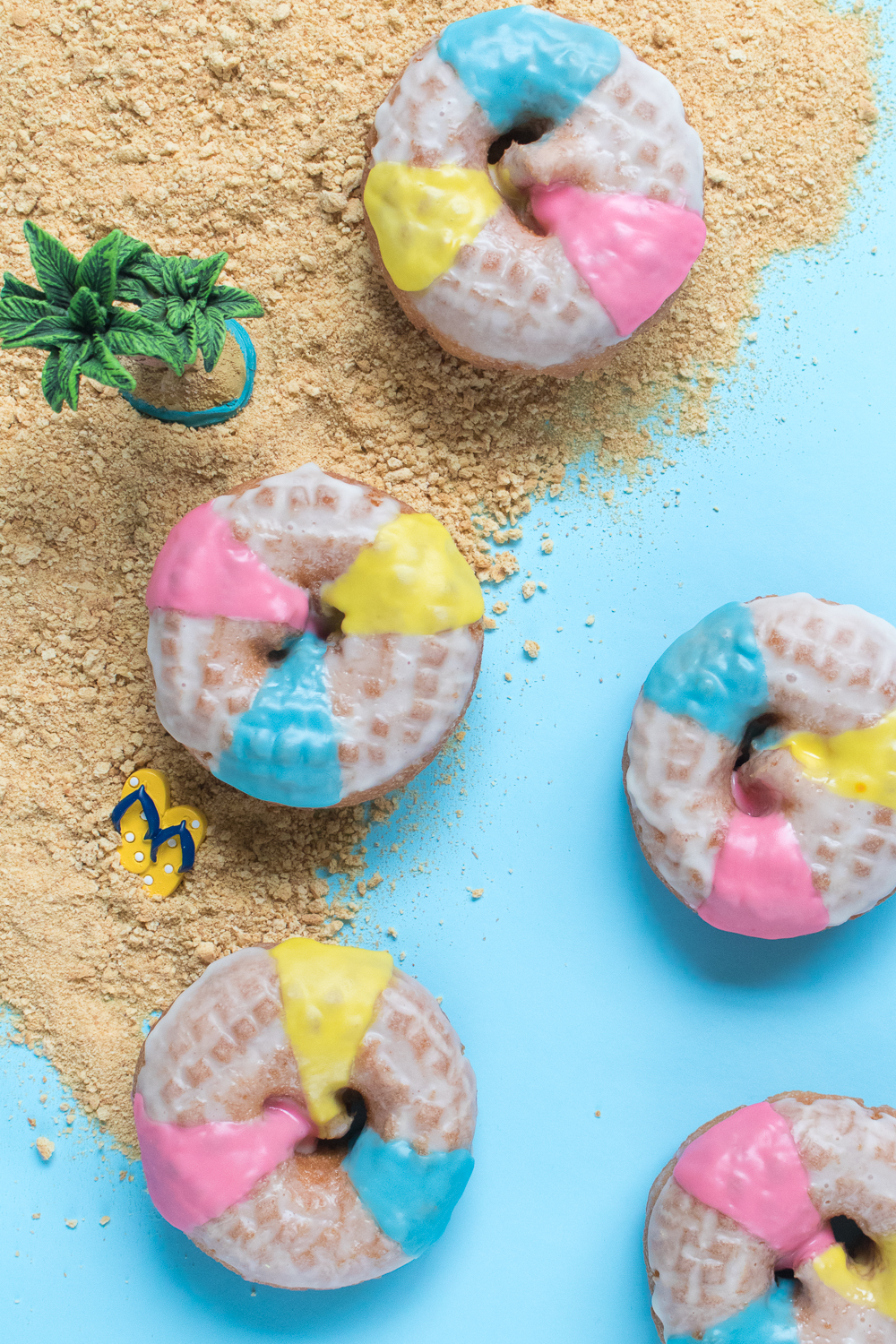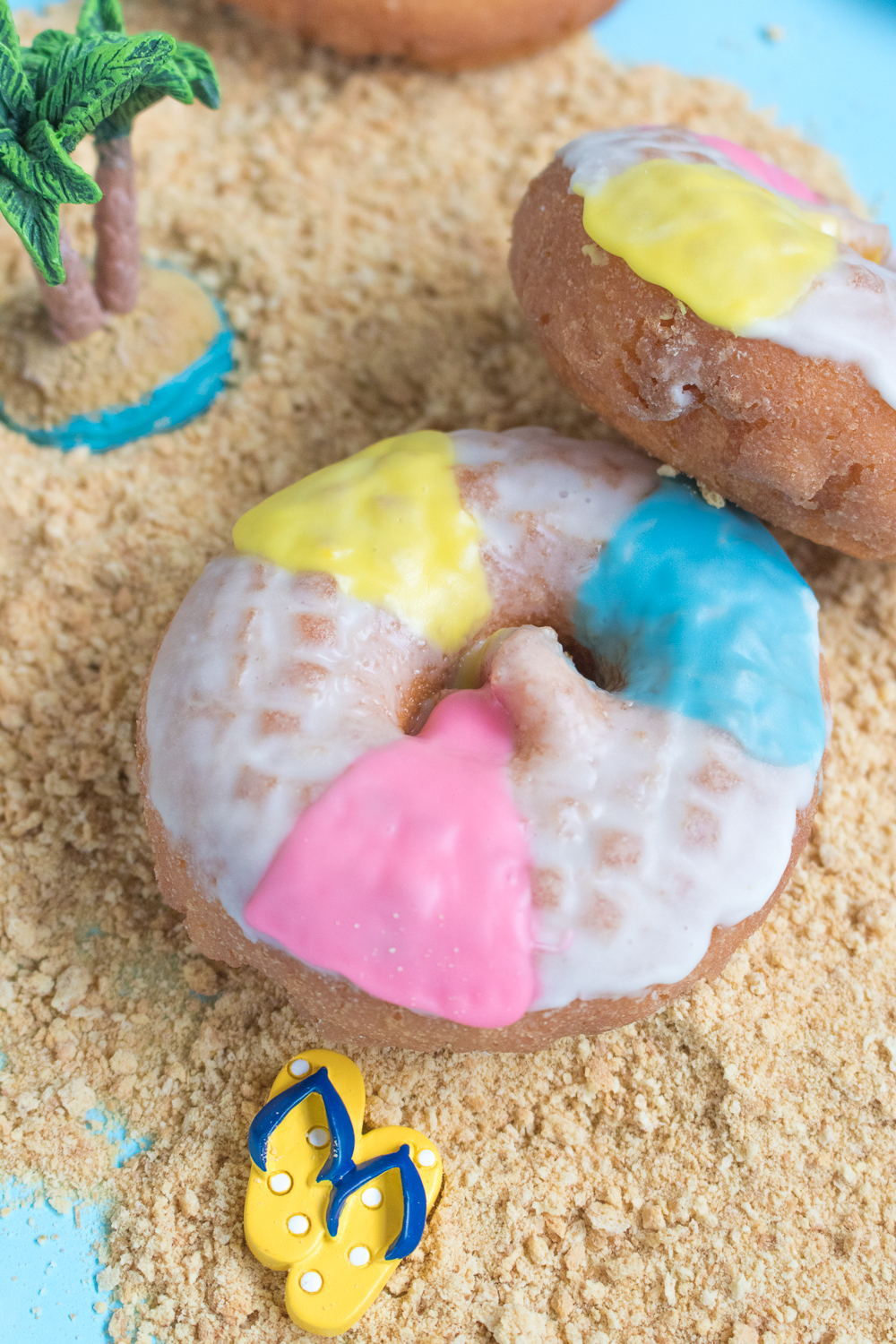 Sadly, it's just too warm to turn my oven on right now, but luckily a shop down the street always carries really yummy plain donuts! I just glaze and decorate them myself whenever I want to try something new, and this beach ball donut DIY is perfect. Make them for a pool party or just because (I'm a firm believer in eating donuts just because).
I used a classic vanilla glaze to make these beach ball-inspired donuts and tinted some of it red, blue and yellow to pipe stripes of color like a traditional beach ball. You can also use other colors!
Scroll down for the recipe card to make this vanilla glaze! ??
Classic vanilla cake donuts
2 cups powdered sugar
3-4 tbsp milk
1 tsp vanilla
Whisk
Food coloring
Pastry bags
Small round piping tip
How to Make Beach Ball Donuts:
Step 1: If using homemade donuts, let cool completely before icing. Same goes for store bought, but you should make sure the donuts are fresh.
Step 2: Follow the recipe below to make the icing. It should appear white. Dip the tops of cooled donuts in the icing, let excess drip off and place on a wire rack for several minute to let the icing harden at room temperature. I recommend dipping a second time to achieve a thicker finish.
Step 3: Separate the remaining icing into three bowls and add about 2 drops of food coloring to each. I used red, blue and yellow, but the red results in a pink color. Stir until desired color is reached.
Step 4: Attach piping tips to pastry bags (can do one at a time or use multiple bags) and fill with each tinted icing color.
Step 5: Pipe a triangle-like shape along the donut with the smaller point at the middle and then widening until you reach the outside edge. Alternate colors with equal spaces in between.
For me, each donut had one section of red, one of blue and one of yellow.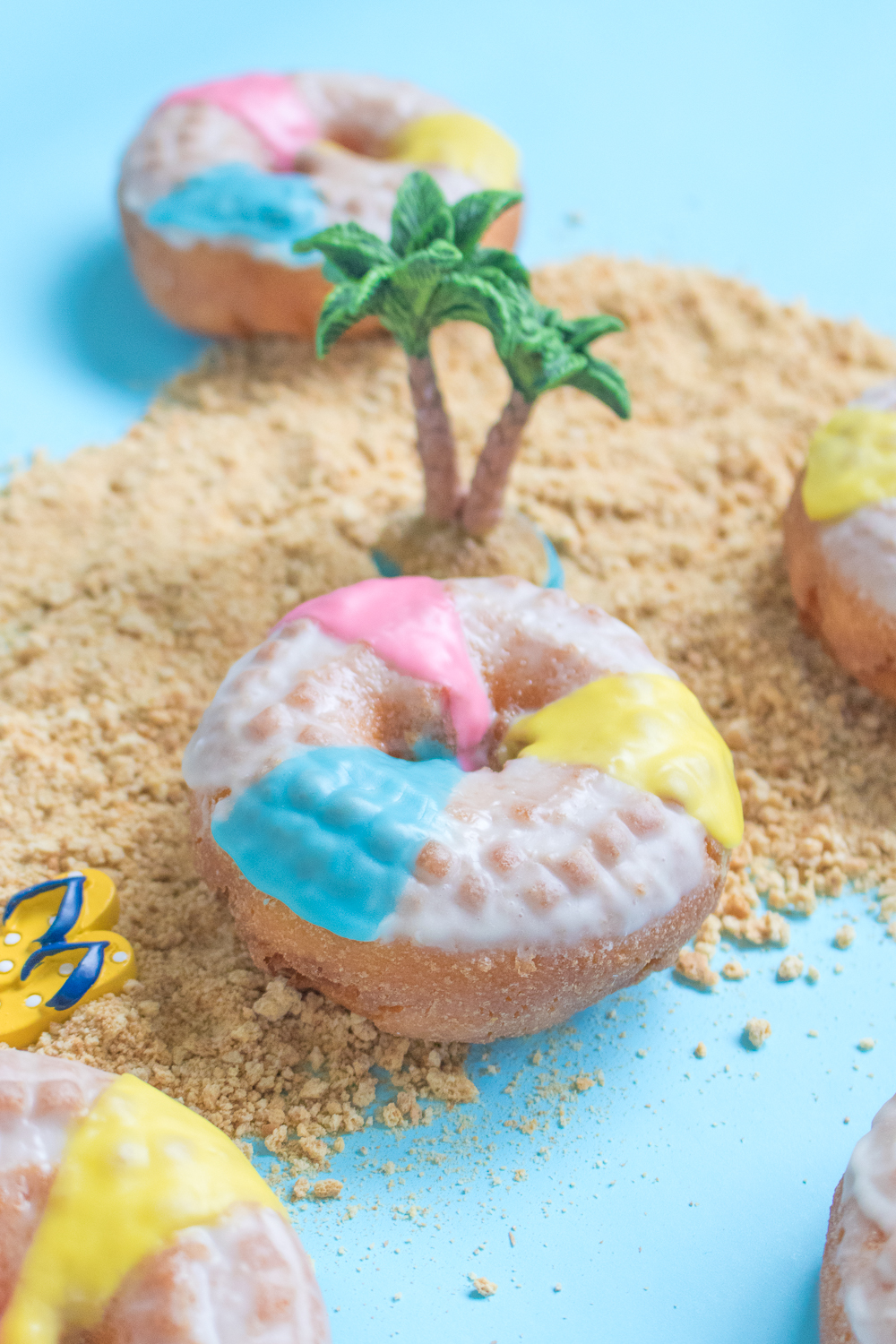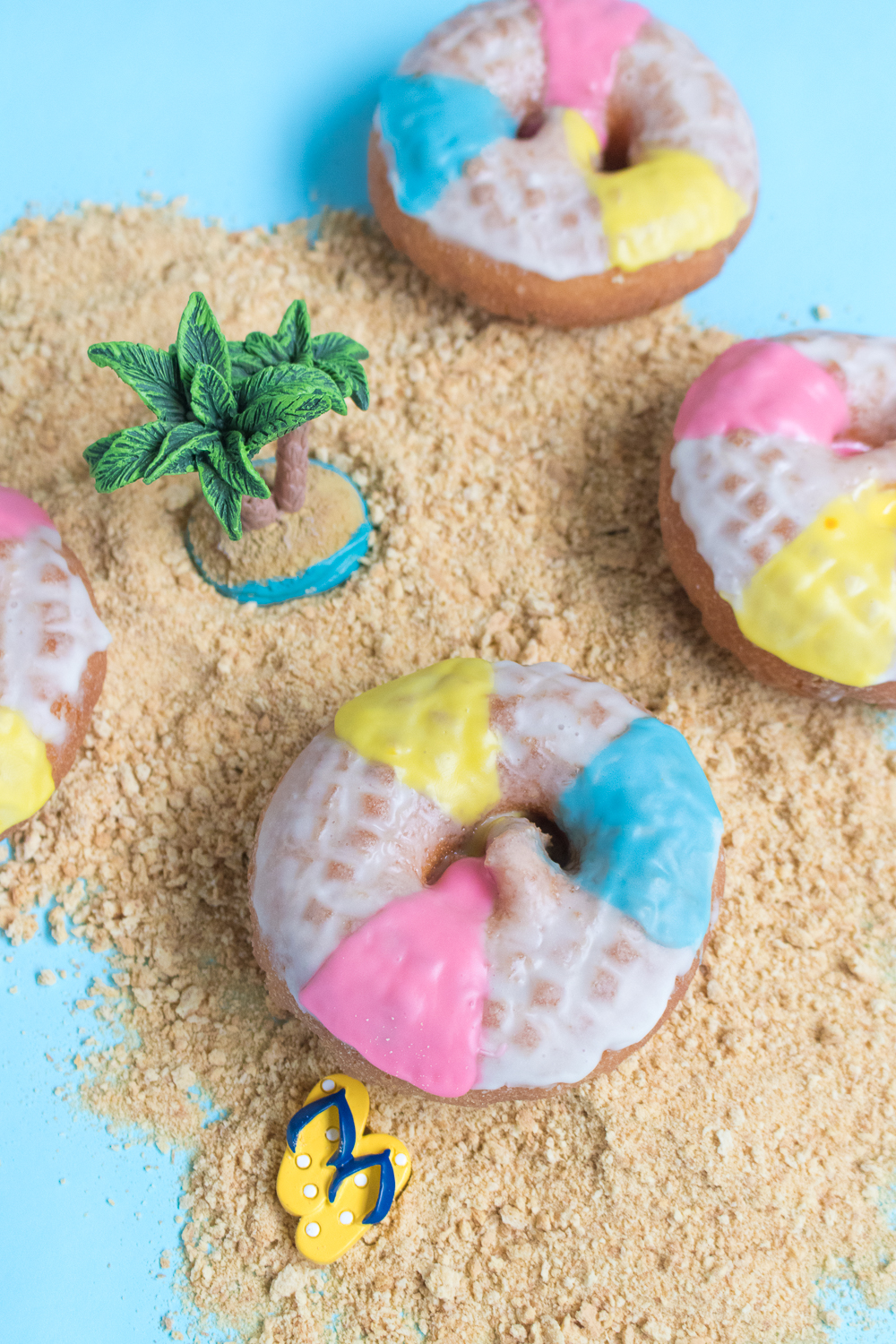 Let the donuts settle at room temperature for about 5 minutes for the icing to harden. Then serve, stack and eat as you please!
Remember, donuts are better fresh!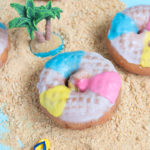 Vanilla Donut Glaze
2017-05-08 15:04:20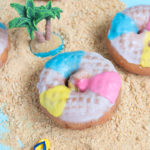 Serves 6
A classic vanilla donut glaze that can be used with almost any flavor or coloring!
Ingredients
2 cups powdered sugar
3-4 tbsp milk
1 tsp vanilla extract
Food coloring (optional)
Instructions
Whisk together all ingredients in a bowl until you reach a dipping consistency, adding more or less milk as needed
Dip donuts into the glaze and set aside to harden at room temperature for about 5 minutes
Club Crafted https://www.clubcrafted.com/