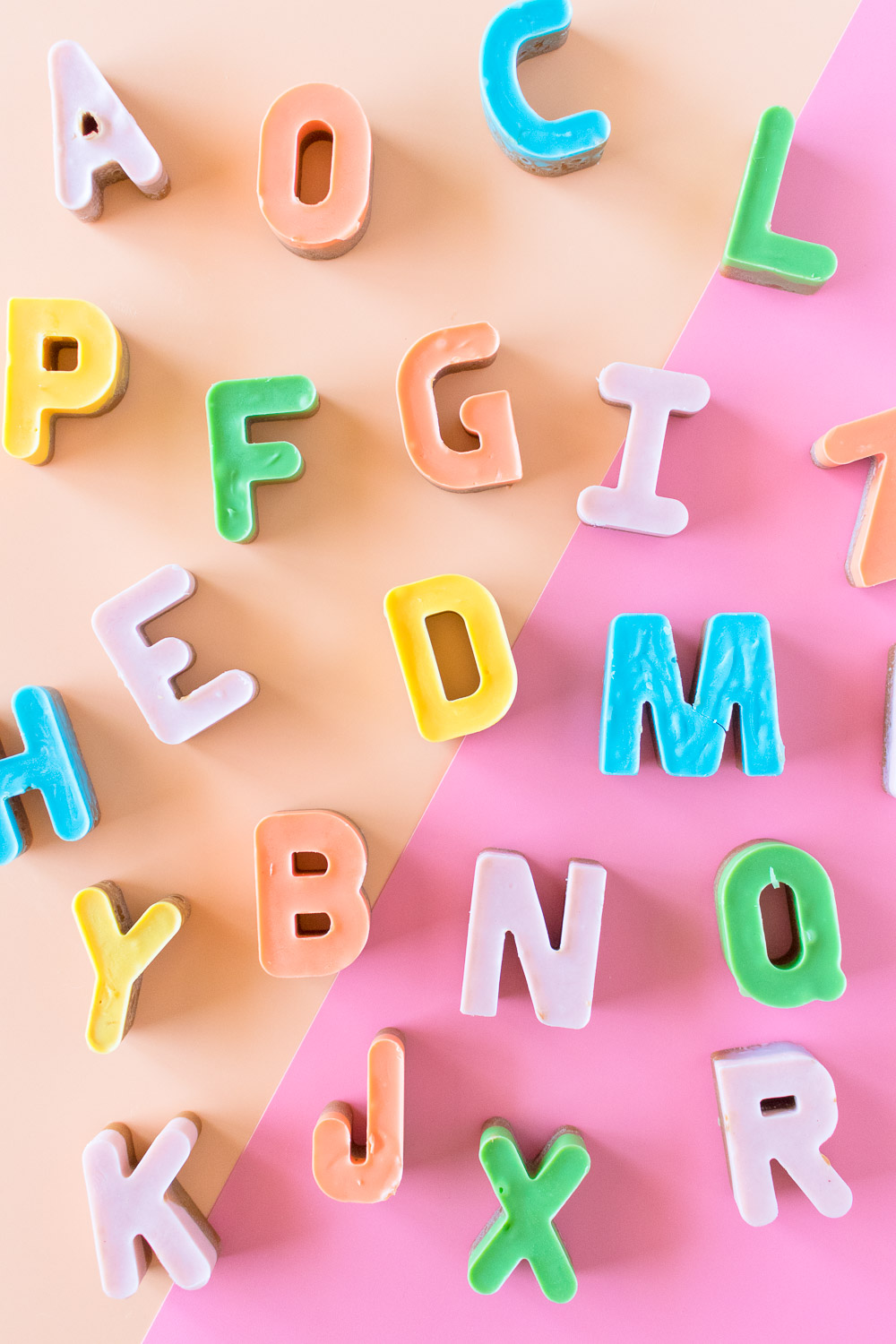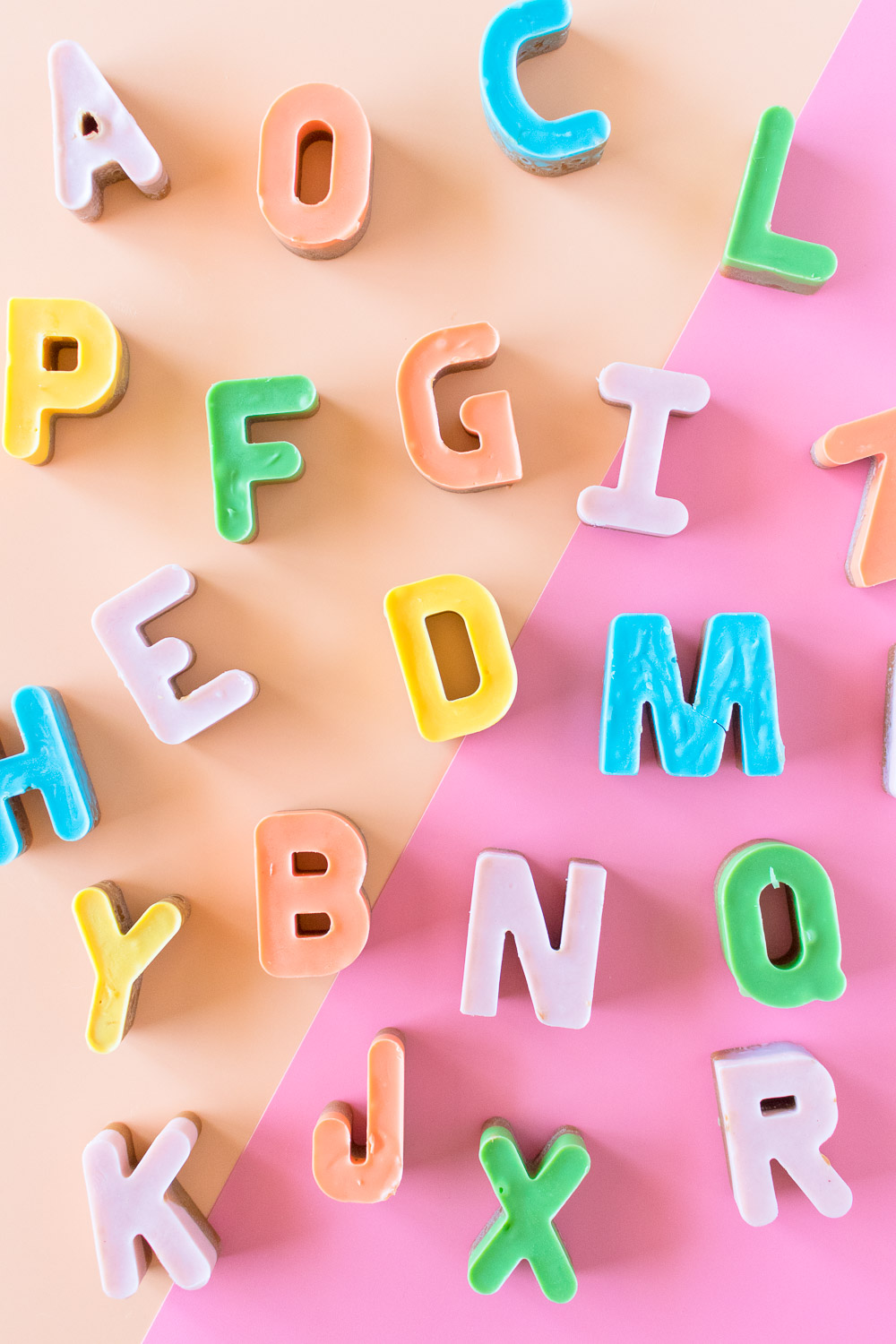 Call me the toffee queen! If there's one thing I make better than anything else, it's probably toffee (followed closely by chocolate cake ?). I've developed a foolproof toffee recipe, and this time, I thought I'd use it to make this fun, colorful alphabet toffee perfect for gifting and spelling out words. For the record, I'm an advocate for playing with your food! That's part of the fun of baking and candy making, in my opinion. Topped with colorful chocolate, they're perfectly bite-sized.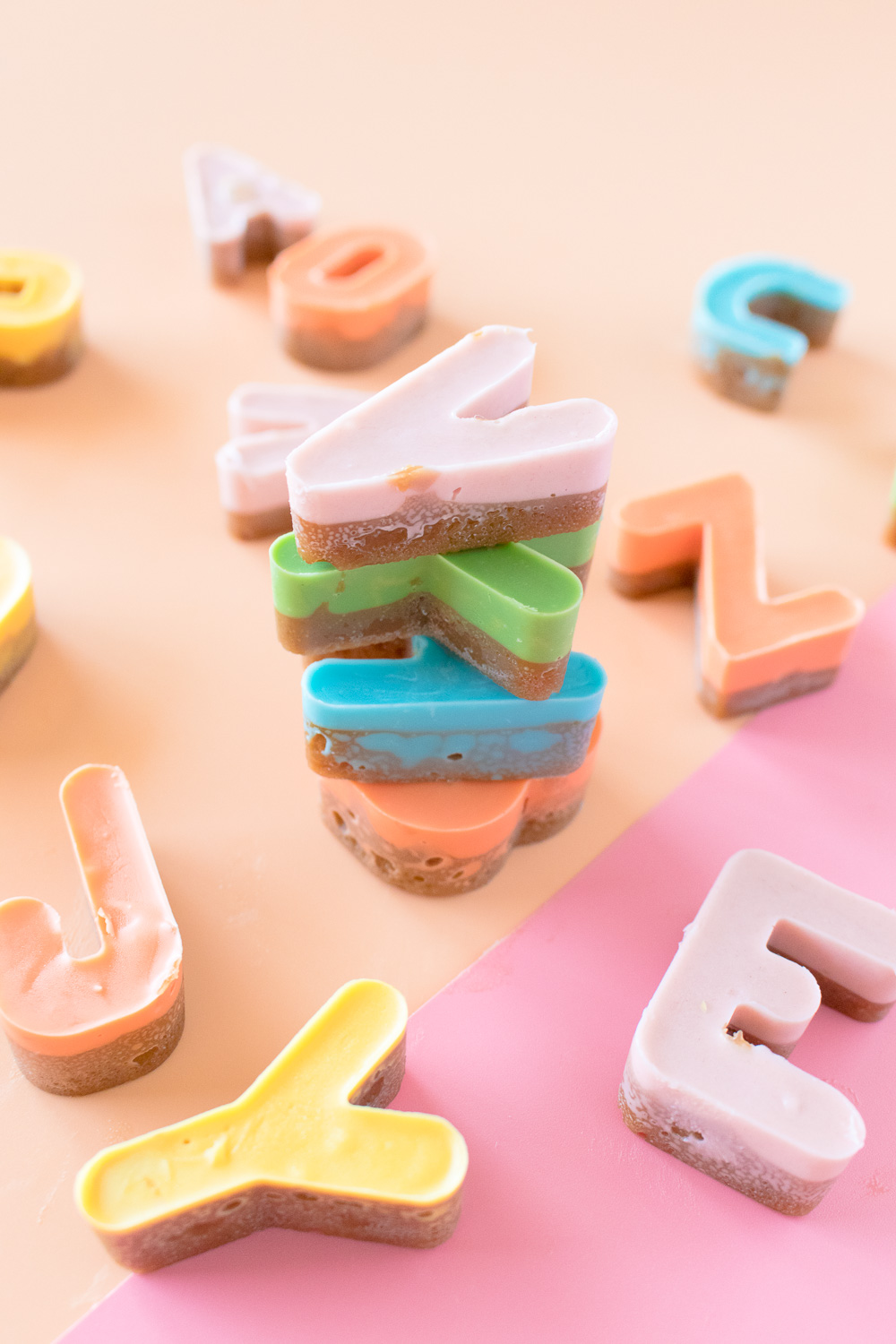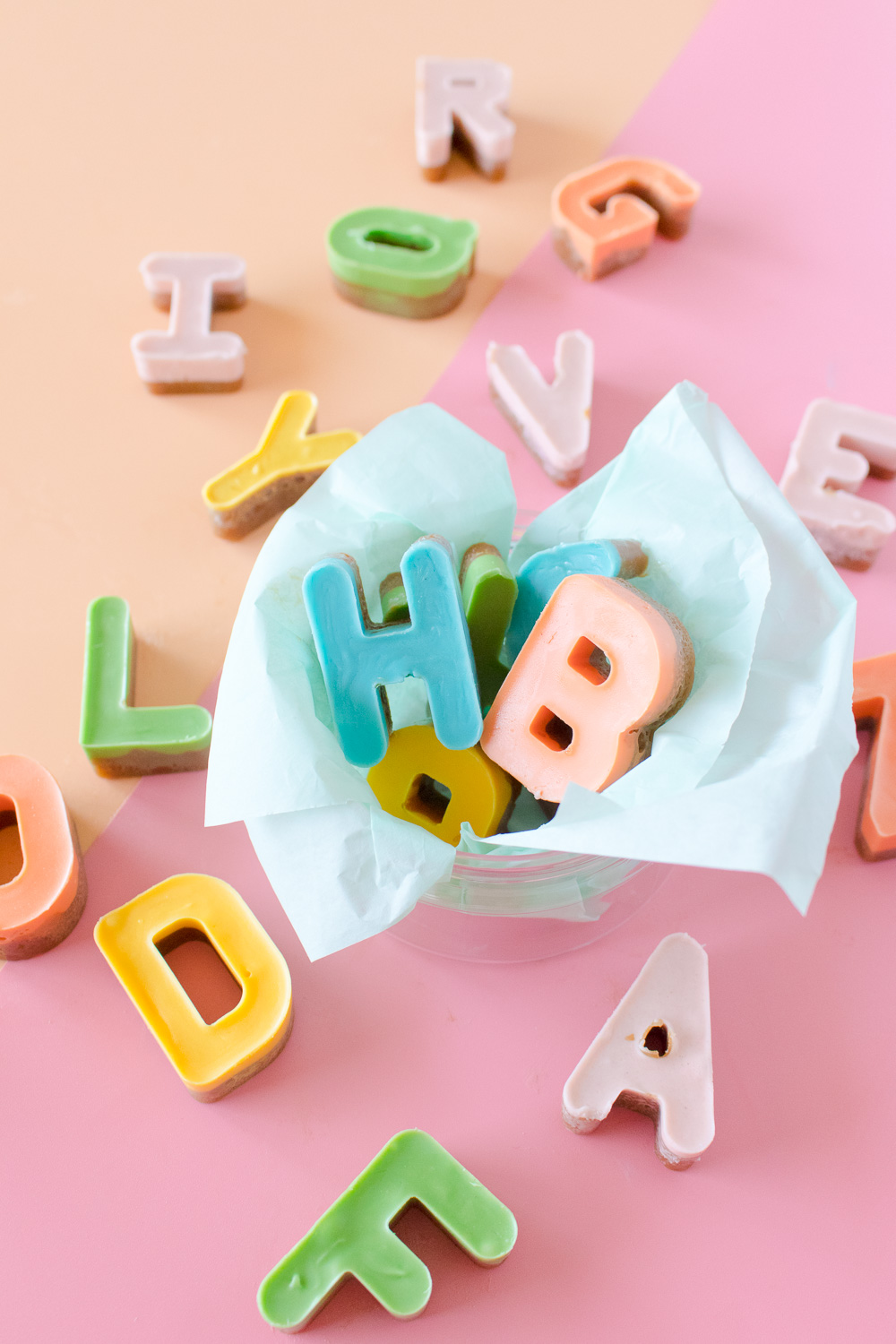 I use a silicone alphabet mold that's about 2 inches tall and it worked perfectly for making a set of letters out of toffee and chocolate. Personally, I think making the toffee is the easy part. Distributing the toffee into the molds is a little more difficult because you need to be careful not to burn yourself. Trust me, I've been there!
Scroll down for the full recipe card! ??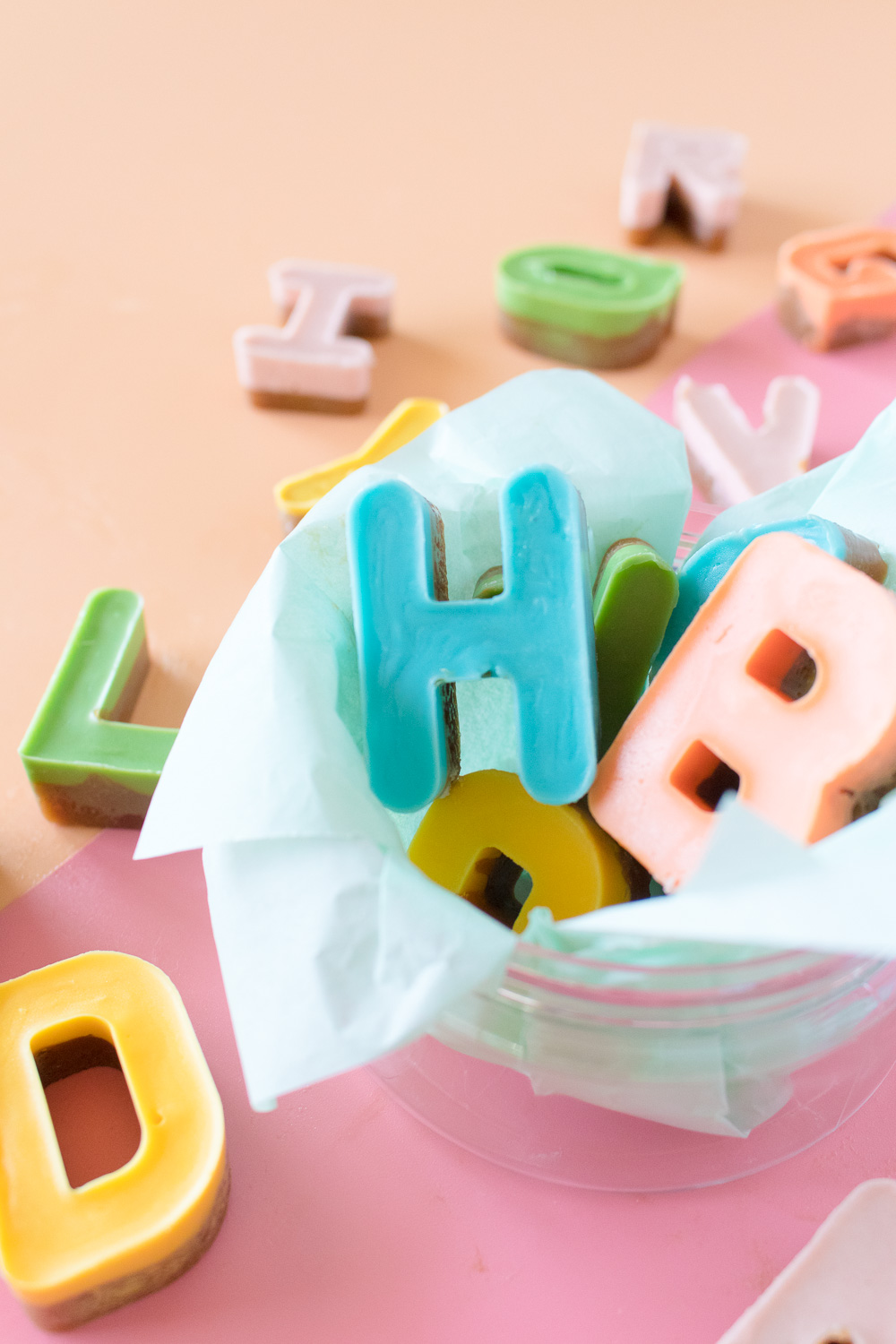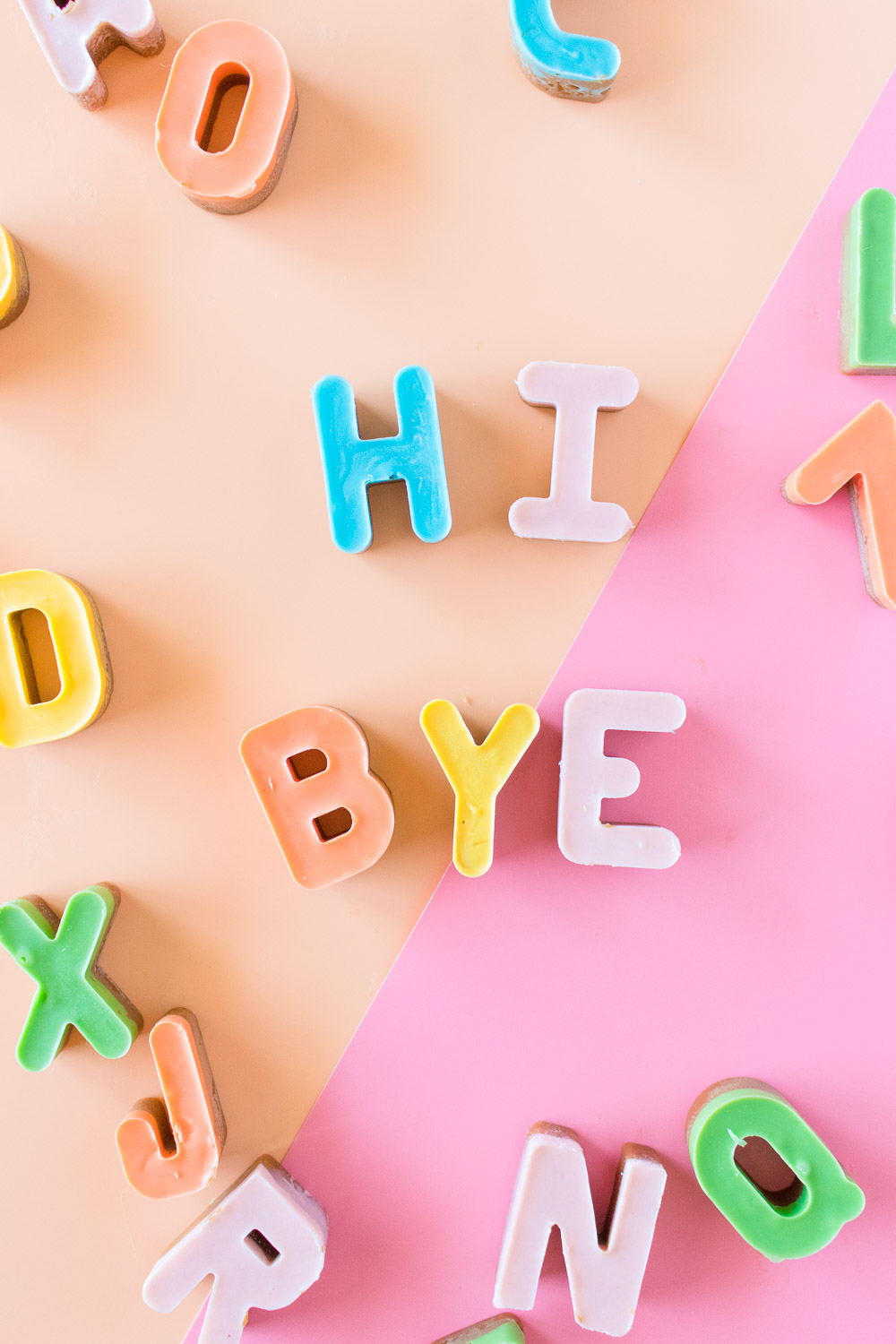 I used five different colors of candy melts/dyed white chocolate and placed each in a plastic bag, clipping the tips and piping it on top of the hot toffee. See the full tutorial below with the recipe. The best thing you can do to ensure the alphabet toffee candies come out properly is work quickly and tap the mold on your countertop once the chocolate is piped in because it ensures a smooth top and less air bubbles.
Even though it seems a little early to be planning for the holidays, I like to think it's never too early. In fact, I've already purchased at least three Christmas gifts, ha! No matter the occasion, you can make toffee in the letters of someone's name or some other saying and package them up in a cute container. What says heartfelt better than homemade candy?!
Not only are they cute and colorful, but they taste delicious too! I spent way too much time playing with these letters to make little sayings, and now you can too!
Alphabet Toffee Candies
2017-08-29 16:22:02
Ingredients
1 cup butter
1 cup sugar
1 tsp vanilla extract
Pinch of salt
candy melts and/or white chocolate
Instructions
Melt the candy melts and/or white chocolate in multiple bowls in the microwave, melting on defrost mode in 30-second increments and stirring in between until melted. Add desired coloring move each color to its own small ziplock bag. Set aside
Lay out a silicone alphabet mold on a flat surface. NO cooking sprays are needed
In a heavy-bottomed pot, melt the butter on medium heat
Add sugar and a pinch of salt and bring to a boil on medium heat, stirring often with a whisk
Heat until the mixture reaches 300 F (hard crack stage) and turns a deep brown. It may appear that the butter isn't mixing properly, which just means you should keep stirring until it looks fully mixed and fully browned. Remove from heat and stir in the vanilla
Immediately move the toffee to an extra large glass measuring cup with a spout
Using an oven mitt to protect your hand, pour the toffee into the alphabet mold, filling each letter about 1/2 full. Avoid splashing the sides if possible
Once each cavity is filled, clip the tip of the plastic bags and pipe the chocolate/candy on top of the toffee filled letters, alternating colors as desired
While the chocolate is still completely melted, gently tap the molds on the countertop to evenly distribute the chocolate and remove air bubbles
Once done, move the fridge for the chocolate to solidify and remove from the molds. Store at room temperature for up to one week
Notes
For easiest cleaning, immediately soak the supplies in boiling hot water to remove toffee residue
Club Crafted https://www.clubcrafted.com/