/
Pumpkin + Balloon Centerpiece for Fall Entertaining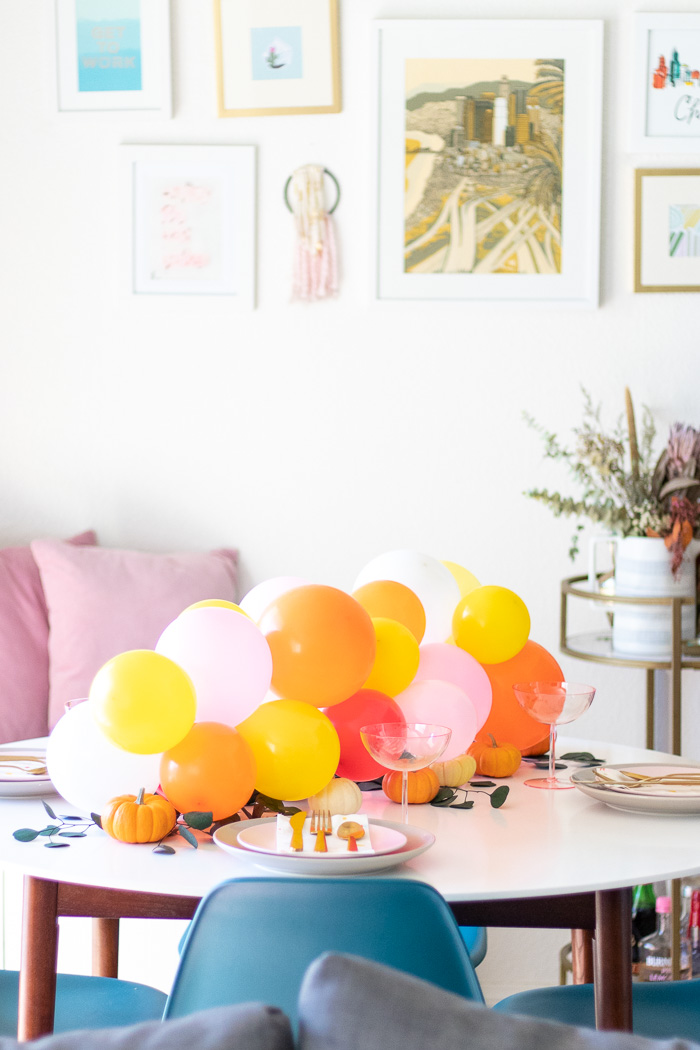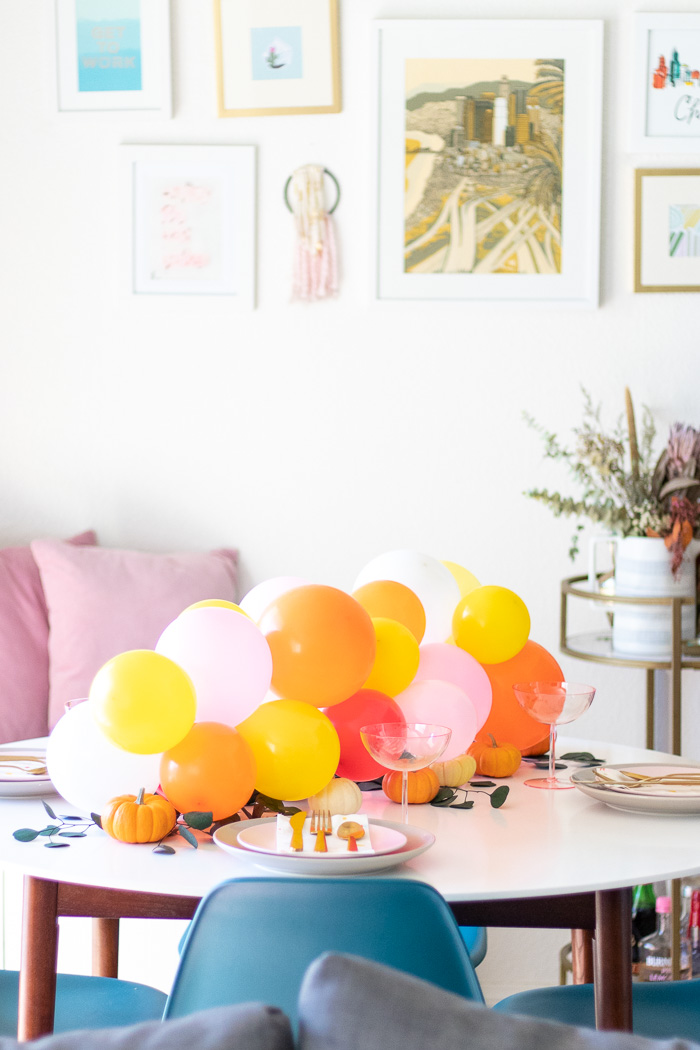 Are you guys going to revolt against me if I say I'm not that into Thanksgiving?…I enjoy it more now that I no longer work in retail, but I only enjoy a small percentage of classic Thanksgiving foods, so I'm that girl at the dinner table stuffing my face with potatoes and bread (no shame though). Don't worry, I still have a couple Thanksgiving ideas to share this year, and I'm kicking off the holiday season with a quick entertaining DIY! I'm loving making balloon garlands lately, so I made a miniature one into a pumpkin and balloon centerpiece that's perfect for fall entertaining, Thanksgiving or your average dinner party! It's quick and easy to make in less than 15 minutes, and with some fresh eucalyptus, it is sure to impress your guests.
Clearly, you can see my apartment and, consequently, my dining room table are quite small. The balloon centerpiece does take up a good chunk of my tiny table, but that's OK because I'm of the belief that more balloons are always a good thing. Placed on a bed of fresh eucalyptus leaves and surrounded with miniature pumpkins, this fall balloon centerpiece made me want to have a dinner party…but we would only be able to fit two more people, ha! The dining room is still one of my favorite spots in the apartment because it's home to a gallery wall and bar cart that I restyle practically weekly. It becomes the hub for anything and everything in the apartment, which means these photos were the cleanest it's been since the last photo shoot!
How to Make a Balloon Centerpiece
Time: 15 minutes
Supplies:
4-inch balloons, 4-5 colors
Balloon pump
Low temp glue gun
Mini pumpkins
Eucalyptus leaves
Step 1: Blow up two balloons until round in shape (still small) and tie together. Repeat in sets of two with color variations until you have 8-10 sets depending on the size of your table. Consider blowing up some balloons less than others for variation.
Step 2: Twist two sets together to make bunches of four and repeat.
Step 3: Position the bunches of balloons together the way you want them, and use the glue gun to add a small amount of glue to adhere balloons together into a small garland. Fill in gaps with single balloons as needed.
Step 4: To decorate your table, place the finished balloon centerpiece in the middle and slip branches of eucalyptus underneath so it's sticking out strategically. Add mini pumpkins all around the centerpiece for an added fall touch!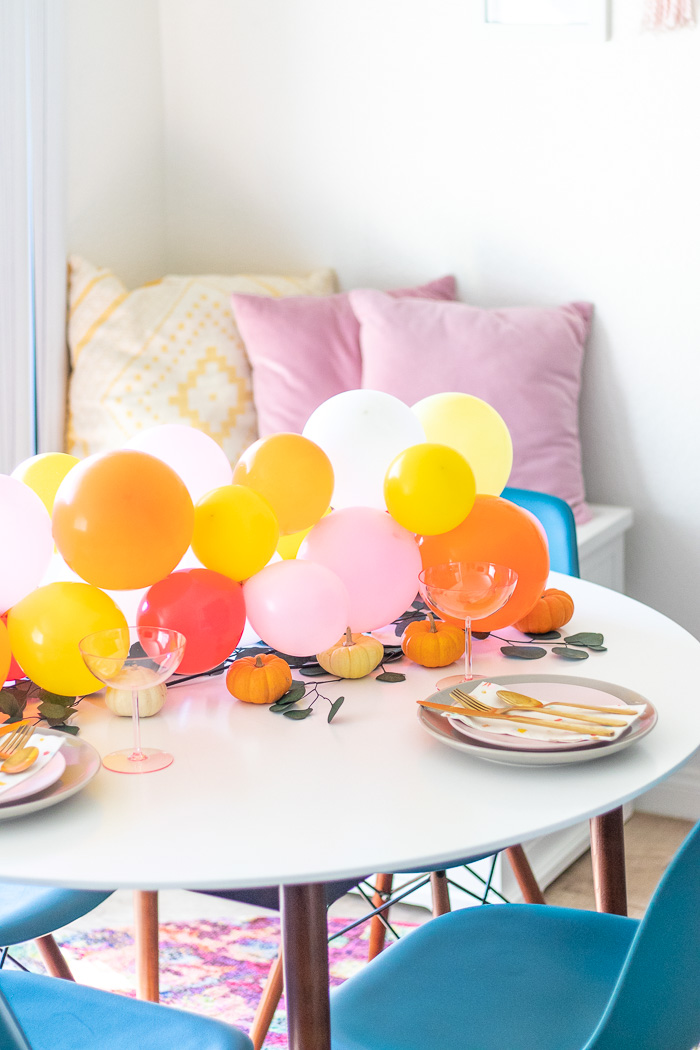 I promise it's very easy! If you have a rectangular table, this balloon centerpiece should leave you and your guests plenty of space around the table. As for my round table, it was a tight squeeze, but if you stick to a buffet style dinner, it works out fine. I think I'll leave it up just for myself and Andrew to enjoy!
There's at least one more Thanksgiving idea coming up, but don't be too surprised when I jump into Christmas well before December, ha!