/
How to Add Color to your Wardrobe this Summer
I feel like I need to stress something here…I don't know anything about fashion. I'm not a fashion blogger, and most days you can find me walking around the house in yoga pants and a t-shirt. However, I do LOVE color, and I know many of you do too! Since I'm not a particularly "fashionable" person, I thought I'd share my tips on how to add color to your wardrobe this summer in case you're like me and can't (or won't) go out and buy a new wardrobe just for the few cute outfits you expect to wear that season. With just a few new pieces, you can mix up your wardrobe with more colorful pieces that make a statement but don't require an overhaul of your closet. I know I can't afford that!
It truly doesn't have to be hard to add color to your wardrobe, and if it's something you really want to achieve, the best you can do is shop slowly over time. I'm not the type of person to purchase expensive clothing to add color to my wardrobe because I'm a firm believer that I will probably be sick of it before it falls apart. That said, I know not everyone is like that! Consider mixing pricier pieces with less expensive ones for a truly gorgeous outfit that will make you feel bright and colorful all summer long. Even if your style is jeans and a t-shirt (I'm definitely like that!) you can swap that shirt for something colorful and add colorful statement earrings. BOOM, colorful outfit!
5 Ways to Add Color to your Wardrobe for Summer

1. Try a Colorful or Patterned Dress
When I started developing a more colorful wardrobe (especially when I stopped needing "office clothes"), the first thing I did was seek out colorful dresses with a variety of patterns. I love dresses because you don't have to do a lot of mixing and matching to put together an outfit, especially in California! Add a colorful statement dress or a dress with a fun pattern to your wardrobe that you can dress up or down with accessories for an easy way to add color to your wardrobe for summer. This striped dress and the yellow dress below are my favorites in my closet right now!
Here are a few of my favorites right now, and they're all under $90!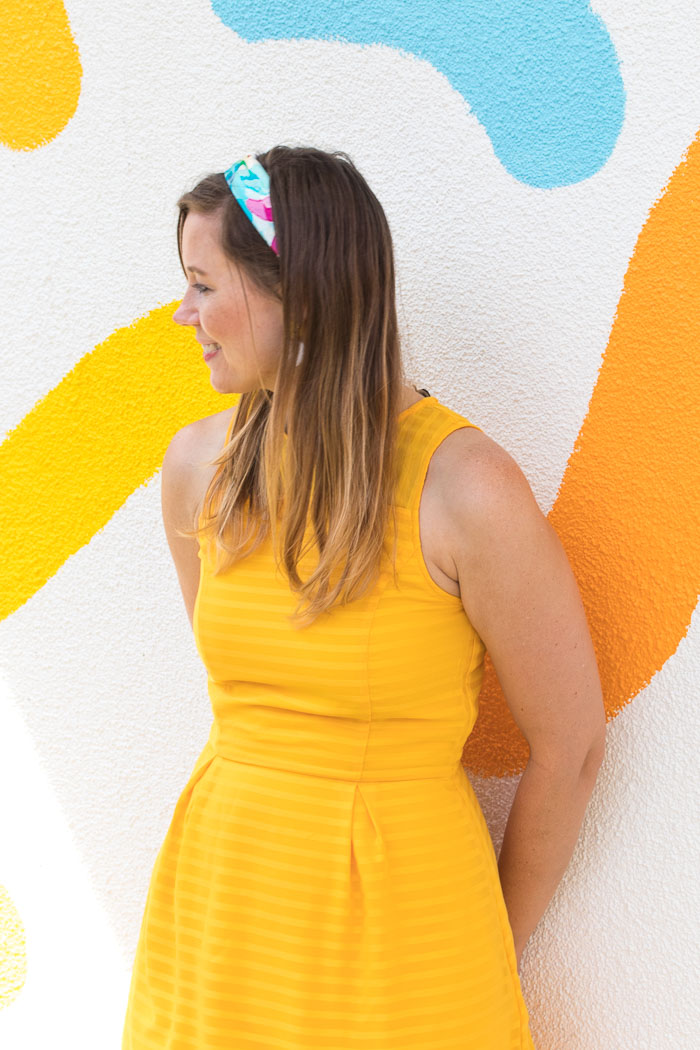 2. Add a Colorful Neckerchief or Scarf
You may have seen that neckerchiefs are "in" right now, and I do really like adding them to my wardrobe from time to time! I like this guide by Paper & Stitch that shows some of the different ways you can wear a bandana or scarf. I have one that I particularly love because it's really colorful, so I wear it around my neck or as a headband often. You've probably seen me wear it five different ways on Instagram this year. One scarf or neckerchief will turn even a white t-shirt into a simple, colorful outfit.
I love these fun patterned scarves (all under $50)!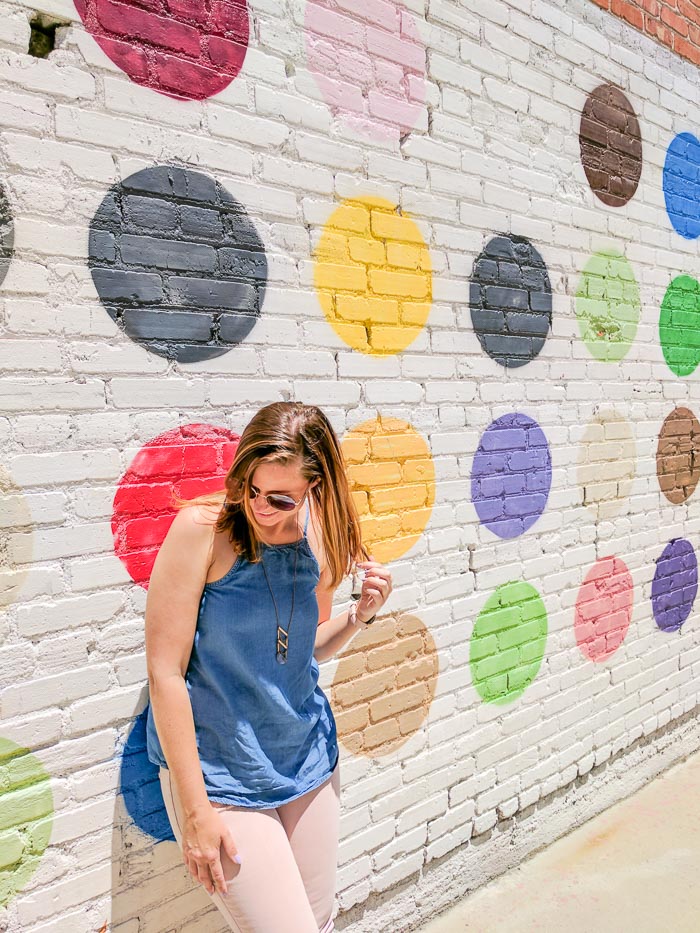 3. Pick a New Neutral…Like Blush!
These days, I think of blush as a neutral. I try to avoid the black in my closet and won't go near anything tan or beige. My neutrals are now white or blush colored items, and I've found that it works in many cases! I have a pair of blush jeans that I can pair with most of the items in my closet for a look that has color but still feels simple and neutral but has plenty of color. I also think of my silver shoes as a neutral because they go with practically everything.
Neutral doesn't have to mean "lack of color." Just look at these blush pieces!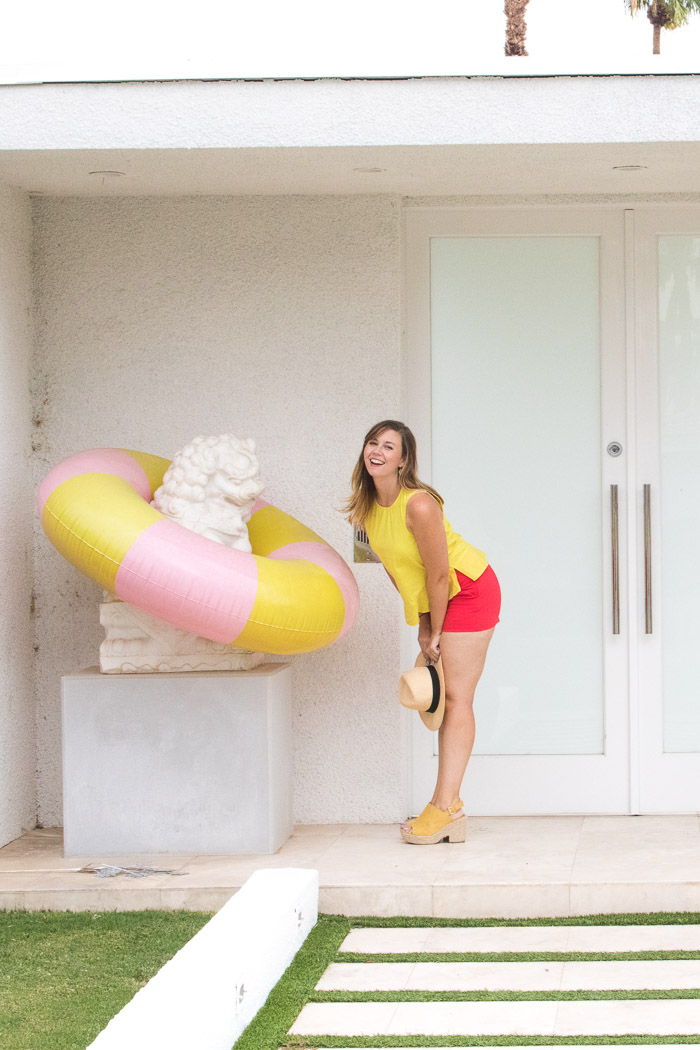 4. Mix Almost Every Color
I still struggle a little with what goes together, but it's something I'm pushing myself on. For example, I'm terrible at pattern mixing, but I love how it looks on others. Don't be afraid to mix whatever colors are in your closet. Pink and green make a beautiful combo! So do pink and red! Honestly, most of the colors in your closet can mix and match, so go ahead and try mixing a yellow skirt with an orange patterned top. Why not?!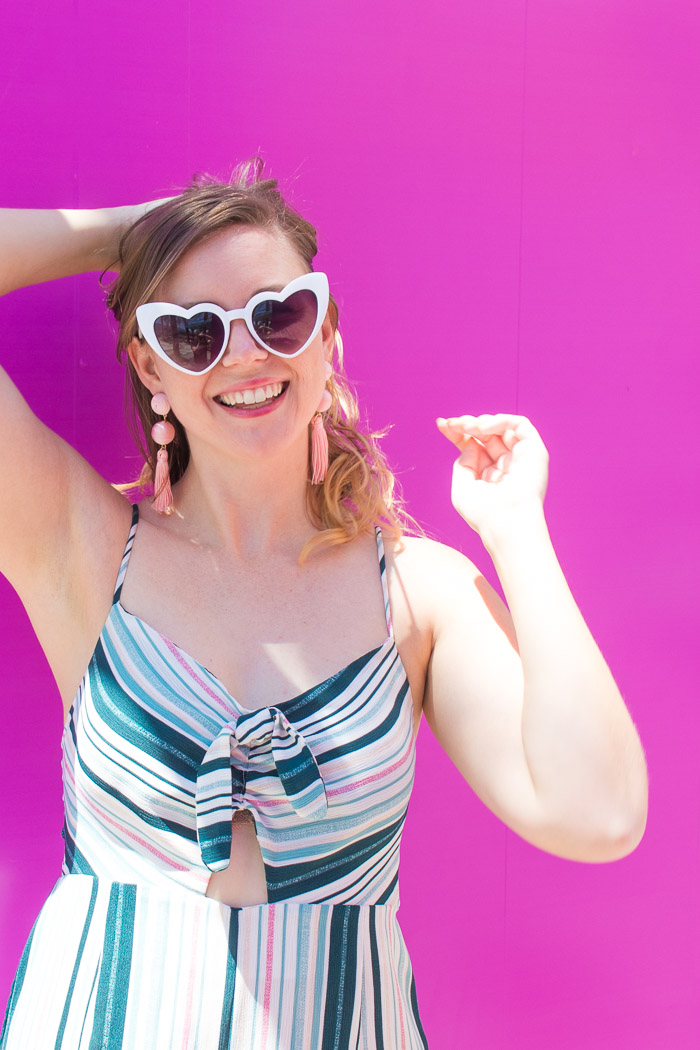 5. Colorful Jewelry Goes a Long Way
I was actually most hesitant to purchase colorful jewelry because I worried I'd never wear them. I only wear jewelry when I know I'll be seen by people (ha!) or have to take photos, and I often opt for statement gold earrings, but it was time to mix it up. My first colorful pair of earrings was this set of pink tassel earrings, and now you'd be surprised how often I wear them! I only have three pairs of "colorful" earrings and these pink ones are my go-to addition to most outfits now and add a pop of color that I love. The same goes for necklaces, bracelets or watches that can add color to your wardrobe.
These colorful statement earrings will rock your outfit!

My Colorful Style Icons
Since I'm not really a fashionable person, nor do I really care about brands, I look to Instagram for inspiration. Here are a few babes I look to for colorful outfit inspiration!
Cyn @hotpinkpineapples
Jenna + Cortney @awhimsywonderland
Courtney @colormecourtney
Carrie @carriec
Kelly @studiodiy
Vanessa @briteandbubbly
Leslie @splendidrags
Sam @aww.sam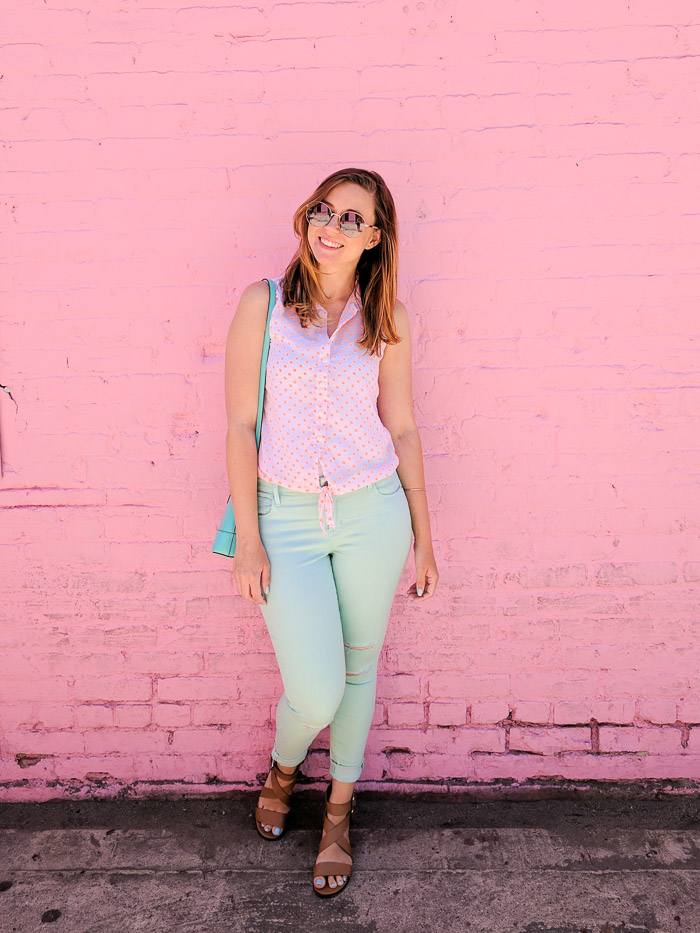 I didn't always dress colorfully. Actually, I worked in retail for so long that 90% of my wardrobe was black, but when I left my dressy office job in 2016 for a more casual office environment, I started experimenting with more color. Now, I feel like I get a little more daring every time I buy something new, and I really enjoy it. Nonetheless, I'm still a jeans, t-shirt and sandals kind of girl…just a colorful shirt and sandals or a colorful pair of jeans now instead of black and white! Dressing colorfully doesn't mean you have to be a fashion icon or look like a runway model. You should be able to wear whatever makes you feel comfortable and happy!
Please note this post contains affiliate links from which I may collect a small profit should you choose to make a purchase. I only link to products I use or personally recommend.