/
How to Make Craft Box Gifts (with Custom Packaging)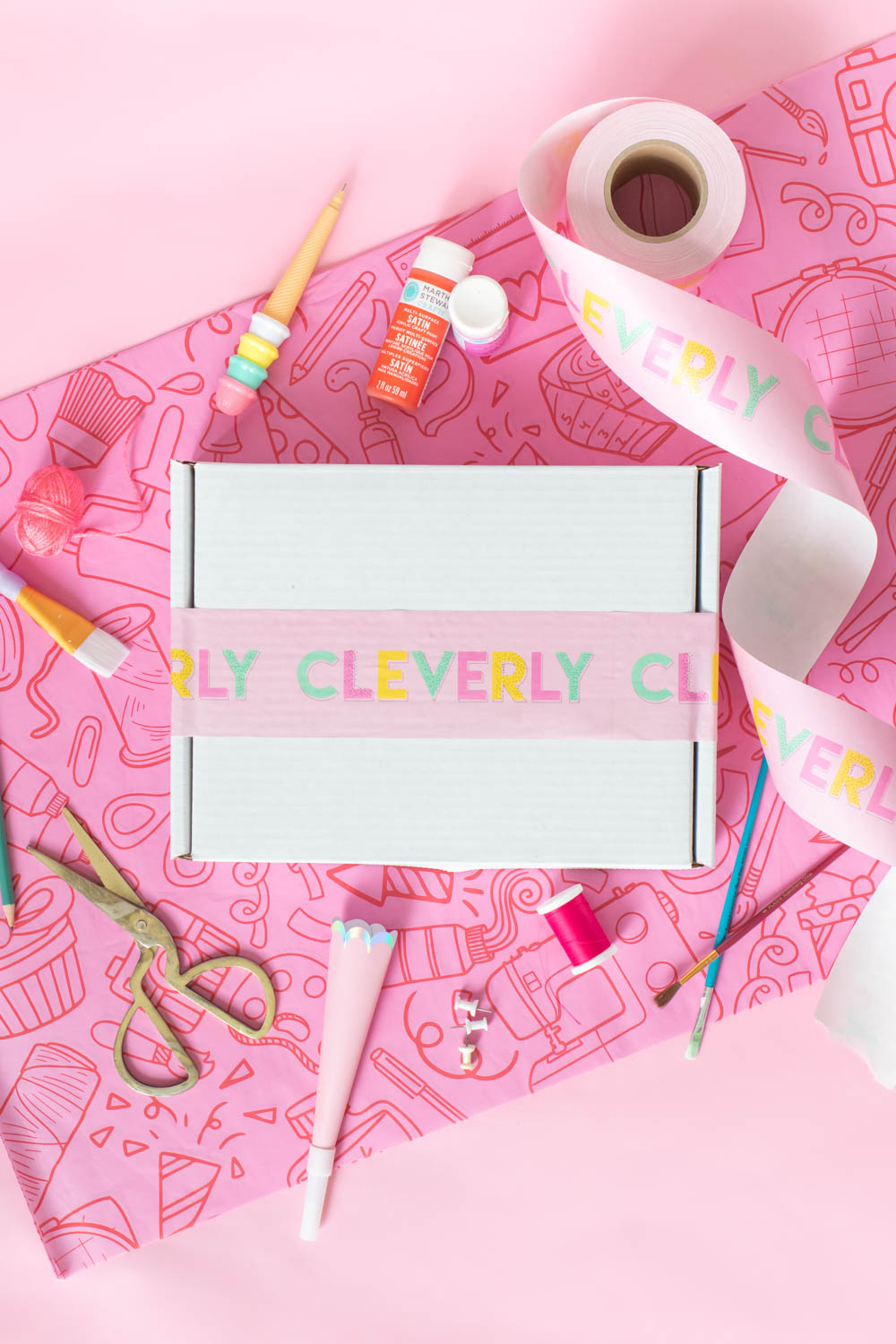 The following post is sponsored by noissue
For those of you who don't know, Club Crafted was originally intended to grow into a craft subscription box company. Almost four years ago, when I started the brand, I planned to create the craft box business before realizing I simply couldn't afford to. Instead, here I am years later with a DIY blog I love! When noissue approached me to share how I'd use its custom noissue/wrapping tissue and tape products for my business, my mind immediately went back to craft box gifts. I find them especially useful at a time when we cannot leave the house….so I wanted to share how to make craft box gifts to brighten someone's day! These easy craft kits are wrapped up with my own custom no issue tissue. Then I secured the box with my custom paper tape featuring my Cleverly Shop logo. The custom packaging makes all the difference!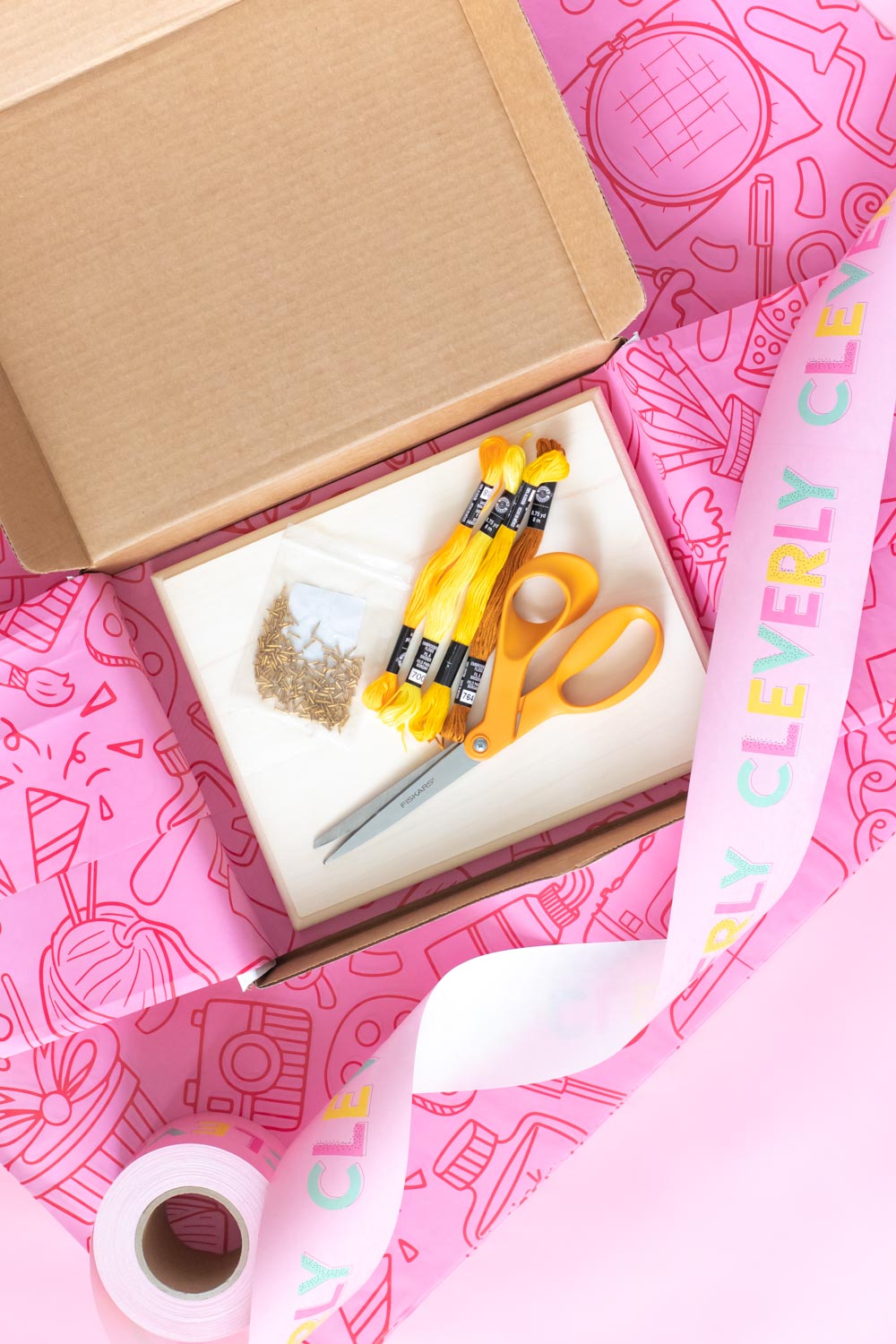 First, pick a craft you can send! The benefit of craft box gifts is compiling all of the supplies (and instructions) so that receivers are ready to MAKE. Gather everything you think they'll need. In this case, I sent supplies for making easy string art. I'll share examples of that project later! Browse the DIY archives for easy ideas for craft kits you can make at home.
Then insert the tissue paper folded to the size of the box. Package your craft box supplies together and cover with the tissue, just like wrapping a gift! I like to secure it with a bit of washi tape. noissue also offers custom paper stickers that are perfect for securing the tissue.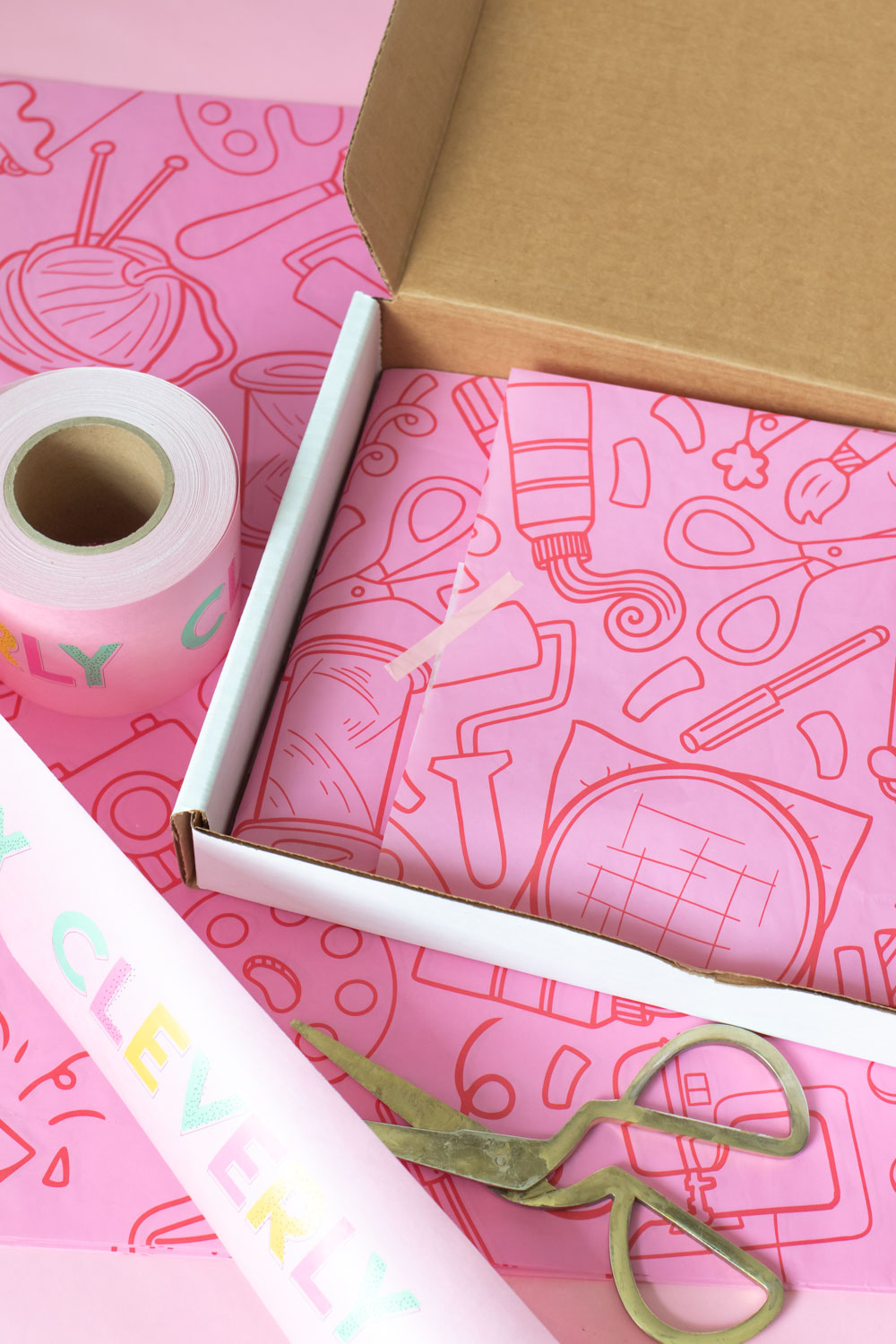 How I Designed my Custom Packaging for Craft box gifts
With noissue, you can upload or create your design with up to 2 colors – white not included. I decided to design my custom packaging and wrapping tissue with a variety of doodle-like craft images. After all, what's more fitting for a DIYer's packaging?! Then I chose to use pink and red for a color combination that really POPPED.
Luckily, noissue makes it incredibly easy to upload your designs online. Then you can verify your proofs and send to print, or their excellent customer service team will work with you to make changes. This was so helpful for me when I needed help with my custom paper tape design! From now on, any orders from the Cleverly Shop with come packaged with my custom tissue and tape!
Now, if only I could send one of these to everyone stuck at home under quarantine right now. How many craft supply doodles can you spot on the tissue paper in my craft box gifts?!
Thank you to noissue for generously sponsoring this post. All opinions are my own. Thanks for supporting the brands that keep Club Crafted making and sharing!