/
DIY Lipstick Sunglasses Case with Felt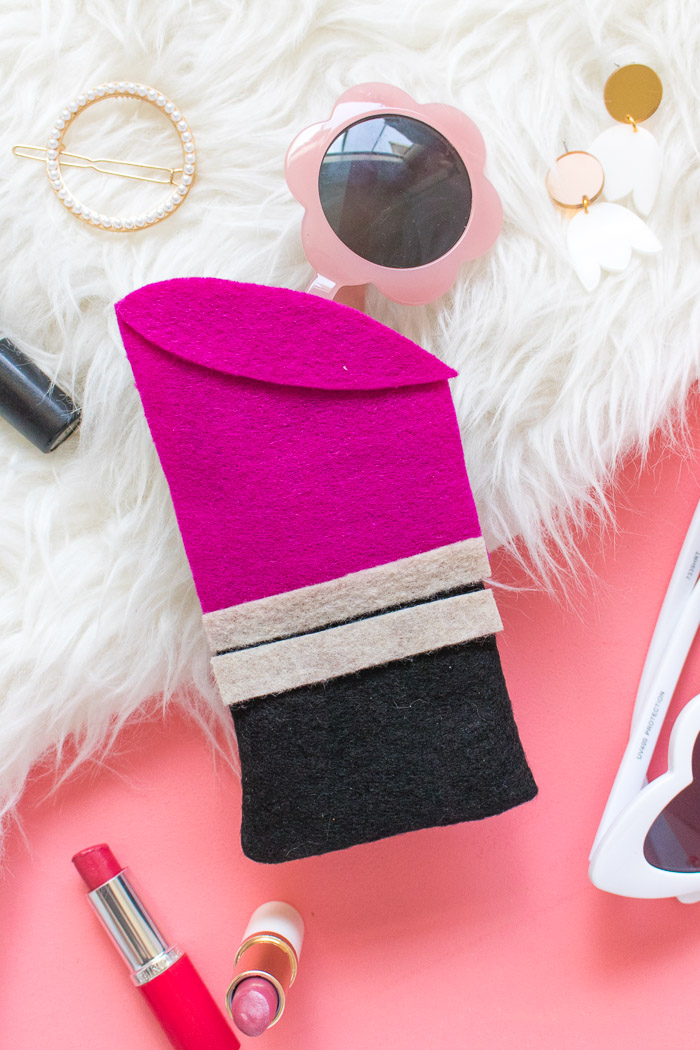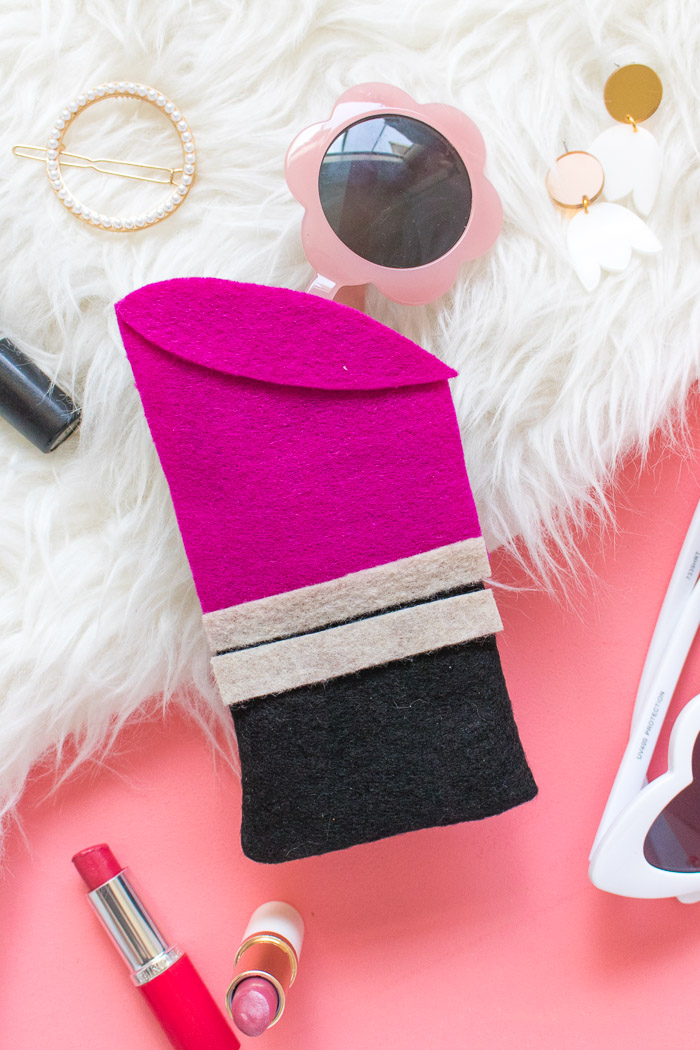 I'm developing quite the sunglasses collection – these cat eye heart sunnies from Hello Holiday are my current favorites! To keep them protected in my mess of a purse, I needed a sunglasses case so that I wouldn't scratch the lenses, and it seemed best to make one myself (duh). This easy-to-sew sunglasses case is made with felt and looks like one of the items you'd usually find at the bottom of my purse…a tube of lipstick! This lipstick sunglasses case has practically no sewing involved and is decorated with felt pieces glued in place so that it will hold up in your bag or your car. Make one in about 15 minutes and slip in a pair of sunnies for a cute but simple sunglasses case!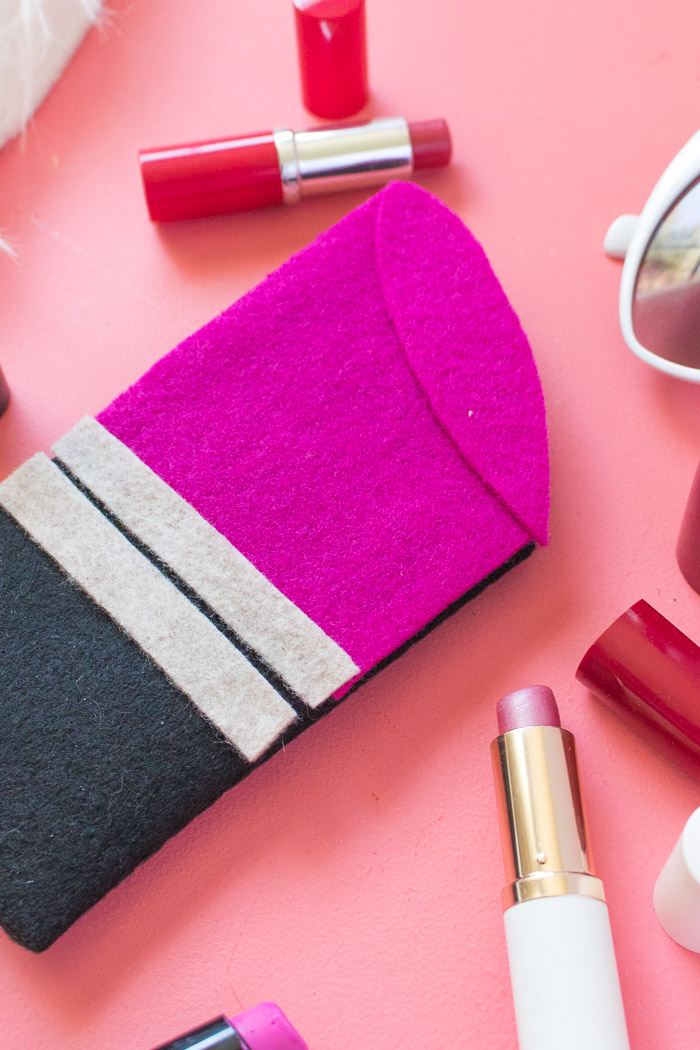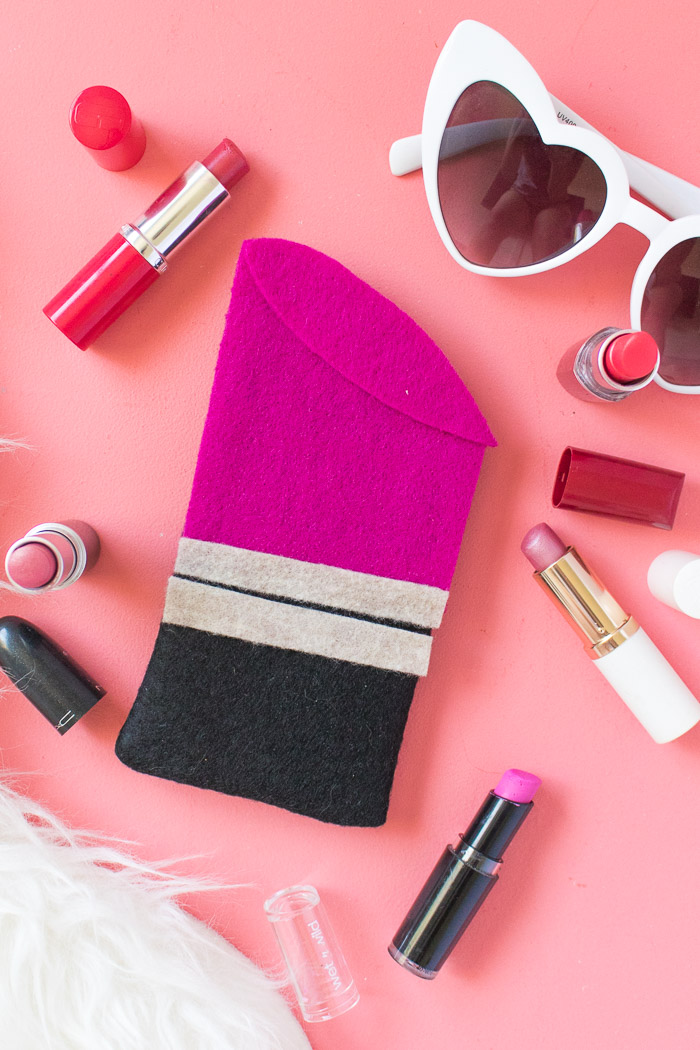 Honestly, you could probably skip the sewing and use fabric glue instead, but I've always found that sewing makes it feel more secure. You could even hand sew it if you don't have a sewing machine because it's such a small section of fabric! You do you, girl.
I was able to make this project using supplies I already had in the house, but felt is extremely inexpensive to purchase by the sheet at your local craft store, so overall it will be a cheap DIY! Make one for yourself or as a gift for your gal pal who needs to protect her cute sunnies.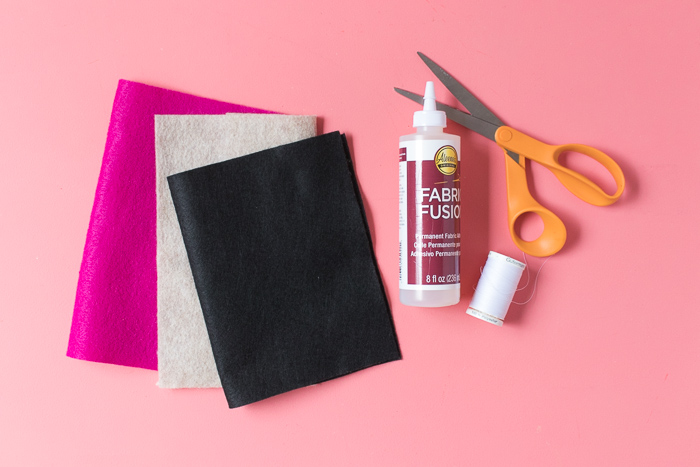 Time: 15 minutes
Supplies:
Black felt
Tan or beige felt
Pink felt
Thread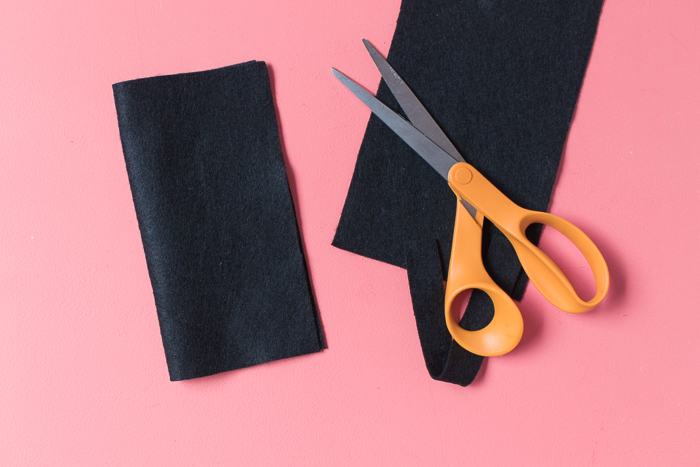 Step 1: Cut the black felt to approx 7 in x 7 in. Fold in half (it should be tall and wide enough to fit a pair of sunglasses).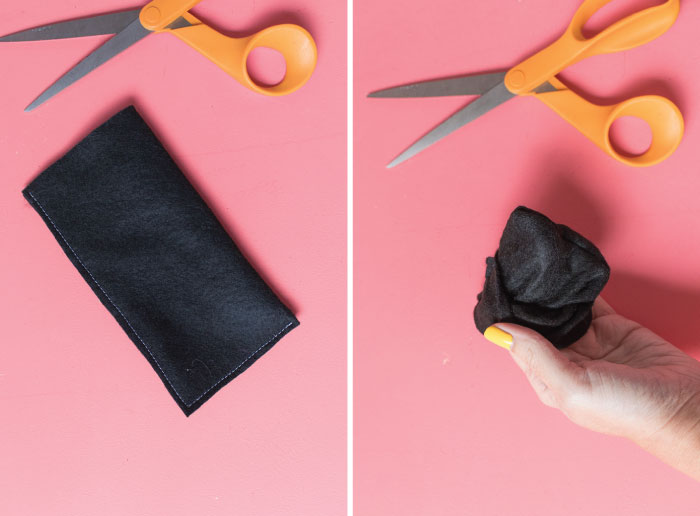 Step 2: Sew along the unfolded side and bottom, leaving only one opening to slip the sunglasses into.
Step 3: Turn the felt pocket right side out to hide the seam.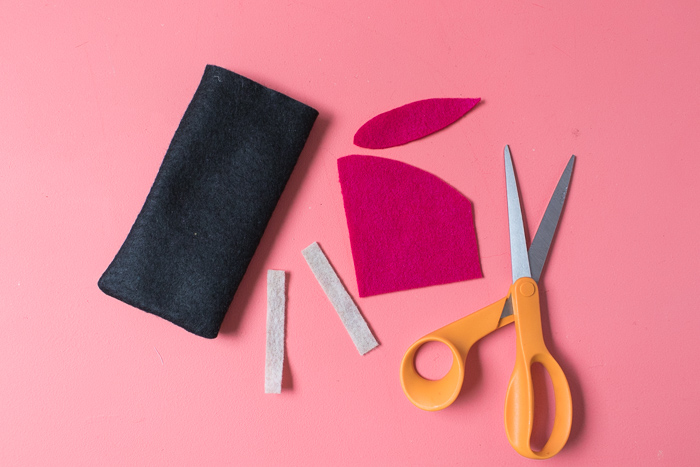 Step 4: Cut 1/2 inch strips of the tan felt. Lay them over the sunglasses case and trim two pieces to the same width.
Step 5: Trim a piece of pink felt to the same width as they sunglasses case. Along the top piece, cut a curve to make the top of the "lipstick."
Step 6: Cut another piece of pink felt in an ovular shape to create the angle of the lipstick.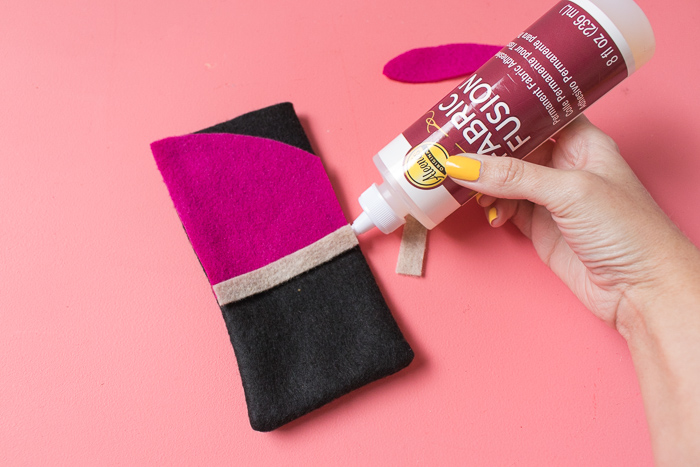 Step 7: Use the fabric glue to glue the pink piece to the top of the sunglasses case with the ovular piece layered on top and the tan strips where the pink meets the black. It should resemble a tube of lipstick. Let dry.
Step 8: Lastly, trim off the top of the black sunglasses case so that it curves with lipstick.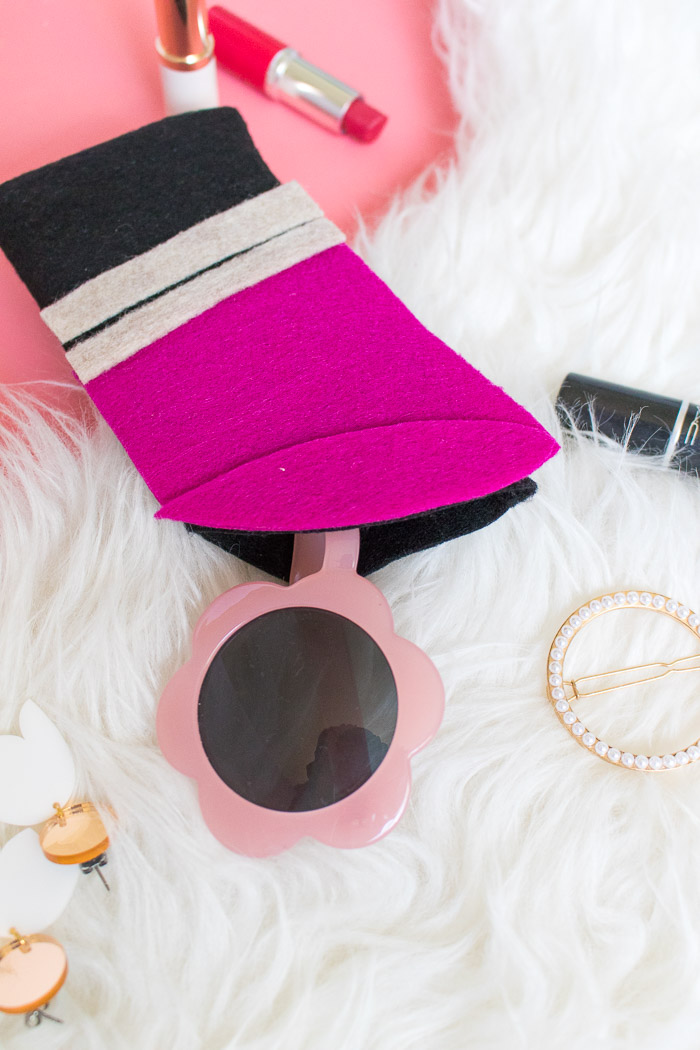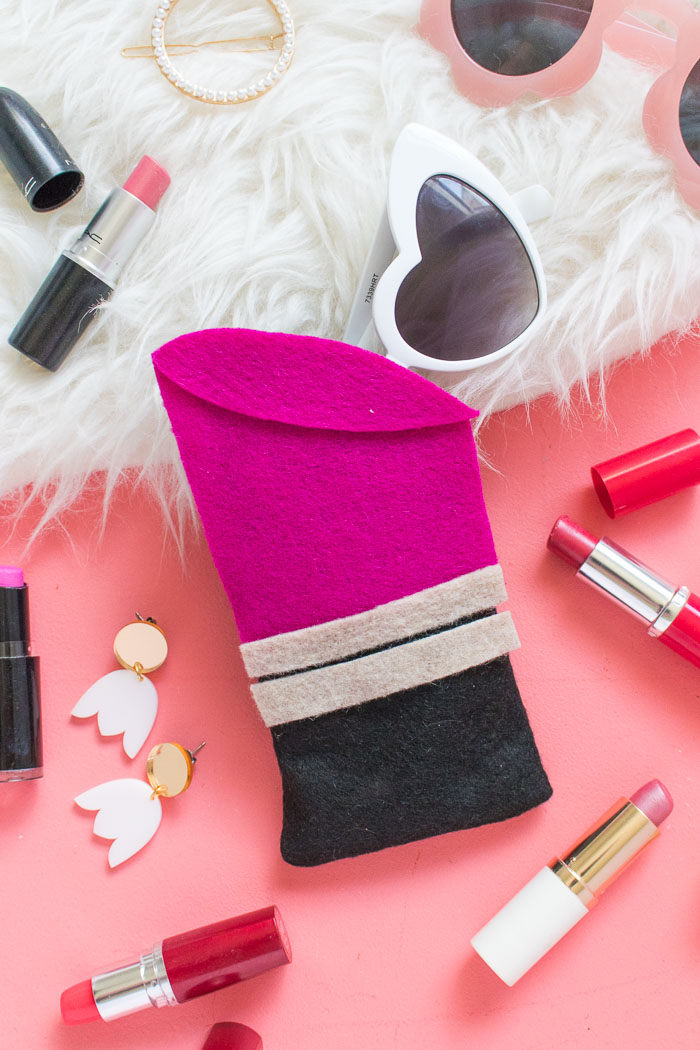 Slip a pair of sunglasses inside to protect them in your bag or your car so the lenses don't scratch. This simple lipstick sunglasses case will be the perfect addition to your bag, alongside your favorite lipsticks.
PS, want more easy sewing projects? Check out my roundup of easy sewing projects for beginners!
Please note this post contains affiliate links from which I may collect a small profit should you choose to make a purchase. I only link to products I personally use or recommend.