/
Honey Pistachio Granola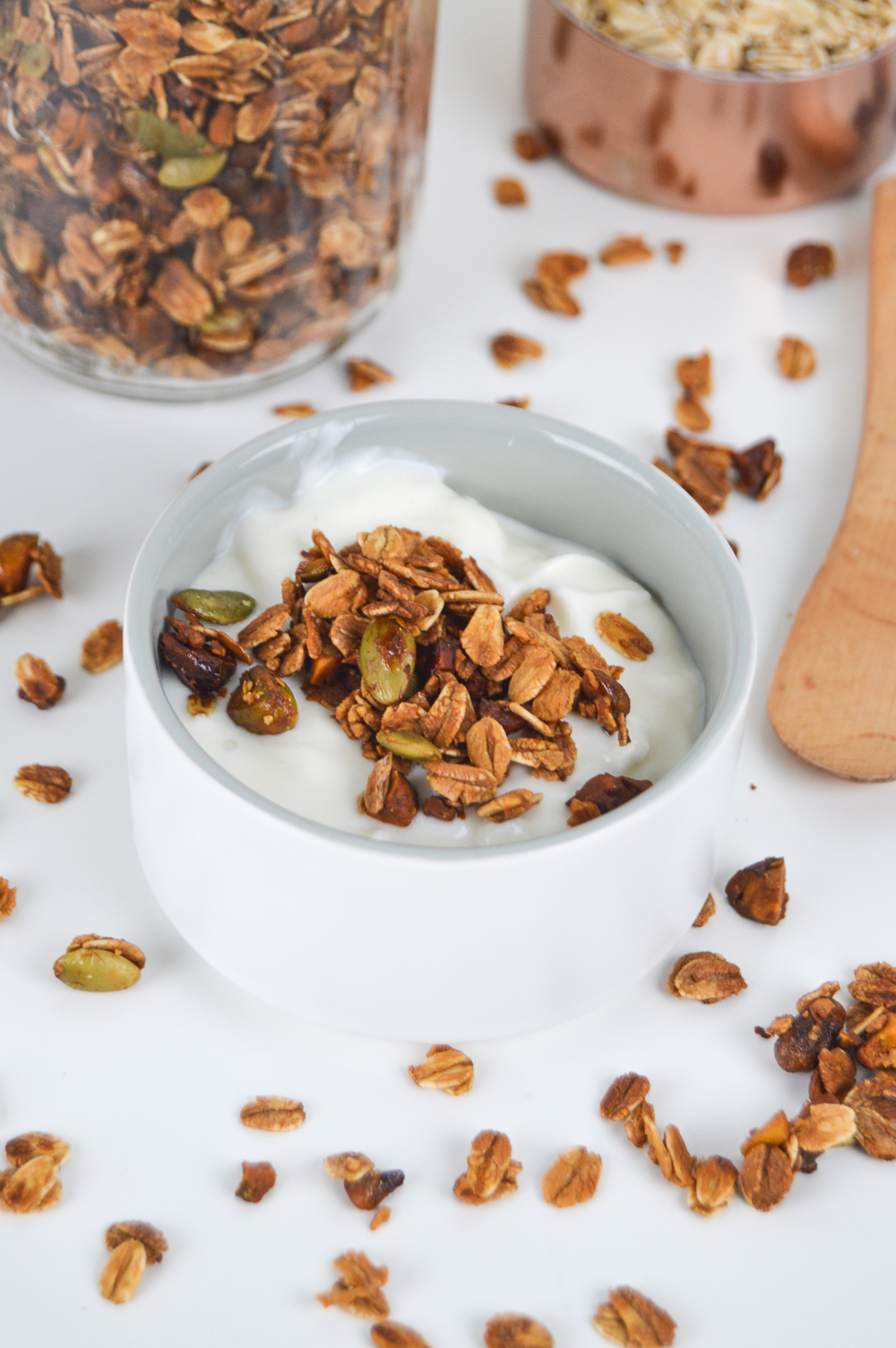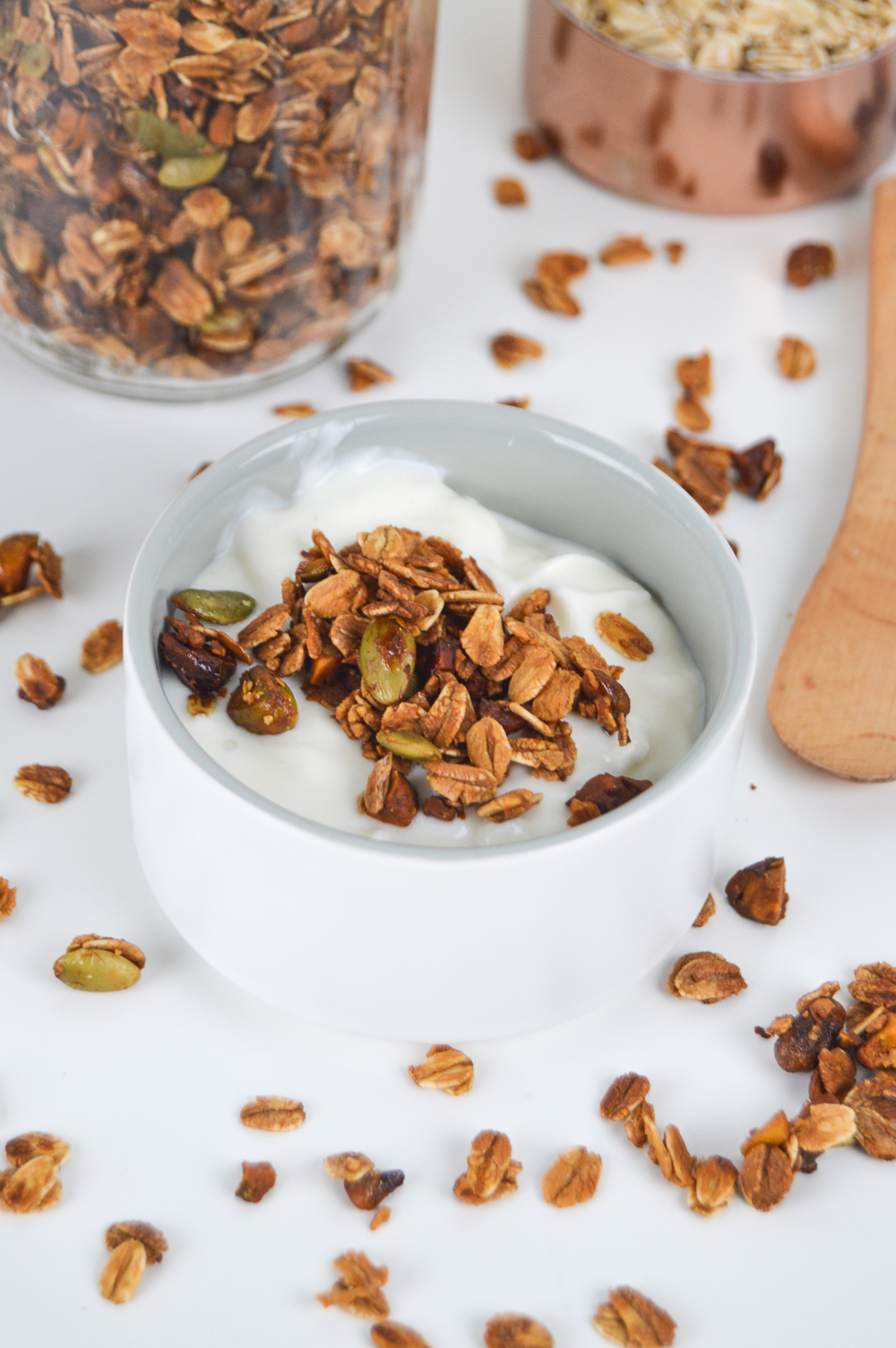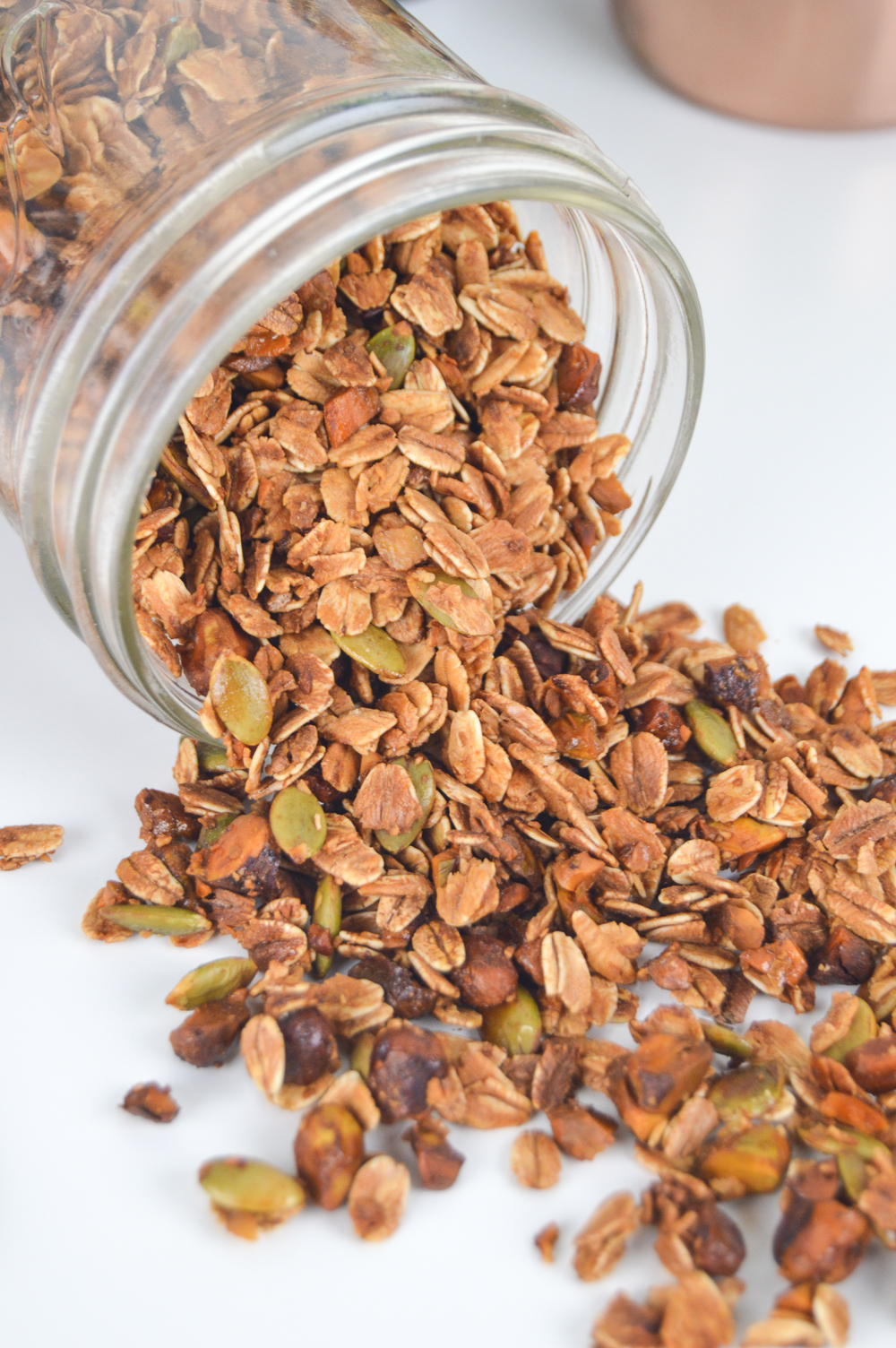 OK, prepare for one of the few healthy recipes you'll ever find here…granola!
More specifically, this is honey pistachio granola and it's delicious and perfect for topping Greek yogurt. Obviously, healthy recipes are not the norm around here, but I love me some granola! It's so simple to make and you can really mix it up with various ingredients. I added chopped pistachios and some pumpkin seeds as well as honey for some flavor and a little sweetness. The granola is not sweet, which actually pairs well with yogurt (personally, I don't like overly sweet yogurt), and once it cools out of the oven it becomes nice and crunchy.
Scroll down for the recipe card! ??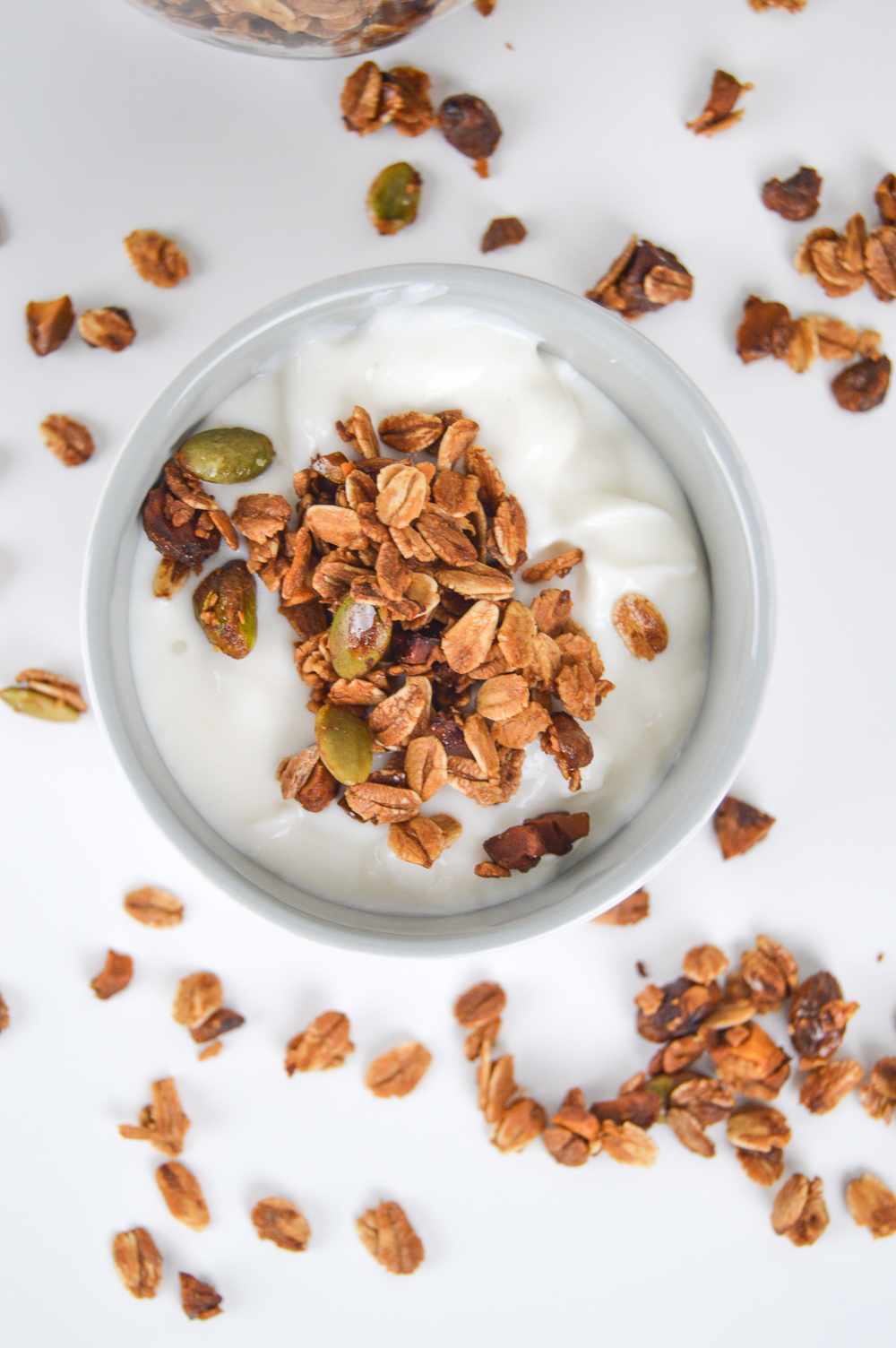 Ingredients:
2 cup oats, old fashioned
1/2 cup honey
1/4 cup pumpkin seeds
1/2 cup pistachios, chopped
1 tsp vanilla
Preheat the oven to 300 degrees and line a baking sheet with parchment or a silicone mat.
Toss together the oats, pumpkin seeds and chopped pistachios in a bowl. Pour in the honey and vanilla and stir until all of the oats are coated. Spread the granola onto the prepared sheet and bake for 45 minutes, stirring every 15 minutes.
Let cool completely and then store in an airtight container. Sprinkle some on top of your yogurt or eat alone.
One of the nice things about this recipe is that it's really easy to make in huge batches, and it can make a nice homemade gift for people who don't like sweets (preposterous, right?!) or as just healthy snack. I mean, as much as I would prefer to eat cake all day, every day, I probably shouldn't do that…enjoy!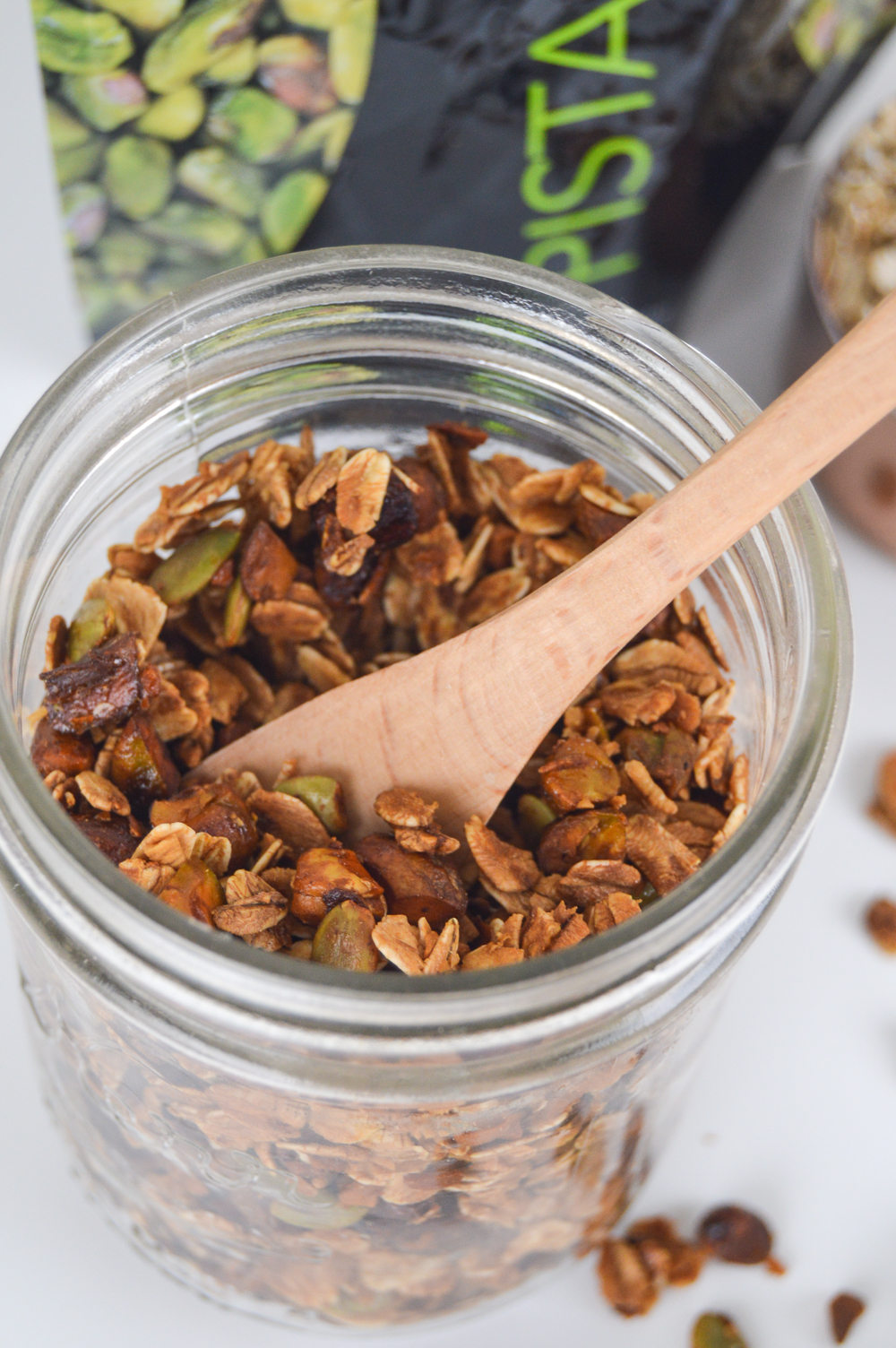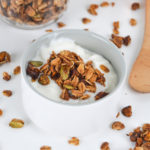 Honey Pistachio Granola
2016-10-15 16:42:51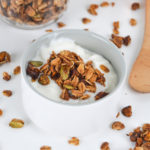 Healthy, lightly sweetened honey pistachio granola that's perfect for topping Greek yogurt
Ingredients
2 cup oats
1/2 cup honey
1/4 cup pumpkin seeds
1/2 cup pistachios, chopped
1 tsp vanilla
Instructions
Preheat the oven to 300 degrees and line a baking sheet with parchment or a silicone mat
Toss together the oats, pumpkin seeds and chopped pistachios in a bowl. Pour in the honey and vanilla and stir until all of the oats are coated
Spread the granola onto the prepared sheet and bake for 45 minutes, stirring every 15 minutes
Let cool completely and then store in an airtight container or bag
Notes
Can adjust amount of ingredients as desired
Club Crafted https://www.clubcrafted.com/