/
Funfetti Mug Cake for One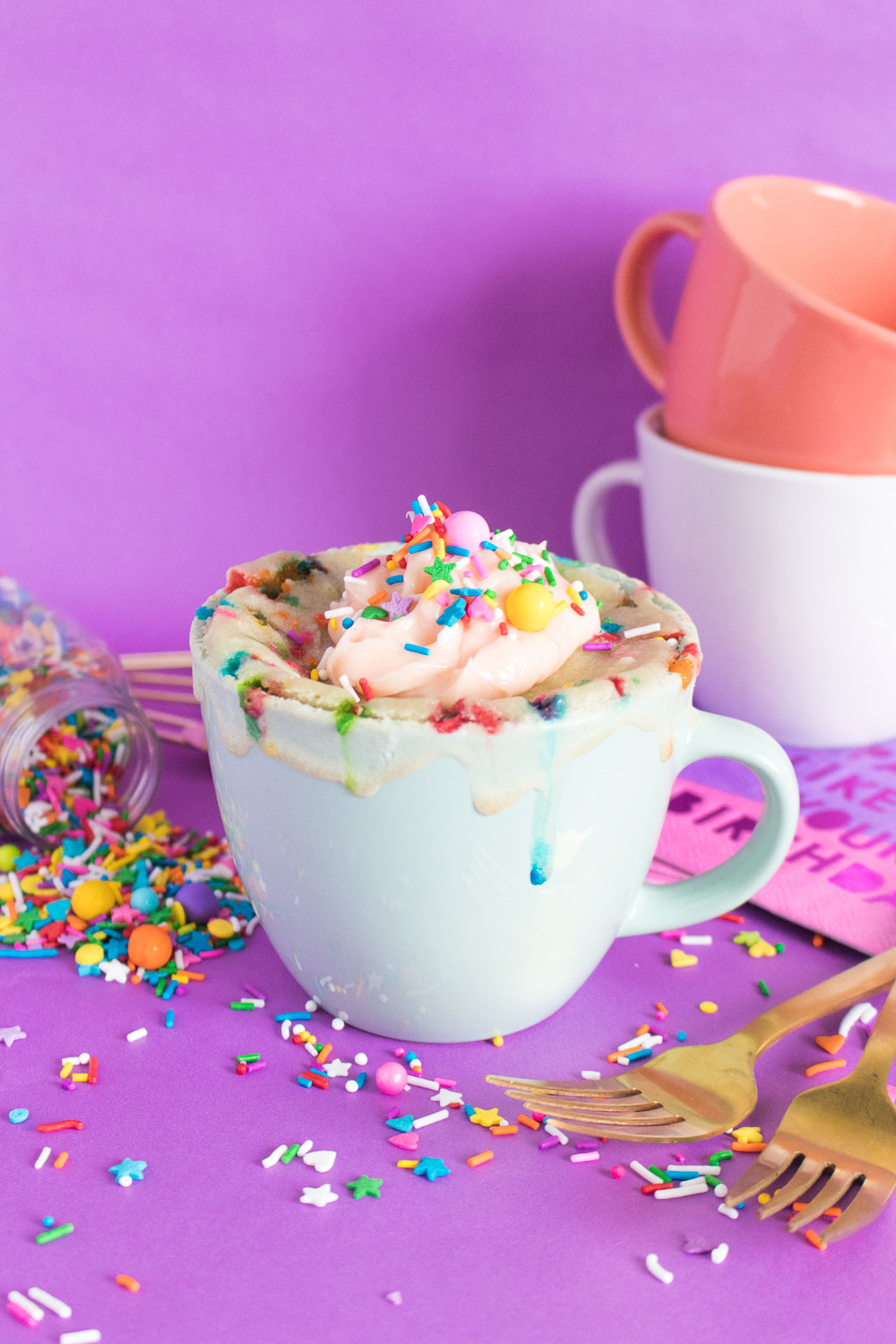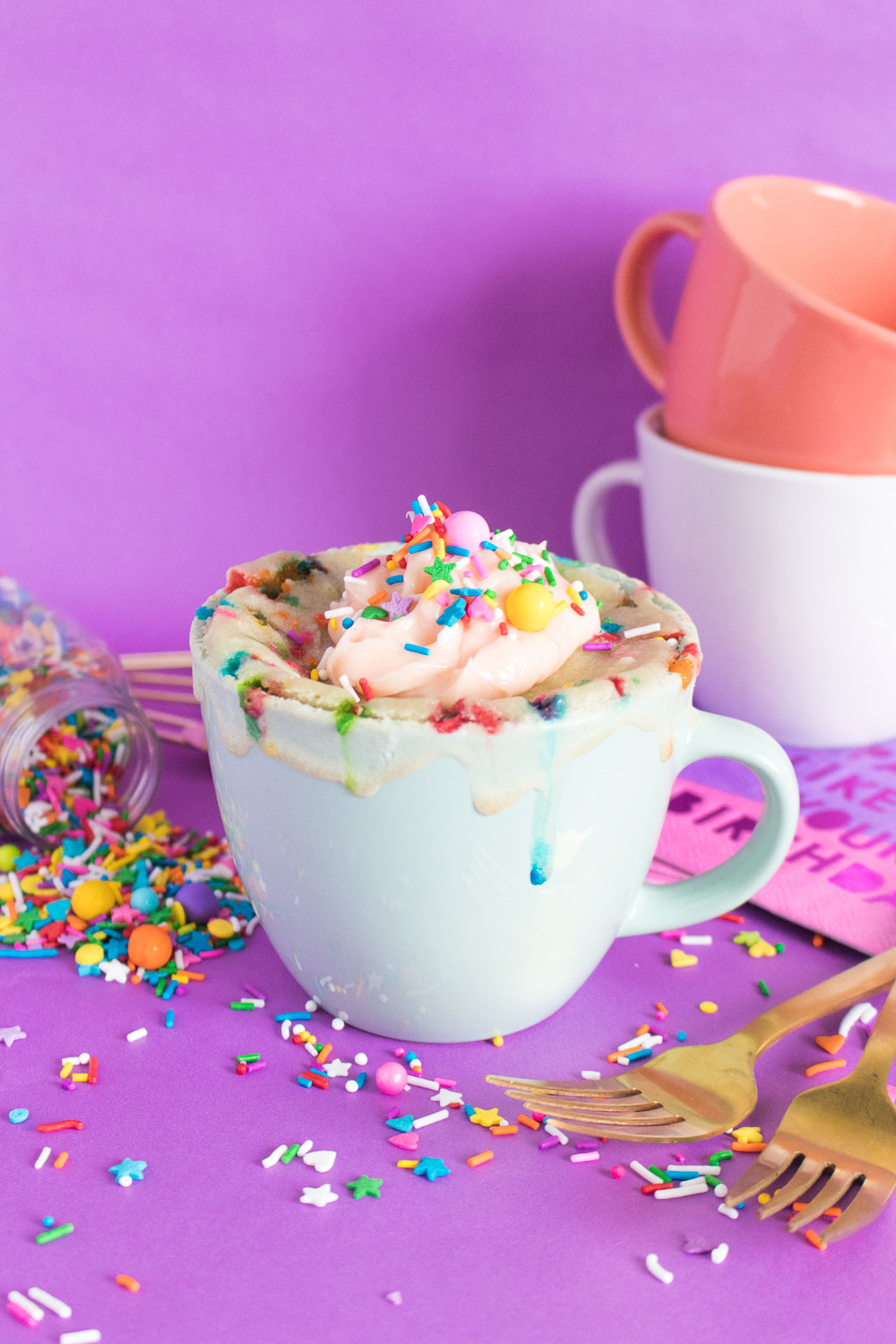 One of my favorite treats to make myself when I first moved out of my parents' house was microwave cookies. Yup, they are exactly what they sound like…but sometimes I would just eat plain ol' Nestle chocolate chip cookie dough. #noshame
If only I had known how to make mug cakes back then, ha! My mom bought me a book about mug cakes for Christmas a few years ago and I've tried a few recipes, but surprisingly, this funfetti mug cake wasn't included and I think it deserves to be shared! I've seen many recipes for mug cakes, and all of the cakes featured in the book I own call for one egg and the batter is split between two mugs. Well, this deliciously fluffy and colorful cake has zero eggs and the measurements are perfect for one, but feel free to double it if you're willing to share!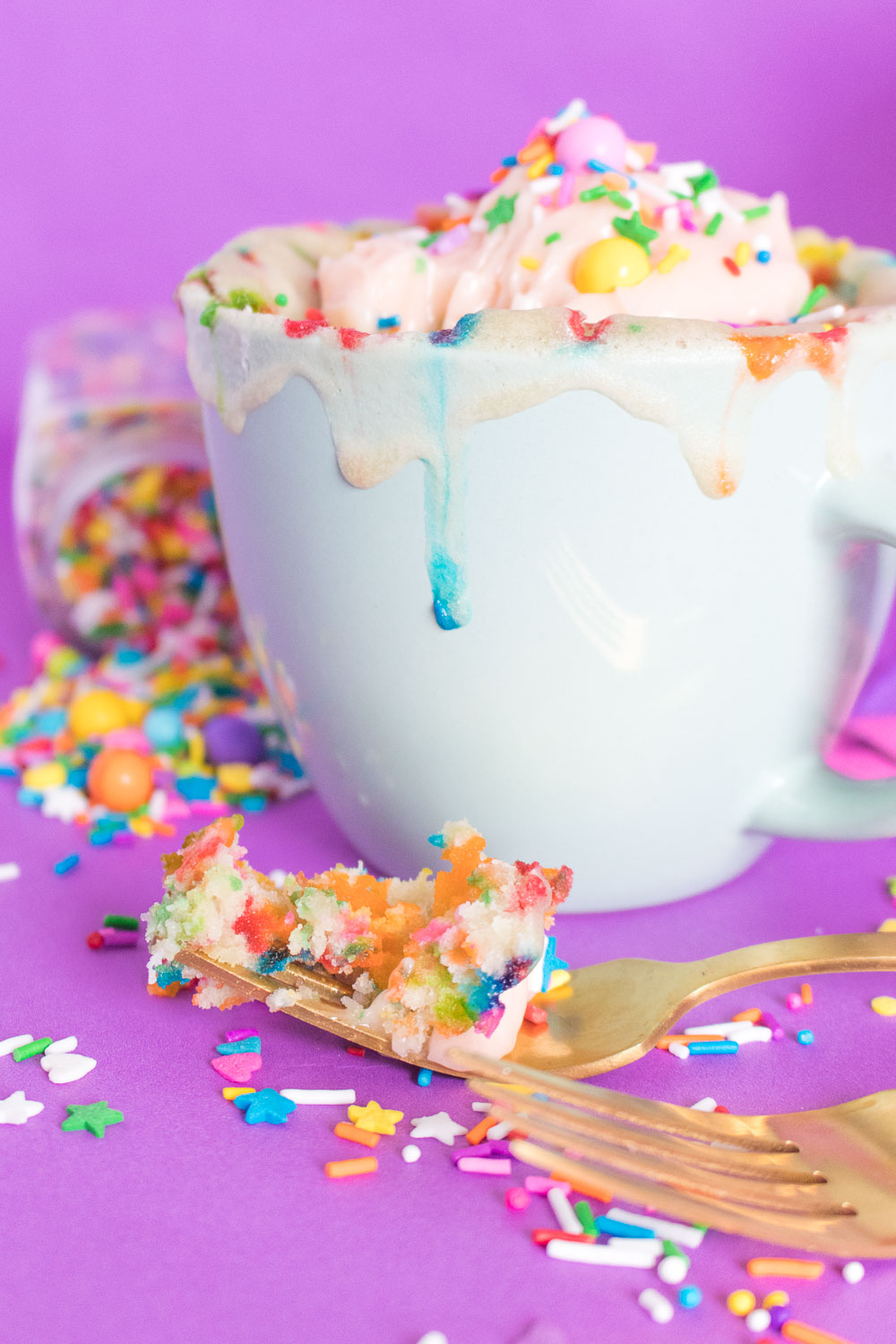 To make this funfetti mug cake recipe even better, I'm also sharing how to make a small batch of frosting for your mug cake. Again, perfect for a serving of one! The first time I tested out this recipe, I ate the whole thing. Andrew only got a bite. The second time I sort of shared…sort of.
Scroll down for the full recipe for this funfetti mug cake AND single-serve frosting! ??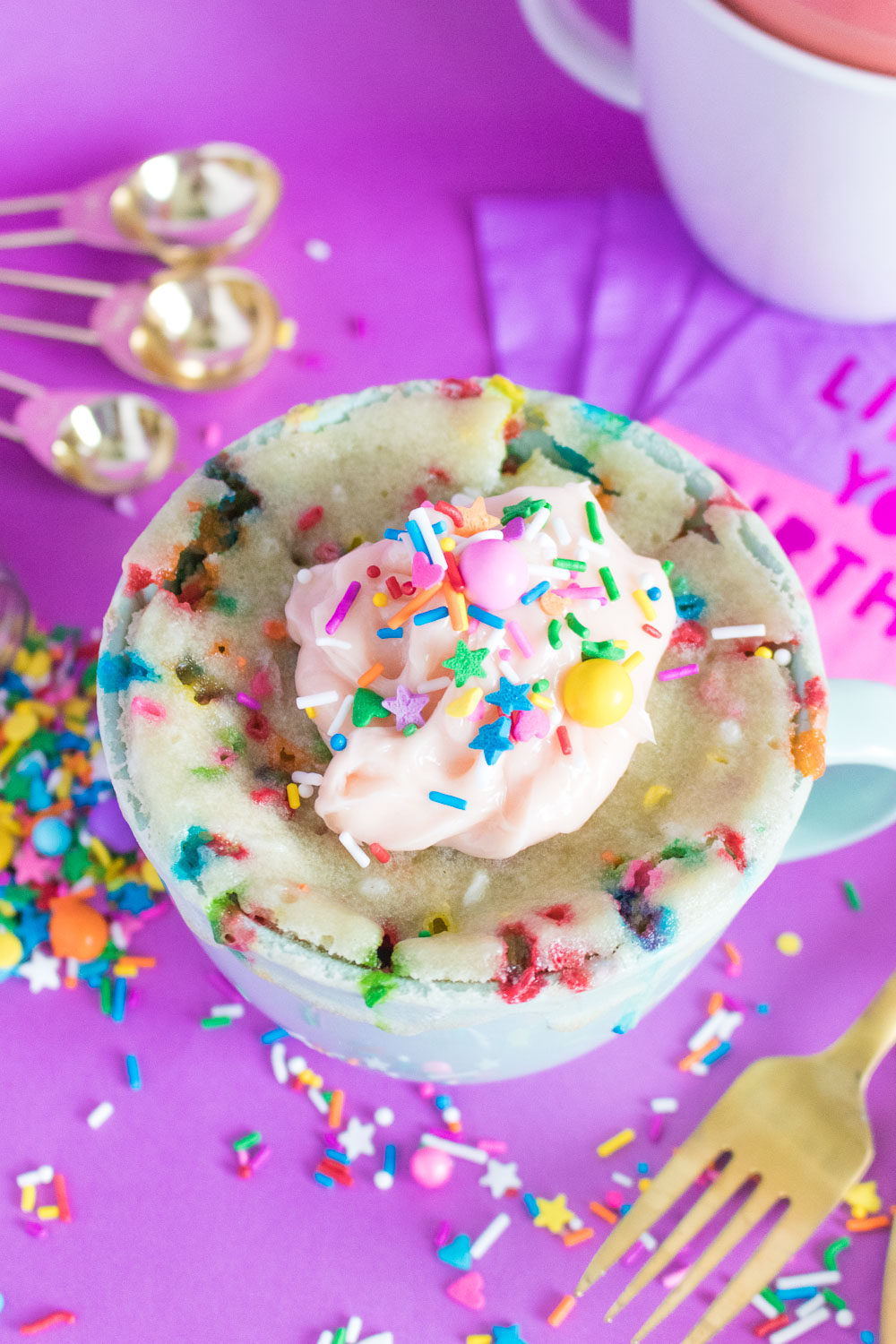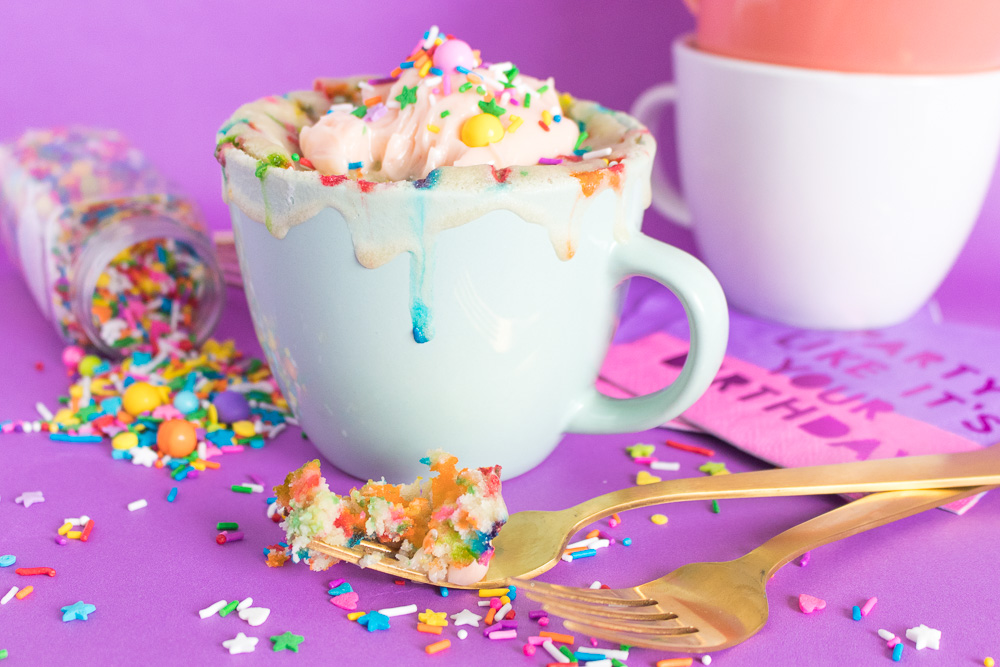 Who knew you could make such a convincing cake in a MUG?! Really though, it fluffs up like a cake and tastes like a cake. Therefore, it's totally a cake. It's magic. It also doesn't make a lot of extra dishes, so that's a win in my book.
Use your favorite variety of rainbow sprinkles, add food coloring, or do whatever you'd like to make your individual cake delicious. Because I'm avoiding my oven until September (UGH THIS HEAT), the mug cake recipe satisfied my cake cravings perfectly. Did I mention it's perfect for those of you living in dorms because you can just bake a little cake in your microwave?! Easy bake ovens got nothin' on this recipe!
Is is dangerous to be able to bake a cake in less than 5 minutes? Maybe. Whatever.
Get out there and treat yourself!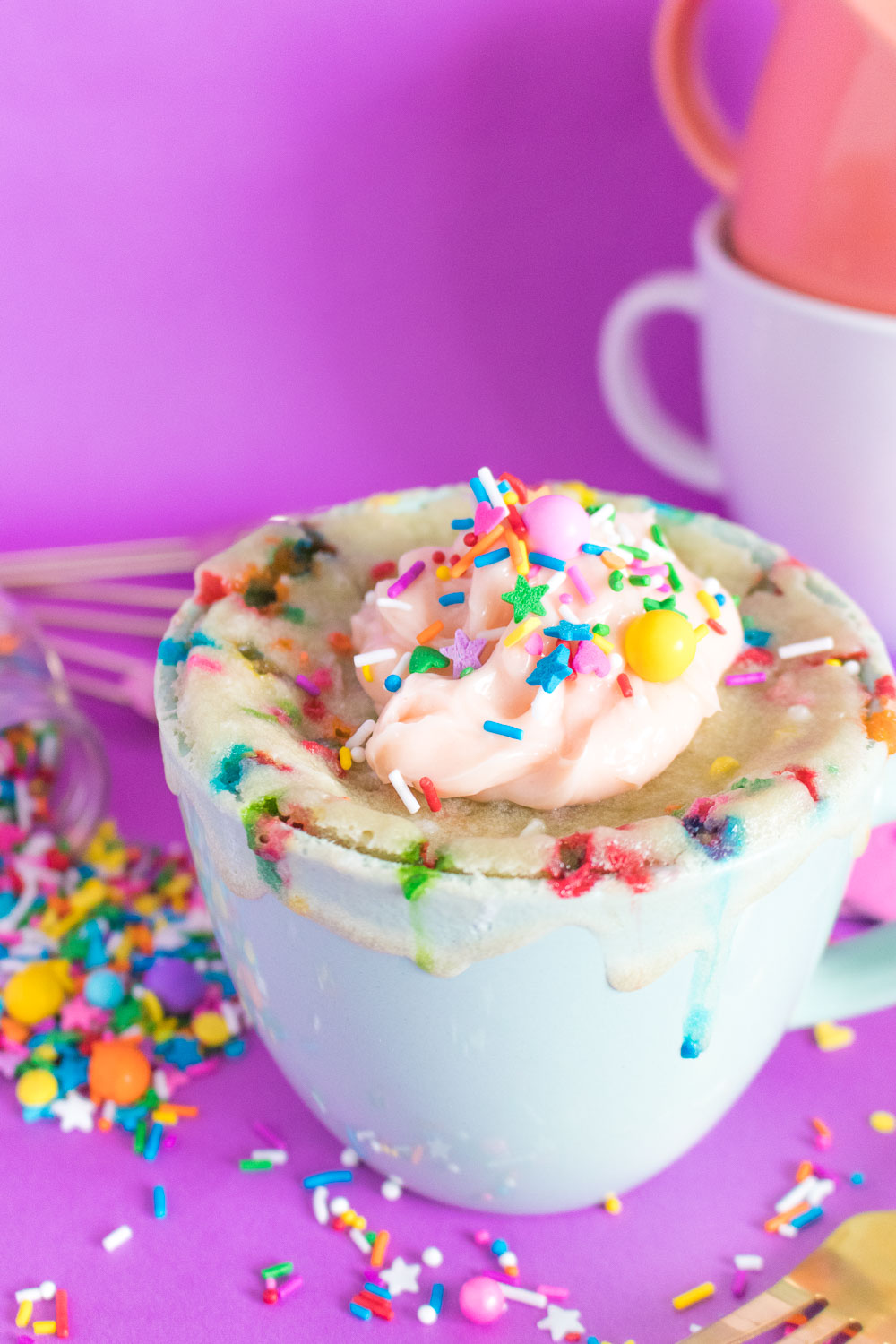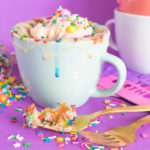 Funfetti Mug Cake
2017-07-23 16:39:21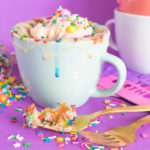 Deliciously moist and fluffy vanilla microwave mug cake baked with sprinkles
For the mug cake
2 tbsp butter, melted
2 tbsp sugar
1/2 tsp vanilla extract
1/4 cup + 1 tsp all-purpose flour
1/4 tsp baking powder
Pinch of salt
1/4 cup milk (I use low fat)
1/4 cup sprinkles
For the single-serve frosting
2 tbsp butter, room temperature
3 tbsp powdered sugar
1/4 tsp vanilla extract
Food coloring, optional
For the mug cake
Melt the butter in a large mug for about 30-45 seconds. Let cool for several minutes.
Whisk or stir in sugar and vanilla
Mix in flour, baking powder and salt until combined
Add milk, mixing well until the batter is smooth. Stir in rainbow sprinkles
Microwave the mug for 1 minute, check if the cake has risen and microwave for another 15-30 seconds until the top is springy and not sticky
Let cool for at least 10 minutes before eating or topping with frosting
For the single-serve frosting
Combine the softened butter and powdered sugar in a small bowl and mix together with a fork or miniature whisk
Add vanilla (and desired food colorings) and mix until no jumps remain
Drop frosting on top of a cooled mug cake with extra sprinkles
Notes
Photo features the recipe doubled in order to completely fill the mug. If you are doubling the recipe in a single mug, you will need to double the cook time as well.
Club Crafted https://www.clubcrafted.com/