/
Punny Easter Eggs // Hand Stamped Eggs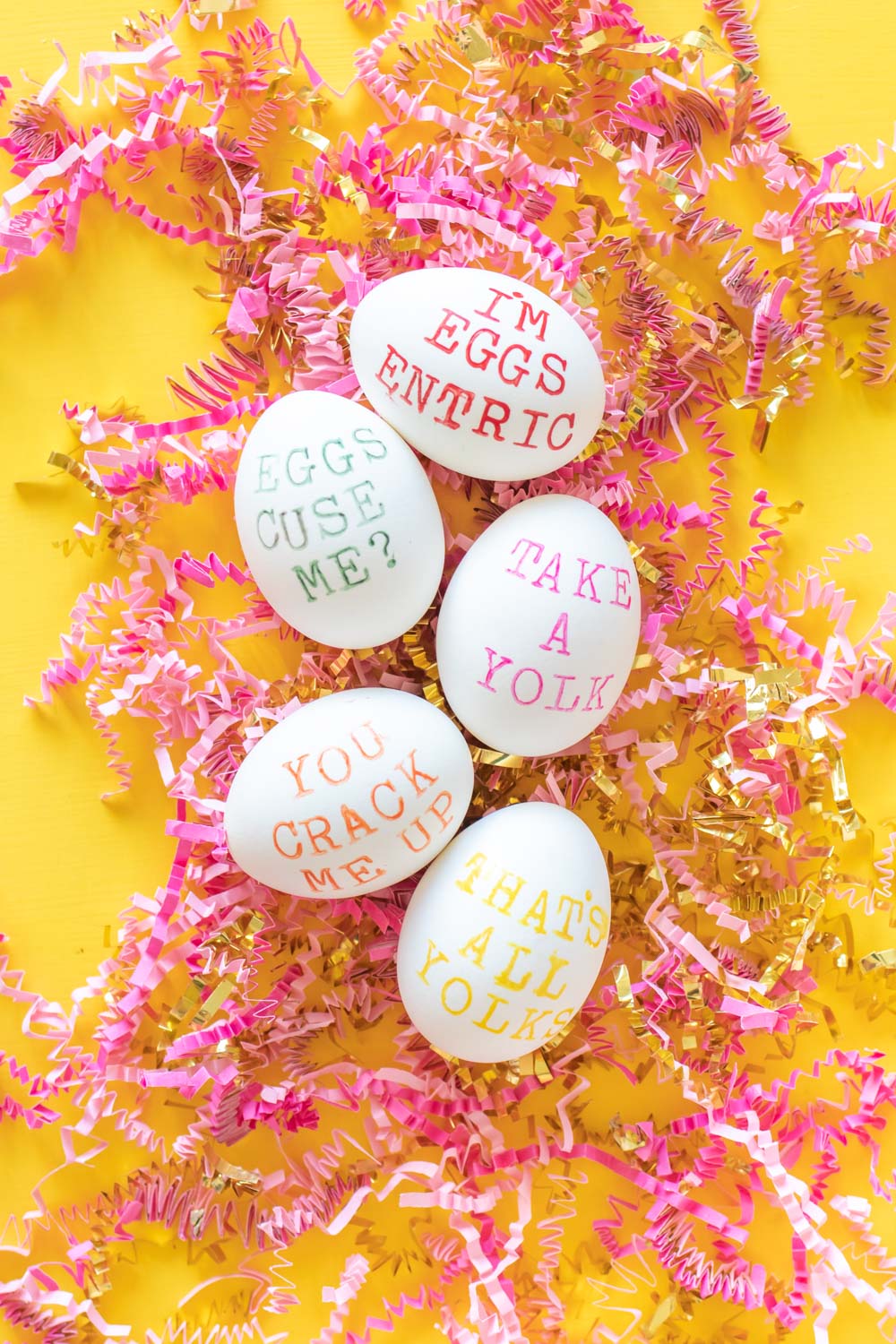 I couldn't resist cracking open my best Easter puns this year to see who can take a yolk! This is honestly such simple Easter craft but I'm so EGGcited to share because I'm obviously a huge fan of puns (like you couldn't tell). These punny Easter eggs are a goofy way to bring some extra fun to your Easter brunch, no matter how you're celebrating this year. Making hand stamped eggs has been on my list for a while, and when I realized how small my alphabet stamps were, I knew what I had to do! Stamped pun eggs are the Easter DIY you didn't know you needed. Here's everything you need to know about how to hand stamp eggs!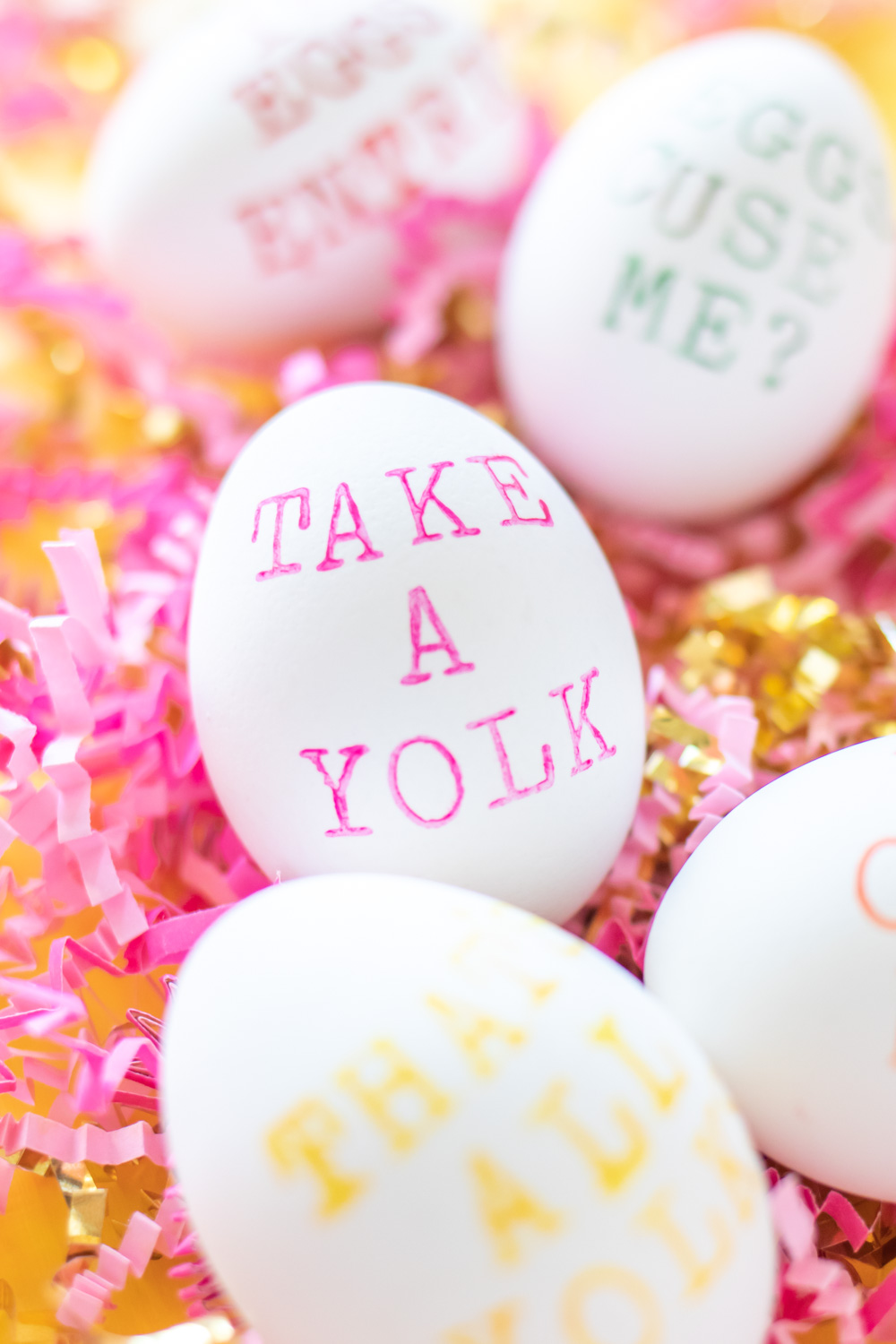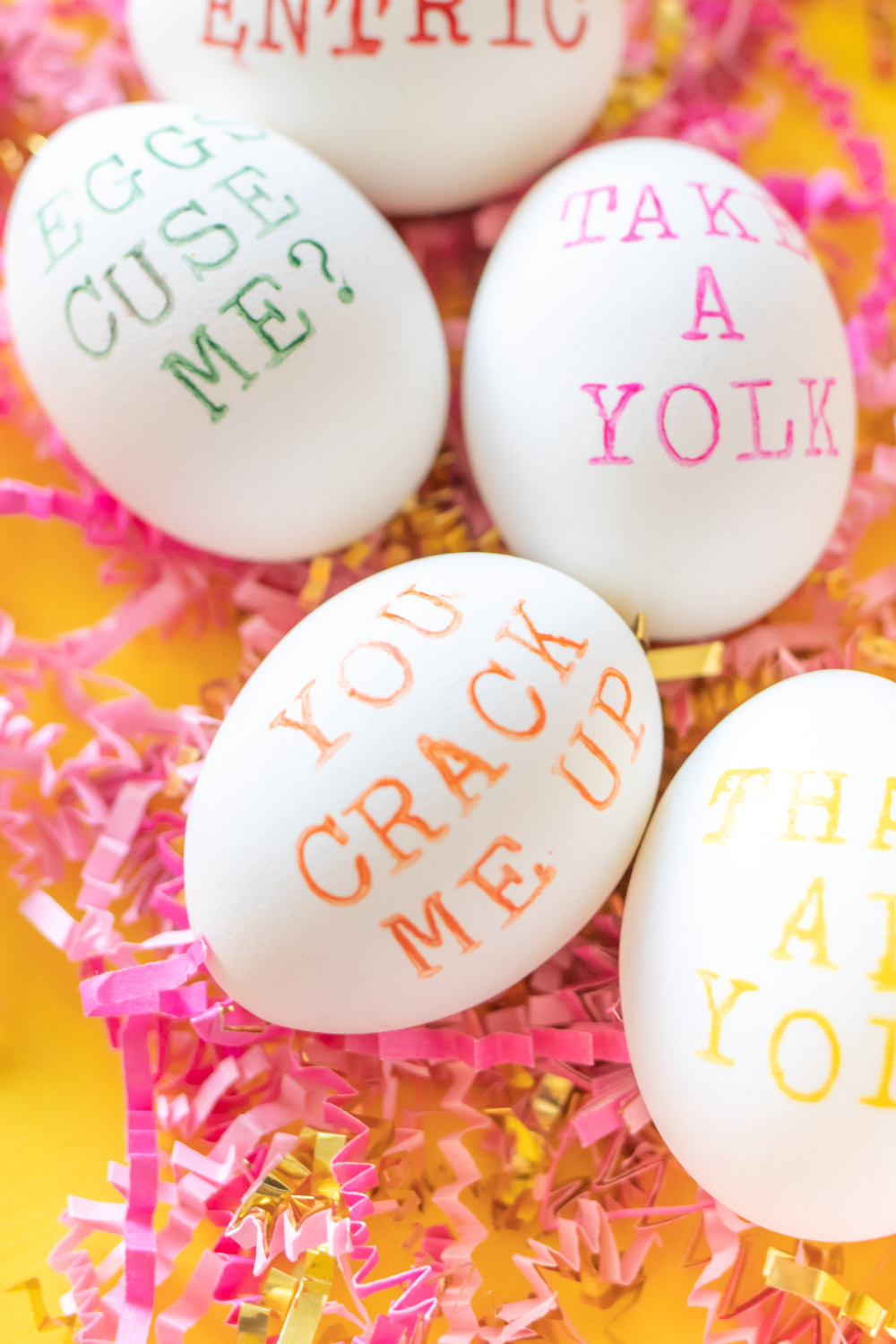 Personally, I find Easter and Halloween to be the punniest holidays. Christmas comes in behind them. To celebrate one of the punniest holidays, I was so excited to use my favorite egg puns! These punny Easter eggs actually fit more letters on them than I expected.
For my pun Easter eggs, I used hard boiled, room temperature eggs. I love the idea of placing a hand stamped egg at each place setting for an Easter brunch! How fun would that be?! However, you can also use fake eggs (white or painted) to make your own stamped punny eggs. I found that the ink type was important for stamping hard boiled eggs. For example, my standard stamp ink looked great at first. Then the ink began to bleed and spread until the words were barely recognizable. For best results, test your ink on an egg first. I highly recommend the pigment ink I linked below!
How to Make Hand Stamped Eggs for Easter
Supplies:
White eggs, fake or hard boiled
Stamping ink (highly recommend this pigment ink)*
Note, other inks may cause spreading. Different inks may look different on real vs. fake eggs. The ink above was the only one that worked for my case. If you're careful, you could also utilize acrylic paint for this Easter craft.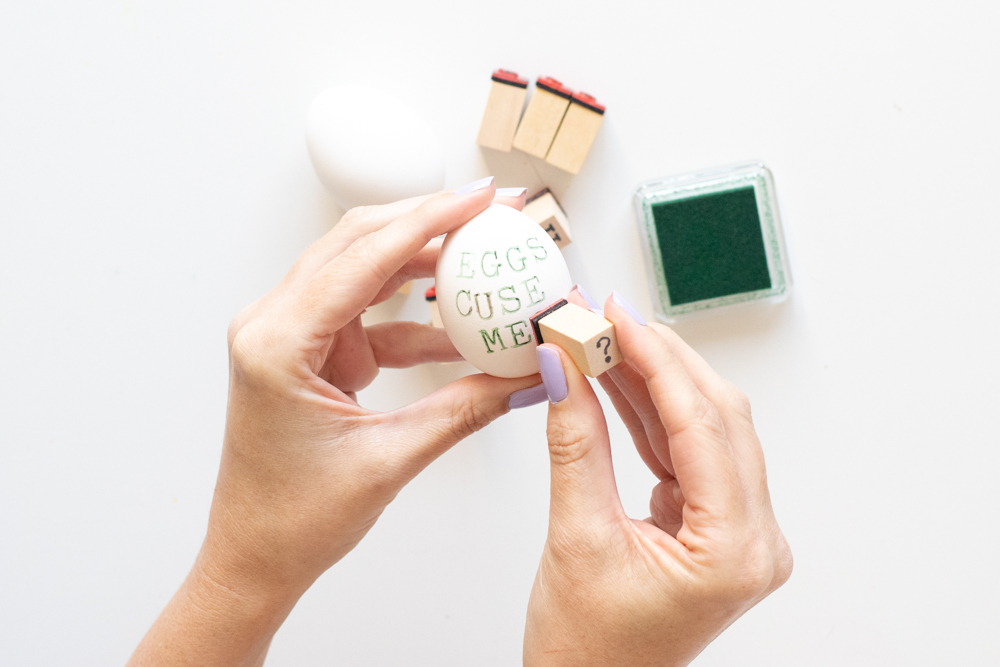 Step 1: Gently press the stamps into ink. Then apply puns to clean, dry eggs. For straighter sayings, try placing the middle-most letters first. Set them aside to dry completely.
Note, pigment ink needs more time to dry. Otherwise, it will smudge very easily.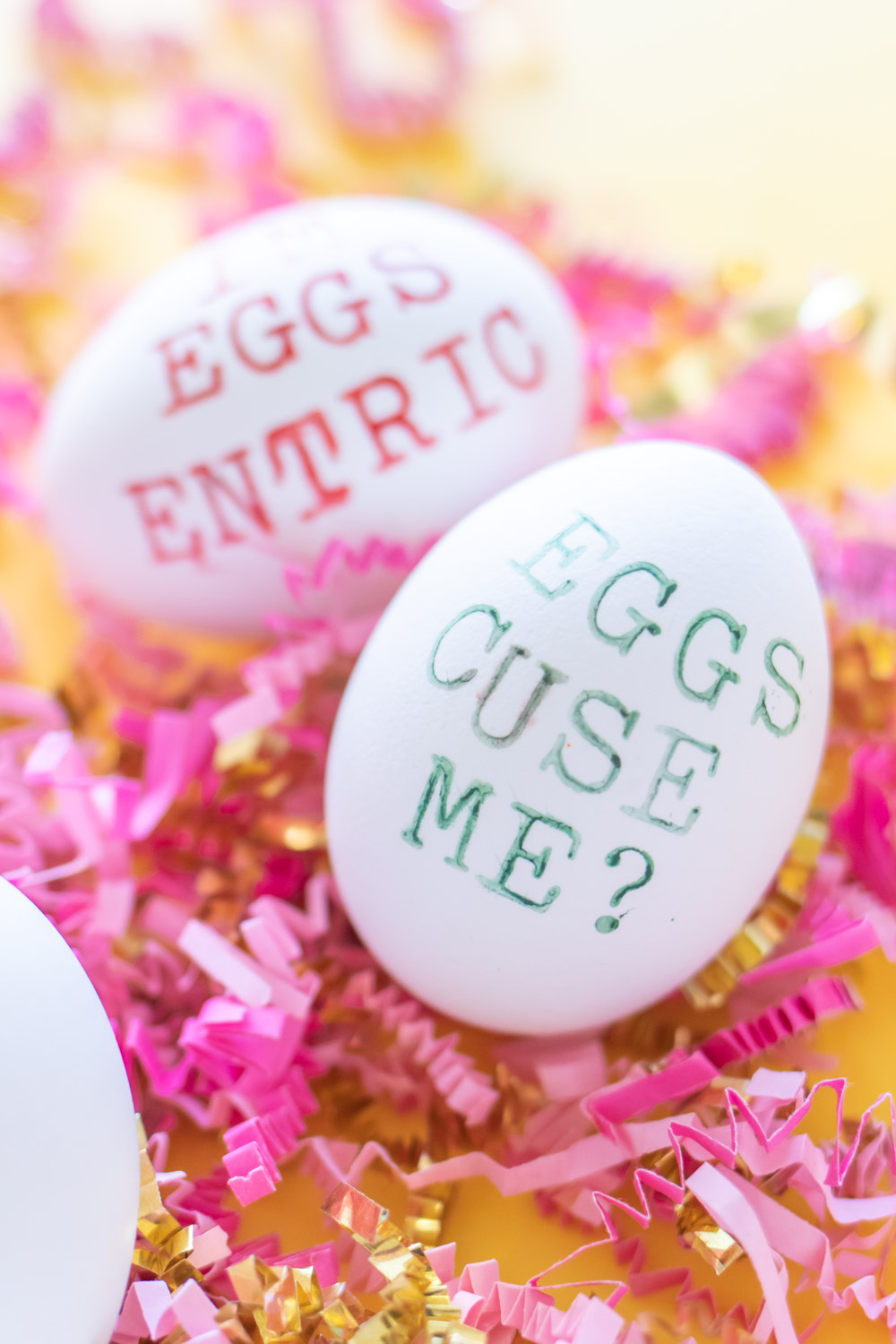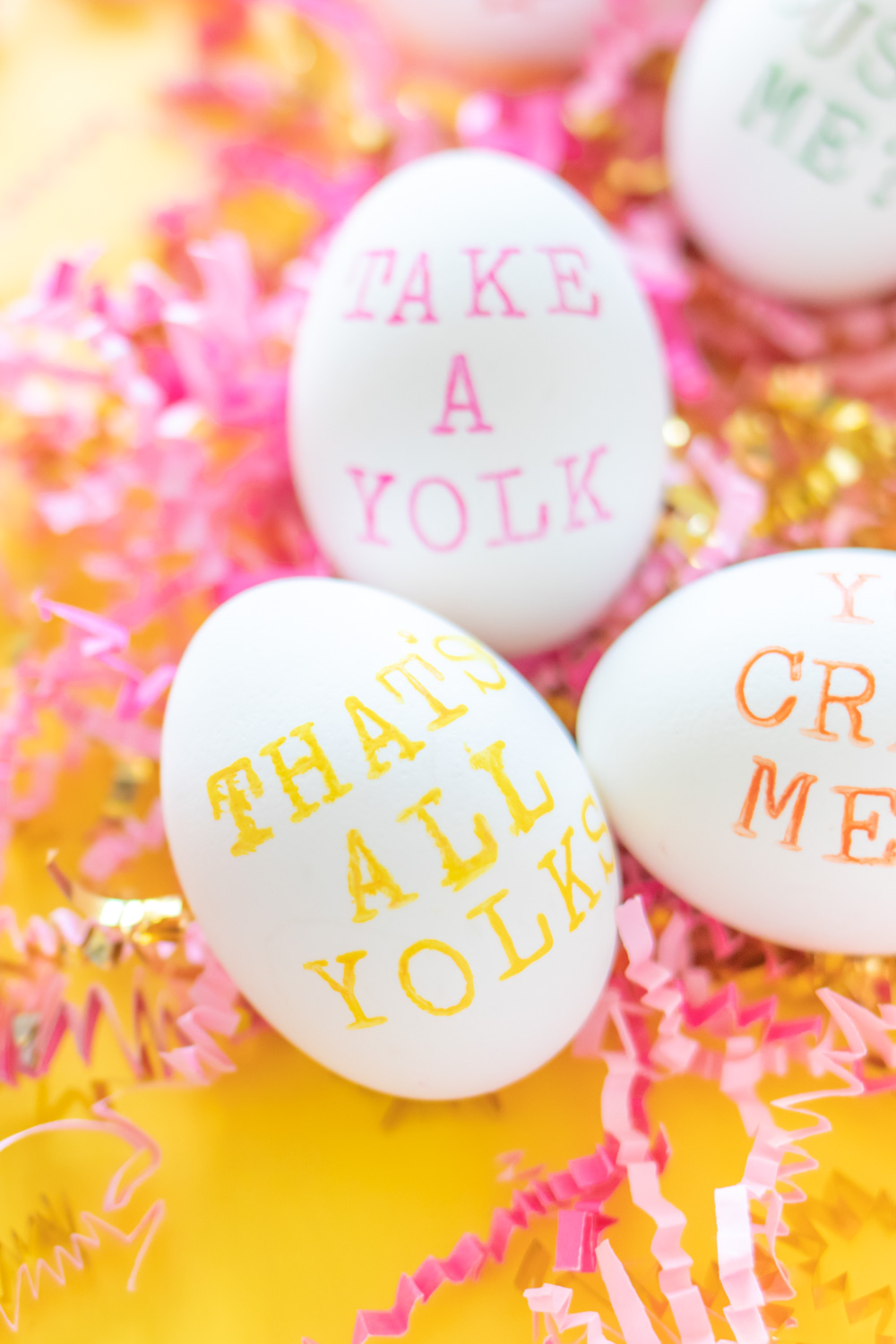 That's it…that's the only step to making punny Easter eggs! Just stamp and go. These stamped eggs are just a fun, goofy way to perk up your Easter celebration this year. Considering the state of thing, we could all use something to make us laugh, right??
Please note this post contains affiliate links from which I may collect a small profit should you choose to make a purchase. I only link to products I personally use or recommend.