/
DIY Gift Packaging // Gingerbread House Paper Gift Bags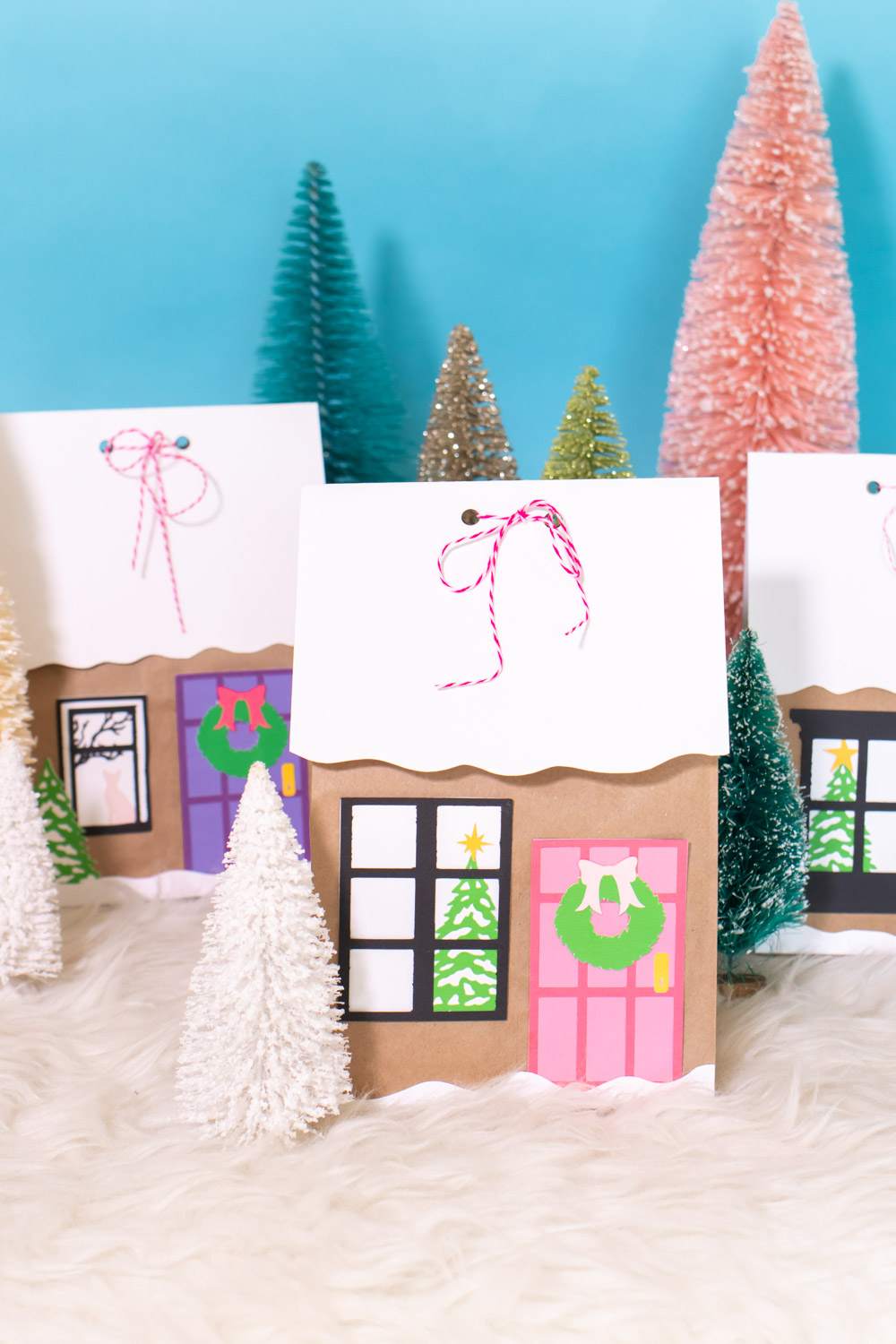 'Tis the season for wrapping! As a follow up to my last post on holiday gift wrapping ideas with Cricut Infusible Ink, I thought I'd share a great low-cost way to make unique DIY gift packaging…lunch bags. Standard brown lunch sacks are the perfect size for wrapping an assortment of gifts, and some scrap paper can take them to blah to gingerbread houses! These gingerbread house paper gift bags simply use cardstock scraps, a lunch bag and a gluestick to make little holiday cottages. It all started with simple snowy roofs and rough cut-outs, but I ended up using my Cricut Joy to cut out more intricate designs for doors, trees and windows. Have no fear though! You can still cut adorable decorations by hand to make gift bags that look like winter houses. Keep reading for the full tutorial!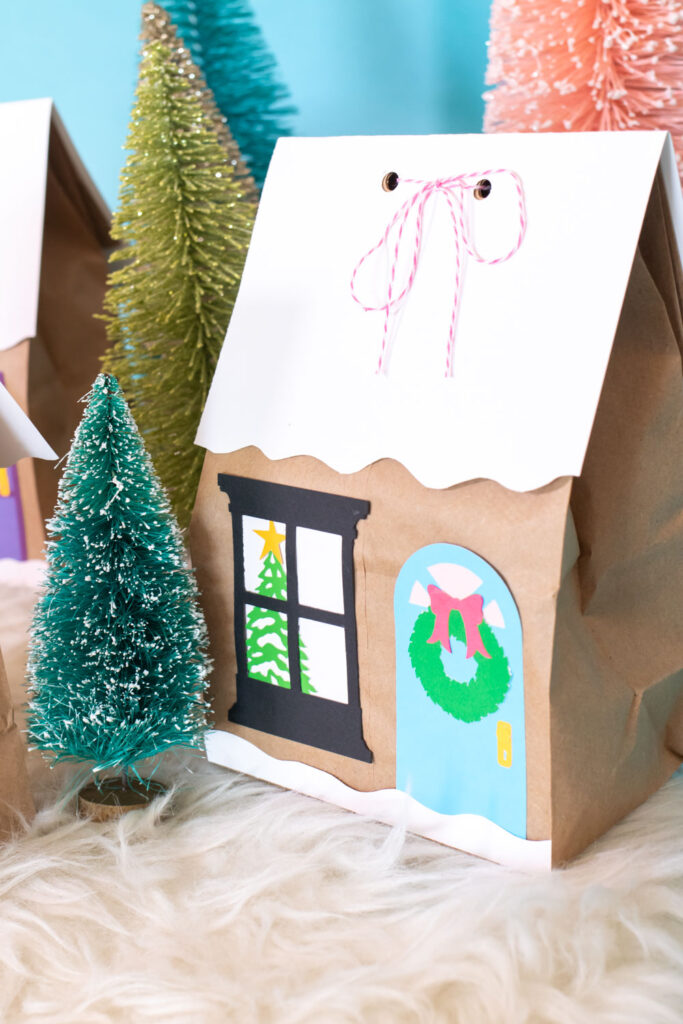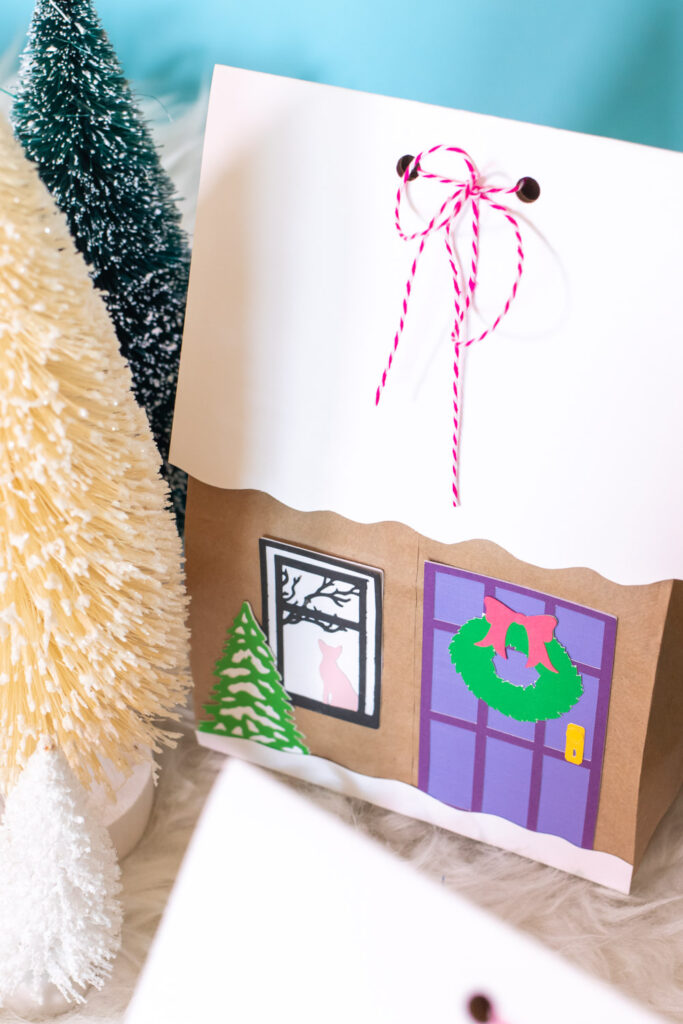 I'm really proud of the end result of these gift bags. I ended up using them to gift the Thanksgiving ornaments I share with my family every year. That's one of our traditions! I've forced that tradition onto Andrew's family now too haha! I doubt anyone minds. These lunch sack gift bags were the perfect size for holiday ornaments, and when you set them all out under your tree or even on a table, it's like a village. I may have to make these gingerbread house gift bags every year now.
Below I've linked to all of the pieces I used to create my gingerbread house gift bags on Cricut Design Space. However, that doesn't have to stop you from creating these cute gift bags if you don't have a cutting machine. Using simple rectangular or triangular shapes cut by hand will still create a dreamy gingerbread house. Plus, feel free to incorporate stamps, paint, glitter or stickers to make your own winter wonderland scene. I mean, HELLO, crafting is supposed to be fun!
Here's how to get started making your own gingerbread house paper gift bags using lunch bags!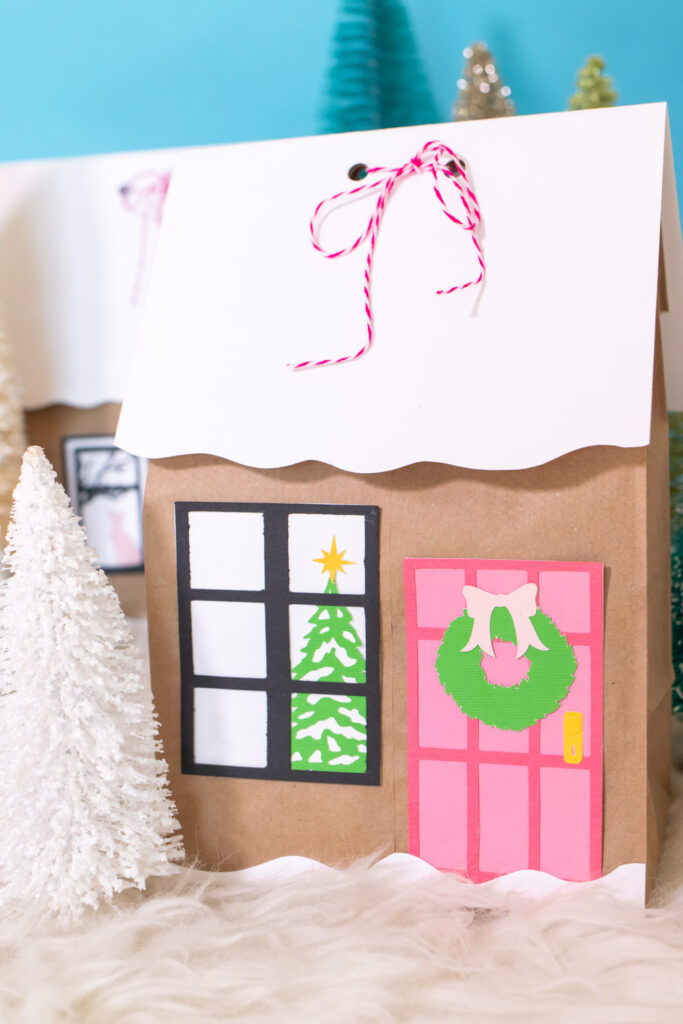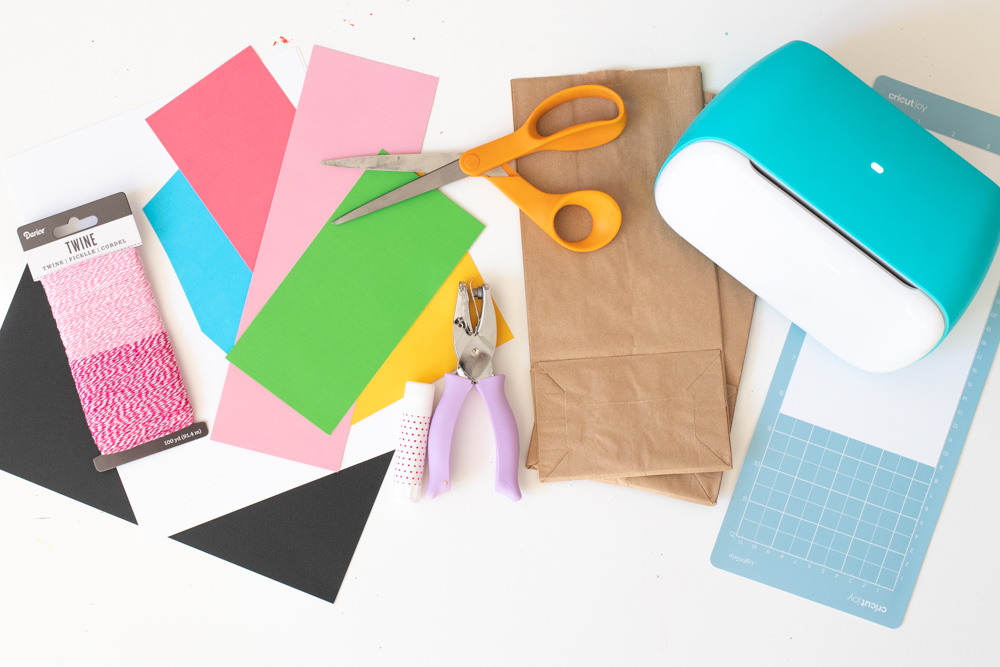 How to Turn a Paper Lunch Bag into a Gift Bag
Supplies: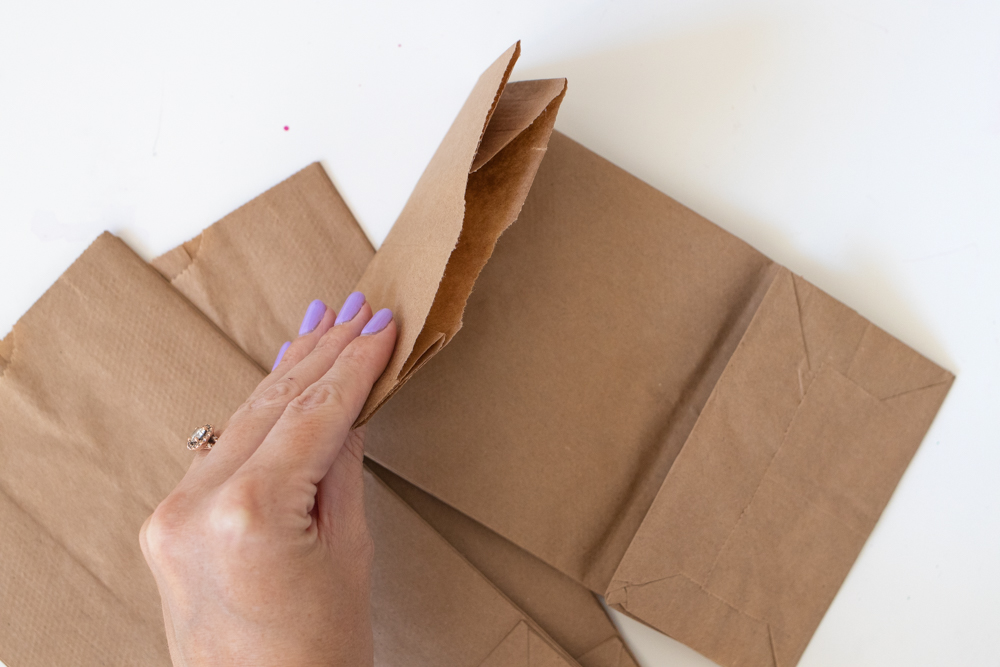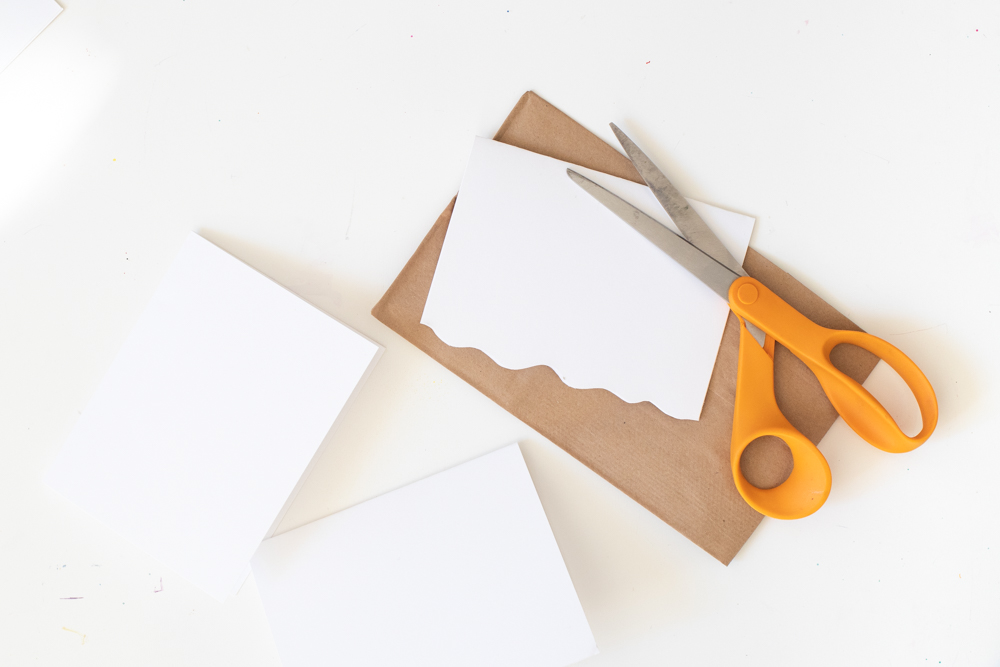 Step 1: Fold over the top of the lunch bag by about 4-5 inches. Fold a piece of white cardstock in half. Cut it to about 5-1/2 inches wide. Then use the scissors to cut the bottom edges in a wavy line to look like snow. It should be long enough to completely cover the folded part of your bag (about 4-1/4 inches in my case).
Step 2: I used my Cricut Joy to cut out all of the pieces you see on my gingerbread house paper gift bags. If you don't have access to a cutting machine, you can still absolutely cut simple items by hand. For example, a rectangular shape for the door, a white window square with black strips for the frame and a simple triangle shape for a Christmas tree in the window.
Step 3: Layer the pieces together with a glue stick. Then apply to the front of the bag to create a mini house scene. I also added a thin wavy line of snow to the bottom of the bag. You can also decorate with other accessories, like stickers!
Step 4: Insert your item into the gingerbread house gift bag! I'd recommend wrapping it in a bit of issue first if it is a hard good. Then fold over the top and place the snowy roof on. You can glue it to the folded part for stability but it's not necessary.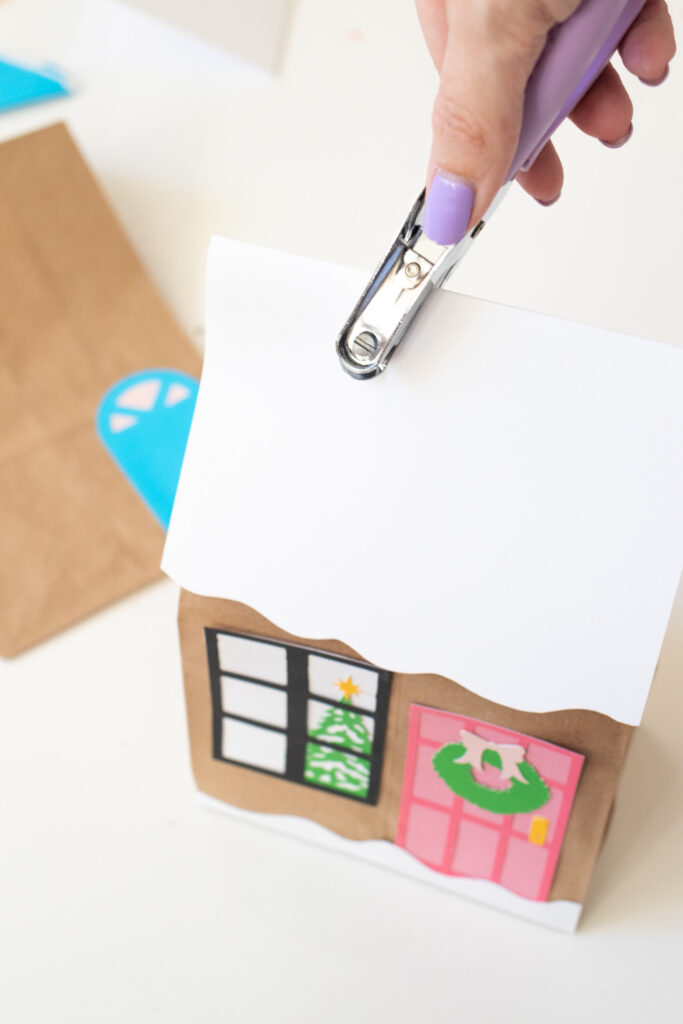 Step 5: Lastly, punch two holes about 1 inch from the top of the house, leaving at least an inch between them. The holes must go through all the layers. String a bit of twine or ribbon through them and tie into a bow.
Can you imagine a cuter way to give a gift?! I probably say that a lot…but somehow it's always TRUE! And yes, that is a cat in the window of one of my gingerbread house gift bags. I wanted to add a little variety to each one, and I couldn't resist adding this little detail to my gingerbread houses. Off to wrap a million more gifts now…
Happy holidays, makers!
Please note this post may contain affiliate links from which I may collect a small profit should you choose to make a purchase. I only link to products I personally use or recommend.