/
Holiday Gift Guide // Give the Gift of Cricut this Year
The following post is sponsored by Cricut
When I was a kid (maybe 12 or 13), my mom got one of the first Cricut machines. I was an avid scrapbooker then and all through my teens, and mom's Cricut was the coolest thing since sliced bread! We collected TONS of cartridges my mom still uses often. Years after I had moved out on my own and already started blogging, Andrew bought me the original Cricut Explore Air for my birthday. It was perfect. That machine felt like the best gift I could have received, and it came not long after starting Club Crafted! Since then, I've shared a lot of ways to make unique projects with Cricut and grown my collection of machines along with my skills. This year, I partnered with Cricut to share why Cricut makes the perfect gift for the creatives in your life. It truly is one of the best gifts I've ever received, and I've gotten so much use out of my machines not only for my "work" as a blogger but in my personal life that I don't always share. Keep reading for more details about my holiday gift guide and why a Cricut Joy, in particular, is the perfect gift this year.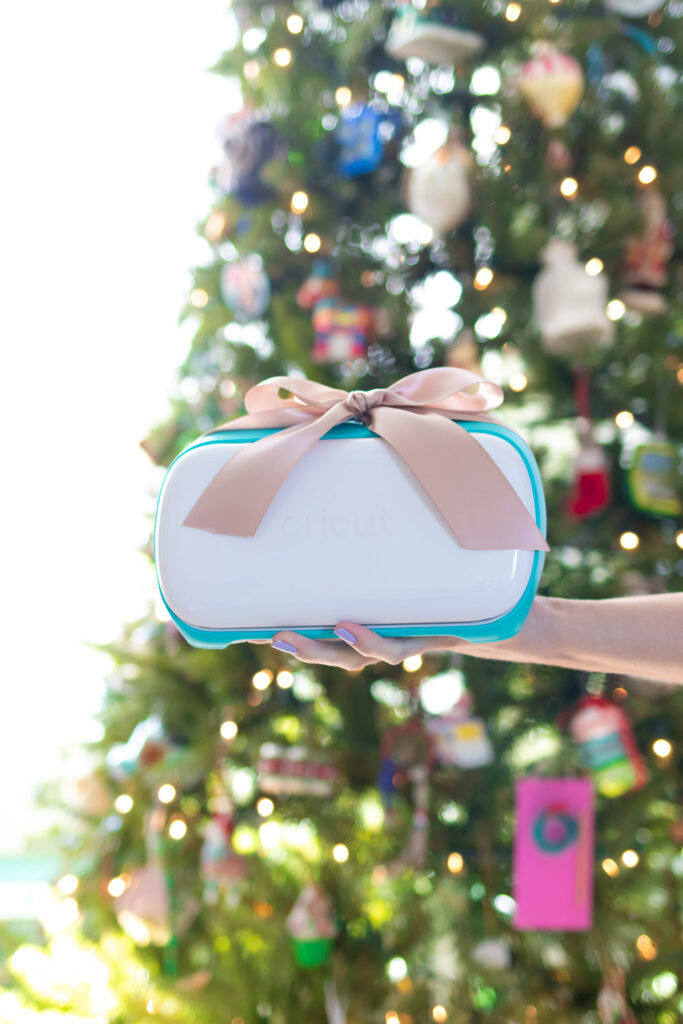 This was the first full tutorial I shared with my Cricut Explore Air, featuring an eyelash sleep mask. Boy have I come a long way since then! I currently own the Cricut Explore Air 2 and Cricut Joy, and I hope to purchase a Cricut Maker in the coming months. Each machine is amazing for different types of projects, but I'm finding that I use my Cricut Joy most these days. The small size makes it so convenient to pull out for a project, and it still does everything the Explore can do! I mostly do smaller scale projects that are perfect for the Cricut Joy, and I'm sure a lot of crafters can relate.
Not sure where to start when considering to gift a Cricut this year? I rounded up my favorite items in a crafty holiday gift guide to help you decide. When you gift a Cricut machine, I do recommend also gifting some accessories and supplies so the receiver can start making right away!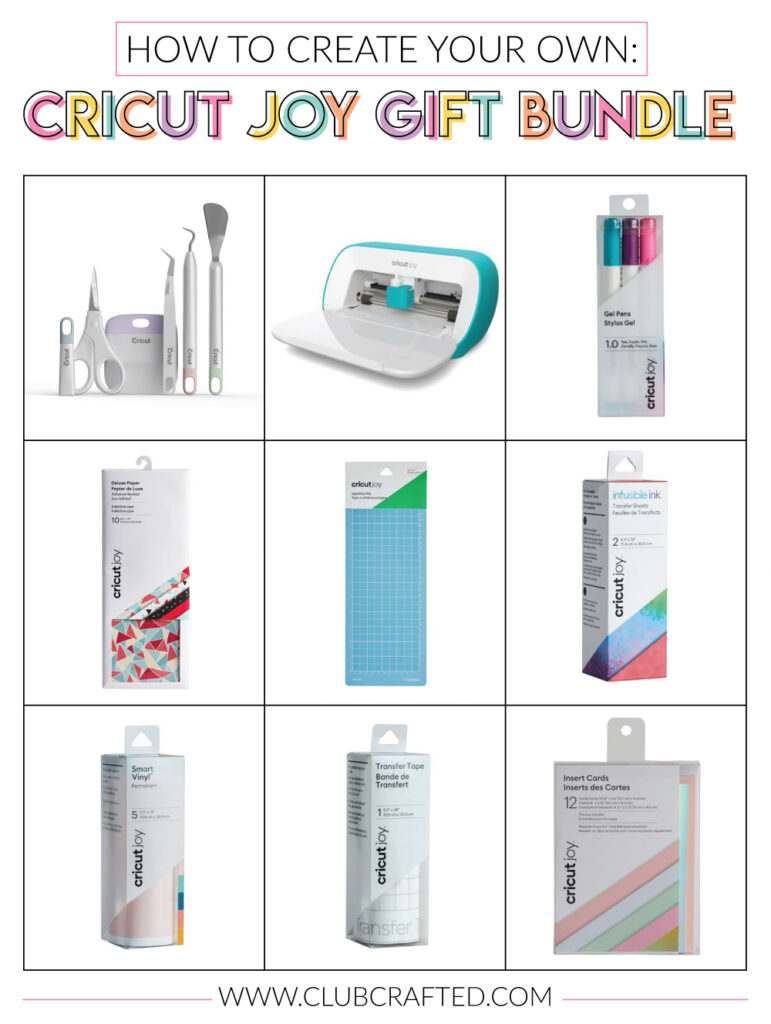 How to Make your Own Cricut Joy Bundle for Gifting
Of course, start off with the Cricut Joy! Here are a few other accessories I recommend starting with to make your own gift bundle:
Cricut Joy Card Mat – I've used this card mat many times because I make a lot of homemade cards, and it is the handiest accessory to have in my Cricut craft cupboard.
Cricut Joy StandardGrip Mat – As you can guess by the name, this is a good standard mat for all types of projects. However, a new Cricut Joy machine will come with one mat, and it's good to have options. I use the LightGrip Mat just as often. Personally, I only use the full size 4.5×12-inch mats.
Markers and Pens – There are a variety of types markers or pens compatible with Cricut Joy. In my experience, I get the most use out of the 1mm Gel Pens because they are thin enough to make precise marks. They're also available in other sizes, ranging from .3 to 1 mm. Markers (like these Metallic Markers) are also great to have because the light metallic color adds pizzazz to any project.
Tools – A weeding tool is perhaps the most crucial tool a crafter needs for their Cricut, but I recommend the Basic Tool Set to be able to tackle a range of projects. In addition to the weeding tool, it comes with a spatula for scraping excess small pieces from your mats, tweezers for extracting small pieces, a scraper tool for ensuring smooth finishes and miniature scissors for trimming tight areas. I can honestly say I've used all of these tools in the past week.
Paper – Depending on who is receiving a Cricut Joy this year, Cricut Joy Insert Cards are the perfect accessory to go with the Card Mat for making quick and easy card designs. The Princess Sampler Insert Cards are my personal favorite.
Vinyl – One of the best features of the Cricut Joy is that mats are not always a requirement. With Smart materials, you simply feed the rolls of vinyl directly into the machine – it's like magic! The best ones to start with are the colorful Beachside Smart Vinyl Sampler, Transfer Tape, Patterned Infusible Ink Transfer Sheets and the Kaleidoscope Adhesive Backed Paper for making quick and easy stickers.
Who do you want to gift a Cricut Joy to this year?! I know it's been an awful year for so many, and I hope the act of crafting can help us all recover emotionally – at least, crafting certainly helps me. Keep an eye on Cricut's website for great sales and deals from now through the end of the year!
Thank you to Cricut for generously sponsoring this post. All opinions are my own. Please note this post contains affiliate links from which I may collect a small profit should you choose to make a purchase. Thanks for supporting the brands that keep Club Crafted making!