/
Donut Burgers + Cookie Fries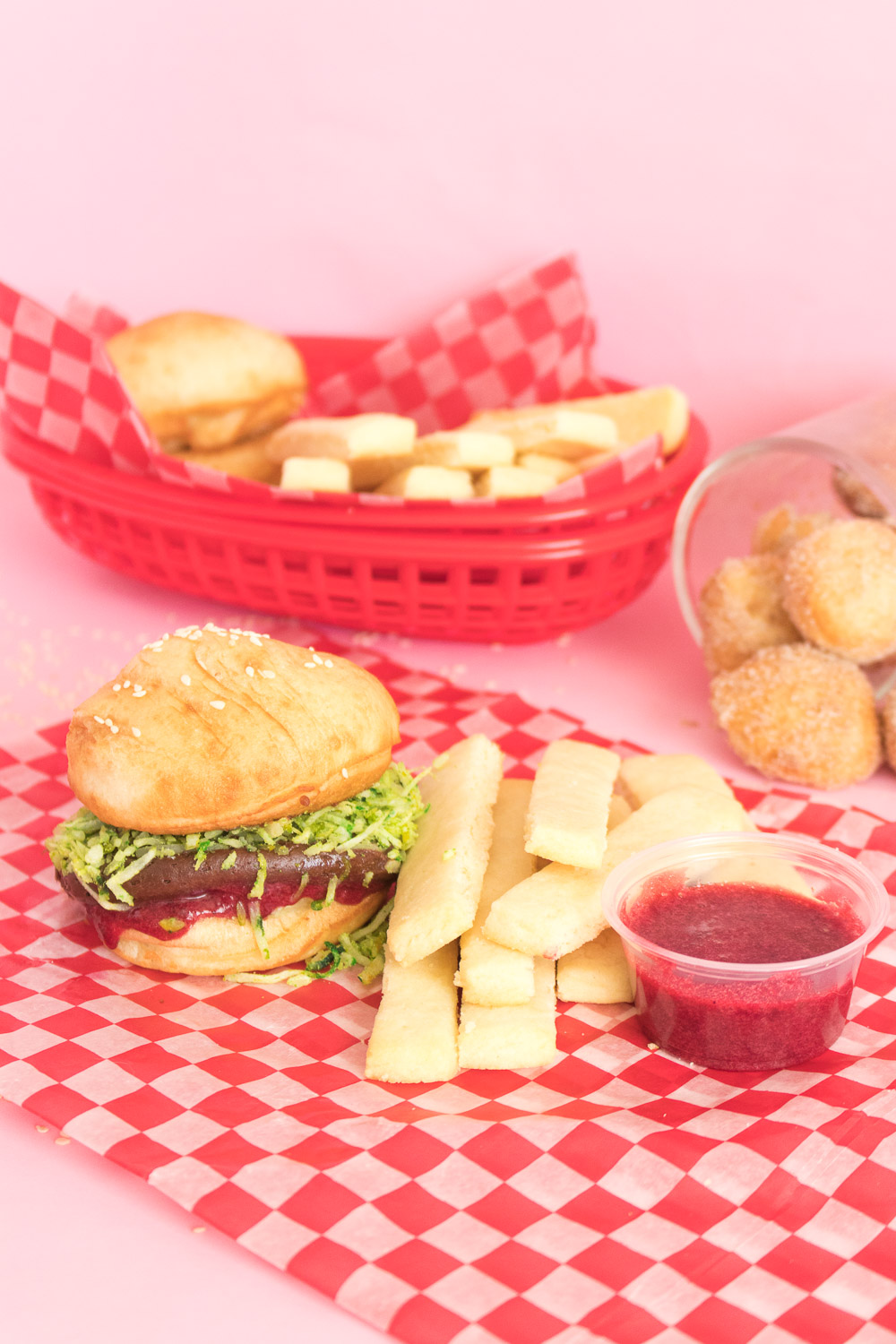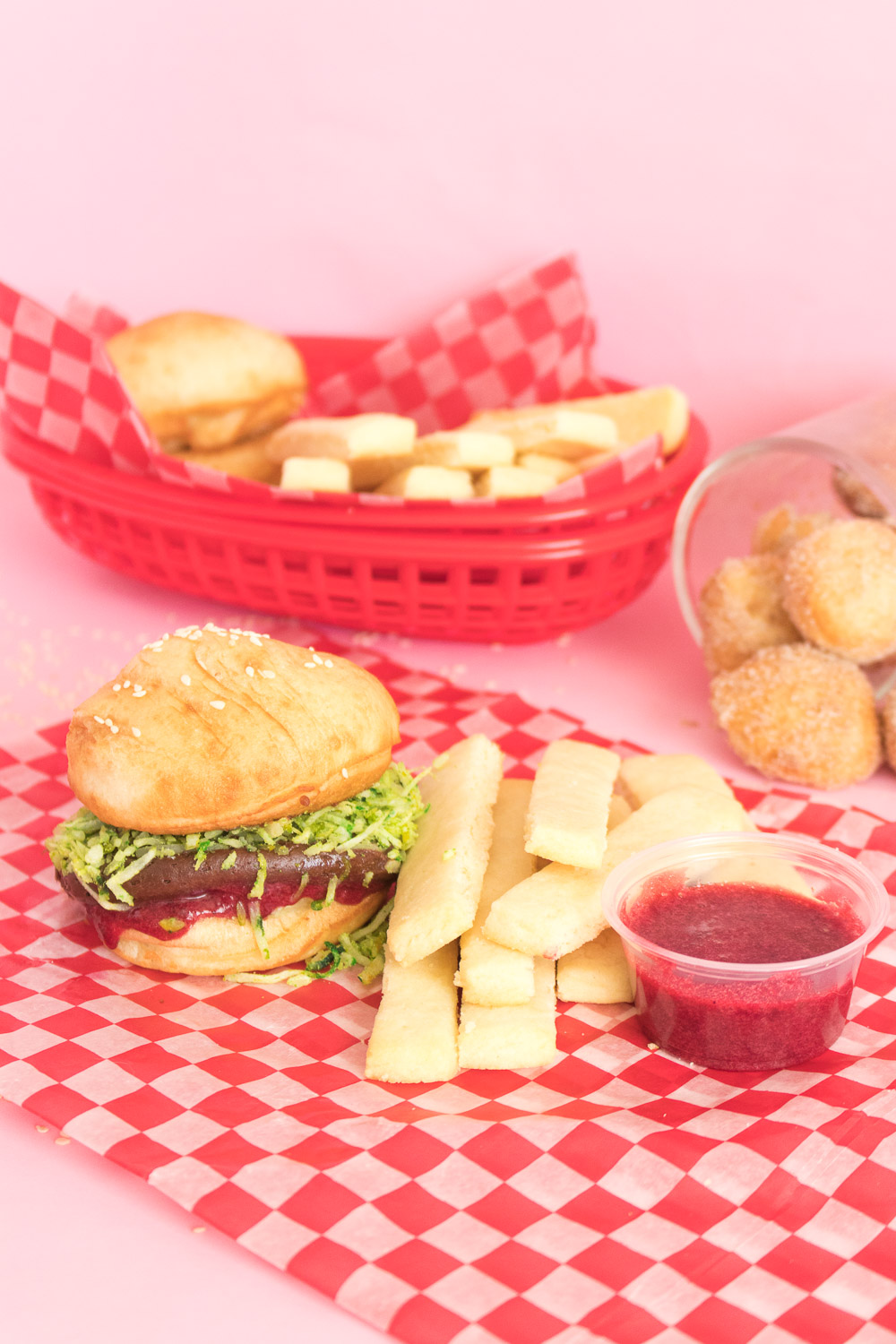 In true 'Merican fashion, I could eat a burger and fries for every meal. Perhaps the only thing I like more than burgers is DONUTS. So let's put the two together. No, I'm not talking about those burgers that have beef and bacon sandwiches between glazed donuts. I don't condone that at all, ha! Nope, I'm talking about donut burgers with a side of cookie fries and a berry compote "ketchup" dipping sauce. This is how you turn dessert into dinner with a great hack I learned for making deliciously fluffy donuts at home!
PS, don't forget to enter my giveaway to receive a $100 gift code towards a wood JORD watch! Giveaway ends 9/3.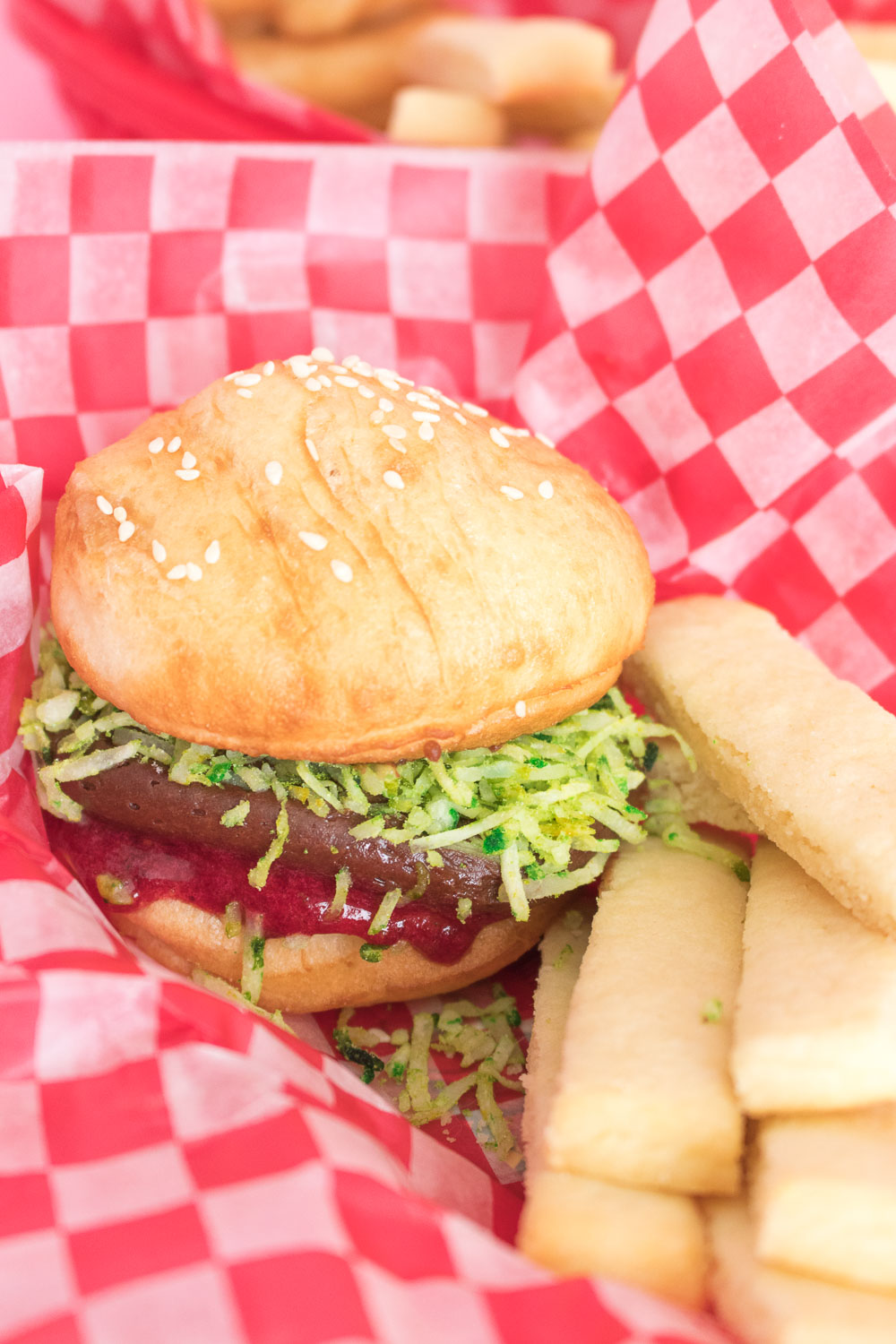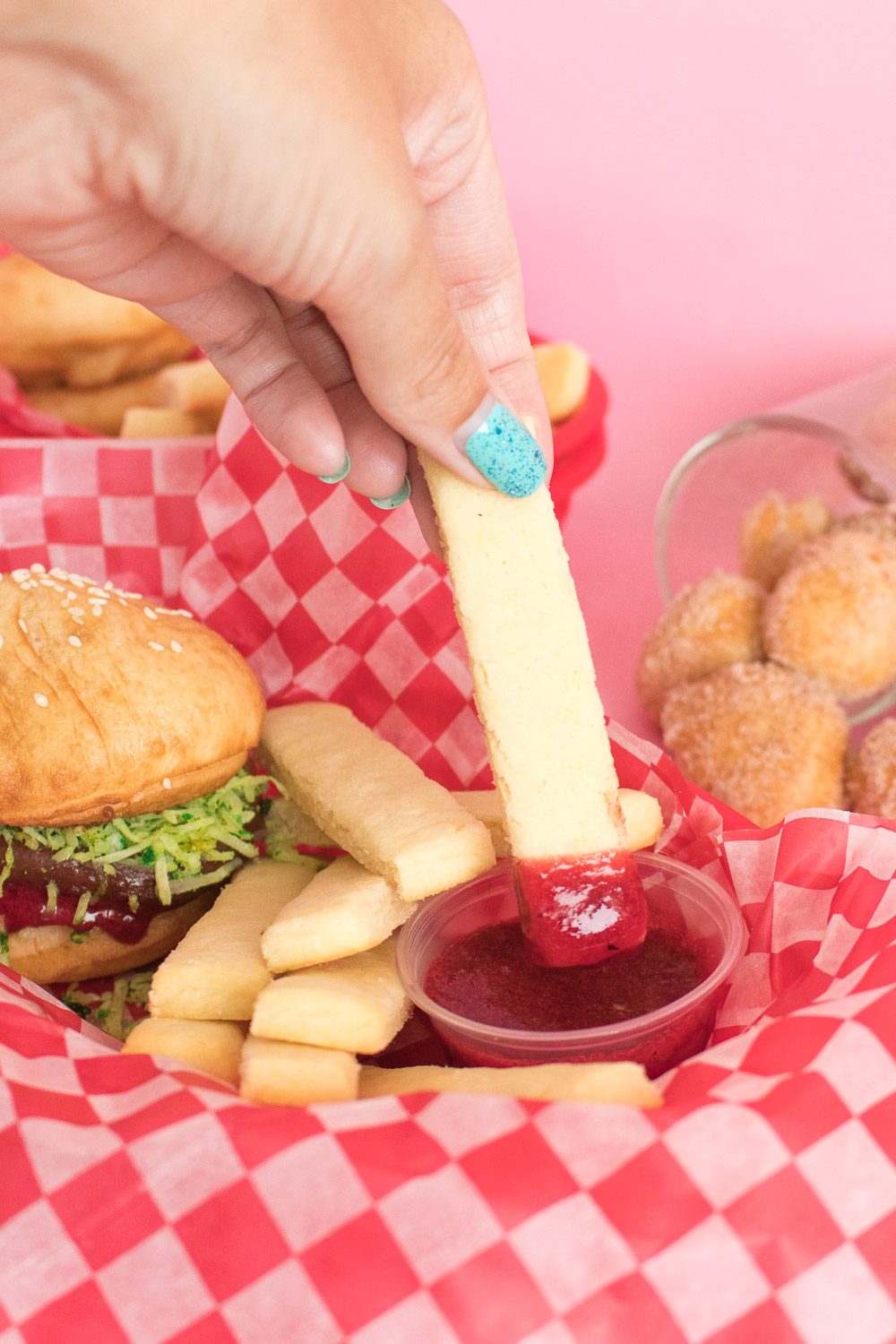 What's the trick? Well, I learned from watching The Food Network recently that you can make delicious fried donuts using pizza dough! It's genius and incredibly easy, and they puff up perfectly, so they're perfect or using as burger buns for my donut burgers.
Scroll down for the pizza dough donut recipe and berry compote "ketchup" recipe! ??
I really wanted my donuts to look like a burger, but I also wanted it to taste delicious, so I wasn't about to overdo it on ingredients just to make it look good. Instead, these burgers feature chocolate frosting patties, berry compote ketchup and coconut lettuce sandwiched between two pizza dough donuts sprinkled with sesame seeds. Of course, what's a burger without fries?! I made these cookie fries using my favorite sugar cookie recipe and added a side of berry compote ketchup for dipping. I'd totally eat this for a meal.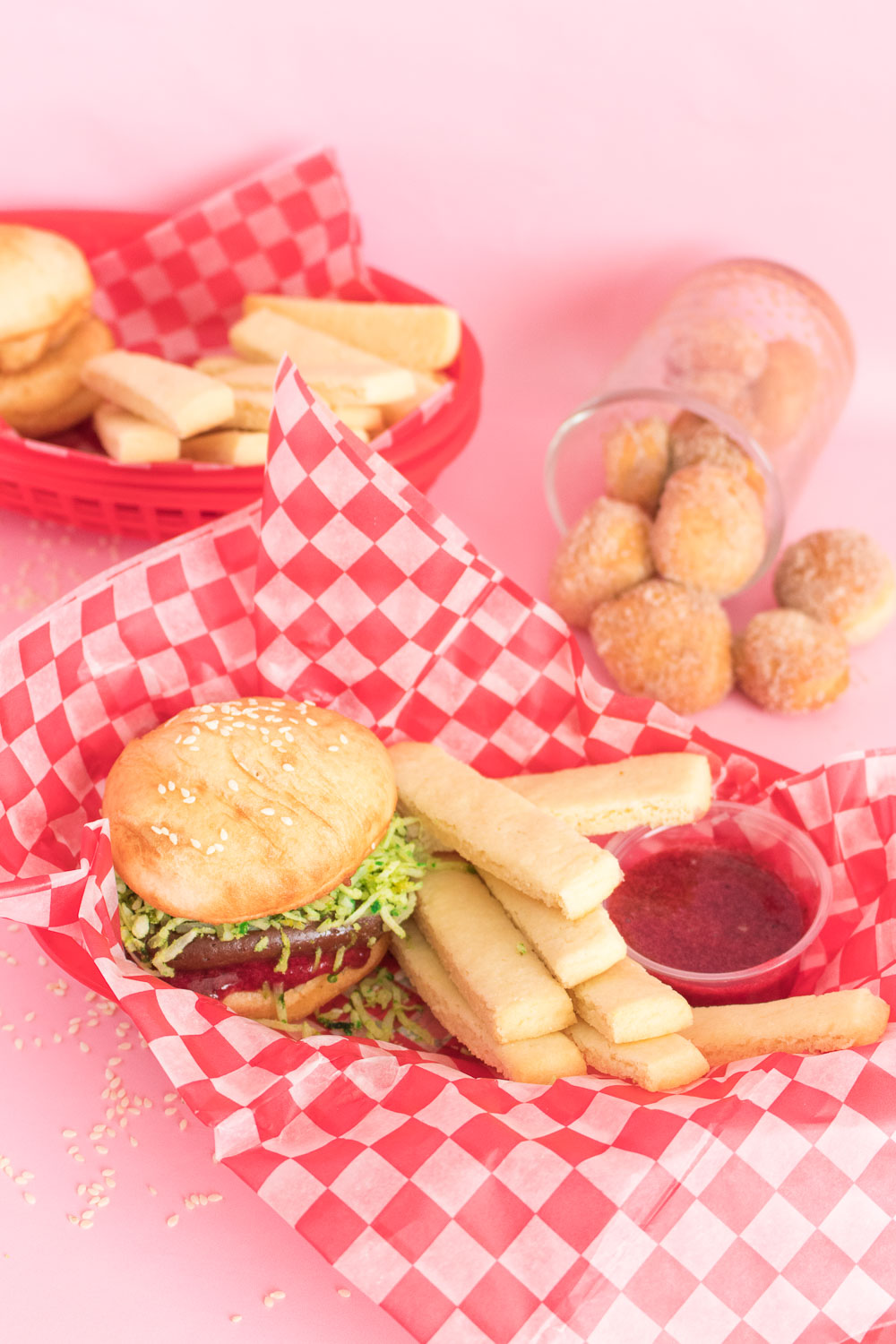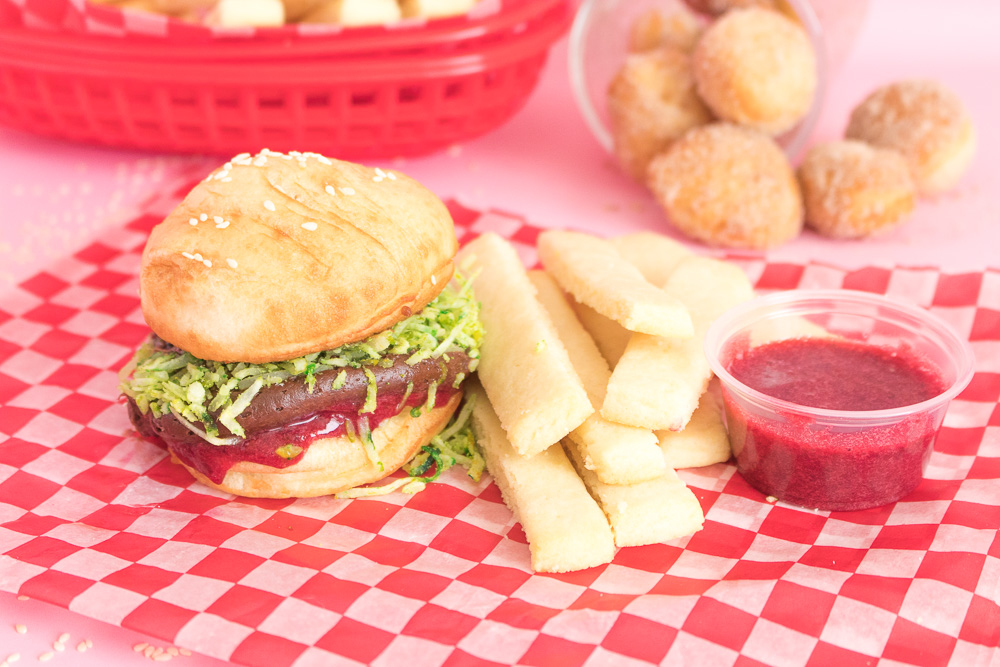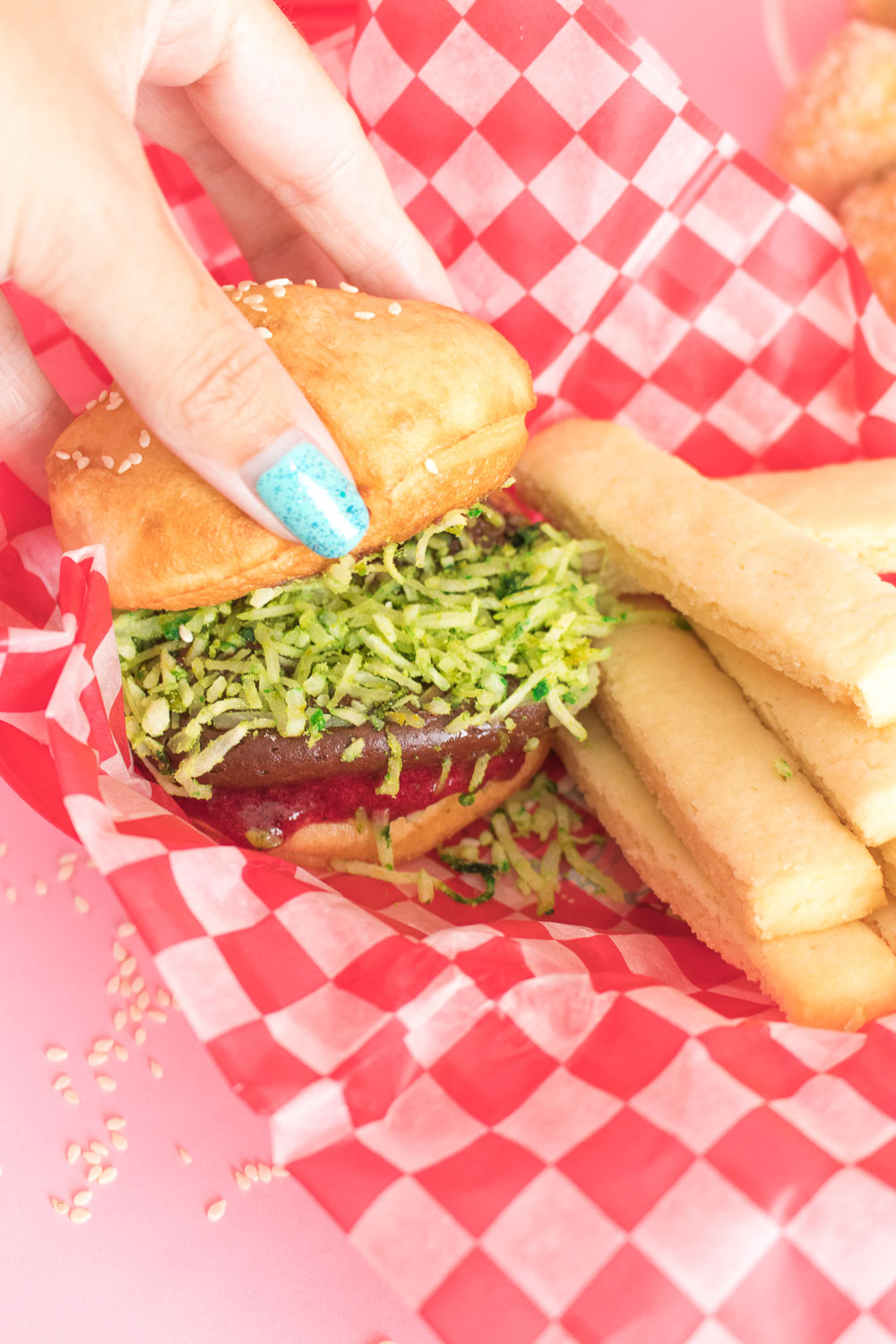 When I planned to make these burger donuts, I actually thought it would take me a lot longer to make them. I was pleasantly surprised at how quickly the dough fried and the other ingredients came together. It was actually a piece of cake…er, donut.
How to Assemble Burger Donuts:
Step 1: See recipe below for frying donuts using pizza dough! Make two donut "buns" that are about 3 inches around. Brush a little vegetable oil on the top bun and sprinkle sesame seeds on top.
Step 2: See recipe below for berry compote "ketchup!" Spread about a spoonful of berry compote on the bottom bun. Move the rest to a cup to use as a dipping sauce for the cookie fries.
Step 3: Place chocolate frosting in a pastry bag fit with a medium round piping tip. Alternatively, you can use a large ziplock bag. Pipe a thick circle of frosting on top of the berry compote and fill in to make the burger patty.
Step 4: Place shredded coconut in a container with a lid. Add 2-3 drops of green food coloring and shake well until coconut is coated green. Sprinkle on top of the chocolate frosting, and place the top bun on top lightly. Pressing may cause the frosting to move.
Step 5: Prepare and bake the "fries" according to my sugar cookie recipe! Use a knife or pizza cutter to create 1-inch x 3-inch pieces of dough and spread out on a baking sheet before baking. For best results, chill well before baking to prevent spreading.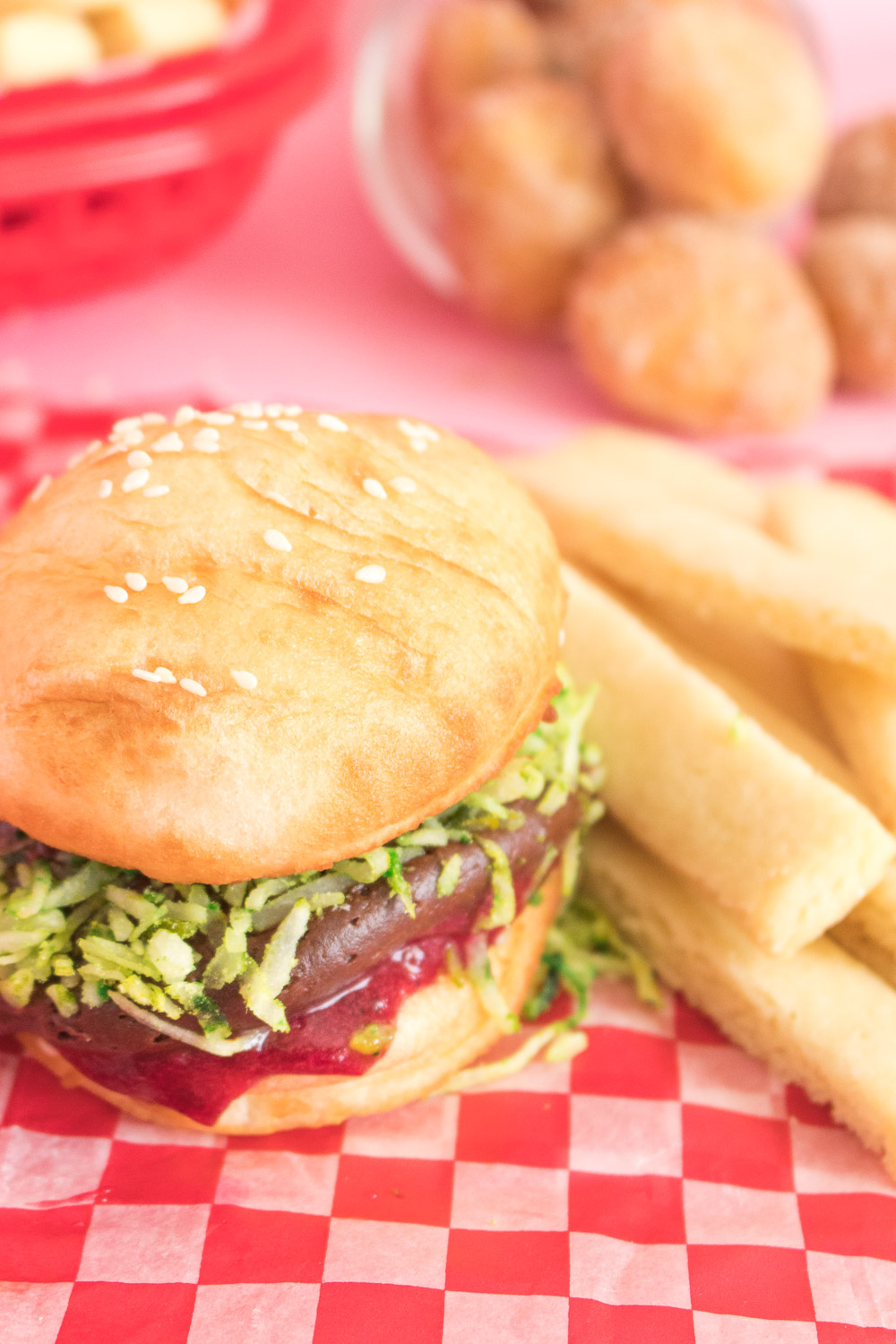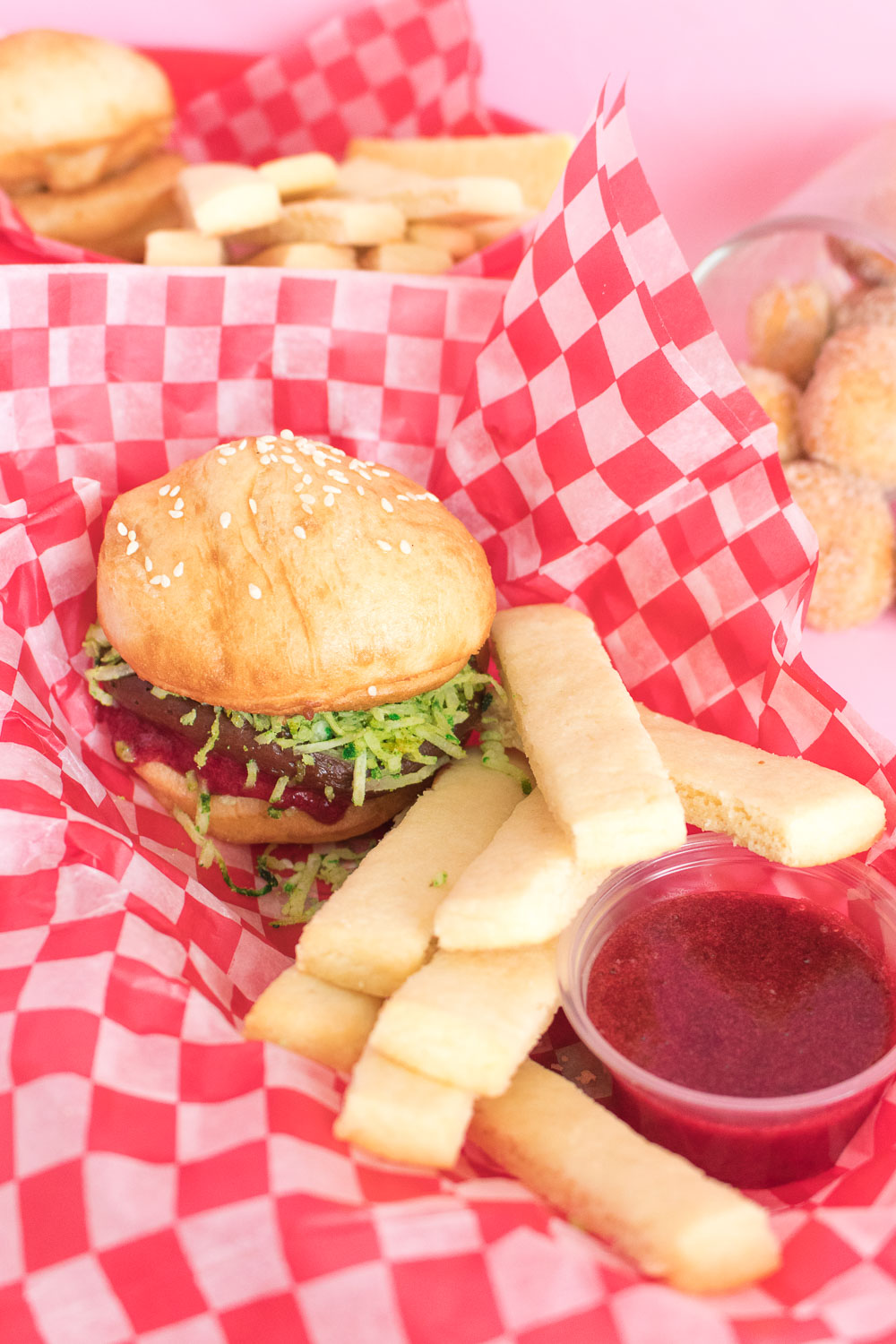 Serve all of your treats in a basket with tissue paper or on a large plate. Your donut burger, cookie fries and berry compote ketchup look as good as a diner meal but BETTER.
I think these donut burgers and cookie fries would be so fun for a party dessert! If I'm serving burgers for a future party, I think burgers in the form of donuts as the dessert would be the perfect pairing. Maybe a fun idea for Labor Day weekend?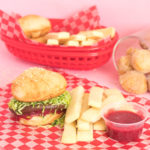 Donut Burgers with Berry Compote Ketchup
2017-08-10 11:08:56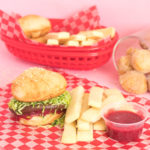 Delicious "donut burgers" made with fried pizza dough donuts and a berry compote ketchup, served with cookie fries
For the pizza dough donuts
Pre-made pizza dough
Vegetable oil
For the berry compote ketchup
1 cup variety of red berries, fresh or frozen
1/2 tsp lemon juice
2 tbsp granulated sugar
For the pizza dough donuts
Unroll the pizza dough and fold in half, pressing firmly together with your hands so the dough does not appear to have layers. It should be about 1/2-inch thick
Use a large round cookie cutter or a glass to cut 3-inch circles out of the dough. Use a shot glass to cut 1-inch circles out of the leftover dough to make donut doles.
Fill a large, heavy-bottomed pot with about 2 inches of vegetable oil fit with a candy thermometer. Heat until the thermometer reads 350 degrees F.
Carefully drop the dough into the oil and fry for about 30 seconds on each side until golden brown. Remove with a slotted spoon and place on a paper towel lined plate to cool. Repeat with all circles and donut holes
Once cool, assemble burger donuts according to directions above
For the berry compote ketchup
Combine all ingredients in a small pot on the stove and cook over medium heat, stirring often
Once berries are soft and a syrup forms, pour contents in a food processor and blend until smooth
Serve as a dipping sauce for cookie fries or as a sauce on donut burgers. Store extra compote in the fridge for up to 3 days
Club Crafted https://www.clubcrafted.com/