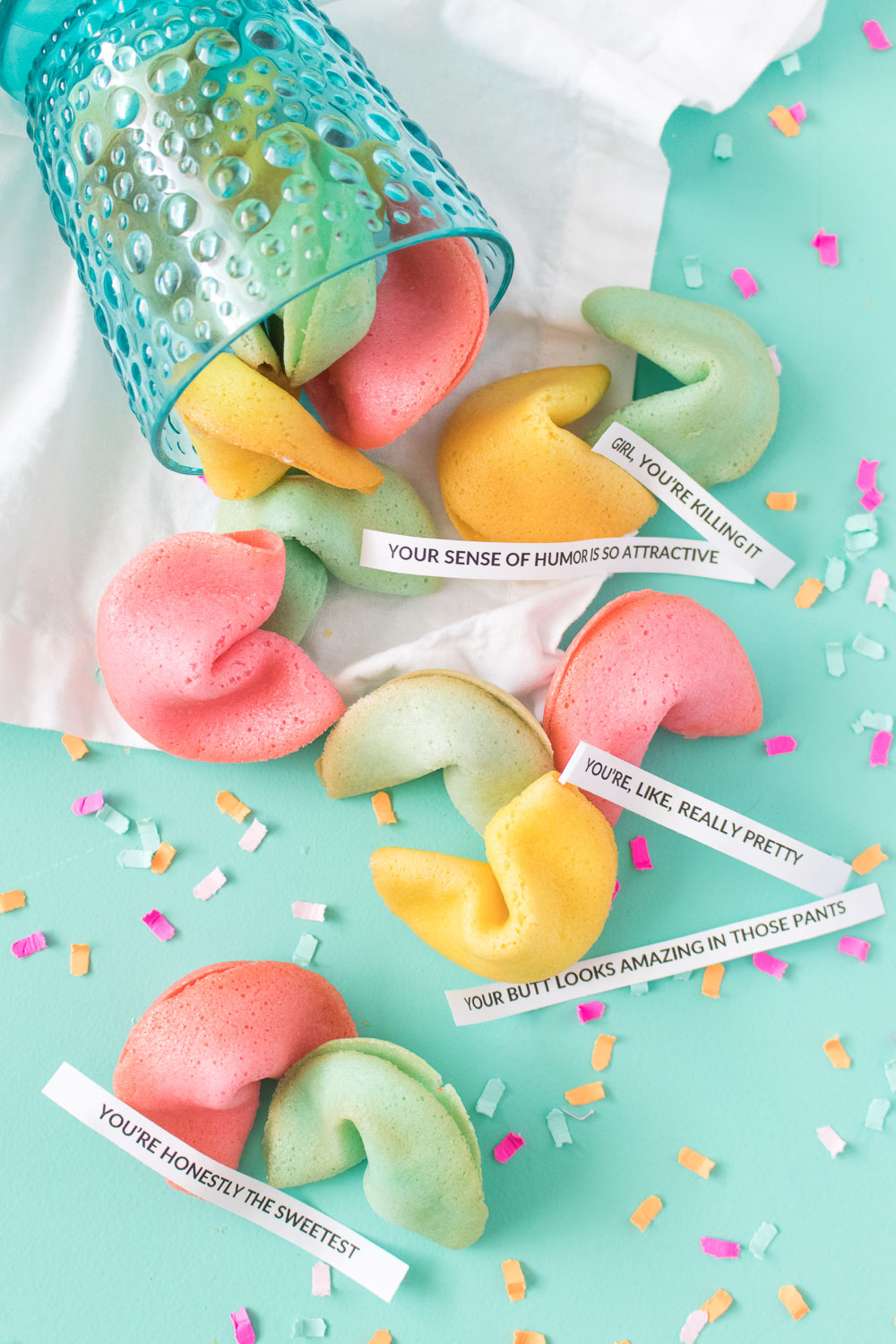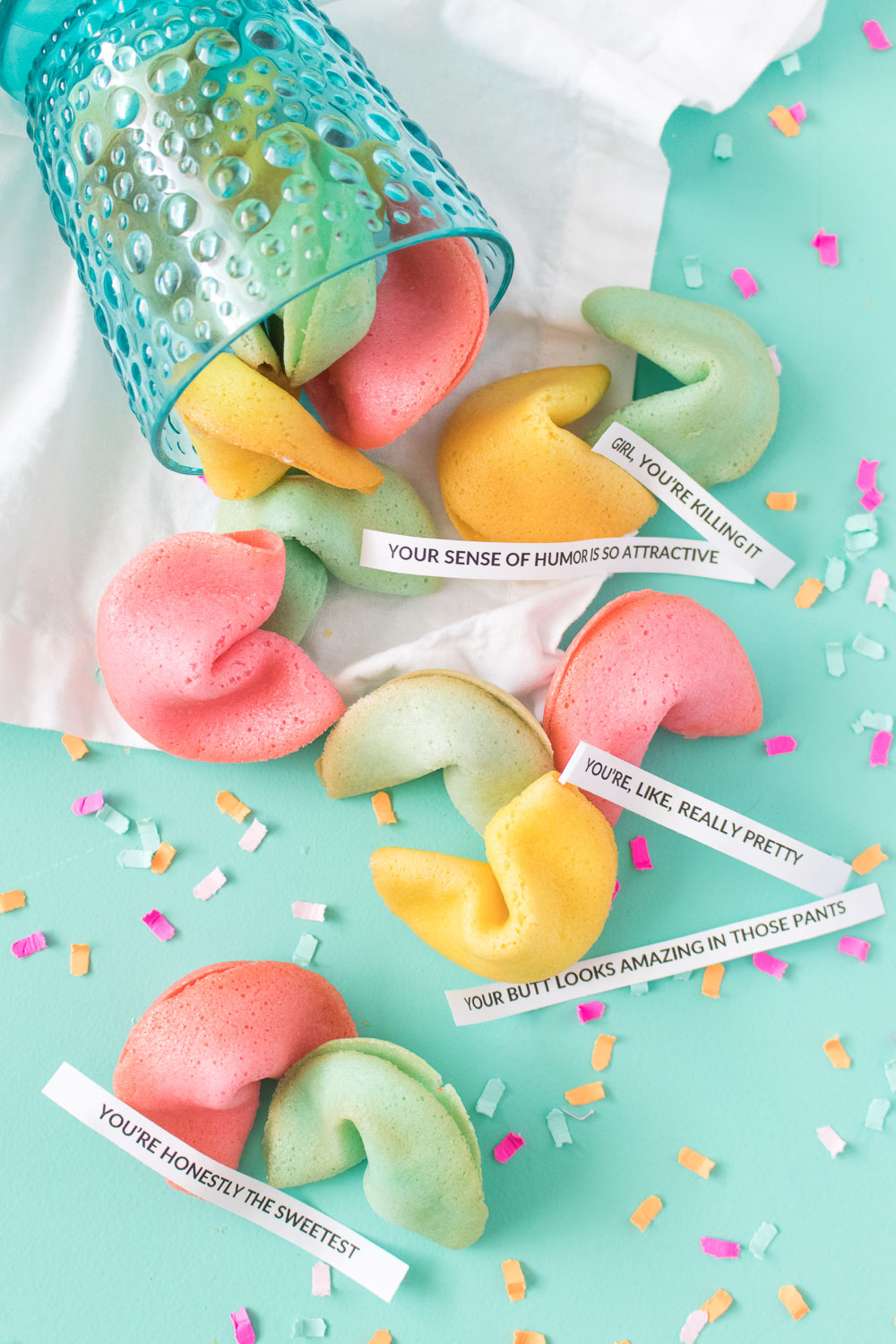 Recently, Andrew and I grabbed Chinese food (by which I mean Panda Express) and his fortune cookie told him something that sounded a lot more like a compliment than a fortune. I instantly knew what my next project would be…compliment cookies! To be honest, my self esteem hasn't been in the highest standing lately (can I get an amen?!) so I felt like this would be a fun project to lift my spirits. There's nothing like breaking open a tasty cookie to reveal a piece of paper telling you "your butt looks amazing in those pants!!" These fortune cookie-style cookies are dyed in bright colors but filled with custom compliments that are sure to put a smile on anyone's face. Make a batch of compliment cookies and share them with friends and family to instantly brighten their day!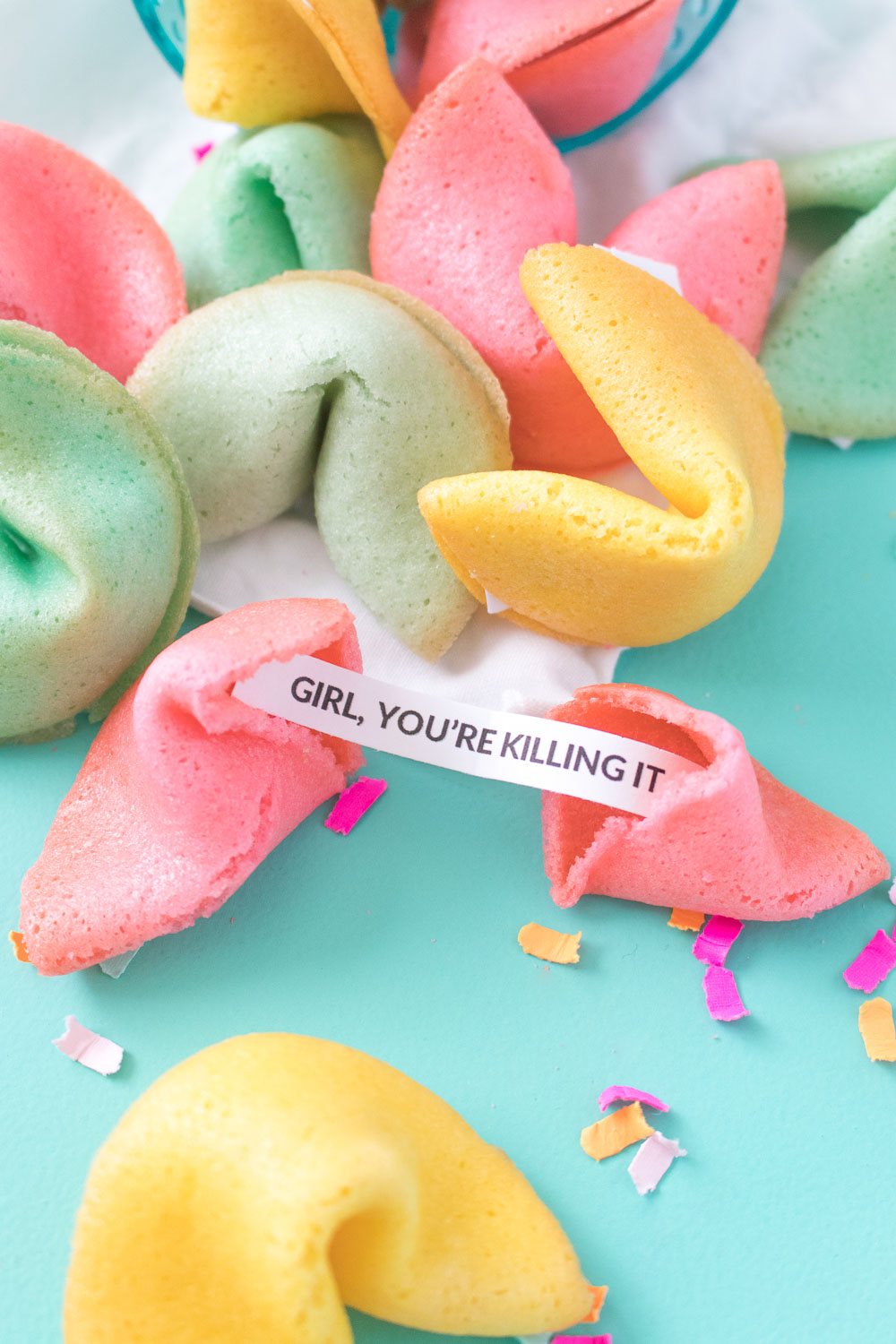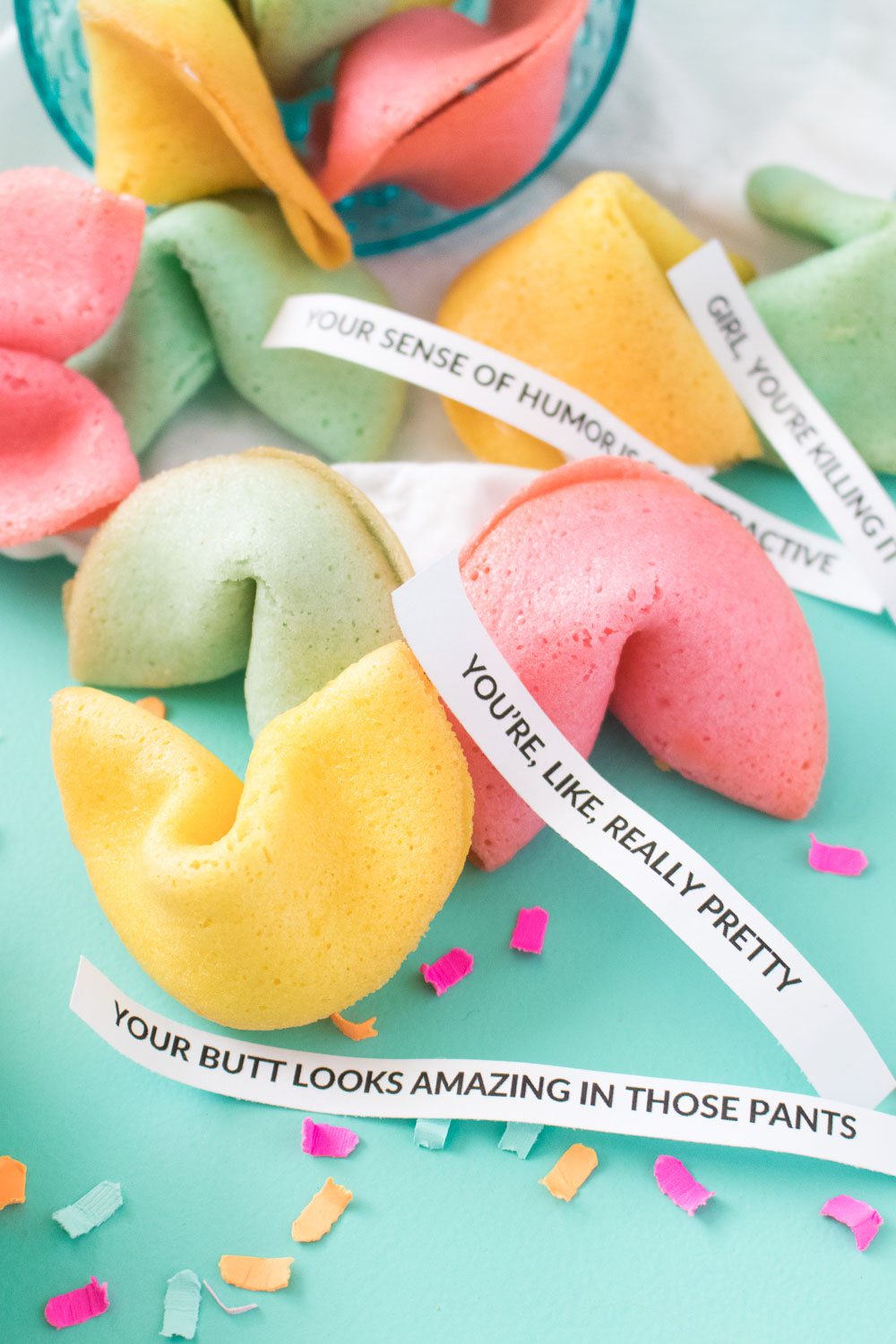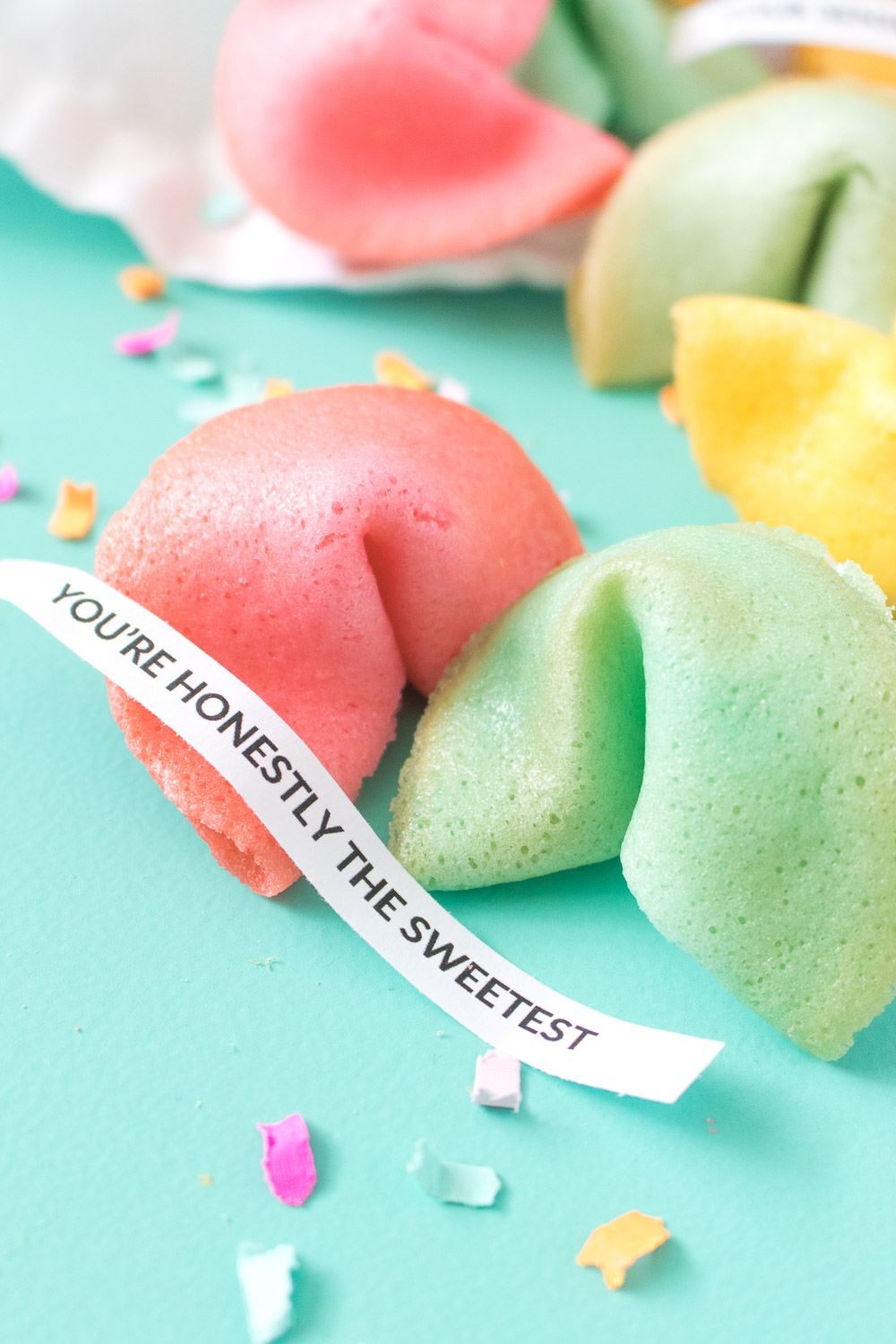 You'll be delighted to learn that fortune cookies are relatively easy to make. They're not particularly technical, but they can be very difficult to handle because you have to fold the cookies while hot and fresh from the oven. Handling HOT cookies is difficult, but it only takes a moment, and I truly think these homemade compliment cookies taste better that ones you get with your Chinese food. Maybe it's because they're sweeter?
Scroll down for the full recipe card! 👇🏼
Opening them up to read the compliments inside (you know, the ones that I wrote…for myself, haha) definitely feels good. I bet they feel even better when you actually give them to someone else and it's a surprise! Of course my favorite is "your butt looks amazing in those pants," followed closely by "girl, you're killing it." I love that you can customize these with literally any saying and make very sweet, personalized treats for friends. Everyone loves a compliment from time to time!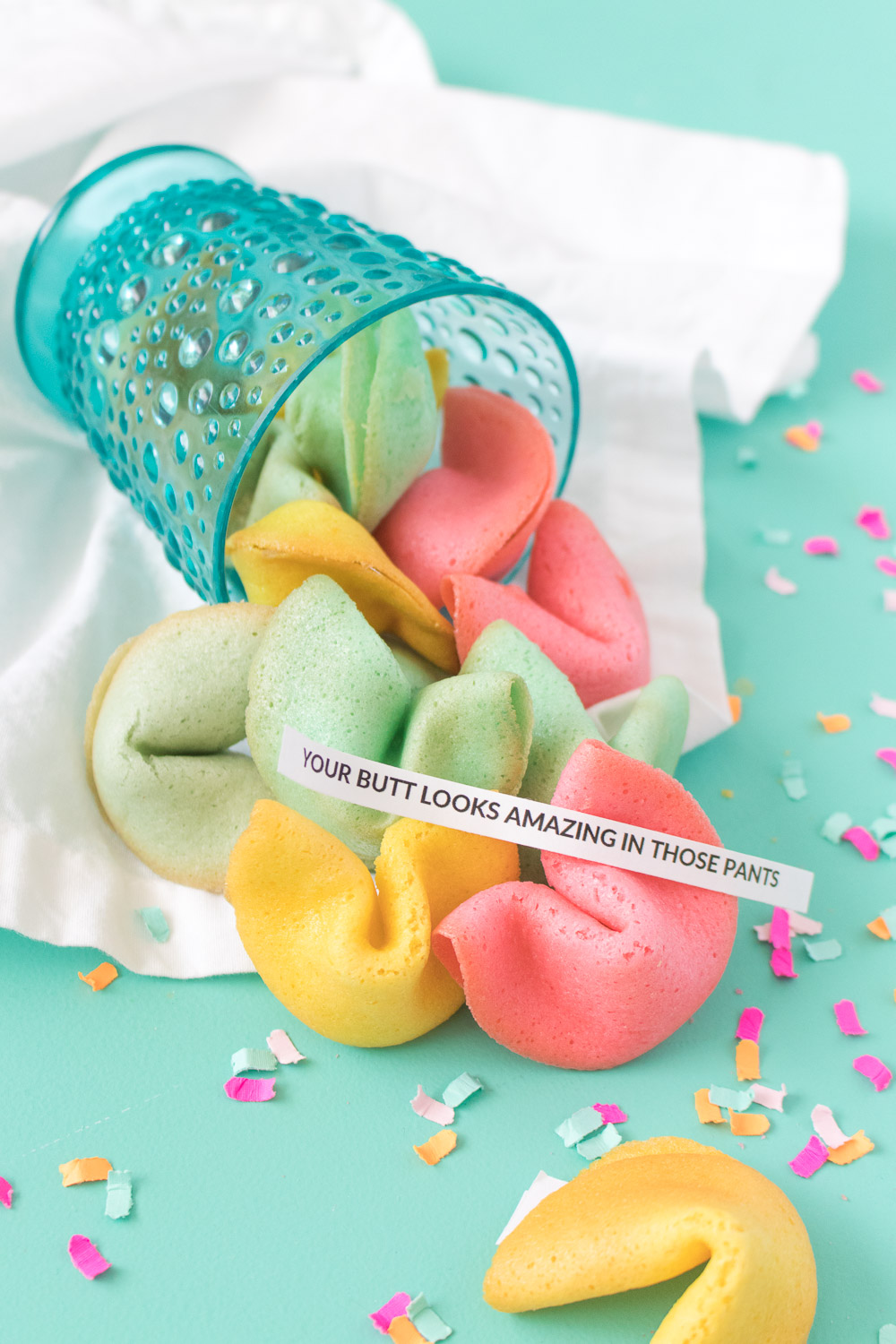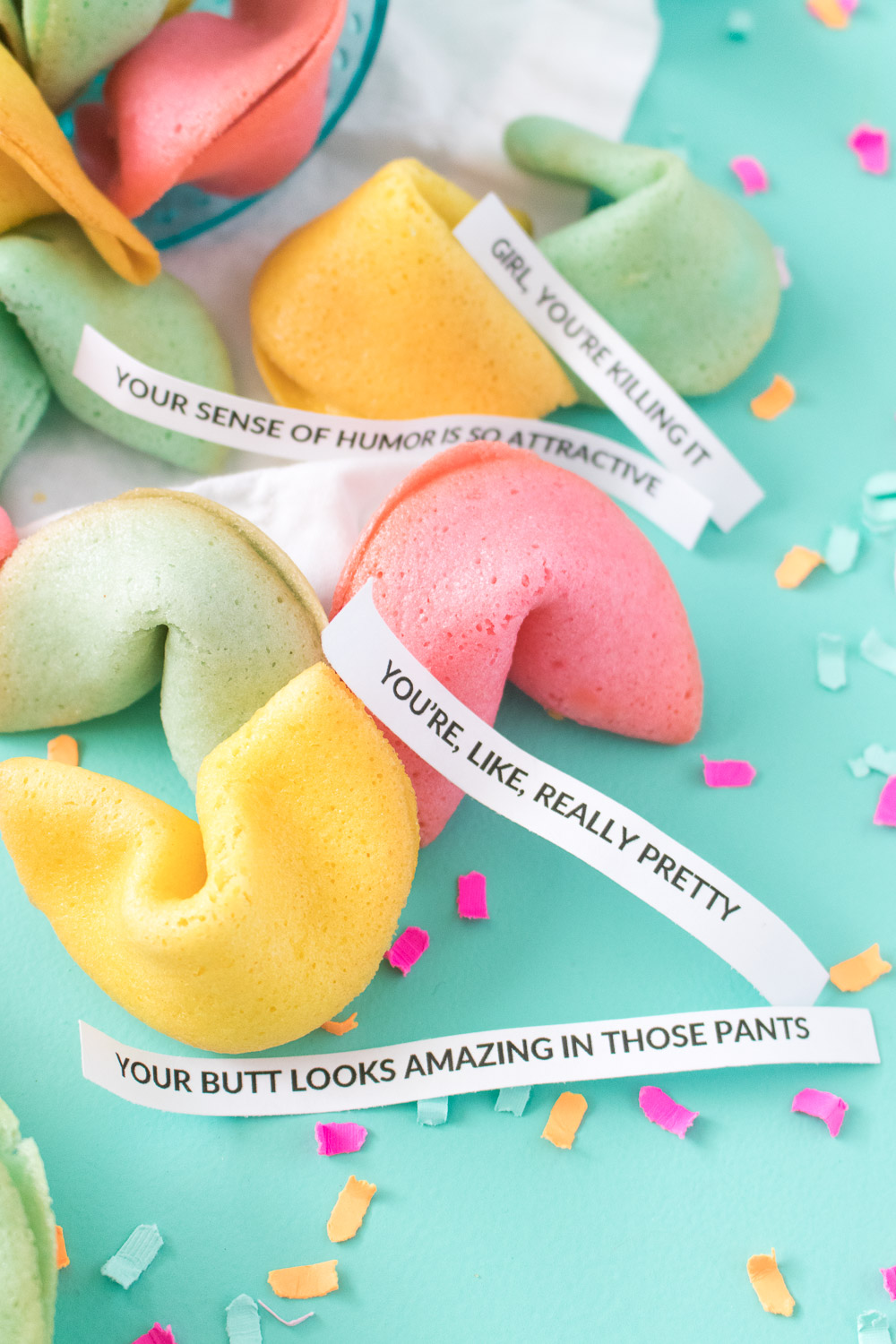 Type out your desired compliments in any word document (try to keep them short-ish) and cut them into thin strips about a half inch thick. Then fold in half if needed for longer compliments. You'll fold these into the cookies while they're hot to conceal them perfectly. I'm slightly ashamed to admit how many of these cookies I ate before finally sending Andrew with them to a barbecue. I didn't get to see the reactions, but I hope everyone enjoyed them!
Now, get out there and make people happy with these colorful compliment cookies! Compliments are better than fake fortunes anyway, right?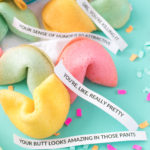 Compliment Cookies (Fortune Cookies)
2018-04-05 19:40:55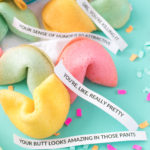 Fortune cookie style folded cookies dyed pink and filled with compliments instead of fortunes!
Ingredients
2 egg whites
1/2 tsp pure vanilla extract
3 tbsp vegetable oil
1/2 cup all-purpose flour
1/2 cup sugar
1 1/2 tsp cornstarch
1/4 tsp salt
3 tsp water
Strips of compliments
Instructions
Preheat the oven to 325 degrees F and line a baking sheet with a silicone mat or parchment paper
In one bowl, sift together the flour, sugar, cornstarch and salt and set aside
In another bowl, whisk the egg whites until just frothy, then mix in vanilla, oil and water
Add the egg white mixture to the flour mixture and whisk until smooth
Divide the batter into 3-4 bowls and add food coloring to each
Use a tablespoon to scoop 4 separate spoonfuls of batter onto the prepared baking sheet, spacing them several inches apart
Use the back of a spoon to spread the batter into approx a 4-inch circle
Bake for about 9-10 minutes until the edges are golden brown
Immediately place a compliment in the middle and quickly use a spatula to fold the cookie in half, pick it up and bend it on the rim of a mug (seam facing outward). Then place it in a muffin tin cavity to hold its shape while it cools
Repeat with each cookie, baking in batches of 4 so that you continue working with fresh, hot cookies before they harden
Club Crafted https://www.clubcrafted.com/