/
DIY Green Tea Sugar Scrub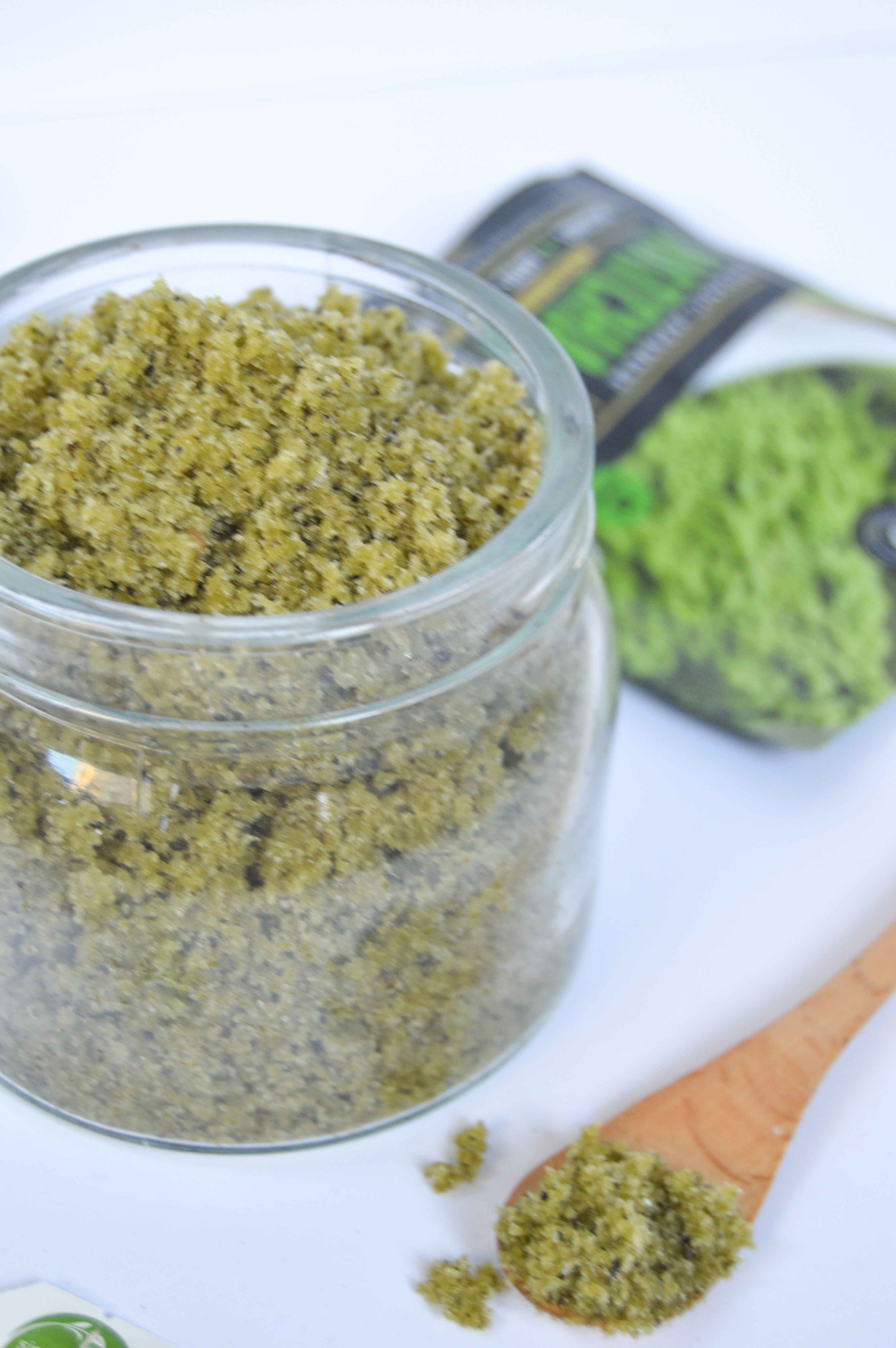 Hey there! Tea lovers are going to love this green tea sugar scrub that smells just like a mug of steeped green tea.
I've been on a green tea kick lately. After trying to cut back on the coffee and caffeine (HELP!), I tried to replace some of it with tea. My absolute favorite is peach green tea, which has also become my go-to afternoon drink at Starbucks. For the record, I didn't drink much coffee/caffeine to begin with, so although it was easy to cut it out, it didn't make much of a difference in my life either. Nonetheless, I do love tea several days a week just to switch things up, and green tea still has my much-needed caffeine!
This simple recipe can be whipped up in 5 minutes or less, and when you tie a cute bow on it, it makes a great gift for friends and family, making it a perfect last-minute gift idea!
I've used both olive oil and coconut oil in sugar scrubs, and they both work really well. Originally, I wanted to use coconut oil for this recipe, but I felt the coconut scent was just too strong and overpowered the green tea, so instead I split the moisture with olive oil and was much happier with the outcome. If you prefer to only use one moisture ingredient, you can swap either the coconut oil or olive oil and just use one cup of liquid. Here's how to make it!
Ingredients:
1 1/2 cups granulated sugar
2 tsp matcha green tea powder
2 tbsp green tea leaves
1/4 cup coconut oil
3/4 cup olive oil
In a small bowl, combine the dry ingredients. Add the melted coconut oil and stir with a fork to mix.
Move to a cute airtight jar and decorate with tags, ribbons and stickers. Easiest DIY ever, right?! To use, simply spread a little bit on your hands and rub before washing clean with soap and warm water. The sugar helps exfoliate your hands, and the coconut oil and olive oil make it extremely soft. Green tea provides a lot of beauty benefits, and in this case, the tea leaves add to the exfoliating abilities of the sugar so you have fresh, smooth hands – great for those with dry, cracked hands!