/
DIY California Snow Globes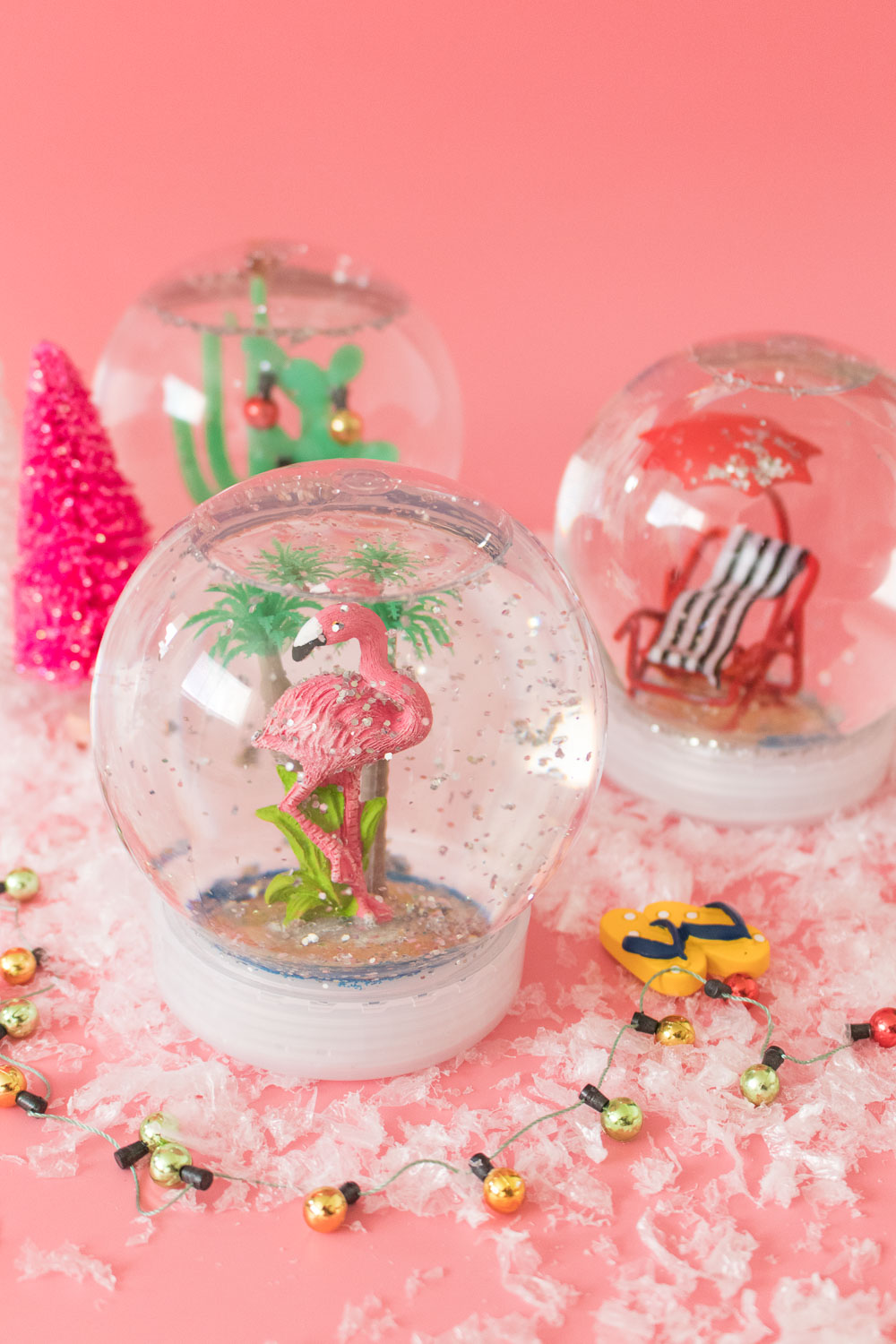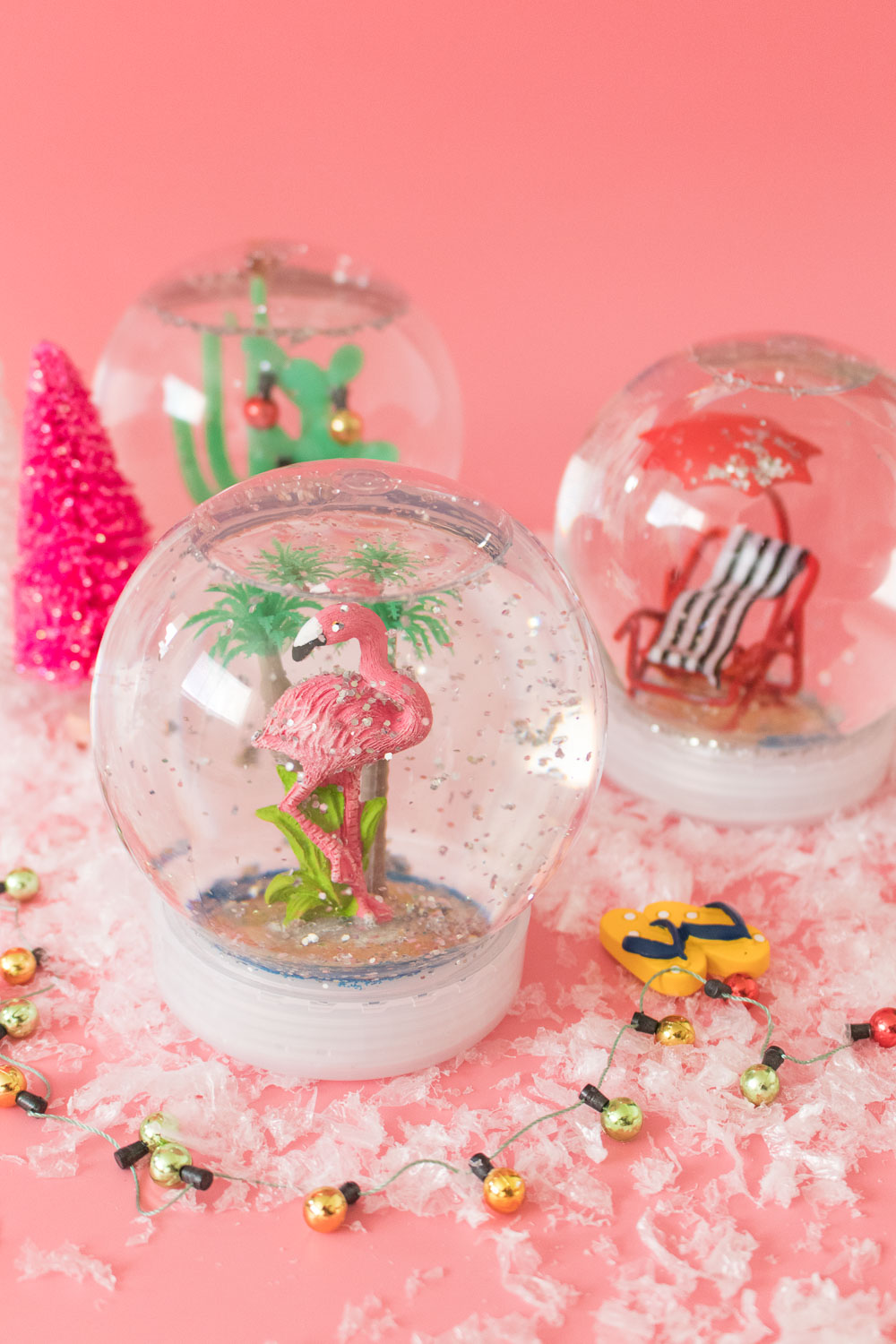 Christmas here in SoCal is a little different than other regions…it's generally warm and sunny with no chance of rain. I'm certainly not complaining, but I have dreamed of what a white Christmas would be like! In order to channel the unique beauty of a California Christmas, I made a set of California snow globes with common themes of SoCal set in glittery globes that work perfectly into my holiday decor. I just can't seem to decide which one is my favorite! I do love the cacti scene though, especially wrapped in mini Christmas lights. You wouldn't believe how easy it is to make a snow globe yourself!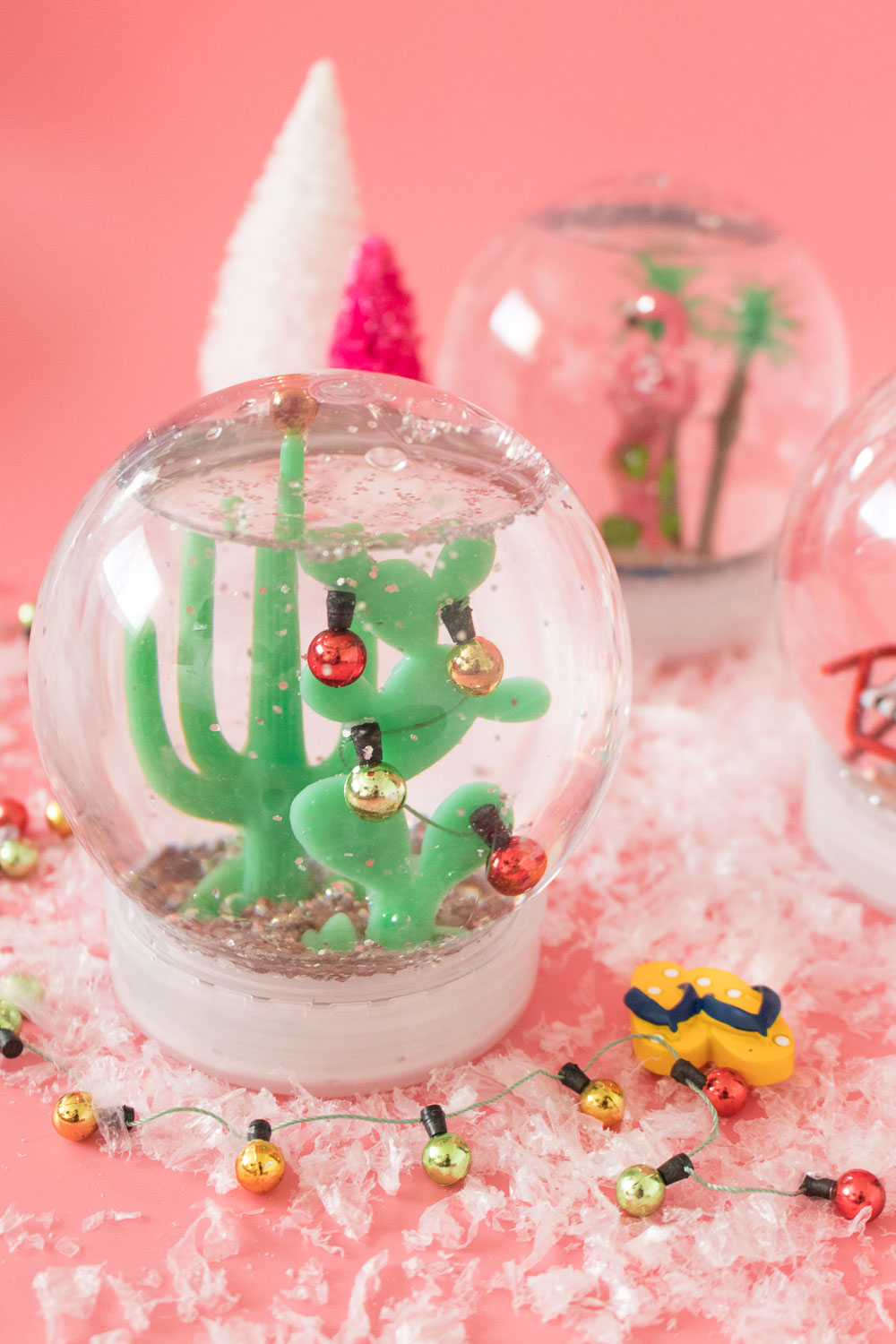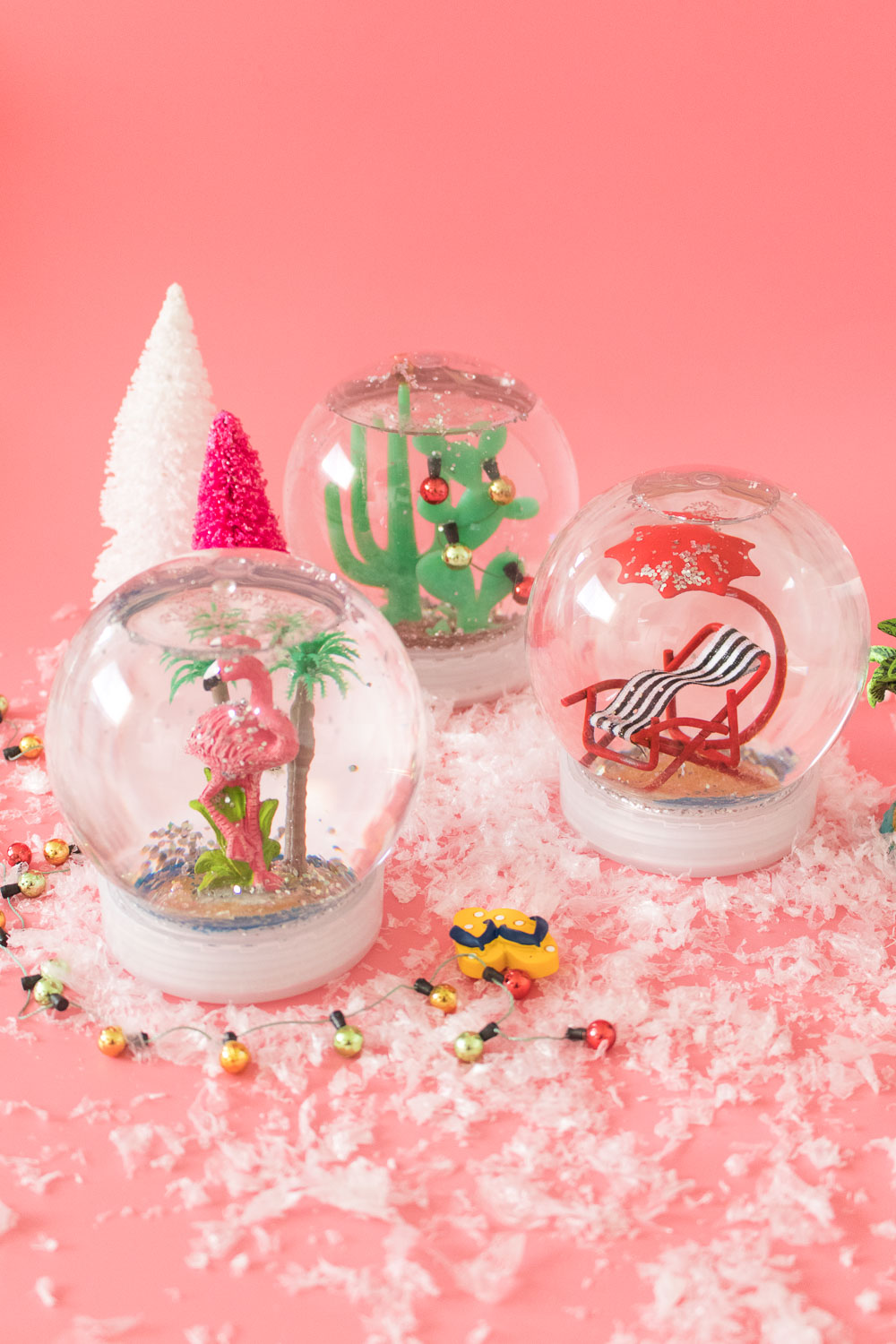 Yes, I realize flamingos aren't from California, but I was going for a palm tree filled beachy vibe and they just seemed to work. Just go with it, ha!
I thought the three different scenes of the dessert, tropical palm trees and laid-back beach perfectly summed up what most people think of California living. It is the best, after all! Making a snow globe is really as easy as gluing small items onto a base and filling the dome with water and glitter, but the best way to make your snow globe last longer is to use proper water-resistant glue and seal some parts of the interiors. Because I coated the bottoms in rocks/sand, it was important to seal it in so that it didn't dissolve once in the water. Another tip for making a better snow globe is using a thickening agent like glycerine or corn syrup in the water to slow down the falling glitter. It's not necessary but recommended.
Ready to make a snow globe?!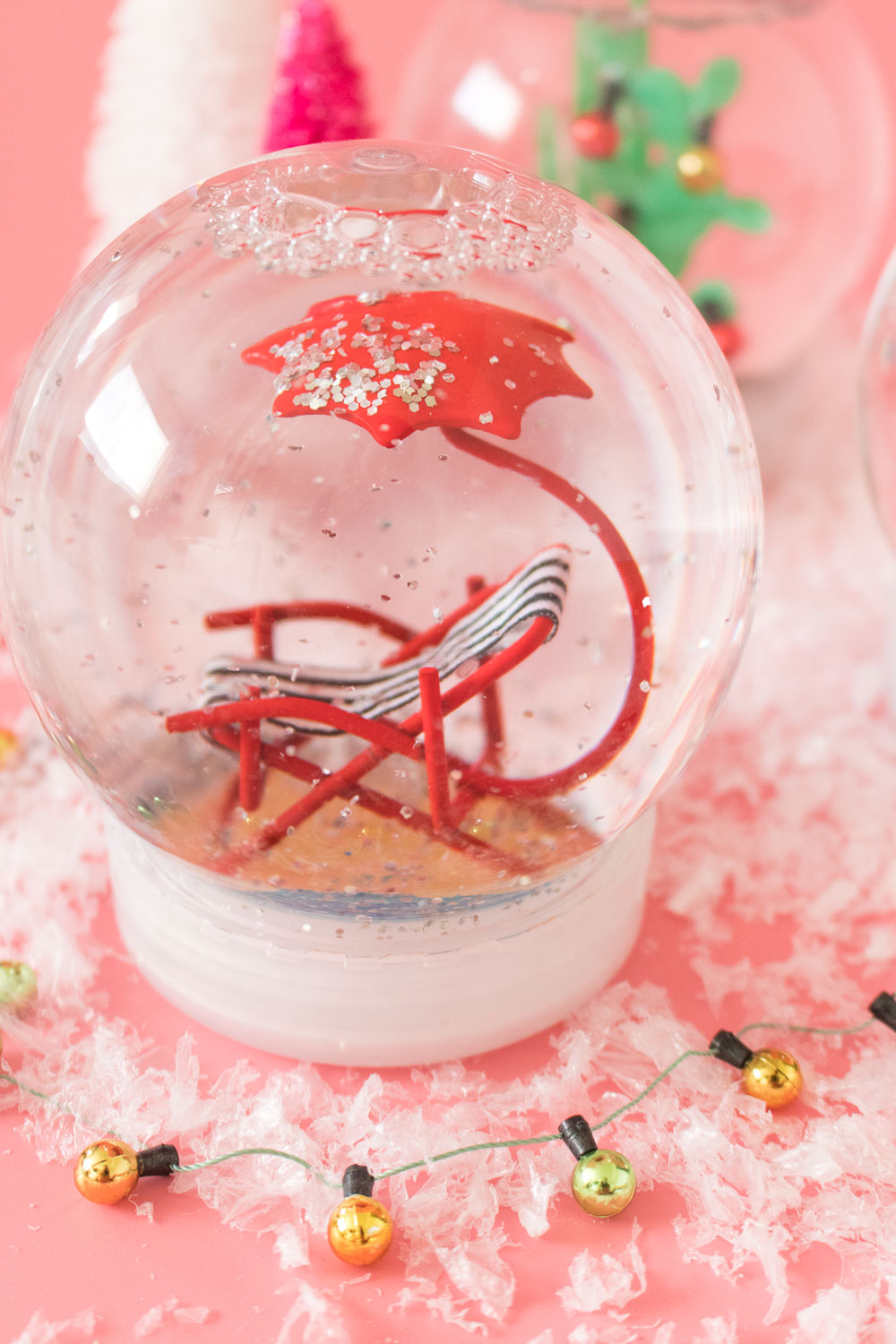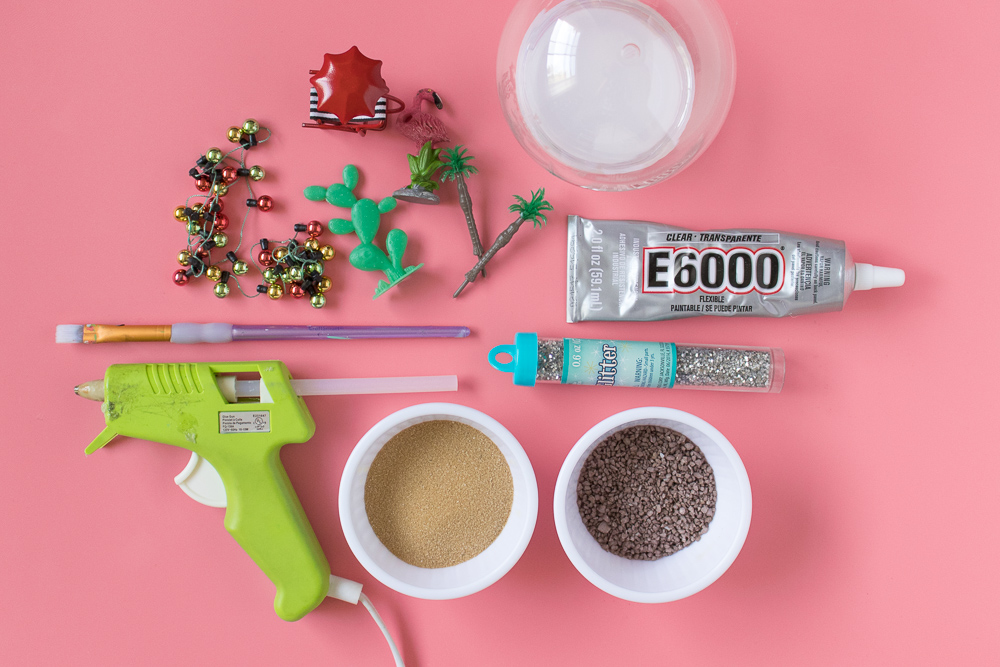 Time: 30 minutes
Supplies:
Plastic shatterproof globe
Large glitter
Flamingo miniature
Palm tree miniatures
Beach chair miniature
Cactus miniatures
Christmas light miniatures
Hot glue
E6000 glue
Paint brush
Fake sand/rocks
Water
Corn syrup or glycerine
Note, the best way I found to locate supplies for the snow globes is searching for either fairy garden accessories or terrarium miniatures. I actually purchased a few of them over the summer at Michaels because tropical-themed pieces will be a little harder to find this time of year.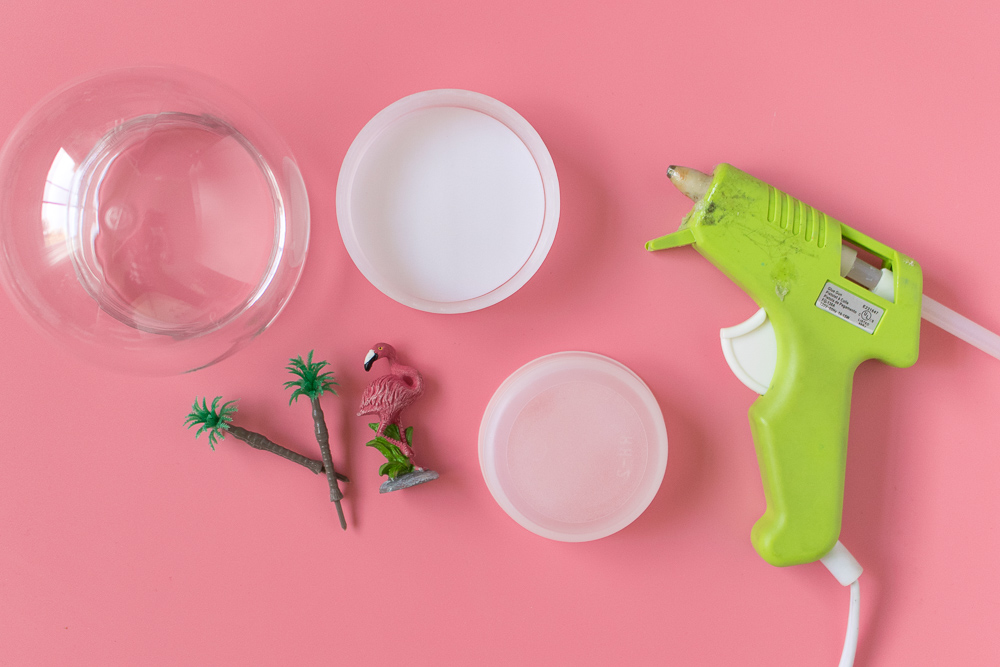 Step 1: Disassemble the snow globe. Apply hot glue to the bottom of the figurines and stick to the rough side of the snow globe plug.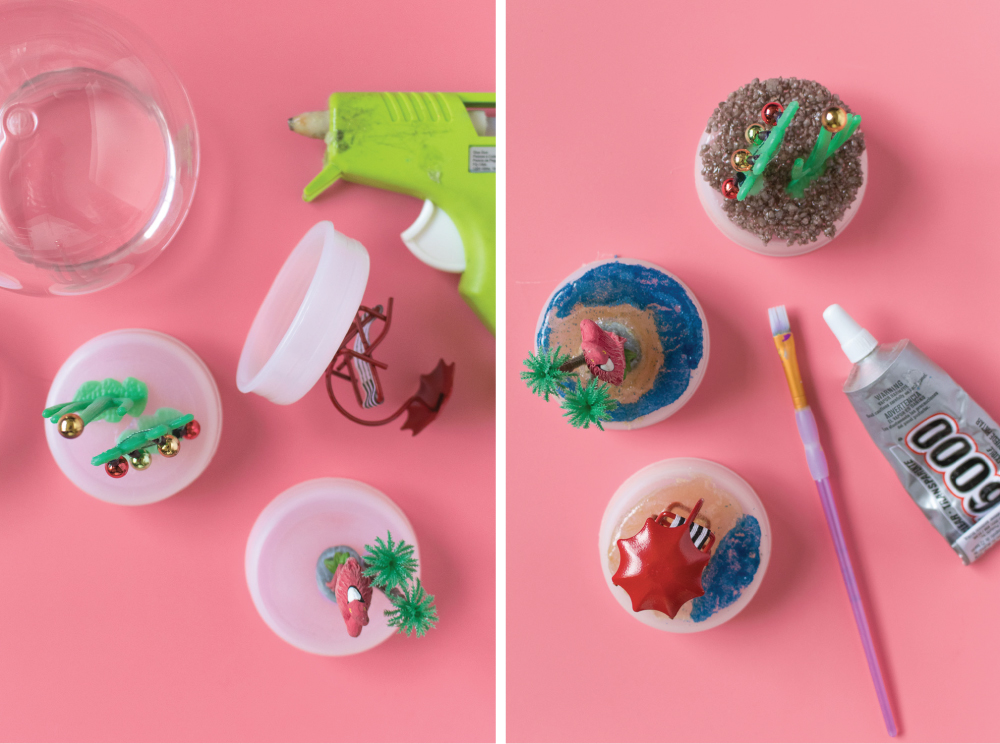 Step 2: Spread E6000 glue around the base of the figurines and sprinkle sand or rocks on top. Set aside to dry completely for several hours. I used blue sand to create "water" on the beaches.
Step 3: Once dry, use the paint brush to coat the sand area with another layer of E600 to seal it. Set aside to dry overnight before reassembling the snow globe.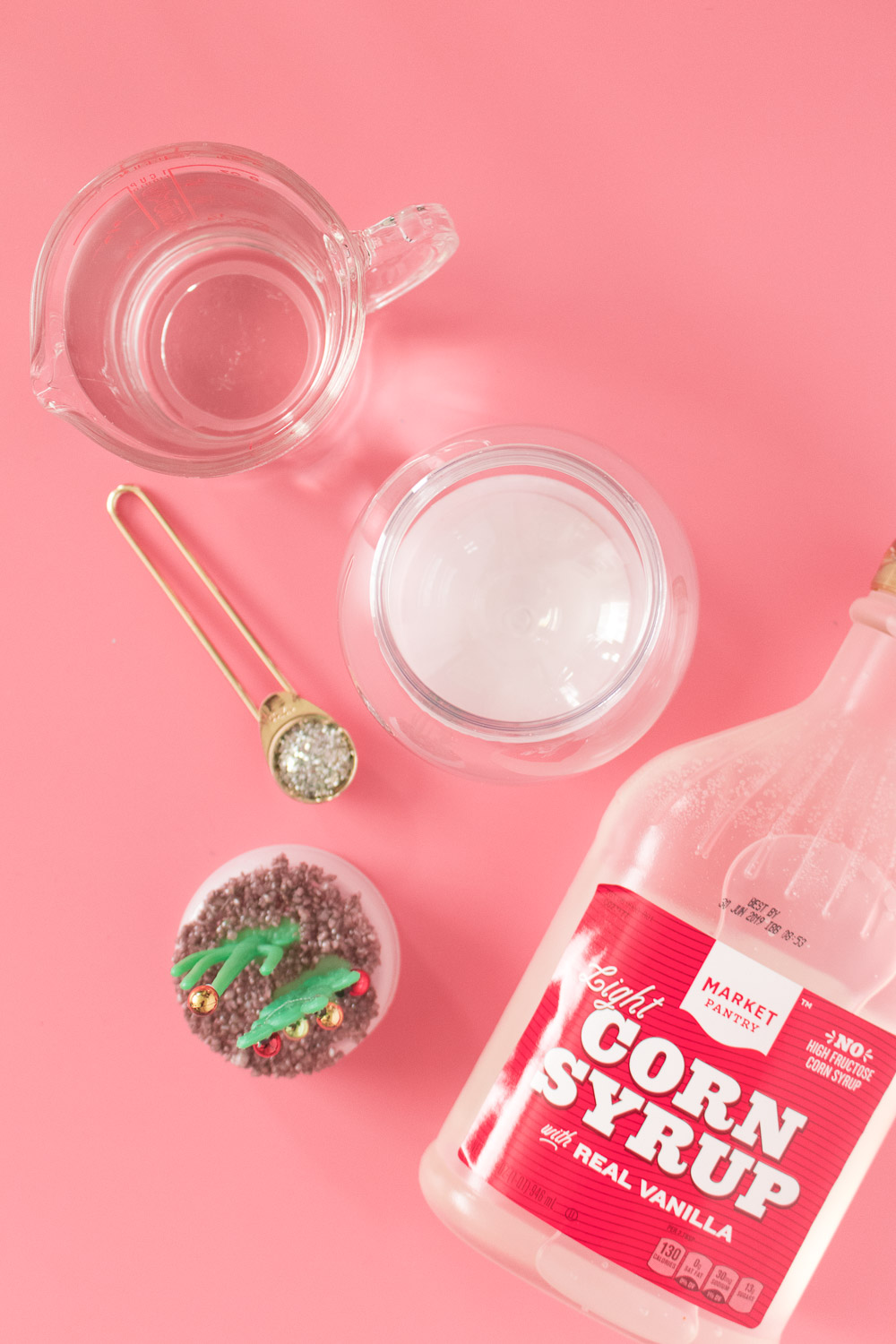 Step 4: Turn the globe over so that it stands up in the top. Fill almost entirely full with distilled water – I recommend bottled so that the water is completely clear. Mix in about 1 tsp of a thickening agent like corn syrup or glycerine and 1/4 tsp glitter. Insert the piece with the sealed decor and screw the top in place.
I can't get enough of these little California snow globes, and I kind of want to keep them on my shelves year-round! What would you put in your own snow globe?