/
DIY Fluid Painted Marbled Tray from a Photo Frame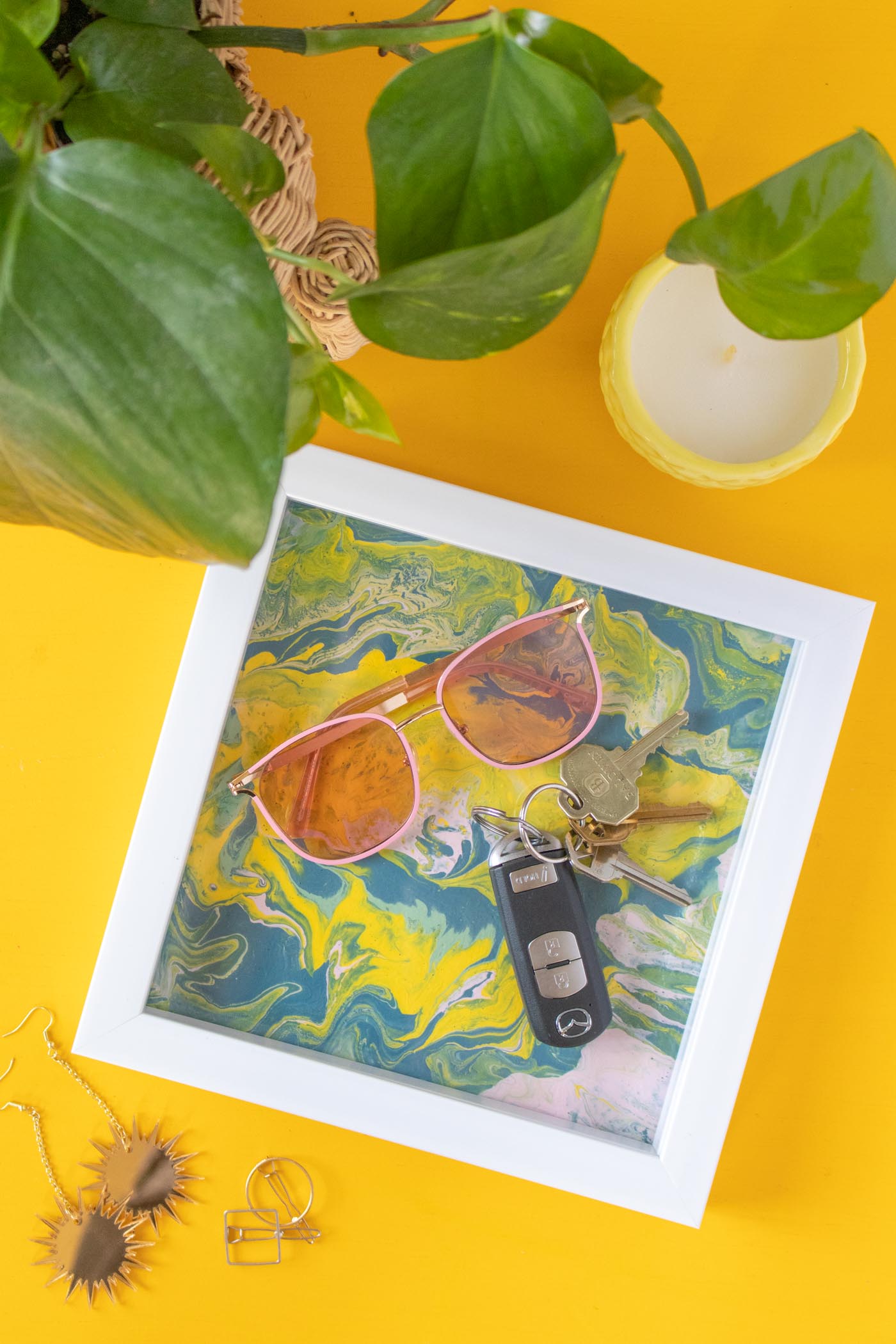 The following post is sponsored by JOANN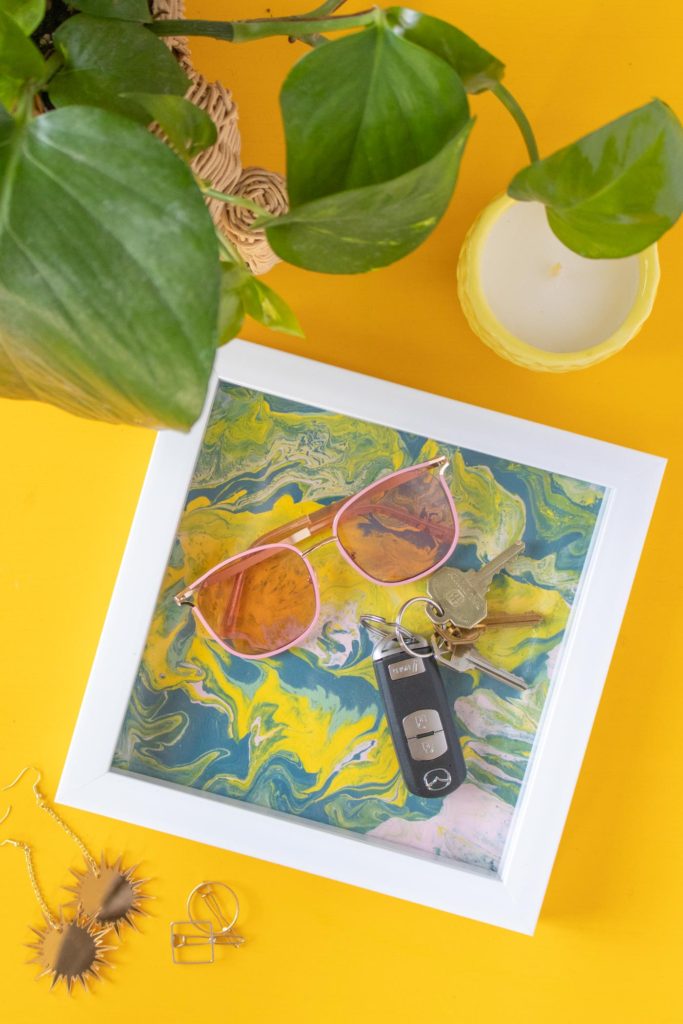 Is there such a thing as too many catch-all trays? I don't think so! Since I needed more around the house, I added this fluid painted marbled tray that I made out of a shadowbox photo frame from JOANN. That's right! This is actually a photo frame that I laid a fluid painted piece inside so that it's sealed with glass. Not only is it the perfect size for my entryway table but I used the four FolkArt paints that fit the color scheme of our home.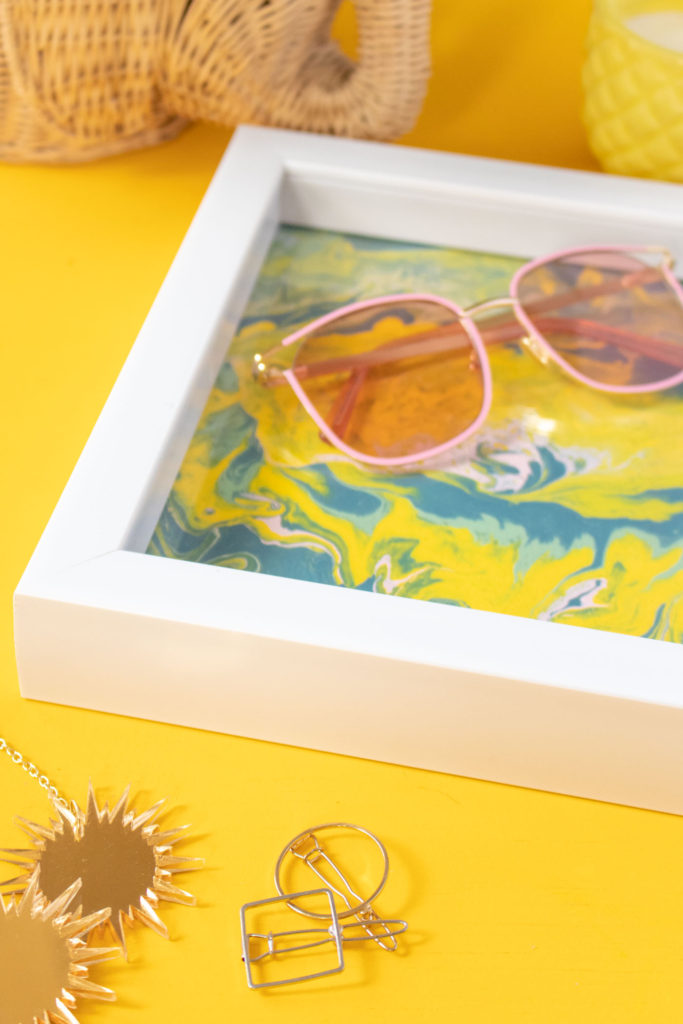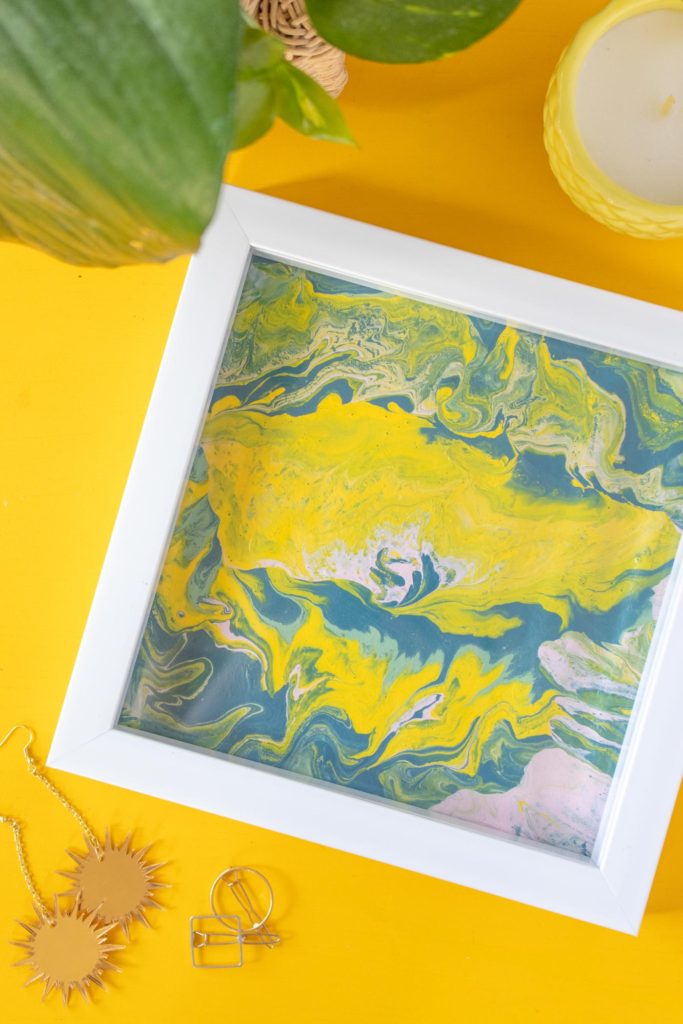 Paint pouring is a beautiful technique for creating artwork, but this is not a technical tutorial (which I LOVE because anyone can do this technique). Traditionally, you'd use a pouring medium, but instead, I use Mod Podge and water to make this fluid painted marbled tray. I've also tried this easy fluid painting technique on canvas before, which hung in our home for over a year.
You can find everything you need at your local JOANN store! When choosing a frame, I found that the 8×8-inch shadowbox frame was the right style. A traditional frame didn't have a thick enough "lip", but this one from JOANN was thick enough to be the perfect fit without seeming bulky.
I used FolkArt acrylic paints in Ballet Pink, Lemon Custard, Green Sea and Skyline, and I love the combo together!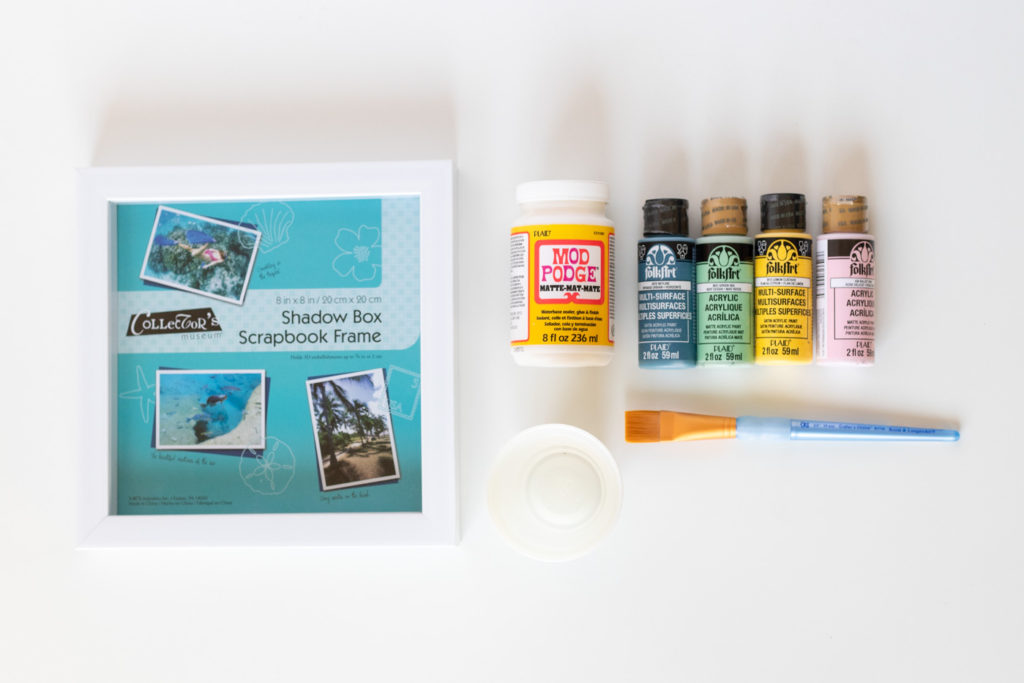 Time: 15 minutes + dry time
Supplies: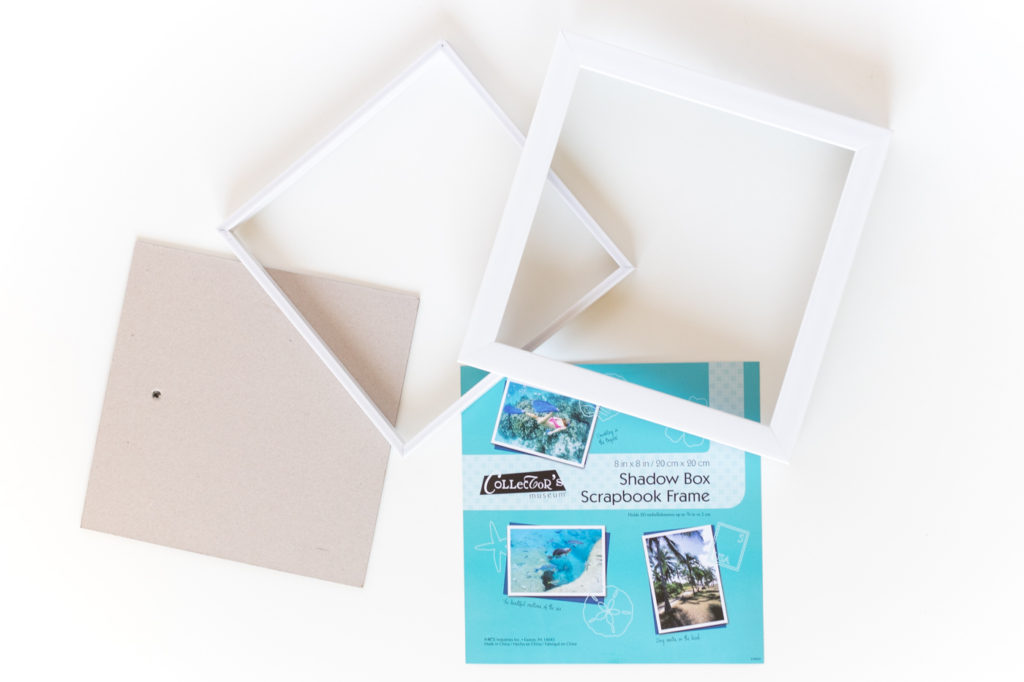 Step 1: Disassemble the frame. Keep all of the pieces.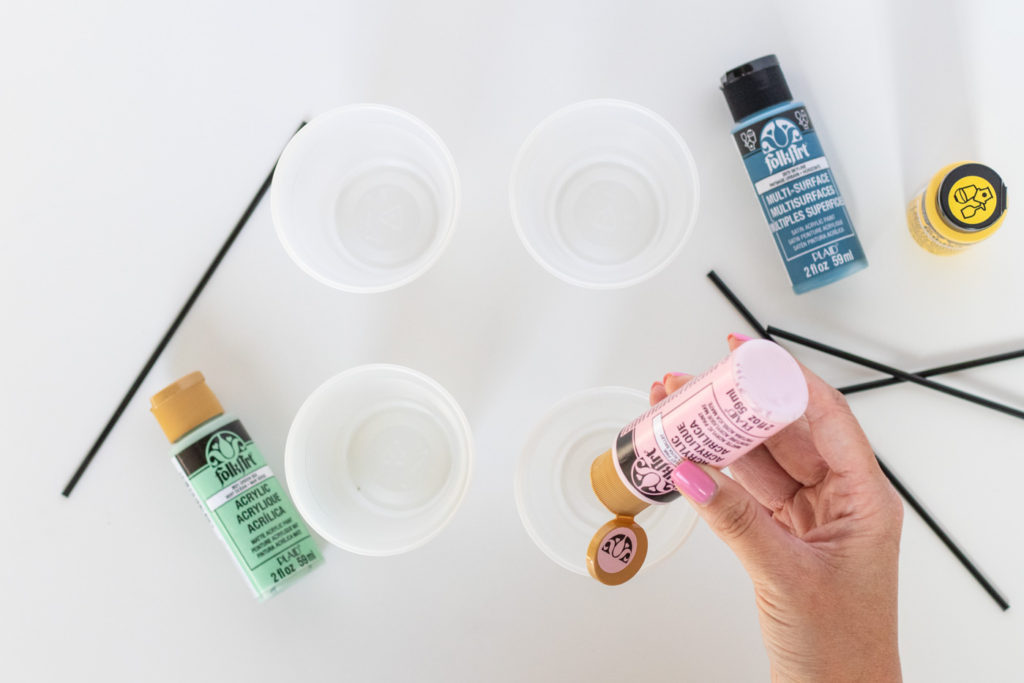 Step 2: Add one color of paint to each cup.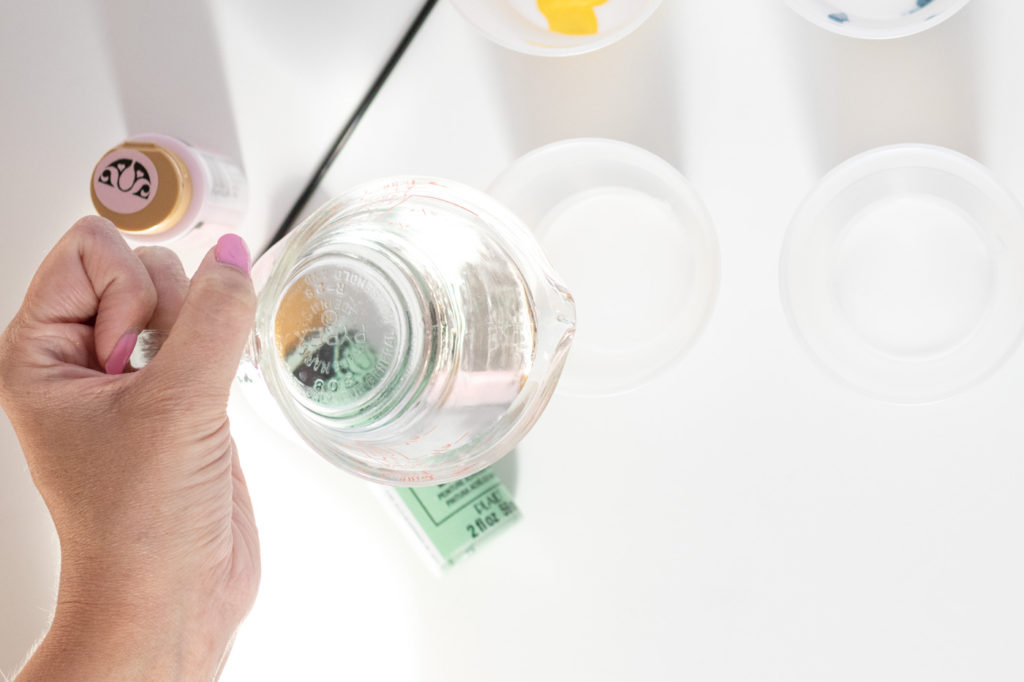 Step 3: Then add an approximately equal amount of Mod Podge, followed by HALF that amount of water. The formula is approximately 2 parts paint, 2 parts Mod Podge, 1 part water.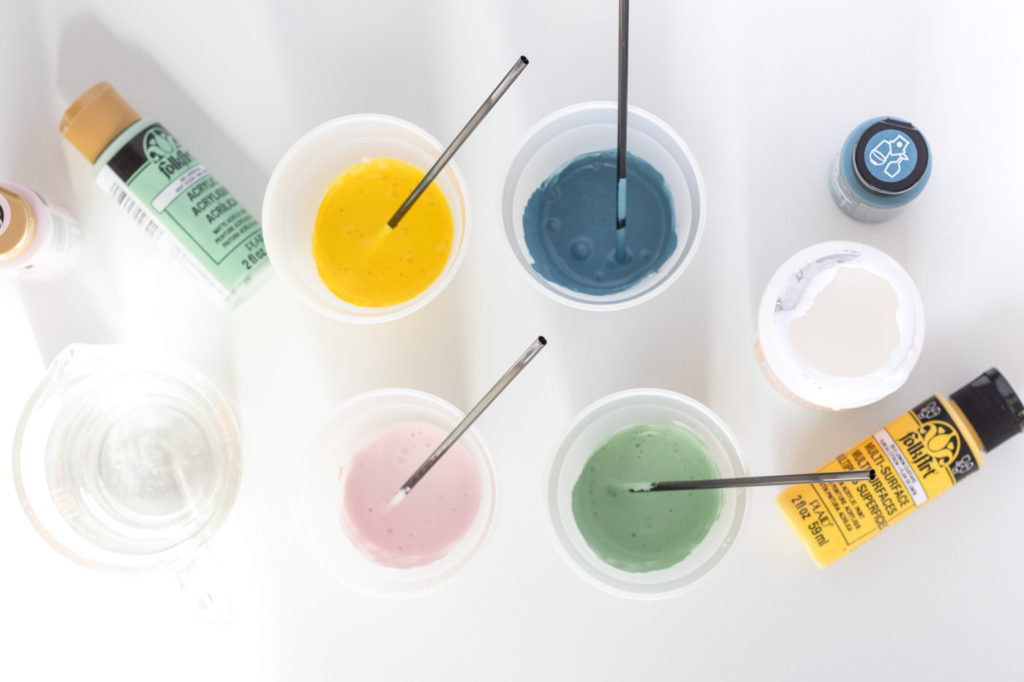 Mix well until each cup of paint is thin enough to pour. If not, add a tiny but more water.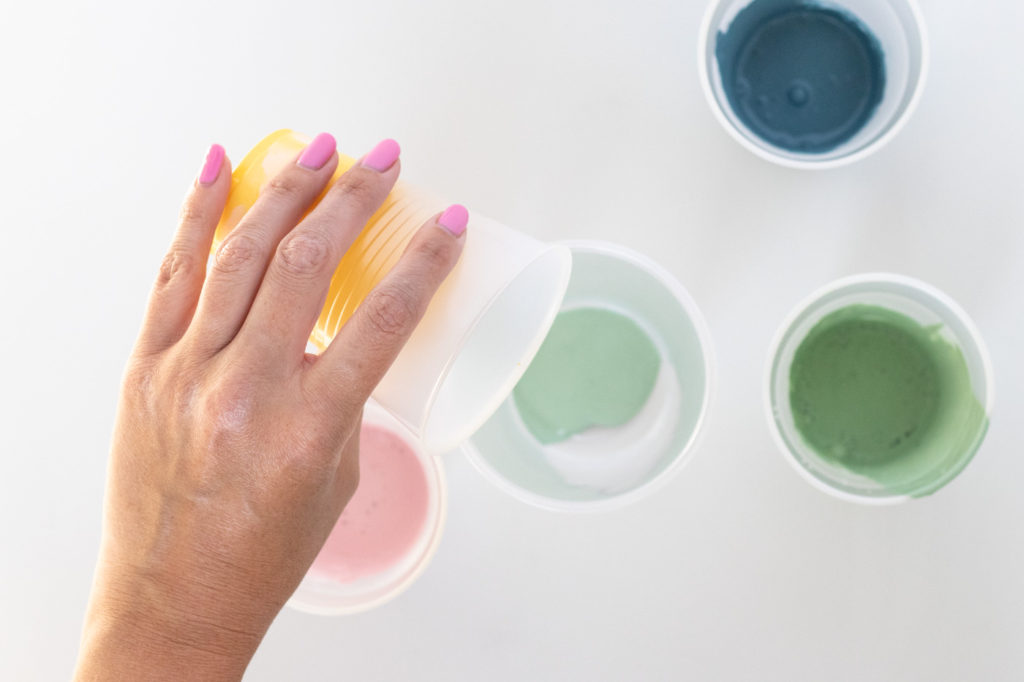 Step 4: Take a separate cup and pour a small amount of one of the colors into it. Then add a little of another color. Repeat in no particular order until you run out of paint. DO NOT MIX.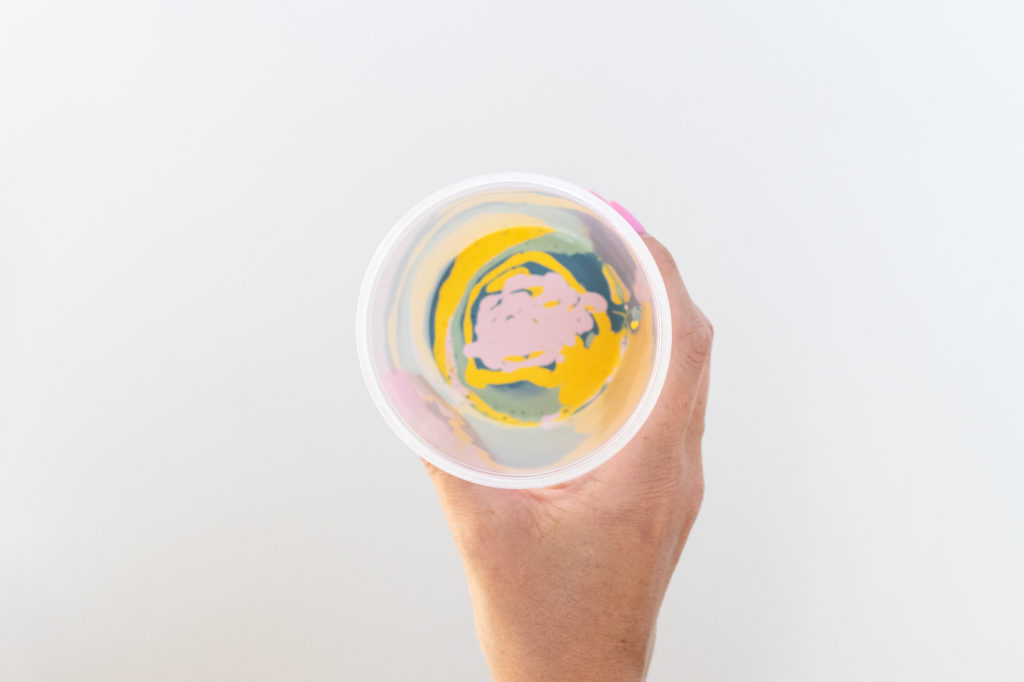 Here's what it will look like with all of the colors poured on top of each other 👆🏼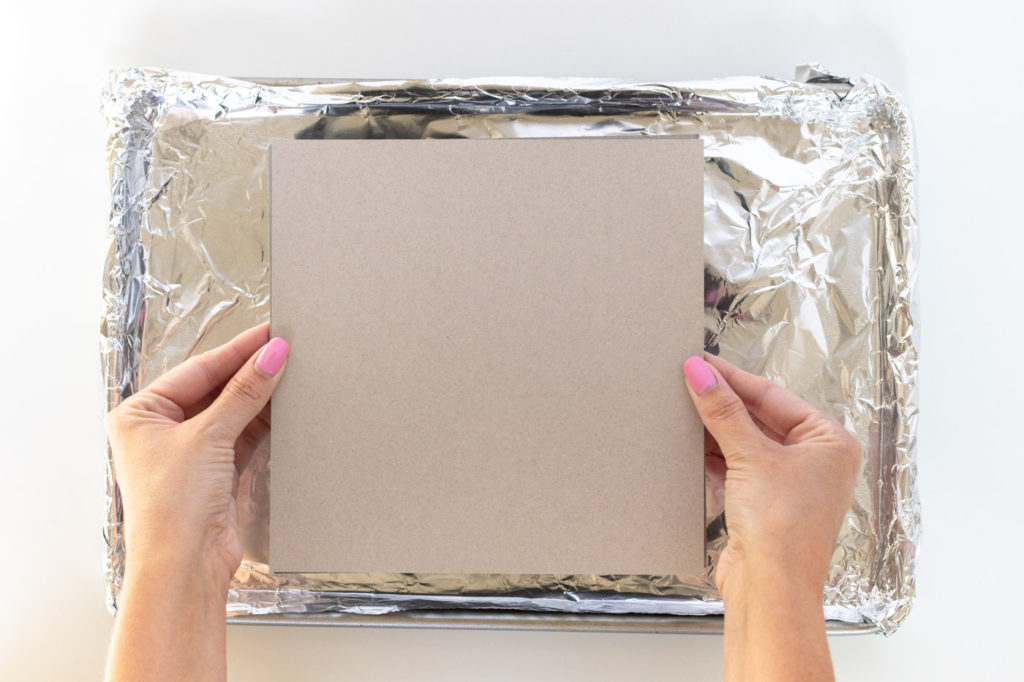 Step 5: Turn over the photo that came in the frame. Place it on top of the frame backing. Then prop it up on a cup on top of a foil lined baking sheet with a lip to catch excess paint.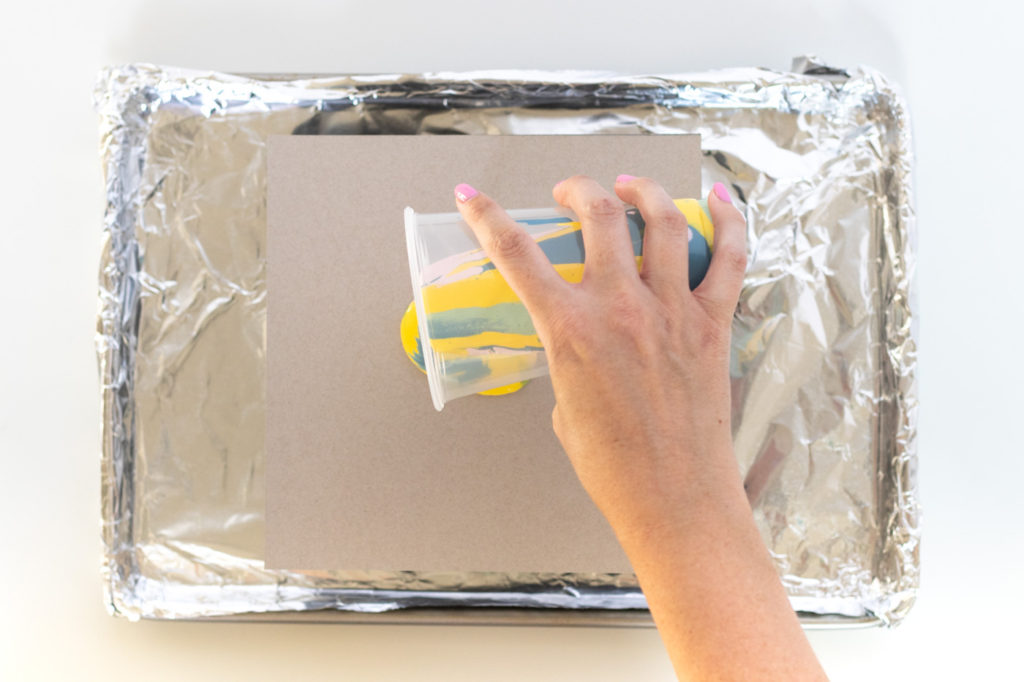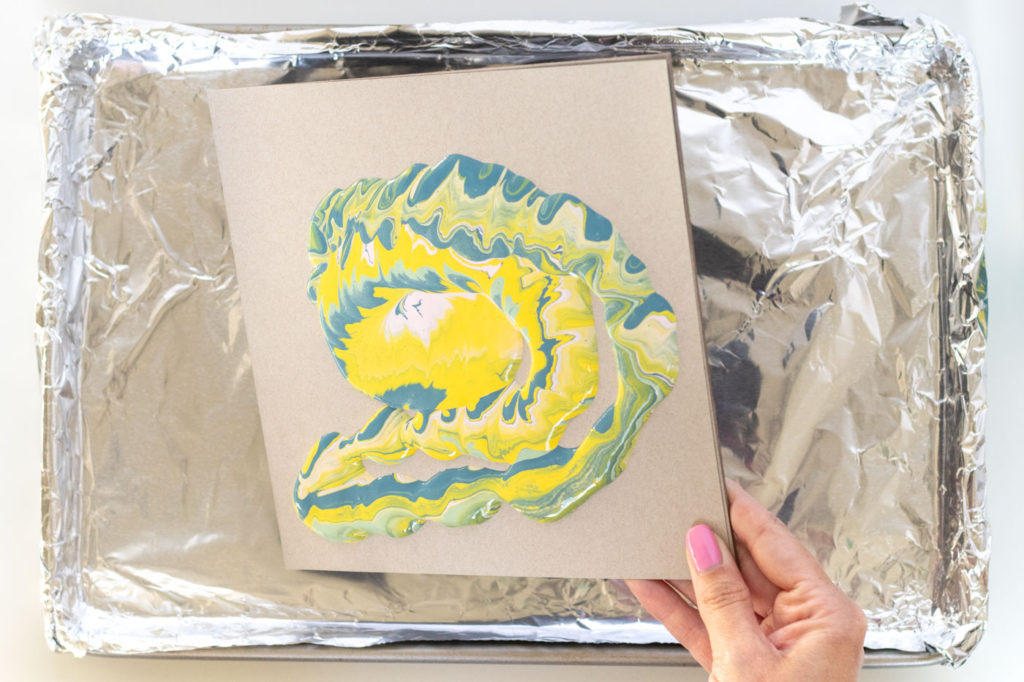 Step 6: Then simply pour! Once all of the paint is out of the cup, gently tip the canvas around to spread the paint. If needed, you can use a stick or paintbrush to spread paint to the corners, but it could impact how the marbling looks.
Then set it aside to set completely overnight before re-framing it.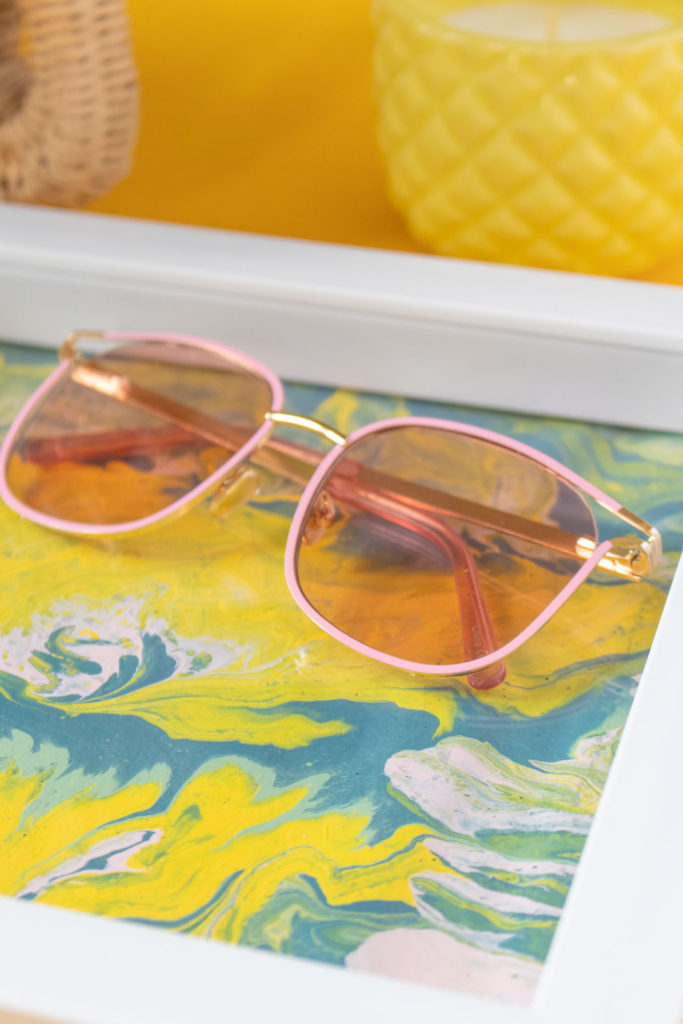 Step 7: Then make sure you put the shadow box piece back in the frame first. Then the glass, then the fluid painted marbled art, then the backing.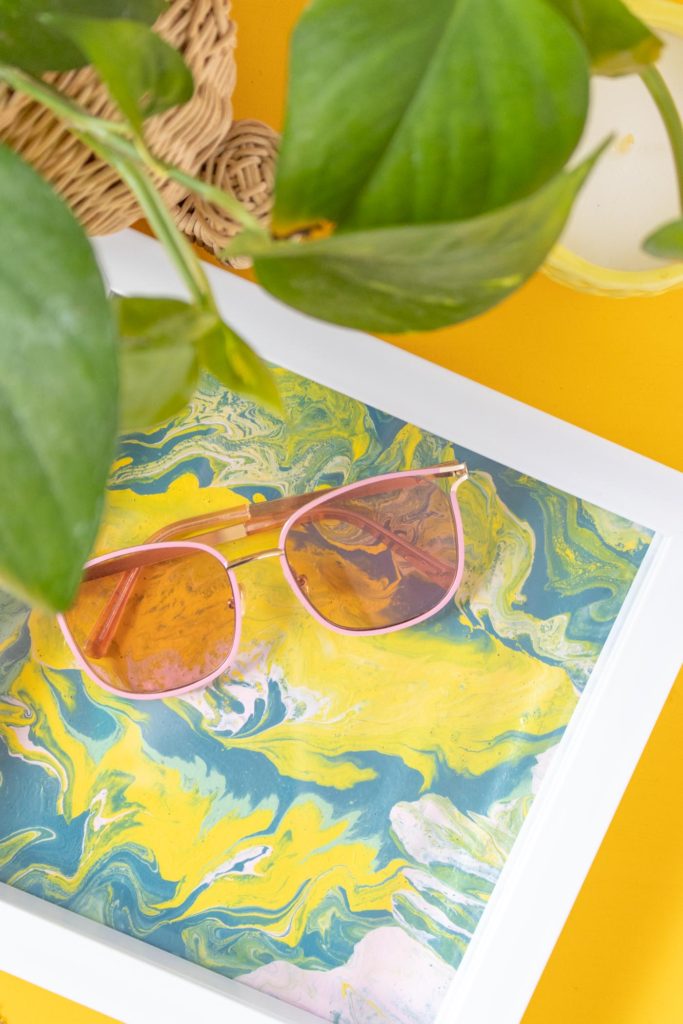 Add this fluid painted marbled tray to your entryway table to catch your keys, sunglasses and jewelry when you walk in the door, and it'll feel right at home with your decor!
Thank you to JOANN for generously sponsoring this post. All opinions are my own. Please note that this post contains affiliate links from which I may collect a small profit should you choose to make a purchase. Thanks for supporting the brands that keep Club Crafted posting!