/
DIY Abstract 80s-Inspired Gift Wrap [+ a Video!]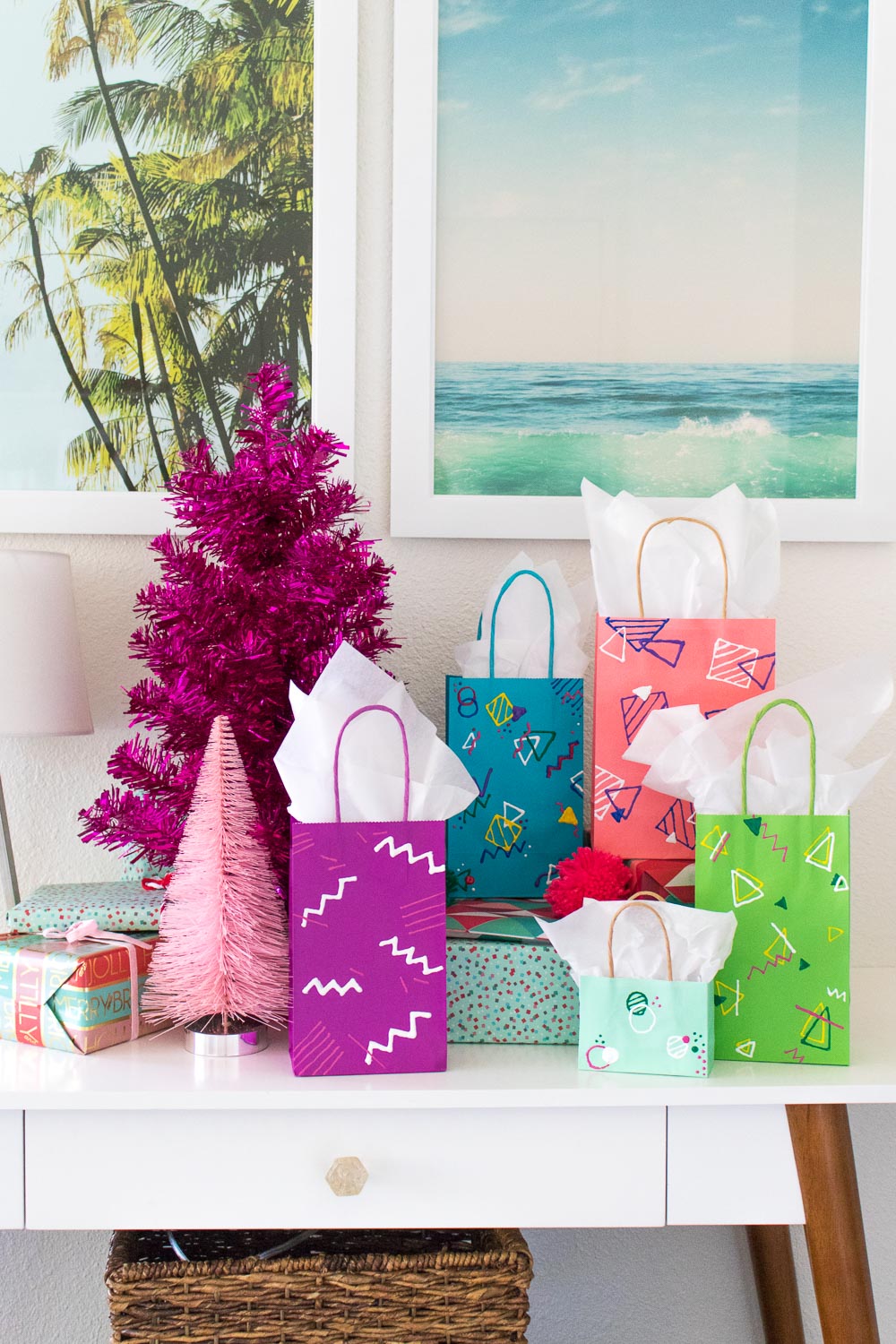 The following post is sponsored by Tulip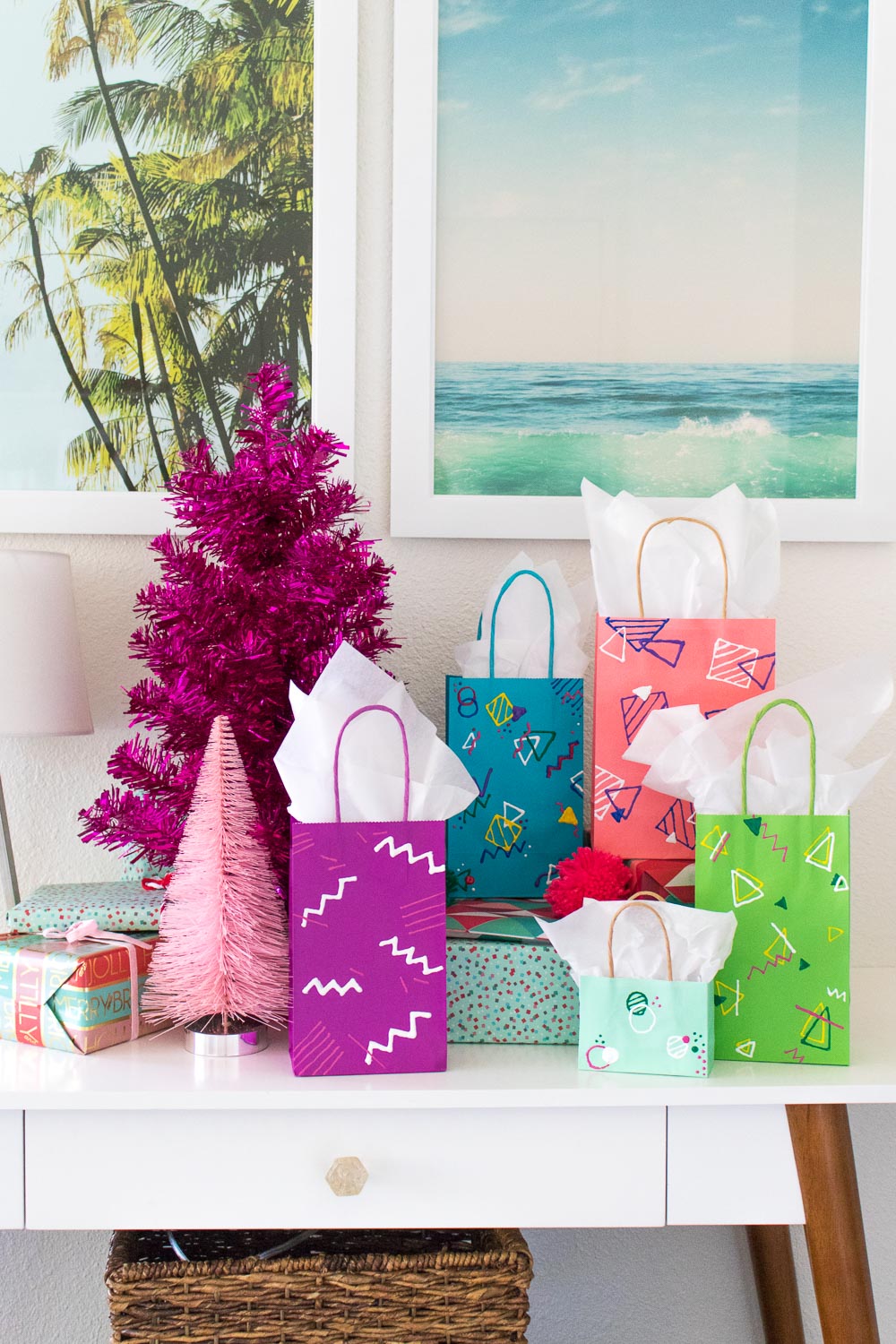 In case you don't know this about me, I'm a gift wrap fanatic. Back when I worked at Macy's, I would always ask the other associates if I could wrap their customers' gifts for them because I enjoyed it so much, and I still spend almost as much money and time on my WRAPPING as I do on my actual Christmas gifts. That being said, pretty gift wrap is expensive, so I take every opportunity to make my own and still create pretty, unique gifts! Tulip Dimensional Fabric paint isn't just for fabric…it's the perfect supply for making this fun, colorful 80s-inspired gift wrap for Christmas or any other occasion and give patterned a slightly raised 3D appearance.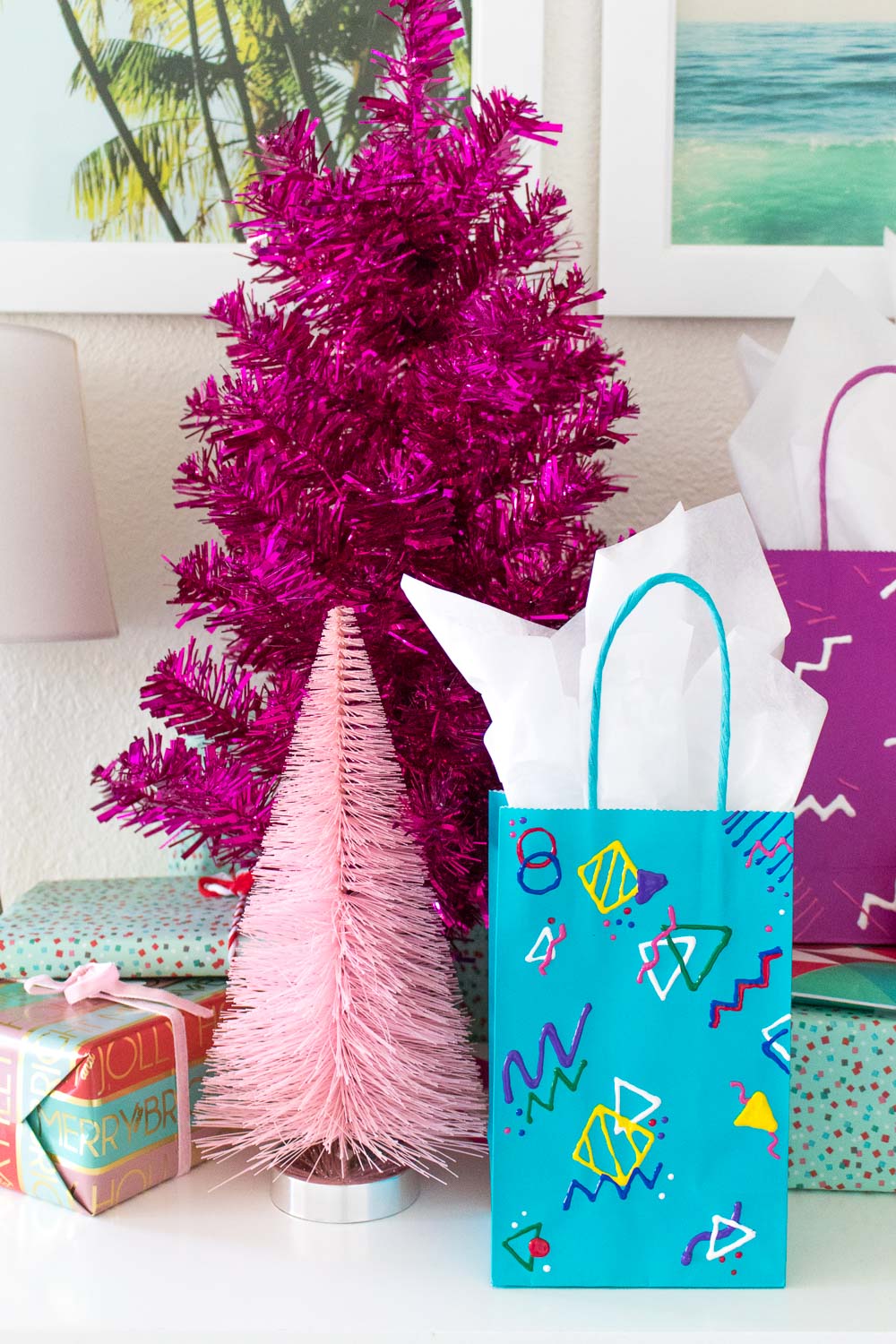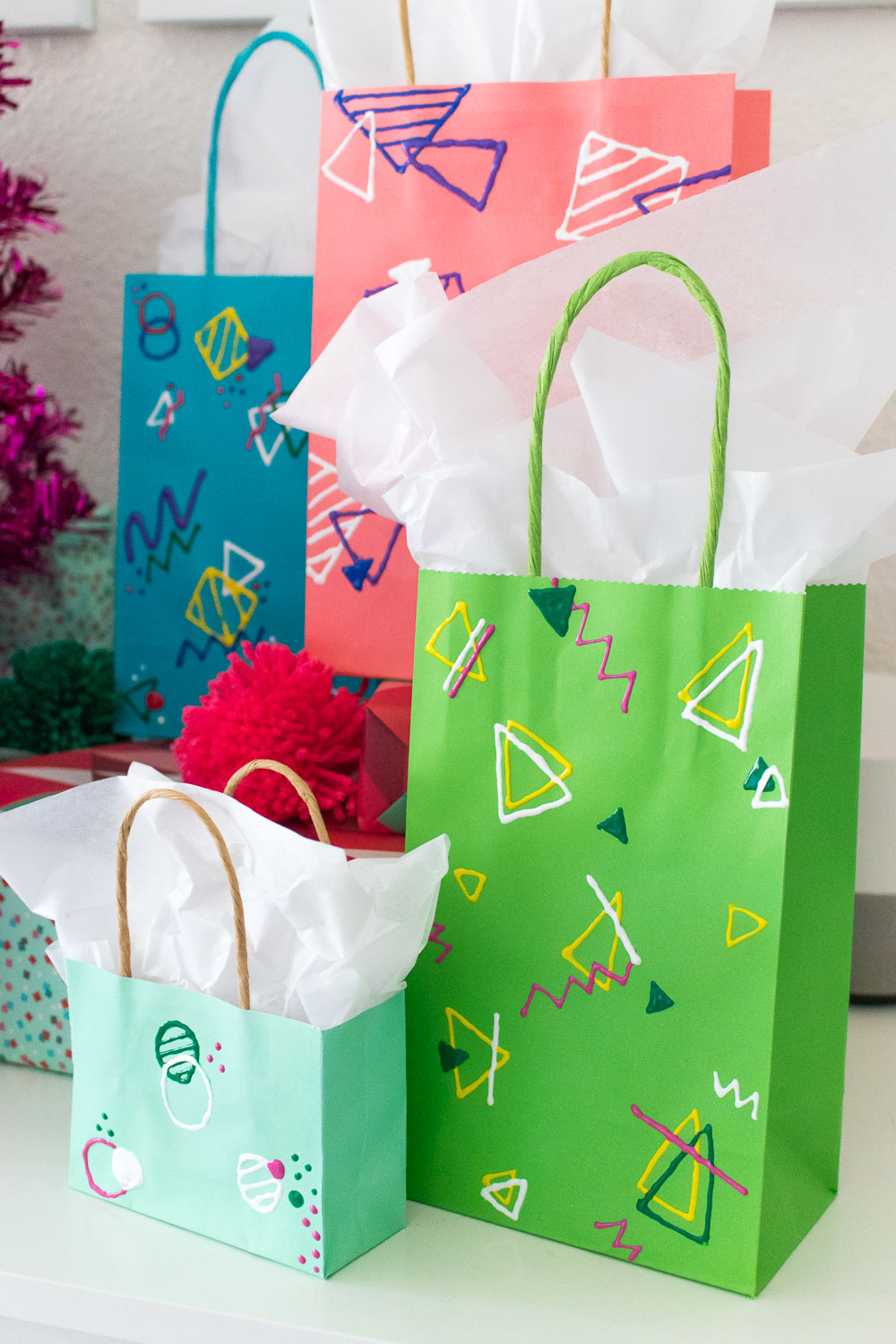 Grab plain 'ol gift bags from the craft store and GO TO TOWN with paint, drawing all sorts of overlapping patterns reminiscent of Saved by the Bell or Fresh Prince of Bel-Air. No, I wasn't born in the 80s, but I can still appreciate some of the styles (maybe not the clothing though, ha!) and patterns that were still popular around the time I was born. If you're not sure what patterns or shapes to use, check out some of my examples or even search "80s print" on Pinterest for some inspiration. For some, I used every color in my arsenal and for others, I kept with 2-3 color palette.
I have another video for you guys to check out! Wait 'til you see just how easy it is to make these 80s inspired gift bags…
Supplies:
Colored gift bags, any size
Tulip Dimensional Fabric Paint
Step 1: Lay a gift bag on a flat surface, folded bottom facing down.
Step 2: Use the first color of paint to draw shapes all around the bag.
Step 3: Add more colors and shapes, and don't be afraid to overlap.
Step 4: Set aside to dry completely for several hours or overnight until the paint is dry to the touch.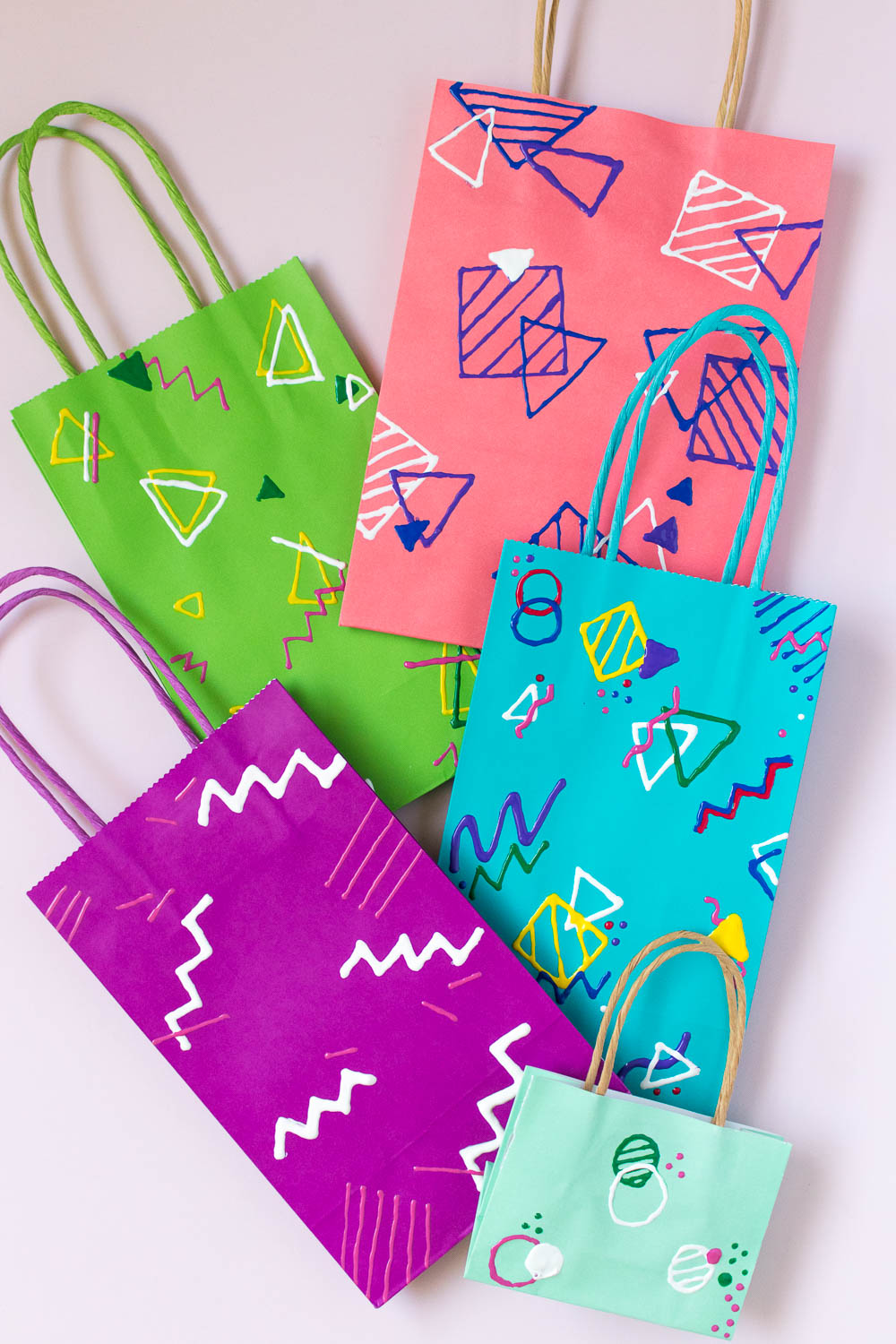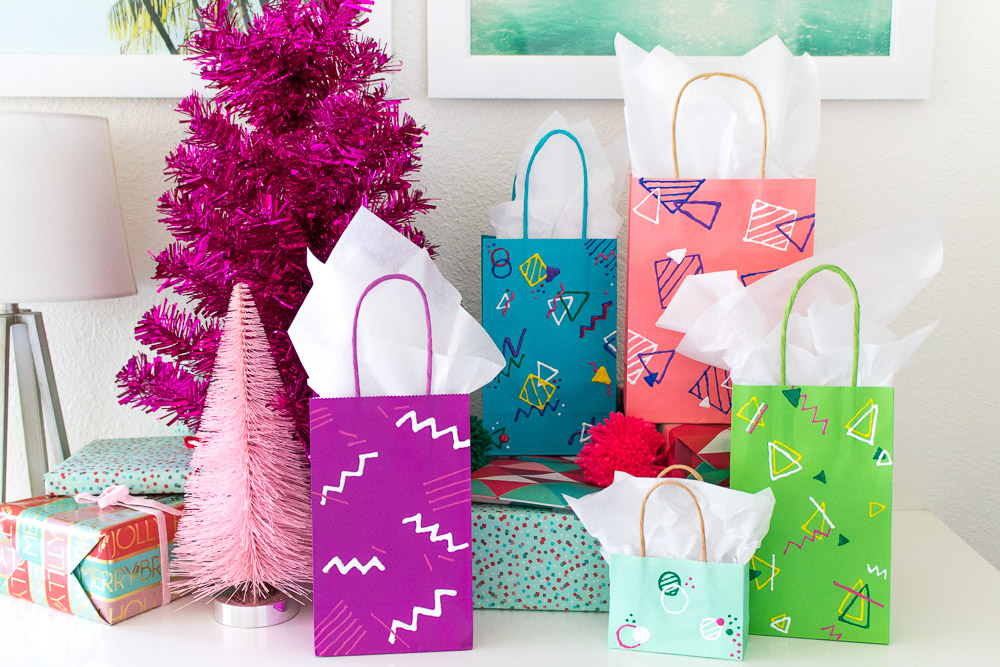 Add your gift items and a little tissue paper to make unique gift bags that are as thoughtful as what's inside them. I know I appreciate a beautifully wrapped gift, and I think many people feel the same! Plus, as you can see, these bags are good for SO MUCH MORE than just Christmas. I strayed from Christmas themes, so I can reuse the bags all year long!
Thank you to Tulip for generously sponsoring this post. All opinions are my own. Thanks for supporting the brands that keep Club Crafted sharing!