/
Crystal Ball Costume for Halloween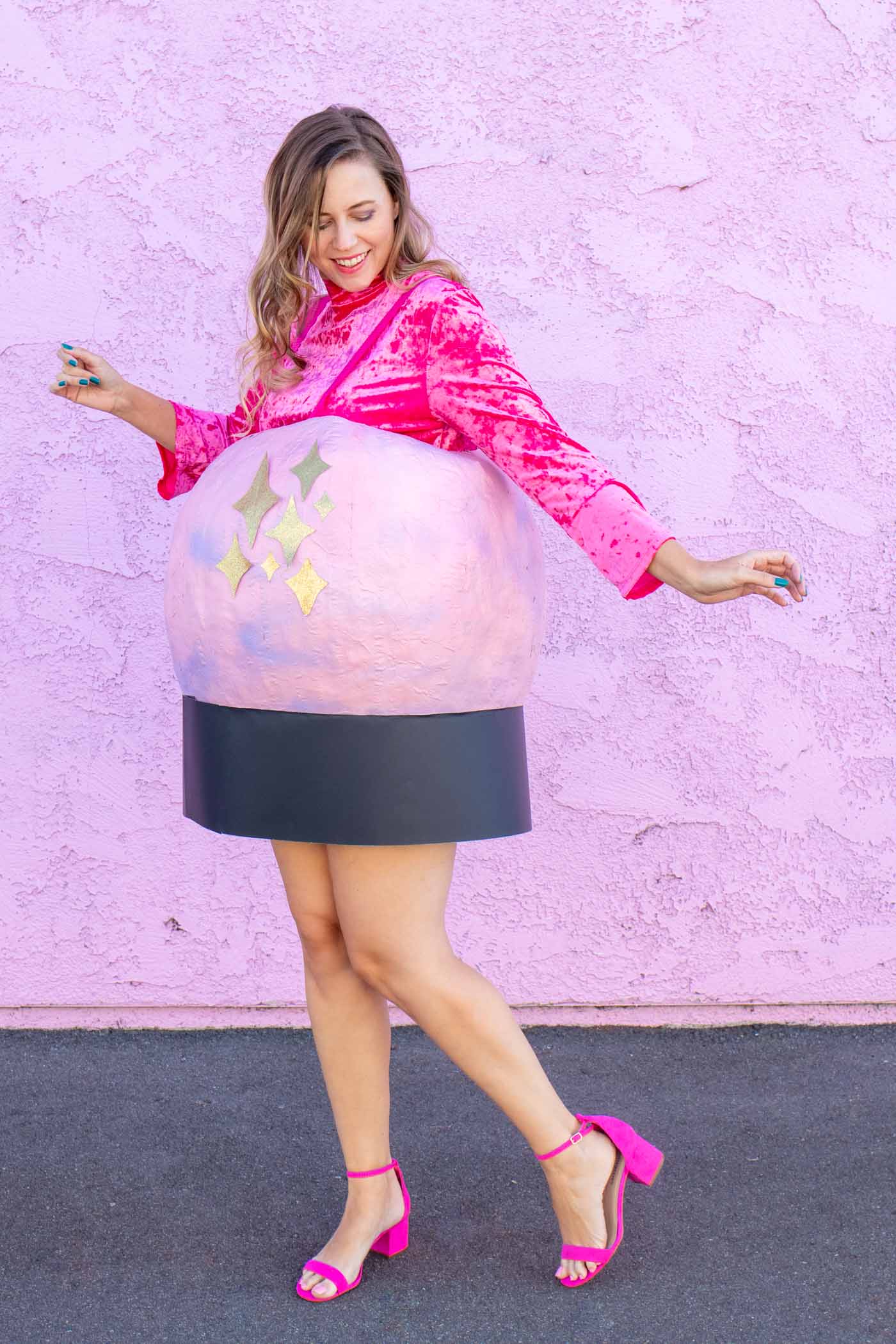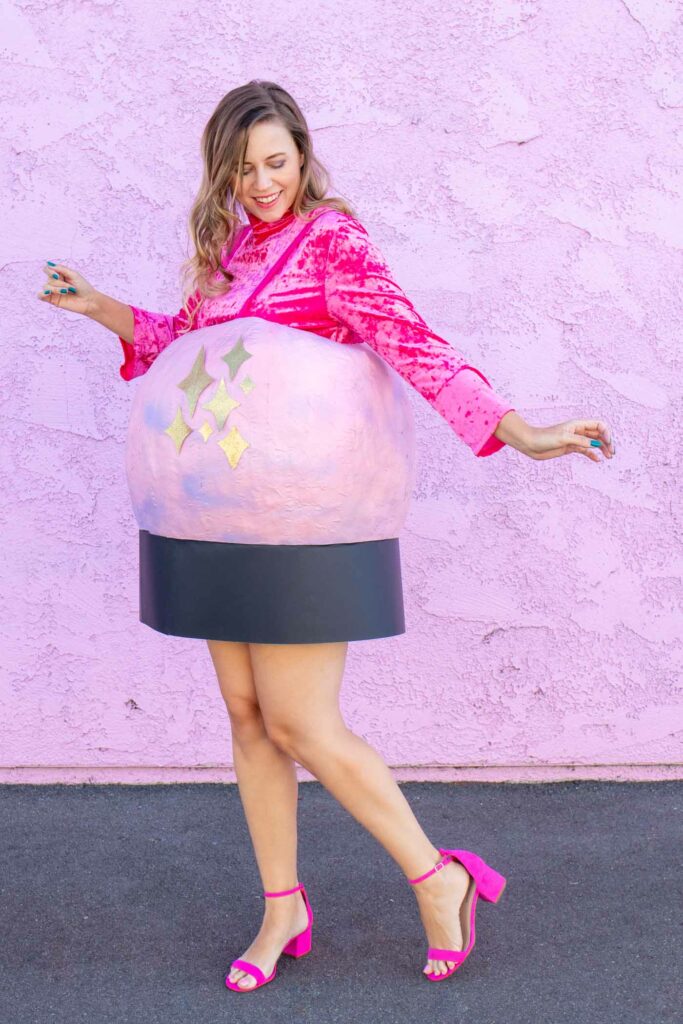 I see a new Halloween costume in your future! After making this crystal ball cake for my mystical Halloween party setup last year, I was inspired to make a crystal ball costume this year! This is probably the most difficult costume I've made so far, but I'm very proud of myself for finishing it. I also have to thank my mom for helping me get the project started! Because it's harder and harder to find newspapers this day, she ran around different locations to find me a balloon and newspaper before getting down and messy with the paper mache with me.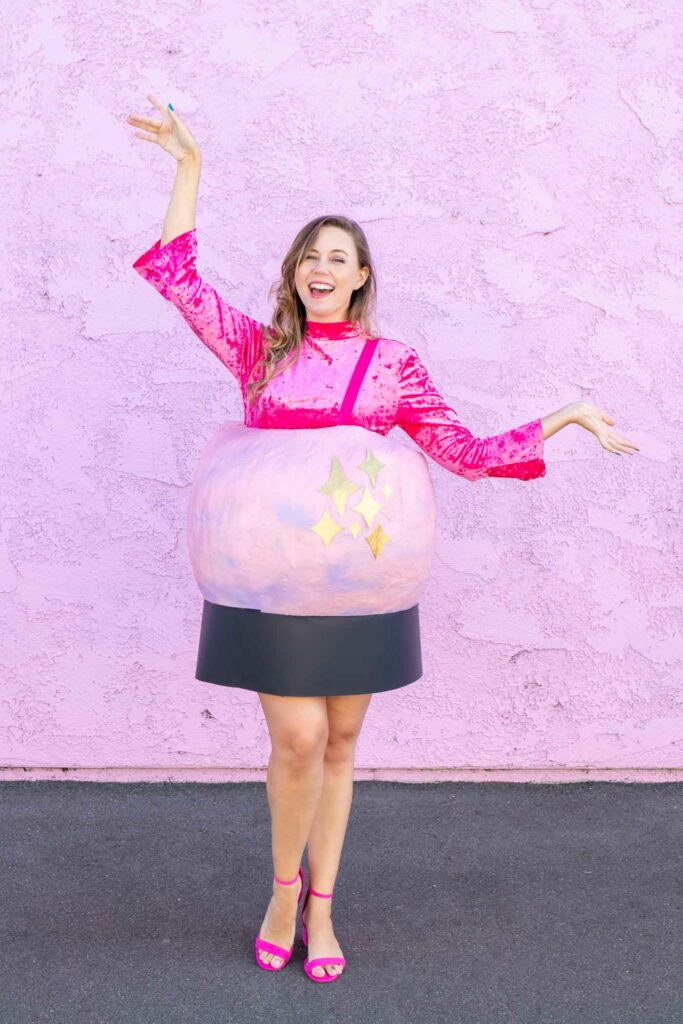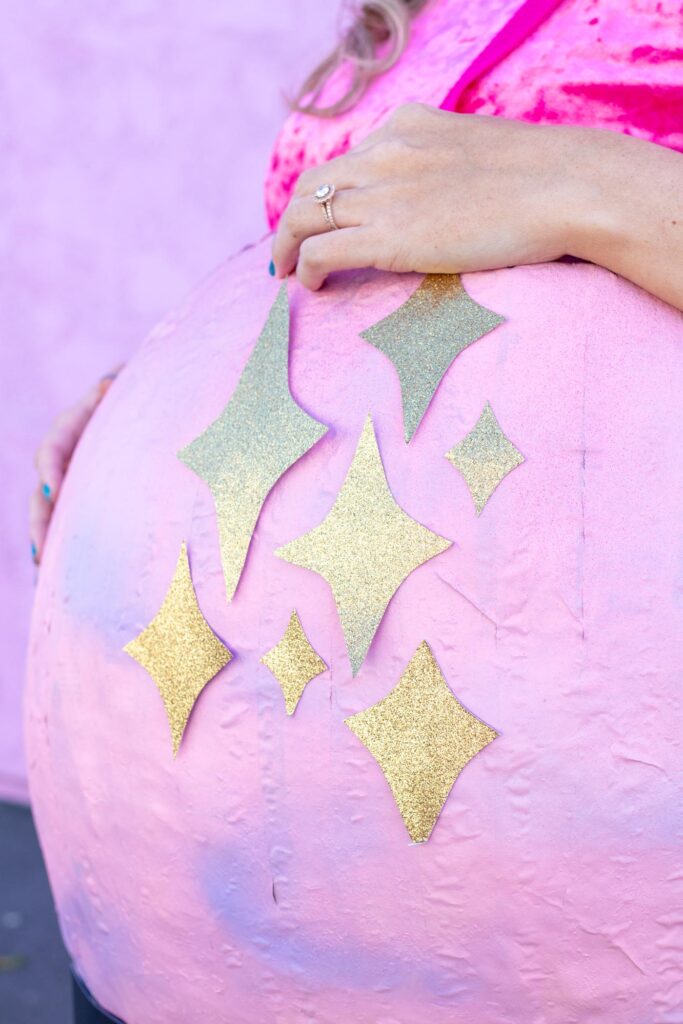 Get ready, friends. This crystal ball costume will take some time, but if crafting on the floor all weekend is as fun for you as it is for me, you'll love making this Halloween costume!
Supplies:
36-inch balloon
Newspaper
All-purpose flour
Water
Spray paint, pink, purple and glitter
Black thin poster board
Glue gun
Gold glitter cardstock
Pink or white belting
Scissors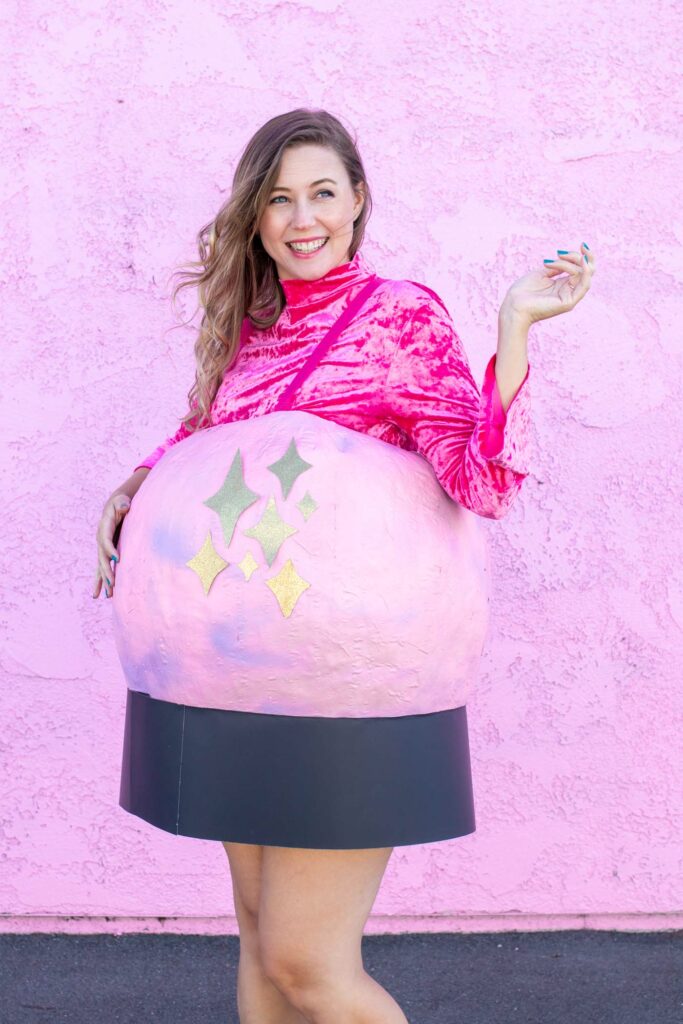 How to Paper Mache a Large Balloon for a Crystal Ball Costume
Step 1: First, blow up the 36-inch balloon as best you can. A balloon pump is highly recommended! You need to make the base large enough to place around your whole body.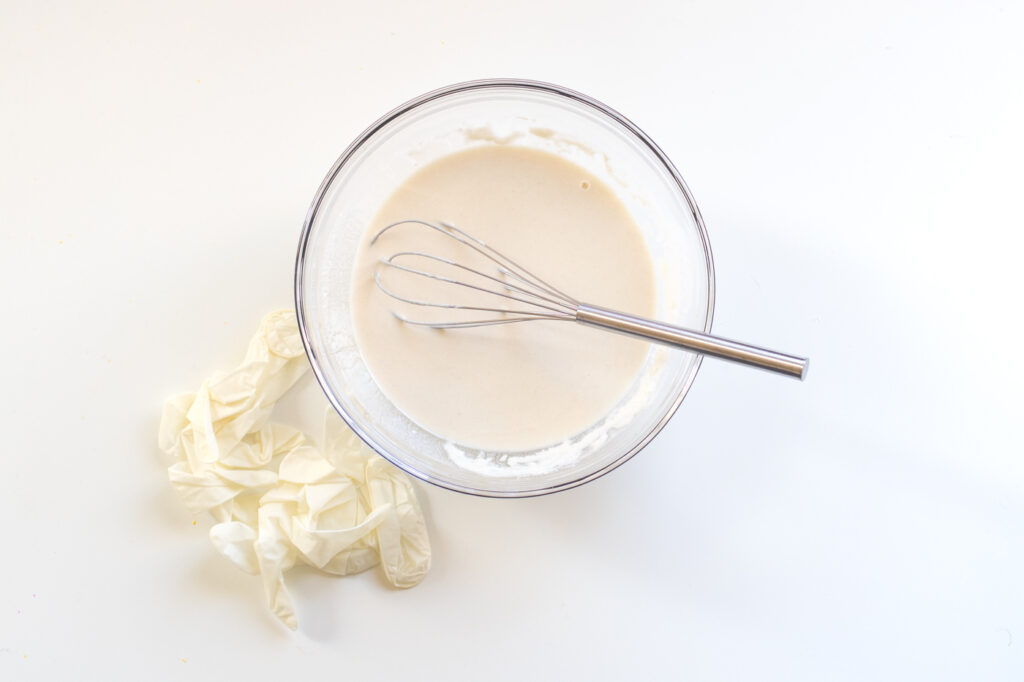 Step 2: In a large bowl, whisk together approximately equal parts flour and water. Add more water as needed to create a thin mixture.
Step 3: Tear newspaper into long strips. You'll need A LOT of newspaper to cover the balloon with four layers.
Step 4: Then cover your work surface (I just used several towels) and place the balloon on a basket or box to hold it in place.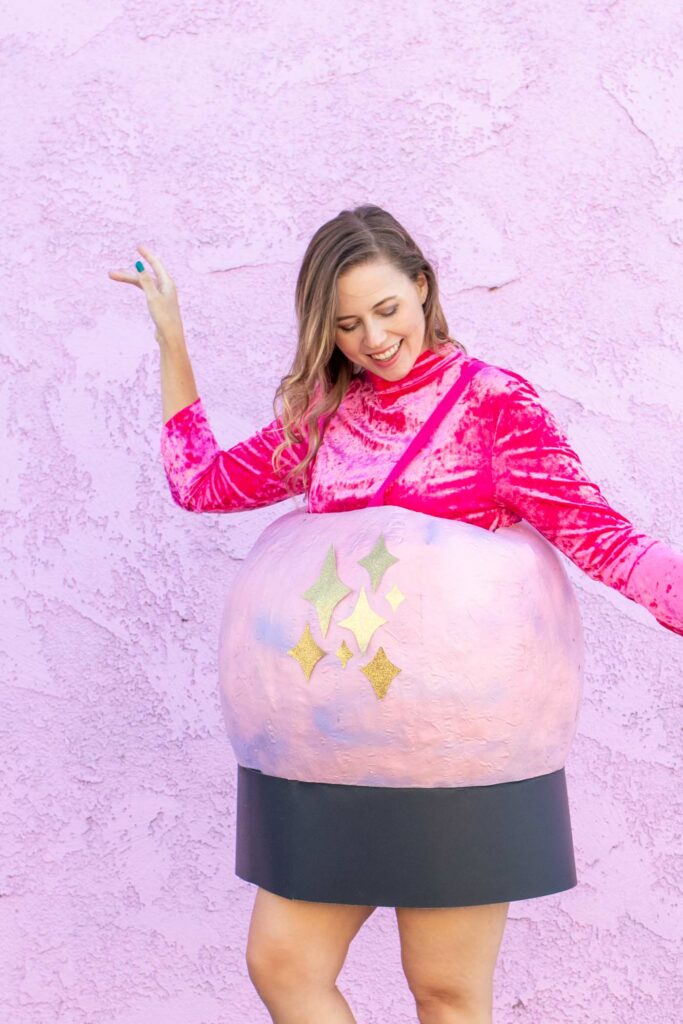 Tips for Working with Paper Mache
I hadn't done paper mache since I was a kid, so making this crystal ball costume was definitely a challenge for me. Right away, I learned that it was best to work indoors because working outdoors was causing my balloon to move too much. Personally, I like wearing latex gloves for paper mache. As it dries on your skin, it becomes difficult to wash off, so gloves reduces the mess for me. You also want to make sure that every layer is completely dry before moving on to the next. When it comes time to deflate and remove the balloon, you'll want to pull the balloon away from the newspaper to check that the inside is also dry. Do not deflate the balloon until you're sure it is entirely dry, or your ball could become misshapen. Basically, give yourself at least the whole weekend to make this crystal ball costume!
Step 5: Dip a piece of newspaper in the water and flour mixture. Gently pull it through your fingers to remove excess liquid and place on the balloon, starting from top to bottom. Repeat with more strips, layering them on top of each other only slightly (otherwise it takes too long to dry. Cover the entire mid-section of the balloon, leaving just a little space at the top and bottom.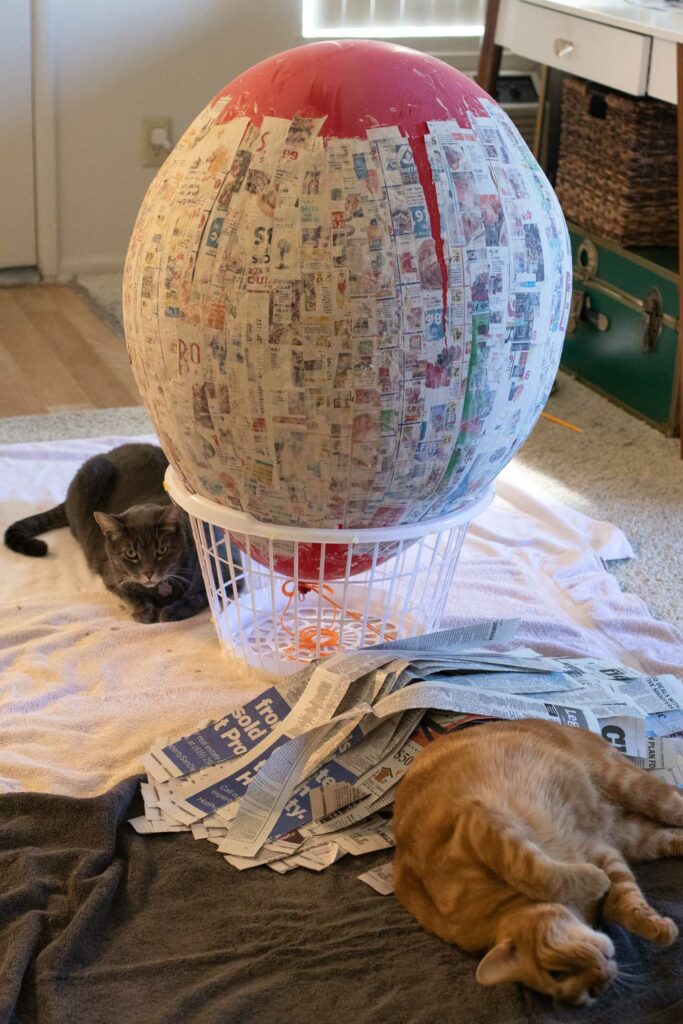 Step 6: Once completely dry, repeat the process with another layer of paper mache and newspaper. Repeat until you have at least four layers of newspaper and let dry overnight.
Step 7: When you're sure the newspaper has dried out, trim a small hole in the neck of the balloon to allow air to deflate slowly. Gently pull the balloon away from the newspaper shell as it deflates.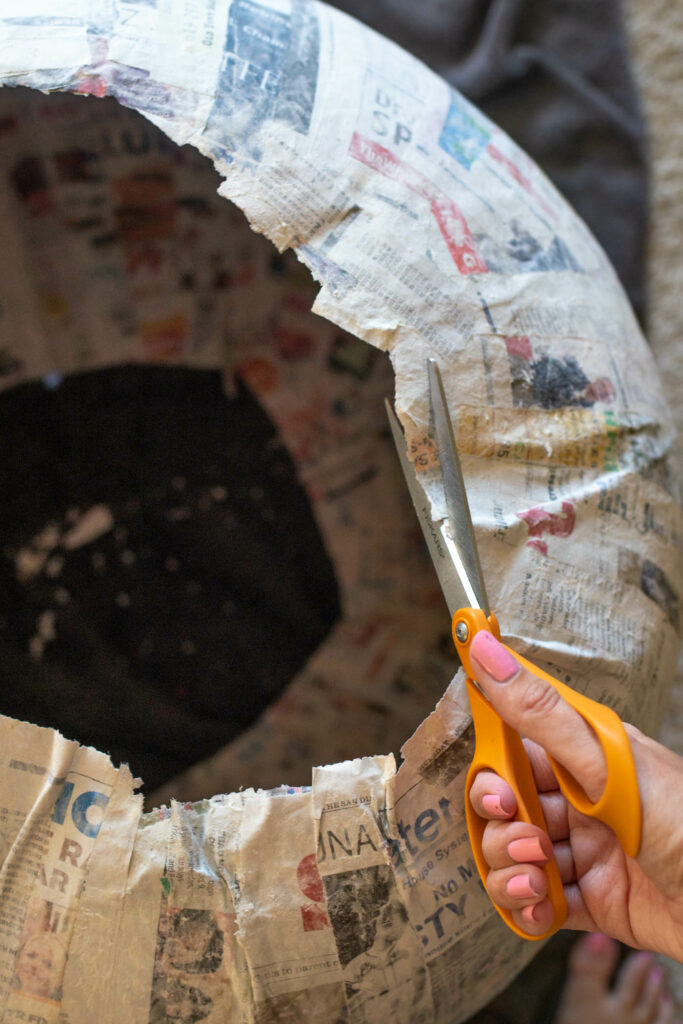 Step 8: Cut a larger hole at the top and bottom of the ball shape so that it fits comfortably over your mid-section. Be careful to maintain the round shape of the shell.
Step 9: Spray paint the entire ball with pink pink, followed by a mix of pink and purple. Add as many layers as needed to cover the newspaper, then finish with glitter spray paint. Let dry completely.
Psst, see how I used glitter spray paint to make this punny Halloween sign!
Step 10: Cut star shapes from the glitter paper in various sizes. Glue in a cluster to the front of your crystal ball costume.
Step 11: Then cut the black poster into even strips about 5-6 inches wide. Glue together into a long strip, then glue in a circle to the bottom section of the crustal ball to create a "stand" for it.
Step 12: Lastly, put on the ball. Measure how long you need to make your straps and cut. Glue to the inside of the ball to create two shoulder straps.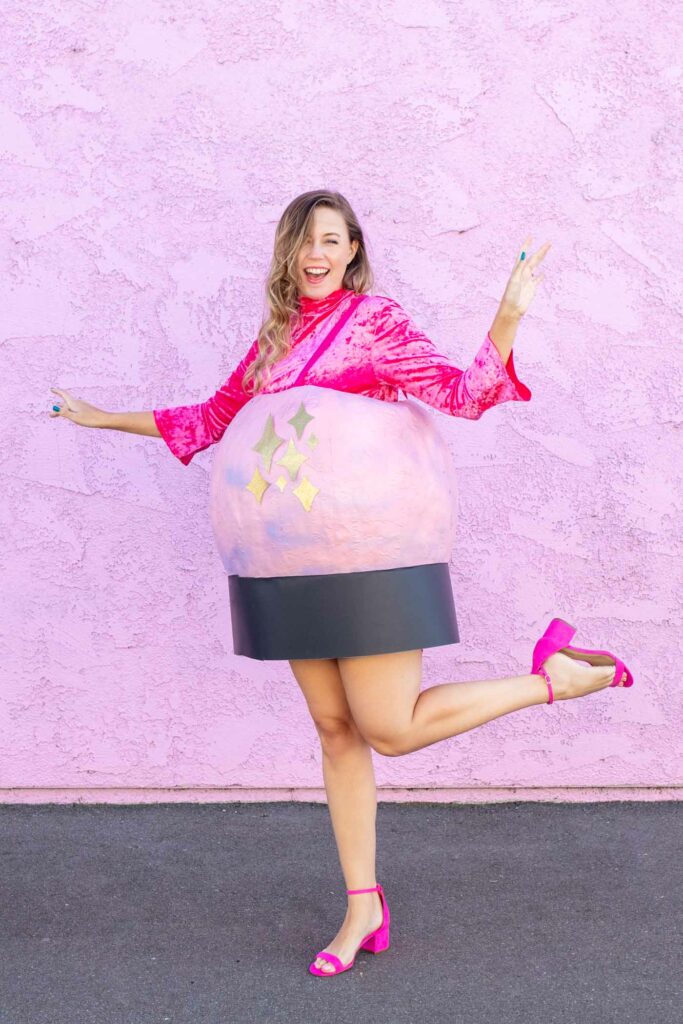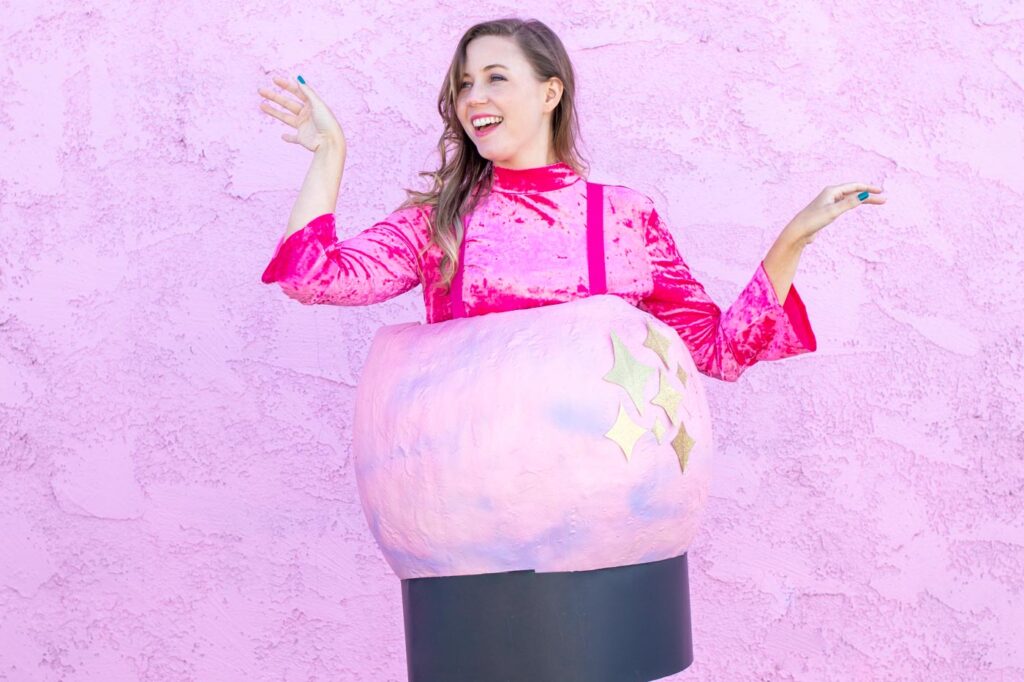 Get ready to mystify your friends this Halloween! This crystal ball costume was a fun accomplishment, and I'm looking forward to sharing more costumes with you guys ASAP!